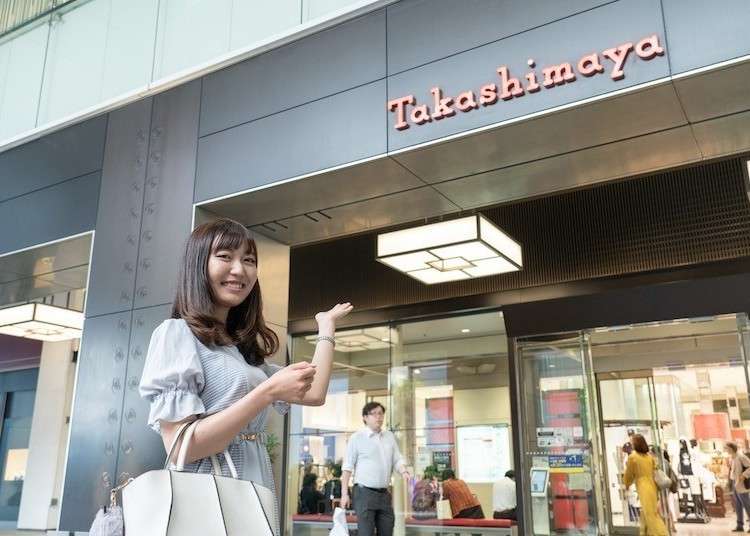 Takashimaya Times Square is a shopper's paradise in the heart of Tokyo. The vast shopping center includes the Takashimaya Shinjuku Department Store, the airport-style tax-free store SHILLA&ANA Takashimaya Duty Free Shop, and the expansive gourmet hub Restaurant Park, all spread out over 15 floors! The eleventh floor is all also home to a regularly rotating line-up of events so there will always be something new on your next visit.

Today, Takashimaya Times Square is our destination for Japanese beauty, so join us as we make a date with the store and spend a day discovering the very best in skin care, well-being, and healthy dining! Takashimaya Times Square
Shop the Latest Tokyo Beauty in a Setting to Match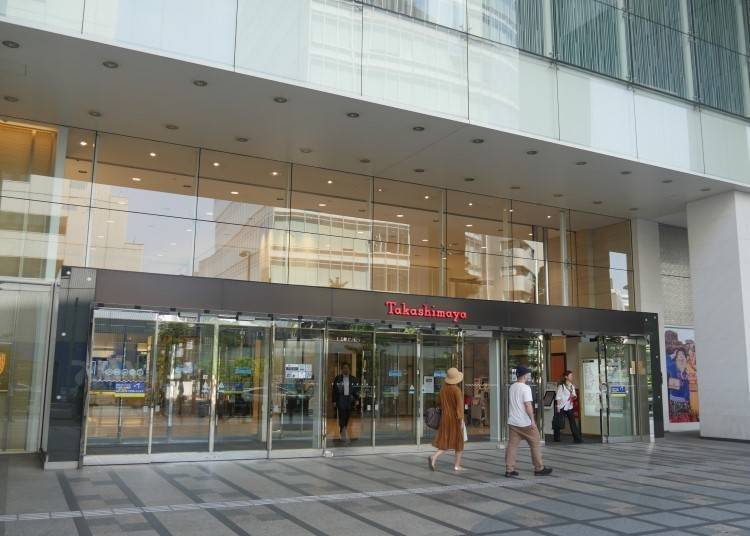 Shinjuku wouldn't be the exciting hub of youth and fashion culture if it wasn't for the throngs of people who keep the streets lively pretty much any hour of day or night. However, there is something to be said for getting away from the crowds—especially when you are in the mood to pamper yourself.

Although Takashimaya Times Square has direct access via Shinjuku Station's New South Exit to Shinjuku Station, incidentally the busiest station in the world with an average of 3.5 million passengers per day, the moment you step into the store you enter an oasis of calm. It's hard to believe that the hustle and bustle of the city is just outside. Plus, the helpful staff are always close at hand, ready to point you in the right direction.
Our first port of call is the cosmetics section on the first floor. A world apart from the crowded drugstores in the city beyond, here the customer is king—or in this case queen—and you are invited to take your time and enjoy a truly personalized experience.

The in-store lineup ticks off an A–Z list of global and Japanese luxury cosmetic brands, including the likes of Clinique, Dior, and Lancôme, as well as SK-II, SHISEIDO, POLA, and Kosé.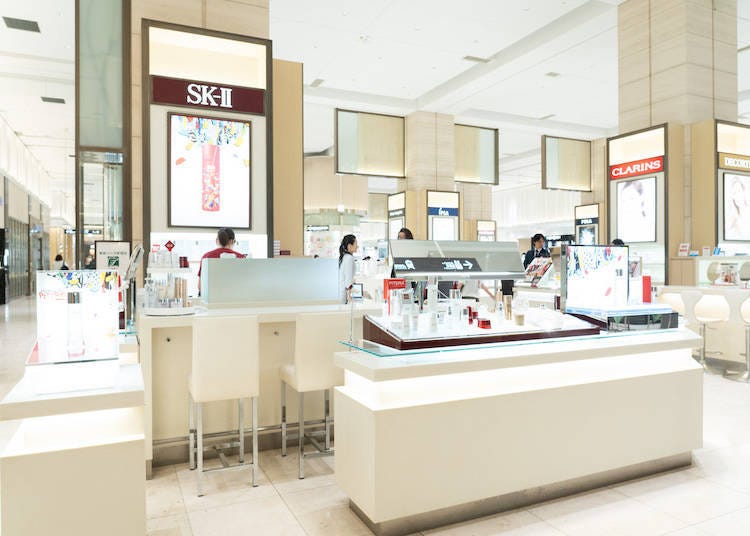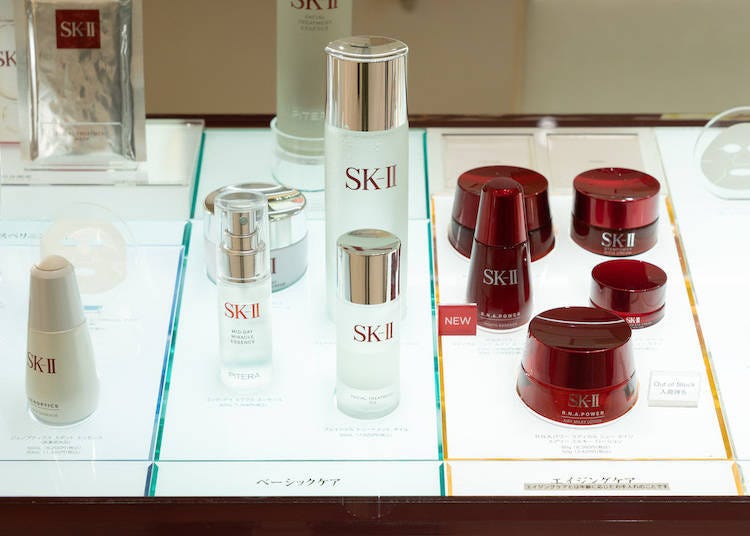 Today, we are paying a visit to popular Japanese brand SK-II to try their signature PITERA collection, their most luxurious lineup of fine skincare products to date. Boasting a full beauty cabinet to take you from cleansing to foundation, this is one of the most popular brands in Takashimaya Shinjuku.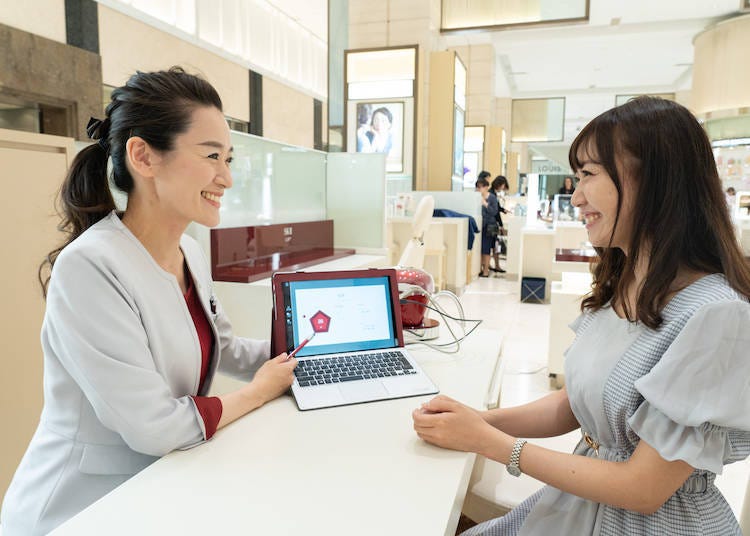 Consultations from experienced advisors are available in several languages, without an appointment. The session begins with your profile being created on the SK-II system. Then a scan is performed using the latest Japanese technology to find out everything about the state of your skin.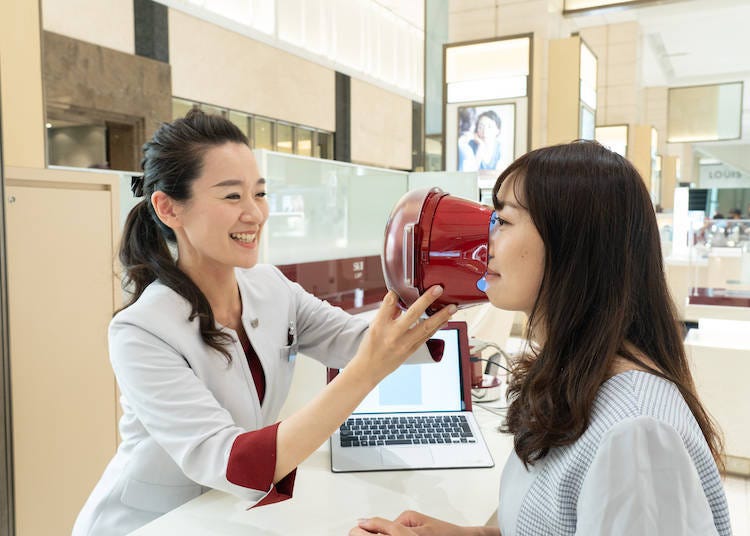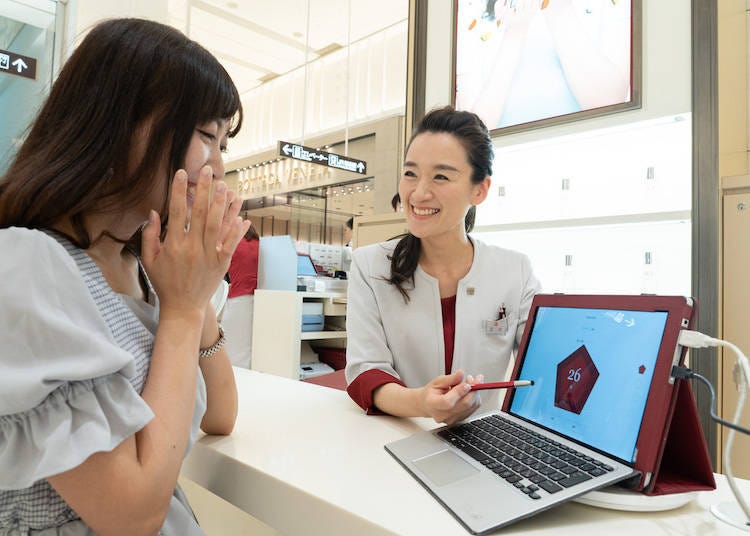 At the consultation Live Japan's own beauty expert was relieved to find her skin age was lower than her actual age!
From there, the team of beauty advisors will take pleasure in showing you around the best products from the SK-II PITERA collection. Spoil yourself with their multi-award-winning FACIAL TREAMENT ESSENCE or go for the PITERA POWER KIT set that has everything you need to revolutionize your beauty regime.
SHILLA&ANA Takashimaya Duty Free Shop - Tax Free Shopping with a Difference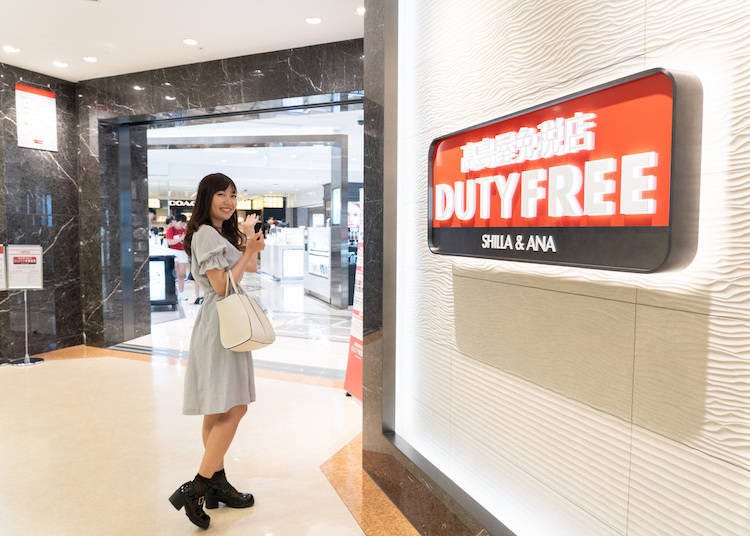 Head on up to the 11th floor using the exclusive direct elevator and you will find yourself in the SHILLA&ANA Takashimaya Duty Free Shop, created specifically for customers from abroad and offering the same duty and tax free shopping experience as the one you will find in airports. There you will find a whole host of cosmetics, skincare, and other beauty products, as well as jewelry, watches, and souvenirs that make it a one-stop tax-free shopper's paradise.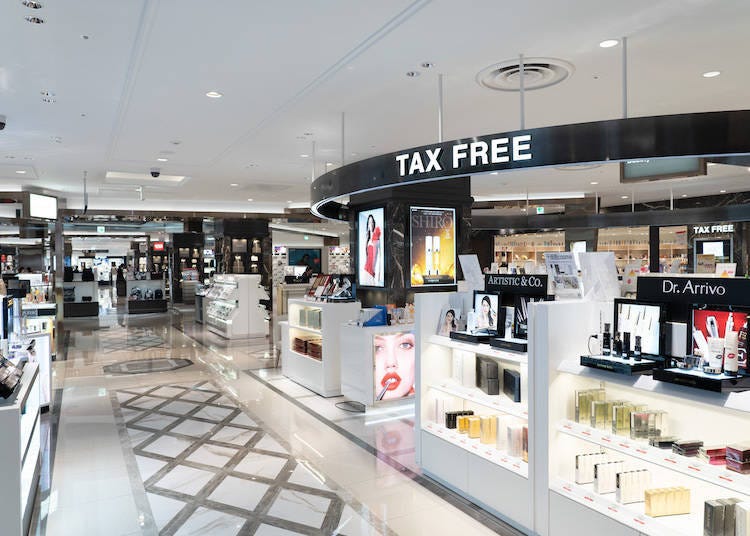 At the SHILLA&ANA Takashimaya Duty Free Shop you will also find a fantastic range of beauty therapy, exfoliators, and other electronic beauty devices that let you take the spa experience home. Particularly popular is the Dr.Arrivo range of appliances from ARTISTIC & CO. that have been developed in close coordination with more than 100 cosmetic surgeons to offer pressure therapy and other treatments in the comfort of your own home.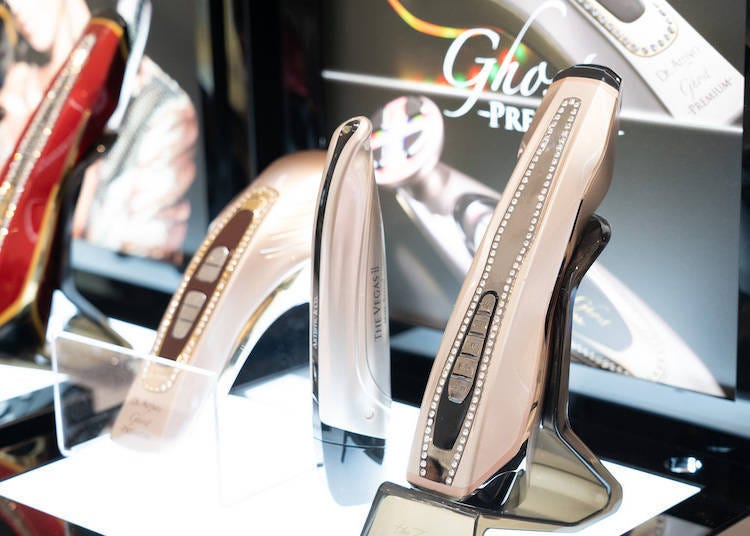 You can shop the full lineup of luxury body and facial devices knowing that you are getting the best of the best—at the best possible price. Most of the beauty range is compatible with different voltage rates used around the world, so you can use it back home as well as while you are on your travels.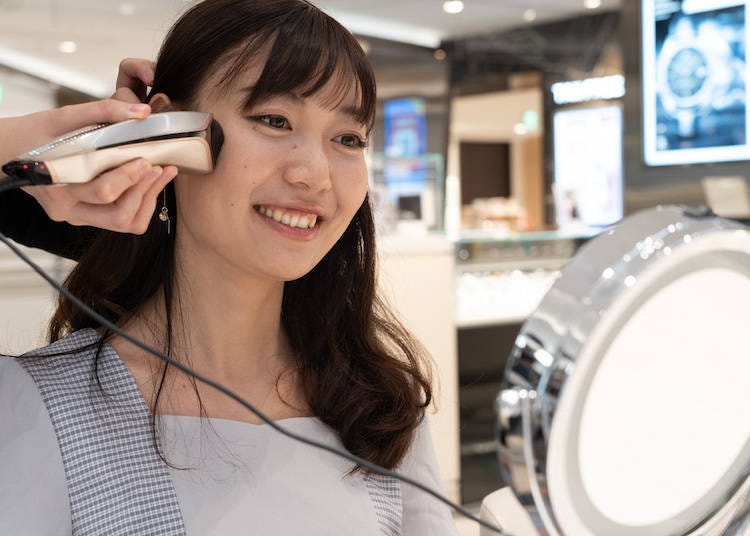 Once you have made up your mind, the multilingual staff are always on hand to guide you through the tax-free process. The flow at Takashimaya Times Square may differ from that at other stores, so be sure to check out the link below for more information.
Relax on the Restaurant Floors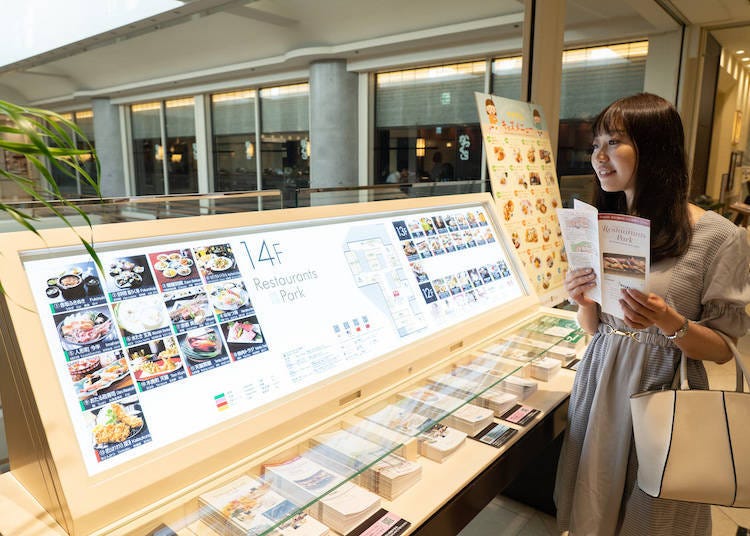 If all that shopping has exhausted you, then visit the restaurants on floors 12–14, where you will find a huge range of dining options with a focus on Japanese washoku cuisine as well as a host of world food over 36 cafes and restaurants. For casual options then the 12F and 13F is the place to go, for something a bit special, then the 14F offers fine dining.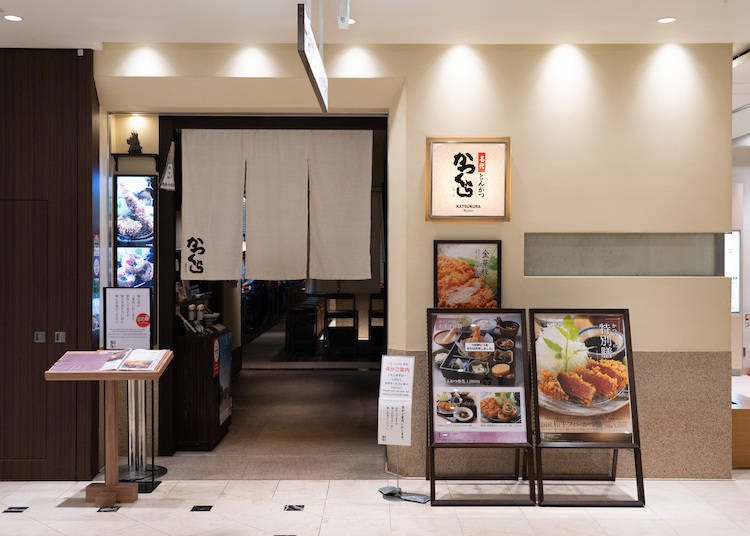 With skin care on our minds, we headed to Katsukura on the 14th floor, which serves Kyoto-style deep-fried pork cutlets, but using only the very best pork packed with vitamin B1 to give you a healthy beauty boost!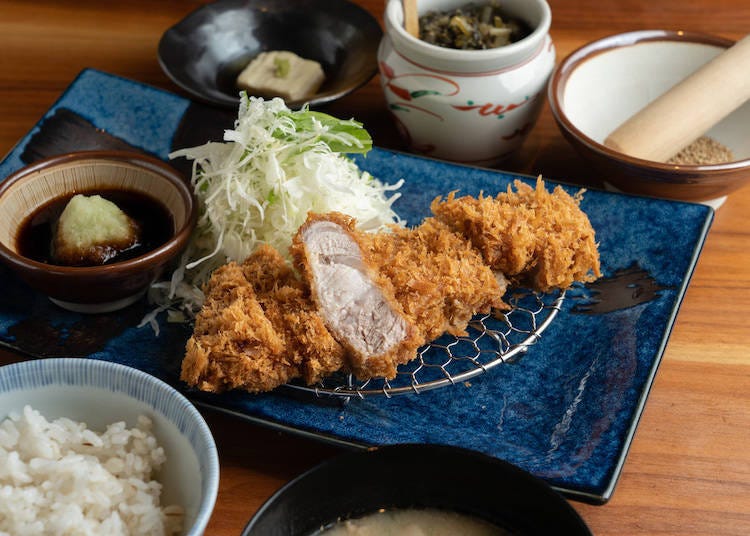 Katsukura's Kinkaton pork loin cutlet will not disappoint!
The impossibly juicy and tender meat is a dream. Try it with a gentle wasabi topping or a sesame sauce that you mix yourself at the table.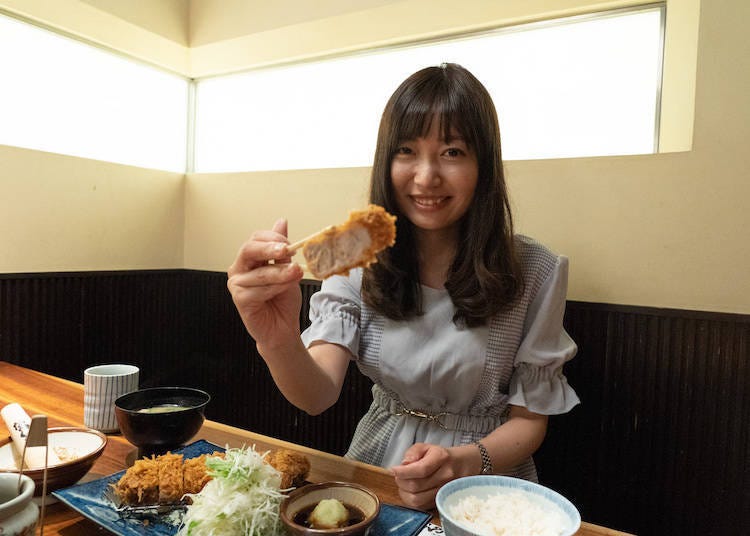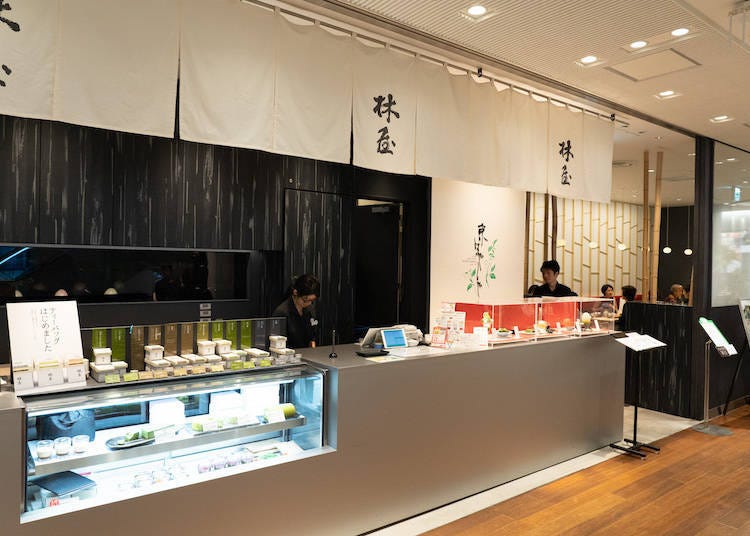 For something lighter, head to the 12th floor and Kyo Hayashiya, which specializes in Japanese matcha (green tea). At the café you can drink a range of matcha made using only the finest tea from Kyoto. Be sure to enjoy a parfait that is exclusive to Takashimaya Times Square!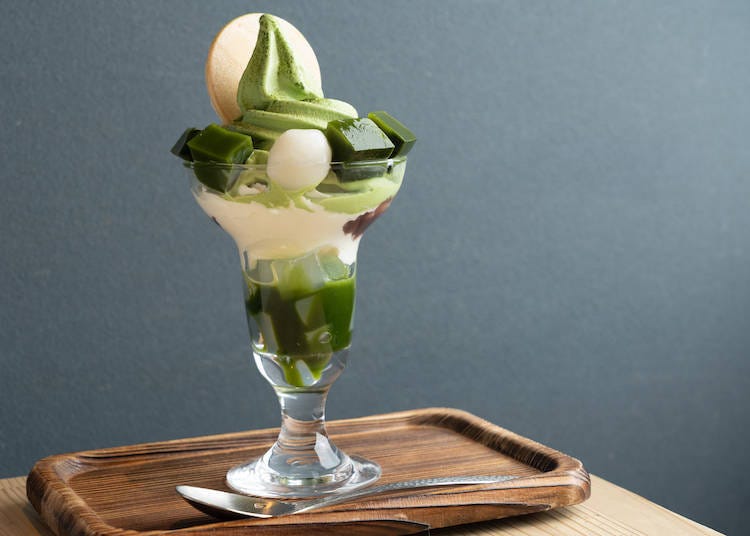 Takashimaya Times Square Limited Edition Matcha Parfait
For newcomers to matcha, Kyo Hayashiya's signature blend has very little bitterness and a very smooth aftertaste, making it a great entry to the world of Japanese sweets. Of course, the matcha pro will be in their element across the expansive menu.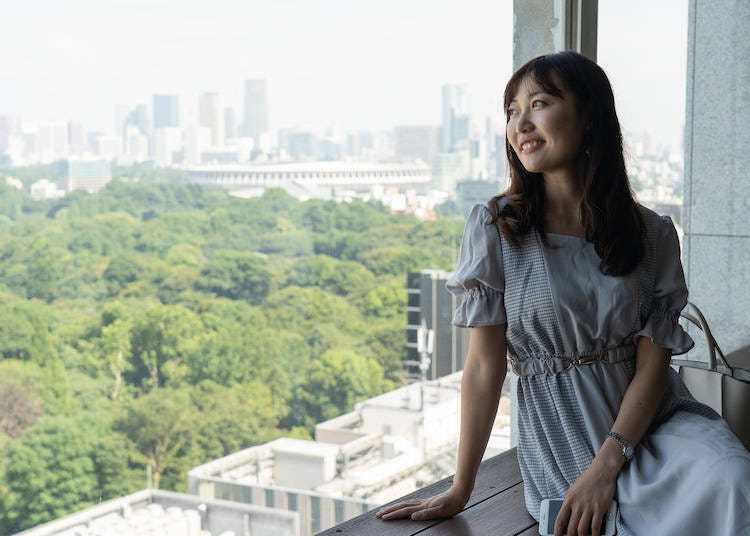 Alternatively, for the ultimate Shinjuku dining experience, why not opt for a matcha ice cream and head outside to the White Garden 12F-13F? There you can enjoy simply stunning views of the Shinjuku area and get great photo opportunities. See if you can spot the New National Stadium currently being built for the Tokyo 2020 Olympic and Paralympic Games just beyond the great green expanse of Shinjuku Gyoen Park.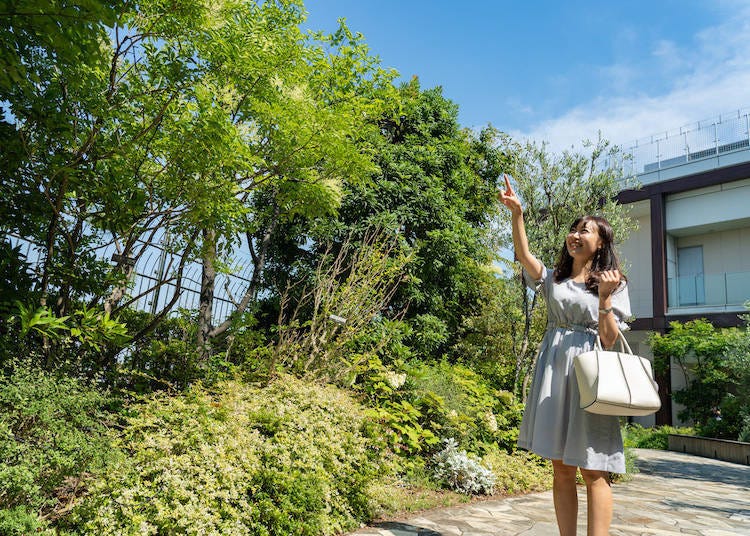 The White Garden is one of Takashimaya Times Square's best-kept secrets! But feel free to share it!
There are also restaurants where you can eat outside in summer and, in winter, enjoy illuminations for a romantic evening under the stars and Tokyo lights.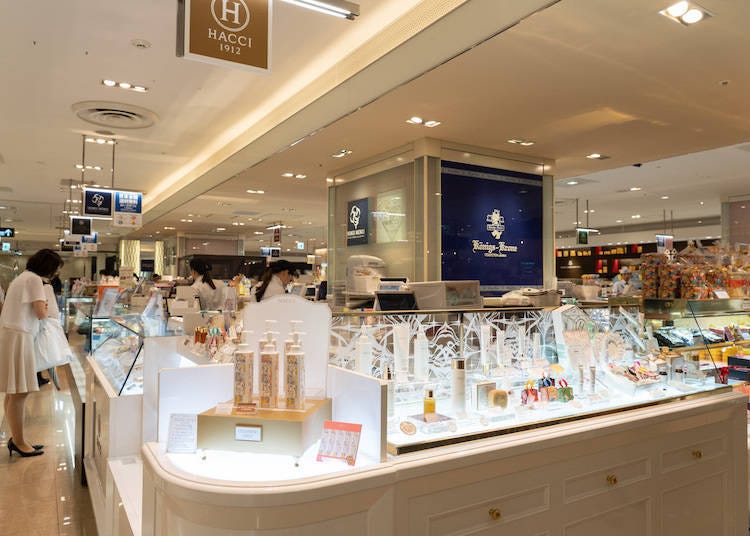 Finally, for a sweet souvenir of your day at Takashimaya Times Square, the basement Food Hall is your final stop. Among the countless sweet treats and fresh fruits, for the beauty conscious we recommend a trip to HACCI for an unexpected encounter between sweets and cosmetics!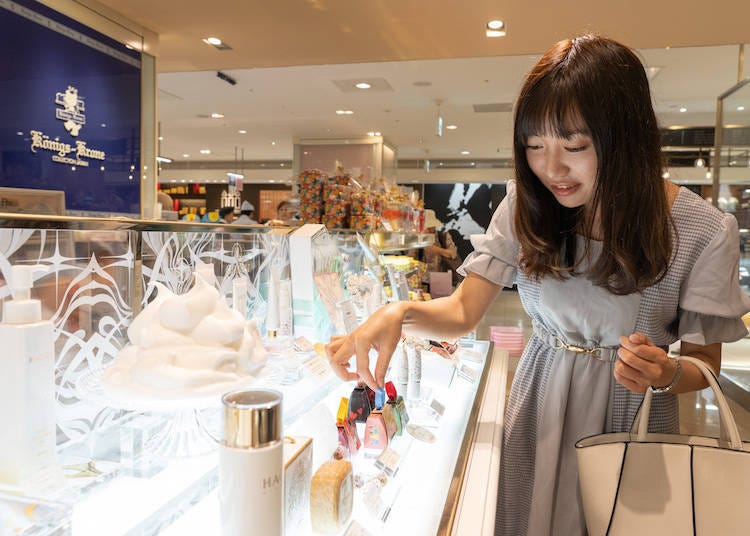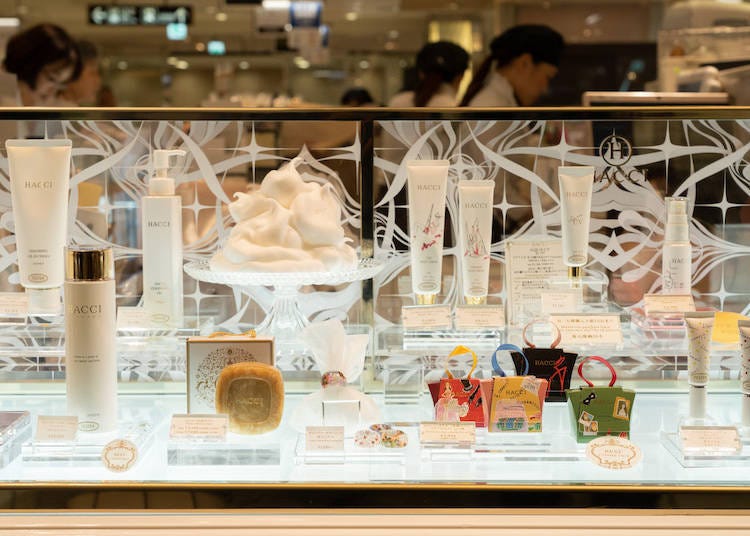 In addition to their lineup of Japanese and world honeys, bonbons, and tasty rusks, HACCHI also has a skincare line that looks good enough to eat. In particular, their extra foamy honey-infused facial soaps look and smell just like a meringue—once you have worked them into a lather.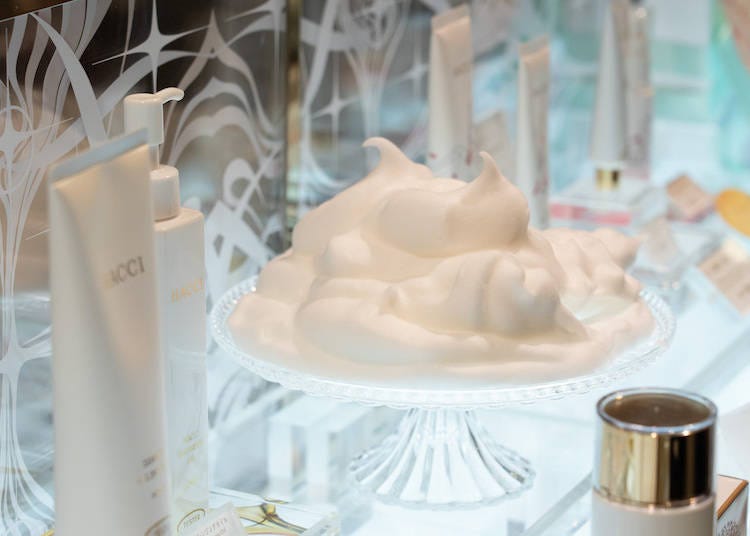 The super-moisturizing honey and mildly glittering sheen will leave you feeling like a princess. And with smaller soaps being a popular gift, you can share your beauty secrets with friends long after you have left the store.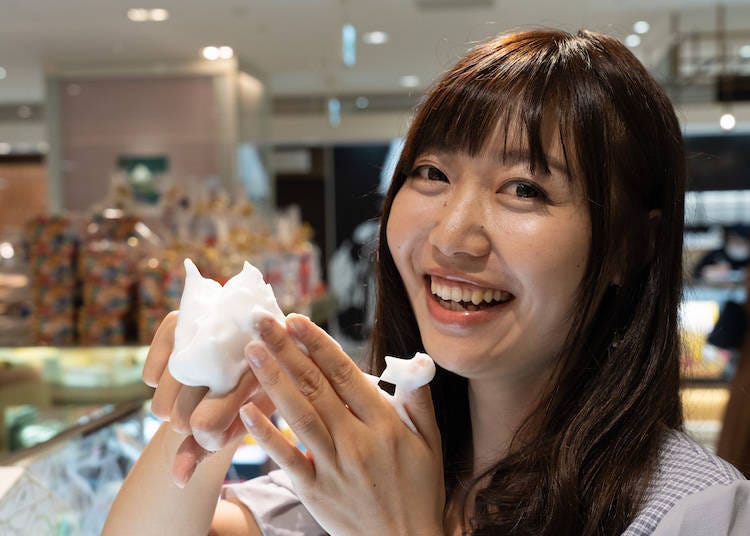 Omotenashi—Takashimaya Times Square Style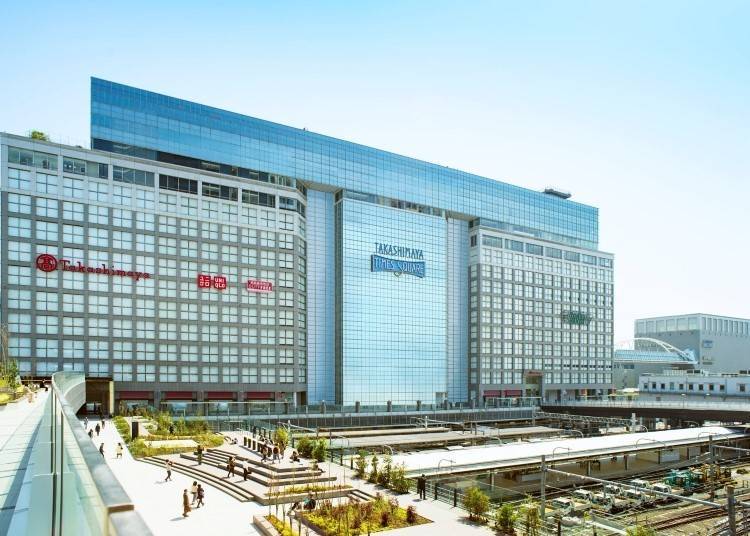 Wherever you go in Takashimaya Times Square, the Japanese omotenashi spirit of hospitality is always apparent. Whether it is cloakrooms and luggage lockers so you can shop without baggage, free stroller rental for those with young children, or the prayer room on the 11th floor, the store was built with guests in mind. If you have any special requirements you can even give them a call in English from abroad and their staff will be delighted to help you plan your day.

For more information about Takashimaya Times Square, visit the links below and let Takashimaya Times Square be your beauty concierge as you discover a new you, with the very best in Japanese beauty.
Discount Coupon Information!
Live Japan Exclusive Coupon

Those who spend 80,000 yen or over in a single day at Takashimaya Shinjuku and the SHILLA&ANA Takashimaya Duty Free Shop will receive a 1,000 yen off voucher for use in the Restaurants Park. Simply present your receipt or receipts at the SHILLA&ANA Takashimaya Duty Free Shop FIT Counter located on the 11F of Takashimaya Times Square as well as this Live Japan article to receive your voucher.

Campaign Period: August 9th, 2019 – August 29th, 2019
- Only receipts where the tax free shopping procedures were completed at the 11F Tax Free Counter will be considered eligible for this campaign
- All receipts must be issued on the same day you apply for this offer, and you can only receive one voucher per day
- For further details please check with our staff in store



SHILLA&ANA Takashimaya Duty Free Shop 5% Off Coupon

Finally, simply show the barcode below to our staff when you are shopping at the SHILLA&ANA Takashimaya Duty Free Shop and receive a 5% discount coupon!

- Please be sure to show the barcode to the staff before you complete payment procedures as it cannot be used after your transaction is completed
- You will need to present your passport, plane ticket or electronic ticket at the time of purchase
- Some products will not be eligible for purchase with this discount coupon. Additionally, group tour shoppers are not eligible for this discount.
- This coupon cannot be used in conjunction with other offers.

For all enquiries please call: +81-3-5361-6600
*This information is from the time of this article's publication.
*Prices and options mentioned are subject to change.
*Unless stated otherwise, all prices include tax.