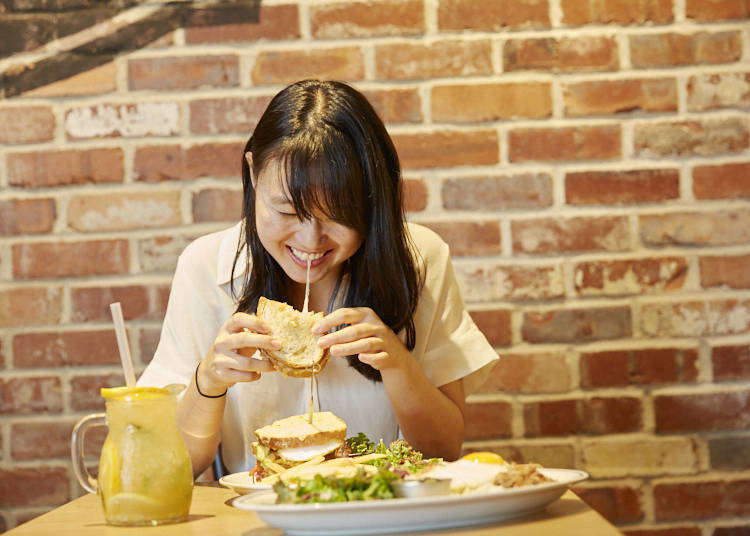 Shinjuku Mylord is a large shopping center that doesn't only boast a great selection of fashion hot spots but also convenient direct access from Shinjuku Station. On July 13, 2018, the entire food court from the 7th to the 9th floor has been beautifully renewed for the first time in 10 years. Now, it's home to numerous amazing restaurants and eateries offering equally amazing dishes – many from overseas, opening their first location in Japan.

To thoroughly check Shinjuku Mylord's new food court, we visited its gourmet hot spots with a Korean lady in her 20s who is not only at the forefront of trends and fashion but will also be our taste tester!
Different Themes for Each Food Count Floor at Shinjuku Mylord!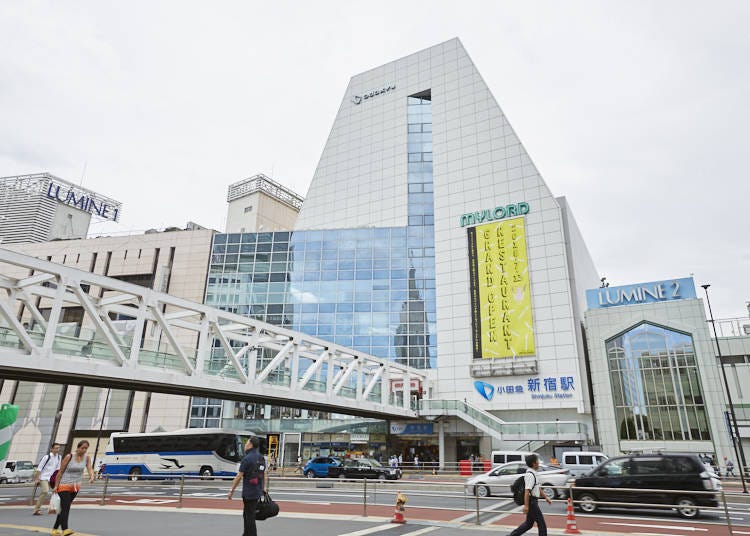 Shinjuku Mylord, operated by Odakyu Electric Railway, opened its doors to curious shoppers for the first time in 1984. The fashion-focused shopping center is directly connected Shinjuku Station's South Exit and is particularly popular with young women. It's convenient to simply drop by if you're at the station anyways and stroll along the about 120 unique and exciting shops, always on top of the latest fashion trends.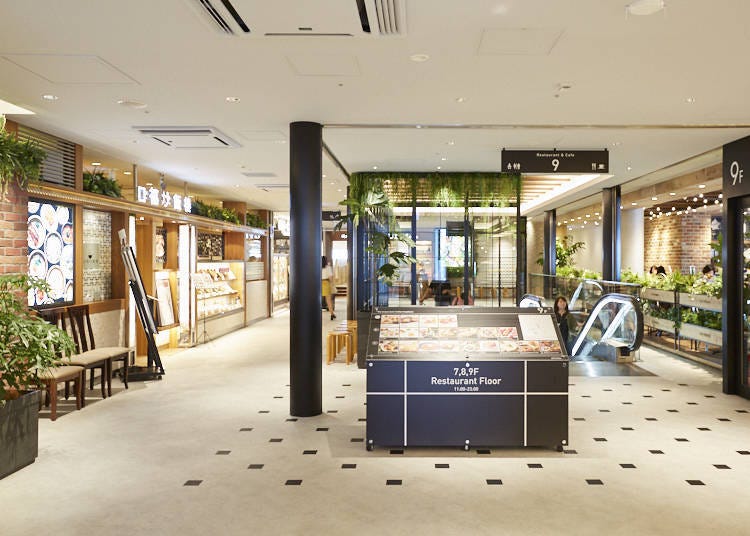 Summer 2018 brought the thorough renewal of Shinjuku Mylord's food court spanning from the 7th to the 9th floor. Now, there's a unique concept for each of them, bringing a fun twist to your gourmet experience.

・ 7th Floor: Gathering Dining
Just as the name suggests, the restaurants on this floor are wonderfully casual and perfect places to enjoy a nice meal with friends.

・ 8th Floor: Joy Dining (*renewed on May 18)
This floor has an exceptionally diverse selection of unique and creative spots.

・ 9th Floor: Find Dining
With just a hint of luxury, the restaurants on this floor offer a particularly beautiful night view and elegant yet laid-back atmosphere.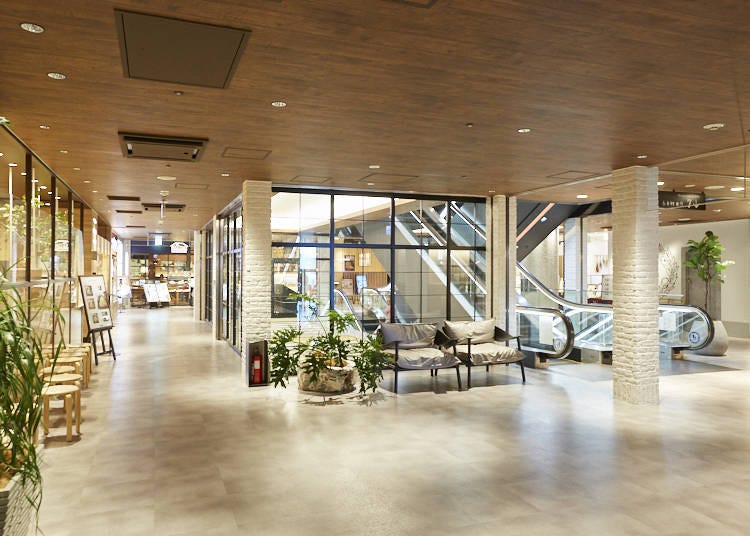 Meet AhYoung, Our Taste-Tester from Korea!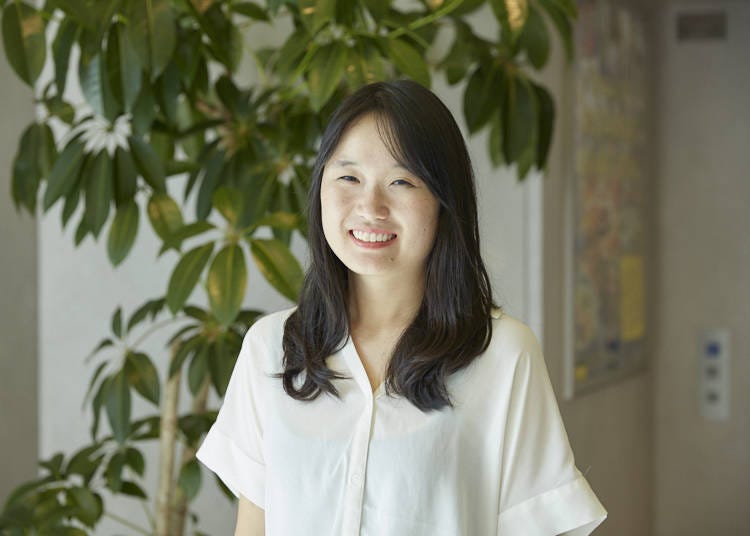 This is AhYoung and if there's one thing she wants you to know about her, it's that she loves food. She was born in Korea, grew up in the United States, and currently lives in Japan! With that multinational background, she's the perfect person to evaluate the various restaurants from different angles. "I've never been to Shinjuku Mylord, so I'm excited to see what kind of shops there are! I'm also getting hungry," she says and laughs before her shy side shines through a little: "Also nervous. I'm not used to being on camera that much!"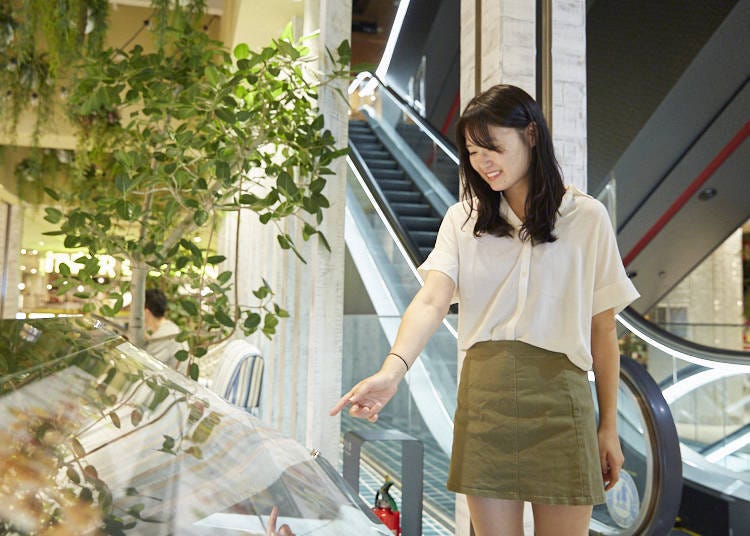 "I think that food courts on the top floors of such buildings is a 'Japan' thing, I haven't really seen that in either Korea or the United States. Same goes for station buildings with that many different shops." Certainly, food courts are a not a Japan-only thing by any means, but them being located on top of a building might well be. Japanese people, on the other hand, seem to always assume that the restaurants are on the upper floors!

Now, let's head to the two stores that AhYoung found especially interesting.
Café Hudson (9F): A Satisfying Menu That's Incredibly Photogenic!
Café Hudson and its fashionable, cosmopolitan atmosphere evoke the image of a hip café in downtown New York. The concept "rough and cool" is skillfully executed and with about 98 seats in total, you won't have to worry about any queue but can simply pop by and take a laid-back break. Outlets are installed at 26 seats as well, so recharge your devices, enjoy the free Wi-Fi, and take a nice picture to post on social media as you wait for your food. You can even stop by and get some work done! The wide windows also offer a breathtaking night view on Shinjuku's urban jungle.

The rich menu boasts big, plentifully topped sandwiches like you'd find them in New York City, popular pancake creations, and various drinks – a thoroughly American-style selection!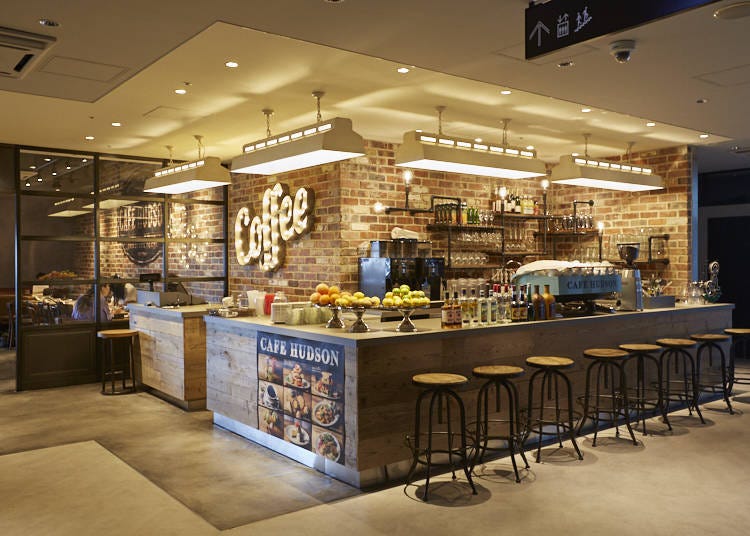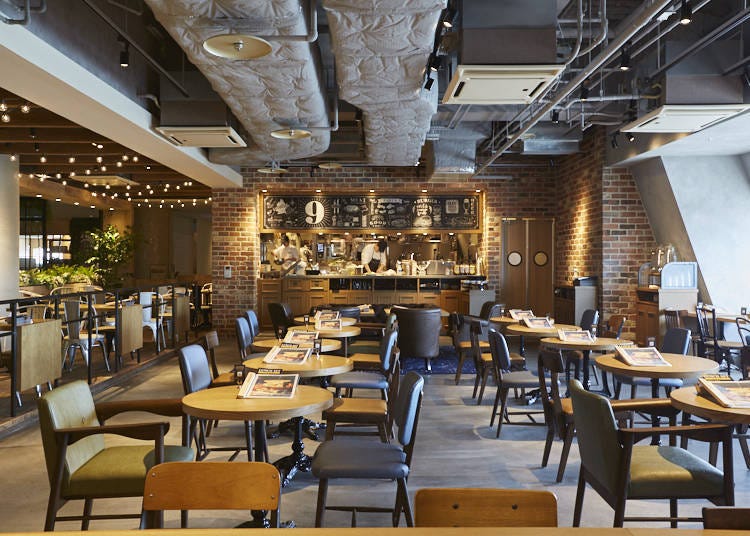 Of course, AhYoung ordered Café Hudson's recommendation and most famous menu item.
Grilled Cheese Melt Sandwich (1,550 Yen): Three Kinds of Cheese for Melty Deliciousness!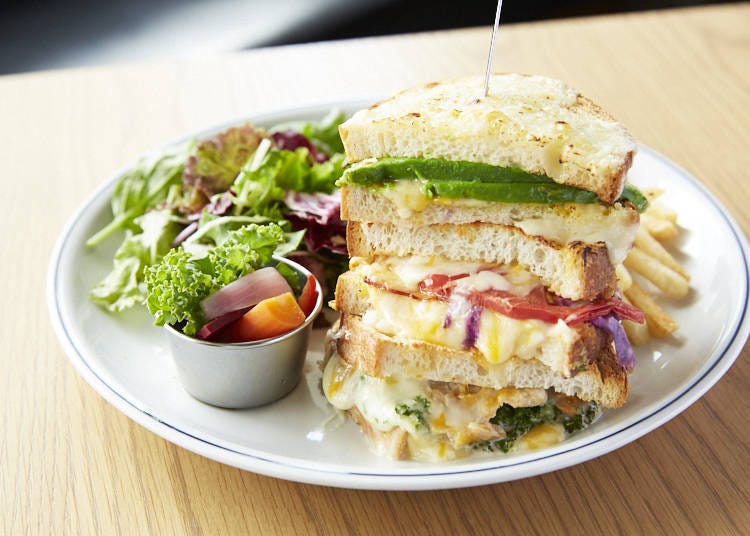 Meet the Grilled Cheese Melt Sandwich in all its colorful glory! Topped with plenty of ingredients, this delight is a full 10cm high and the shop's most iconic dish.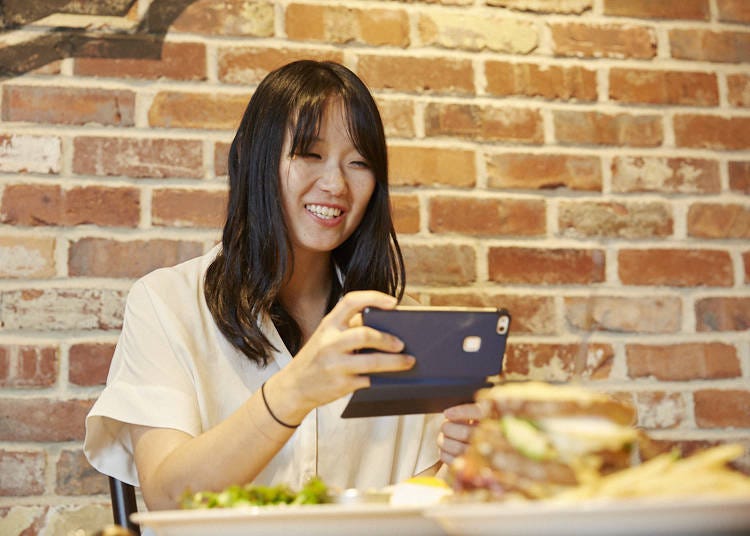 "This is amazing," mumbles AhYoung in awe as she takes a picture of her dish. "The fresh, vivid colors of Café Hudson's dishes and drinks makes them very photogenic. We are always happy to see our guests take pictures and upload them to social media," says Terashima-san, in charge of the shop's PR. Café Hudson is also holding an official Instagram campaign right now and you can get one of these cute logo pouches. First come, first serve! (As of September 2018, limited quantity.)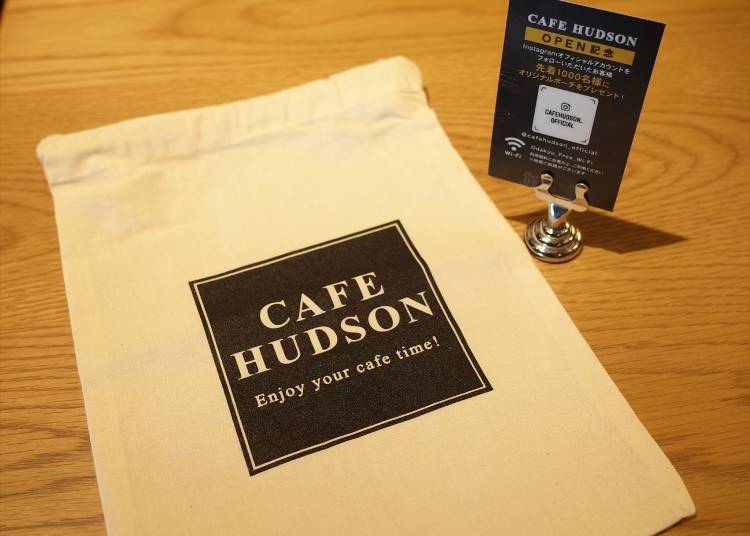 Let's waste no time – dig right in, AhYoung!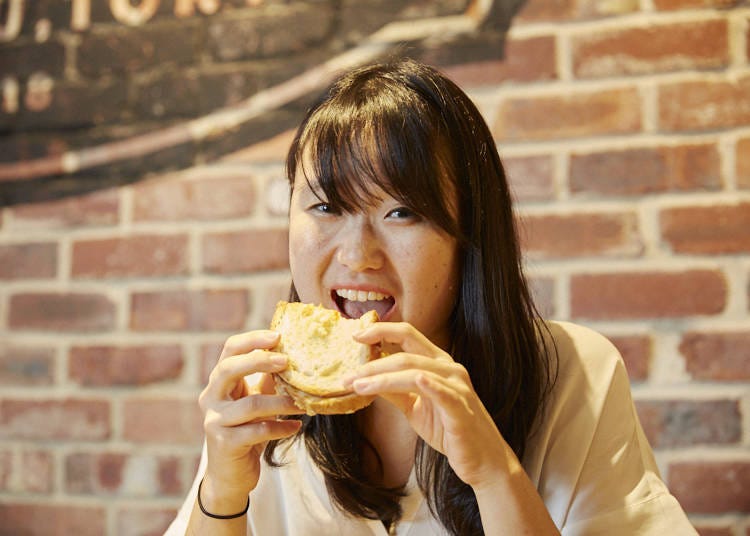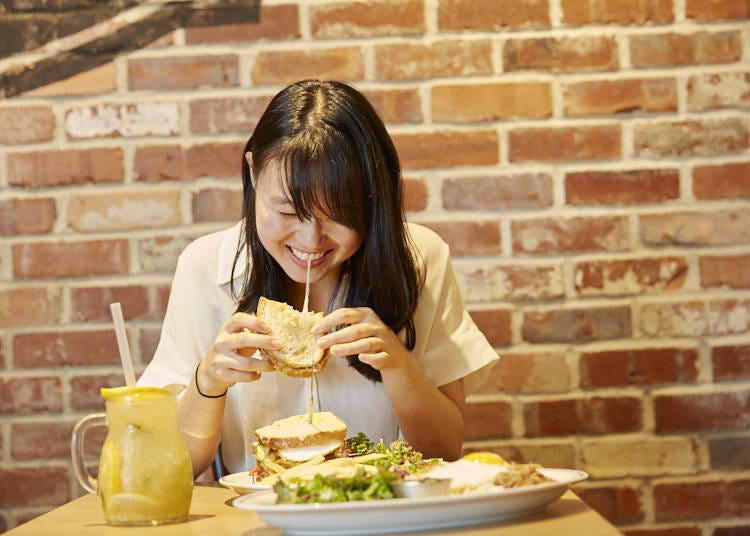 "Ooh that cheese is good!" The name "Melt Sandwich" certainly wasn't an understatement. The generous servings of three types of cheese are deliciously stringy, melted to perfection! The sandwich features three layers, with avocado and fried egg on the top, purple cabbage, tomato, and bacon in the middle, and tuna and kale on the bottom. The three kinds of cheese add a lot of flavor as well and tie everything together nicely.
Pulled Pork and Quinoa Rice Plate (1,290 Yen): A Casual American BBQ Experience!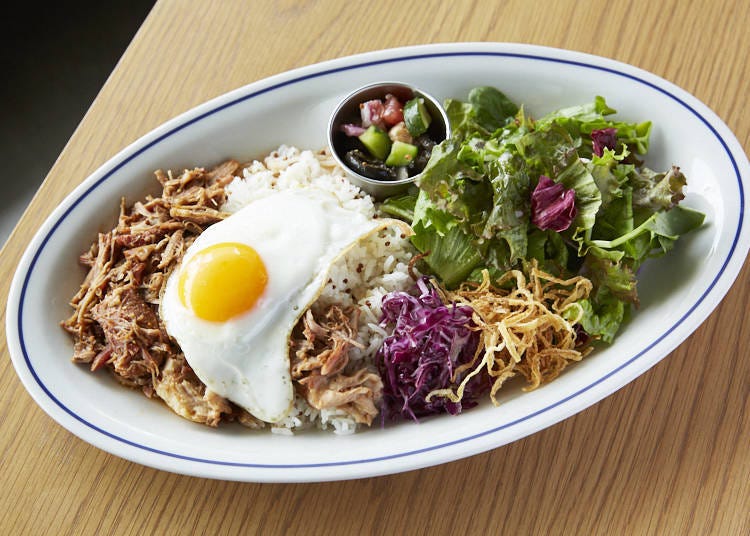 Pulled pork is a classic when it comes to American BBQ cuisine. This plate unites the savory delicacy, seasoned with plenty of spices, with the superfood quinoa, rice, and a fried egg with pleasantly runny yolk.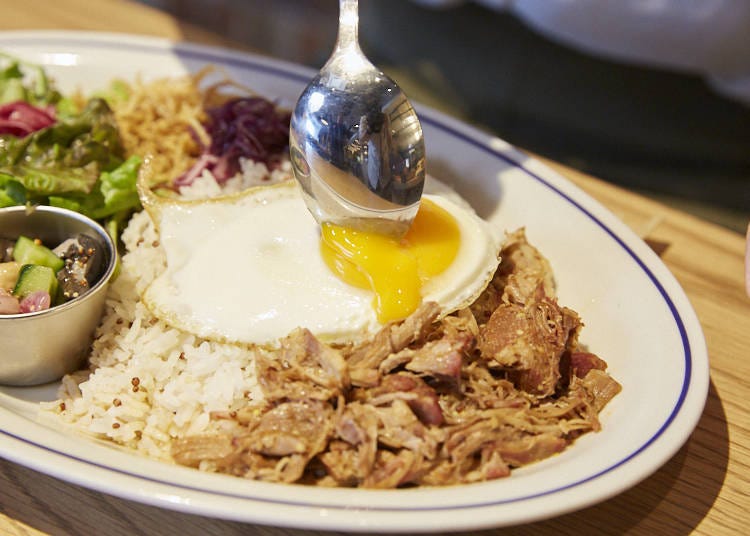 "I simply love runny yolk," says AhYoung as she pierces the egg with her spoon. Indeed, it's a sight that makes people happy, isn't it?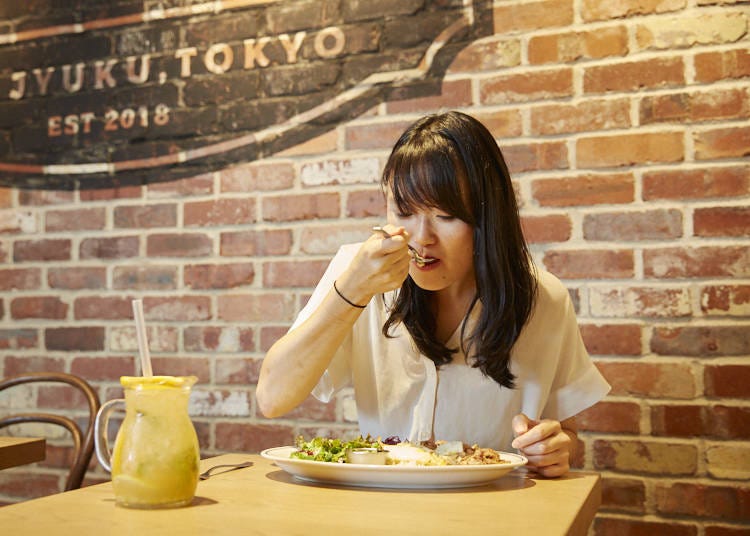 "I ate a lot of pulled pork in the US. Combining it with white rice makes it even tastier." The pickles accompanying the plate are also a nice choice, bringing a refreshing kick to the taste buds.
Original Lemonades (850 Yen Each): Irresistibly Tasty, Ridiculously Photogenic!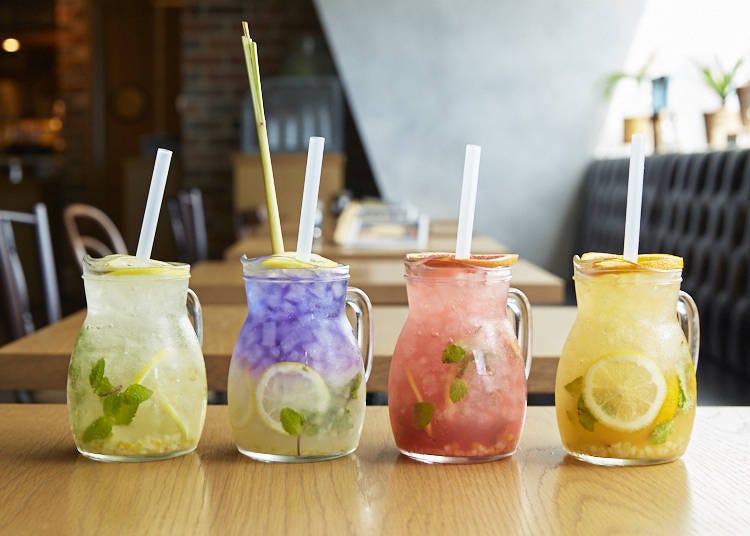 The original lemonades are so stunning with their vivid colors, it's impossible to not take a picture! From the left, it's classic lemonade, coconut lemonade, pink grapefruit lemonade, and orange lemonade.

A whole lemon is finely shredded and pickled in syrup before more fresh lemon is added to this delicious mix that is Café Hudson's original lemonade. It doesn't only look absolutely fantastic, it is also an explosion of fresh and fruity flavors! Neither too sweet nor too sour, it's a great way to recharge your energies.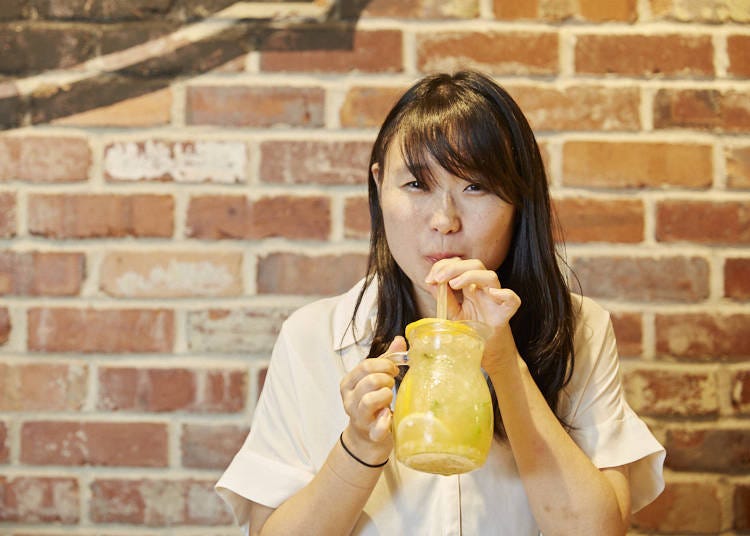 AhYoung goes for the orange lemonade. "Refreshing and delicious! It looks really stunning and I think young Korean women will love this."
Fresh Berry Ricotta Pancakes (1,490 Yen): Fluffy Like a Cloud!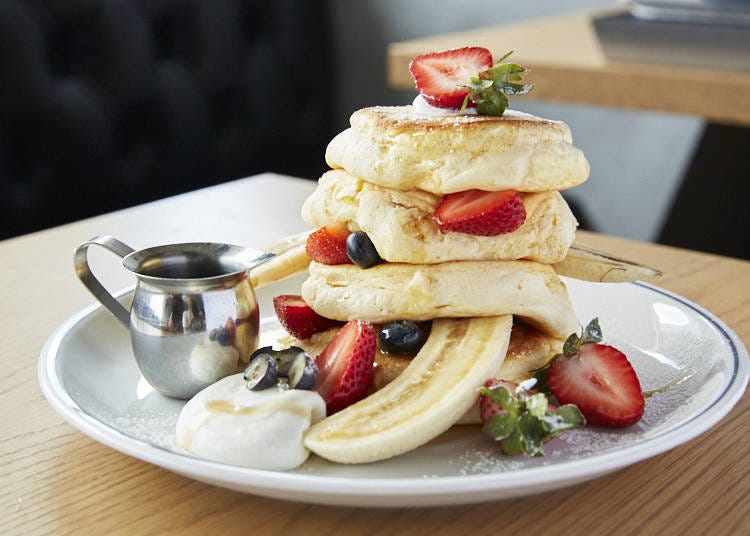 Ricotta cheese pancakes are one of New York City's staple dishes. Café Hudson uses an original blend of flour and a hint of meringue, making for a particularly fluffy texture. We ordered ricotta pancakes with fresh berries.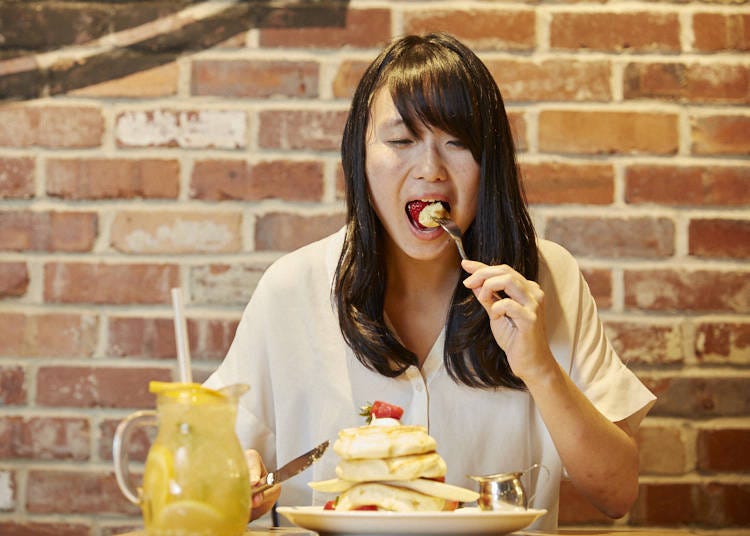 The subtle sourness of the ricotta cheese adds a refreshing note to the pancakes, making them surprisingly light and they'll be gone before you'll know it!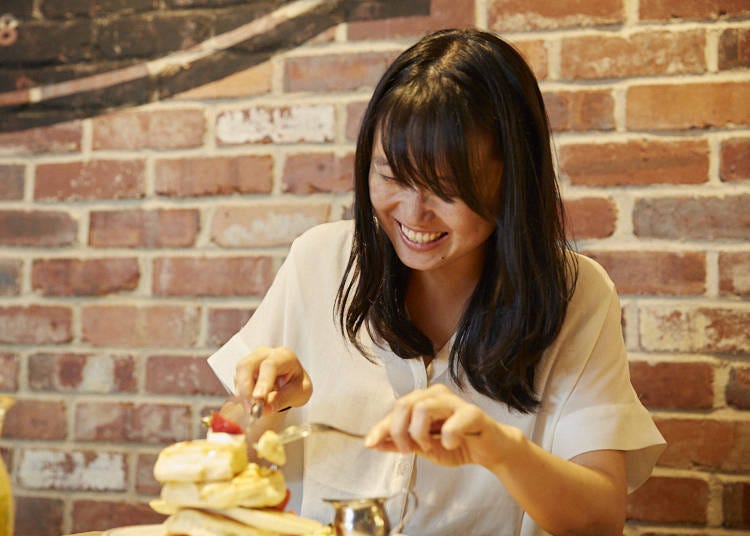 "The dough is so fluffy, I can't stop! Pancakes in the US have more bit to them, but these are like eating a cloud. I don't even need a knife!" Her big smile tells us all about just how good these pancakes are. Of course, pancakes are another American essential that sweet-toothed women love as well.

Café Hudson also offers a reasonably priced lunch set from 11:00 a.m. to 3:00 p.m. Because the servings are generous, we recommend ordering different things and sharing them among your friends!

Café Hudson
Shinjuku Mylord, 9th Floor
Hours: 11:00 a.m. – 11:00 p.m.
*Last order at 10:00 p.m. for food, 10:30 p.m. for drinks
*The restaurant is 100% non-smoking.
Phone: 03-3349-5892
Mensho San Francisco (7F): Reverse Ramen Import from the States with a Michelin Star!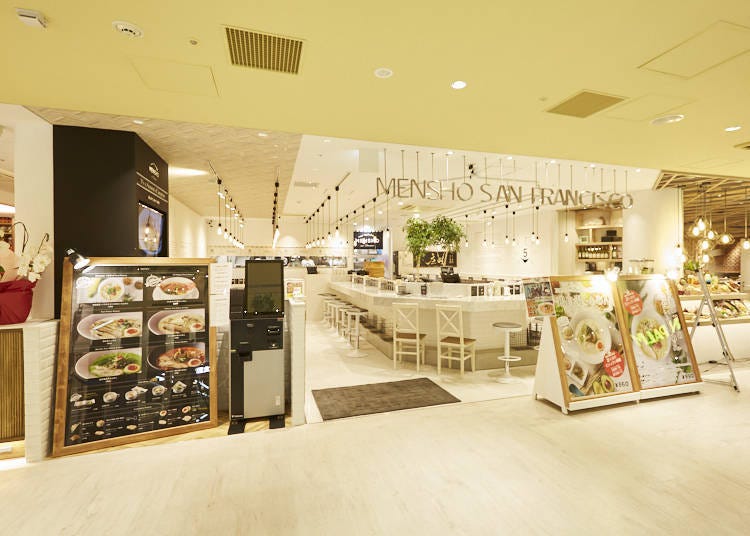 Our second spot on the list is a "reverse import" from the United States: Mensho San Francisco! It's a ramen shop opened under the concept of "ramen good for your body," arranging an authentic Japanese ramen taste in a healthy way by using soy milk in its soup, holding back on oil, and so on.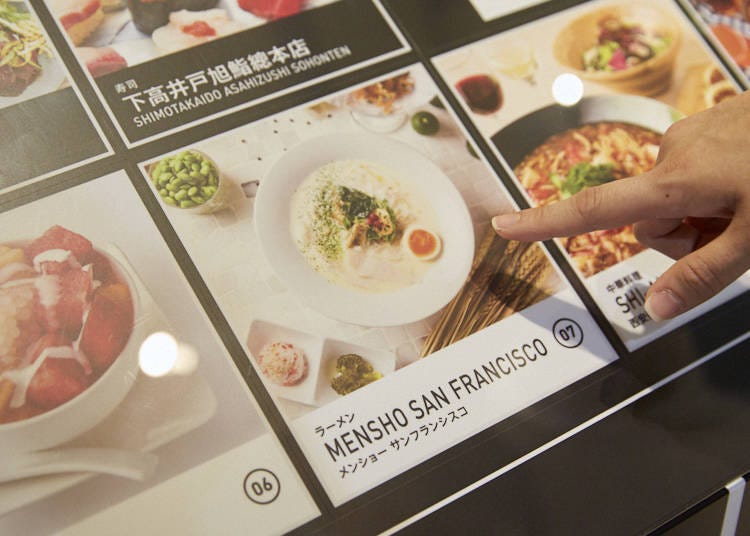 "It's an easy-to-order system even if you cannot speak Japanese because there are pictures of the dishes. I lived in San Francisco, so obviously I was drawn in by the name of this place," AhYoung says and laughs. With absolutely no Japanese required, Mensho is an excellent spot for your very first ramen experience!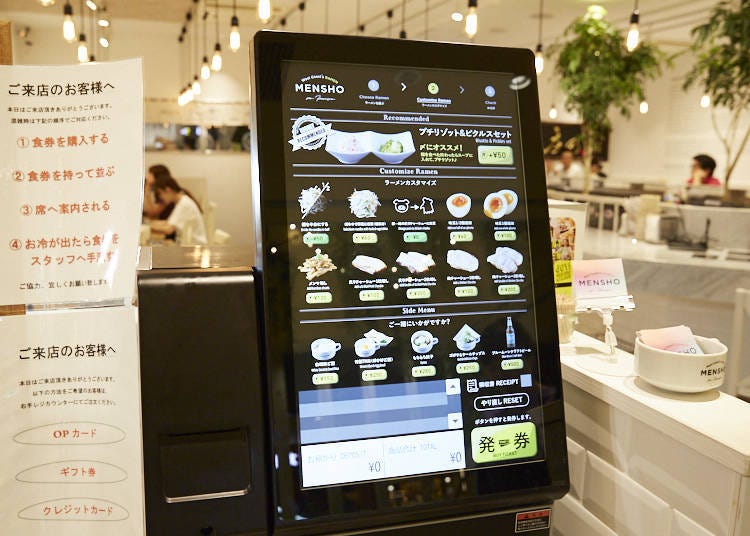 You order your bowl via a convenient touchscreen with plenty of pictures. English names and explanations are featured as well.

Back in the States, the combination of the subtle sweetness of chicken and mild bitterness of matcha tea found in the "Matcha Toripaitan Ramen" (980 yen) is extremely popular. Another excellent choice is the "A5 Kuroge Wagyu Shoyu Ramen" (1,950 yen, limited quantity), combining A5-grade Japanese Black beef with a savory soy sauce broth. There even is a rumor that David Beckham went out of his way to eat Mensho's ramen on his private jet.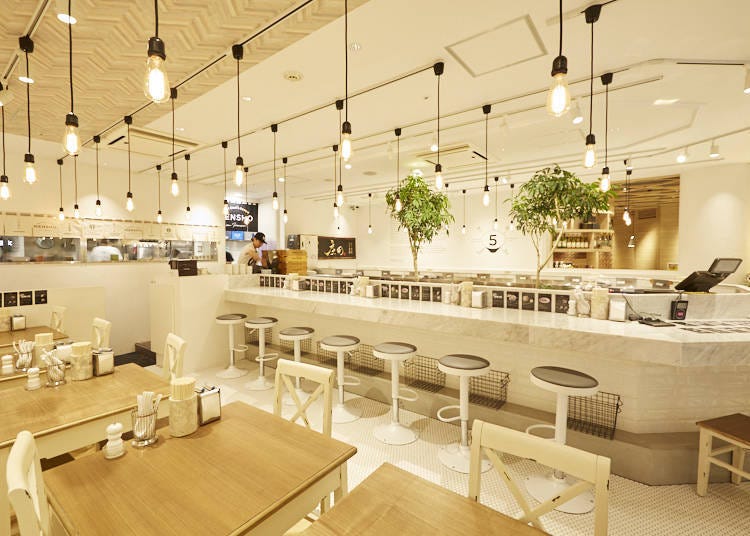 The interior of the shop is a modern white that feels clean and spacious, making it popular with female guests who just want to enjoy a bowl of ramen by themselves. Furthermore, Mensho enhances its ramen creations in various ways to make them healthier, such as kneading quinoa into the noodles, cutting the noodle volume in half and adding double the amount of vegetables, and so on.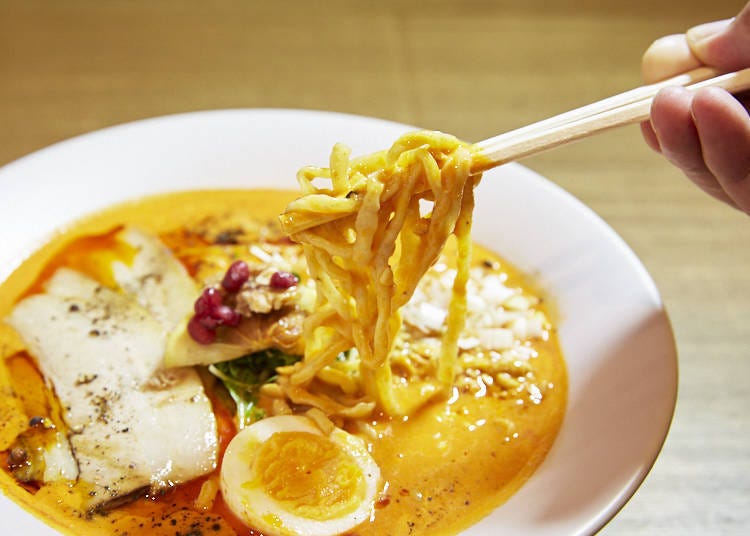 AhYoung likes spicy food so she ordered "Spicy Toripaitan Ramen" (980 yen). It's a flavorful bowl with plenty of tomato, spicy miso, and a generous serving of thick noodles. Other customers seem to enjoy this ramen creation because "it is properly spicy but still has a mild taste." The red bits you can see on the top of the bowl is pomegranate, said to have an anti-aging effect. Fancy!

We highly recommend ordering the "Risotto Set" alongside your ramen. Leave a bit of soup after enjoying all the toppings and add the rice for an entirely different gourmet experience!

Mensho San Francisco
Shinjuku Mylord, 7th Floor
Hours: 11:00 a.m. – 11:00 p.m.
*Last order at 10:45 p.m.
*The restaurant is 100% non-smoking.
Phone: 03-3349-5874
Find Your Perfect Gourmet Match at Shinjuku Mylord!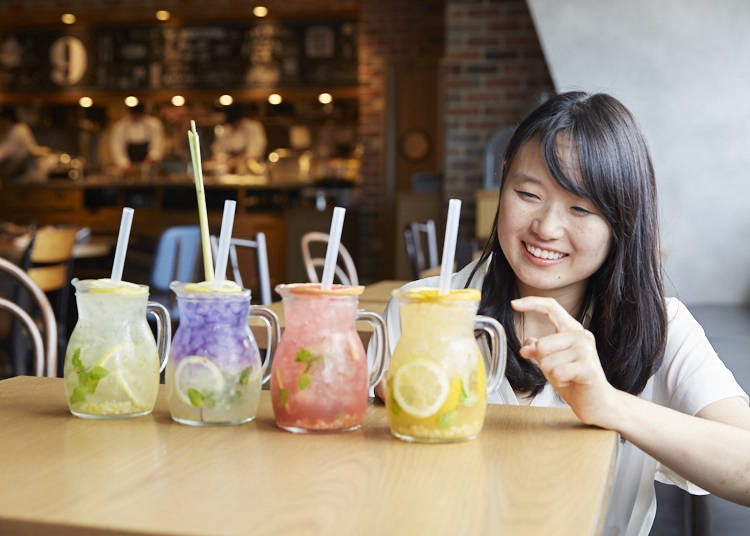 "It's conveniently close to the station and has a lot of fancy shops, so I'll definitely use Shinjuku Mylord more from now on. I especially like that the restaurants in the food court are open until late and night and offer a nice variety, that's really great," says AhYoung about her impressions of today's gourmet adventure.

Since the food court spans over three unique floors, it's surprisingly fun to just leisurely stroll along the shops and pick the one that piques your curiosity the most. Every floor has stylish benches to sit on, offering you a chance to rest your feet for a few minutes, too.
Discover New Japanese Gourmet Experiences at the Renewed Food Court!
Ever since Shinjuku Mylord's all-renewed food court opened, people have been flocking to it to try the many dishes on offer, firmly establishing its popularity from the very start. The different and creative concepts particularly attract female shoppers and gourmets but also make it a great place of discoveries for tourists from all over the world. The next time you're at Shinjuku Station, do make sure to stop by and explore Shinjuku Mylord for yourself!
*This information is from the time of this article's publication.
*Prices and options mentioned are subject to change.
*Unless stated otherwise, all prices include tax.