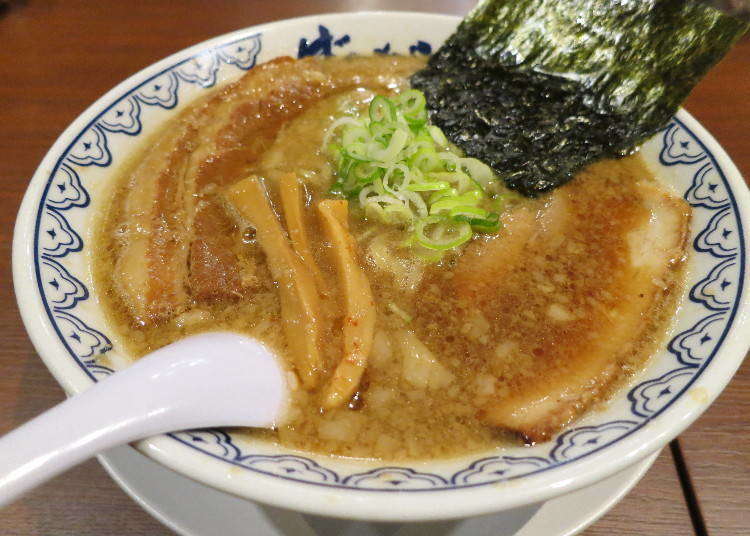 Ramen undoubtedly is one of Japan's most prominent national foods, loved by young and old alike. Not only Japanese people have succumbed to the delicious noodle soup, but more and more curious gourmets all around the globe are also becoming fans of the savory taste.

Here we introduce 3 of the top shops you must try when visiting Tokyo!
Quick background of ramen trends in Japan
However, ramen isn't an original Japanese dish but has its roots in China. Ever since Japan opened its ports to international trade and influence in the Meiji era, ramen has spread rapidly around the country and evolved into the unique "Japanese ramen." This tasty evolution has become a global phenomenon and nowadays, you'll even find "Japanese-style ramen" in China, the birthplace of the dish.

Japanese ramen have several features. The first one is the noodles – flour is mixed in lye water, an alkaline solution that gives the noodles their characteristic bite. That's a method rarely used for Chinese ramen. Furthermore, Japanese ramen bowls are strongly committed to the broth, with prominent flavors such as soy sauce, miso, salt, tonkotsu (pork bone).

Recently, niboshi (small dried sardines) and toripaitan (white chicken broth) have also joined the ranks of staple flavors. These soups are made from animal bones such as chicken, pork, or fish, or from a variety of vegetables, and every Japanese ramen store is committed to their own kind of soup. The word "ramen" does not only mean noodle soup but a rich variety of different styles.

There even are styles called tsukemen or tsukesoba that serve the soup extra, with the noodles being dipped. Sometimes, there's no soup at all and the ramen is then called shiru nashi and mazesoba. But whichever you fancy, we're sure you'll love our picks!
Must-Try Ramen Shops in Shinjuku, Tokyo's Fierce Noodle Soup Battleground!
But where to savor ramen? The choice is harder than you might think! The world of Japanese ramen is fiercely competitive and it is said that "3,000 shops open every year, 3,000 shops close every year."

So while you'll find a ramen shop almost at every corner throughout Japan, it is hard to keep track of established shops, new shops, and those that have moved from one location to another.

Among them are many popular shops that boast long queues of gourmets around the clock. Finding out about these shops and their incredibly delicious ramen can be difficult, though, even if you are able to search for information in Japanese, especially if you are in Shinjuku, one of Tokyo's fiercest ramen battleground. Allow us to help you out and introduce you to three must-try ramen shops in the area!
1. Bankara Ramen: The Perfect Balance of Soy Sauce and Pork!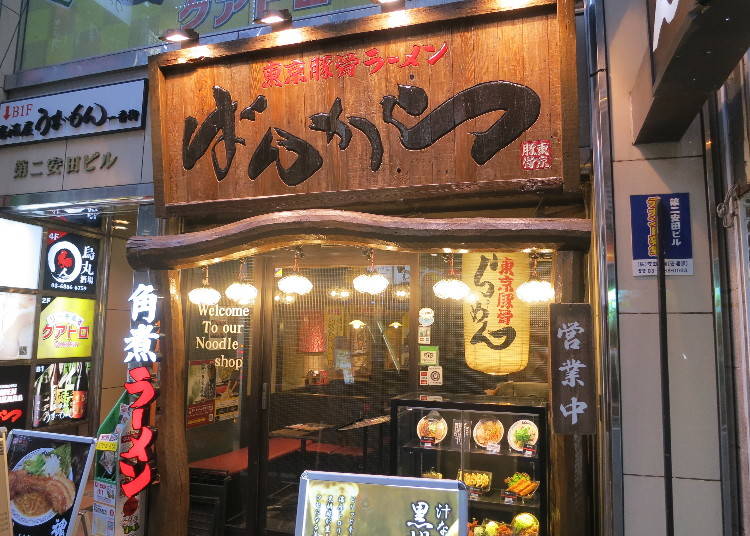 Bankara Ramen is a well-known ramen shop in Shinjuku that serves bowls to gourmets from all around the world. It also has locations in Malaysia, Australia, Thailand, and Vietnam while Bankara's Kabukicho store was opened in 2012.

Since a certain Hollywood star visited the shop, Bankara has been picked up by several city guides and numerous international tourists started visiting. Since then, Bankara dominates the area as one of the most popular ramen shops.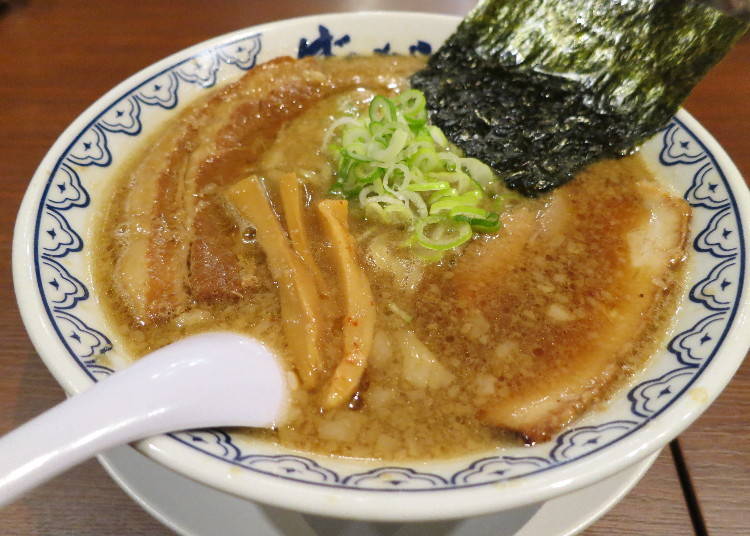 Bankara's most iconic dish is the "Kakuni Bankara" (1,004 yen, tax included). About half of the shop's guests order this savory bowl. The broth is made of pork bones, chicken bones, and vegetables, but the base is a pleasantly sweet soy sauce mix called kaeshi. This is then enhanced with 120g of kakuni, well-boiled pork belly. Left to stew for more than 24 hours, it becomes wonderfully tender!

By the way, tonkotsu ramen comes from Kyushu's Fukuoka Prefecture and is characterized by a flavorful cloudiness that comes from stewing pork bones for a long time. However, Bankara serves what can be called Tokyo's golden standard for tonkotsu.

"Briefly explained, we serve tonkotsu ramen topped with pork belly fat," says Mr. Horiuchi of Hanaken, the company behind Bankara, of the shop's delicious taste. Pork belly fat refers to the upper part of the loin and even under intense heat, it won't melt entirely, leaving little bits.

Floating on top of the soup, it unfolds its flavorful sweetness and richness. This subtle sweetness is one major characteristic of Bankara Ramen!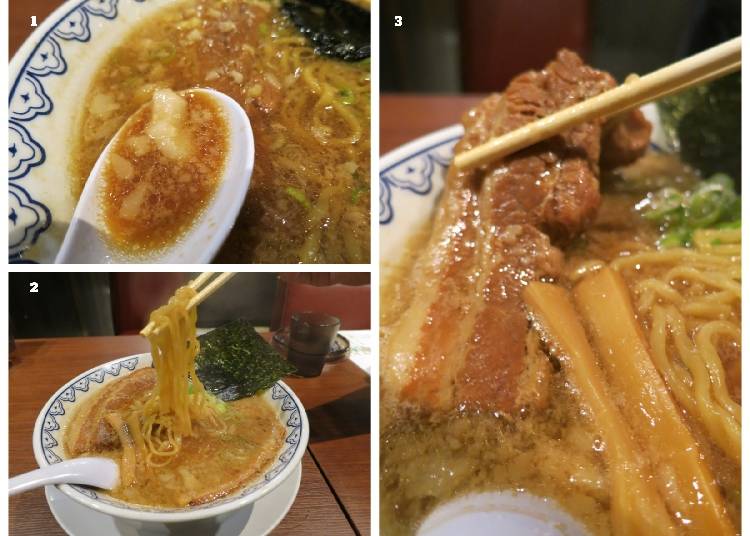 1) The pork belly bits floating on the soup. 2) The noodles are made to match the broth and are medium thin. 3) The meat is so tender, you can break it with a bit of chopstick pressure alone.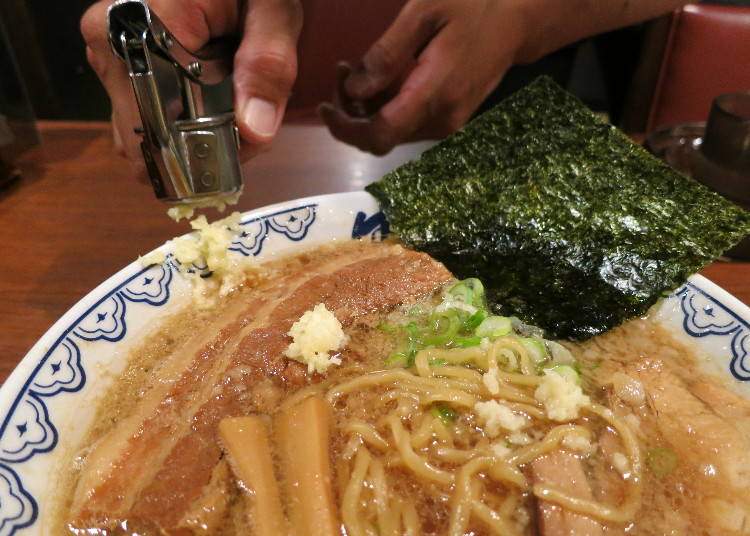 Bankara's bowls also come with a generous serving of raw garlic. A special squeezer mashes the clove right at your table, as much as you desire. The fresh garlic adds a nice kick of flavor to the rich soup, making it even more delicious! Try it by all means!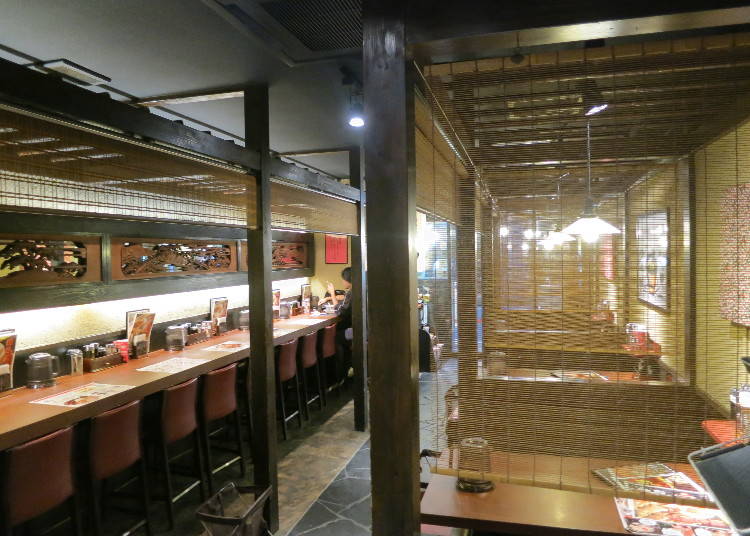 Another reason for Bankara's popularity is the authentically Japanese atmosphere of the shop. Above the table seats are transoms called ranma, a beautiful characteristic of Japanese architecture. A lot of ramen shops are rather small and only have counter seats, but Bankara charms with beautiful table seats in semi-private rooms. That offers a relaxed ramen experience for everyone, even families with children.
Tokyo Tonkotsu Ramen Bankara Shinjuku Kabukicho

東京豚骨拉麺ばんから 新宿歌舞伎町店

Address

〒160-0021 東京都新宿区歌舞伎町1-17-5 第二安田ビル1階/Yasuda Bldg. No. 2 1F, 1-17-5 Kabukicho, Shinjuku-ku, Tokyo 160-0021

Phone Number

03-6205-5215

Hours: 11:00 a.m. – 8:00 a.m.
Closed: open every day
Access: Shinjuku Station (JR lines), 4 minutes on foot from East Exit
Shinjuku Sanchome Station (Tokyo Subway Marunouchi Line), 4 minutes on foot
Seibu Shinjuku Station (Seibu Shinjuku Line), 3 minutes on foot
2. Shinjuku Gyoen Ramen Ouka: Savor Ramen, Vegan or Halal!
"Finding tasty ramen as a tourist in Tokyo sounds easy but is rather tough in reality" is an often-quoted statement, but there's more to it than just finding information on the topic.

Especially for Muslims, the task of finding halal ramen is especially tough. Ramen shops are notorious for their use of pork, from the soup base to the toppings, and while the strict details of "halal" may differ from person to person, knowing what's inside a dish is important.

Japan is focusing on inbound tourism at the moment, but halal-friendly ramen shops are still a rarity.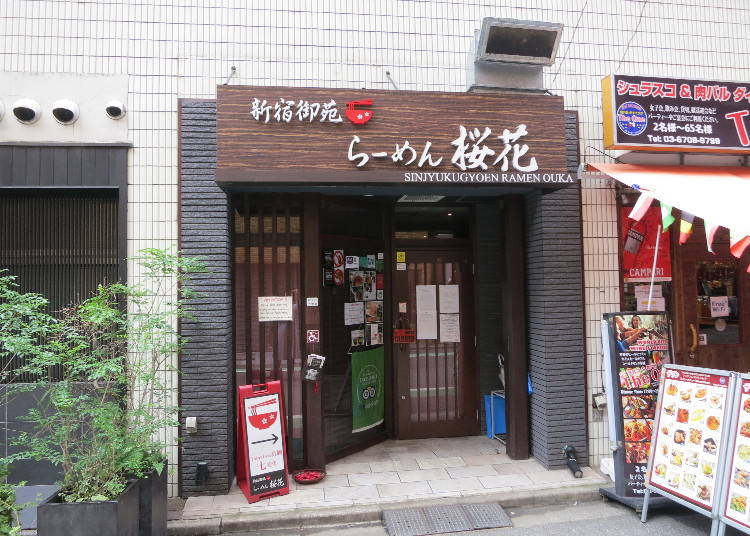 That's exactly why we've found one for you! Ramen Ouka at Shinjuku Gyoen is a ramen shop well-known for being halal-friendly while boasting an authentic Japanese style.

The predecessor of this shop was in Yokohama, until friends of the shopkeeper told them about their Muslim friends from Malaysia who couldn't eat anything but the cup noodles they brought.

That's when Ramen Ouka decided to go halal-friendly. After a lot of trial and error, the shop was opened in September 2016 at the current Shinjuku Gyoen location. The owner himself is Muslim and offers delicious halal ramen.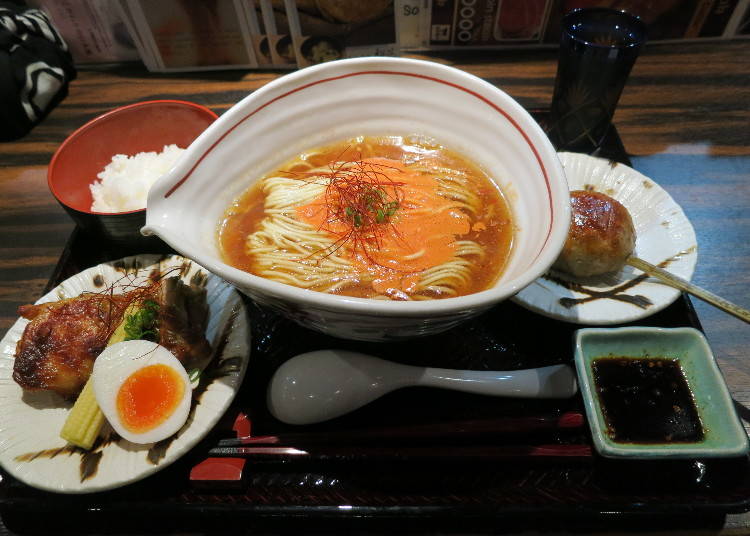 The most popular bowl is the "Spicy Gozen Ramen" (regular, 150g noodles, 2,100 yen). It can also be upgraded to large (200g noodles, 2,200 yen) or downgraded to small (110g noodles, 1,900 yen). The soup's base is red sea bream and Japanese beef, infused with a mix of soy sauce, tomato, and Manila clam.

It's also seasoned with a Thai spice called Bird's eye chili, giving the ramen a positively strange and fascinating taste that feels like the perfect blend between east and west. This spice is served on top of the noodles to gradually dissolve into the soup, spreading a pleasant spiciness.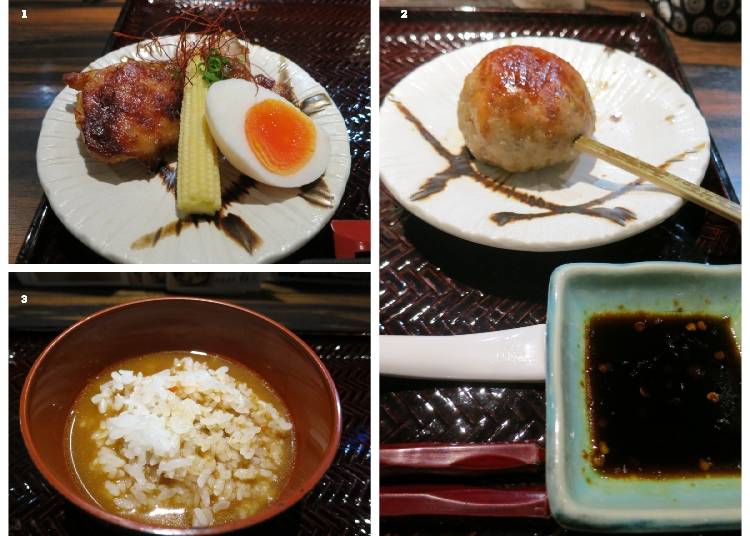 1) Teriyaki chicken thigh, young corn, and a seasoned egg as toppings. 2) Flavorful chicken meatloaf called "tsukune." It's best enjoyed with the soy sauce dip. 3) After finishing all the noodles, we highly recommend adding some rice to the soup. The tomato taste goes great with white rice, turning the Japanese bowl into an Italian flavor.
The ramen bowl is topped with plenty of teriyaki chicken thigh and tsukune, chicken meatloaf. Even the regular size features a nice volume of 150g noodles, but if you're still hungry afterward, pour the rest of the soup into the bowl of free white rice for a delicious hodgepodge. This "easy-to-pour" soup and bowl has become one of Ramen Ouka's main characteristics! This full course won't leave anyone wanting, not even the biggest of eaters!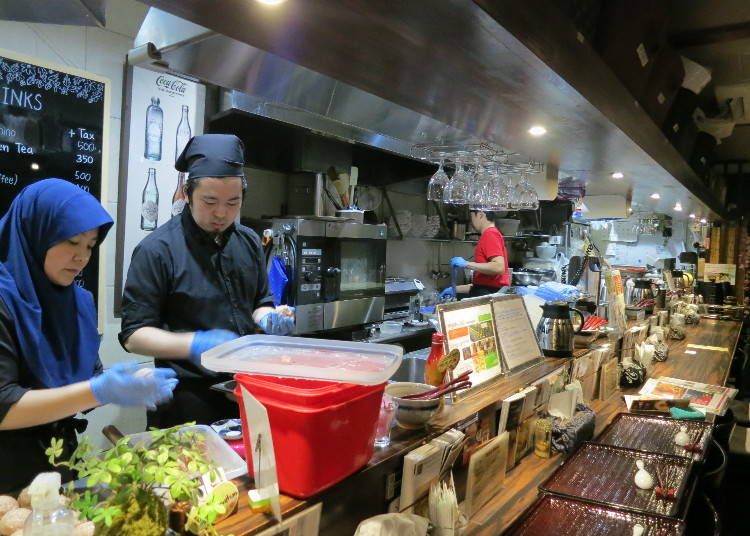 By the way, 90% of Ramen Ouka's customers are tourists! The store manager is Japanese, but the staff of the shop is able to speak English, so don't hesitate to talk to them! Regularly, only counter seats are available, but Ouka also offers table seats for guests in wheelchairs or people accompanied by children. The shop's ramen specialties come as halal-friendly and vegan as well. It's a great spot to start your ramen adventures in Tokyo!
Shinjuku Gyoen Ramen Ouka

新宿御苑 らーめん桜花

Address

160-0022 東京都新宿区新宿1-11-7 第五御苑ビル1F/Daigo-gyoen Bldg. 1F, 1-11-7 Shinjuku, Shinjuku-ku, Tokyo 160-0022

Phone Number

03-5925-8426

Hours: 2:00 p.m. – 10:00 p.m. (5:00 p.m. – 10:00 p.m. on Fridays)
Closed: Saturdays, Sundays, national holidays
Access: Shinjuku-gyoemmae Station (Marunouchi Line), 2 minutes on foot from Exit 2
3. Ramen Nagi: Try Japan's Original Ramen Taste!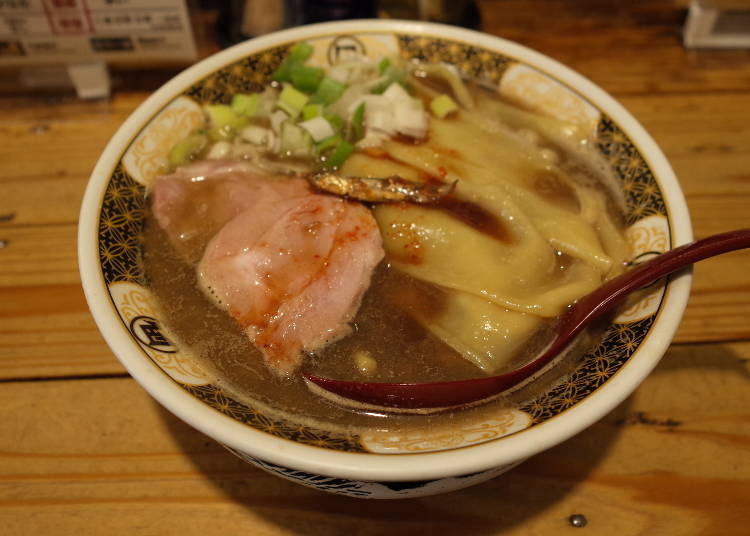 Ramen Nagi is our top recommendation if you want to try Japan's original ramen style niboshi dashi, meaning soup stock made with dried sardines. You'll find the shop and its delectable ramen creation in Shinjuku's famous Golden Gai.
The full name of the shop is "Sugoi Niboshi Ramen Nagi" and you'll immediately notice the long line of people seeking to try the original broth. When the shop's owner went to Aomori, a place that's incredibly famous for its dried sardines, he tried local ramen and completely fell in love with the uncommon taste, vowing to make it more popular.

"The ramen flavor comes from the soup" is a concept unique to Japanese. As already mentioned, the base for these ramen is a thick, rich soup and a whole 70g of dried sardines (about a hand full) are used for every single bowl, making for a wonderful umami flavor that spreads throughout the entire mouth.

The taste of the soup and its sardines changes by location and season, so Ramen Nagi is very committed to production area, season, and mixture as well. The bowls are served with two kinds of noodles: the shop's own medium-thick noodles and flat, broad noodles that resemble wonton. Enjoy two different textures in one order!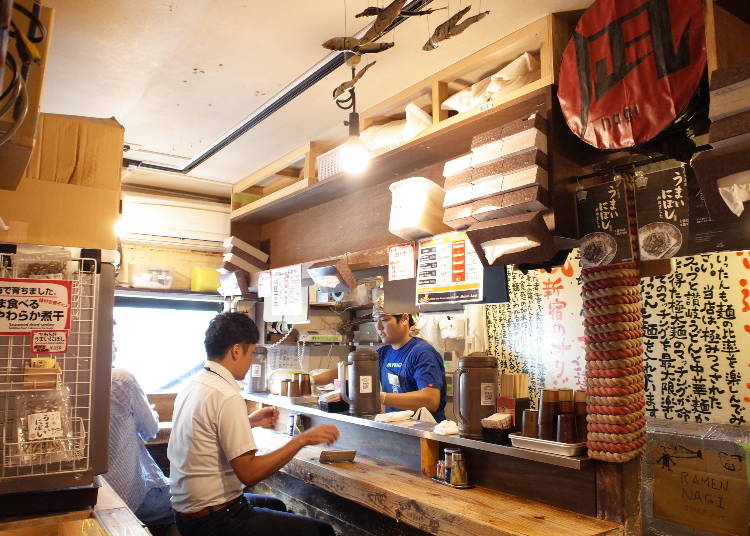 The small shop only seats about 10 people, so expect long lines during lunch and dinner. However, the rotation is fast, so you won't have to wait long. It's best to come before 11:00 a.m., just after lunchtime, or right before the dinner rush.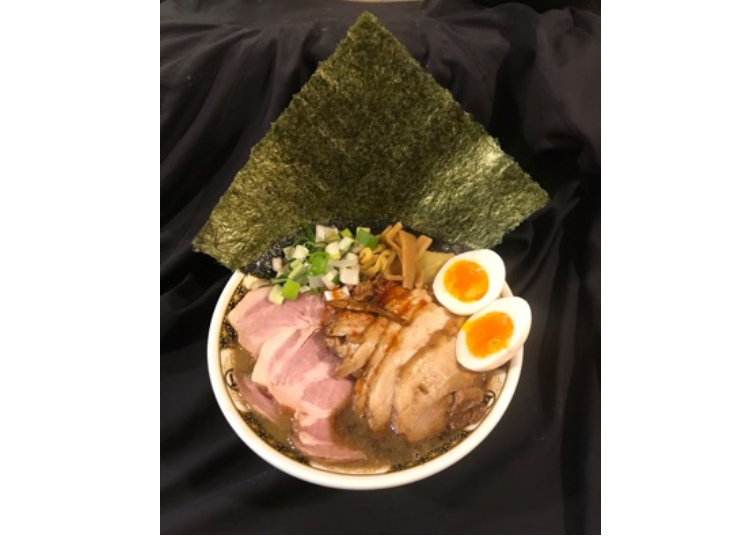 The menu boasts five ramen creations: the "sugoi niboshi ramen" (890 yen), the "sugoi niboshi ramen ajitama (with a marinated, soft-boiled egg, 1,000 yen), the "sugoi niboshi ramen tokusei" (with seaweed and extra barbecued pork, 1,200 yen), the "sugoi niboshi ramen GOLDEN" (with boiled meat cubes, 1,400 yen), and the "sugoi niboshi ramen super golden" (with pork shoulder roast and boiled meat cubes, 1,600 yen).

Especially the latter is incredibly popular with ramen fans from overseas and it's a limited menu dish that can only be savored at the Shinjuku Golden Gai and Kabukicho locations of Ramen Nagi. Of course, you can customize your bowl, such as changing the flavor to either salt or soy sauce, as well as adapting the hardness and how many noodles you like, how much oil you want, and so on. For first-timers, it's best to go with the shop's recommendation.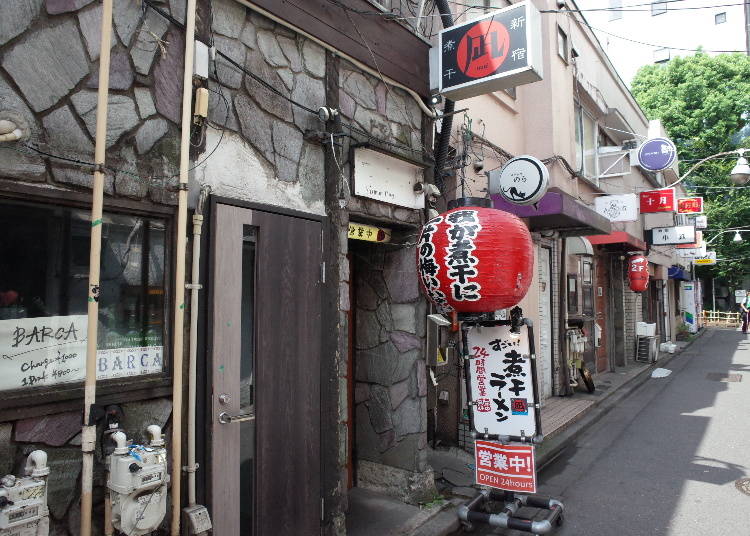 We promise that the classic niboshi taste will quickly become one of your favorites! Ramen Nagi is open 24 hours a day, so pop by whenever you feel like savoring a flavorful bowl!
Sugoi Niboshi Ramen Nagi, Shinjuku Golden Gai Main Store

すごい煮干ラーメン凪 新宿ゴールデン街店 本館

Address

〒160-0021 東京都新宿区歌舞伎町1-1-10 2階/2F, 1-1-10 Kabukichō, Shinjuku-ku, Tōkyō-to 160-0021

Phone Number

03-3205-1925

Hours: 24/7
Closed: always open
*This information is from the time of this article's publication.
*Prices and options mentioned are subject to change.
*Unless stated otherwise, all prices include tax.