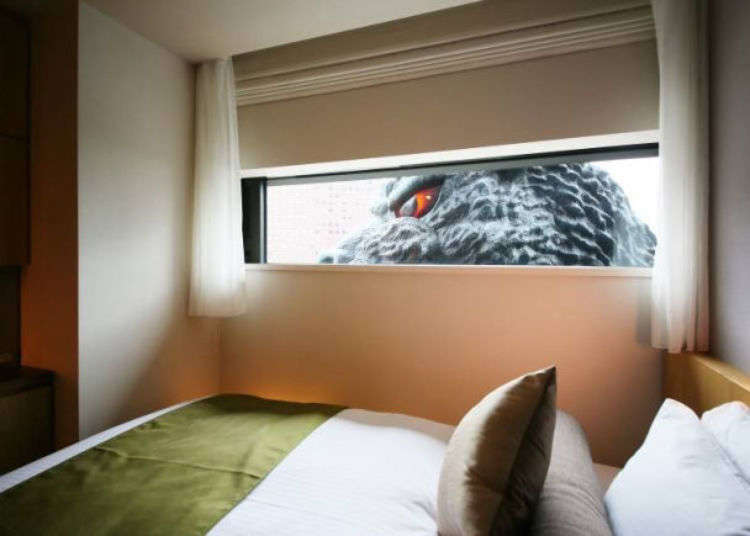 Meet Isshi Akagi, the editor in chief of JG, a monthly free magazine all about Shinjuku. He's going to take us around the Shinjuku and Yotsuya area to show us the famous neighborhood from a unique perspective – that of a local. Look forward to secret gourmet hot spots, sights and discoveries not featured in any guidebook, and niche topics! Akagi-san is incredibly knowledgeable, writing in-depth about Shinjuku such as "Shinjuku Golden Gai – The Latest Edition," publish in April 2018. Let's follow Akagi-san to a Shinjuku as you've never seen it before!
Secret Sightseeing Tip #1: See Godzilla from Up Close at Hotel Gracery Shinjuku!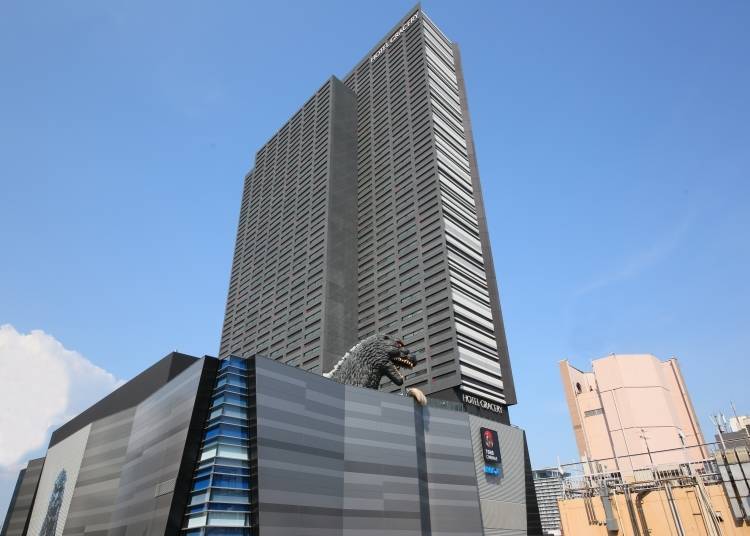 If you're in Kabukicho, look up – there's Godzilla! (TM & (c)TOHO CO.,LTD.)
"Right in the middle of Shinjuku, in Kabukicho, you can hear Godzilla roar and see smoke come from its mouth!" explains Akagi-san as he takes us to the terrace on the 8th floor of Hotel Gracery Shinjuku. While you can also get a nice shot of Godzilla from in front of the hotel at "Godzilla Street," head to the hotel's Café Terrace Bonjour for a brew and a close-up commemorative photo with the iconic monster. Another amazing spot is the "Godzilla View Room" of Hotel Gracery with a full view of the head! While you may think that it's impossible to sleep with this large eye peeking into your room, it's quite the opposite. Guarded over by Godzilla itself, you'll peacefully slumber until morning. In fact, Godzilla has its own special resident's card of Kabukicho, acting as the protector of the area. The people of Shinjuku sure are innovative.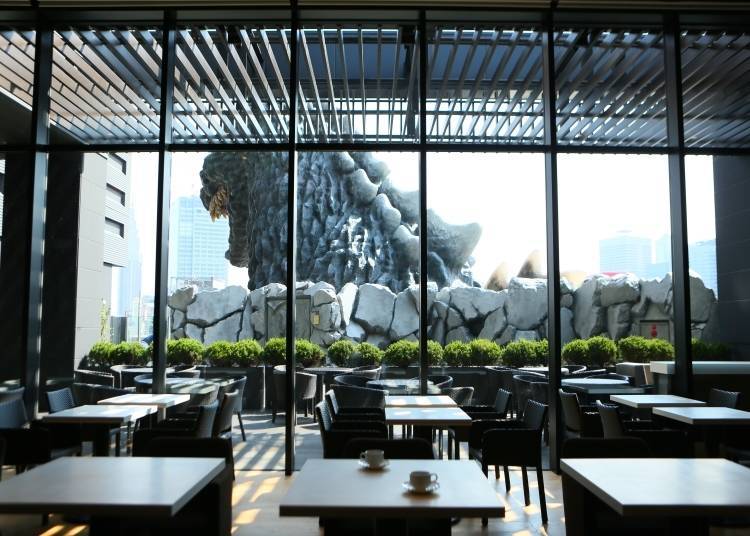 Get really close to Godzilla at this café (TM & (c)TOHO CO.,LTD.)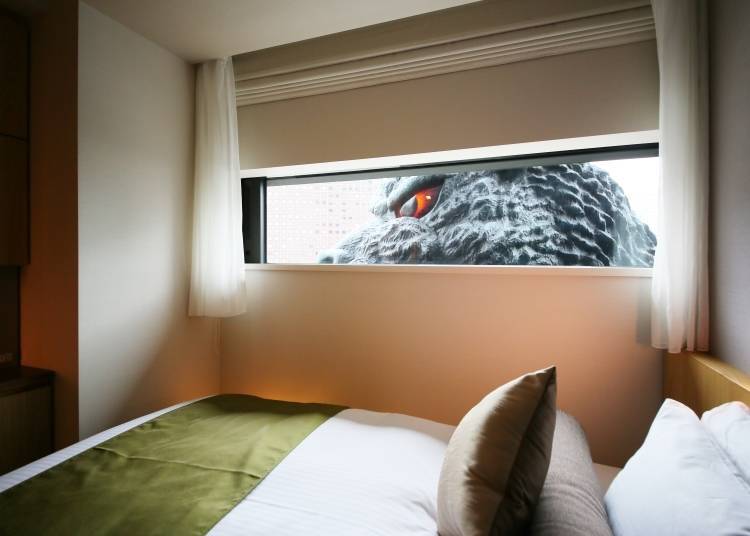 Seen from the hotel room, Godzilla looks frighteningly real! (TM & (c)TOHO CO.,LTD.)
ホテルグレイスリー新宿

Address

1-19-1 Kabukicho, Shinjuku-ku, Tokyo 160-8446

Café Terrace Bonjour: 10:30 a.m. - 9:00 p.m.
*Visiting the Godzilla head on the 8th floor is only available to hotel and/or café guests.

Vacancy search, reservation

from

27,840JPY

1room, 2adults

Check with our partner site as the latest rates, rate details, and guest room requirements may vary.
Secret Sightseeing Tip #2: New Type Shinjuku, the Perfect Bar for Otaku!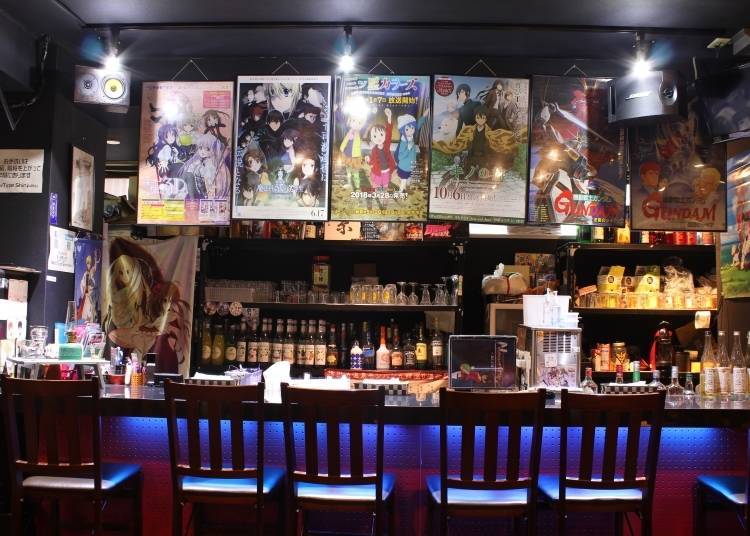 The atmospheric bar is crowded with anime fans at night.
"This is really an otaku place," says Akagi-san as he guides us into New Style Shinjuku, a bar that acts as a popular meeting space for otaku and anime fans. It's filled with rare merchandise and artworks all around games and anime. Often, the bar teams up with an artist or title and ten boasts a unique and original menu all about that show. "The dishes don't only look unique, they're also properly prepared. Homemade, even. That's also true when there's no event. The bar has plenty of original cocktails inspired by anime, same with snacks and dishes." While there's no noticeable sign indicating the bar's location inside a shared building, international tourists still often find their way to this unique place and New Type Shinjuku even has regulars from Israel. The male staff pampers you with smart hospitability while the hakama-clad waitresses create the image of Japanese-style maids.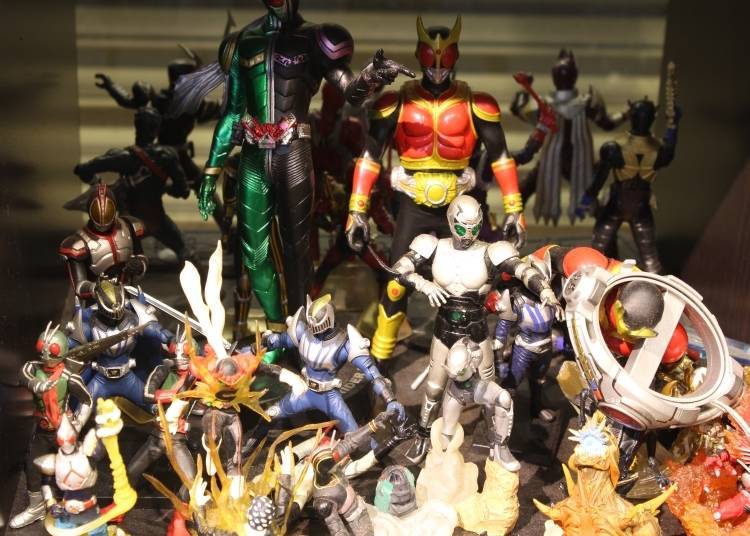 Collector's edition figurines line up as far as the eye can see!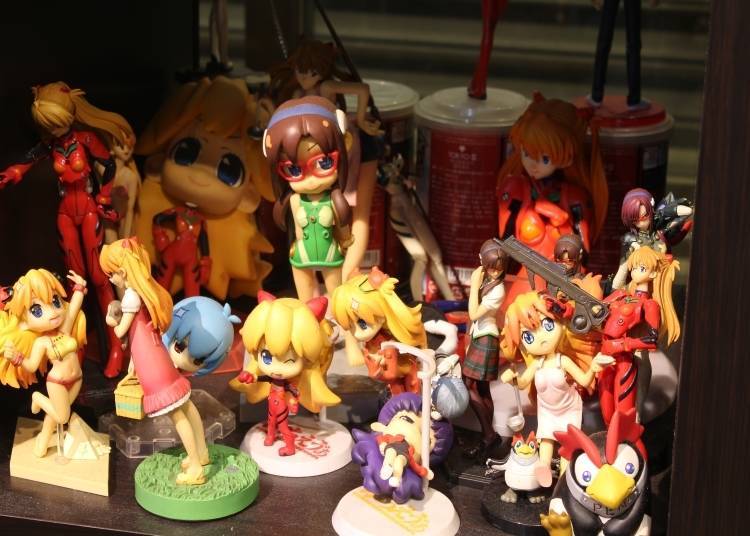 ニュータイプ新宿

Address

1F, 2F Dash Bldg., 5-12-16 Shinjuku, Shinjuku-ku, Tokyo 160-0022

Hours: 6:00 p.m. – 2:00 a.m.
Fridays: 6:00 p.m. – 5:00 a.m.
Saturdays and Sundays: 6:00 p.m. – 11:00 p.m.
Hours during the Collaboration Café: 5:00 p.m. – 2:00 a.m.
Fridays: 6:00 p.m. – 5:00 a.m.
Saturdays and Sundays: 6:00 p.m. – 11:00 p.m.
Closed: irregularly
Secret Sightseeing Tip #3: Savor Stunning Parfaits at Salon Bake & Tea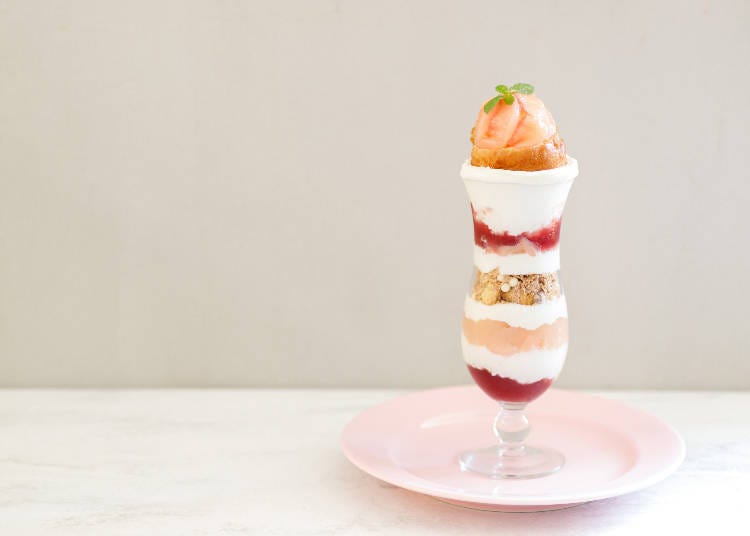 Parfait à la pêche for 1,836 yen
Salon Bake & Tea was also one of the spots that JG's staff covered for their magazine. "These parfaits are 30cm high and not only voluminous, they also look absolutely beautiful," says Akagi-san. Of course, we had to try one of them and here's the judgment of our own reporter: "The sweetness is subtle and gentle while every spoon seems to offer a different texture and taste. Yup, I will savor this to the very last drop." The café's menu changes with the season and the "parfait à la pêche," for example, offers a flavorful taste of summer. From September 4, you get to treat yourself to the "parfait du raisin" that unites grapes, grape jelly, ice cream, agar-agar, and quinoa for a bit of crunchiness. Definitely stop by for a luxurious treat in an environment that is far more relaxing than crowded sweets buffets or lunch restaurants!
Parfait du raisin for 1,836 yen
サロン ベイクアンドティー

Address

NEWoMan 3F, 4-1-6 Shinjuku, Shinjuku-ku, Tokyo 160-0022

Hours: 11:00 a.m. – 9:30 p.m.
Closed: open every day
Secret Sightseeing Tip #4: Kickstart Your Morning with a Smile, Delivered by "Cheer In the Morning!"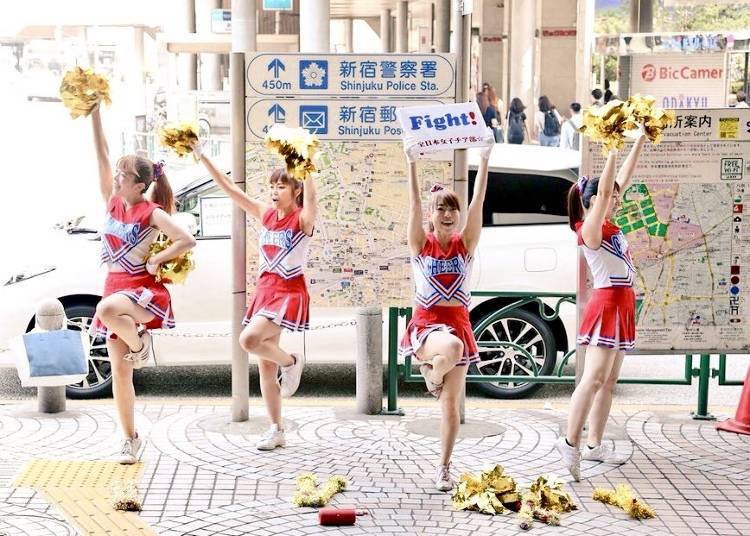 An energetic cheerleading team encourages commuters in the morning at Shinjuku Station's West Exit.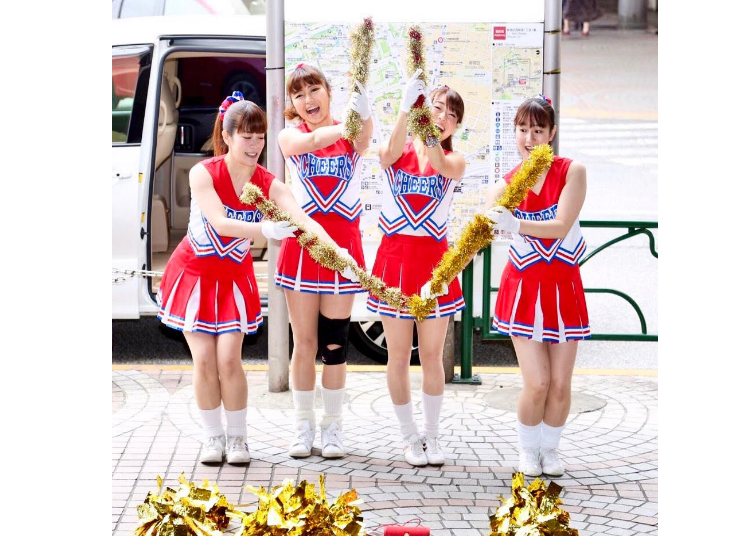 "We're cheering for all of you!" echoes through Shinjuku Station's West Exit, startling commuters in the best way possible just before an exciting show unfolds! That's the All-Japan Women's Cheer Team's "Cheer in the Morning" performance. Currently, the team is made up of the six founding members who have been doing their routines for 10 years now. Kumiccheru (her actual name is Kumi Asazuma and she is a freelance announcer) is the second one to lead the group of four that cheers on morning commuters every Tuesday at either Shinjuku, Shinbashi, or Ikebukuro Station at 8:00 a.m. The cheerleading is completely voluntary. "It's amazing that they are doing this for so long," says Akagi-san and we even got to ask Kumiccheru what motivates them. "As we're cheering for everyone, the people's reactions make us happy as well," she explains happily.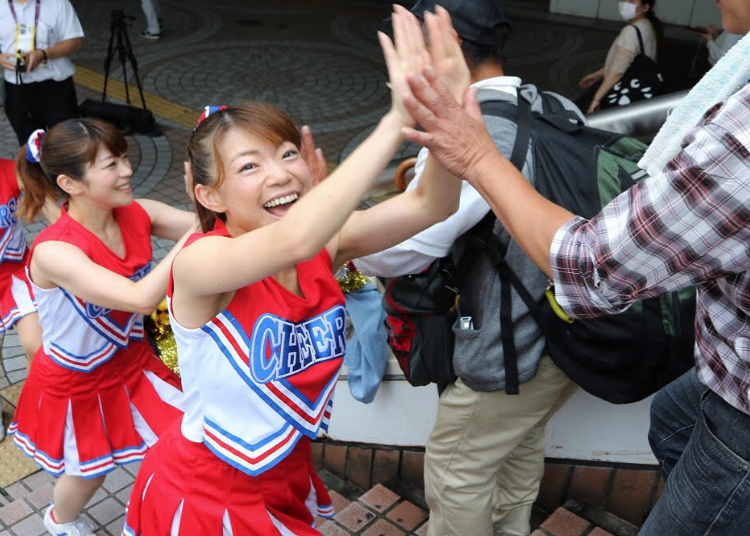 Get an extra dose of happiness with a high-five!
朝チア

Address

1-1 Nishi-shinjuku, Shinjuku-ku, Tokyo 160-0023
Secret Sightseeing Tip #5: Meet the Shinjuku Tiger, Tokyo's Living Legend!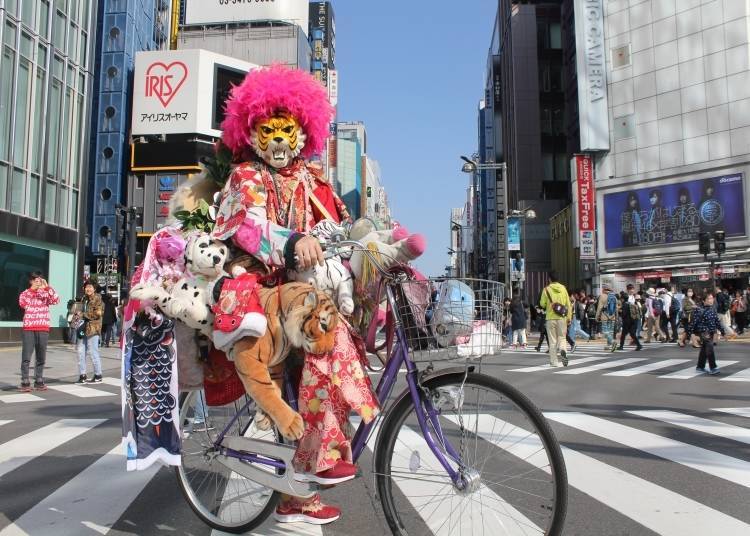 The Tiger in his official attire. He carries his "family" with him that weighs more than 10kg.
Meet the Shinjuku Tiger, a living legend of Tokyo that even had Akagi-san exclaim his name in surprise. "I didn't think he was still active!" When our reporter was young, they drank in Shinjuku until the morning and would see a person wearing a tiger mask riding a bicycle belly-down. He's a newspaper deliveryman who delivers newspapers at dawn around the intersection in front of the station in the fanciest way imaginable. His real name is Yoshiro Harada.
"I stumbled upon this tiger mask at the Hanazono Shrine Festival and started to feel like I want to brighten up the world a little," he tells us. Since then, he has been delivering his newspapers like this for more than 40 years. He's a true living legend of Shinjuku. In autumn 2018, the Shinjuku Tiger will get his own proper documentary. If you want to meet the tiger but don't want to get up in the morning, you can try your luck at Shinjuku's cinemas – he's a big movie fan!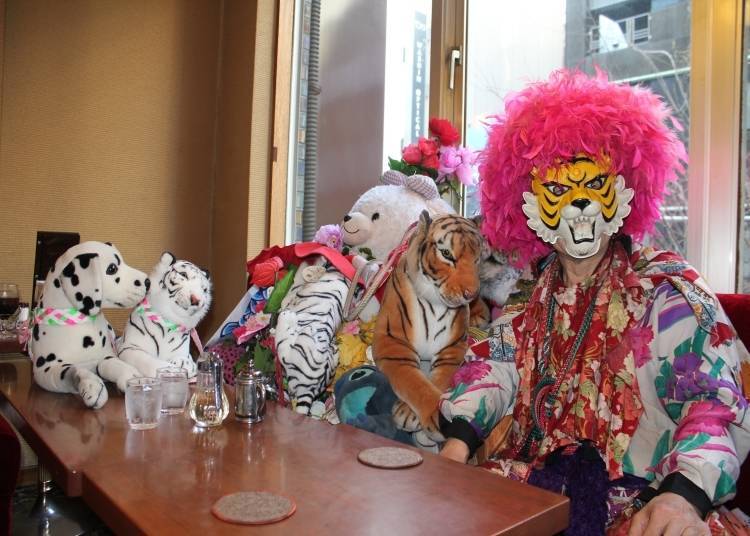 The Tiger and his family at Coffee Seibu.
Secret Sightseeing Tip #6: Nihonshu Bar "Den" Takes You to the World of Japanese Sake, All-You-Can-Drink Style!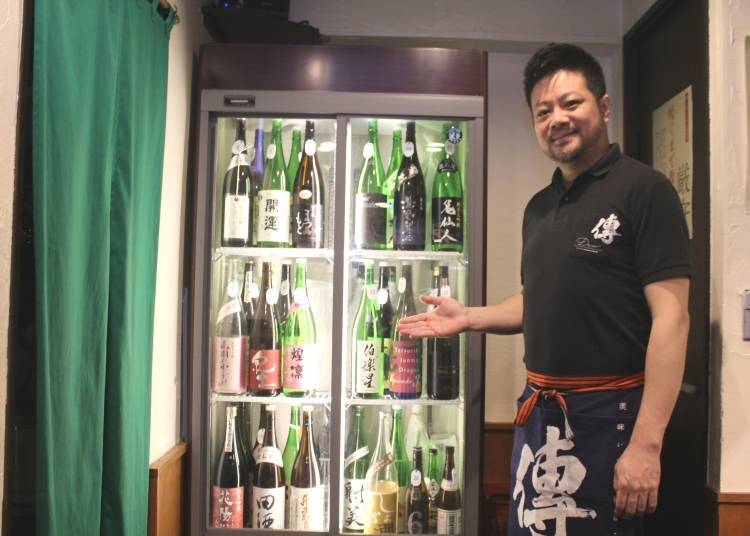 Choose from over 30 bottles that you can freely take from the fridge.
"Nihonshu Bar 'Den' is popular because of its serious and authentic approach to Japanese sake," says Akagi-san in admiration. It offers its guests to sample sake from all around Japan in an all-you-can-drink offer of 3,000 yen for two hours. That includes one glass of premium sake for free, while every following glass of the best brews costs 500 yen. With its diverse assortment and wide range of flavors and quality, it's a perfect sake bar for both beginners and connoisseurs. All of the bottles are local sake, infused with the climate of their region of origin. All snacks cost 500 yen; they're simple but delectable nibbles, carefully created to highlight the sake. Den is not a place where you go to eat and drink at your heart's desire – it's where Japanese sake can be savored purely, without distraction. The bar is a mere 5.5 square meters big, so it's a very intimate space shared among the shopkeeper and his guests. Look forward to many an interesting conversation.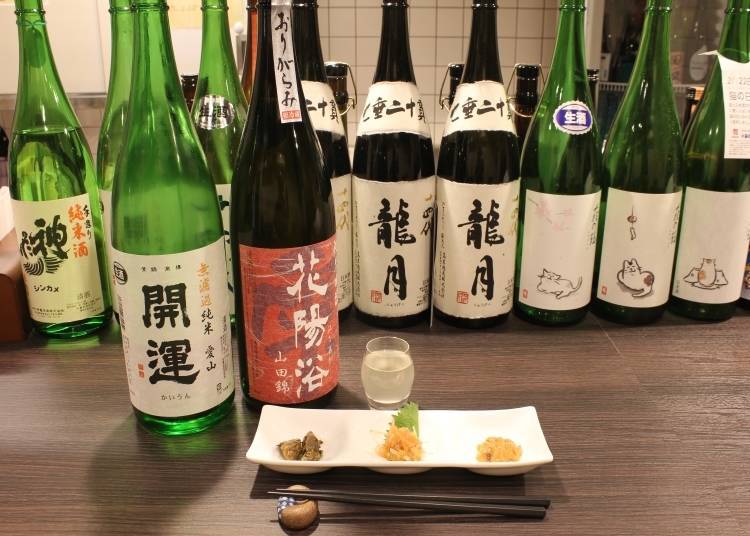 Simple yet delectable snacks are served with the sake.
日本酒バー「傳」

Address

Nakae Bldg. No.2 1F, 2-15-13 Shinjuku, Shinjuku-ku, Tokyo 160-0022

Hours: 8:00 p.m. – 4:00 a.m.
Closed when the regular event "Sake Mirai" is held. Irregular holidays.
Secret Sightseeing Tip #7: Climb Miniature Mount Fuji at Naruko Tenjin Shrine!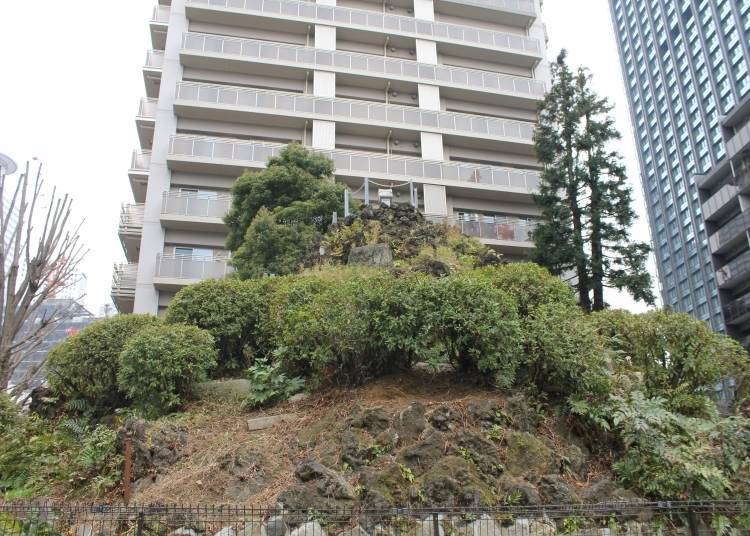 The miniature Mount Fuji is surrounded by high-rise buildings. Many people say a prayer before climbing it.
"One of our writers who wanted to write about komainu (guardian dog statues at shrines) discovered this and found it much more interesting that statues from 1830," says Akagi-san. It's called fujizuka, a miniature Mount Fuji and a remnant of the old Fuji faith, a popular belief in the Edo period. Many of these mini mountains remain in the Tokyo area, but among the six in Shinjuku, this one is the largest with a height of 12 meters, said to be built in 1920. It is made out of actual lava from Mount Fuji (a practice banned today) for everyone who is not able to go to the real mountain. It's a fascinating place that lets you get a taste of how deep natural faith is rooted in Japanese history – who knew that there is a tiny Mount Fuji in Tokyo? Besides this curiosity, the Naruko Tenjin Shrine's precincts offer plenty of power spots, dedicated to the deities of Tenjin, the Seven Lucky Gods, and Inari Shrine.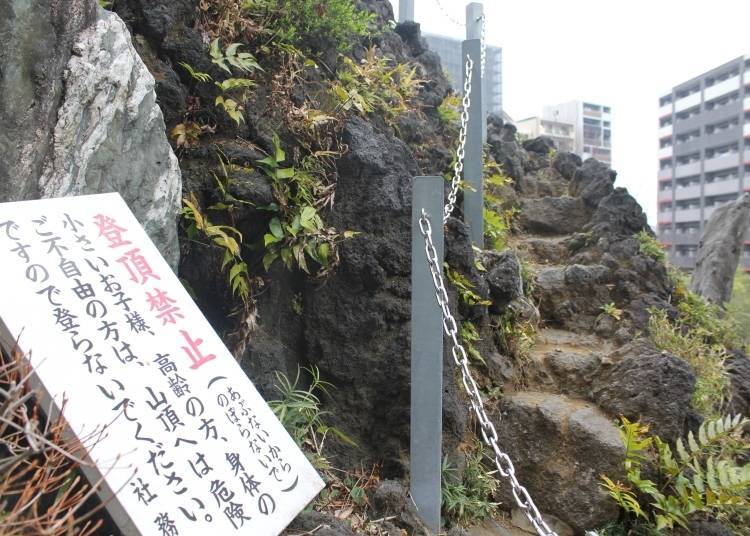 It may be a tiny mountain but it is still surprisingly steep, even featuring its own sign telling people to be careful.
Fujizuka, a miniature Mt. Fuji at Naruko Tenjin Shrine

成子天神社の富士塚

Address

8-14-10 Nishi-shinjuku, Shinjuku-ku, Tokyo 160-0023

*This information is from the time of this article's publication.
*Prices and options mentioned are subject to change.
*Unless stated otherwise, all prices include tax.
Limited time offer: 10% discount coupons available now!