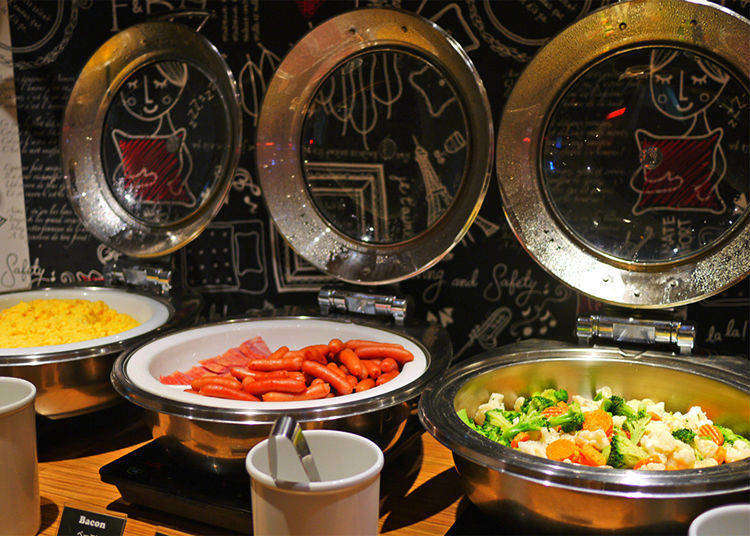 Tokyo is an exciting city and there's lots to discover. A day of full-fledged sightseeing requires a lot of energy, but reasonable and filling breakfast can be surprisingly hard to come by in the big city. Especially if you're staying in a hotel or hostel that doesn't include breakfast, you might find yourself struggling for proper morning munchies.

If you're in that very situation, make your way to Shinjuku's Café Rendezvous, a hotel café that'll spoil you with an amazing all-you-can-eat buffet for a mere 1,300 yen (US$12)! Look forward to kickstarting your day with over 30 dishes from both East and West!
A 5-Minute Walk from the Station: Perfect for a Busy Morning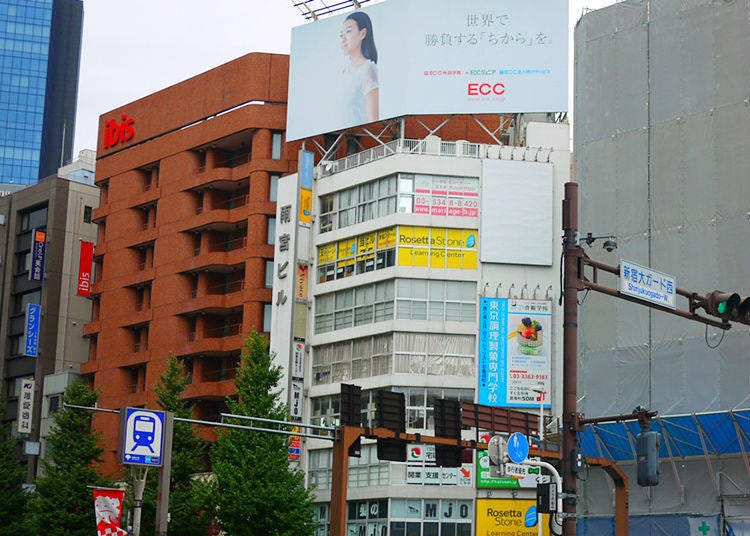 Café Rendezvous is located within the hotel Ibis Tokyo Shinjuku and a 5-minute walk from Shinjuku Station's West Exit will take you there. Needless to say, you don't have to be a guest of the hotel to enjoy the café's reasonable, extensive all-you-can-eat breakfast buffet.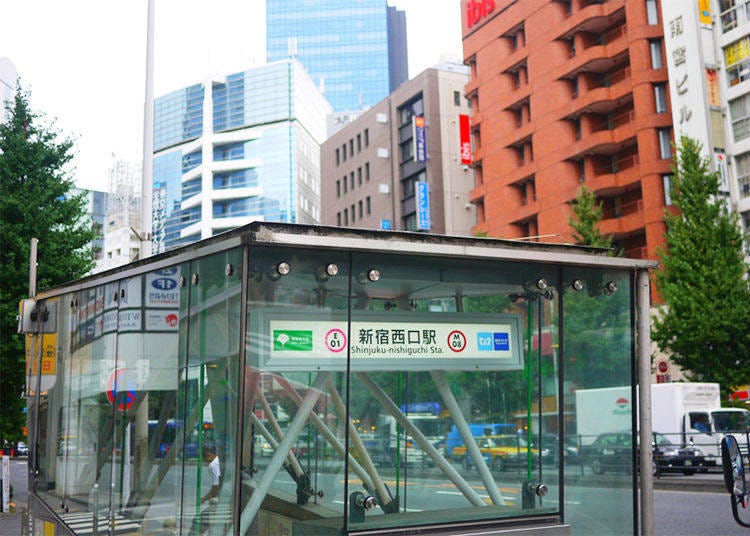 Even if you don't stay in the Shinjuku area, Tokyo's biggest station is served by many of the city's major lines, including JR and Tokyo Metro. Leave via the West Exit, cross the traffic light and go toward Bic Camera and Odakyu Department Store. Once you reach the crossing at Shinjuku Dai-Guard West, you'll spot a sign guiding you to O\Ibis Tokyo Shinjuku.

By the way: the Shinjuku-Nishiguchi Station on the Toei Oedo Line is even closer.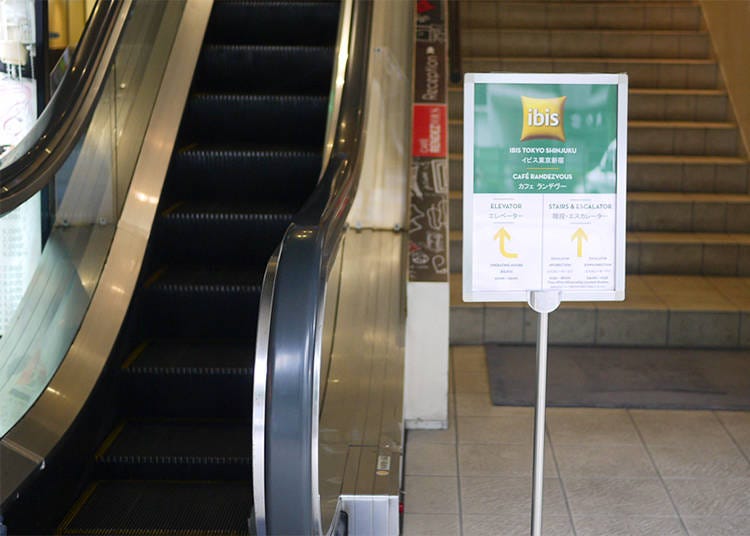 Turn left right after crossing the intersection and pass by the "Daily Yamazaki" convenience store. Ibis Tokyo Shinjuku is the building right behind it and you'll find Café Rendezvous on the second floor.
Fashionable, Modern, and Oh So Tokyo!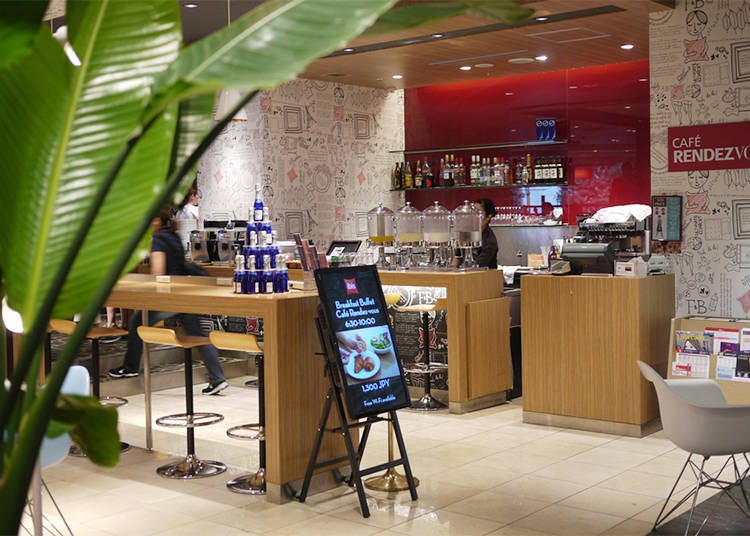 Café Rendezvous reopened after a large renewal in October 2012. It boasts a casual yet stylish atmosphere that feels bright and open – perfect to relax in and prepare for an exciting day. The subtle hints at France's Paris, combined with a touch of retro is everything you'd expect from a casual café in the heart of Shinjuku.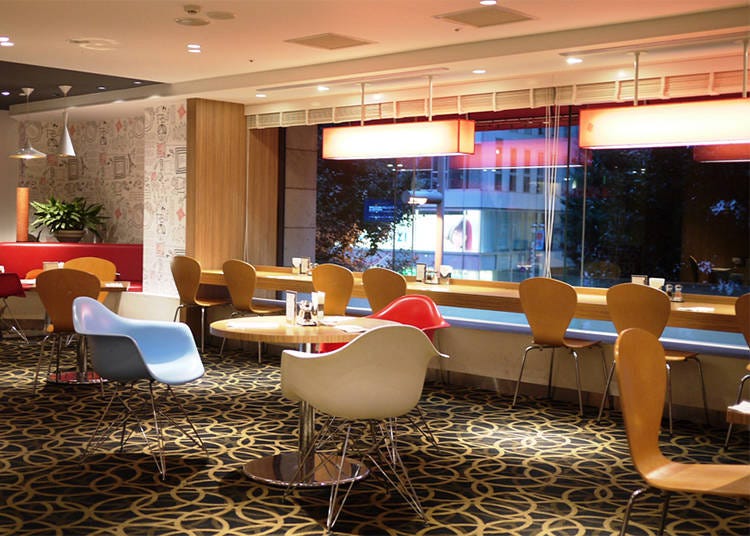 Café Rendezvous can seat about 50 people, spread out across the bright space. Even if the café is full, the atmosphere stays laid back and relaxed.

Especially interesting are the seats at the counter table facing the main street. It allows you to see the lively pulse of Tokyo and its busy streets as you enjoy bread, salad, and fruit.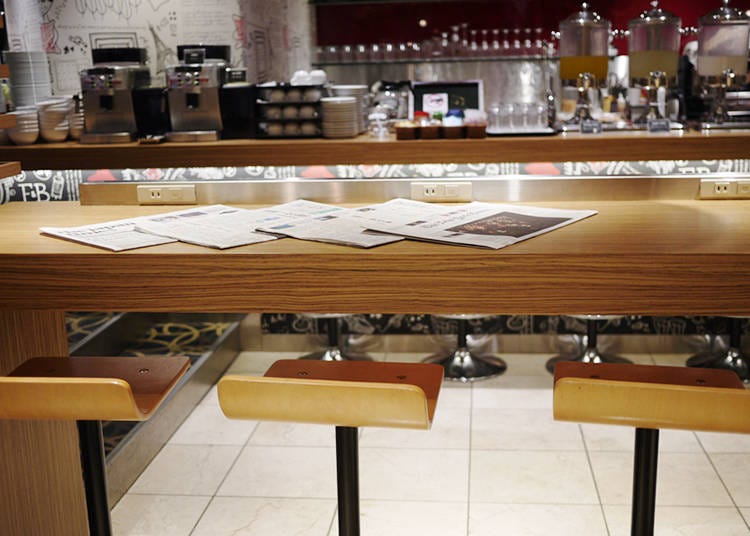 Of course, Café Rendezvous offers free outlets to charge your devices and free Wi-Fi to go along with it.

The high chair seats in front of the bar are designed to accommodate guests who want to work or read while enjoying their breakfast. Check the free newspapers and magazines!
The Crunch of Freshly Baked Croissants...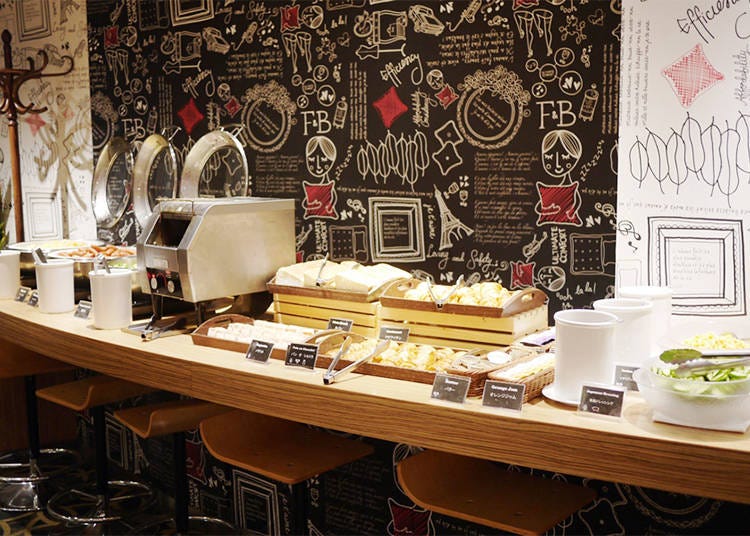 As already mentioned, Café Rendezvous will spoil you with about 30 dishes to choose from every single day. From freshly baked bread to salads and hot dishes, the choice is rich and delicious!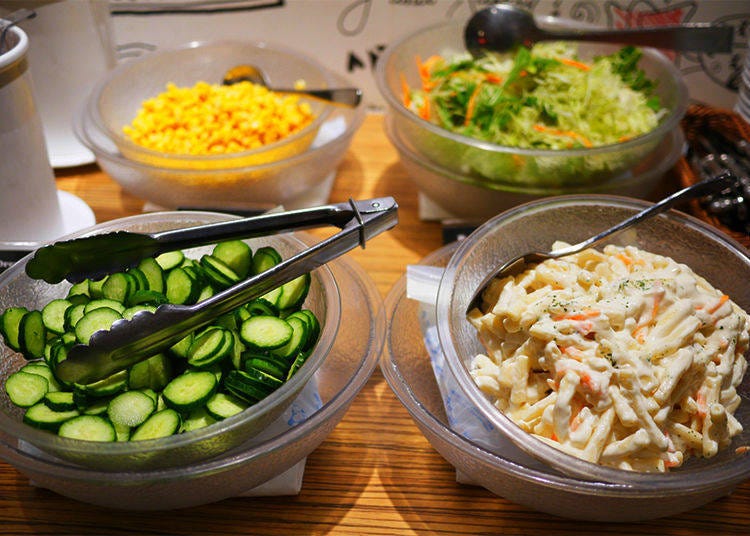 Let's take a look at the salad corner first. There are fresh cucumber slices, corn, a mixed salad, and even a macaroni salad that switches places with a yummy potato salad every other day. Spice up your greens with Japanese-style dressing, Italian dressing, or French dressing!

A crunchy, healthy salad is sure to wake you up properly, even after a short night!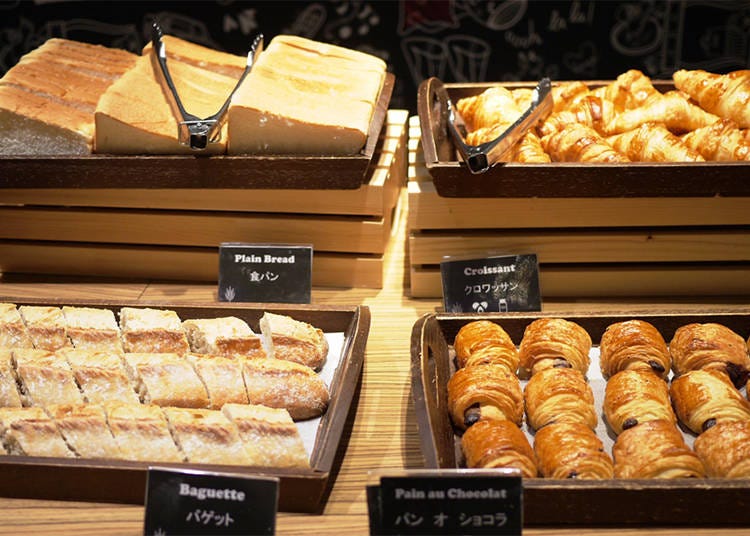 Especially delicious is the bread, baked fresh every morning. Croissants, baguette, toast, and the daily changing pain au chocolat makes for a rich selection. The portions are relatively small, inviting to try every variety! Butter and jams are plentifully available as well.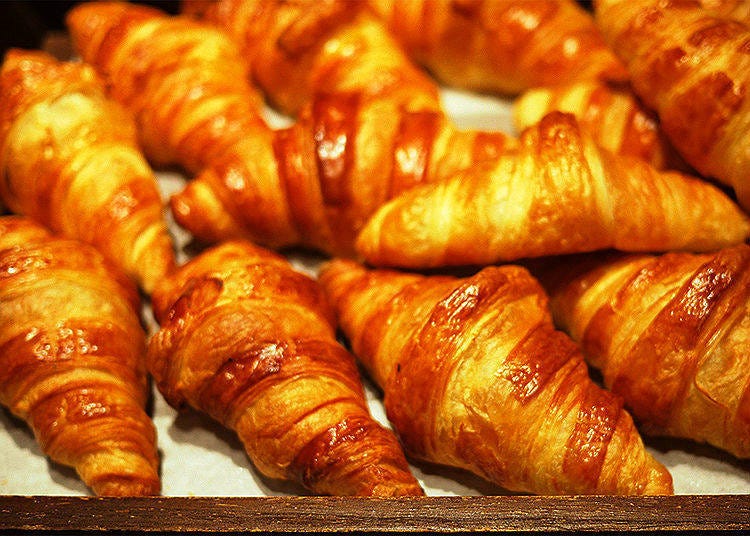 The baguette, croissants, and Danish evoke a wonderfully authentic taste of France. Since the dough is made every morning as fresh as can be, the bread is crunchy on the outside and fluffy on the inside. You'll have snacked away a handful of the bread delights before you even realize!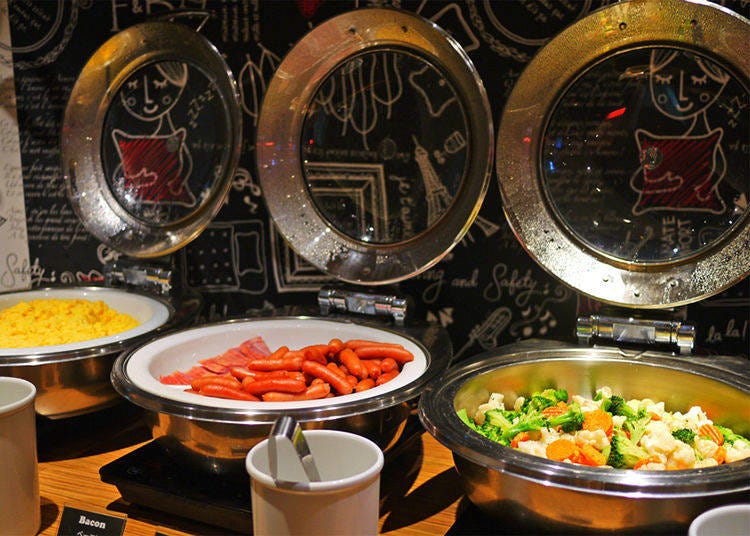 And don't forget the warm side dishes! There are either warm vegetables or pancakes, sausages, bacon, and scrambled egg or omelets ready to be savored! Especially if you plan on skipping lunch, these yummy delicacies are a great choice.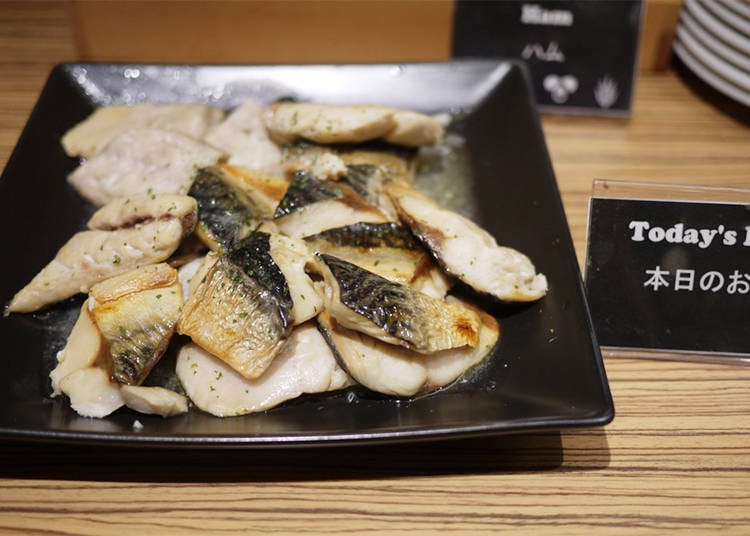 Now, off to the Japanese-style breakfast corner. You'll find all the staple dishes that belong to a proper Japanese morning: fish of the day, rice, miso soup, ham, natto, pickles, and a stew changing daily. It's smaller than the Western-style choices, but delicious and authentic nonetheless!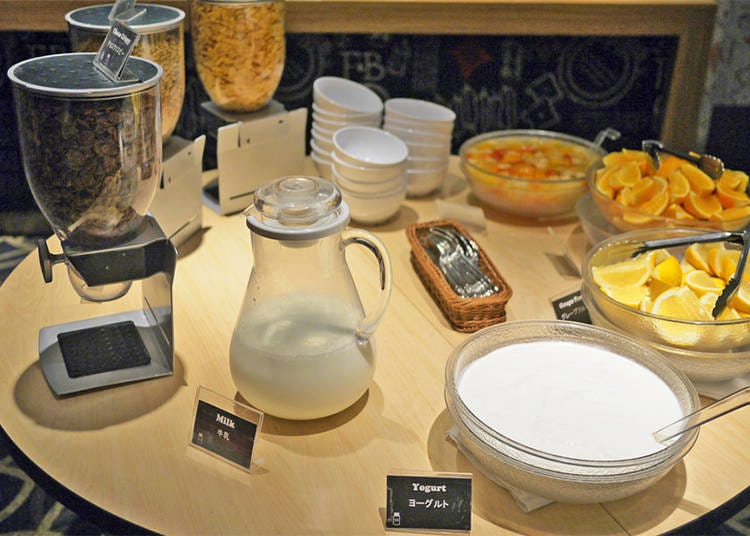 For everyone preferring a light breakfast, this corner is our recommendation. You'll find plain and chocolate cornflakes, as well as fruit granola for a perfect bowl of cereal. Fancy it up with fruit and yogurt!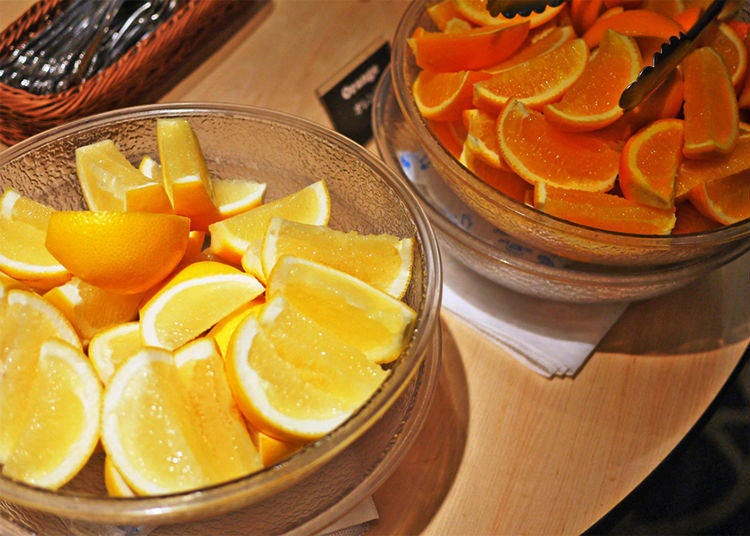 The slices of fresh fruit make us especially happy, seeing that the price for this all-you-can-eat buffet is just a mere 1,300 yen and fruit tends to be notoriously expensive in Japan.
The fruit cocktail, sometimes replaced by fresh banana, makes for a nice sweet finish to a satisfying breakfast. Try it with yogurt!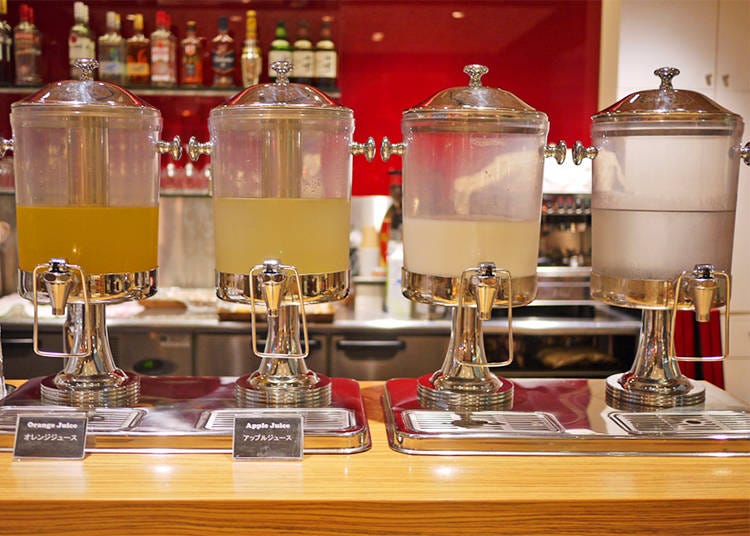 The drink corner offers orange juice, apple juice, milk, and water, as far as cold drinks go.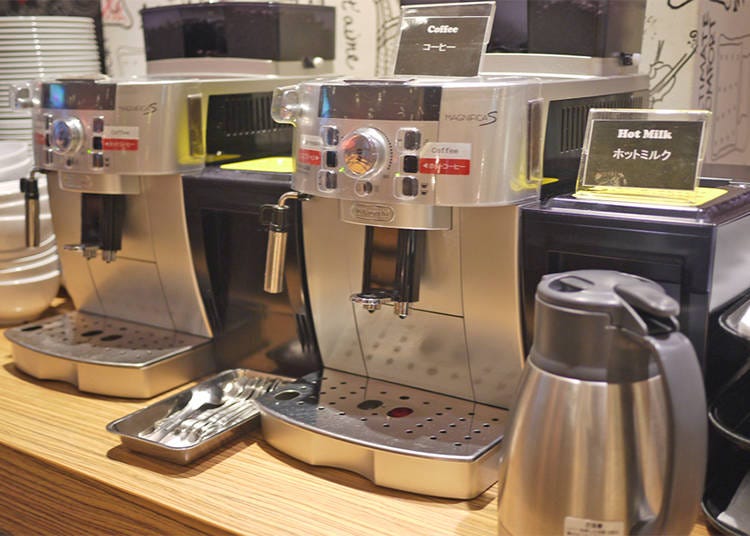 Of course, you won't have to go without coffee and espresso. With the push of a button, your favorite brew will freshly trickle into a cup. Hot milk is available for your original try on latte art!

Everyone enjoys a different cup of coffee in the morning, but the DeLonghi machines offer an aromatic brew from freshly ground beans that surely won't disappoint.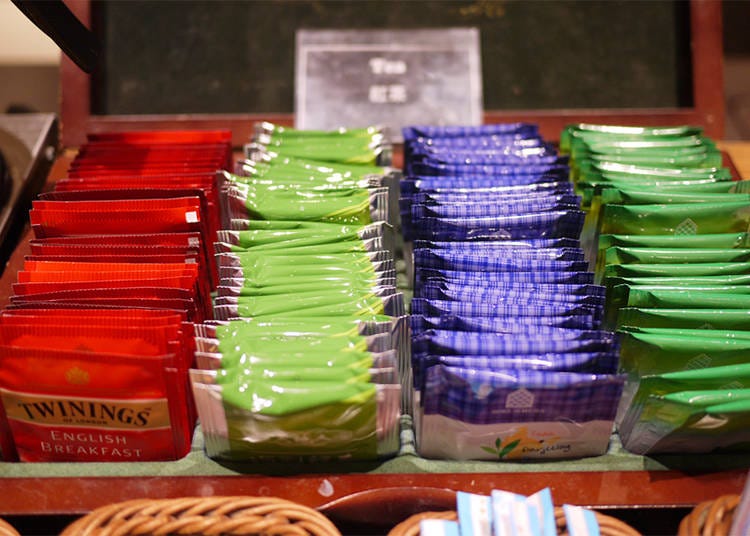 If you'd rather do without caffeine, check the tea varieties, including classic black tea and Japan's staple, green tea.
Kickstarting Your Morning!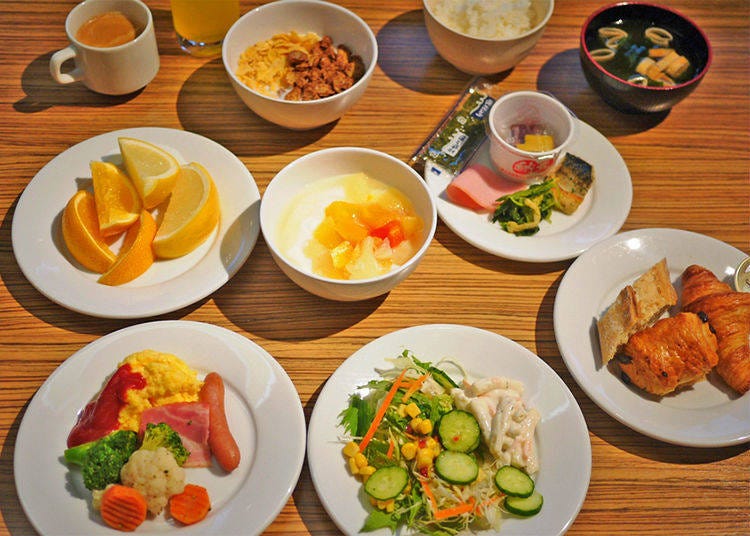 Café Rendezvous' breakfast buffet has a delicious something for everyone, whether you're the cereal type or crave bacon and egg in the morning! Even better if you can enjoy your gourmet morning routine in a stylish and relaxed atmosphere.

We recommend visiting early in the morning. Avoid the rush hour and visit around the café's opening at 6:30 a.m. – it might sound awfully early, but you can take your time and start your day at your own pace. Just what you need for an exciting day of adventuring in Tokyo!
CAFÉ RENDEZVOUS

Address

Ibis Tokyo Shinjuku 2F, 7-10-5 Nishishinjuku, Shinjuku-ku, Tokyo-to 160-0023

Hours
Morning: 6:30 a.m. - 10:00 a.m. (until 10:30 a.m. on Saturdays, Sundays, and national holidays)
General: 11:30 a.m. - 10:00 p.m. (from 12:00 p.m. on Saturdays, Sundays, and national holidays)
Closed: always open
Written by: Mikiko
*This information is from the time of this article's publication.
*Prices and options mentioned are subject to change.
*Unless stated otherwise, all prices include tax.