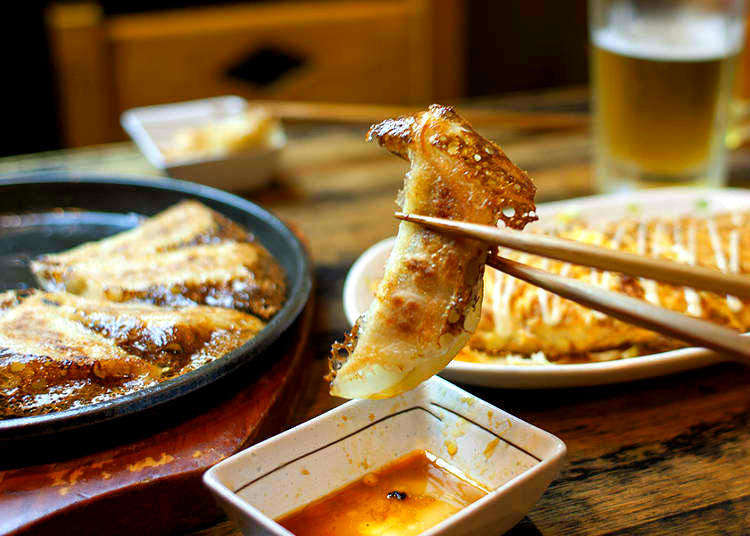 Koenji is a neighborhood in Tokyo that is famous for its many delicious bars and eateries, serving both food and drinks at astonishingly reasonable prices. Just a 6-minute train ride away from busy Shinjuku, we've found one such spot in Koenji that we need to share with you: Gyoza-Dokoro Tachibana has become a famous insider tip among Tokyoites because the bar offers gyoza, Japanese-style dumplings, for 0 yen.
Gyoza Under the Train Tracks, 3 Minutes Away from Koenji Station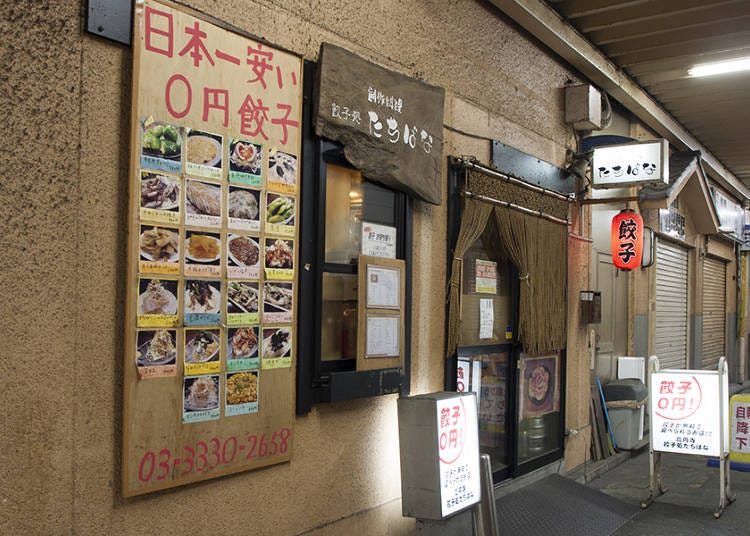 Take Koenji Station's north exit, walk for about 3 minutes and find Tachibana under the elevated train tracks, next to a colorful variety of pubs and bars. The small, charming place can seat 5 people at the counter and tables offer space for 12 guests – this makes for a wonderfully cozy and relaxing atmosphere!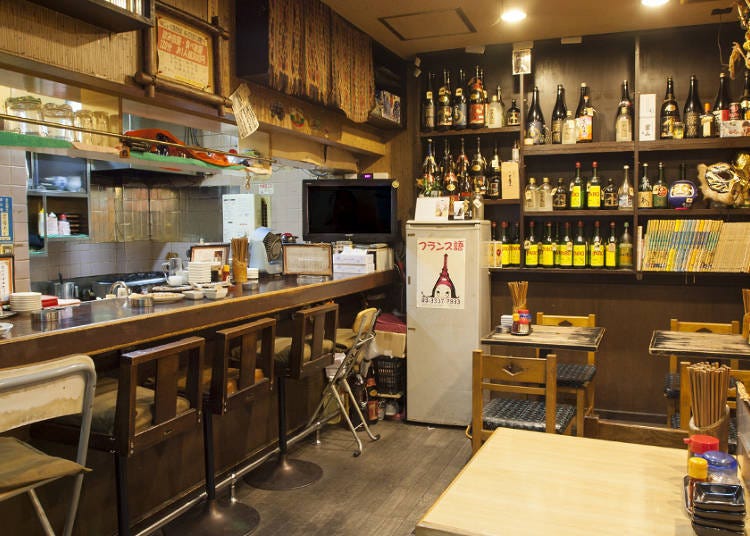 On weekends, you'll usually see a long queue of people waiting to get a seat at Tachibana, so we highly recommend visiting during the week, just before Tokyo's offices close for the day.
Should the main store be crowded, head over to its other location, just a 5-minute walk away from the main bar. Located in Koenji's Pal Shopping Street, this second location often offers space for guests who couldn't get a seat at Tachibana's main store!
Tachibana's Gyoza for 0 Yen Offer – Really?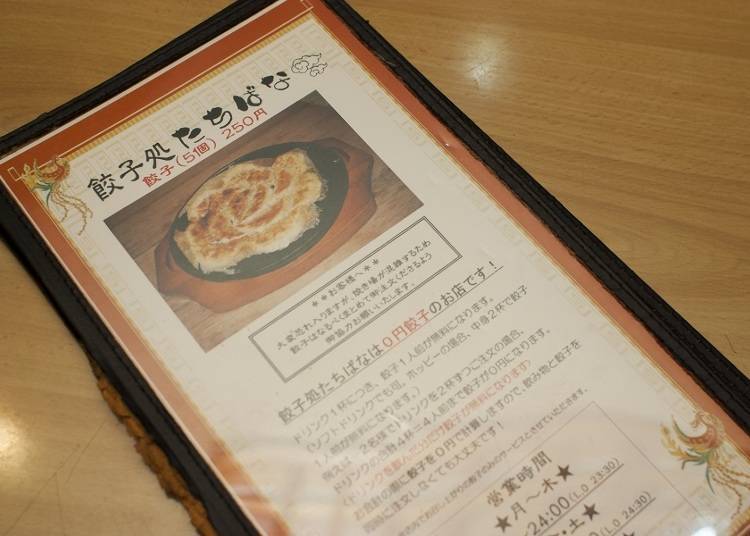 Tachibana lists 5 gyoza for 250 yen on its menu – so the free gyoza really are a myth, then? But even outside the store is a sign that promises gyoza for 0 yen, and if you look further on the menu, you'll find an explanation about the free gyoza offer.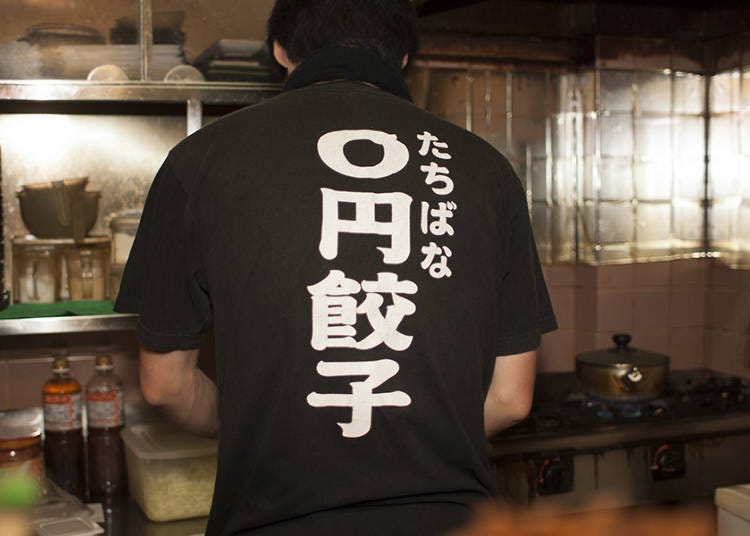 "If you order a drink, you'll get a free serving of gyoza!"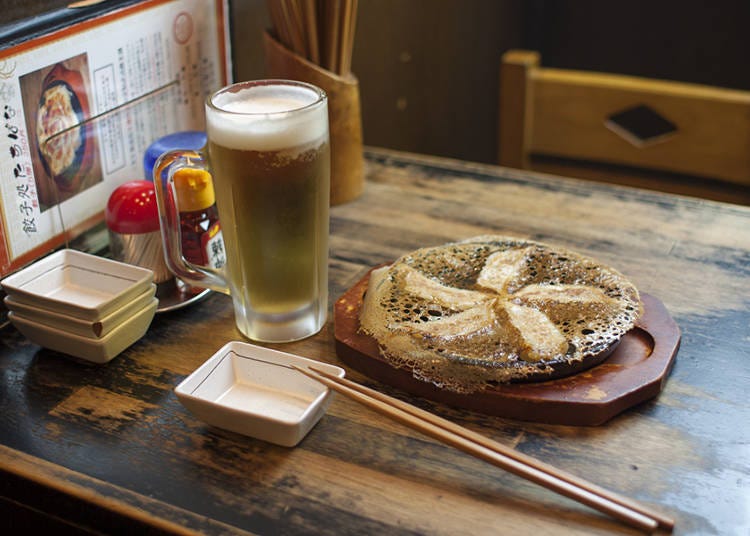 After ordering one draft beer, we really were presented with a plate of 5 gyoza, entirely for free. On top of that, the gyoza arrived beautifully arranged and crisply fried, looking excellent for a free snack!
In the beginning, Tachibana's gyoza for 0 yen deal was only offered every once in a while. But when guests kept asking for it, it slowly turned into a daily offer.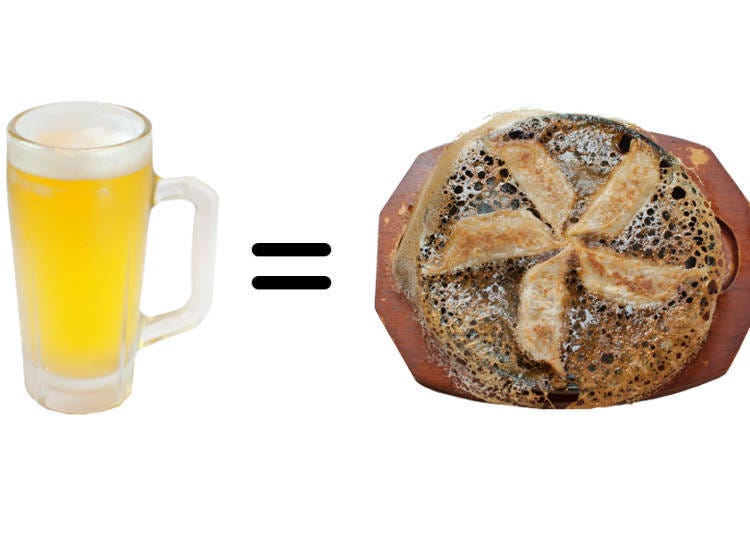 Draft beer at Tachibana costs 480 yen, while the 5 gyoza you're served with it are priced 250 yen on the regular menu. As such, you're striking quite a nice deal here!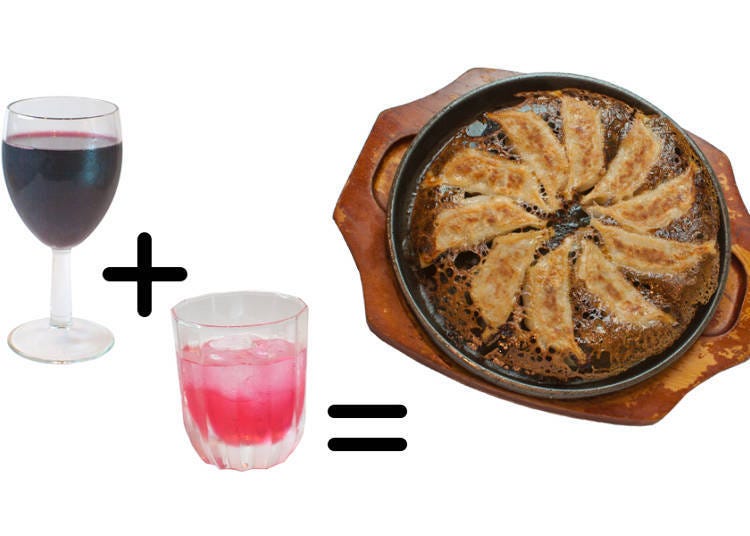 Soft drinks, such as coca cola or oolong tea, are priced at 350 yen, also netting you a plate full of crispy, juicy gyoza. The only exception is Hoppy, an almost non-alcoholic beer-flavored drink – you'll need to order two glasses, 250 yen each, to be served free gyoza for one. Bottles (from 2,500 yen), too, come with 5 free gyoza.
An Excellent Sake Selection and Homemade Gyoza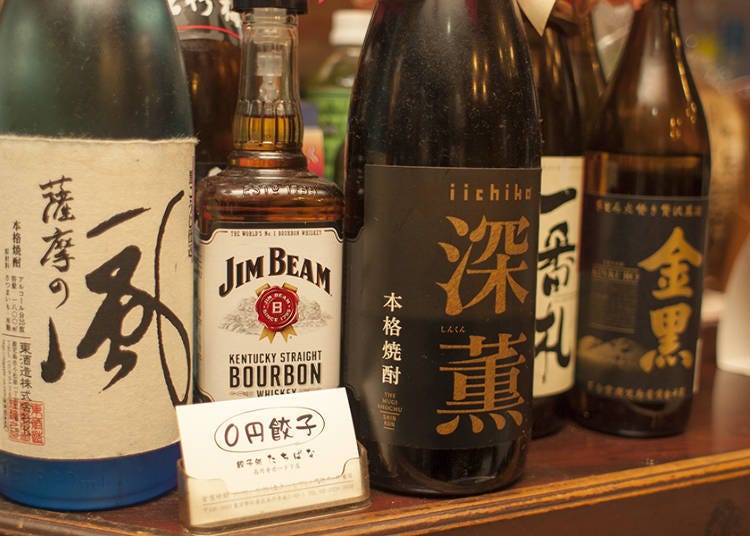 Tachibana's drink menu offers more than 70 kinds of spirits, including beer, sours, shochu, cocktails, highballs, Shaoxing wine, Japanese sake, and numerous soft drinks. The most popular among them are the eleven varieties of highballs, coming in fruity flavors such as plum, apricot, apple, and orange.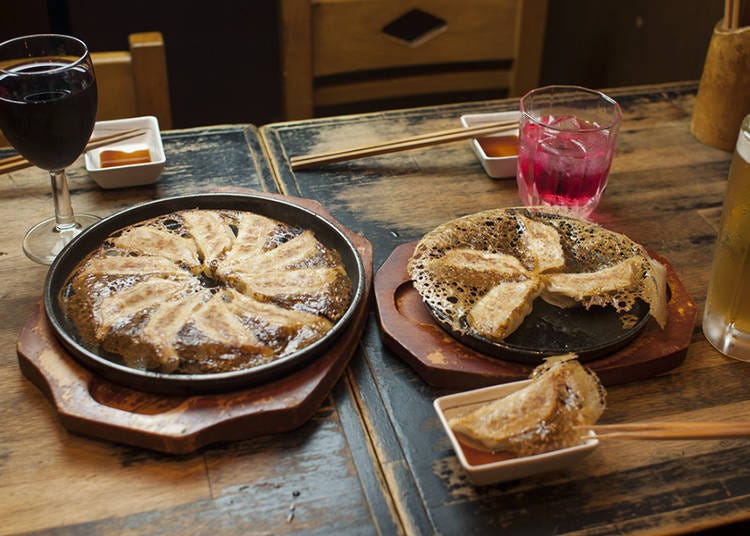 Every day, Tachibana prepares 150 servings of their famous gyoza at every store. Even though a lot of these portions are handed out for free alongside drinks, the bar is very serious about the stuffing. Entirely homemade, look forward to a delicious mix of green onion, onion, shiitake mushrooms, garlic, cabbage, and ground pork.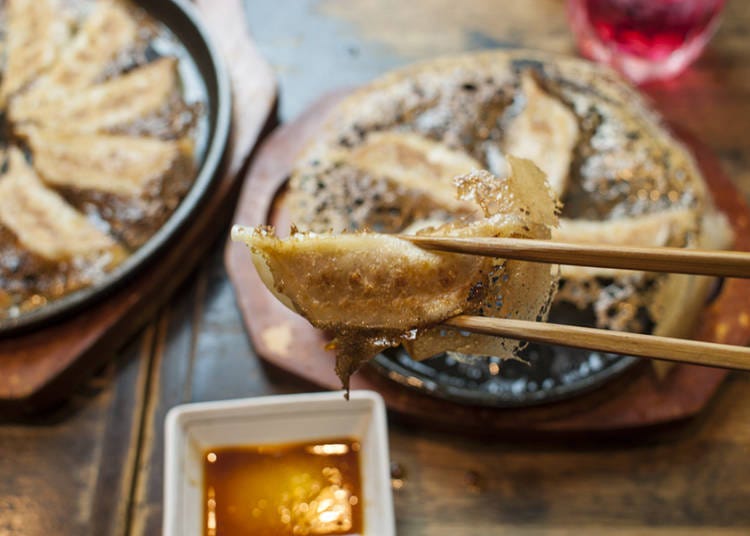 This juicy filling is surrounded by a soft yet crunchy gyoza skin, especially delicious with the owner's secret mix of flour. The garlic taste also is not too overwhelming, so you will find yourself getting addicted to these little delicacies really fast!
Tachibana is More Than Just Free Gyoza!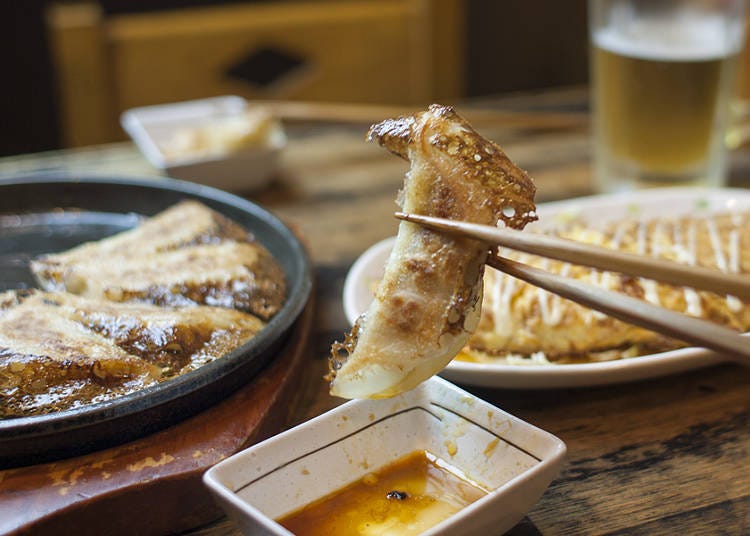 You don't have to take the gyoza offer for every drink, though. At the same time, it's possible to ask for your free plate retroactively. You might drink faster than you eat, and in this case, you wouldn't want to end up with three plates of gyoza slowly getting cold. Just ask for the next free serving once you're done eating the first one!
And as delicious as the little dumplings are, you might want to try something different. In that case, don't worry, as Tachibana's reputation as an incredibly reasonable pub also extends to the rest of the menu. The majority of the over 30 dishes are so-called "one-coin dishes," meaning that they all cost somewhere between 100 and 500 yen. We especially recommend the Korean-style roasted seaweed with plum pulp for a mere 100 yen.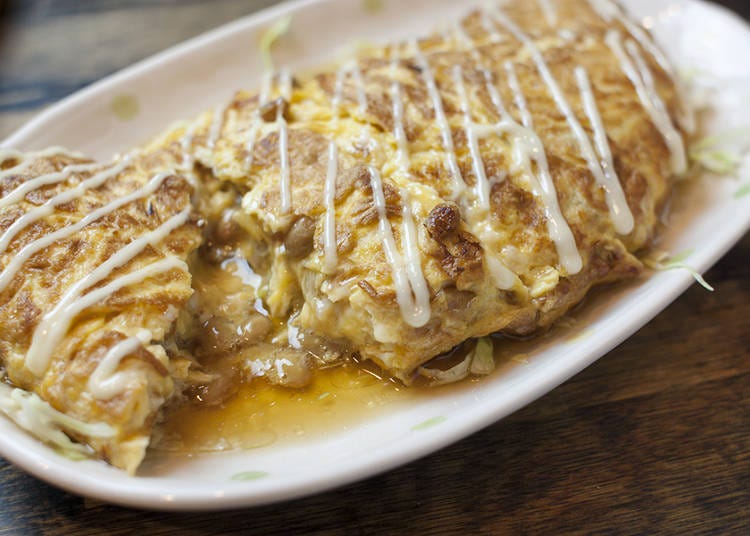 We tried the "Fluffy Natto Omelet" for 500 yen and were immediately sold! The egg was indeed incredibly fluffy, wonderfully combined with the baked natto beans. Topped with soy sauce-based mayonnaise, it goes excellently well with a nice, cold drink!
Being a small bar, Tachibana also only has a fairly small frying space for gyoza, so sometimes it can take up to 10 minutes until your dumpling serving is ready. The other snacks on the rich menu will make sure that you won't have to go hungry, though! Try the "kneaded cucumber" for 350 yen, for example, seasoned with salt, pepper, soy sauce, and sugar, hand-massaged into the vegetable! Another must-try is the half-boiled, seasoned egg for 120 yen, delightfully soaked in soy sauce!
What's Your Favorite Gyoza Seasoning?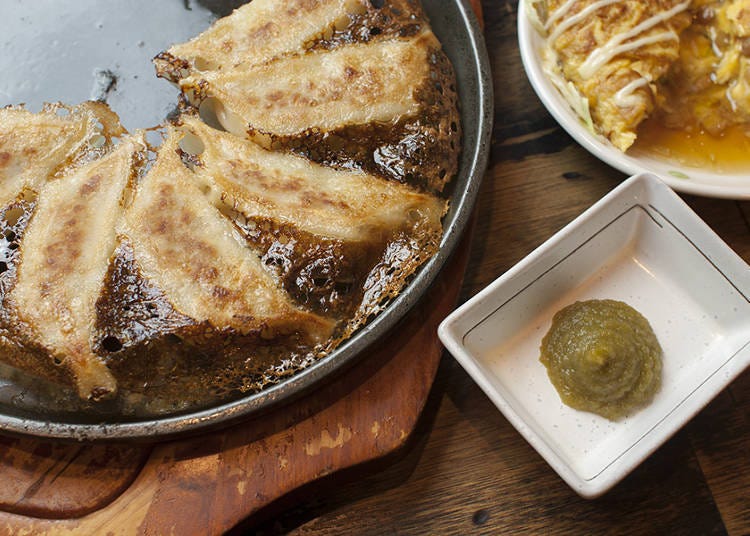 All of Tachibana's tables are equipped with soy sauce, chili oil, and vinegar, the staples of gyoza seasonings. You'll also find "yuzukosho," a special seasoning made from chili peppers, yuzu peel, and salt – give it a try! Of course, all seasonings are free as well, so if you have a request, don't hesitate to ask the staff.
The other Tachibana in Pal Shopping Street also has unique seasonings and sauces like garlic mayonnaise, garlic soy sauce, and ginger soy sauce, so tickle your taste buds with all kinds of fun combinations! Which one is your favorite?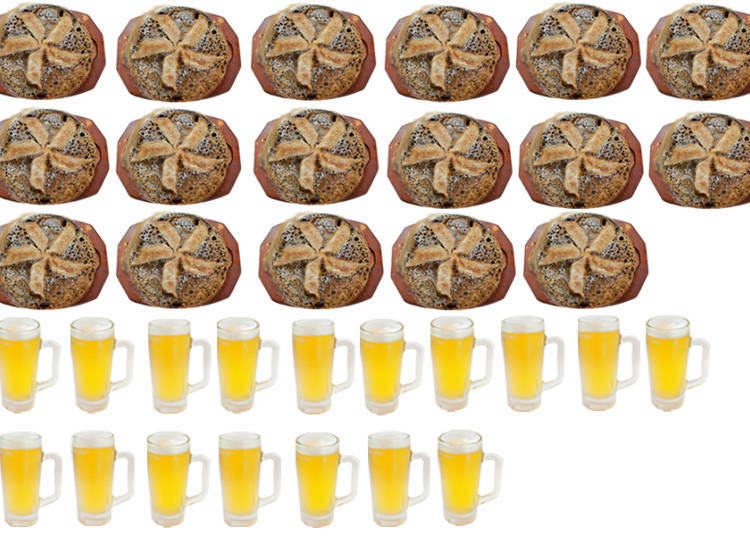 By the way: the record of most eaten gyoza lies at 85 – that is 17 servings for one person – and is held by a single, gyoza-loving guy. Not bad.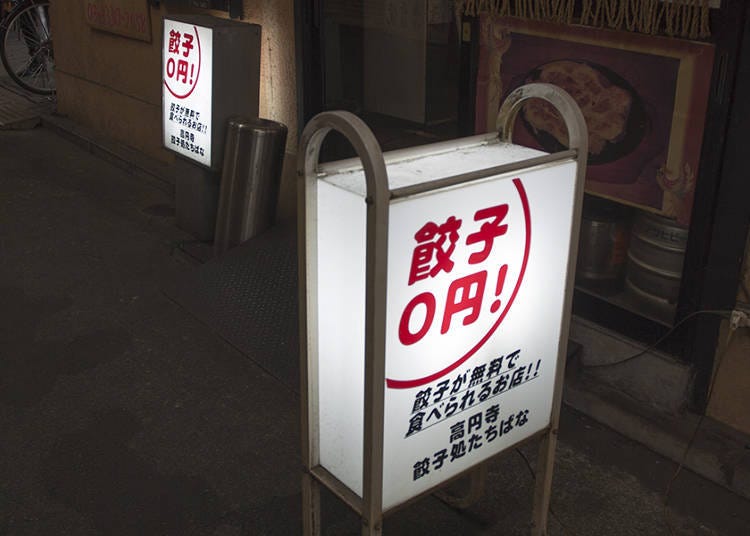 Tachibana doesn't even have a seating charge, so if you're looking to have a fun and reasonably priced Tokyo evening, we urge you to go to Koenji and check out the little, charming bar for yourself! How many gyoza will you manage to eat?
Hours
Monday ~ Thursday: 6:00 p.m. – midnight
Fridays & Saturdays: 6:00 p.m. – 1:00 a.m.
餃子処 たちばな ガード下店

Address

3-69-1, Koenjiminami, Suginami-ku, Tokyo, 166-0003
Writer: Yuki Kimishima
*This information is from the time of this article's publication.
*Prices and options mentioned are subject to change.
*Unless stated otherwise, all prices include tax.