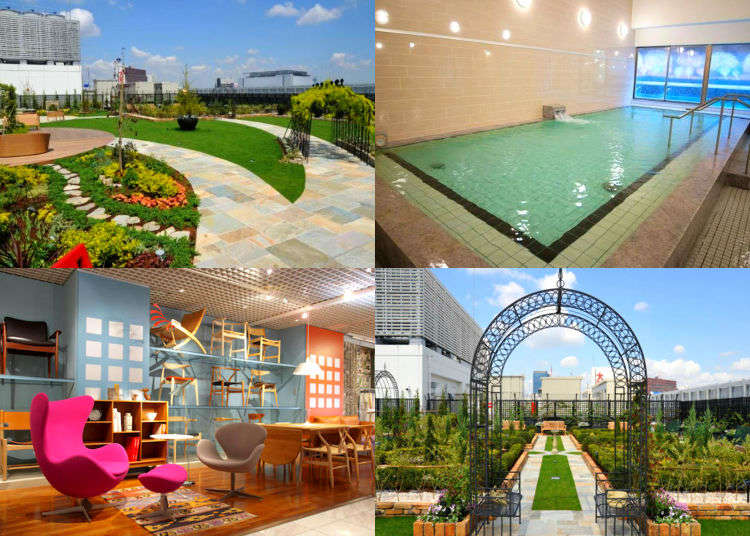 Shinjuku is famous for its neon lights and one of Tokyo's most busy and bustling neighborhoods. This exciting place is fun to explore, but after hours of colorful sightseeing, you'll find yourself craving a quiet place where you can relax. Let us show you Shinjuku's secret spots to kick back and relax at, from lush rooftop gardens to natural hot springs!
Q-COURT, The Marui Rooftop Garden: A Green Oasis Above Shinjuku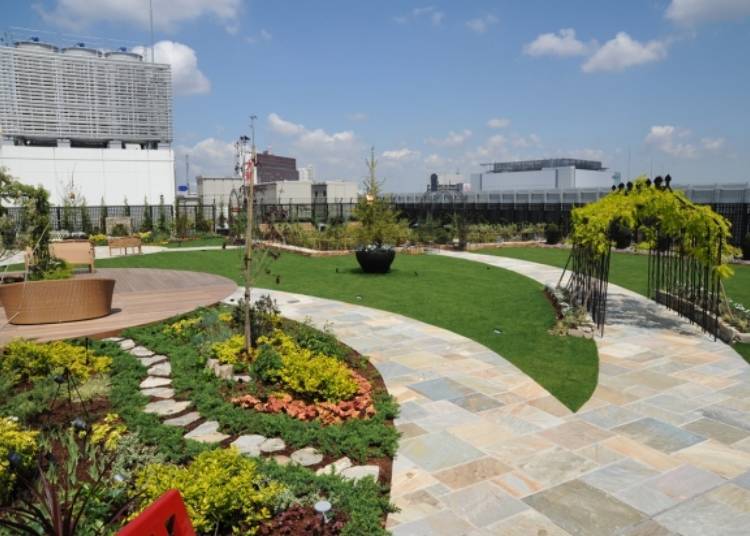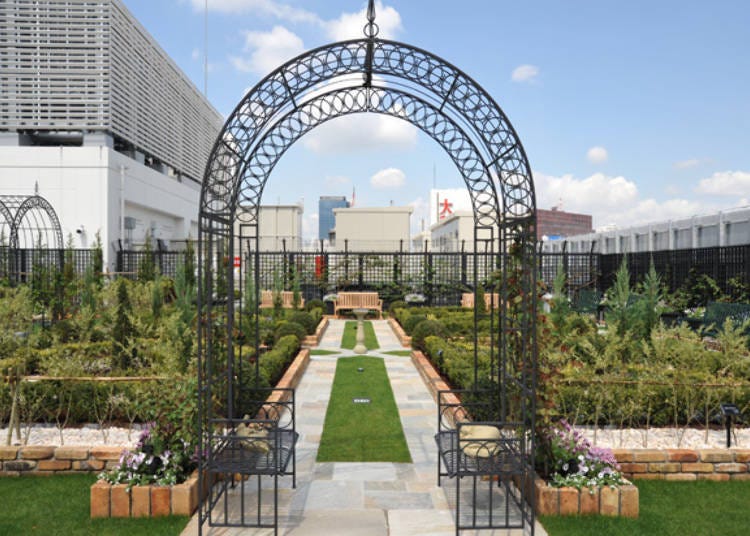 The authentic British garden Q-COURT on the roof of Shinjuku's Marui Main Building is a must-visit for everyone who wants to take a break in a quiet, green space.
The beautiful rooftop garden has its own "Rose Park" that is filled with a large variety of different roses, such as Old Rose, English Rose, French Rose, and many more. Furthermore, the "Early Spring Garden" offers a chance to listen to the calming sound of a gurgling pond while sitting on a circular deck. In total, Q-COURT features five sub-gardens in total, each one of them with its very own charms and highlights. There's hardly a nicer place to enjoy Shinjuku's blue skies than Marui's atmospheric rooftop garden. If you're lucky, you'll even be able to spot butterflies, ladybugs, and wild birds, so don't forget to bring a snack!

Shinjuku Marui Hours: 11:00 a.m. - 9:00 p.m. (until 8:30 p.m. on Sundays and national holidays)
Hours vary by floor.
Q-COURT Hours: 11:00 a.m. - 8:00 p.m.
Closed: irregular holidays
Shinjuku Marui Main Building

新宿マルイ 本館

Address

3-30-13, Shinjuku, Shinjuku-ku, Tokyo, 160-0022
Shinjuku Piccadilly's Platinum Seat: A Uniquely Relaxing Movie Experience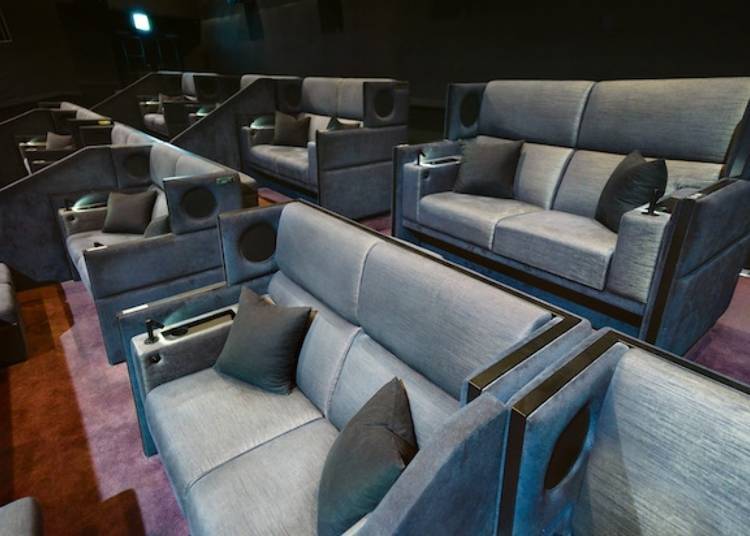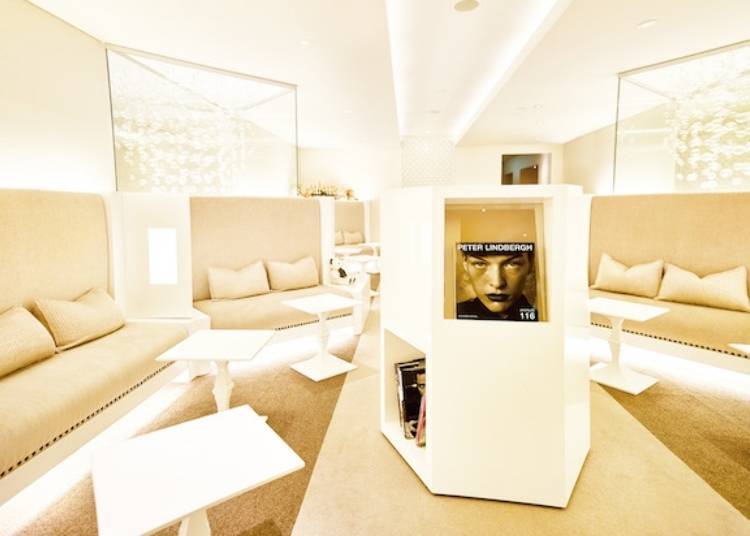 Grab your partner or a friend and head over to Shinjuku Piccadilly, where you'll not only find an atmospheric movie theater but its unique Platinum Seats. As already hinted at, they're pair seats that are just perfectly placed, allowing you to look at Screen 1 right from the center and without having to lift your head. Designed by CASSINA IXC, a high-end furniture brand, the Platinum Seat isn't only stylish but also incredibly comfortable - and even comes with an ottoman to rest your feet on.
On top of that, a private lounge is available to relax in for up to one hour before the screening starts. Choose your welcome drink among 16 different kinds and enjoy it with dishes from a special food menu. This cinema celebrity experience is available to everyone for 5,000 yen per person.

Hours: depending on the screening times.
Closed: always open
Platinum Seat: 5,000 yen per person (including movie ticket, welcome drink, and the private lounge usage fee)
※The movie screenings do not feature multilingual subtitles.
新宿ピカデリー

Address

3-15-15, Shinjuku, Shinjuku-ku, Tokyo, 160-0022
Thermae-yu: Hot Spring Relaxation, All Night Long!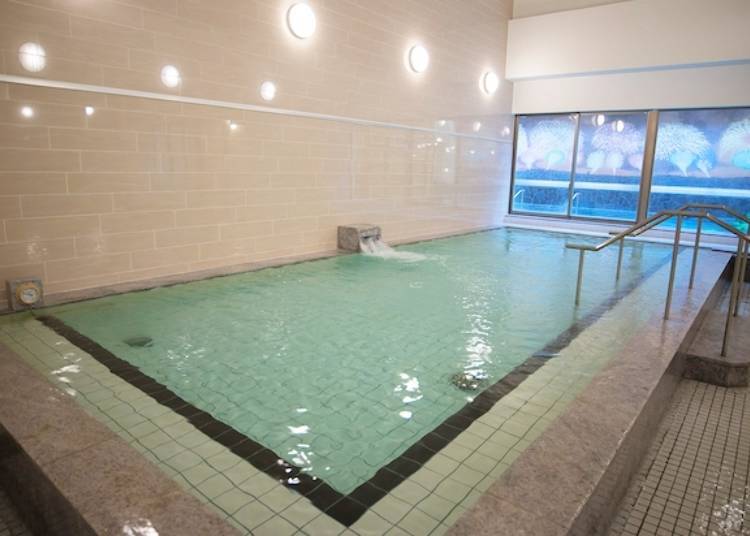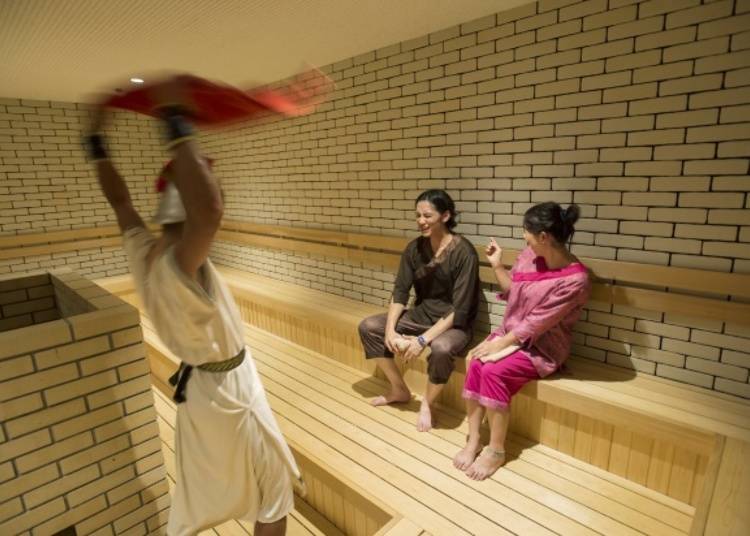 Thermae-yu is located in Shinjuku's famous Kabukicho and is a special kind of natural hot spring. Every day, the water is transported from the Shindai Hot Spring in Shizuoka Prefecture's Nakaizu, which is known as the "Hot Spring of Beauty."
After soaking your body in the outdoor hot spring, Tokyo's largest carbonic acid bath, we highly recommend the loyly sauna experience. Loyly, borrowed from the Finnish word for "sauna steam," is Thermae-yu's unique sauna that features aromatized water vaporizing over hot sauna stones. A "heating" specialist dressed as an ancient roman will take care of warming the towels, generating the sauna steam, and heating in general - doing everything performance-style. This sauna experience is said to promote blood circulation and help with fatigue!

Why not enjoy a juice or smoothie made from fresh vegetables and fruits after your bath? Head to SPRE BEAUTY & Juice Lab on the fourth floor to find a great selection of healthy beverages. Thermae-yu is also home to different restaurants and bars, next to its many lounges and resting areas. And the best thing about this natural hot spring in the middle of Shinjuku? It is open the entire night!

Hours: 11:00 a.m. - 9:00 a.m. (indoor baths until 8:30 a.m., outdoor baths until 8:00 a.m.)
Closed: irregular holidays (inspection, maintenance, etc.)
新宿天然温泉 テルマー湯

Address

1-1-2, Kabukicho, Shinjuku-ku, Tokyo, 160-0021
LIVING DESIGN CENTER OZONE: Furniture Shopping, the Relaxed and Stylish Way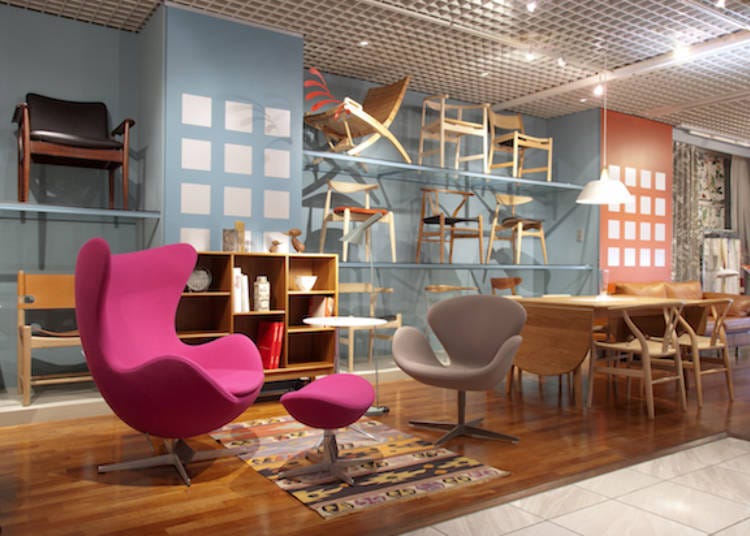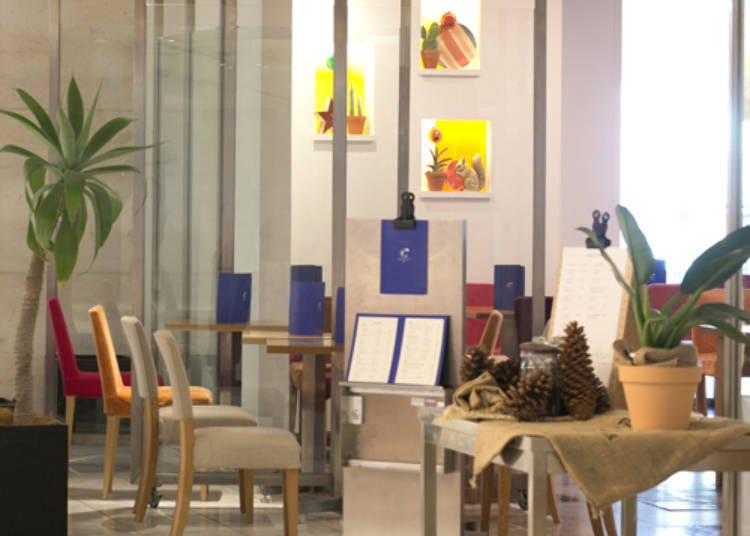 LIVING DESIGN CENTER OZONE is 13,000 square meters of housing and interior, located in West-Shinjuku's Shinjuku Park Tower. Explore 35 different and unique showrooms between the 3rd and the 7th floor, filled with all kinds of furniture and interior goods to fabrics and building materials. On weekends, events such as interior design workshops take place, allowing you to hone your skills in fancying up your home!
After strolling through the large center, feel free to recharge your energy with a drink and a snack at THE CONRAN SHOP CAFE on the 3rd floor.
The free Shinjuku Park Tower Shuttle Bus will take you to LIVING DESIGN CENTER OZONE from Shinjuku Station, leaving about every 10 minutes from Shinjuku L Tower.

Hours: 10:30 a.m. - 7:00 p.m. (THE CONRAN SHOP CAFÉ opens at 11:00 a.m.)
Closed: Wednesdays (excluding national holidays), summer holidays, New Year's holidays
LIVING DESIGN CENTER OZONE

リビングデザインセンターOZONE

Address

SHINJUKU PARK TOWER, 3-7-1, Nishishinjuku , Shinjuku-ku, Tokyo, 163-1062
Written by Haruko Nemoto
*This information is from the time of this article's publication.
*Prices and options mentioned are subject to change.
*Unless stated otherwise, all prices include tax.