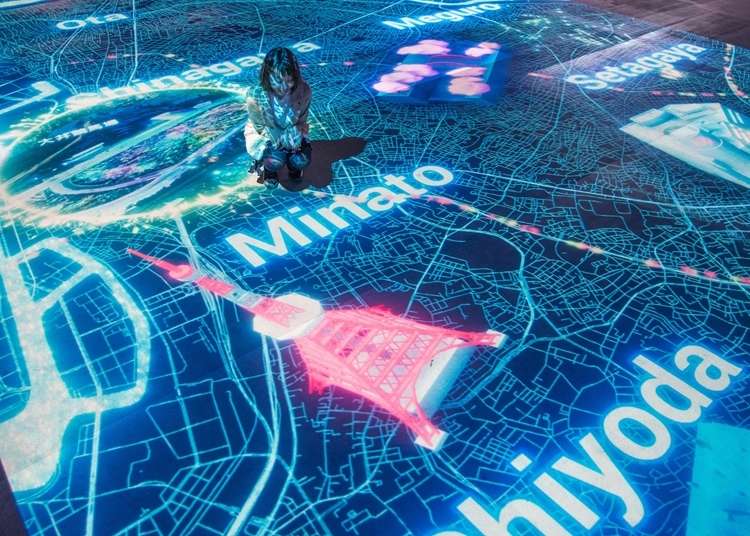 Tokyo's reputation as a city of lights is well and truly guaranteed. From the muted lanterns and shimmering candles that illuminate its many temples, to its glistening neon skyline punctuated by the iconic shape of Tokyo Tower—and now Tokyo Skytree—the city sparkles at night like few others.

Now, from October 2018 an unmissable new landmark has joined the party—one that tells the story of Tokyo not only by capturing the here and now but also showing where the city is headed!

TOKYO MEGA ILLUMINATION is a wonderland of truly epic propositions set ablaze by glorious state-of-the-art illuminations that transport you to another dimension. Let the beguiling light of 8 million bulbs and a whole host of other technologically advanced displays set the scene for a night to be treasured—one you can only experience here in Tokyo!
Outstanding Access Close to Tokyo's Center – Visit its New Luminous Heart!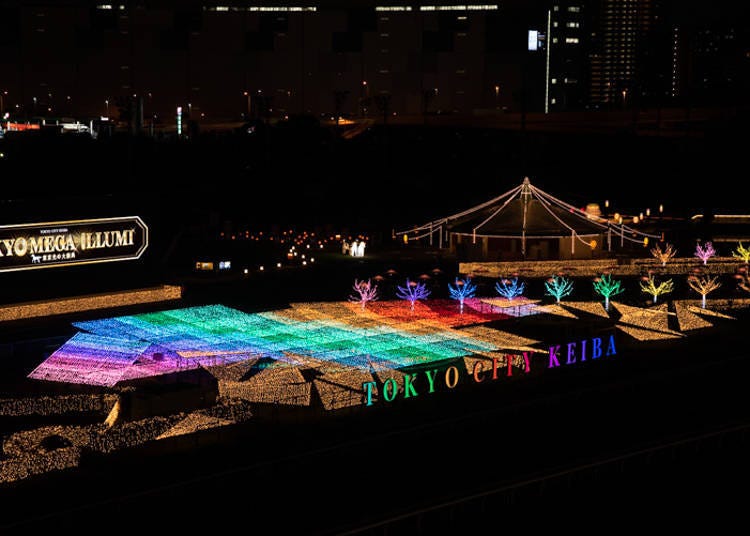 Come winter, when the nights are long, much of Japan is home to an incredible scattering of illuminations. Knowing this is one thing, but actually seeing it is another. Such installations can be located far from the city and may be open for short periods. Stepping in to make sure no one misses out is TOKYO MEGA ILLUMINATIONS. Open until March 2019, the venue is right in the heart of the city at the Oi racecourse.

Your luminous night begins even before you arrive, with the Tokyo Monorail—the same one that takes you to and from Haneda Airport—being dressed in light for the grand opening between October and December 2018.
Arriving at the Attraction's Gate - Enjoy a New Nightlife Concept!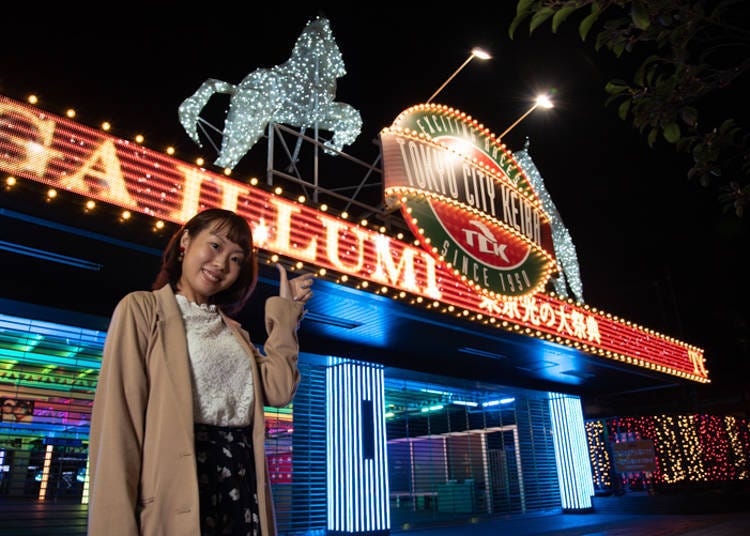 As you arrive at the main gate to the racecourse—just a two-minute walk from Oi Keibajo Mae Station—TOKYO MEGA ILLUMINATION's decorated equine motifs beckon you to enter. The dizzying array of light will have you immediately reaching for your camera to get that first Instagram-worthy shot as a surge of excitement shoots through you! It's a feeling that won't soon go away, either.

Extensive themed exhibits and dining make this a complete evening experience, so there's no need to plan anything other than eating, drinking, and snapping photos as you follow the route!

The first round of illuminations reminds you that the venue is, indeed, a racecourse by day—even if it is largely unrecognizable when you are in the midst of tunnels and glowing fields.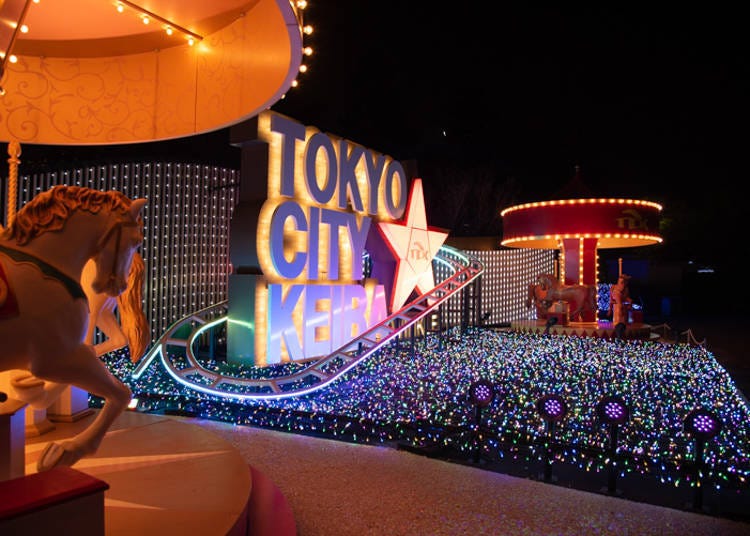 You should notice the equine theme right from the start as you step through gates flanked by horses, and soon you will find yourself in a magical world that includes carousels filled with horses begging to be part of a fun photo opportunity.
Step into the TOKYO TIME TUNNEL! <DARKNESS>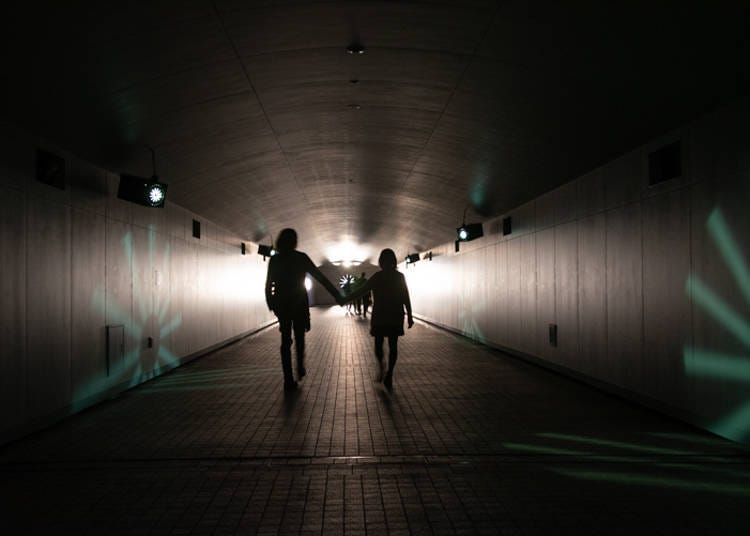 Into the unknown …
As your journey begins, there is no doubt that these illuminations are on a whole other level that lives up to the MEGA name! Japanese illumination maestro Marumaru Motoo was charged with putting together this storytelling experience packed with world-class 3D projection mapping and the very latest in programmable LED lights—deployed in many instances for the first time in Japan, and even the world.

A long walk into a dark flickering tunnel builds to a crescendo of pulsing lights that guide you back in time, deep into Tokyo's history. It is a tale that goes beyond the visual to tap into all the senses. Your own journey through the lights is colored by the people with whom you share it—be they friends, family, or a special someone on a date sure to be treasured.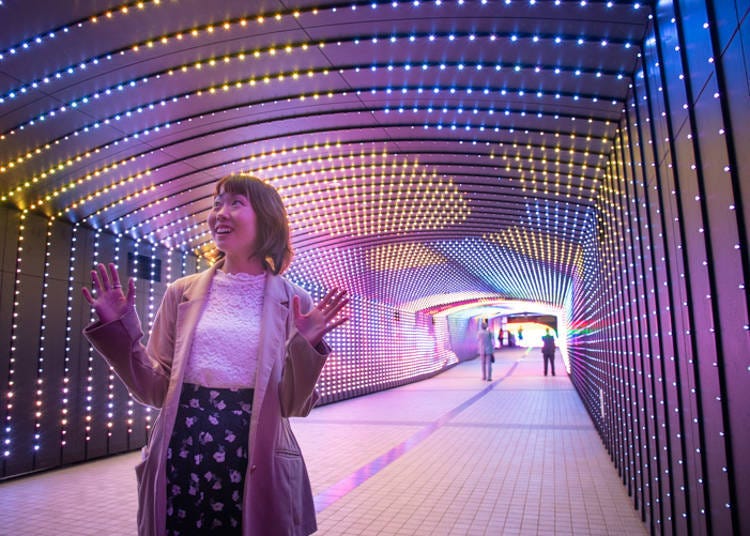 So much charm, so much splendor! But your illuminated journey has just begun...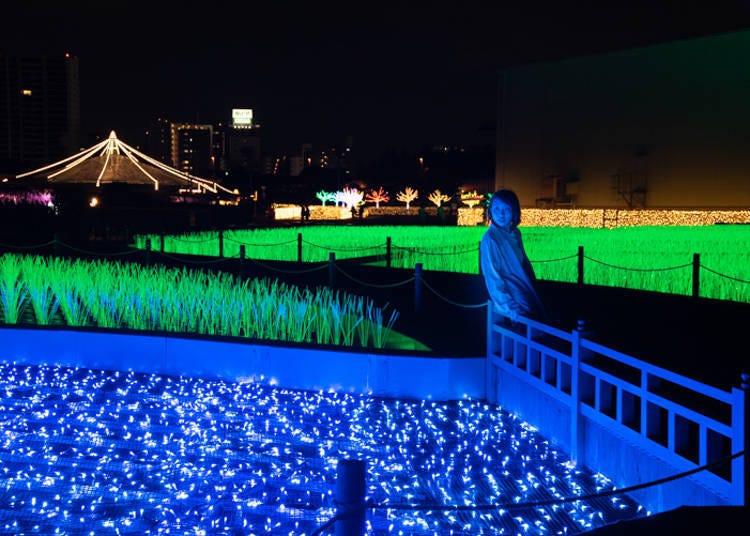 THE GENFUKEI
When you step out of the time tunnel, you find yourself in the Edo Period (1603–1868), a time when samurai still held court and the skyscrapers that define the skyline of today were an impossible dream.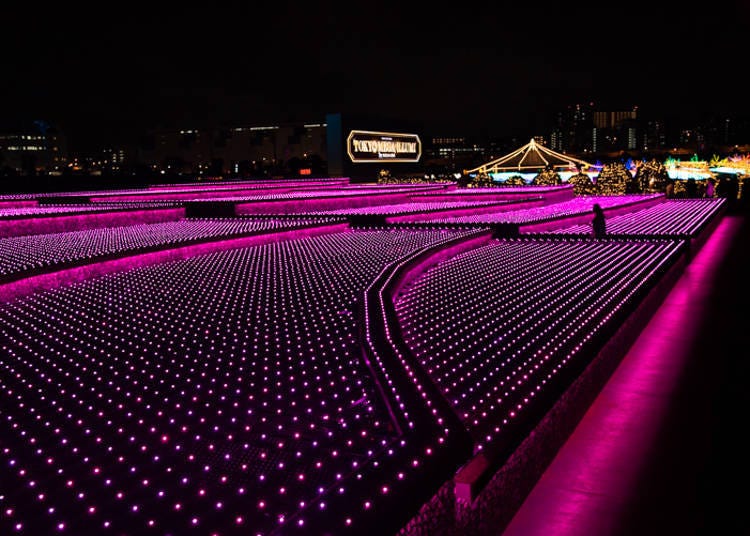 Edo's Rich Rice Terraces
In this era, you can stroll Edo's Richly Colored Rice Terraces and THE GENFUKEI—two exhibits that capture the beauty of arable Japan in changing seasons. You might catch sight of traditionally dressed farmers in the fields and are actually welcome to join them.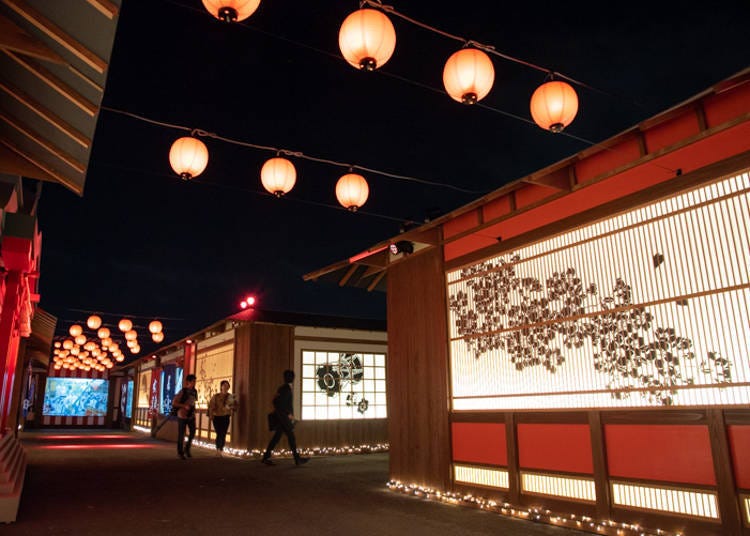 From there, the route takes you through the growth of the city of Edo as it becomes what is known as Tokyo today. Amidst red lanterns and shrines, you can time-slip into downtown Edo and get into the spirit as you dip behind noren curtains that conceal digital ukiyo-e prints—reminders of the powerful energy that transformed Edo from sleepy fields to the seat of Japanese culture.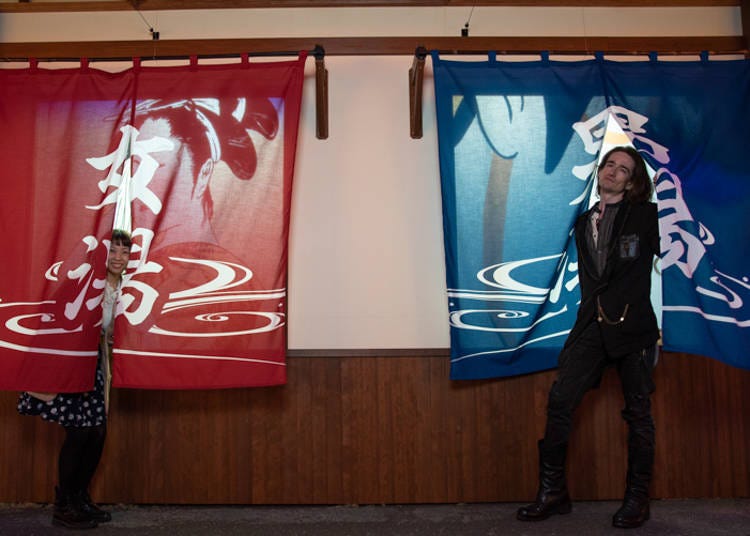 Peek out from the noren curtain and feel the charm of Japan!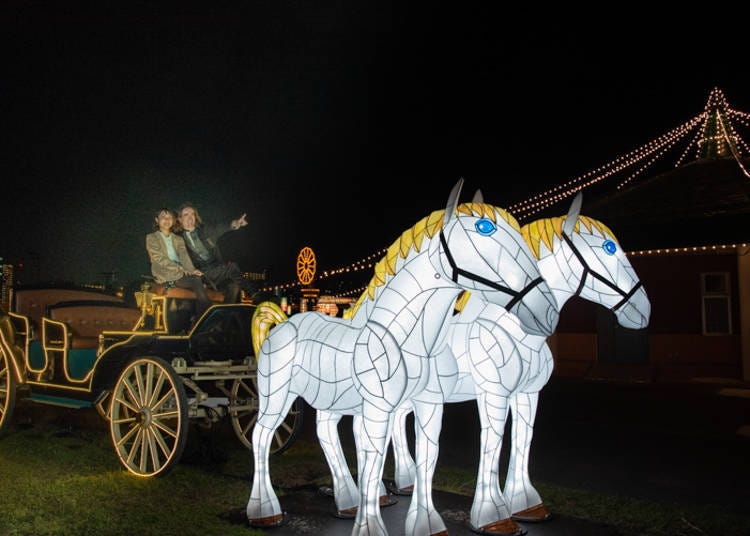 Next up is the Meiji Period (1868–1912), which is known as the time when East collided with West to create a unique culture that is all Japan's own. It is also the period during where contemporary horse racing began to gain in popularity, making this the perfect venue for marking that history. In addition to interactive touch panels that illustrate the arts of this exciting time, you can also take a horse and carriage for an unforgettable photo opportunity.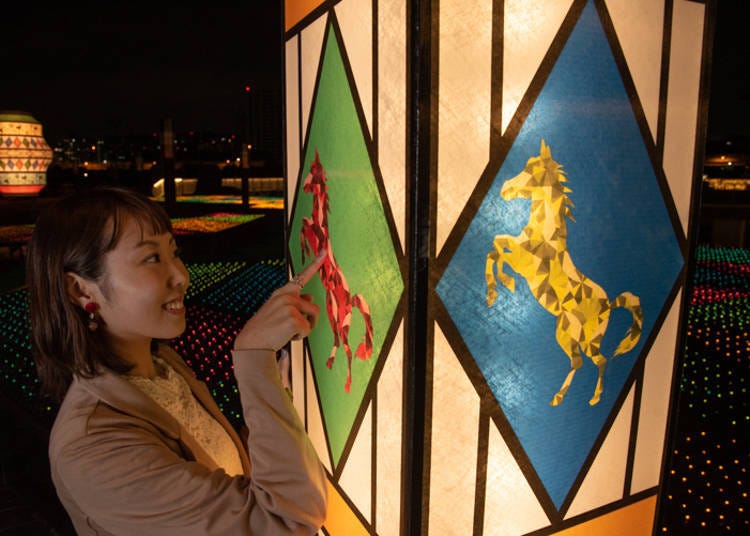 The Taisho Period (1912–1926) was a short one, but it has had a lasting impact that is only just beginning to be appreciated in Japan as well as abroad. Here you can see Japan's first Taisho-themed illumination. As you take in the cute stained glass—with overtones of art nouveau—you will wonder why no one has done it before! Be sure to take your time as you stroll along this romantic route.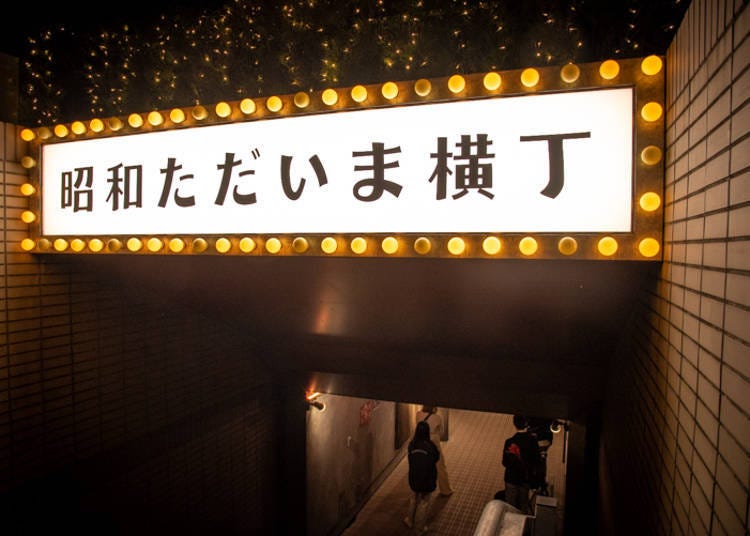 The final stop on the time-travel route is the Showa Period (1926–1989), which may not be such a distant memory for some readers.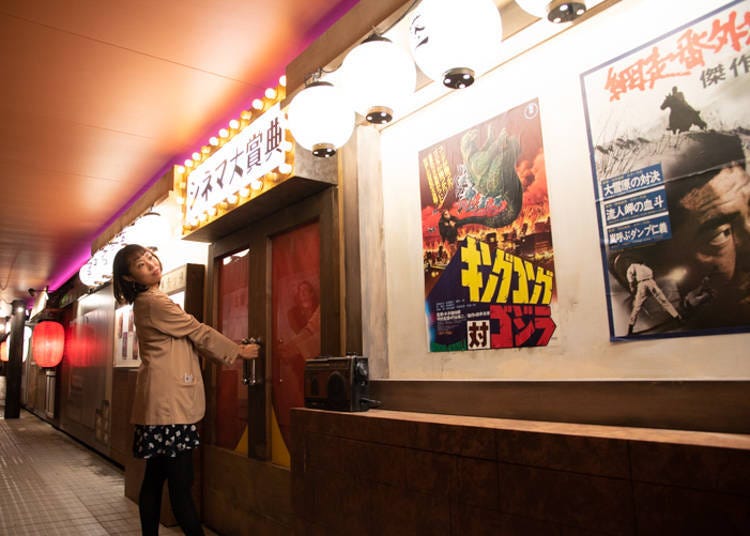 Accordingly, it is an era that connects the past with the present, and, as you follow the time-travel tunnel back to modern Japan, the painstakingly recreated shopfronts of the past are ones you can still find on the backstreets of Tokyo. With musical hits from the era filling the air and tokusatsu Godzilla and Ultraman posters advertising the films that defined the Showa years, you can experience what it must have been like to live through the roots of Cool Japan.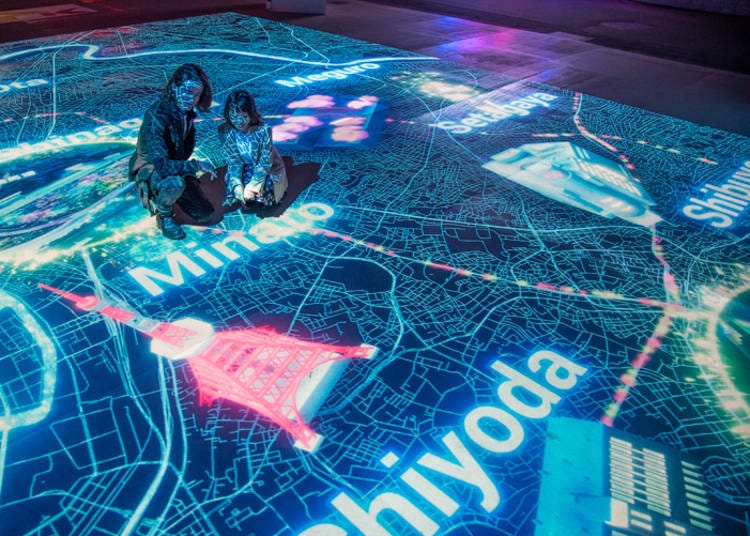 The journey ends where it began: in contemporary Tokyo. There, you will find the MEGA TREE GARDEN, a vast projection-mapped tree themed around the city's present and future, and the interactive moving TOKYO TWINKLE MAP, which represents contemporary Tokyo. As the buzz surrounding the arrival of the Tokyo 2020 Olympic and Paralympic Games builds, enjoy exploring this illuminated map of Tokyo sights and landmarks … you might even spot the area where you are staying!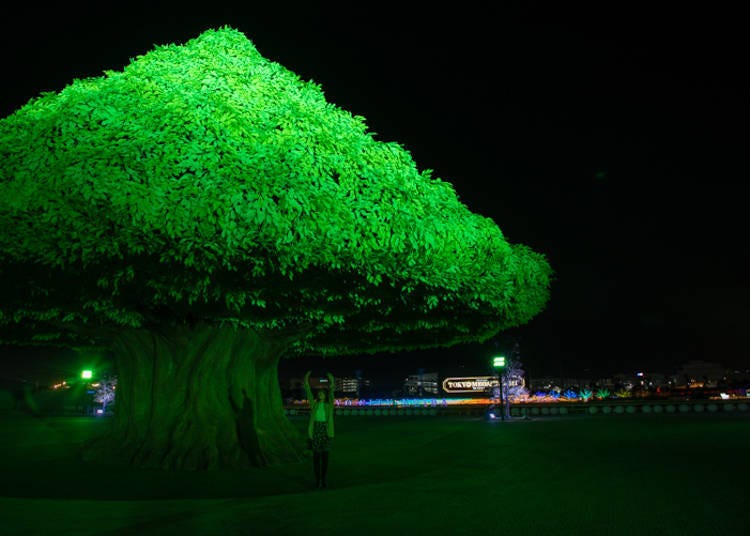 Fine Dining among the Twinkling Lights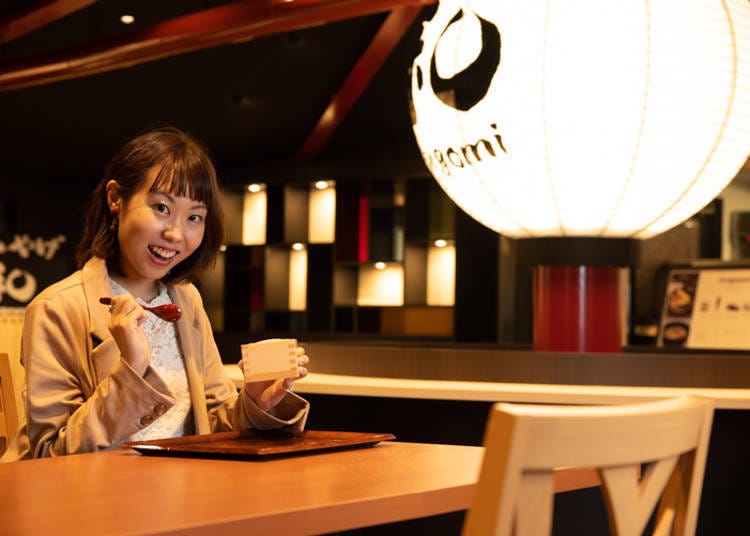 Reflecting your journey through breathtaking illuminations, a number of dining options that take you from Edo to Tokyo await. Wa ~nagomi~ offers traditional Japanese udon noodles, largely unchanged from Edo, while STAR LIGHT serves up contemporary gastropub meat cuisine, including their own specially brewed craft beer that is a perfect match for the food coming straight off the grill.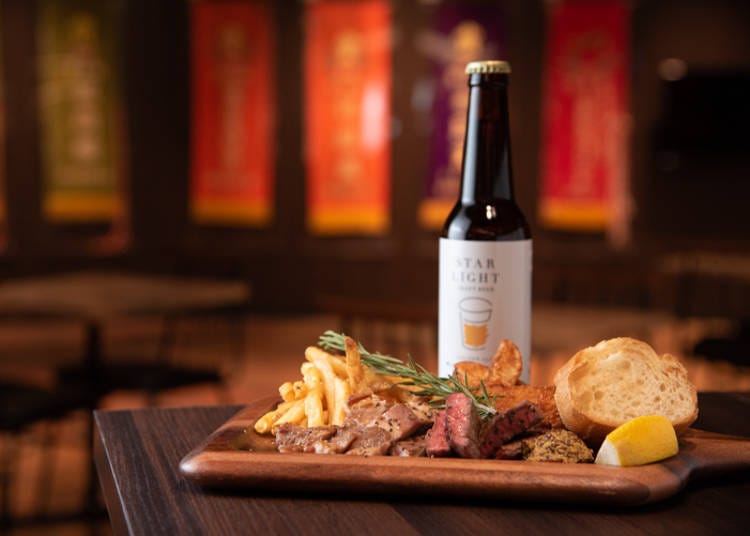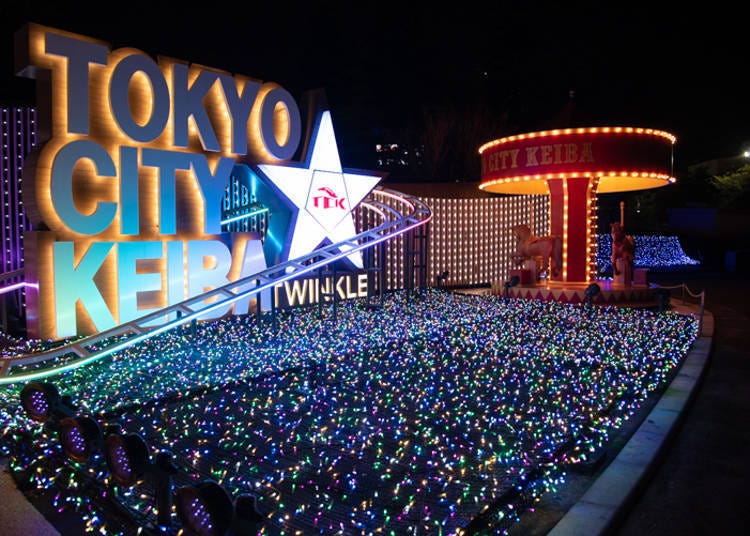 For a magical evening that truly lives up to its name, set your sights on TOKYO MEGA ILLUMINATION and see the beautiful city of Tokyo in an entirely new light.
*Please note that opening hours and dates may be updated.
大井競馬場

Address

東京都品川区勝島2丁目1−2/2-1-2 Katsushima, Shinagawa-ku, Tokyo

Nearest Station

2 min. walk from Oikeibajo-mae Station (Tokyo Monorail), 12 min. walk from Tachiaigawa Station (Keikyu Main Line)


Phone Number:03-3762-5230 (Japanese only)
*This information is from the time of this article's publication.
*Prices and options mentioned are subject to change.
*Unless stated otherwise, all prices include tax.