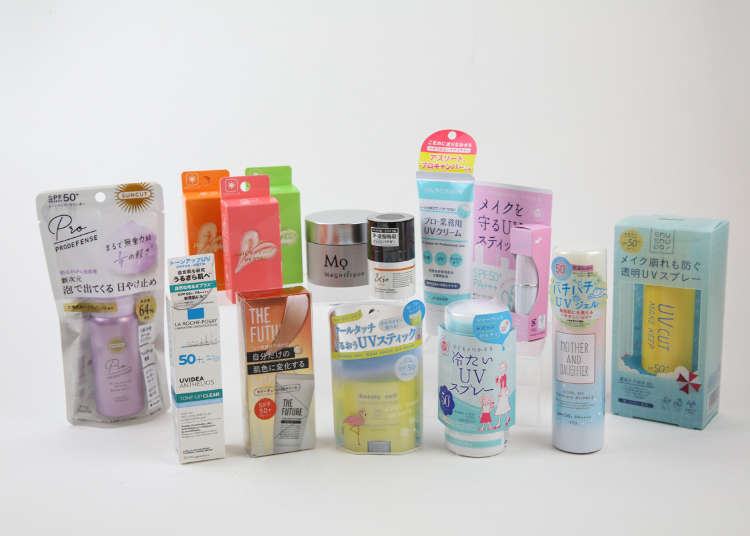 UV protection is essential for summertime in Japan. So for 2022, we have carefully selected several recommended sunscreens gaining popularity at Shibuya Loft.

Some of the latest items include mess-free sunscreens, sunscreens you can use with makeup or in your hair, and sunscreens compatible with both men and women.
Shibuya Loft: Home of the Hottest Summer Trends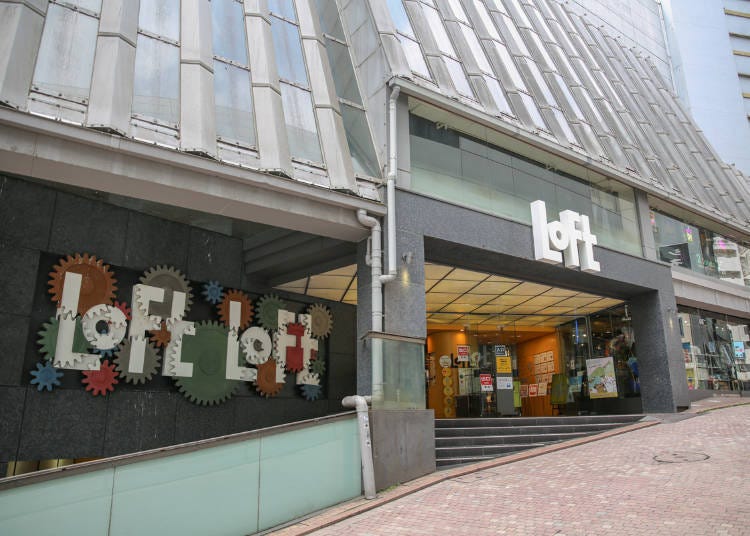 Shibuya Loft, next to the Seibu Shibuya B Building
Loft is a store specializing in household goods and is super popular with Japanese citizens and tourists alike. Conveniently located just five minutes from Shibuya Station, Shibuya Loft is a vast, seven-story shop boasting a lineup of nearly 80,000 items.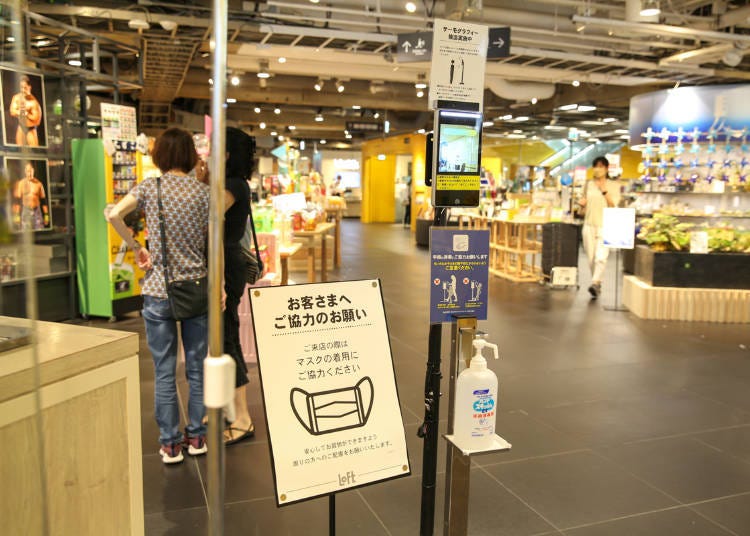 Per Covid-19 prevention protocols, thermometers and hand sanitizers are located at the entrance, and customers are requested to wear a mask inside the store.

Today we speak to Yui Takahashi of Loft's Public Relations Office, who introduces her top recommended UV protection products, located in the health and beauty section on the second floor.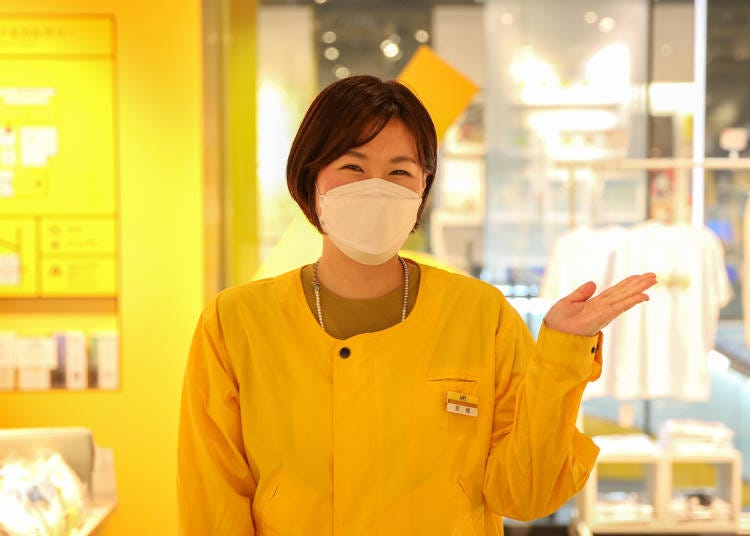 "Lots of products are trending this year as a measure against both coronavirus and the heat, including mess-free sunscreens, cooling products, and gender-free products that both men and women can use." (Takahashi)
1. MOTHER AND DAUGHTER Cool UV Popping Bubble: A Bubbly Refreshment for Your Skin (1,430 yen / SPF50+ / PA ++++)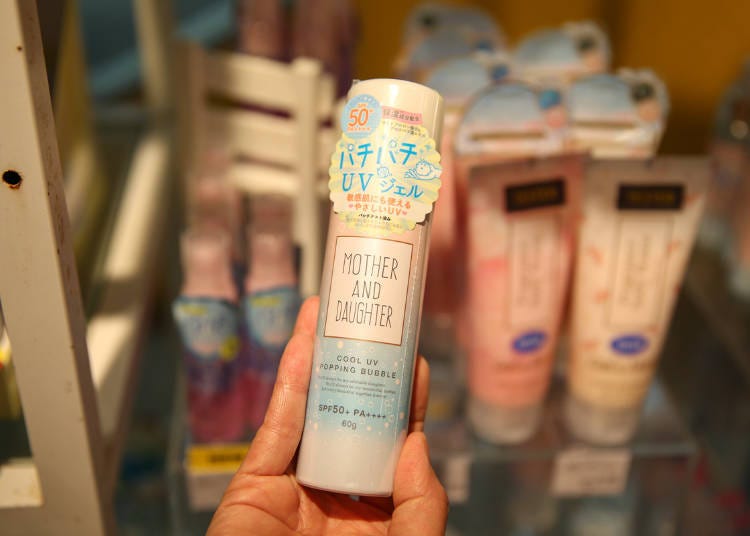 Mother and Daughter Cool UV Popping Bubble (60g) protects you not only against UV rays but also from the heat. This is the latest product from the brand, MOTHER AND DAUGHTER, known for its series of UV protection items that parents and children alike can use.
Foaming bubbles make this product fun to use, even for kids!
Shake well and spray to release the cool, fluffy foam. Then, apply it to your entire body! You can even hear the bubbles pop and crackle as they take effect on your skin. It's light and gentle, and offers a refreshing, cooling effect.

One plus about this product is that its gentle moisturizing ingredients are safe to use on sensitive skin and with children. It's a new kind of sunscreen that refreshes as it protects!
2. SHIGAISEN YOHOU Cool UV Spray P: A Cooling Spray Safe for Kids! (1,760 yen / SPF50+ / PA ++++)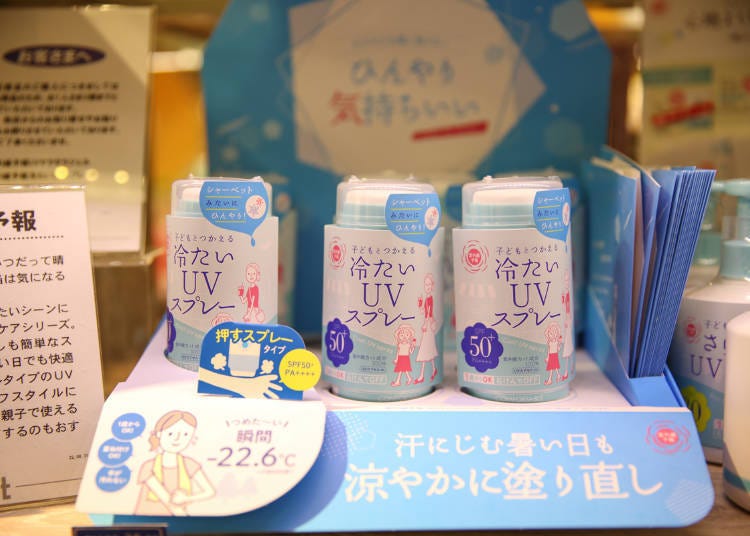 "This year promises lots of new summer hygiene products that can be applied without getting your hands messy. In addition, many of them offer cooling effects," says Takahashi. One of these combination items is Shigaisen Yohou's 'Cooling UV Spray P' (60g).

Shinai Yohou is a UV-protection brand known for its series of products that are safe for the entire family. This product is said to be the coolest in the history of the series' items! A spray-type product applied by pressing directly onto the skin makes it easy to use, even with one hand.

According to Ishizawa Research Institute, you can feel a cooling effect of -22.6°C upon application. This is one item you'll want to use often, especially if spending time under the hot sun!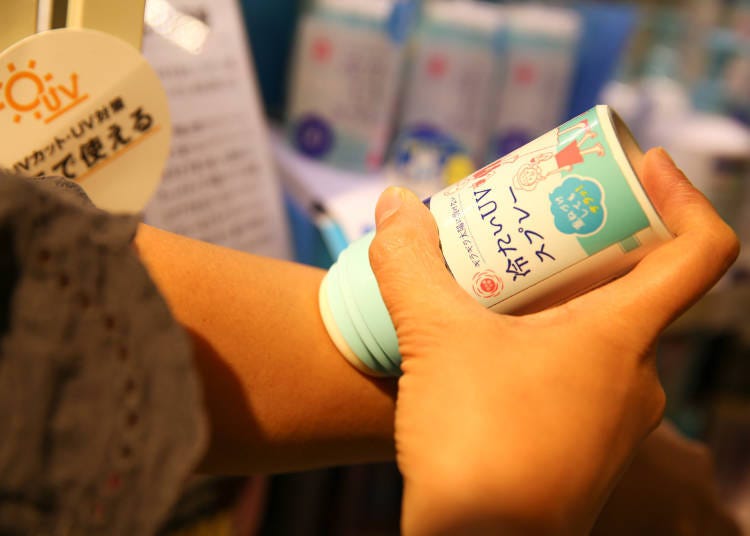 A bubbly, liquid lotion comes out when pressed against the skin.
Also, even though it offers the highest value of UV protection (SPF50+ / PA ++++), it's safe to use on children as young as one year! It's also waterproof and easy to remove with soap.
3. BEAUTY VEIL Cool Touch UV Stick: Apply Directly to the Skin, Minus the Mess! (1,430 yen / SPF50+ / PA ++++)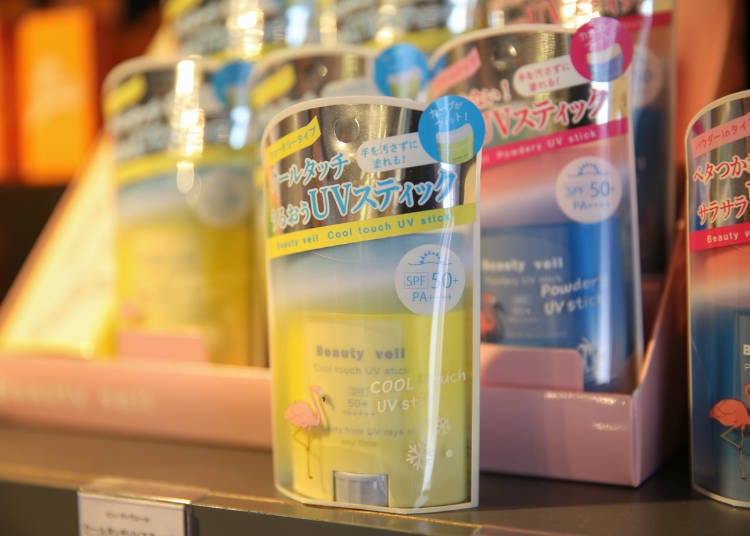 The 'Beauty Veil Cool Touch UV Stick' (20g) is another great item you can apply directly to the skin, avoiding messy hands. It's a stick-type sunscreen featuring an exquisite curved shape, making it easy to apply to the neck and arms. It has a high water content and offers a nice cooling effect as soon as the stick touches your skin.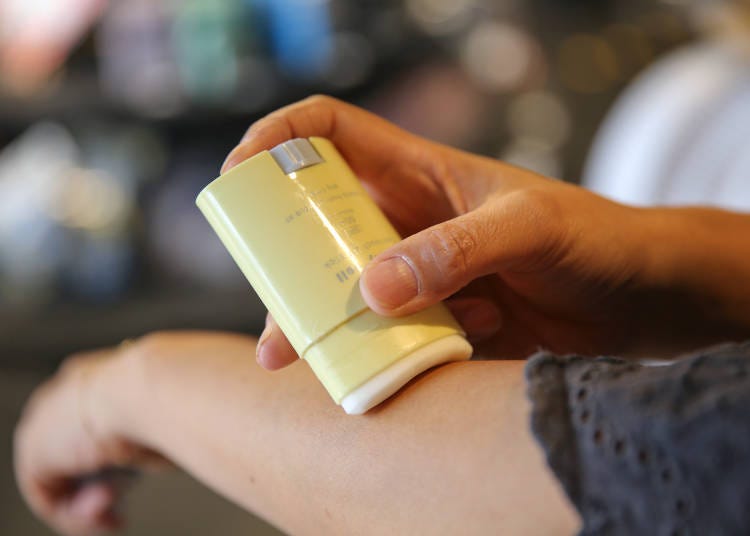 The product goes on evenly and smooth, and has UV-cutting effects of SPF50+ / PA ++++ to protect your skin from harmful UV rays. The wide stick also makes it easy and convenient to reapply!

"I use this item myself. I even apply it on the insteps of my feet when I'm on the go. It's easy to use in areas that accumulate sweat, such as the nape of the neck. It's the perfect product for my skin!" (Takahashi)
4) Professional/Commercial UV Cream: Long-Lasting, Comfortable Skin Care (1,980 yen / SPF50+ / PA ++++)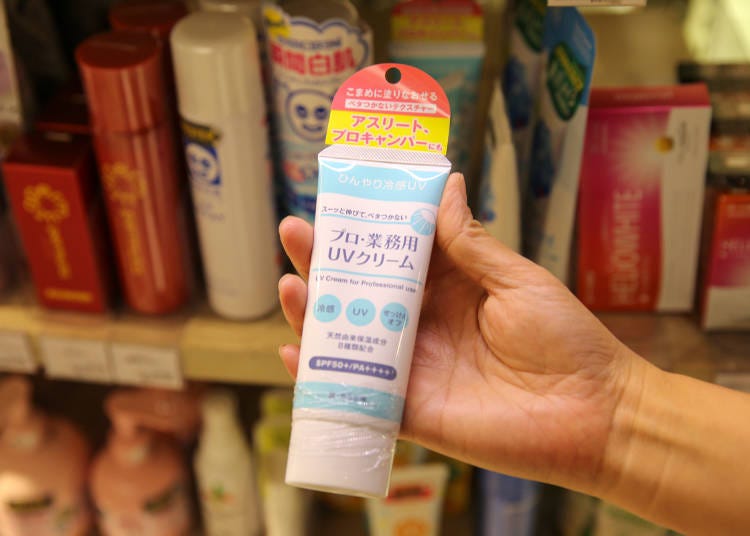 This hand cream is perfect for professionals whose jobs require frequent use of water, including cooks, cosmetologists, and flower artists. Although it is moist, it is not sticky, making it easy to get right back to cooking or crafting after application. Professional / Commercial UV Cream (50g) is good for the face and body, and was released earlier this year by manufacturers who understand those needs.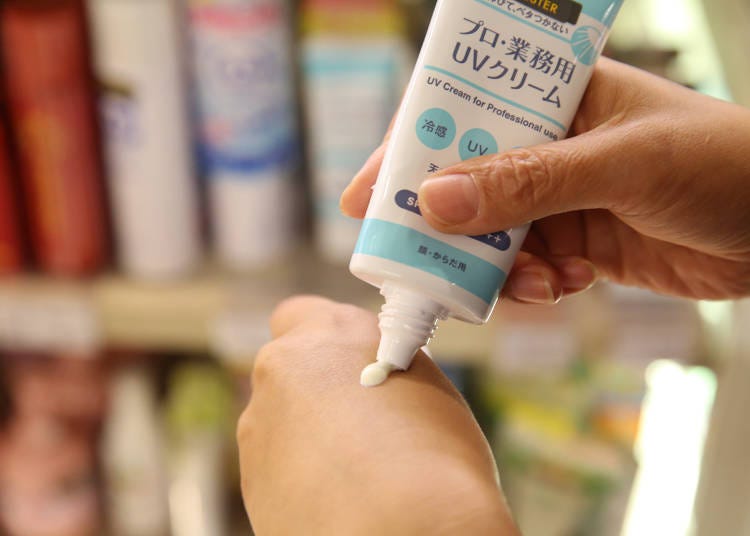 The white cream becomes transparent and blends into your skin on application.
This excellent moisturizing product contains a blend of eight types of natural moisturizing ingredients, including a sunflower oil blend consisting of oleic acid, comparable to human sebum. It applies smoothly and is not sticky, with mild cooling effects, and is perfect for outdoor activities, such as sports and camping. It's also easy to remove with soap.
5. Suncut® Pro Defense All-in-One UV Mousse: A 5-in-1 Foaming Sunscreen (2,200 yen / SPF50+ / PA ++++)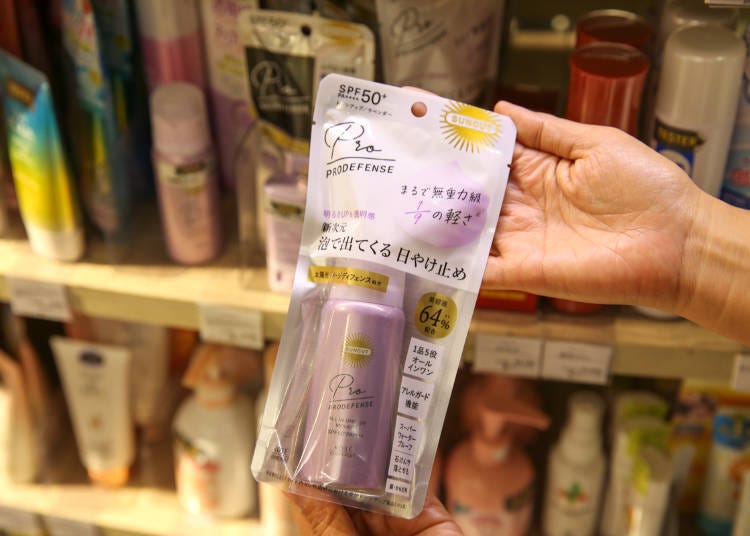 Suncut® is a sunscreen brand that debuted in 2009 by Japanese cosmetics manufacturer, Kose Cosmetics, now available in 10 countries around the world. 'Pro Defense All-in-One UV Mousse' (60g) is one of the latest products from Suncut®, a new type of sunscreen with a fluffy, mousse-like consistency.

This product is more than your ordinary sunscreen. It's a 5-in-1 product that also acts as a toner, foundation, makeup base, and allergen guard (blocking out pollen, dust, dust, PM2.5 particles, and more).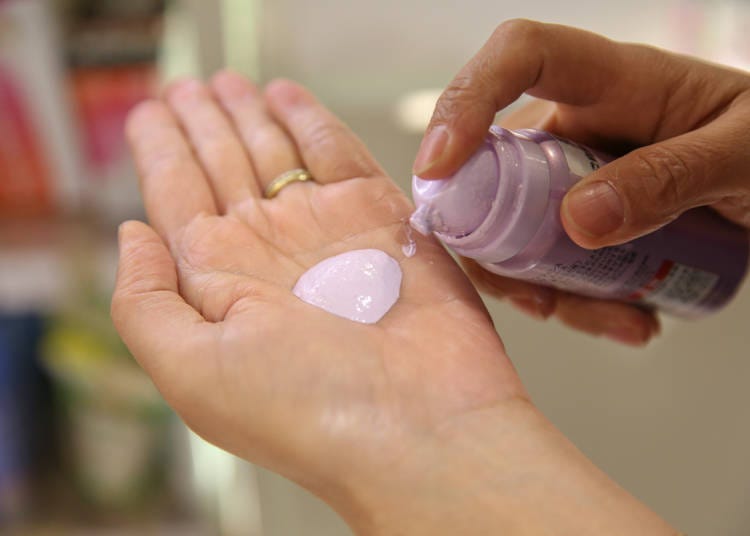 Skin-toning, lavender-colored whipped cream
The fine, tightly-packed bubbles give it a very light feel. It's super waterproof, sweat- and chafe-resistant, and protects your skin from intense sunlight. It's the perfect product for daily use, as well as for sports and recreational activities.
6. Shushupa! UV Cut & Makeup Keep Spray+: Prevent Sunburn and Runny Make-up at the Same Time! (1,430 yen / SPF50+ / PA ++++)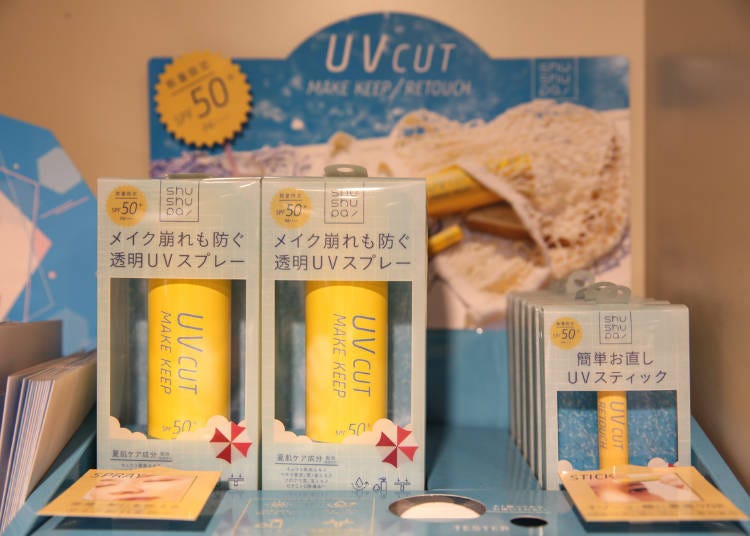 As its name suggests, 'Shushupa! UV Cut & Makeup Keep Spray+' (60g) is a spray that provides protection from UV rays and makeup run at the same time. The particles are fine and transparent, making it easy to apply over makeup. It also prevents shine with its sebum-adsorbing powder blend.

Another plus is that it will not stain your clothes. This is a helpful item for those times you forget to apply sunscreen before making up, or when you're out and about and need a reapplication!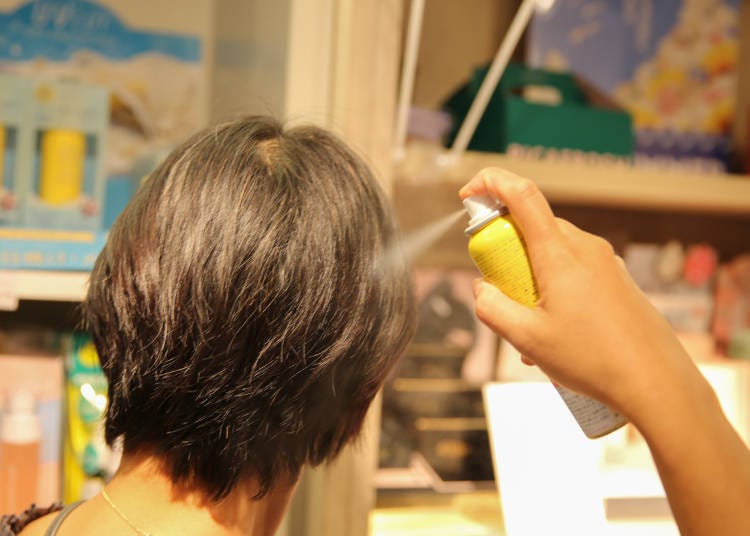 Can also be used on hair to prevent UV damage and scalp burn.
7. &be UV Smooth Powder: Stop Sticky Skin with Just a Few Pats! (1,650 yen / SPF20 / PA ++)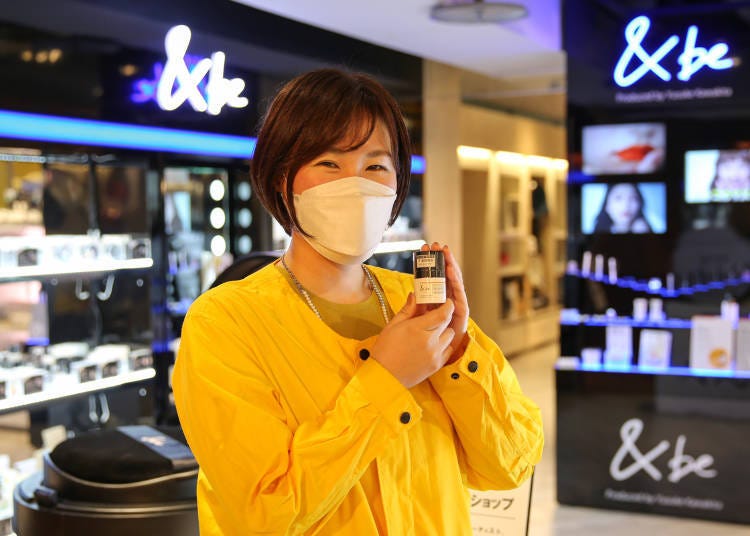 Shibuya Loft has a full lineup of &be products, A pop-up store for next spring is also in the works
"I also use this product," says Takahashi. According to Takahashi, 'UV Smooth Powder' (8g) by hair and makeup artist Yusuke Kawakita's cosmetic brand, &b, provides double protection against UV rays, doesn't stick, and gives a nice, smooth finish.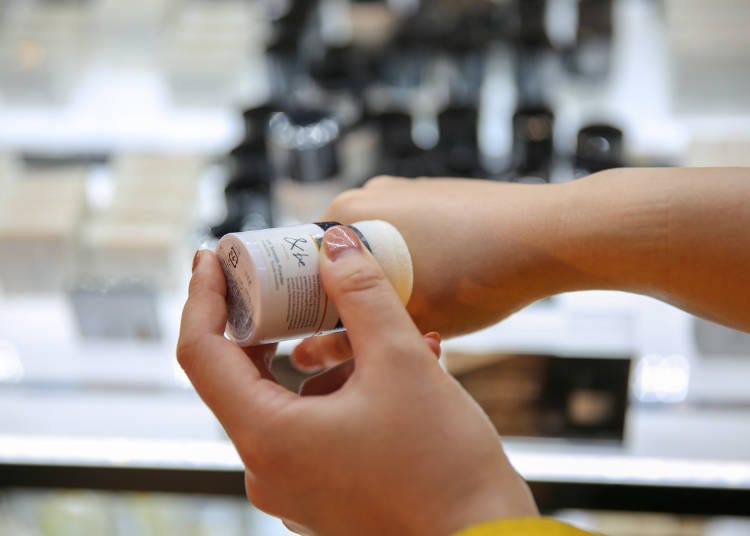 Apply by dabbing gently on the skin
"It's recommended as a finish after applying makeup and prevents makeup from smudging, as well as the stuffy feeling from wearing a mask. You can also use it in your hair, and prevents sticky scalp when applied to the roots. It's also easy to remove with soap." (Takahashi)
8. SHIGAISEN YOHOU Make-Up Protection UV Stick: One-Coat Protection from UV Rays and Runny Make-up (1,815 yen / SPF50+ / PA +++)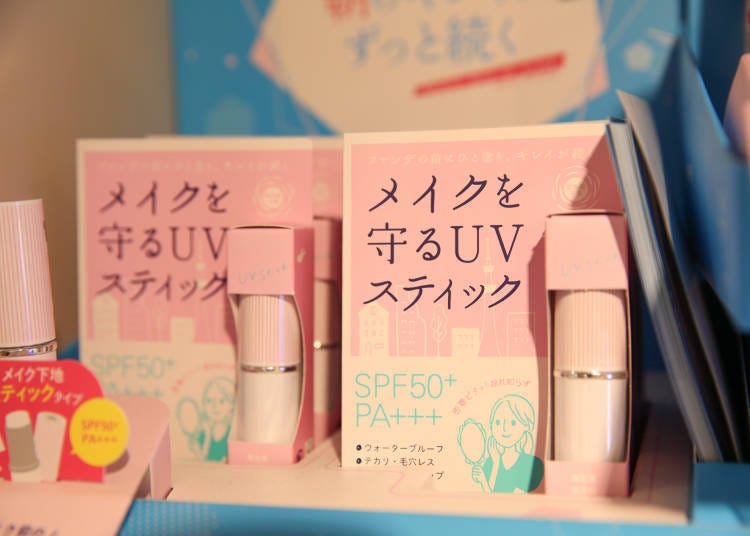 'Shigaisen Yohou Make-Up Protection UV Stick' (6.3g) is a facial sunscreen from the Shigaisen Yohou brand's UV protection series. Simply apply one coat before doing your make-up, and not only will it keep it from smudging, but it'll also prevent sunburn. As a stick-type sunscreen, it's easy to apply and works well on uneven skin.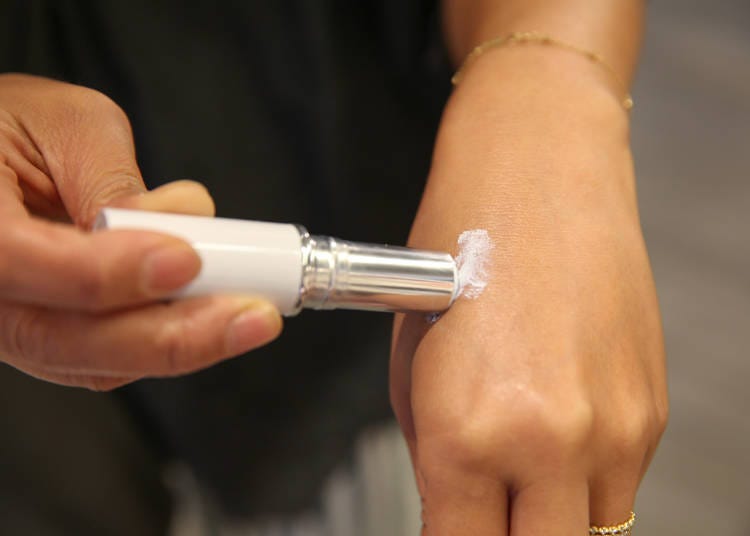 Don't be fooled by its white appearance when applying. The color naturally blends into your skin tone once evenly spread. It blocks sebum, prevents shine, and allows for longer-lasting makeup!
A Wide Range of Men's Cosmetics, Too!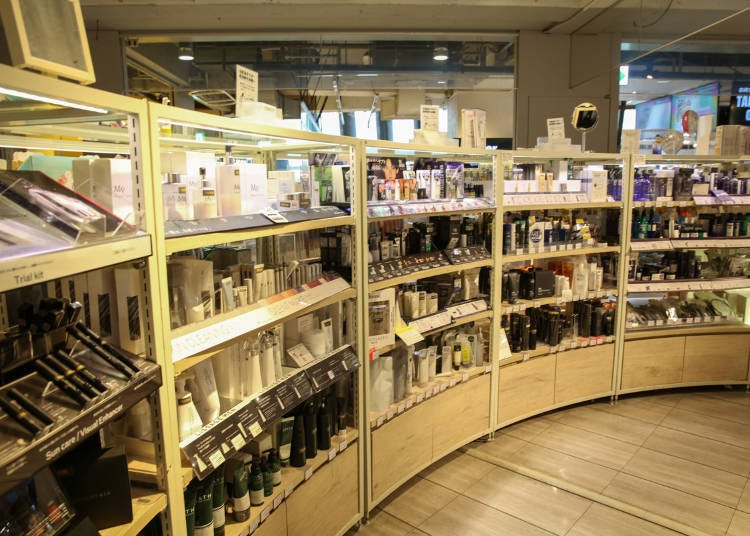 The men's cosmetics corner, located on 2F
Shibuya Loft also has a rich lineup of cosmetics for men! Find these items in the men's cosmetics corner. Several products can be shared by both men and women, offering a wider range of options. Here are two more UV protection items that we recommend.
9. Magnifique All-in-One Gel UV: The Only Item You'll Need for Morning Skin Care! (2,200 yen / SPF50+ / PA ++++)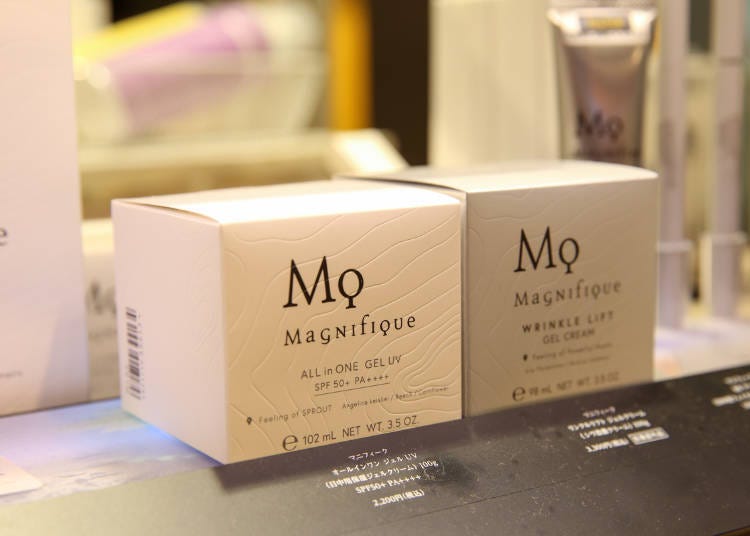 Magnifique is a men's care brand, and part of Japanese cosmetics brand, Kose. This brand does away with the old stereotype of men's products needing to be mentholated or super-strong. Instead, these products have been redesigned with the same care and quality as women's cosmetics.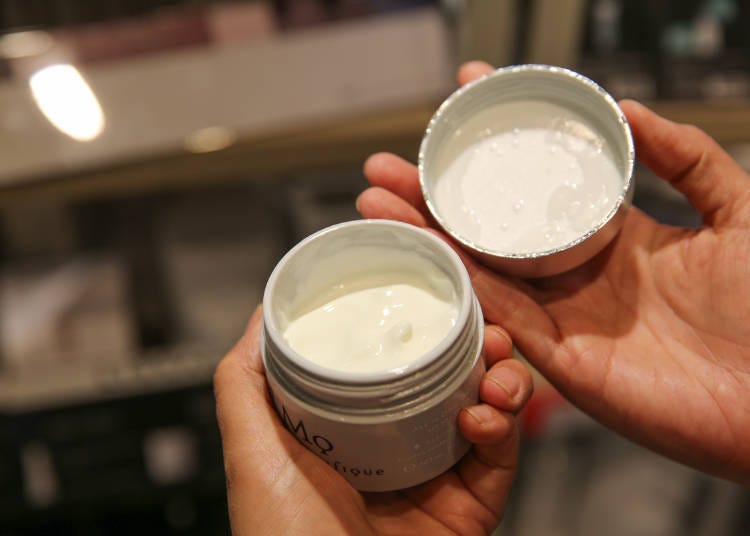 This 'All-in-One Gel UV' (100g) is a one-stop skin care product that plays six roles, acting as a lotion, serum, body milk, cream, UV protection, and toner. Just apply after washing your face, and you're set for the morning!

"It's pretty uncommon to find an all-in-one product that also provides maximum UV protection," says Takahashi.
10. THE FUTURE Color Changing BB Cream: Multi-Functional BB Cream for All Skin Tones! (1,980 yen / SPF50+ / PA ++++)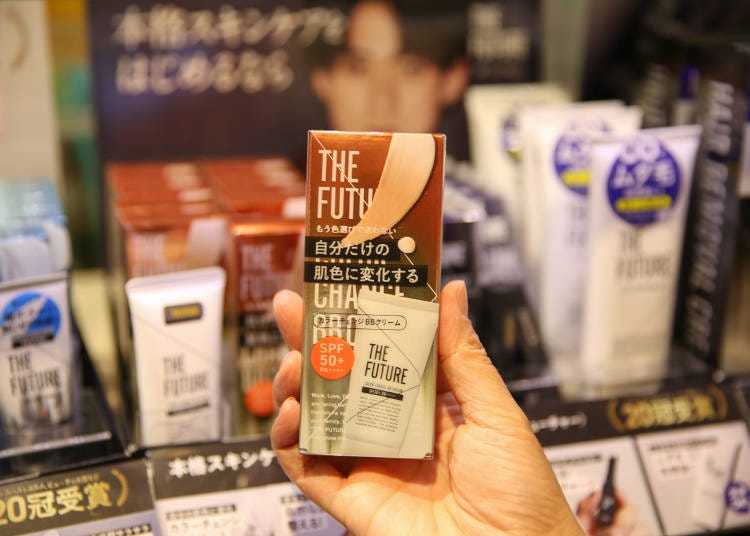 'THE FUTURE' is another men's cosmetics dedicated to providing some of the highest quality men's products in Japan. 'Color Changing BB Cream' (25g) is a cream that applies white but blends into any skin tone when evenly spread. It naturally covers redness, acne scars, pores, and more, enhancing the appearance of the skin.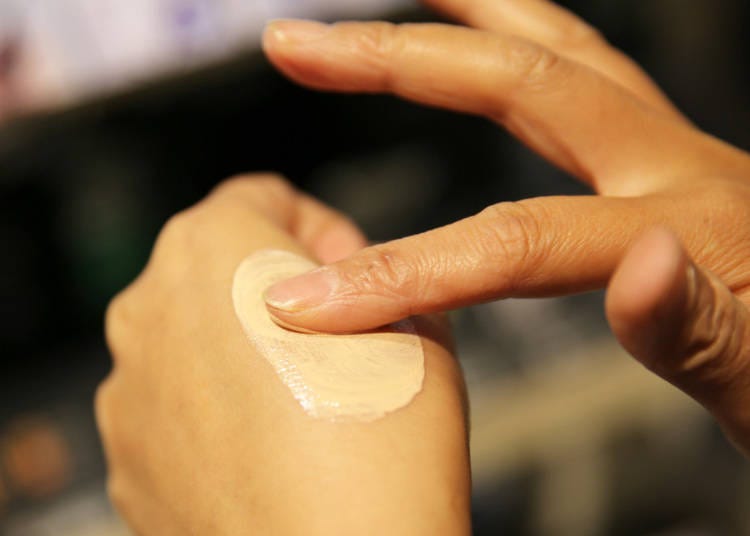 It's super easy to use, working as both a sunscreen and skin care product that naturally hides blemishes. It's also easy to remove by washing your face.

"I love this product, too. It's convenient for short outings to the convenience store or supermarket. It's also nice that couples can share it," says Takahashi.
The Hottest Summer Cosmetics, All In One Place!
In addition to the sunscreen items introduced here today, Shibuya Loft offers a number of great health and beauty items on the second floor, including products for the skin, body, hair, teeth, and overall health. Many products also have testers available, so you can try them before you buy!

The duty-free counter is located on the 6th floor, with multilingual staff who are more than happy to help with any issues or questions you may have. They also accept payment by UnionPay card, Alipay, WeChat Pay, and UnionPay QR.

If you're in the market for some new summer skincare items, why not check out Shibuya Loft? It's an ideal spot to shop, not only for yourself, but for souvenirs and gifts, as well!

Health & Safety Measures
Indoor disinfection measures taken - Sanitizer installed - Disinfected after each guest leaves - Ventilation measures in place - Coin trays used - Plastic partitions installed - Staff wear masks, gargle, wash hands regularly, and monitor body temperature - Limited capacity/increased space between seats - Entry declined to anyone who is feeling unwell - Masks requested/temperature check enforced

Services for foreign guests
Multilingual support (hardware) - Multilingual support (software, staff availability, etc.) - Multilingual support (website, SNS, etc.) - Multilingual support (telephone) - Tax free service - Coupons and discounts for foreign visitors - Free WiFi available - Credit cards accepted - Wheelchair and baby stroller accessible - Contactless payment accepted - Commitment to SDGs
渋谷ロフト

Address

21-1 Udagawa-cho, Shibuya-ku, Tokyo 150-0042

Nearest Station

3 min. walk from Exit A3 of Shibuya Station on Ginza Line, Fukutoshin Line, Hanzomon Line and Tokyu Denentoshi and 5 min. walk from Hachiko Exit of JR Shibuya Station.


Hours: 11:00 a.m. to 9:00 p.m.
Closed: Open daily
All prices include tax unless otherwise noted.
*These products were available at the time of the June 22, 2022 interview.
Please note that items may be out of stock and prices are subject to change.

Written by: Kurashisa
English translation by: Krys Suzuki
*This information is from the time of this article's publication.
*Prices and options mentioned are subject to change.
*Unless stated otherwise, all prices include tax.
Search for International flights