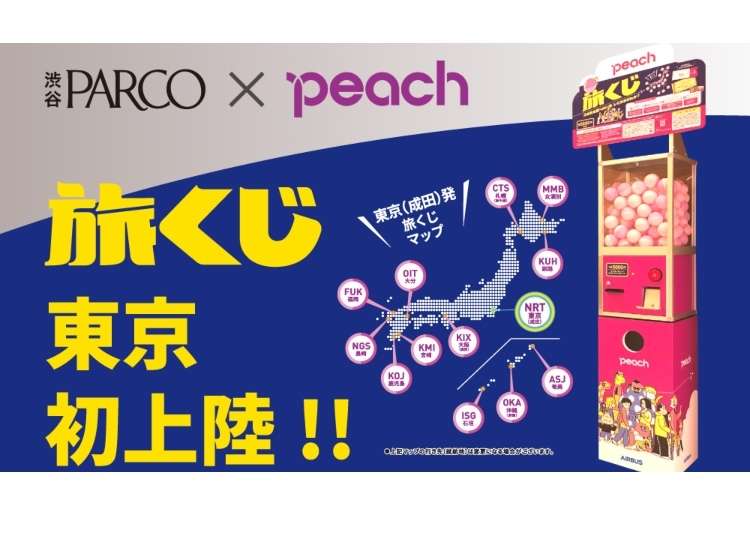 With the emergency situation recently lifted in many areas around Japan, you might be itching to hop a plane and travel somewhere (safely, of course!). Well, now you can!

Japan's latest 'Travel Lottery' lets you venture to new, unplanned destinations at an advantageous rate.
Travel Lottery: Like Throwing a Dart at a Map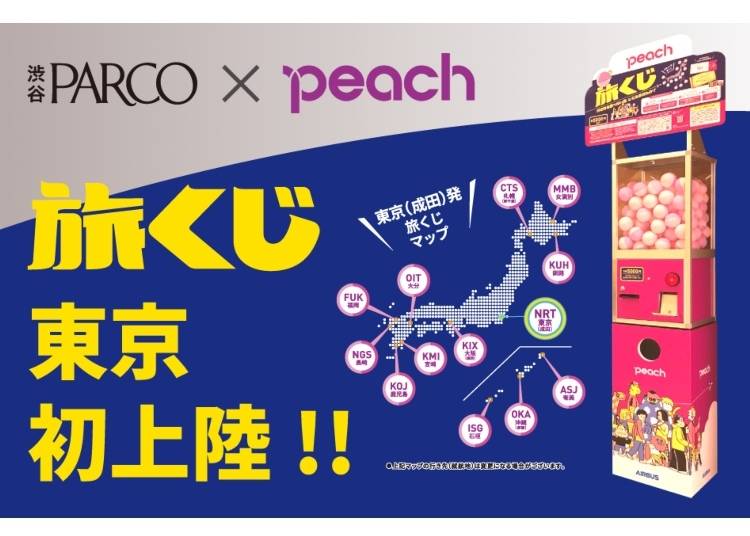 (Image: From PR Times release)
In August 2021, Shinsaibashi SkiiMa opened a new workspace for sharing information, Peach SHAKE LABO, in collaboration with Japanese budget airline, Peach Aviation. As part of this collaboration, they created a new project to incentivize travel to new, local towns and cities around Japan: the Travel Lottery.

The Travel Lottery is a capsule-type vending machine that sells not souvenirs, not drinks, but cheap travel tickets to a secret location!

Here's how the system works. Each capsule costs 5,000 yen and contains a code linked to one of 12 random cities in Japan. Use the code on the Peach Aviation website to get a certain number of mileage points at a "slightly advantageous" rate - so you will receive at least 5,000 yen worth of points. You can then use these points to get a flight to the secret location.

This isn't a free flight for 5,000 yen, and there may not be a flight available for the exact number of points that you receive, so you would have to pay the difference.

You can't choose your destination, and you won't know where you're headed until you purchase and open your capsule.

But that's what makes it exciting! It's the fun modern, domestic version of throwing a dart at a map!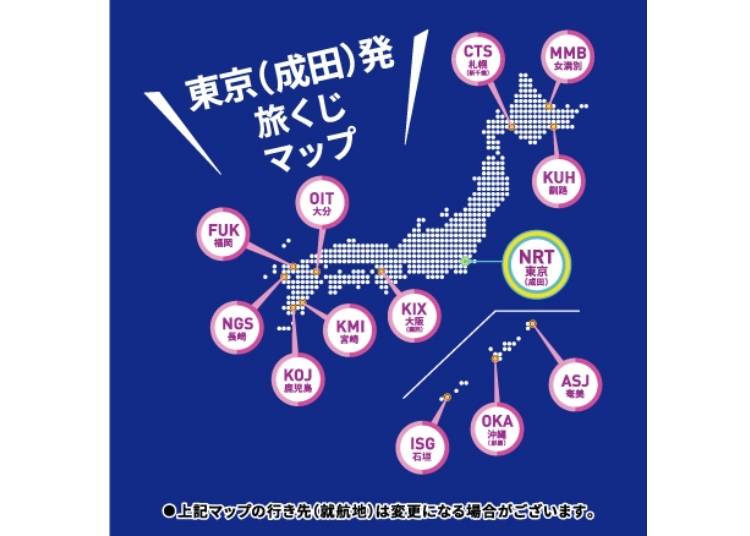 (Image: From PR Times release)
Along with each ticket, you'll also receive a special "mission" to complete during your travels. If you complete and share your mission on social media, you could earn even more points! Each mission proposes a new way to experience the charms each region has to offer. There's a surprise in every capsule!

The excitement of traveling to new, unplanned destinations caused quite a stir on social media, as well. Videos tagged #TravelLottery on TikTok reached well over 5.4 million views (as of 10/5)! In response to this excitement, Peach Aviation expanded its Travel Lottery to a second location at Shibuya PARCO, which opened on October 13, 2021.

There are currently 12 possible destinations you can get at the Shibuya PARCO location: Memanbetsu, New Chitose, Kushiro, Kansai, Fukuoka, Oita, Nagasaki, Miyazaki, Kagoshima, Amami, Naha, and Ishigaki. All flights to these destinations depart from Tokyo Narita Airport. (*Destinations are subject to change.)
SkiiMa: A Shared Coworking Space for Developing Interests and Connections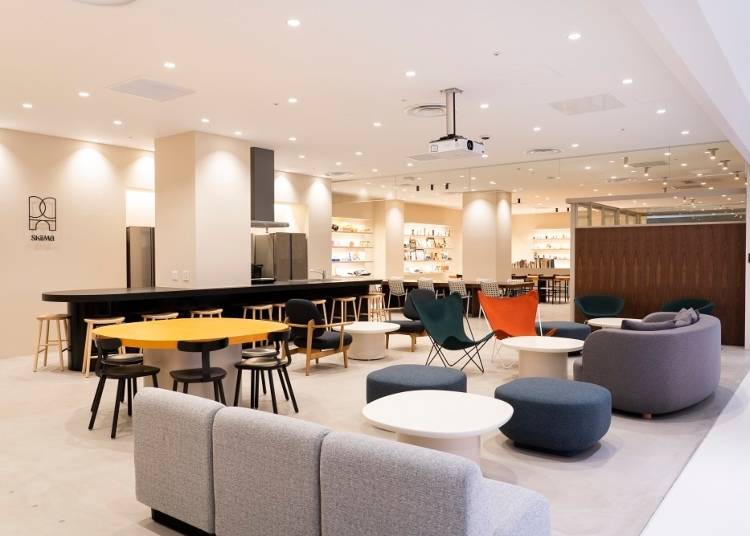 (Image: From PR Times release)
SkiiMa is a shared coworking space designed to provide you and your friends with an exciting place to develop your interests and relationships. Directly managed by PARCO department stores, this shared office space aims to stimulate the ideas, creations, and businesses of people through various events.

There are currently two SkiiMa locations in Shinsaibashi and Kichijoji. They include galleries, exhibitions, and pop-up shops. SkiiMa also offers a variety of plans for potential guests, including monthly free-use plans, private room plans, fixed-desk plans, as well as drop-ins, and temporary meeting room usage.
Travel Lottery at Shibuya PARCO Details
Dates: October 13, 2021 until late December
Location: Shibuya PARCO 6F, next to escalator
Business Hours: Same as Shibuya PARCO
*Destination and missions subject to change.
渋谷PARCO

Address

15-1 Udagawacho, Shibuya City, Tokyo 150-0042
For more information on Peach SHAKE LABO's Travel Lottery, please see the official website: https://www.flypeach.com/campaign/shakelabo/

SkiiMa Details: <@skiima.parco.jp|a=https://skiima.parco.jp/>

Written by Krys Suzuki

Source, images: PR Times
*This information is from the time of this article's publication.
*Prices and options mentioned are subject to change.
*Unless stated otherwise, all prices include tax.