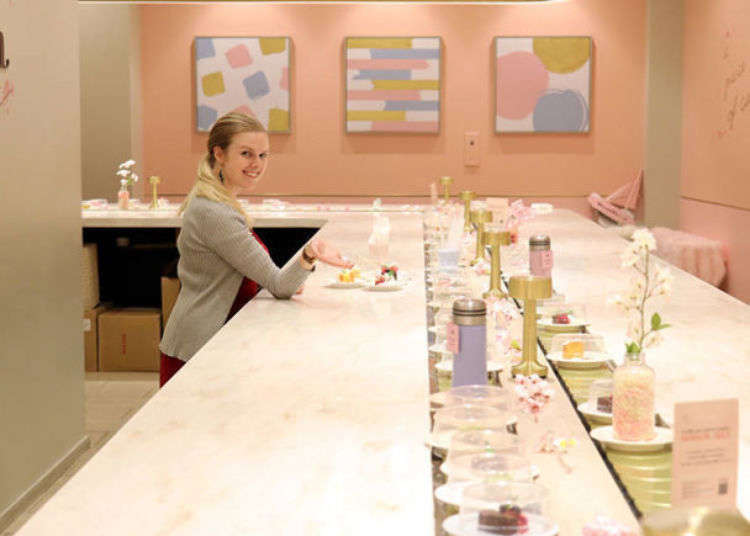 You've heard of conveyor belt sushi, but now it's time to step it up a notch with conveyor belt sweets!

Tokyo has been playing around with conveyor belt sushi for a while now, ranging from simple affairs to high-speed bullet train sushi, but we're so glad that conveyors have finally made their way to the world of sweets! We headed there with Live Japan's English editor, Cassie, who has a major sweet tooth.

*Please note this spot is currently closed in order to prevent the spread of coronavirus. Please check official information on their website at the bottom of this page
Maison Able Café Ron Ron: Surrounded by rotating sweets!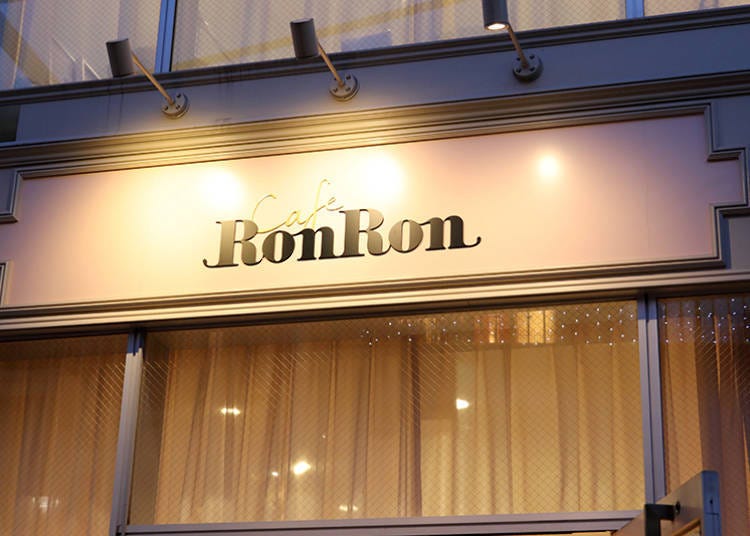 Interestingly, this conveyor belt sweets spot is run by "Able Holdings", a real estate agency that supports women living alone through the "necessities of life" (food, clothing and shelter). They moved into the world of sweets and opened up Maison Able Café Ron Ron, which is about 3 minutes on foot from Tokyo Metro "Meiji Jingumae" Station.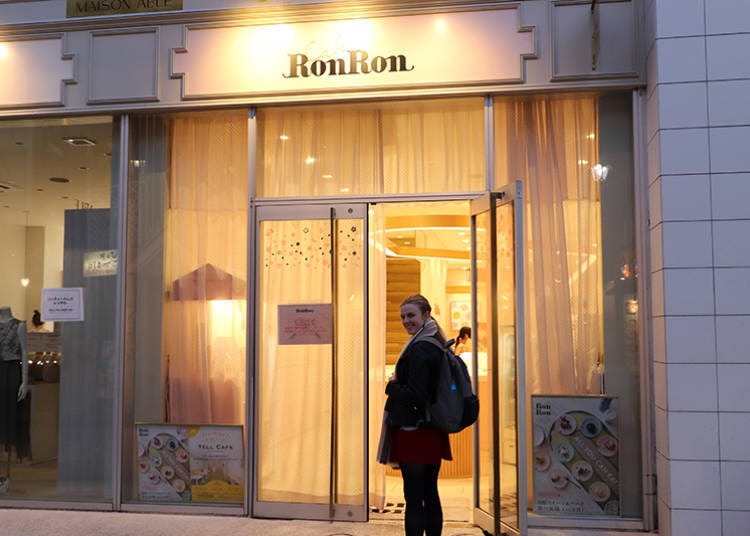 Maison Able's values are geared towards those who think "I want to eat until I'm full!", "I want to get my fill of fascinating sweets", "I want to spend time with my friends at a cute café" and "I want to dress up and do something fun within my means". So, Maison Able Café Ron Ron created their revolving sweets café to make a positive space for women that is also easy on the wallet!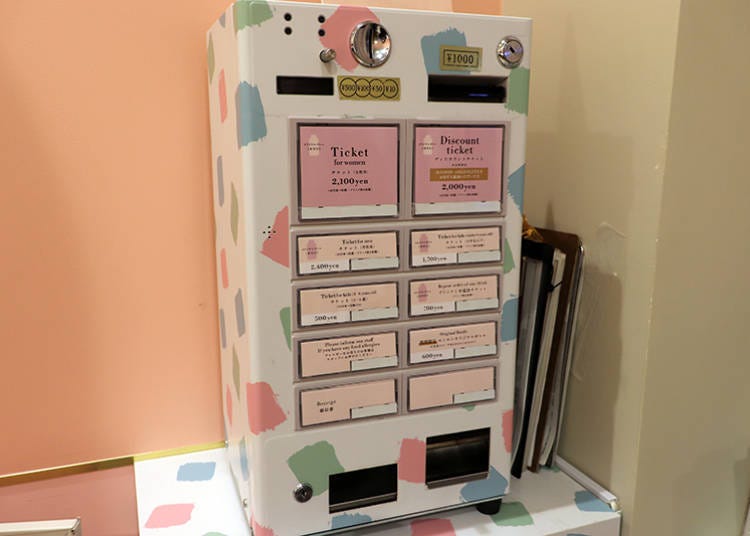 When you arrive, first you'll need to get a ticket from the ticket machine at the front. For a 40 minute, all-you-can-eat(!) session, the tickets are 2100 yen for women, 2400 yen for men, 1700 yen for children, and just 500 yen for preschoolers (these prices include tax). And even more good news for us gals, if you add Maison Able as a friend on LINE, you get a 100 yen discount! You'll also, of course, be able to get news about events and cute gift campaigns.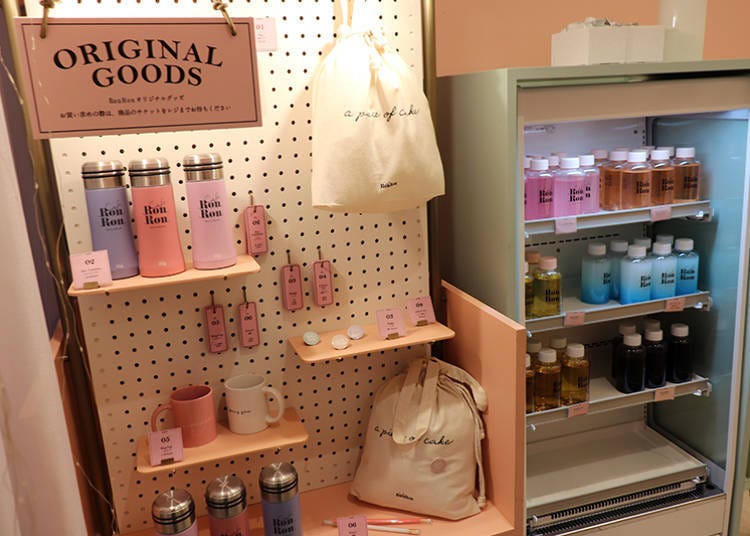 They even have adorable original goods in a variety of pastel colors, perfect to bring home the cute vibes with you even when you've left Japan!
A 38-Meter Conveyor Belt?!
With your 40 minute session comes a cute and tasty drink. Year-round they have peach, apple and strawberry, but Café Ron Ron is also dedicated to seasonal flavors, so be sure to check out what other limited-time flavors they have when you visit! If you'd like free-flowing refills, you can buy a separate ticket for all-you-can-drink.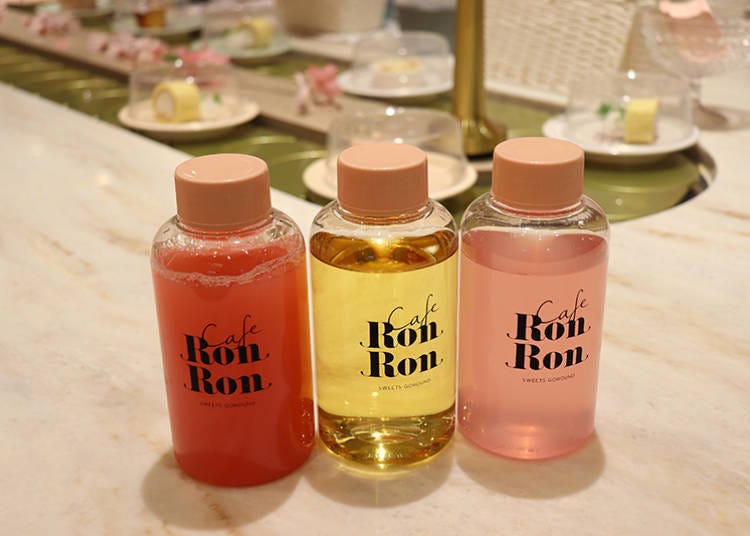 Of course, you can take home the cute bottle, too. You can use it at home as a little memento of your time in Japan and use it for storage at home!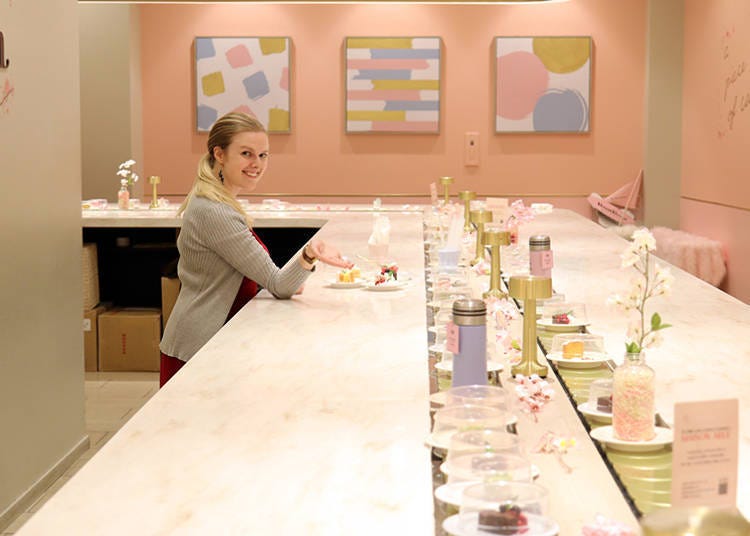 We're not sure how Cassie managed to sit still long enough for this picture without grabbing one of the plates, but as you can see, the conveyor belt has an array of pastel plates spinning endlessly before you! The conveyor belt itself is 38 meters long, and there are usually around 25 different bite-sized sweets and dishes to choose from and eat to your heart's content!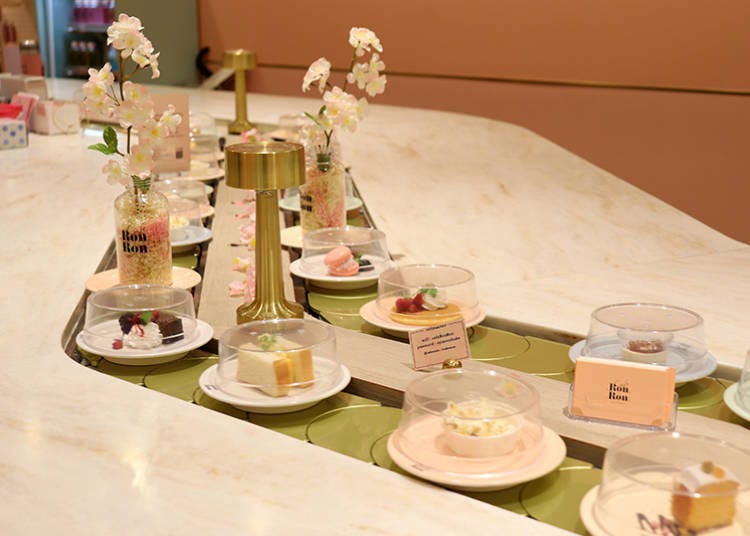 The store likes to keep up with the flow of the seasons, which is reflected not only in their interior decoration, but also in their array of seasonal desserts! When we visited, it was during one of the most notoriously cute, pink times of year – cherry blossom season! So of course there cherry blossoms galore and pastel pink desserts to choose from.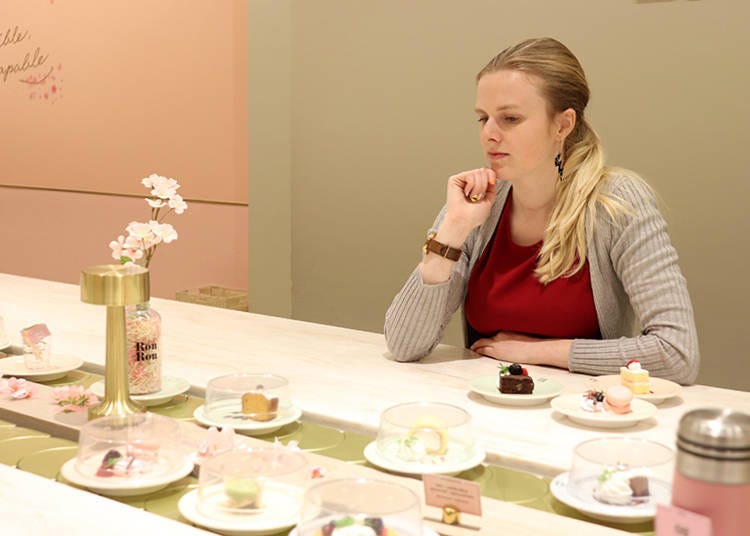 Here we can see Cassie very seriously considering which dessert to take next and add to her little collection...
So Many Bite-Sized Sweets to Choose From!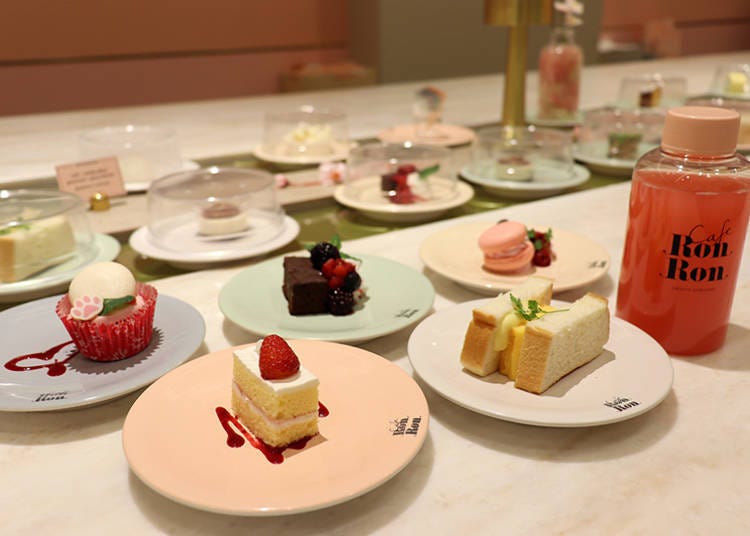 Perhaps not quite bite-sized (that would be a bit bite!), but there are so many dainty sweets to choose from that we were very glad for the small portions – it means you can try even more varieties! Although the sweets definitely take the spotlight, with cakes, crepes and macaroons galore, there were also a few savory options, like the egg sandwich, potato salad, steamed meat buns and even popcorn.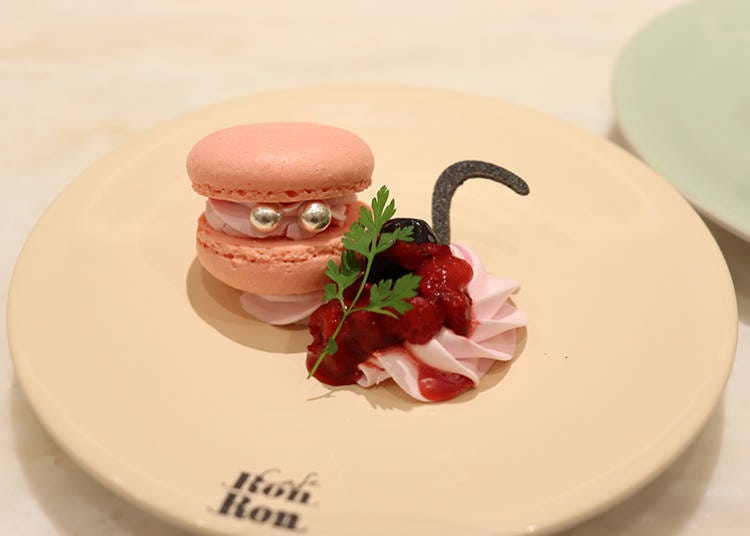 Their most popular dish is the "Cat Macaroon". Ronron is a word used in French to describe a cat's purr, so here we can see the cat's tail buried in the cream! The cat makes its appearance in various forms throughout the year.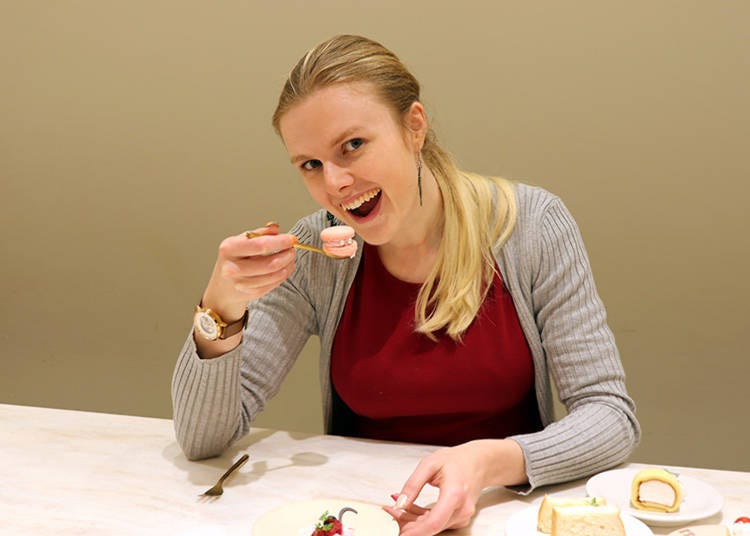 The moment Cassie has been waiting for – the first bite! There are so many varieties, Cassie said that even though you only get a few bites, the quality is great and it's enough to leave you feeling satisfied.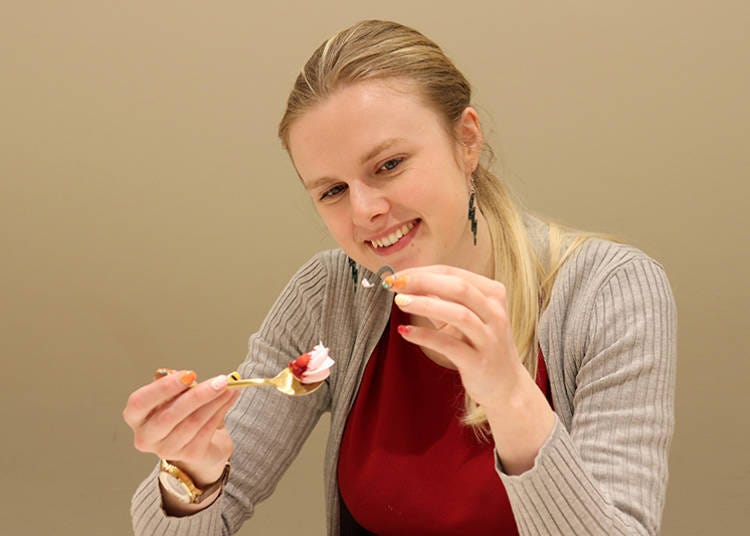 "The signature cat's tail is pretty cute!" – Typical of Japan's attention to detail, the appearance of the desserts is as cute as can be.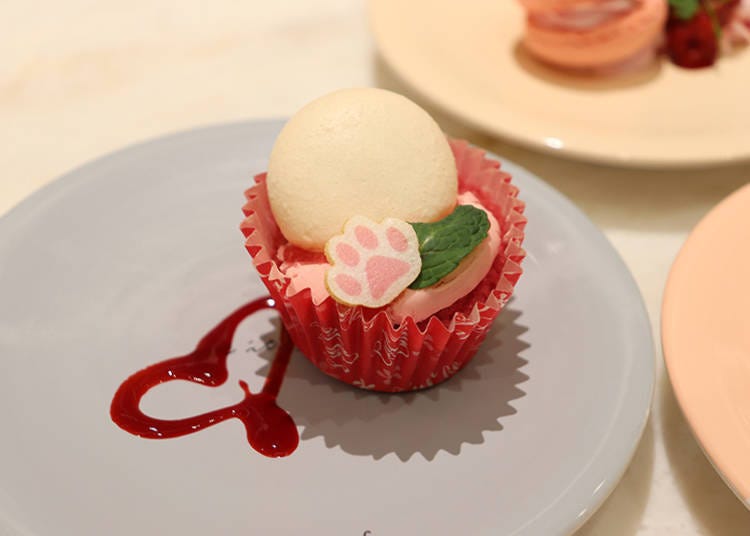 We found another nod to the cat motif in this dessert too – a little paw! Café Ron Ron seems like a pretty good choice for cat lovers.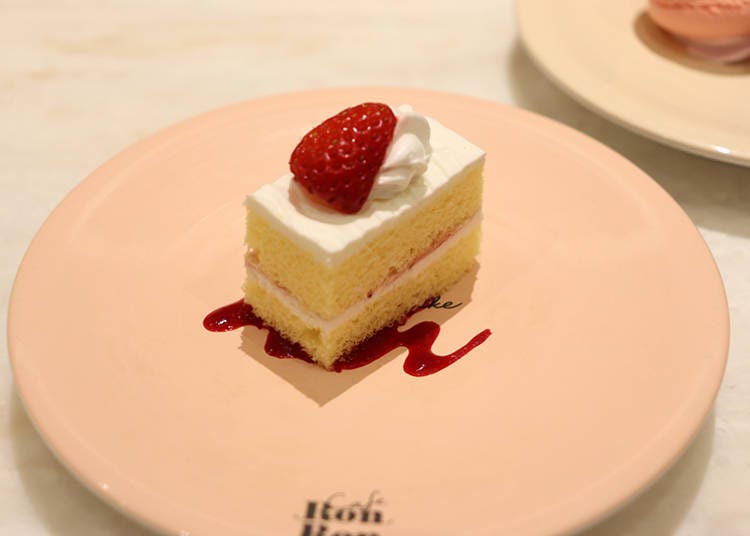 The next most popular dish is the Strawberry Shortcake. This dainty piece is light and fluffy, meaning you can try as many as you want to fill up!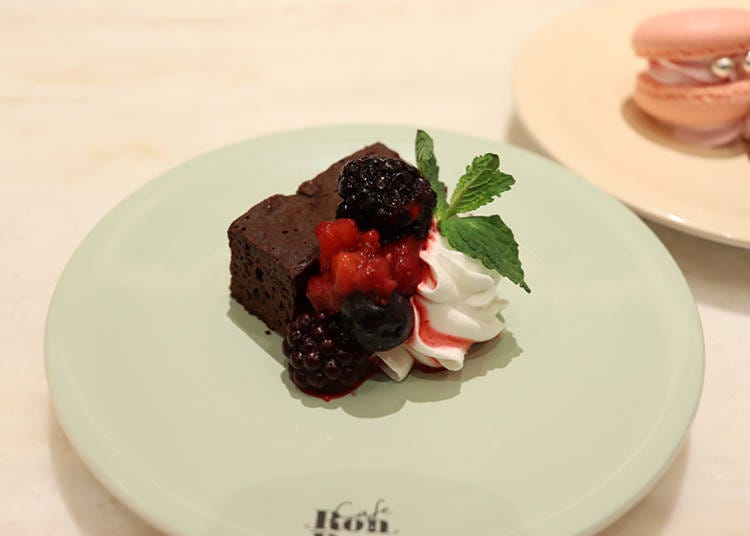 And in third place is the Chocolate Gateau. The berries offset the richness of the chocolate nicely, and make the colors pop on camera!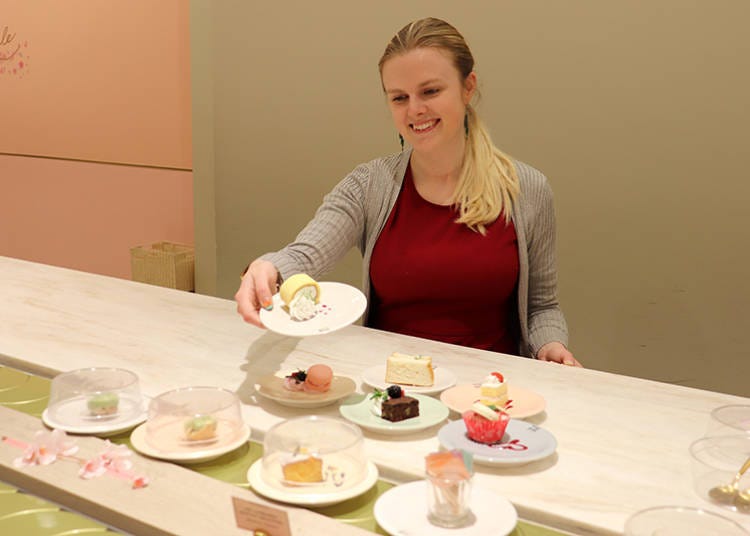 There were so many to choose from: chiffon cake, matcha mousse, tiramisu... Cassie decided to grab this roll cake filled with creamy goodness as her next dessert.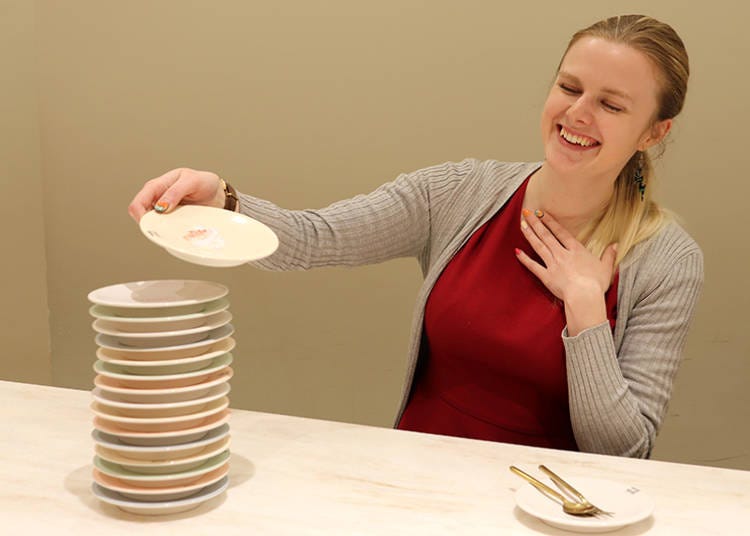 Cassie really had her fill of desserts! (With a little help from me of course.) She was left with her sweet tooth fully satisfied, and a tower of plates to prove it.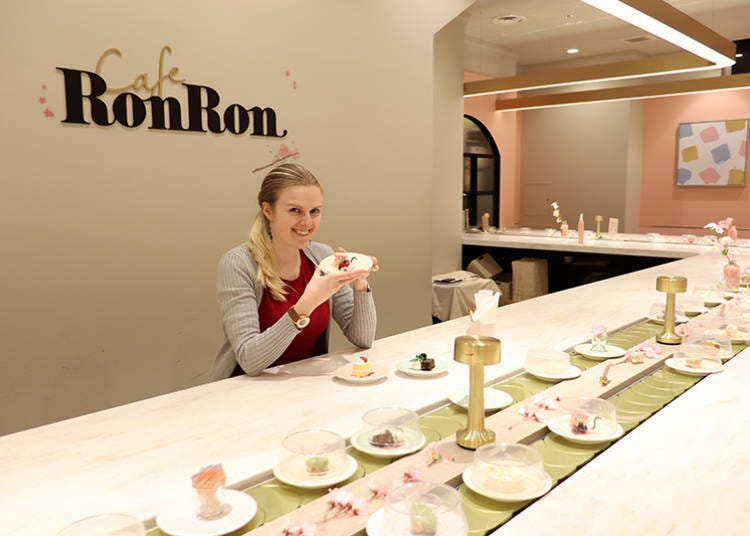 A shot of Cassie before tucking in!
A last point to note is that they have an English menu, and the allergy list is provided in four languages with pictures. They even have free wifi!

Maison Able Café Ron Ron is the perfect place to get your fill of Japanese kawaii goodness, so dig in!

*Menu may vary depending on the season
*At the time of our article (Spring 2020), in order to prevent the spread of coronavirus, the café was checking temperatures of those who entered, and using covers on all dishes on the conveyor belt.
MAISON ABLE Cafe Ron Ron(メゾンエイブル カフェ ロンロン)

Address

6 Chome-7-15 Jingumae, Shibuya City, Tokyo 150-0001

Nearest Station

3 minute walk from Tokyo Metro "Meiji Jingumae Harajuku" Station


Phone Number

03-5468-8290

From April 4th, the cafe will be temporarily closed. Please check the official website and social media pages for updates and information
Official site (Japanese): https://cafe-ronron.com/
Instagram: https://www.instagram.com/caferonron/

Normal times are planned as followed:
11:00 - 19:00 (Last order 18:00)
*This information is from the time of this article's publication.
*Prices and options mentioned are subject to change.
*Unless stated otherwise, all prices include tax.