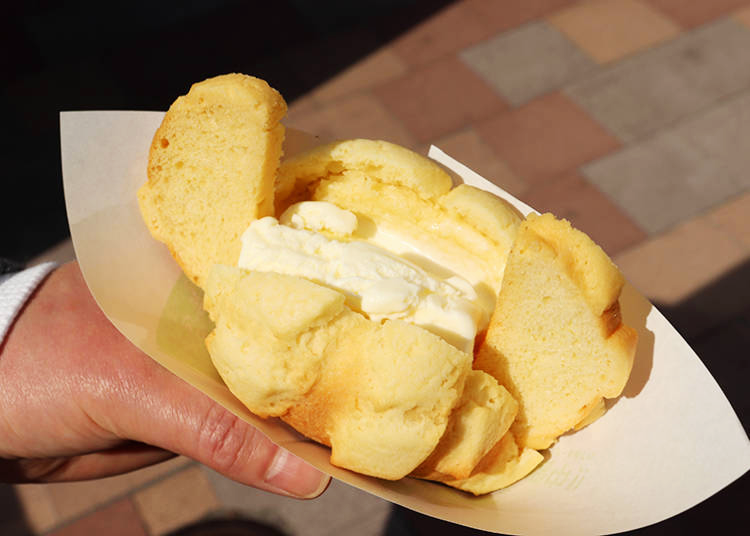 Shibuya is one of the foremost tourist hotspots in Tokyo. In this town, there's no end of exciting entertainment, cultural curiosities, and even fabulous Shibuya street food options to explore.

Since there's so much to do and so little time, here's an efficient time-saving tip: Eat as you walk! To help you get started, we've compiled a list of five shops offering takeout food designed for you to do just that. The best part? These tasty treats that only cost 500 yen or less, making them perfect companions for a Shibuya stroll. Let's take a look!
1. Maruju Seinikuten: Festive environment included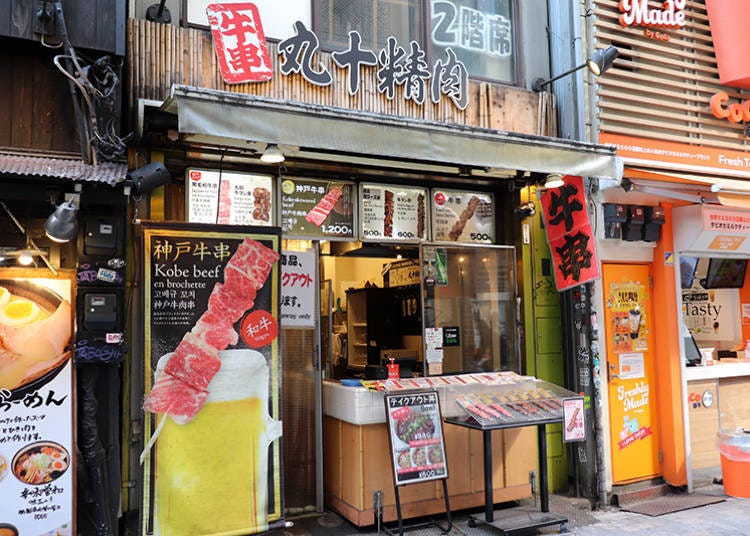 The first recommendation on our list is Nakano Maruju Seinikuten Shibuya's beef skewers. Maruju is located on Shibuya's Center-Gai, along the main street. There's also a standing space on the second floor of the restaurant that customers can feel free to use as well. It's a popular place to get Shibuya street food.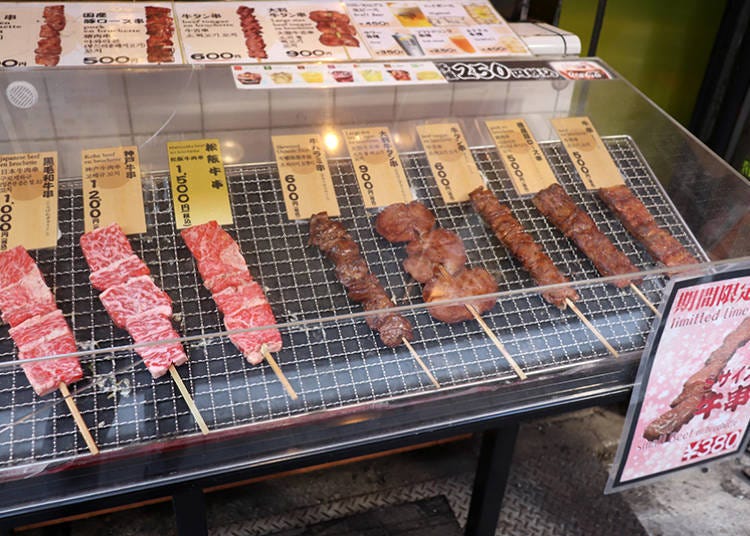 Large skewers of juicy meat are being displayed and sold at the shop front, the size of which rival those usually only seen in street stalls during festivals. There's a lot of variety you can choose from, and the budget-conscious should definitely look at the beef and pork skewers, available for 500 yen (tax included) each!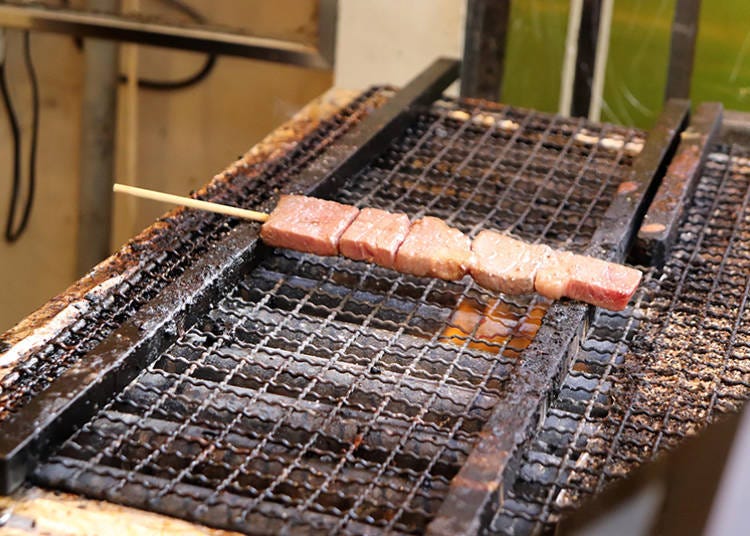 As a bonus, it's somewhat entertaining to watch the skewers slowly being grilled to perfection before your eyes, putting you in a festive mood right in the middle of Shibuya's bustling Center-Gai street.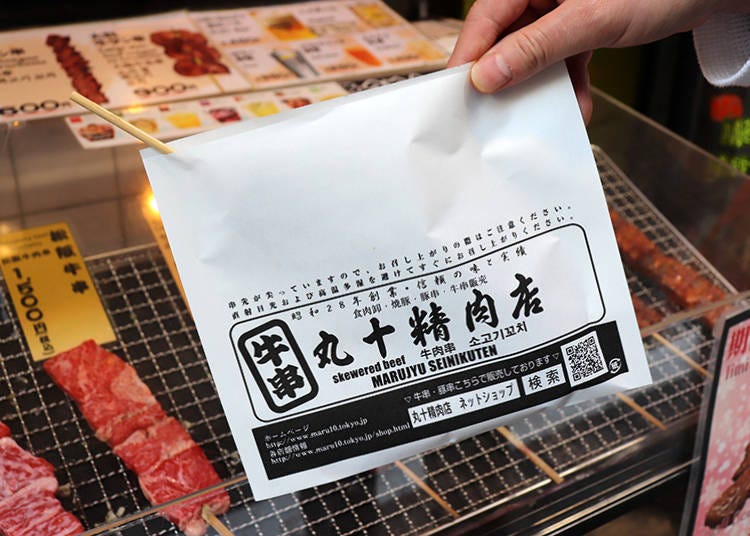 The meat skewers are put in a paper bag designed to prevent the gravy from leaking all over. This also means you can focus on enjoying your food as you walk, without having to keep finding a way to eat without dirtying your hands!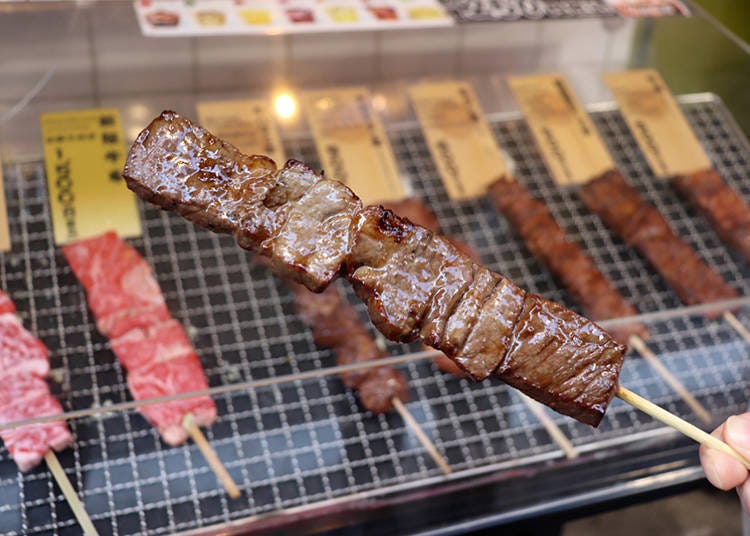 Here's what the beef skewer looks like out of the bag. Every bite of this solid beef delicacy fills your mouth with the umami goodness of the meat and sauce, satisfying any minor food cravings you may have had.
Nakano Maruju Seinikuten Shibuya

中野・丸十精肉店 (渋谷店)

Address

29-3 Udagawa-cho, Shibuya-ku, Tokyo-to

Phone Number

03-5302-1029

Hours: 11:00 a.m. – 11:00 p.m.
Closed: End of year and start of year holidays
2. The World's Second Best Melon Pan Ice-Cream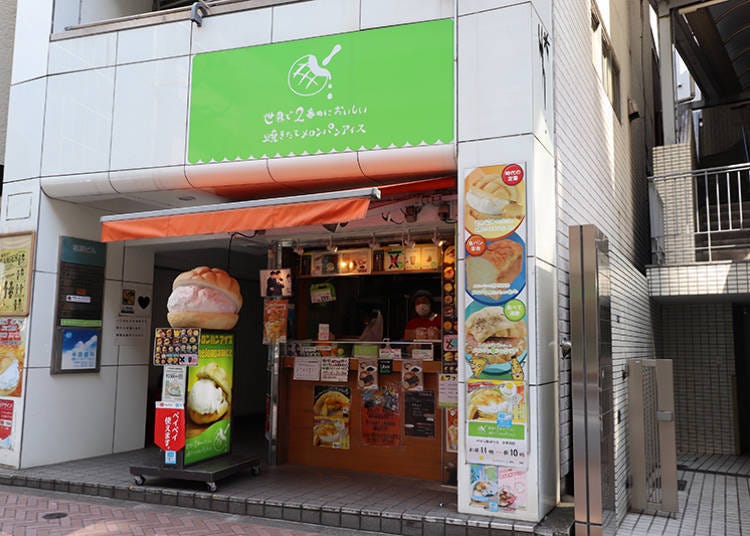 The amusing and unique name of our next recommended shop, located about an 8-minute walk from Shibuya Station on the JR Lines through the park, has caused many a person to wonder why they aren't selling the world's best melon pan ice-cream instead. Whatever the rationale behind the naming, it's certainly caught the attention of many Shibuya street food tasters, and that's really all that matters!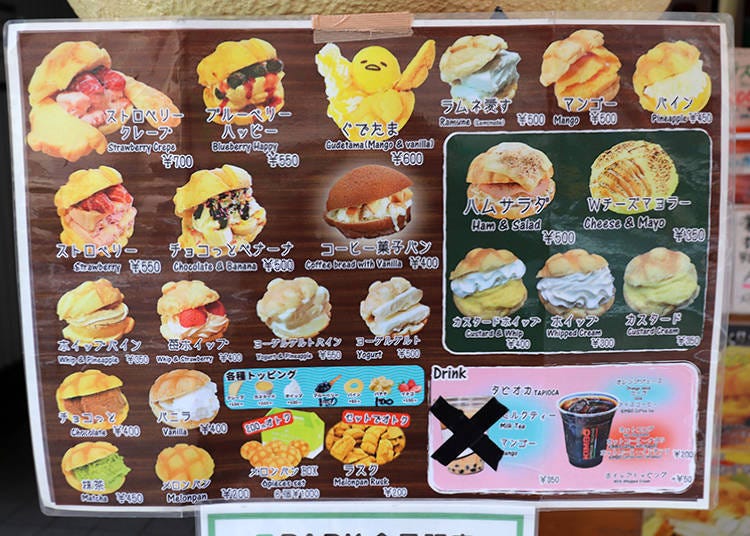 Having been featured on countless media programs and articles, the shop is naturally hugely popular. Their signature item is the "Melon Pan Ice-Cream", a freshly-baked melon pan stuffed with ice-cream and other ingredients. In case you're not familiar with the melon pan, it refers to a sweet bun covered in a layer of crispy cookie dough that is made into a pattern resembling a rock melon, hence the name. If you take the vanilla ice-cream, chocolate ice-cream, or fresh strawberries and whipped cream option, it'll only set you back a very reasonable 400 yen (tax included). Other options available on their menu hover around the 500 yen mark as well, so feel free to go for whatever you feel like having at the moment!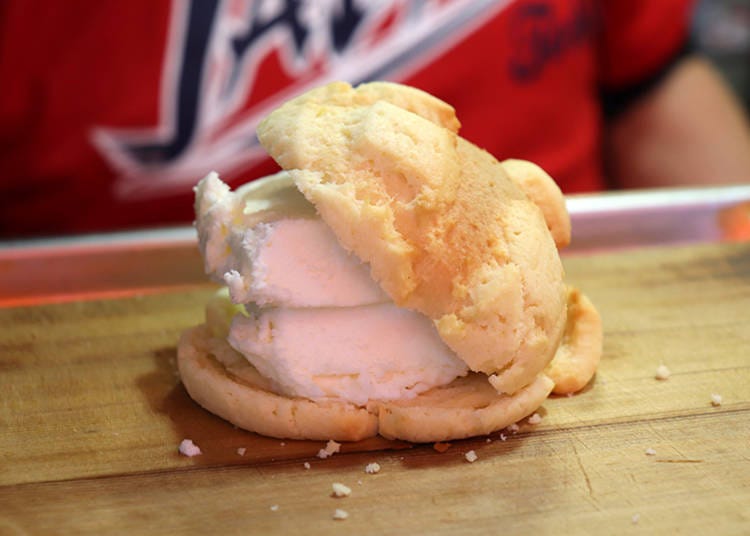 What you're seeing here is the basic "Vanilla (400 yen, tax included)" option, which features a cool and refreshing chunk of vanilla ice-cream wedged between a warm and toasty melon pan fresh from the shop oven. This makes it crispy on the outside but soft and fluffy on the inside. As the ice-cream slowly melts and seeps into the melon pan's dough, it creates a new texture where every bite of the bread bursts with sweet-tasting goodness. It's something that has to be tried to be understood!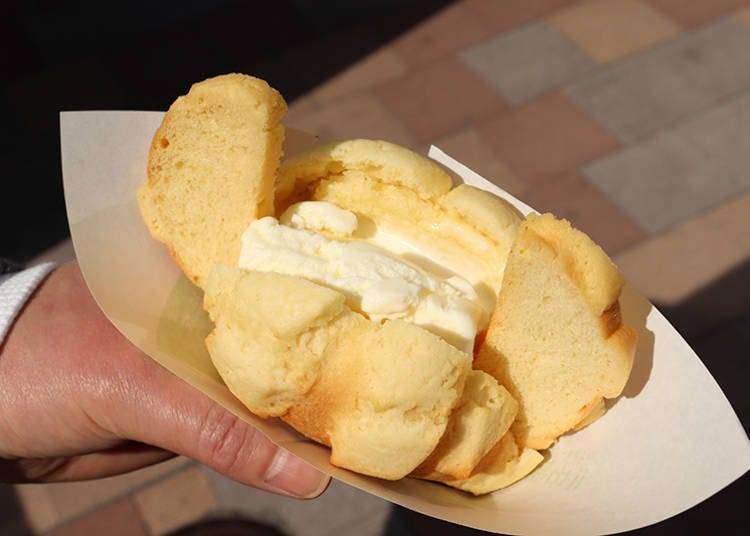 One of the best parts about buying takeout to eat as you walk is the interesting conversations you may end up having with the food shop's staff. The manager of this shop even gave us two free pieces of rusk made from melon pan dough as we talked! Although the shop modestly claims to serve the second best melon pan ice-cream in the world, in our opinion, we don't see how any other melon pan ice-cream in the world can claim to be better than this! Watch out, crepes, because melon pan ice-cream is rapidly on the way to replacing you as king of takeout dessert!
The Second Best Melon Pan Ice-Cream In the World Tokyo Shibuya

世界で2番めにおいしい焼きたてメロンパンアイス Tokyoシブヤ店

Address

Iwase Bldg., 1-15-9 Jinnan, Shibuya-ku, Tokyo-to

Hours: 11:00 a.m. – 10:00 p.m.
3. Shiroichi: Instagrammable ice-cream to go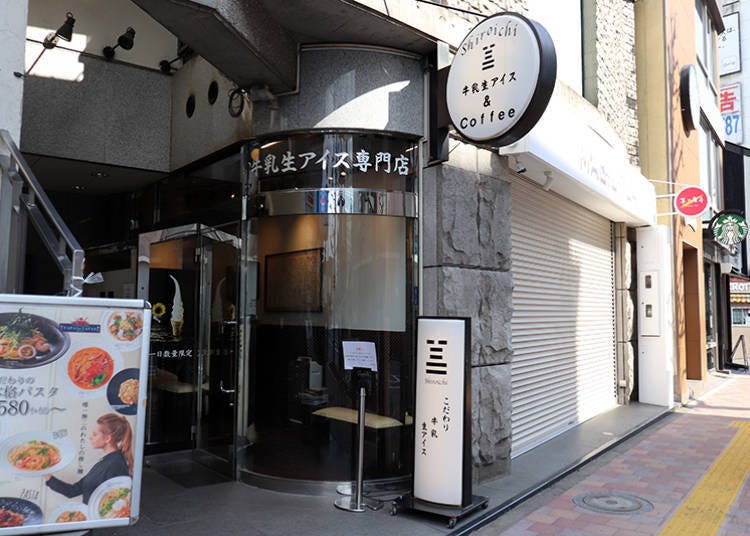 The next food item is Shiroichi Shibuya's raw ice-cream. The shop is just a 10-second walk from The World's Second Best Fresh Melon Pan Ice-Cream, which we just introduced above. The street it's located on is along a park.
This shop's signature menu item is the "Raw Ice-Cream (440 yen, tax included)" that tastes as impactful as it looks. We also recommend adding some organic black sugar syrup as topping for just another 50 yen if you can, for maximum taste! The ice-cream's ambitiously long tip looks like it's stretching out for the ceiling and will be a unique picture for some social media buzz.

At first glance, this looks like a cup of regular soft-serve ice-cream, but there's actually a difference. The shop defines "raw ice-cream" as ice-cream that's made from organic and high-quality ingredients that are fresher than fresh. All the eggs, cream, and butter that go into the making of this ice-cream, therefore, use plain raw milk without additives or preservatives from good quality cows as an ingredient.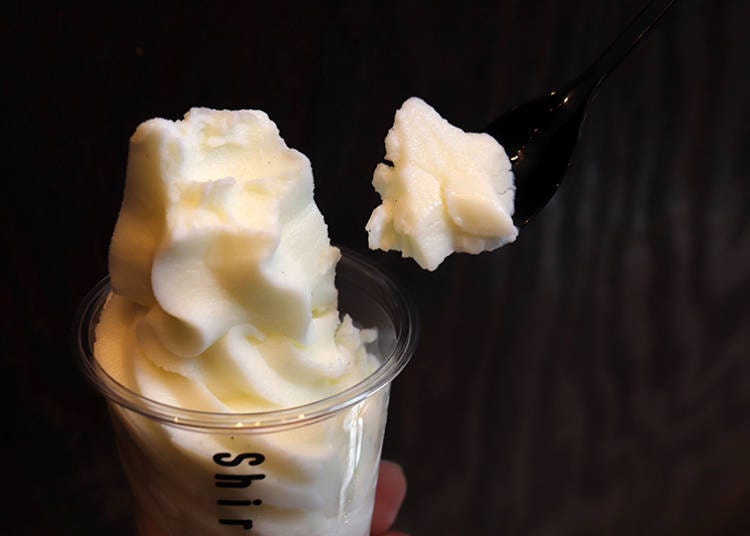 The ice-cream tastes best about 10 seconds after it's been twirled into the cup. As you wait, the surface of the ice-cream solidifies into a crunchy layer while keeping the ice-cream beneath soft and tasty. Enjoy this lovely piece of gourmet snack without any preconceived notions of what ice-cream should taste like, because that's just how special it is! The simplicity of the item also means you get to fully taste all the ingredients for what they are. Certainly a refreshing take on a dessert that many usually expect to be dressed up to the nines!
白一 渋谷店

Address

1F Andos 2 Bldg., 1-7-7 Jinnan, Shibuya-ku, Tokyo-to

Phone Number

03-6416-5574

Hours: [Summer] 11:00 a.m. – 8:00 p.m.; [Winter] 11:00 a.m. – 7:00 p.m.
Closed: Open daily
4. Streamer Coffee Company: The cutest latte art this side of Shibuya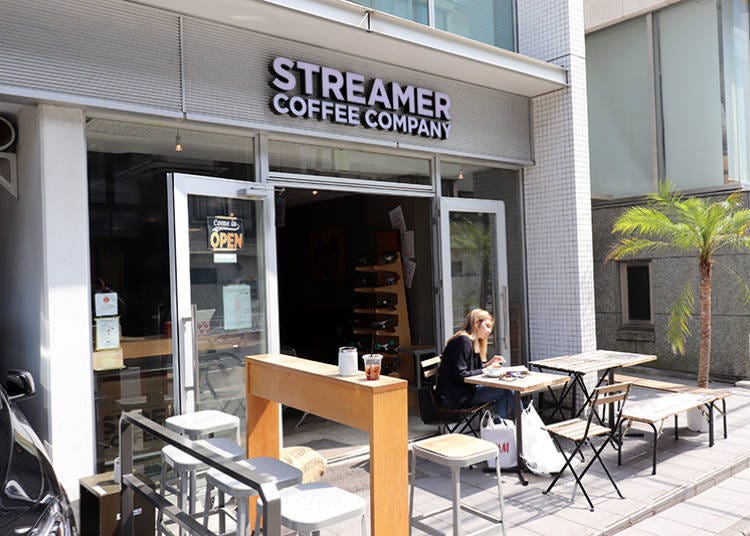 The owner of Streamer Coffee Company was the first Asian to win the world latte art championship, so you're definitely in good hands here. This is a place for anyone who wants to sip some classic latte in an international-style cafe. It faces the Harajuku side of Shibuya Station on the JR Lines and is located inside an alleyway that runs parallel to Meiji Street.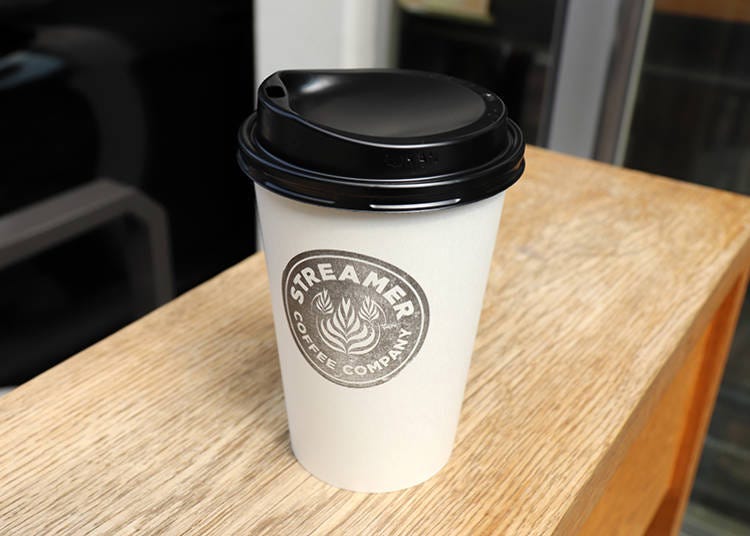 You're welcome to eat and drink in the shop as well, but since we're talking about budget-friendly takeout food, definitely try the "Mud Americano (500 yen, tax included)" or "Espresso Macchiato (480, tax included)". That said, if you're willing to splurge a little, we really recommend their signature "Streamer Latte (600 yen, tax included)". Although it exceeds the 500 yen budget slightly, the value you'll get in return for this exquisite latte drink is nothing short of fantastic.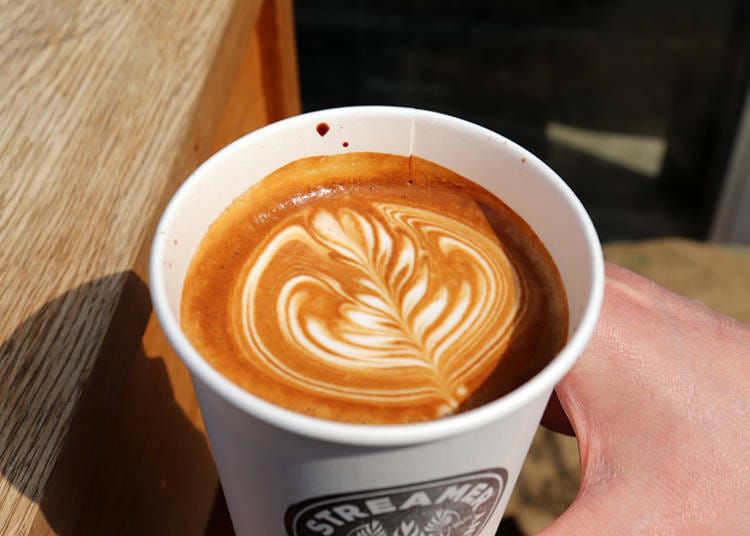 Even takeout orders are made with adorable latte art! The full-bodied coffee mixes perfectly with the velvety milk used, creating a drink that excites and pleases your taste buds. Because the cafe is located quite a ways off from the downtown area, the atmosphere here is calm and quiet - almost like a secret hiding place from all the hustle and bustle of town. Feel free to use it as a rest spot to take a little breather after an intense round of sightseeing and walking.
ストリーマー コーヒーカンパニー (STREAMER COFFEE COMPANY)

Address

東京都渋谷区渋谷1-20-28

Phone Number

03-6427-3705

Hours: [Weekdays and holidays] 8:00 a.m. – 6:00 p.m.; [Weekends] 10:00 a.m. – 6:00 p.m.
Closed: Not fixed
Official website: http://streamercoffee.com/
5. J.S.CURRY: Amazing curry buns from a Shibuya street food truck!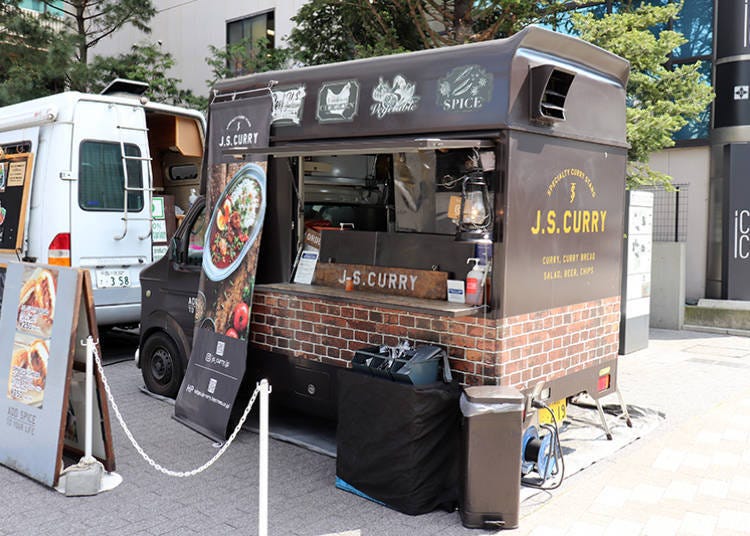 The last recommendation on our list is J.S.Curry's curry bun. They have an actual retail shop in Dogenzaka, but we're hoping to direct your attention to the mobile J.S.Curry Food Truck Shop this time. If you happen to catch sight of this Shibuya street food truck while you're walking around, definitely stop by to grab one of their famous curry buns!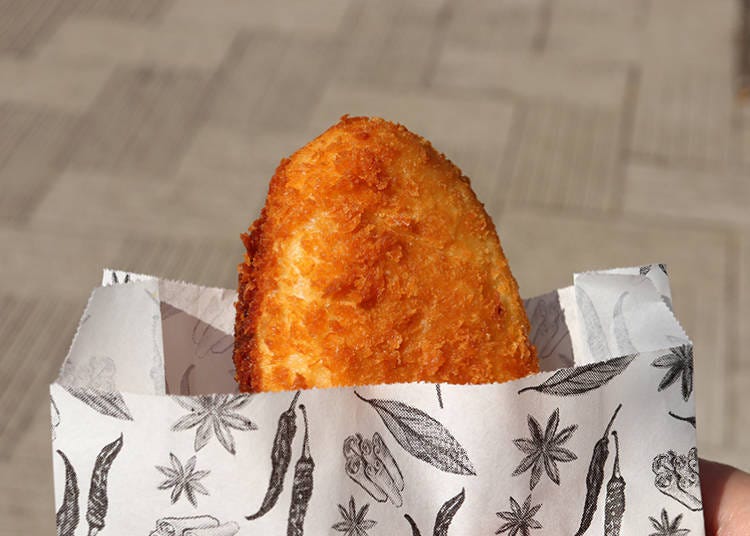 Their curry bun comes in two flavors: The classic "J.S.Curry Bun (250 yen, tax included)" and "Spinach Cheese Curry Bun (250 yen, tax included)". You can even buy one of each and still be within the 500 yen budget! The buns are palm-sized and easy to carry along as you walk. Although filling, neither bun leaves a heavy aftertaste behind, so gobbling down one after the other wouldn't be an issue for most!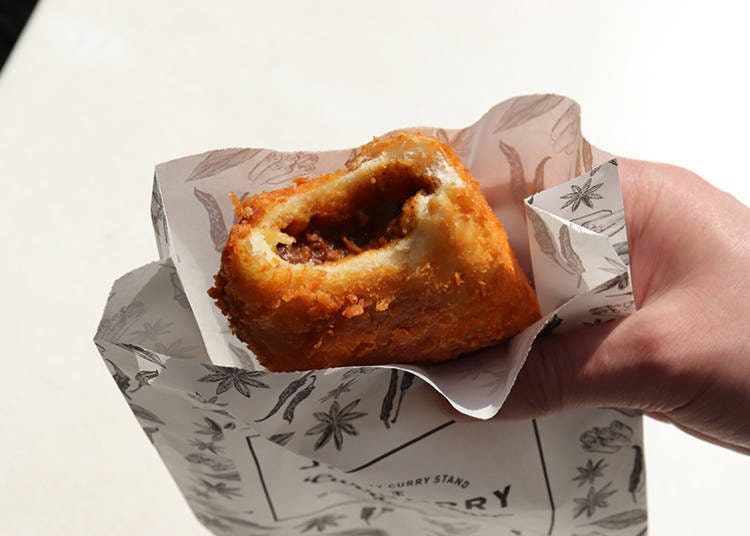 The bread dough is surrounded by a layer of crispy batter, giving the bun a texture that's both chewy and spongy at the same time. This goes very well with the spicy curry filling. You can either use the buns to satisfy your food cravings or eat them as a light lunch. Look up the food truck's schedule and locations on J.S.Curry's official Instagram account in advance if you're determined to catch it on the go and enjoy the exquisite taste the buns have to offer during your Shibuya stroll!
J.S. CURRY FOOD TRUCK店

Address

1F, 1-5-7 Jinnan, Shibuya-ku, Tokyo-to (office)

Phone Number

03-5784-0144

Hours: 11:30 a.m. – 2:00 p.m.
Official instagram account: J.S.CURRY (@js_curry.jp)
*The food truck's schedule will be posted on the shop's official instagram account
Closed: Weekends and holidays
Shibuya is a wonderful place that's full of famous sightseeing spots, making it a joy to walk around in. We hope the list of shops and Shibuya street food goodies we've compiled for you here will come in handy for your stroll around the area soon!

*The opening hours and rest days of each shop are subject to change without prior notification. Be sure to check the official websites of the shops or contact them before making a special trip down to avoid disappointment.

Written by Naho Jishikyu
*This information is from the time of this article's publication.
*Prices and options mentioned are subject to change.
*Unless stated otherwise, all prices include tax.