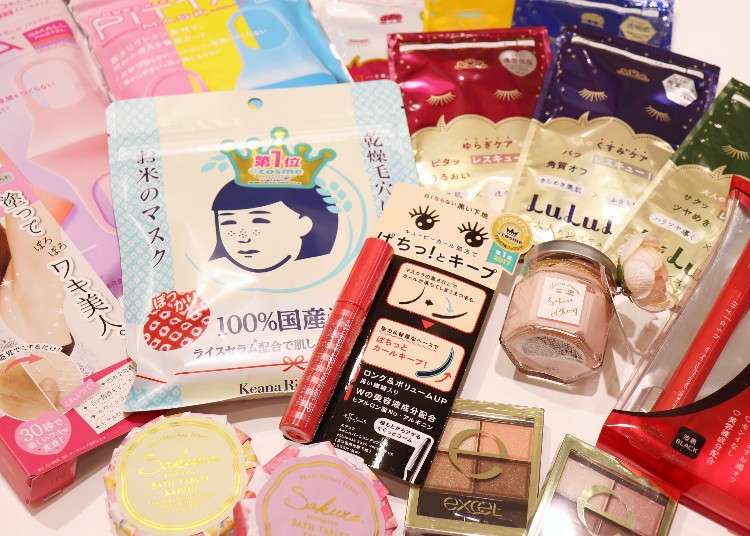 The drugstores found commonly in Japan are also popular places to shop for souvenirs amongst foreign tourists. Many products can be bought at cheap prices, and so are suitable for those looking for casual, generic souvenirs.

This time, we will focus on Ainz & Tulpe, the health and beauty product-specializing drugstore, with recommendations from Sawaguchi-san and Matsunaga-san on popular souvenirs that are sure to make any maiden's heart squeal. We will introduce these casual souvenirs according to these price ranges: below 500 yen (~$5), 500 to 1000 yen (~$5-10), and 1000 to 1500 yen (~$10-15).
Recommendations below 500 yen
Rururun One-night Rescue: Rescue Mask for Adults (250 yen per sheet, tax excluded)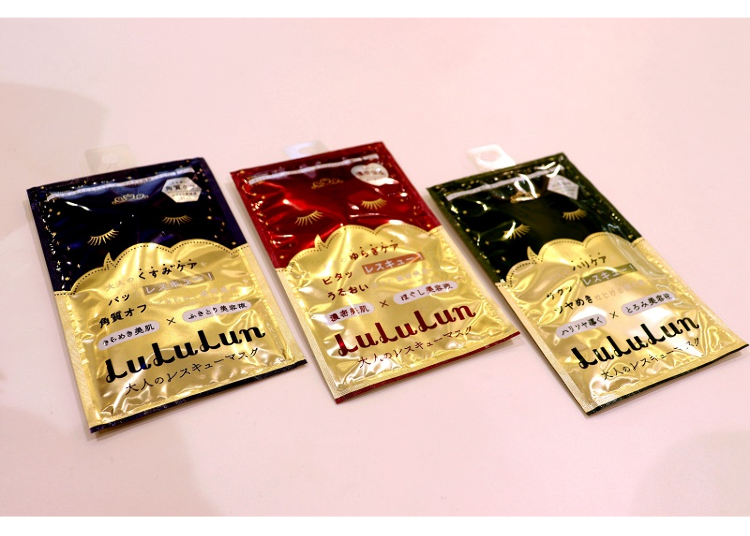 To get the ball rolling, we'll first introduce items priced below 500 yen.
"Popular for its cute packaging, it's also great for those who want to use it on their trip!" was how they recommended the Rururun One-night Rescue: Rescue Mask for Adults.

Rururun's facemasks are great for daily use cost and functionality-wise and are popular with women. This particular series is targeted at the busy adult woman who wants a quick one-night facemask. The three variations, "Anti-keratin", "Supple and glossy", and "Thick moisture" are designed to solve common worries that women have over their skin.

Rururun One-night Rescue Mask (200 yen per sheet, tax excluded)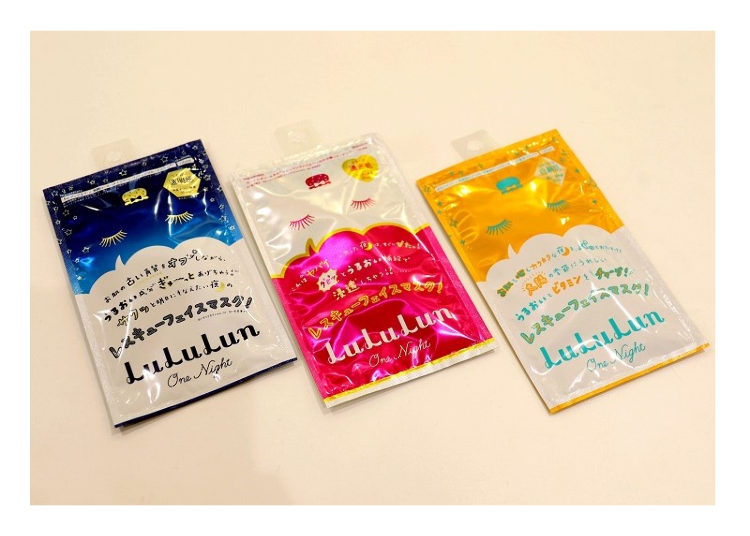 The Rururun One-night Rescue Mask is also one of those kinds of must-haves, especially for those in the middle of a "wanting beautiful skin the night before an important day" crisis. It comes in the three varieties "Rescue Anti-Keratin", "Rescue Thick Moisturizer" and "Rescue Vitamin". Buying a bunch of the "Rescue" series and giving it to an appropriate someone who has matching worries is fun in its own way!

Sakura Blooming Bath Tablets (230 yen per piece, tax excluded)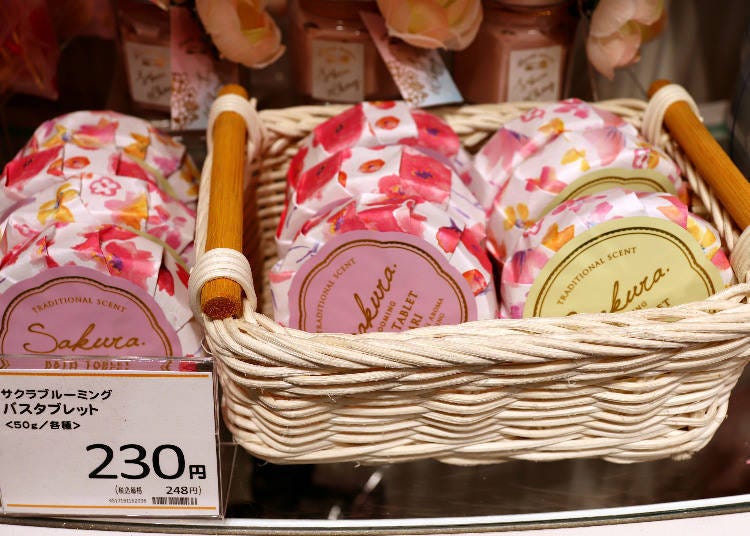 "Bath salts that give the scent of early spring. The polished packaging makes it suitable for all ages" was how these Sakura Blooming Bath Tablets were recommended.

These bath bombs come in two variations: "Kasumizakura" and "Temarizakura" With their cute packaging, even giving just one of them as they are will look very presentable. Sakura and Chrysanthemums are both Japan's national flowers, making this bath bomb a fitting item for a souvenir from Japan.

Pitta Mask (458 yen per pack, 3 pieces, tax excluded)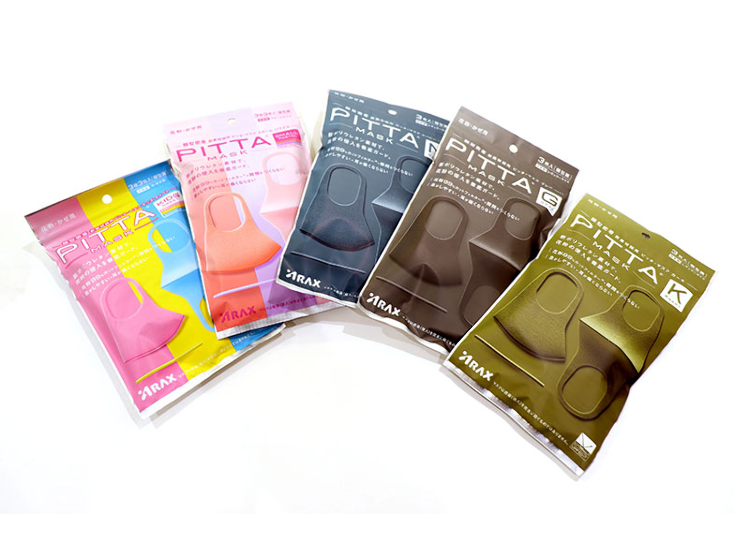 Recently, even within Japan there has been a sudden surge of interest in this mask. "Even though it blocks 99% of pollen, it's highly breathable when worn, and is popular amongst the Chinese, whose country suffers from severe air pollution. It's plethora of color variations are also part of its popularity" is how it was recommended.

When you must wear a mask daily, these colorful masks make it fun to change the impression you give! Consider dark colors such as gray, brown, and khaki if you're buying one for men.
Recommendations between 500 yen and 1000 yen
Keana Nadeshiko Rice Mask (650 yen per pack, 10 sheets, tax excluded)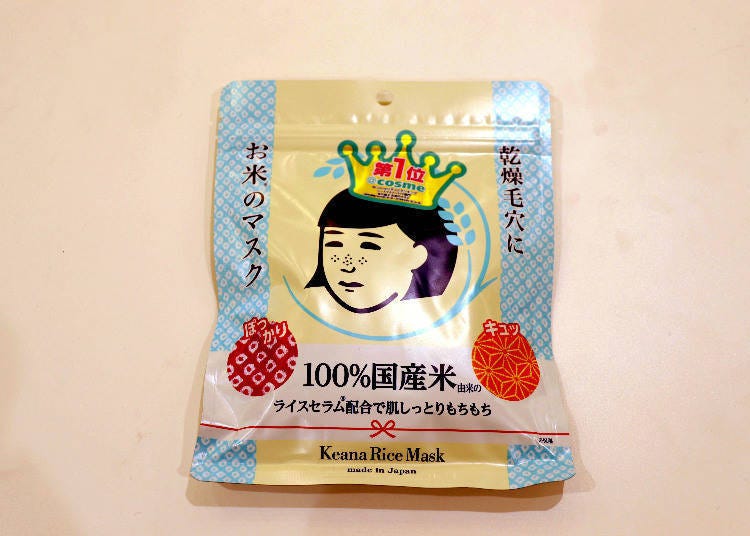 Moving on, we'll now introduce products within the 500 yen to 1000 yen price range. "Even amongst the numerous products under the Keana Nadeshiko brand, this has unprecedented popularity. Demand is so high the manufacturer has run out of stock countless times." With such a reputation, the Keana Nadeshiko Rice Mask is a prime contender for a souvenir.

Made from 100% Japan-produced rice serum, it's the perfect answer to one's dry skin pore needs. With such vibrant and moist skincare, your skin will look as springy and fluffy as freshly prepared rice!

Sweets Maison Confiture De Fruit Hand and Nail Cream (650 yen, tax excluded)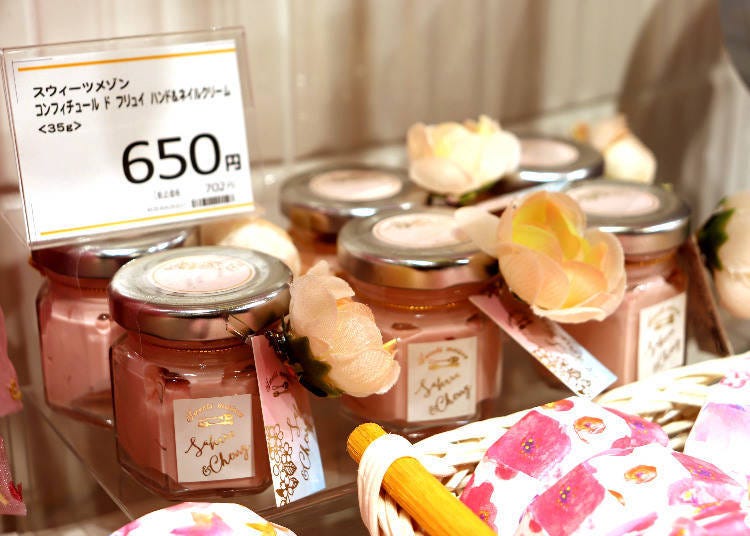 The standard for casual and generic souvenirs, it's definitely on top of anyone's must-buys. Recommended because "the packaging is so cute it looks like a sweet at first glance. It'll be a great present to any lady".

The bottle resembles that of a honey or jam jar, and the cream is pastel-colored. Just having it on you will up anyone's femininity! Even after using up the cream the remaining container can be used for a variety of purposes, which adds to the product's fun factor.

Opera Mylash Advanced (951 yen, tax excluded)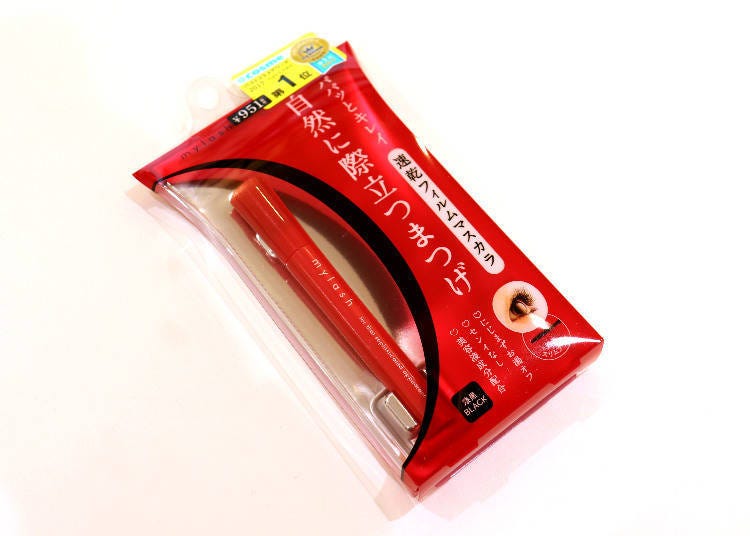 Among beauty products, this one is also a recommendation for cosmetics.
The "Opera Mylash Advanced" mascara is the "top rated mascara within makeup buzz networking sites". This quick-drying film mascara has had rave reviews, with most saying that "with the numerous fibre-type mascaras in the market, this fibre-less yet beautifully spreadable mascara is highly popular amongst natural makeup lovers". Washing it off with warm water also does not smudge it, another highly valued perk.
Souvenirs between 1000 yen and 1500 yen
ET Lash Version Up (1000 yen per 6 grams, tax excluded)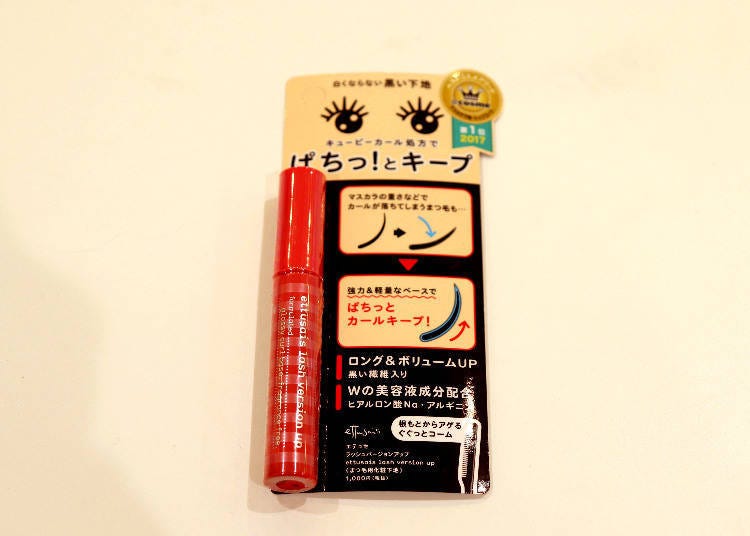 Lastly, we'll talk about the souvenirs in the 1000 yen to 1500 yen bracket. First up is ET Lash Version Up, which has been said to be very popular with foreign customers.

A mascara foundation that curls eyelashes without making them look droopy, it also doubles as a hair moisturizer. Consisting of a mix of transparent and black fibers that will never whiten, it's an excellent product that can even be used on its own.

Shirowakihime (1250 yen per 18 grams, tax excluded)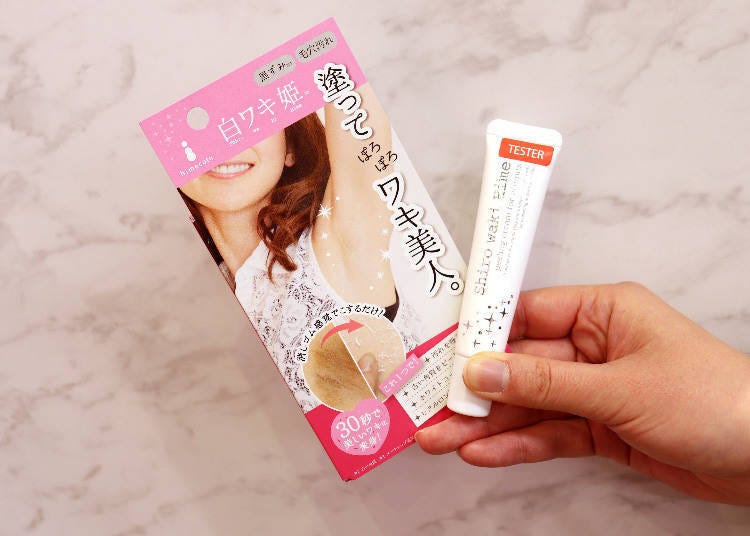 Recommended for those looking for souvenirs that are just a bit more interesting than the norm. While having dirt come off like eraser shavings is expected when using peeling gel, this whitening cream is meant for the armpits. Customers who are conscious of their dark armpits due to dirt and old keratin and do not dare wear sleeveless clothing should definitely try this one out.

Smear it on your armpits and scrub it for just 30 seconds, and the dirt will come off just like using peeling cream, following which you can whiten it using and regular makeup. How's this for an interesting souvenir?

Excel Skinny Rich Shadow (1500 yen, tax excluded)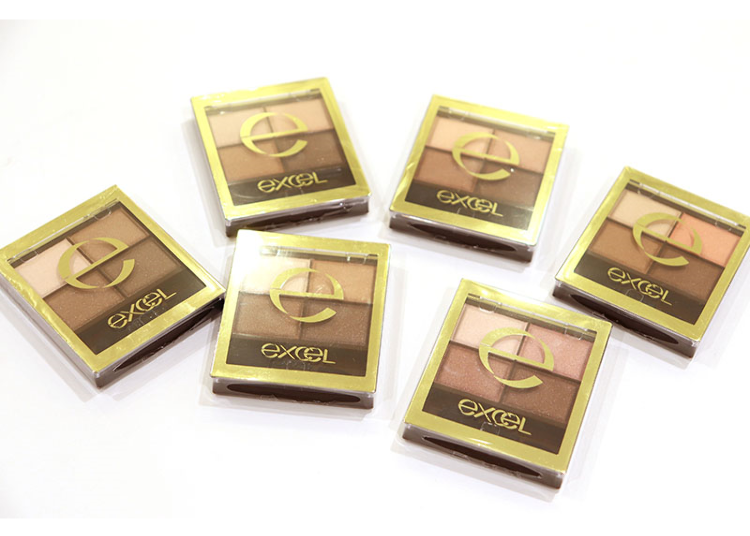 「エクセルスキニーリッチシャドウ」1,500円(税抜)
For those who want naturally round girlish eyes. Even for those who don't know what color would suit them, there's no harm in having one of these. The Excel Skinny Rich Shadow is another highly recommended cosmetic.

Whether it's the versatile "01 Beige Brown" to the "06 Sensual Brown" for when a hint of pink is needed, there are 6 varieties of brown eyeshadow to choose from. Its powderiness makes it easy to get used to and is also a key reason for its popularity. While eyeshadow is the kind of product that differs depending on one's favored colors, this range of brown is suitable for anyone.

That's all we have for this time's selection from Ainz & Tulpe Shibuya Kouen Doori Ten. There are many other branches located in places like Tokyo Station, Ginza, Shinjuku, Harajuku and Ikebukuro, so do pay a visit if you're looking for souvenirs.
アインズトルペ 渋谷公園通り店

Address

〒150-0042東京都渋谷区宇田川町20番地17 / 20-17 Udagawacho, Shibuya-ku, Tokyo, 1500042, Japan

Nearest Station

4 minute walk from Shibuya Station


Phone Number

03-6455-1782

Hours:11:00~22:00
*This information is from the time of this article's publication.
*Prices and options mentioned are subject to change.
*Unless stated otherwise, all prices include tax.
Limited time offer: 10% discount coupons available now!