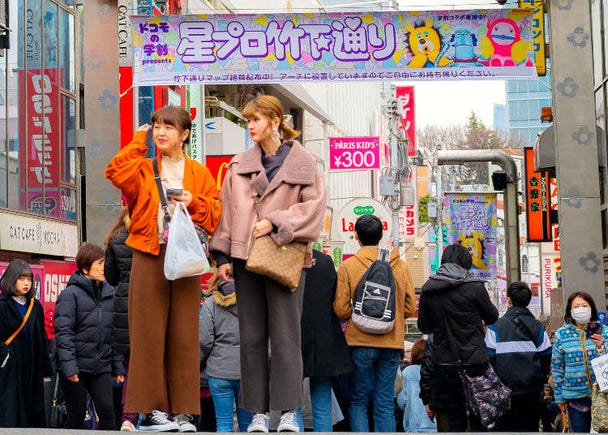 When visiting another country, one of the fastest ways to learn what a country is all about is to visit its downtown districts. As the busiest area of an urban city, downtown districts are generally attractive and full of positive energy. They also almost always feature various attractions that will appeal to visitors. Still, it's important to note that one district may differ vastly from another in terms of features and atmosphere, and it's important to understand exactly what they are in order to fully relish their distinct mood and flavor. Equally important is the job of educating ourselves on things of particular note about the area so as to not end up getting into unnecessary trouble.

Here, we'll be looking at five of the busiest downtown districts of Tokyo—areas that are often seen as the face of the city. It's not every day we get to visit Tokyo, so why not arm ourselves with enough knowledge to make our trip downtown both fulfilling and safe for all?
Shibuya: Where Youth Culture Starts and Ends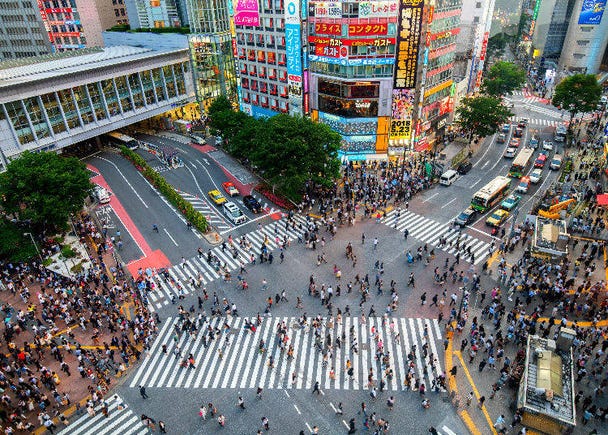 Shibuya Station has five main exits: Hachikō Gate, Central Gate, South Gate, New South Gate, and East Exit. Hachikō Gate is where most people flock to. This is where a statue of Hachikō, an Akita dog famous around the world for his loyalty to his master, is situated. Many use this special statue as a meeting point, so you'll see an endless stream of people gathering around Hachikō at all hours of the day. You may even be taken aback by the size of the crowd upon exiting the station!

After passing through the Shibuya scramble crossing, one of Japan's best-known photo spots, you'll come into view of Shibuya's busiest shopping street, Shibuya Center-Gai. The scramble crossing and Shibuya Center-Gai are so well-known around the world that it has virtually become synonymous with the very name of "Shibuya" itself. Youth culture is the backbone of this prosperous district. As such, you'll find a large variety of popular shops within short distances, from the trendiest clothing stores to fast-food joints, pharmacies, general stores, record shops, and other commercial establishments.

In a similar vein, karaoke booths, game centers, and other entertainment facilities can also be found everywhere, so there's really no end of things for you to enjoy here! The many livehouses and clubs that are often booked up by young and rising artists and creators provide clear evidence of the town's popularity among the younger generation.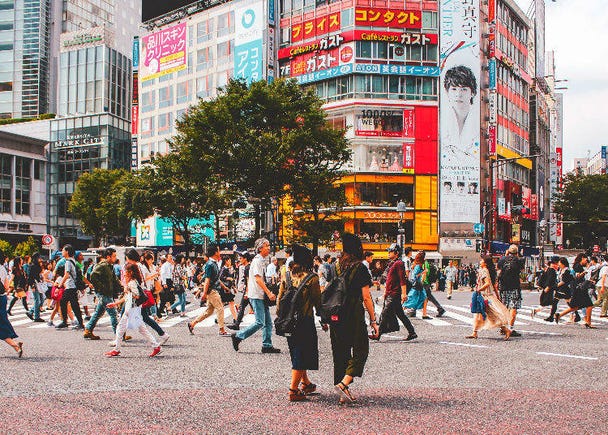 Town Atmosphere
The Shibuya scramble crossing sees some 500,000 pedestrians on a daily basis. The overwhelming number of people hitting the intersection all at once when the light turns green is a sight to behold. Because it's usually fully packed with youngsters whether on weekdays or weekends, Shibuya is also known as the "town that never sleeps".

The numerous shop signs, glitzy billboards, and large television screens advertising everything under the sun also contribute to the hyper-energetic mood surrounding this downtown district. In fact, if you're wondering what's trending among the youngsters of Japan these days, all you need to do is take a sweeping look around the streets of Shibuya and see what it has to offer.

Shibuya Center-Gai is a sea of young shoppers all day and night - a sea that shows no sign of abating even after the clock ticks past midnight. At daybreak, however, near Dōgenzaka and Miyamasuzaka, you'll start seeing office workers heading for work along with the usual crowd, perhaps even walking by some youngsters who have had a drop too much the night before, now passed out on the streets.
Demographics
Shibuya has been known as a youngster's town since the 1970s. The main age group you'll find here are those in their teens to mid-20s. A prominent feature of the town is its large number of student patrons. Junior high school students, high school students, college students - you name it! That said, you'll also find that the more cultural part of Shibuya, with its cinemas and galleries located a short distance away from Shibuya Center-Gai sees more business from those in their late-20s and older. You'll also tend to see more office workers and people in their 30s to 40s hanging out around Shibuya Station's East Exit and South Gate.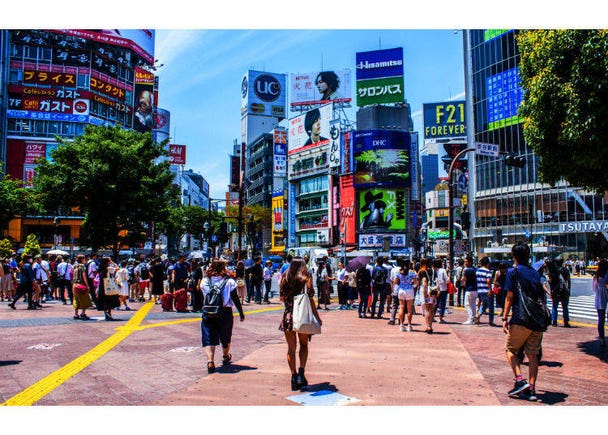 Things to Note
If you want to visit Shibuya, you have to accept that there's no escaping the crowd. In fact, visitors getting crowd-sick in this place isn't entirely unheard of! As a hotbed of activities for youngsters, the place is also a natural trouble-magnet. You may be taunted by drunkards or even approached by drug dealers, so always be on the alert. On Halloween, almost one million youngsters from around the country will gather at Shibuya Center-Gai for celebrations. Every year, many are rounded up for fighting, pickpocketing, outraging of modesty, and other crimes, so if you're thinking of joining the festivities, be sure to take all the necessary precautions.
Shinjuku: A World-class Downtown District with a Different Face to Each Area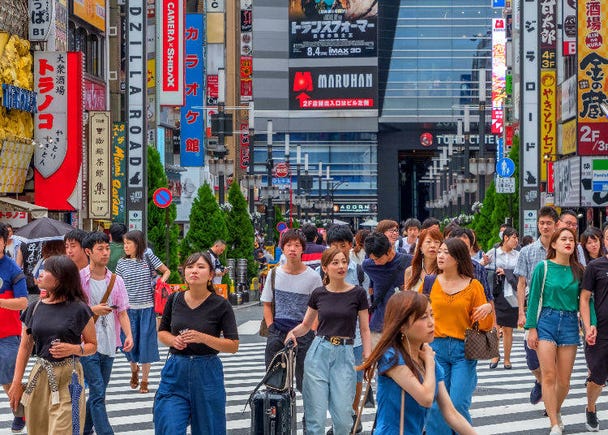 Shinjuku is especially prominent for its exotic flair even among the downtown districts of Tokyo or Japan, all of which are well-known for their multicultural influences. In the center of this town is Shinjuku Station, the Guinness World Record holder for busiest station in the world with 3.6 million riders passing through its gantries daily. You haven't truly experienced the true hustle and bustle of a city if you haven't watched wave upon wave of people pour out of a train station into the nearby downtown district, like what happens in Shinjuku every day!
Right in front of Shinjuku Station are long-established department stores framed by an array of cinemas, cafes, and large-scale electronics stores. It's really not an exaggeration to claim that there's nothing you can't find or eat in Shinjuku! This entertainment district has driven growth in Tokyo since ancient times, serving as a base for cultural and popular trends.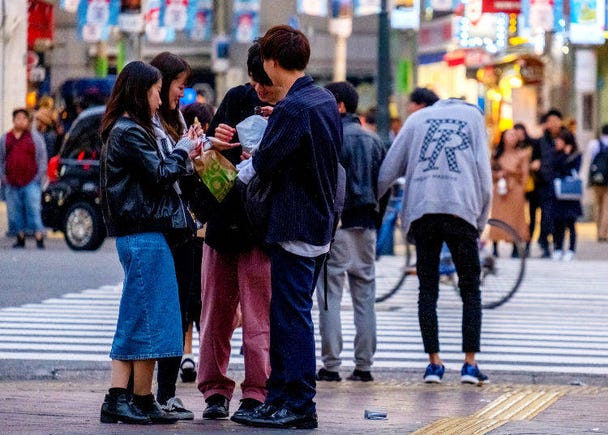 Town Atmosphere
The most distinct trait of Shinjuku is how you'll see different sides of the town depending on which exit you come out from. The East Exit area is where you can find a concentration of general stores, apparel stores, and restaurants. There's also no lack of things to see and do if you walk down the busy shopping street leading from Shinjuku Station to the area around Shinjuku-Sanchōme Station, where one of the top downtown districts in the world, Kabukichō, is also situated. Though it is now more commonly known as a tourist site, Kabukichō originally developed as a red-light district where clusters of pubs, cabarets, host clubs, and other suchlike establishments vied for the attention of potential customers. As pedestrian flow doesn't wane even deep into the night, Kabukichō is also known as the "Sleepless Town".

In contrast with the eclectic mix that is the East Exit area, you'll find that the West Exit area, with its well-polished skyscrapers is the favored spot of office workers for their travels. The seemingly endless strings of office buildings and established hotels foster an air of sophistication and refinement you'll immediately notice upon stepping into the area. On the other hand, if you're looking for a slightly more retro experience, the "Omoide Yokocho" alleyways just in front of the station here will allow you to enjoy a drink or two while basking in the glow of a Japan from its yesteryears. This quick-changing contrast is part of what makes Shinjuku so interesting to many.

Around the South Exit, which is currently being redeveloped, you'll find the Shinjuku Expressway Bus Terminal, the largest one in the country completed in 2016. It connects Shinjuku to 39 prefectures and 300 cities around Japan with a number of expressway bus routes. At its peak, over 1,600 buses picked up commuters at the terminal every day, just to give you a glimpse into the massive scale of its operations. Of late, there has also been a stronger focus on the construction of more tourist-friendly establishments, such as commercial spaces.

Although that's not all Shinjuku has to offer, it's certainly an interesting representation of how multifaceted the district is, and why it remains busy at all hours of the day.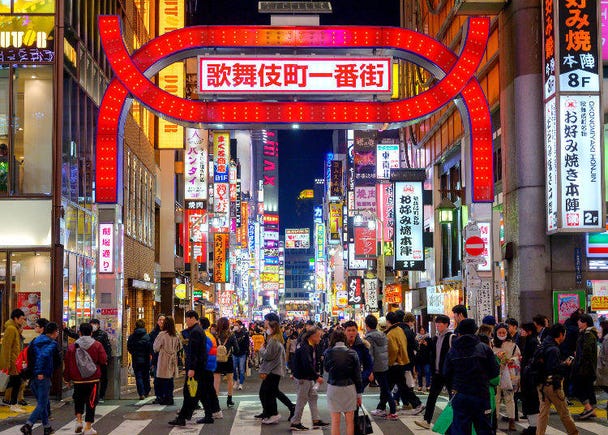 Demographics
People of all ages flock to Shinjuku - ladies in their 20s to 30s do their shopping here; men in their 30s and older descend upon the town for a drink or two after work; and students gather here for night-outs. Although the main group of people you'll see are younger folks in their 20s to 30s, there's always a good mix of different nationalities and backgrounds, as many have come to expect in the dynamic town of Shinjuku.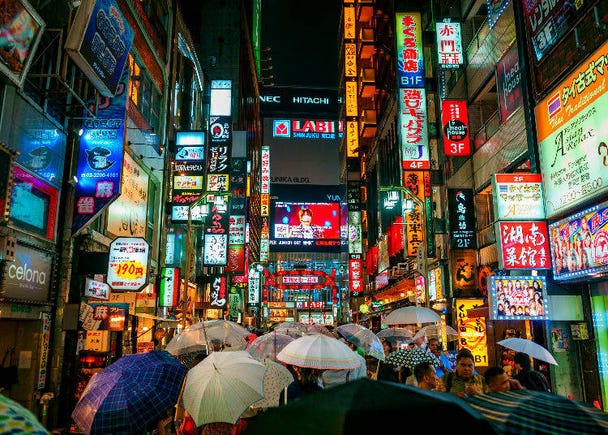 Things to Note
Kabukichō is a red-light district with a concentration of pubs and adult-entertainment shops. You may in certain areas find yourself being solicited or encountering shops running illegal businesses. Although things have vastly improved since a major crackdown in 2004 and the introduction of regulations, it would be naive to assume illegally-run shops no longer exist. Always be on the alert for "rip-off" shops trying to charge you an exorbitant fee for their products or services. Some of these shops may even resort to brute force to get their way! Note that this is also a popular area for illegal drug dealers.

Shinjuku Ni-chōme is another entertainment district with a completely different climate from Kabukichō. The main draw of this area is its abundance of bars and show-pubs, as well as its reputation for being LGBT-friendly. While most shops are open to all customers, there are also quite a few bars that are strictly members-only. And always remember: When in Shinjuku Ni-chōme, do as the Shinjuku Ni-chōme-ians do!
Ginza: The Posh Town of Branded Goods and High-class Restaurants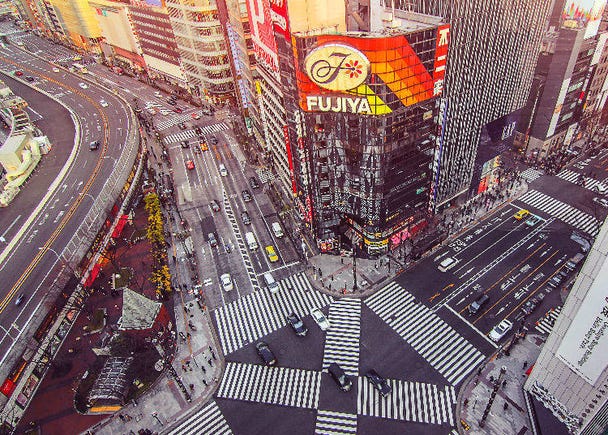 Ginza is the preeminent shopping district of Tokyo. Branded boutiques, long-established restaurants serving top-quality cuisine, and classy bars decorate the area, historically known for its close relationship with high society. In recent years, casual shops for apparel, general goods, and food have sprung up one after another alongside the original establishments, transforming the town into a unique blend of old and new.

Ginza Mitsukoshi is an old-line department store sitting at a corner of the Ginza Yonchōme crossing. that has served as Ginza's symbol to the world for the longest time. Across the street from it is the similarly iconic Ginza Wako, a department store with a stone clock tower looming above it. Besides these large retailers, you'll also find a good selection of smaller fashion buildings and branded stores along Ginza Chuō-dōri.

As the town where Western culture flourished during the Meiji and Taishō periods, you'll find plenty of fancy Western-style restaurants and cafes alongside traditional Japanese restaurants and eateries in Ginza. The general stores with tasteful product selections and famous snack shops also make for popular hangouts among the ladies. For the more culturally and historically-inclined, the host of theaters scattered all around town, including the Kabukiza Theatre, where traditional kabuki stage plays are being held, will be of great interest as well.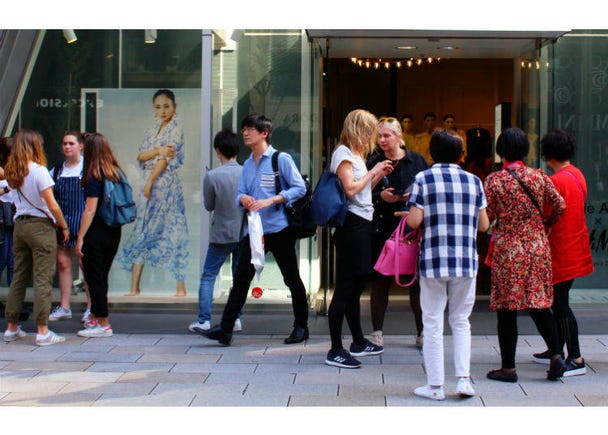 Town Atmosphere
The town is systematically divided into eight districts from 1-chōme to 8-chōme, and contains a harmonious mix of vastly different commercial establishments - from traditional shops founded during the Edo era to buildings promoting the latest fashion trends. This lends an undeniable air of matured elegance around town. Ginza is also full of gorgeously designed buildings that are luxuriously colorful. Town visitors can expect to feel somewhat indulgent simply walking through its extravagant streets. On weekends and public holidays, Ginza's main street, Chuō-dōri transforms into a pedestrian's paradise where traffic signals for vehicles are turned off and only pedestrians are allowed on the roads. Needless to say, this street regularly becomes jam-packed with swarms of people every weekend.

Ginza is also known for being a night town. When night falls, neon illuminations and bewitching fragrances start lighting up the sky and your senses. Namiki-dōri is the principal location of many high-end hostess clubs. "Hostess" is the title given to a female club staff who entertains male customers with pleasant conversation and alcoholic beverages. Having honed their customer service skills to unbelievable levels, these ladies add much color and glamour to the nightlife in Ginza. In fact, going for a leisure stroll down the streets of Ginza at night while being surrounded by its jewel-like illuminations is starting to sound like a great idea too, isn't it?
Demographics
As a historical gathering place for those with more matured inclinations, Ginza patrons are usually in their 50s or older. This is especially apparent in established department stores like Ginza Mitsukoshi and Matsuya. Tokyu Plaza Ginza is favored by those in their 30s to 40s, whereas Marronnier Gate Ginza has found a niche among those in their 20s to 40s. There's also Ginza Six, which has its sights firmly set on those in their 30s to 60s. It's interesting to discern how these facilities have developed with distinctly different target audiences in mind. In recent years, more shops going after the latest trends have emerged, garnering much support among young women in their 20s, but it's safe to say that Ginza is still mostly popular among those in their 30s to 60s.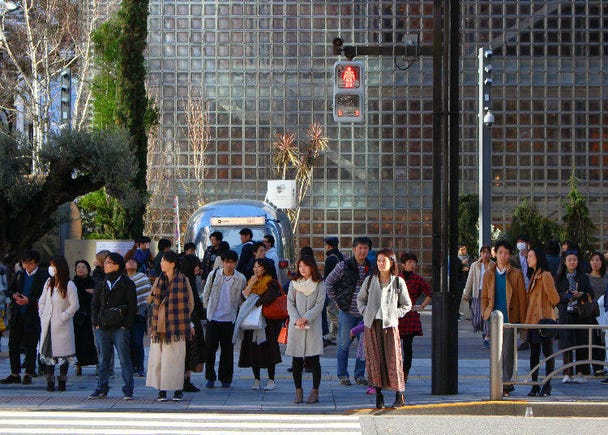 Things to Note
Ginza is home to a lot of high-end restaurants and top-quality sushi houses, and some of them do not accept first-time customers without a referral from a regular patron. If you wish to enjoy some fine-dining at a reputable restaurant, making a reservation ahead of time may be the safest way to guarantee a table upon arrival. There's been an increase the number of foreigners coming to Ginza hoping to visit a high-end club and having a taste of what the Ginza night life has to offer, but do take note it's highly possible many of them do not accept customers without a referral either. Calling the shop ahead of your visit would be the best way to sort this out.
Roppongi: A Classy Adult-oriented Town with an International Flavor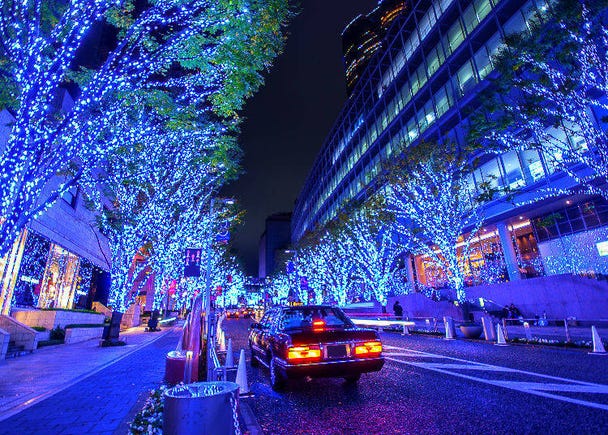 Renowned as a hot spot for adult night entertainment, Roppongi contains plenty of bars, clubs, restaurants, and other such establishments. It is also the downtown district that's most heavily influenced by international cultures among those we've been talking about so far. Its distinct feature is the contrasting mix of high-end shops with low-profile spots for art admiration scattered about here and there. A quiet residential estate is located just a short distance away from the station, surrounded by greenery and parks. The stark difference between the serenity here and the glitzy, activity-filled downtown area may even seem a little jarring. As the town is also full of foreign companies and IT businesses, you'll find no end of office workers walking through the streets as well. Roppongi is also where many foreign consulates are located.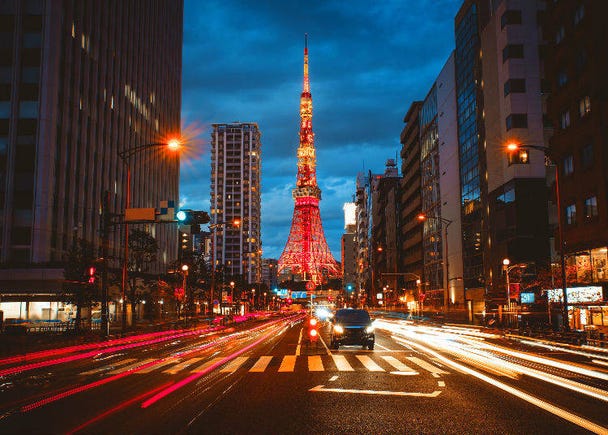 Town Atmosphere
Roppongi is a popular dating spot for adults. The usual itinerary visitors to this town follow includes some shopping and art appreciation in the day, a slightly expensive dinner at night, and to end the entire day on a high note - some fine wine. The town is also popular for its night view. The observation deck on Roppongi Hills is an ideal spot for gazing at the Tokyo Tower or the city's streetscape in general.

You aren't likely to hear Roppongi being mentioned without hearing about its clubs as well. Home to lovers of music and drinks since times past, the many exotic entertainment clubs in town are a flurry of activity all the way past midnight.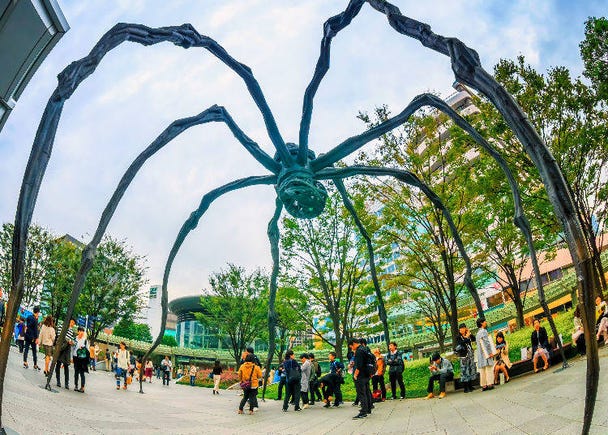 Demographics
Most of Roppongi's visitors are in their late-20s to late-30s. Fancy shops and facilities popular among adult men and women alike abound. It's more common to find people with a certain type of class and elegance on the streets here than in Shibuya or Shinjuku, for example.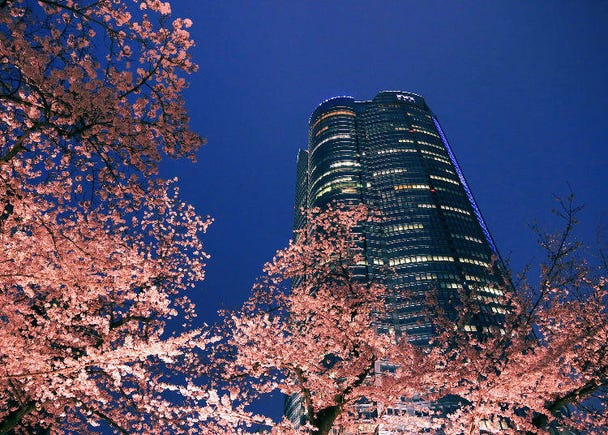 Things to Note
Many foreigners go to Roppongi with the purpose of visiting the clubs there. If that's also true in your case, do note that the clubs near Roppongi Station are more for the younger crowd, whereas the areas around Azabu-Jūban and Nishi-Azabu feature clubs with a more adult-slant. Also, many of Roppongi's clubs mandate a certain dress code before allowing entry. Sandals and jerseys are considered too casual and may cause you to be refused entry, so dress up in clean and moderately smart clothes before heading out! And don't forget to bring along your passport or some form of identification as well, just in case. Another thing to note is that Roppongi is well-known to be the hunting grounds of drug dealers. They may approach you in clubs, bars, or even alleyways, so always be on the alert. You wouldn't want to spend most of your holiday in Japan trying to convince local police officers of your innocence!
Ikebukuro: Cultural Crossroad between Shopping, Entertainment, Anime, and more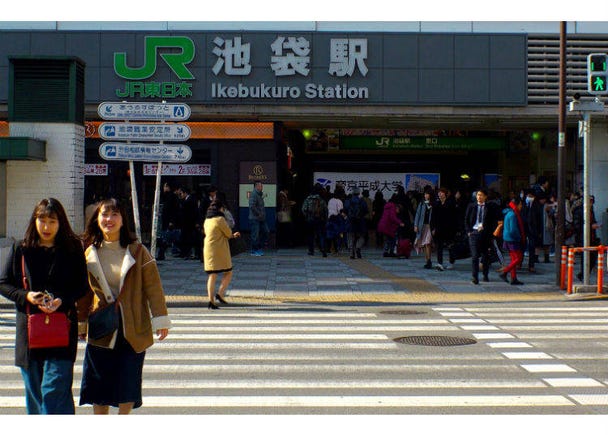 Ikebukuro Station is a sprawling terminal station surrounded by well-known department stores and large-scale electronics stores. Unlike Shibuya and Shinjuku, the station's layout is simple - just a west exit and east exit. Multiple facilities in the vicinity are also directly connected to the station, providing easy access to the attractions they offer. Sunshine City, one of the landmarks of Ikebukuro, is a large commercial building located outside the station's east exit, where the seemingly endless number of shops and commercial spaces has earned it the reputation of a shopping paradise. Outside the west exit, you'll find the Tokyo Metropolitan Theatre, host of several musical plays and concerts all-year round. All around it are artistic little shops that will put you in the right mood for a cultural experience.

As you walk along Sunshine Dōri, you'll eventually reach Otome Road, or Maiden Street, where shops selling anime and cosplay-related goods stretch for as far as the eye can see. This is a must-visit anime spot for sub-culture fans, next to the well-known Akihabara. While Akihabara primarily caters to the male crowd with its fare, on Ikebukuro's Maiden Street, true to its name, you'll find a staggering amount of retail shops featuring products and services targeted at the female crowd instead. The place is filled to the brim with young folks even on weekdays.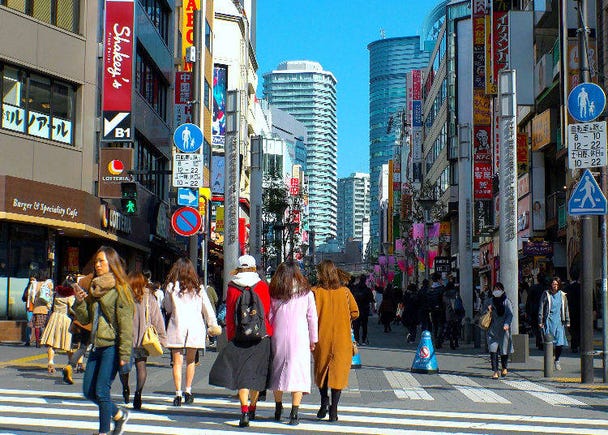 Town Atmosphere
Outside the east exit, you'll find attractive commercial spaces like large-scale electronics stores, Sunshine City, hotels, and of course, Maiden Street. The west exit is where Tokyo Metropolitan Theatre is located, along with the sprawling Ikebukuro West Gate Park, a popular spot for students to gather and relax. The west exit area also contains busy restaurants and adult entertainment centers with decor heavily influenced by Asian and other foreign cultures. The rich variety of interesting spots just within the vicinity of the station affords visitors a chance to enjoy their trip here just the way they like it. Besides large commercial facilities, Ikebukuro is also full of privately-run traditional shops for visitors to discover during their leisure strolls.
The town is filled with people all day and night, from families and couples hoping to enjoy a spot of shopping, theme parks, movies, or art galleries to office workers looking to have a quick drink before heading home after work.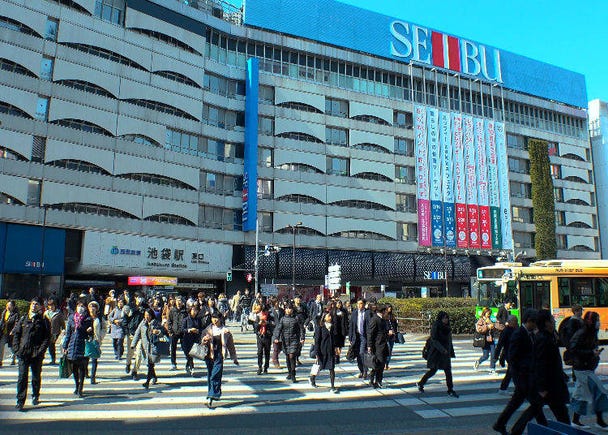 Demographics
The demographics of Ikebukuro visitors are wide and varied. You'll find young children visiting the town for its aquariums and theme parks. Teenagers and those in their 20s are here to shop, watch movies, or revel in karaoke singing. As for the adults in their 30s or older, they usually wish to indulge in some artistic appreciation. The town's popularity with people of all ages and backgrounds stands as a testimony to the wide variety of shops and attractions it offers.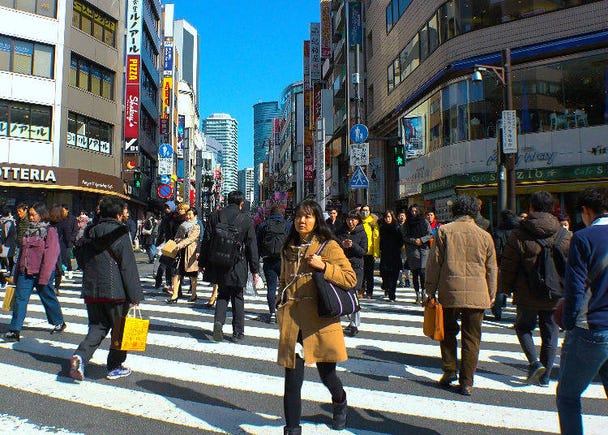 Things to Note
The atmosphere between Ikebukuro's west and east exits is completely different. The east exit is where the main street is located. This is where you'll find family and student-friendly establishments. On the other hand, the west exit opens up into the downtown district where places like cabaret clubs, girls' pubs, and other adult entertainment establishments have made themselves at home. The area from the station all the way to the general leisure hall Cinema Rosa is known as Nishi Ichiban-Gai, and it is the most popular stretch of the station's west exit. When night approaches, you'll find more and more restaurant staff out on the streets, calling for customers to visit their shops and adding to the hustle and bustle of the town. The northern side is known as the area's Chinatown due to the large amount of Chinese-style shops. As it is also full of adult entertainment shops, the area is frankly not what one would call a place with good vibes.

Whether you decide to venture out of the east or west exit, you won't get into any trouble if you stick to the main streets. But if you're thinking of exploring deeper into the area or inside the back alleys, be extra careful! You wouldn't want to get ripped off by pushy staff who may forcibly pull you into their stores and then charge you an arm or leg for their products or services!
*This information is from the time of this article's publication.
*Prices and options mentioned are subject to change.
*Unless stated otherwise, all prices include tax.