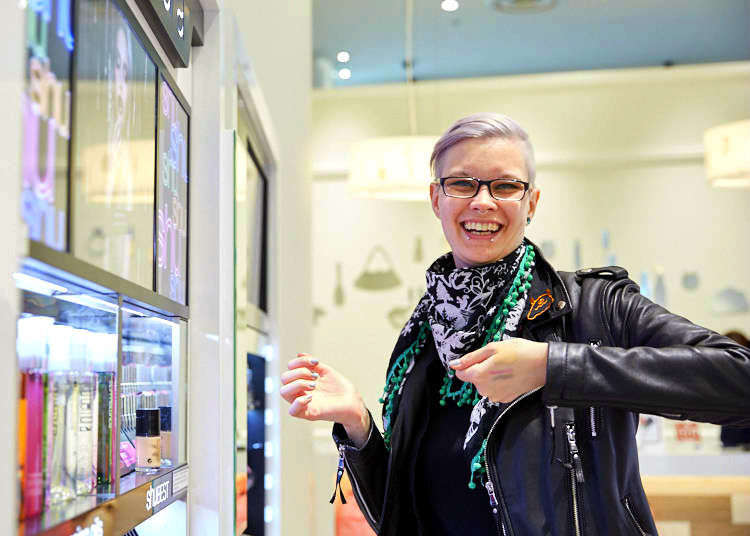 Harajuku is world-famous as the birthplace of trends, youth culture, and Japan's fashion headquarters. Right next to it is Omotesando and its stylish glitz. Right in the center of this curious intersection stands Tokyu Plaza Omotesando Harajuku.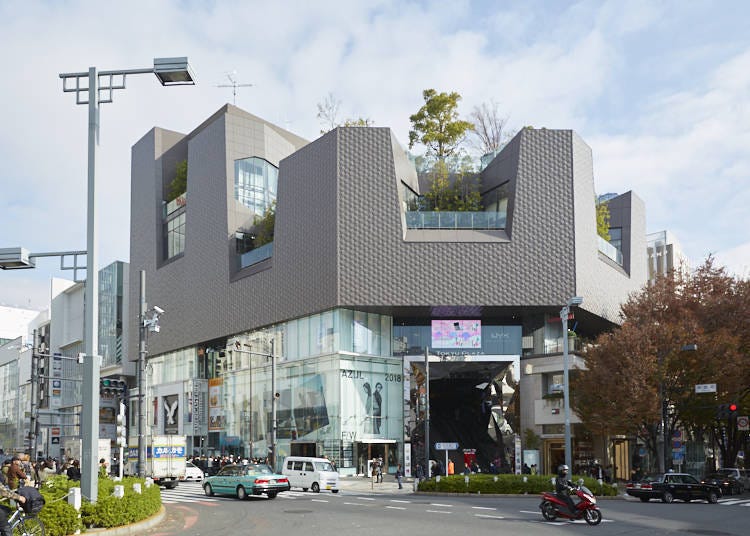 The beautiful mall is a 4-minute walk away from Harajuku Station on the Yamanote Line and right outside Tokyo Metro's Meiji-jingumae Station. Together with Laforet just on the opposite side of the street, Tokyu Plaza Omotesando Harajuku is a landmark of the famous area and represents Japanese style, fashion, and trends.

This time, we accompany Pamela from Germany, member of LIVE JAPAN's editorial staff, to explore Tokyu Plaza Omotesando Harajuku on her free day.

"I've been to Harajuku and Omotesando plenty of times, but never paid that much attention to Tokyu Plaza Omotesando Harajuku. I'm excited to see what kind of shops are inside."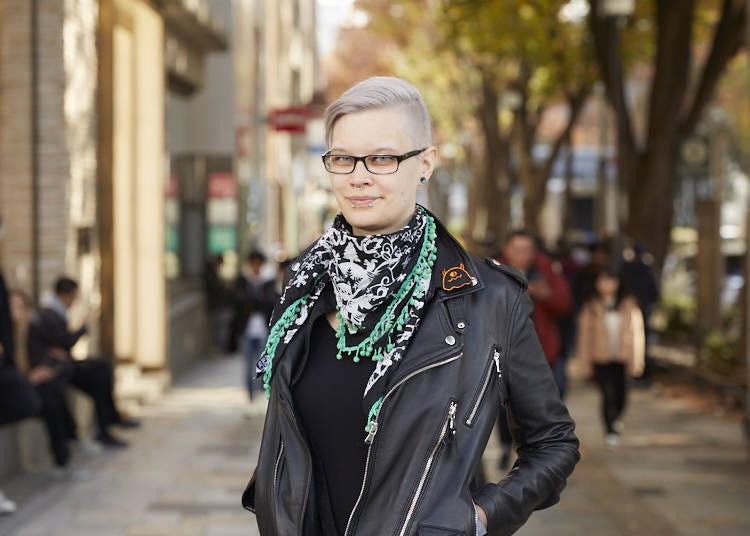 The stunning entrance of the mall was created with numerous mirrors by Hiroshi Nakamura, a pupil of the world-renowned architect Kengo Kuma. A long elevator takes you up to the 3rd floor of the building and almost looks like the entrance to an exciting attraction. Pamela is also quite taken by the view.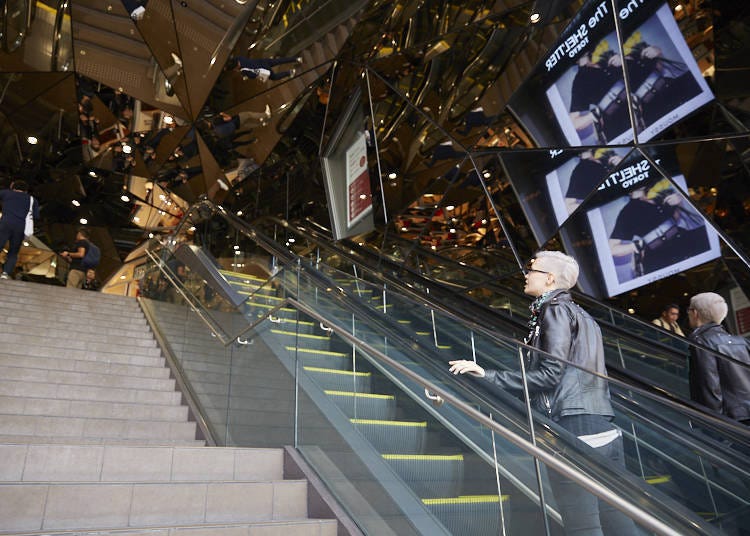 Breakfast at Bills: Healthy and Delicious!
First of all, Pamela heads up to the 7th floor for a healthy breakfast at a restaurant called Bills. It first opened in Sydney, Australia 25 years ago and has gained a large following with its fluffy scrambled eggs. The NY Times calls Bill Granger the "Egg Master of Sydney"—he's the founder of the restaurant. Since its opening in 2012, Bills has become a representative spot of Tokyu Plaza Omotesando Harajuku.

"I was planning to eat brunch here, so I skipped breakfast. (laughs) The famous ricotta pancakes sound good, but I'd rather have a healthy avocado toast."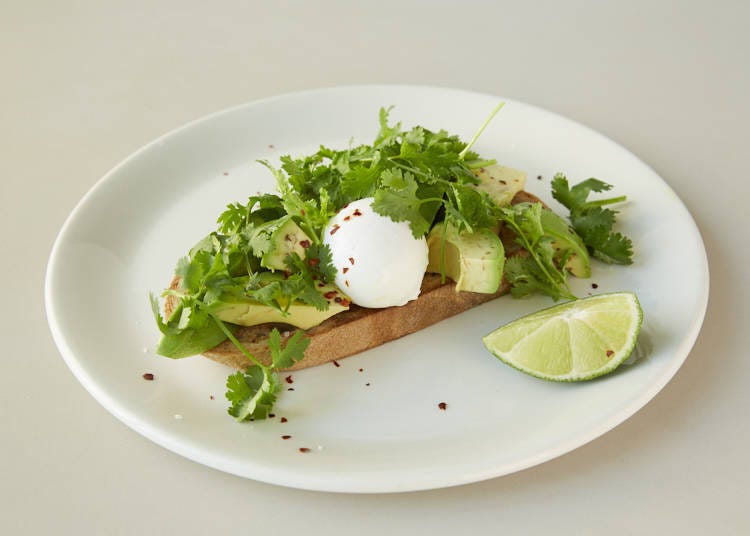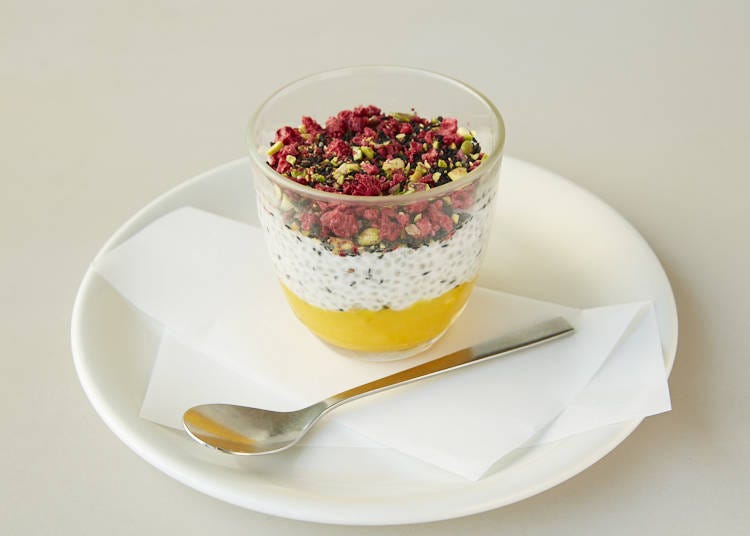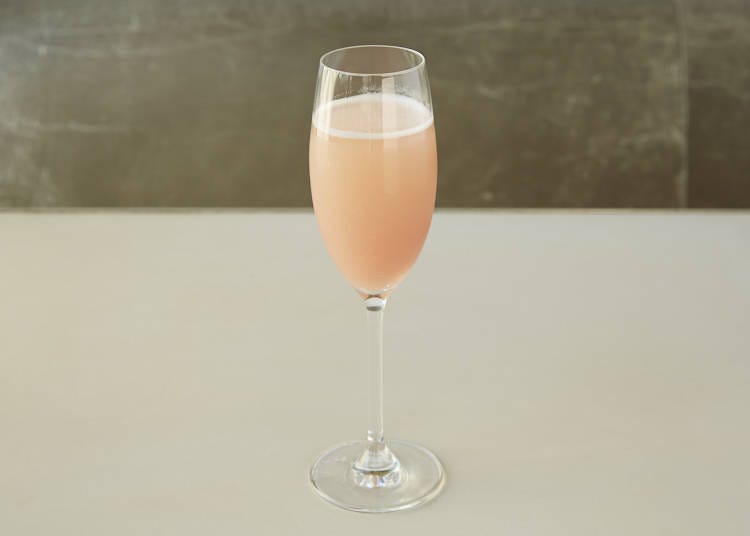 And indeed, Pamela orders the "Avocado Toast" (1,320 yen) with plenty of avocado and coriander on sourdough bread. A hint of lime makes for an extra flavor kick! For a proper brunch, we also added a "Poached Egg" (plus 200 yen), as well as the "Almond Chia Pot" (1,100 yen) and the "Classic Berrini" (1,100 yen) for dessert.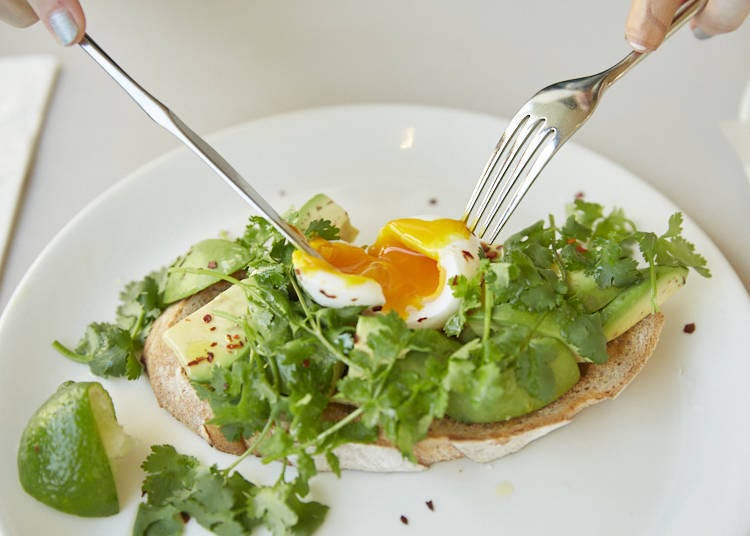 The best way to eat this toast is to squeeze some lime on it and cut open the egg to make the yolk flow over the bread.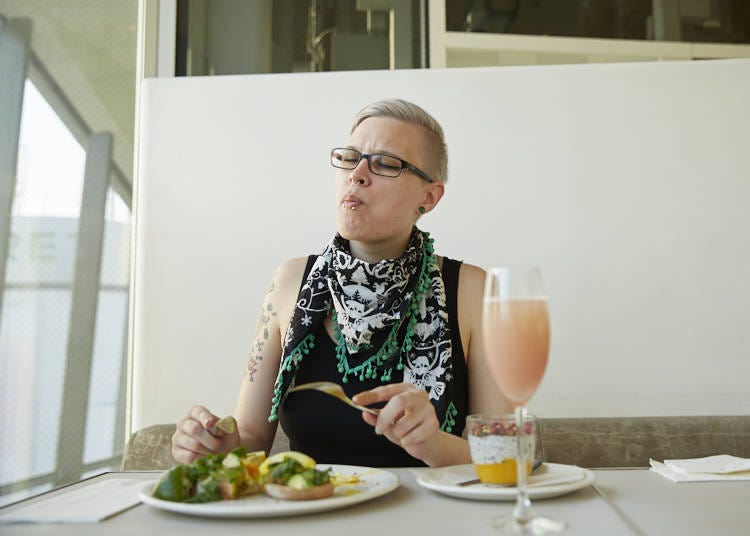 "Oh my, this is delicious! So good..."
Pamela is completely taken by the taste from the first bite on, visibly savoring her brunch to the fullest.

"The bread in Japan tends to be sweetish and very soft, that's just not my cup of tea. This one, though, is hard and made out of sourdough, boasting a deep flavor. I love that the flavors of the base ingredients get to come out so well. This almost tastes like the German bread I always eat back home, that's why I am so happy."

She also finished the toast in no time.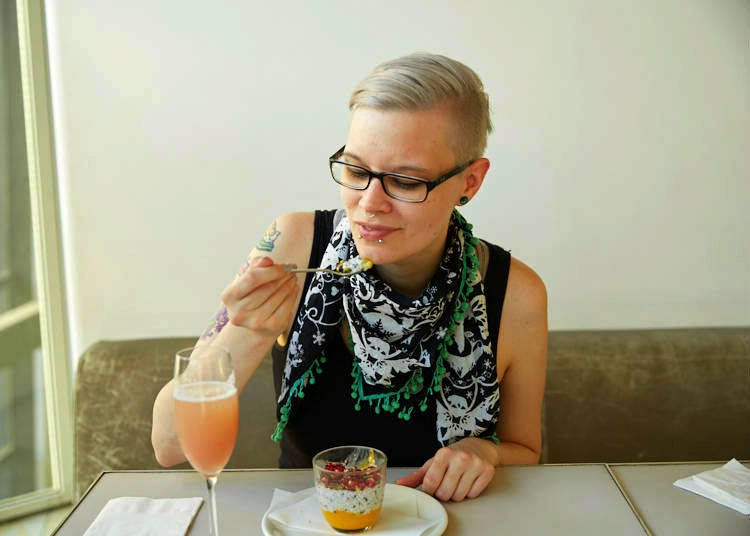 "The Almond Chia Pot is great as well because it's not sweet at all. The chia seeds, almonds, and black sesame make for an interesting texture as well. It may be called a dessert, but this is definitely a healthy choice."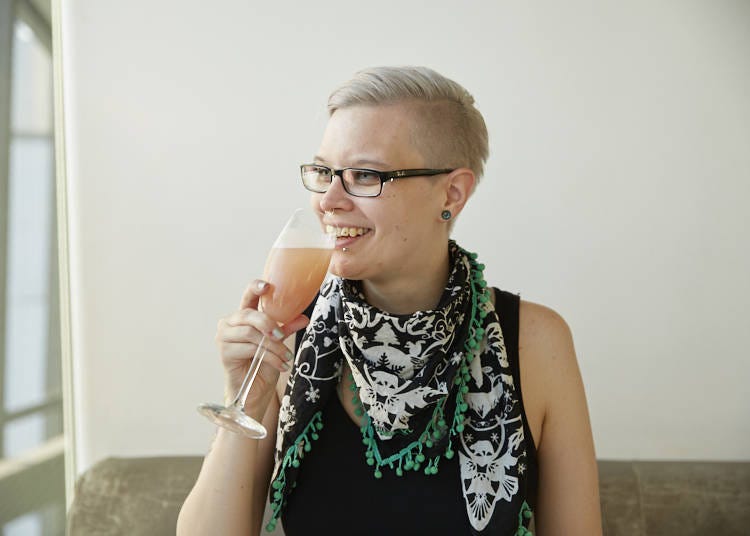 "Drinking a cocktail in the morning feels almost too upscale for me, but sometimes you have to treat yourself."

With flavorful sourdough bread reminiscent of her home country, a healthy pot of chia pudding, and a berry cocktail to finish the meal, Bills truly served the perfect brunch for a fun, free day!

While Bills is especially famous for its breakfast menu, it serves amazing dishes throughout the day in a wonderfully casual setting. It's a hot spot for both locals and tourists, and even people from Australia come here for a snack or two.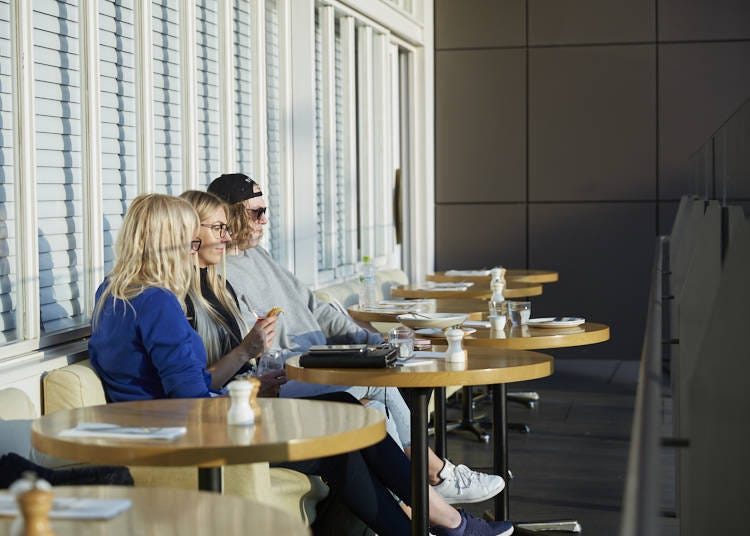 From the popular breakfast choices to a full-fledged dinner, Bills is a fantastic spot to take a break from the busy city.
ISETAN MiRROR: the Perfect Selection of Cosmetics From Japan and Around the World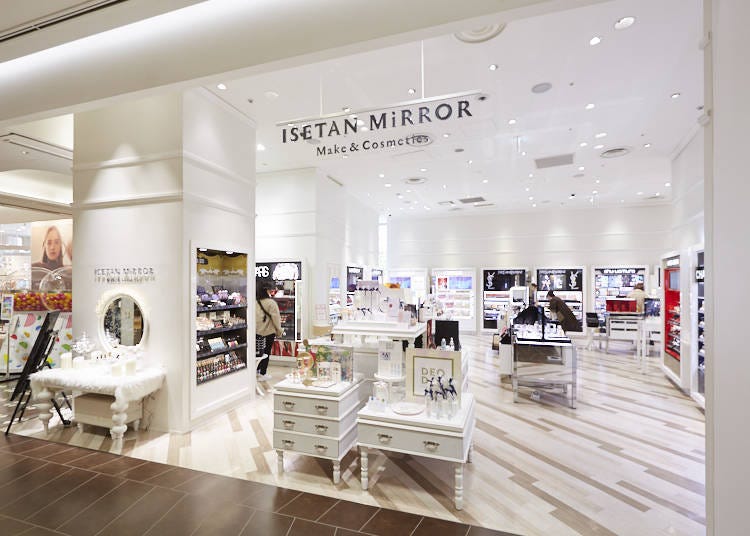 Next, Pamela heads to the cosmetics shop ISETAN MiRROR on the 3rd floor. It offers a wide selection of cosmetics from about 20 brands, including Japanese giants such as Shiseido, Shu Uemura, and Lunasol, but also international products by Giorgio Armani, Paul & Joe, and Anna Sui.

Usually, department stores and malls sell cosmetics in booths separated by brand. That makes it a bit difficult to compare similar products between brands, and also why ISETAN MiRROR makes cosmetics shopping so attractive. It's incredibly easy to get a multi-brand makeup set for a unique look, such as combining the foundation by Shu Uemura with a lipstick by Yves Saint Laurent, for example.

Next to brands, this shop is also handy if you want to check out the latest trends, as particularly hot products are neatly arranged, and the knowledgeable staff is also here to help. Apparently, you're also taught how to apply the makeup here.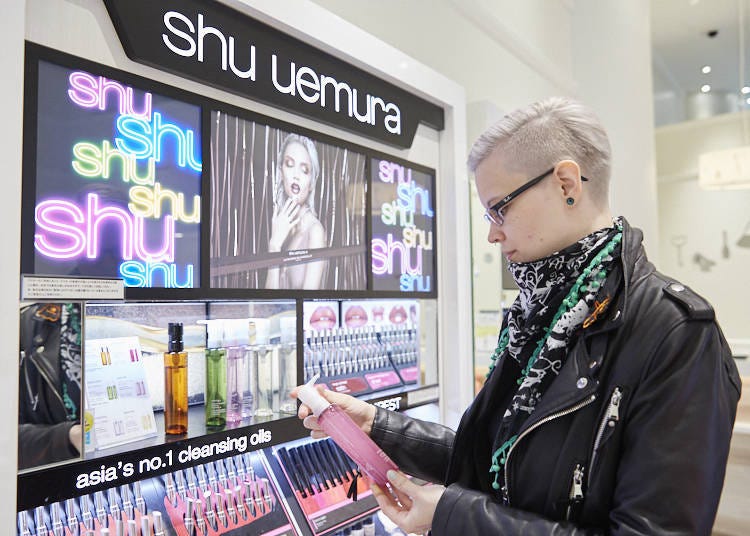 "I usually only use some lotion and maybe sunscreen. Foundation is only for special occasions, regularly I only do some eye makeup."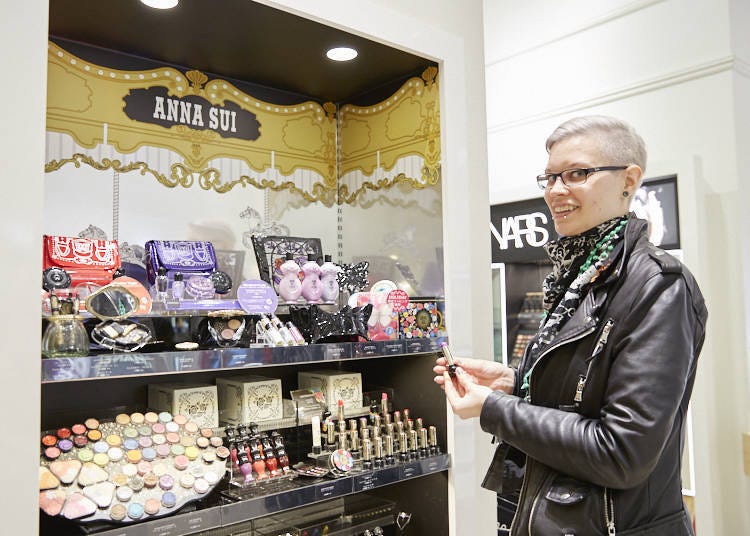 "I like these Anna Sui lipsticks because the package design is cute, and the colors are vivid. I guess you can treat yourself to one at a time."

Pamela usually doesn't have an extensive makeup routine, but the colorful cosmetics certainly caught her eye. She also talked to the staff for recommendations and tips.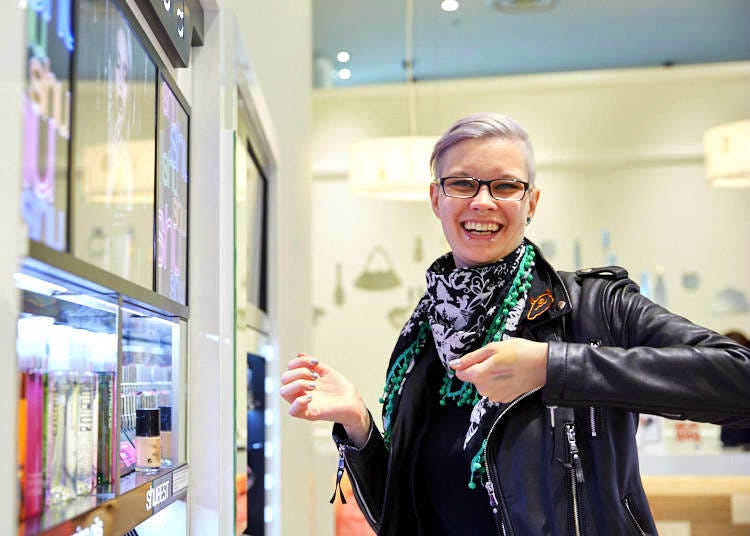 ISETAN MiRROR welcomes many international shoppers, so the staff can speak both English and Chinese. With a great selection of both Japanese and international brands, expanding your makeup routine will be a super fun experience! It's also a great spot to look for a souvenir or two.
Omohara no Mori: a Green, Calm Oasis in the Middle of the City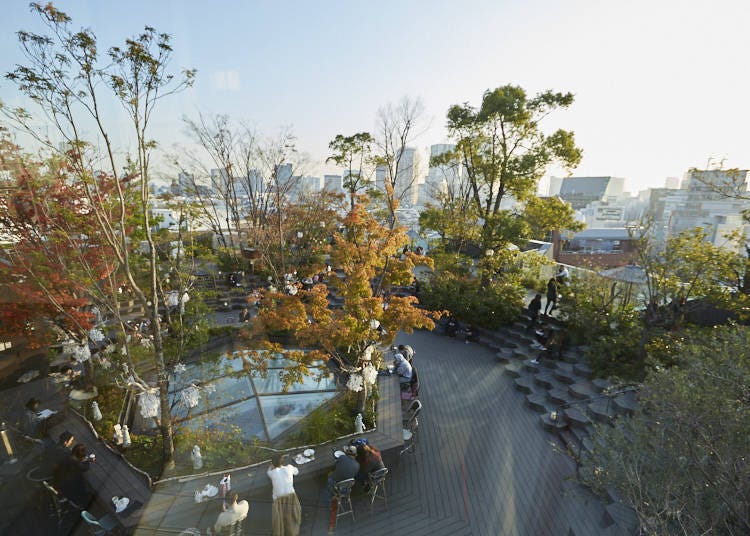 After that, it's up to the 6th floor again to a rooftop terrace garden called Omohara no Mori. Located 30 meters above ground, the calm oasis is surrounded by lush trees and plants of about 50 native species. Of course, there are also Zelkova trees, the symbol of Omotesando and Harajuku.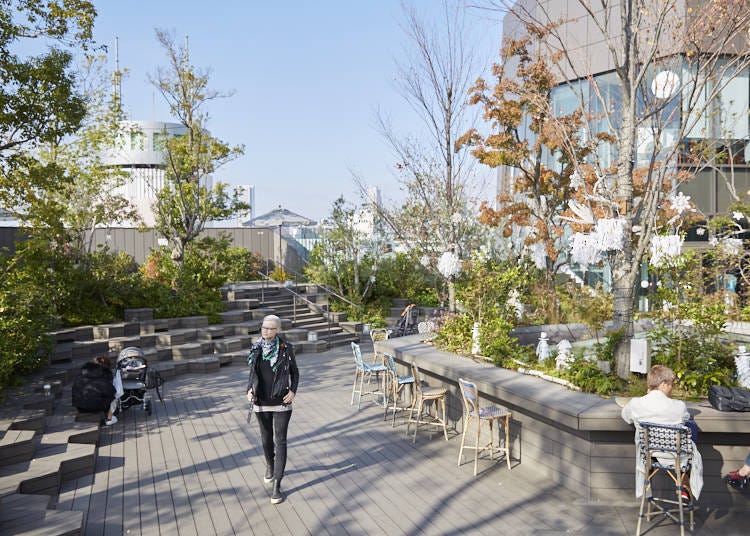 Benches and parasols dot the little garden, and a stylish counter invites to take a breather. It's the perfect spot to rest one's legs, chat with one's friends, and enjoy the sun.

"It's great to be surrounded by green in the middle of the city. It feels wonderfully open here as well because no tall buildings are around."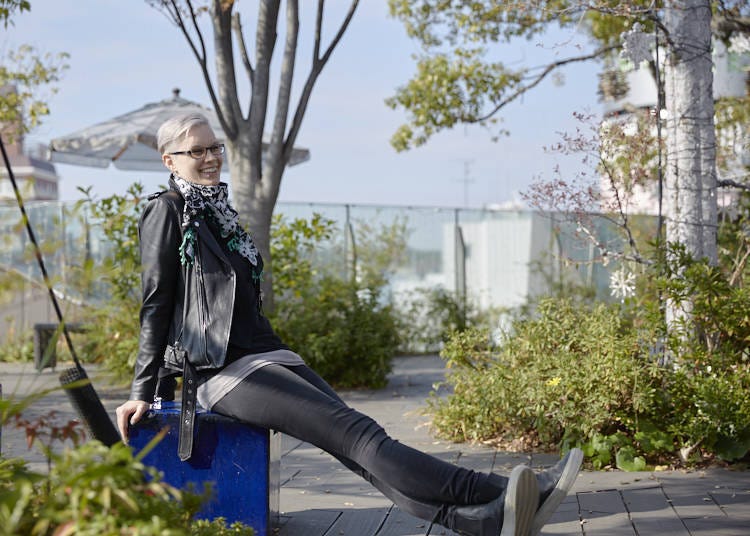 There are also nesting boxes and bird baths on the trees, so feel free to get lost watching birds and butterflies fluttering freely through the open space.

"I can hear the birds chirping. That's much better than constant traffic. Next time, I'll bring a book and just spend some time reading here."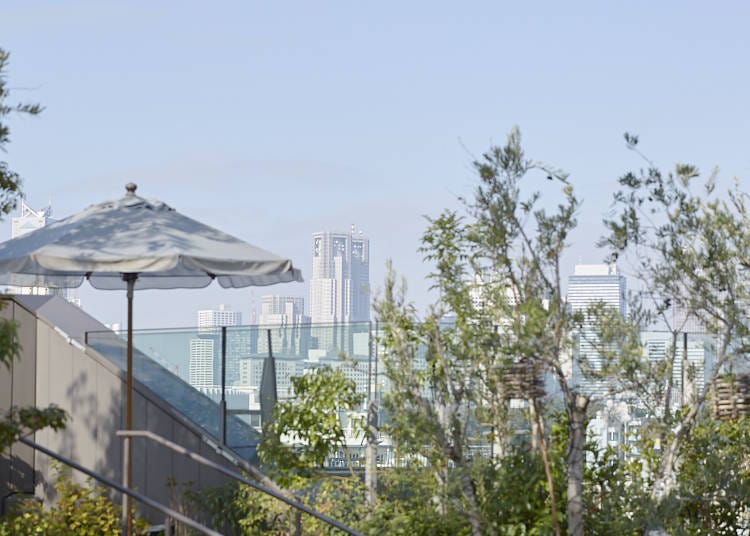 The terrace forest may be small, but its peaceful atmosphere and view on the surrounding area are sure to make you forget the hustle and bustle of the city, if only for a little while.
Zoff: Getting New Glasses in 30 Minutes!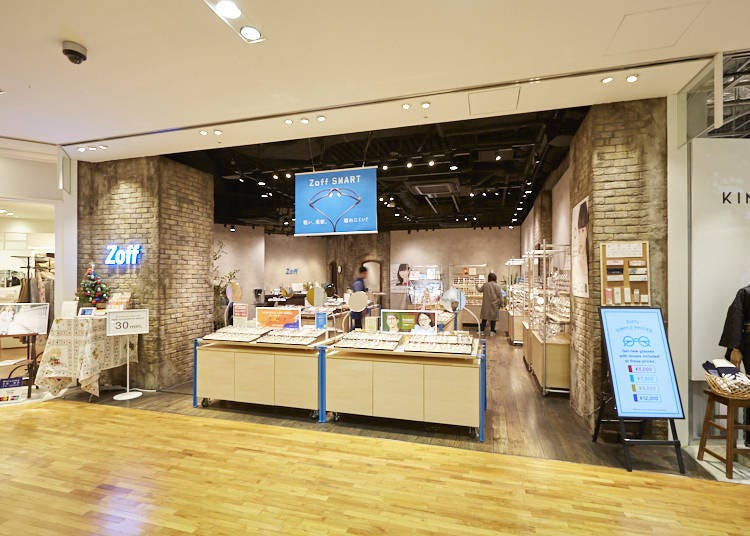 After recharging her energies, Pamela heads to Zoff, a popular eyewear shop on the 4th floor. Its biggest draw is that you can get a new pair of glasses in as little as 30 minutes. And the shop boasts about 900 different frames.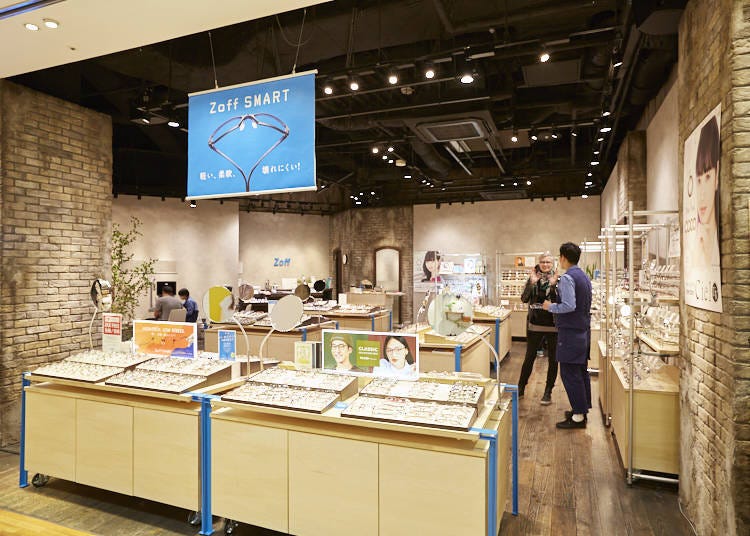 Pamela wears her glasses every day, a pair that she got in Germany. Because the shape of her head is different from most of the Asian population, she is worried that finding a pair of glasses that both fits and suits her might be a difficult endeavor.

That's why we straight up asked the staff for a recommendation!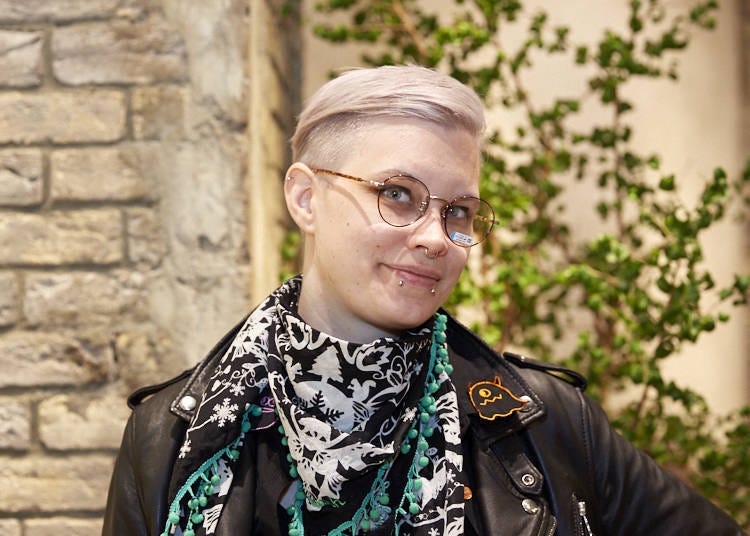 CLASSIC ZP182008_49E1
The first recommended pair is a metal Boston frame with a classic shape. The amber color looks beautiful and doesn't pop too much either. The slender, round design looks rather gentle.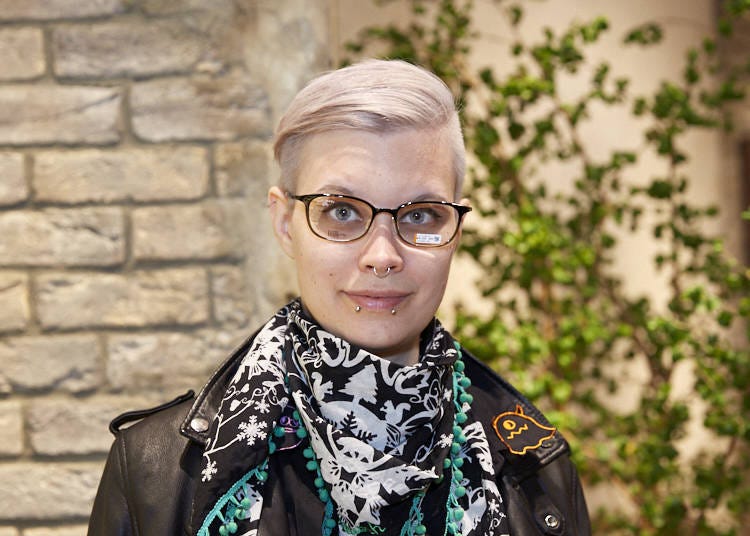 Zoff SMART Skinny ZJ71016_D-2
Next up is a green-based Wellington frame. It matches the color of Pamela's blue eyes and boasts a sophisticated look. This frame is a "Zoff SMART" product developed by the shop, meaning that it is made out of special plastic that is hard to break yet very light.

"I was always a bit worried about buying glasses in Japan, so I got mine in Germany. The staff here is very helpful and knowledgeable, though, so the hunt for the perfect pair becomes so much easier."

Because Zoff's glasses are ready in 30 minutes, the shop is popular among tourists as well. Choosing and adjusting the frame, determining the strength—getting a pair of glasses requires a lot of communication, which is why Zoff has iPads with interpretation software at the ready. It works in English, Chinese, Korean, Thai, Russian, Vietnamese, Spanish, and so on, making communication easy with specifically prepared questions and answers. Maybe that's why Zoff is so popular with international customers!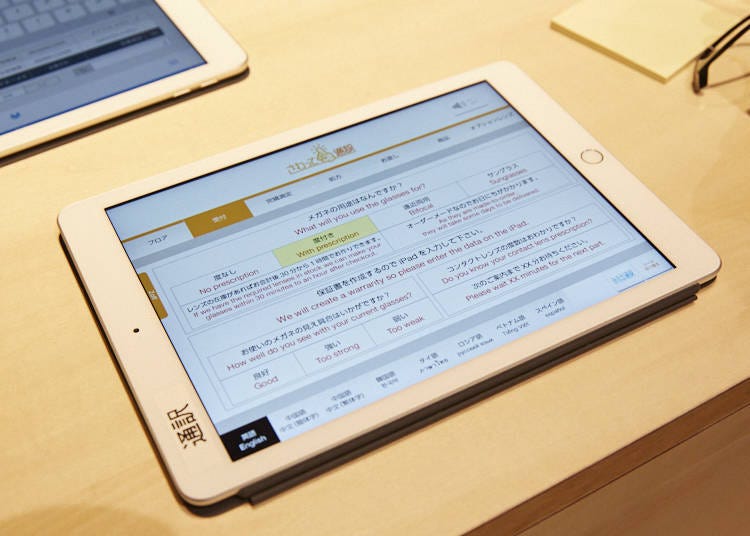 Last but not least, Pamela shows off her own choice of eyewear.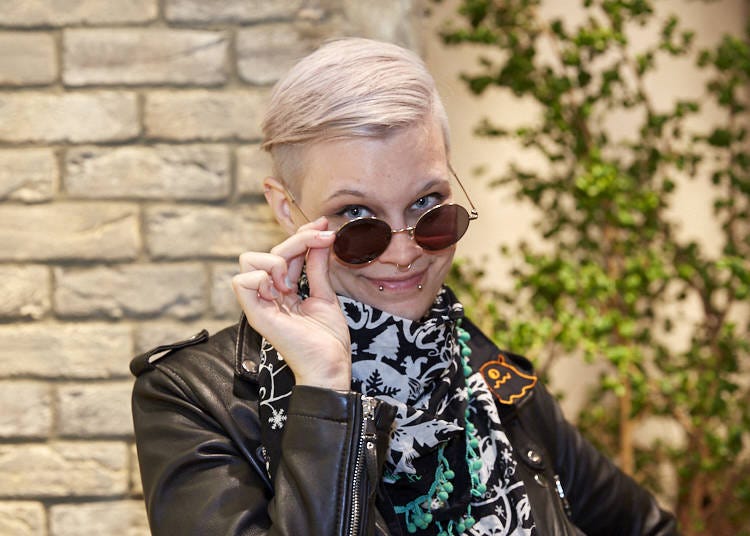 TREND SUNGLASSES ZP182G15_57E1
"I love round sunglasses, so I always go for that style. Those are particularly nice, they're modern and light."

Of course, Zoff offers prescription sunglasses as well. "I love wearing sunglasses, but I don't wear contacts, so that's definitely a great service."

"Glasses are an inherent part of daily life for many people. I like that this shop offers affordable glasses from up to 5,000 yen (tax not included), easily allowing you to have more than one pair to match with your outfits."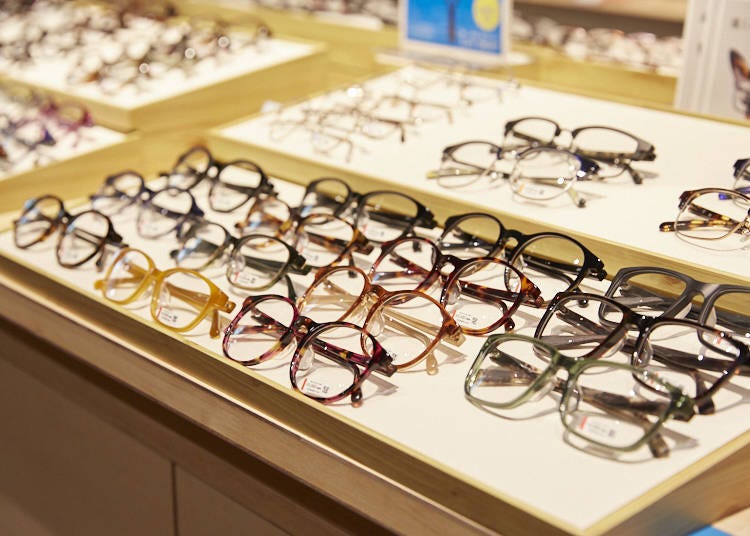 While Zoff's service to get you a new pair of glasses in 30 minutes is amazing, the shop also boasts great aftercare. There's a 1-year warranty on every frame and a 6-month warranty on the lenses.
KIMONO by NADESHIKO: Infusing Traditional Kimono with a Modern Aesthetic!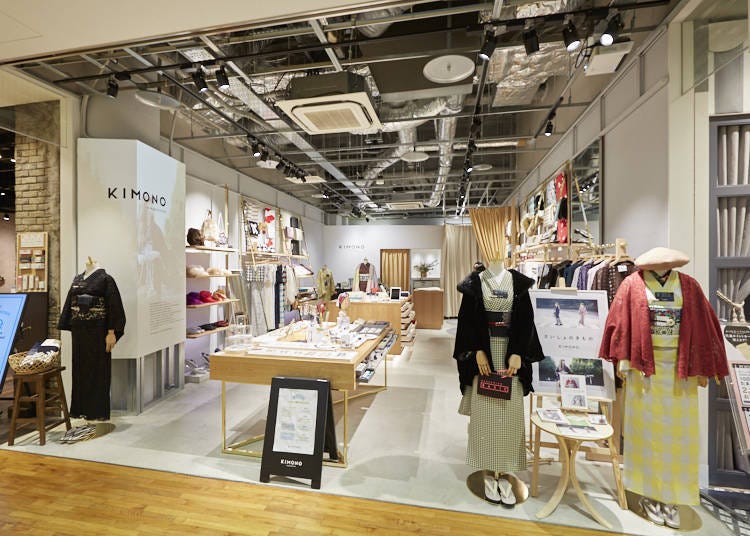 As Pamela left Zoff, she noticed an interesting shop right next to the eyewear store—KIMONO by NADESHIKO.

"Wow, those clothes are beautiful! They're kimono-inspired but look like everyday apparel."

Indeed, KIMONO by NADESHIKO creates casual clothing for modern women based on the aesthetic of the kimono, which was women's go-to garment for everyday life for centuries. Nowadays, kimono are mostly seen during the festival season in summer, but this shop seeks to infuse modern fashion with a hint of tradition.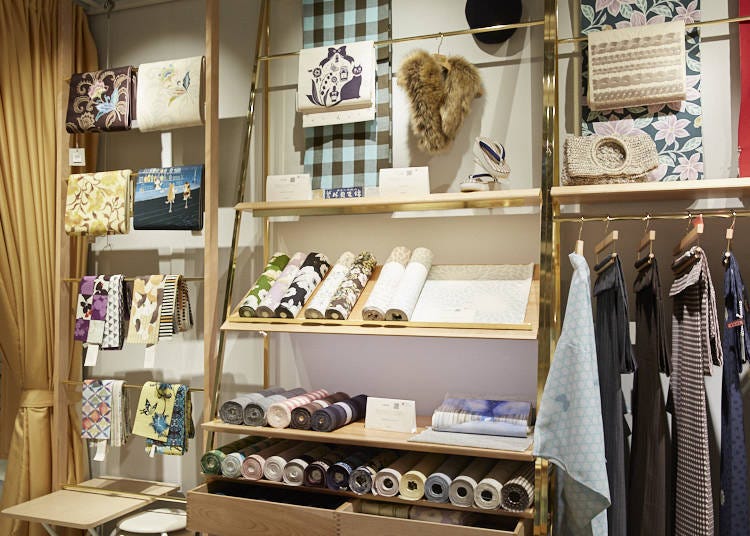 Inside the shop, we find clothes made out of kimono fabric, tailor-made kimono, and plenty of accessories that go with both modern and traditional outfits. Some of the kimono feature traditional patterns such as vivid flowers, while others follow a more western aesthetic and include plaid. Made out of polyester, these kimono can be washed regularly, and you can have one tailored to your size from 19,900 yen. There's no reason not to try one on!

"Tailoring takes about two to three weeks, apparently. I always had the impression that kimono aren't something fit for daily life, they're expensive, and hard to put on. But this shop offers kimono lessons for 500 yen per hour, so that's a great chance to make your first kimono experience, I think."

Pamela would have loved to try on a kimono, but unfortunately, she didn't have the time. Instead, she tried on a kimono-like jacket that is ready to be thrown over as it is!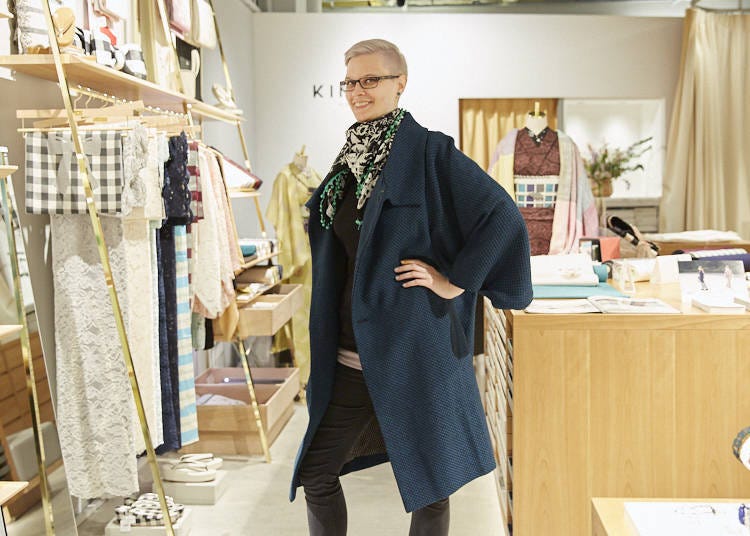 "That's a haori, right? A jacket you wear over the kimono. However, this one matches regular outfits just fine, doesn't it? I also really love these origami crane earrings, they're extra fancy. I think I'll buy that as a gift for my friend in Germany. I'm glad I found this shop, it's a real treasure trove."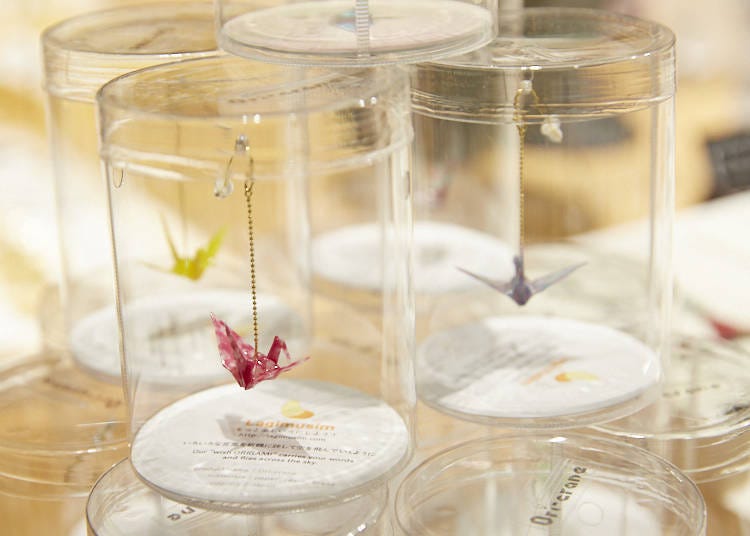 The staff tells us that many international shoppers stop by their shop. Ready-to-wear kimono that don't have to be tailored are available as well, so you could theoretically get a full kimono outfit here. Apparently, quite a few people make use of that and buy one just before returning home. For everyone interested in traditional Japanese fashion, KIMONO by NADESHIKO is a must.
Serendipity 3: Enjoying a Famous Dessert That's Both Cute and Tasty!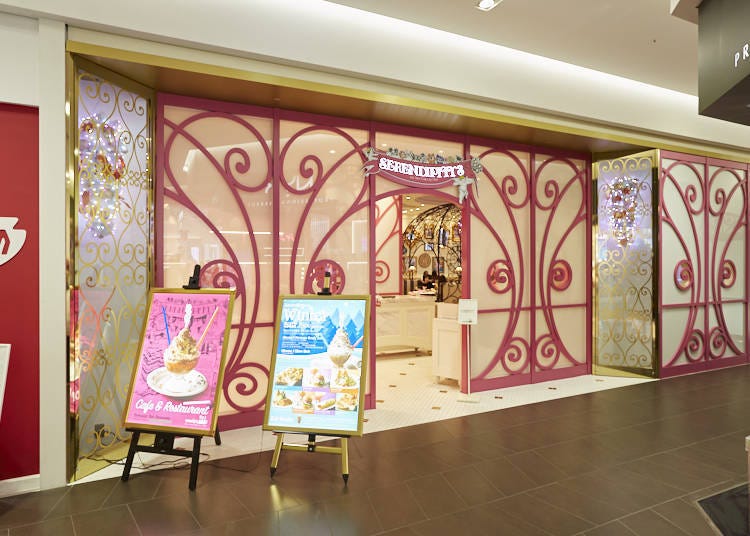 After that, Pamela took a leisurely stroll through the mall and stopped by a café called Serendipity 3. She decided to have a little break there.

Serendipity 3 is a café from New York's Manhattan, first opened in 1954. It's extensive, original menu perfectly captured the "American Style" and the shop quickly became a massive success. Artists such as Andy Warhol and various Hollywood celebrities are the café's most famous patrons. In 2001, the iconic spot even made an appearance in the movie "Serendipity," starring John Cusack and Kate Beckinsale.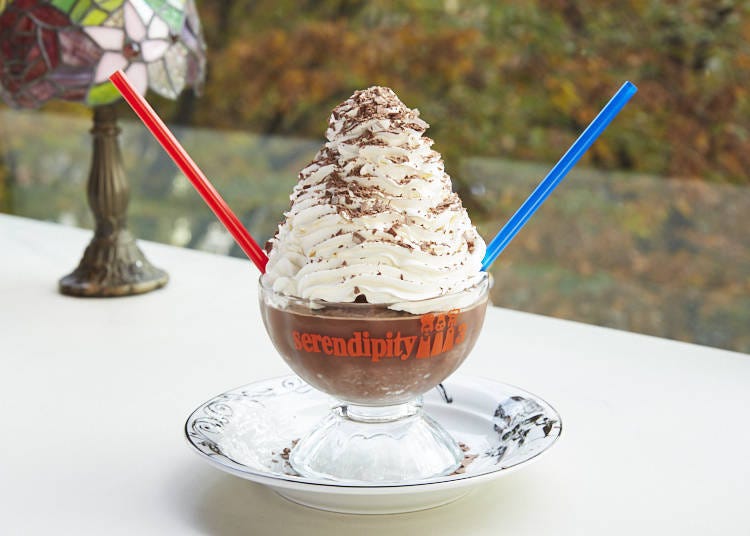 Pamela ordered the famous "Frrrozen Hot Chocolate" (1,690 yen), the most iconic item on Serendipity 3's menu. The chocolate here is all about cocoa, a flavorful blend of 14 different kinds of chocolate, topped with a rich mountain of whipped cream that towers 20cm high. Before even tasting this sweet treat, we guarantee that you'll be overwhelmed by its visual impact! It's impossible to not get excited!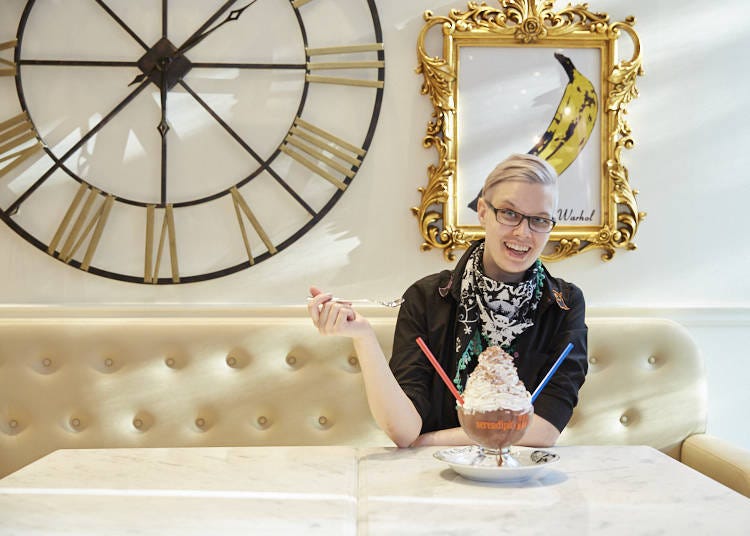 "So much whipped cream! This is paradise for everyone with a sweet tooth. I highly doubt that I can finish all of this by myself."

This dessert is the regular size but also available as a smaller portion. Next to desserts, Serendipity 3 also offers various other dishes from classic American cuisine, pampering you with delicious food from lunch to dinner.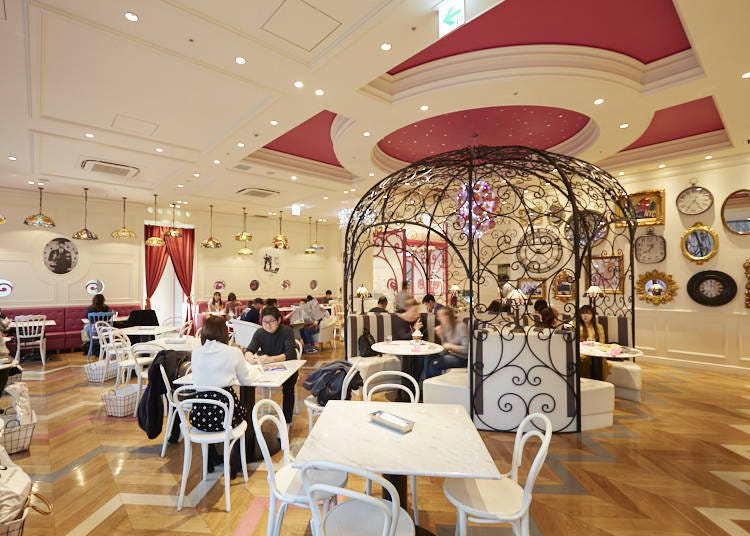 The store is dotted with church medallions, giant clocks, and more, imitating the main shop in New York. Of course, the café has an English menu and welcomes many international diners who seek to try the famous desserts. From the moment you sit down, you're engulfed by a modern American atmosphere—the urge to take pictures of the stylish interior and the fancy food is impossible to resist.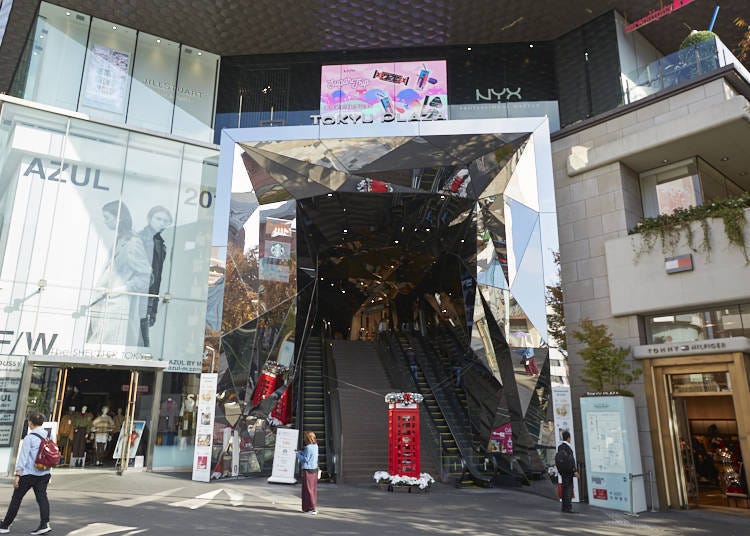 "From modern kimono to amazing restaurants, I'm surprised just how many different shops can be found inside Tokyu Plaza Omotesando Harajuku. The atmosphere is nice, everything has that nice 'Japan' feeling to it, and my shopping experience was wonderfully relaxing. I'll definitely come back for more. Usually, I go to nearby places such as Takeshita Street and Kiddy Land to buy souvenirs for friends and relatives, but this will become one of my new go-to spots."

Tokyu Plaza Omotesando Harajuku is indeed a curious amalgamation of fashion, cosmetics, accessories, and gourmet, all united under the glitz of Omotesando and avant-garde spirit of Harajuku. It's no surprise that this spot has become of the area's trendiest, representing its character like no other. Why not follow Pamela's footsteps and enjoy a flavorful avocado toast before going on a hunt for stylish souvenirs and unique gifts?
TOKYU PLAZA OMOTESANDO HARAJUKU

東急プラザ表参道原宿

Address

4-30-3 Jingumae, Shibuya-ku, Tokyo, 150-0001


Nearest Station

Harajuku Station (JR Yamanote Line)
4 minutes on foot


Phone Number

03-3497-0418

*This information is from the time of this article's publication.
*Prices and options mentioned are subject to change.
*Unless stated otherwise, all prices include tax.