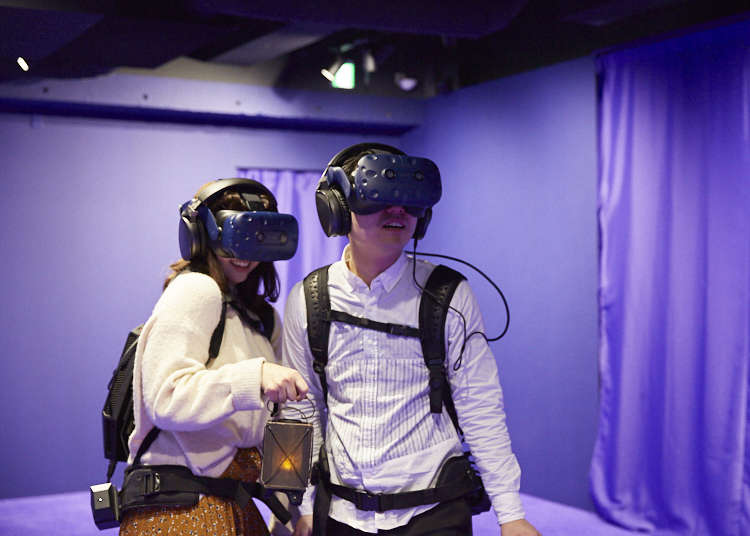 Tyffonium Shibuya is a virtual reality (VR) theme park and cafe in Shibuya that opened its doors in winter 2018. This fun spot is the next generation of sensory entertainment that skillfully blends the real and virtual into a "mixed reality" experience. So what exactly does Tyffonium Shibuya have to offer? We made our way down as quickly as we could to find out!
Tyffonium Shibuya - VR theme park and cafe in one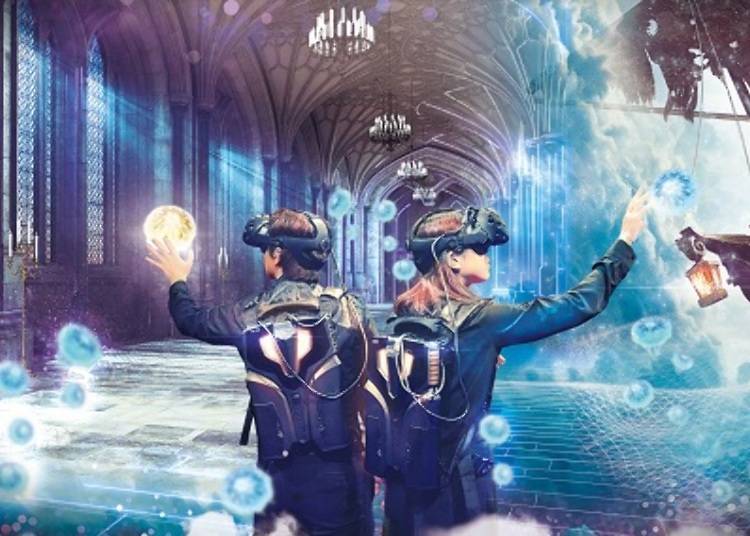 Tyffonium Shibuya is a VR theme park where you can experience VR outside the context of a video game. In case you're still wondering, VR refers to objects or spaces that don't actually exist in reality; ergo, "virtual" reality. AR, or Augmented Reality, on the other hand, refers the creation of objects or spaces that don't exist in reality, and then superimposing them on to the actual physical world. MR, or Mixed Reality, is the result of fusing these two concepts, allowing for a virtual space that feels much closer to reality. It is a brand-new type of VR where you can see both yourself and those playing with you within a virtual space. Through MR, Tyffonium Shibuya is able to provide an engrossing experience to visitors. It will be as if they have walked off the streets of Shibuya directly into a magical new world of amazing new sensations.
Welcome to the "Corridor" - a horror experience so real, screams are all but guaranteed!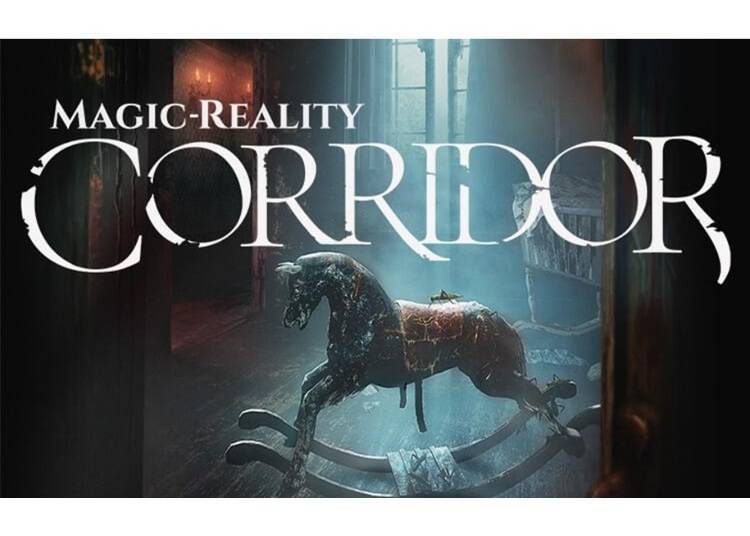 There are two types of experiences you can choose from. The first is "Corridor" - a next-generation horror attraction that has you exploring an old, run-down western-style manor. Up to four can take part together as a group. As you wander down the mechanism-filled hallways, you'll find yourself getting sucked into the story behind this new world you've inadvertently stumbled into. "Corridor" costs 2,400 yen (tax included) per person and takes about half an hour to complete.
Fantasy attraction "Fluctus" brings out the reality in VR with wind and mist!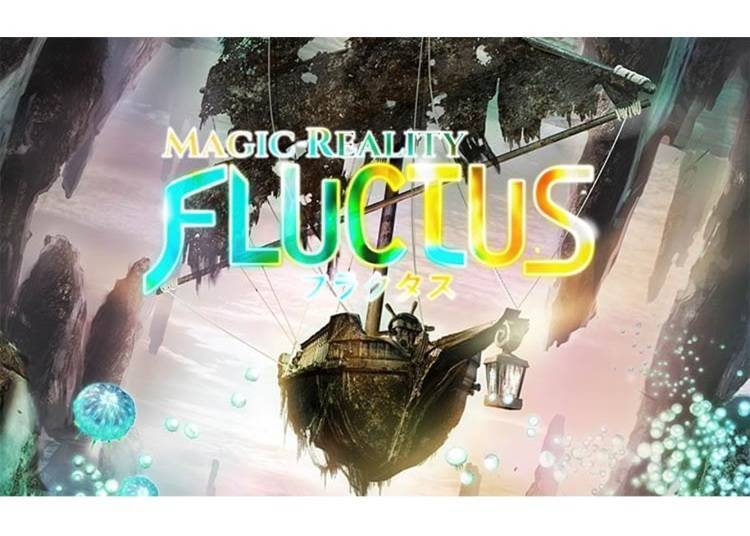 The other experience you can choose is "Fluctus". This is a fantasy attraction where you play the part of a navigator exploring another world in a ship. Try to keep your balance on shaky floorboards as the winds whip against your face. Up to five players can have a taste of this ultra-realistic adventure together. Fluctus costs 2,000 yen (tax included) per person and takes about 20 minutes to complete.
Or just chill out at Tyffonium Cafe, if that's your cup of tea!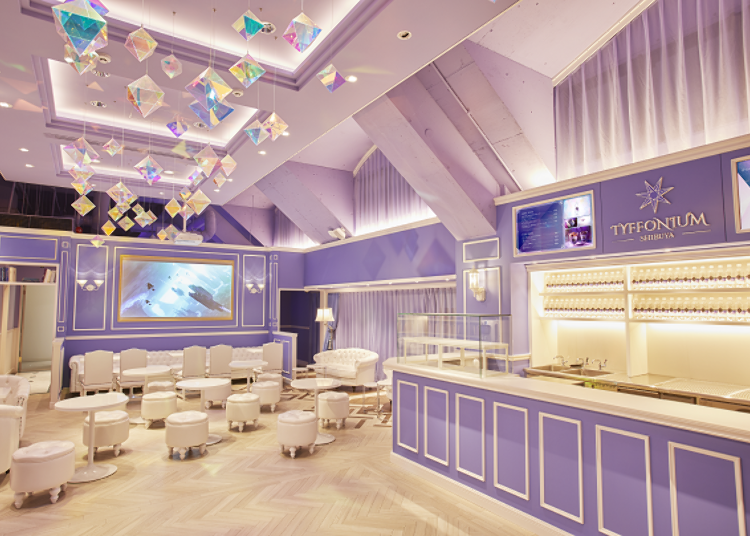 Tyffonium Cafe is located in Tyffonium Shibuya and was designed around the theme of an enchanted world.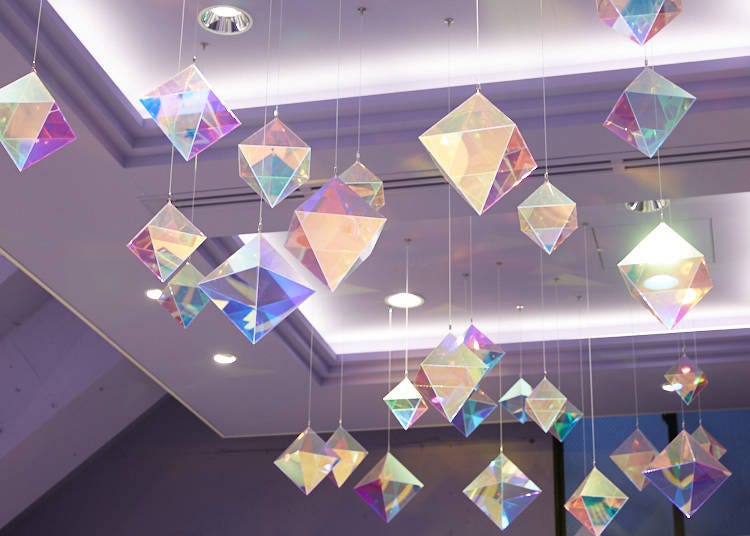 The prism decorations on the ceiling make the entire space quite photogenic. Snacks and beverages are available for purchase. You can relax here before heading for the experiences, or use it to take a short breather in between them. Or just visit it like you would a normal cafe - it's entirely up to you!
Sō from Taiwan will take us through the Tyffonium Shibuya experience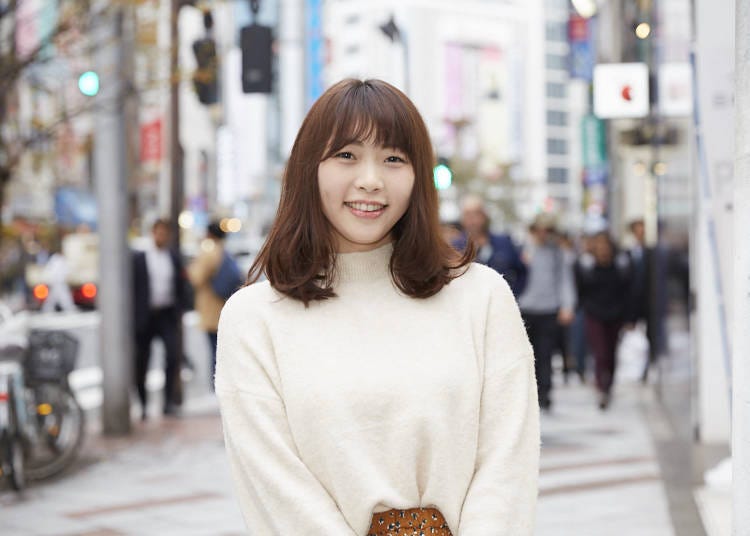 Sō was born in Taiwan and is currently working in Japan. She's looking forward to the experience, but has some doubts about it as well. In her own words: "I'm anxious because horror games and haunted houses are not my kind of thing at all, but since it's also VR, I do wonder what it'll be like, so there's a bit of excitement there as well! I'm still kind of nervous, though..."
Onwards to the horror attraction "Corridor" right away!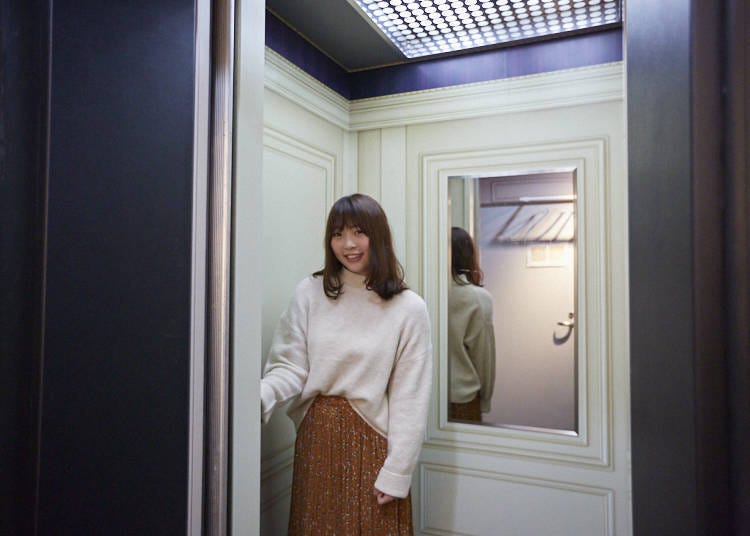 We decide to try out the horror attraction, Corridor. An elevator will take us to the eighth floor, where the reception is. The mood changes the moment we step into the elevator.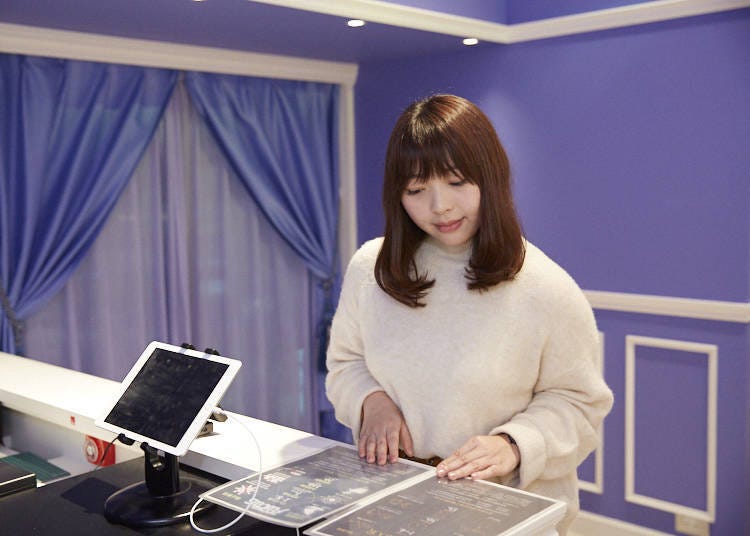 Choosing your preferred attraction is done at the reception. You'll only be able to buy a same-day ticket if there are still free slots available at the time of selection. Since there's a limited number of people allowed in the attraction at once, the best way to ensure entry is to book your preferred time slot online before heading down.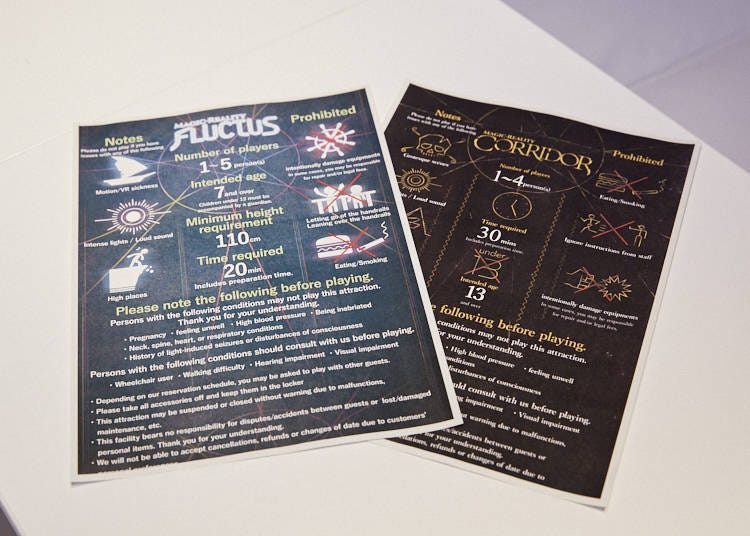 All nationalities are welcome here. In fact, the facility is equipped with English menus and POCKETALK®, a machine translator. Leave your baggage in the lockers and wait at the cafe on the eighth floor for the staff to call you. The experiences will take place on the sixth and seventh floors.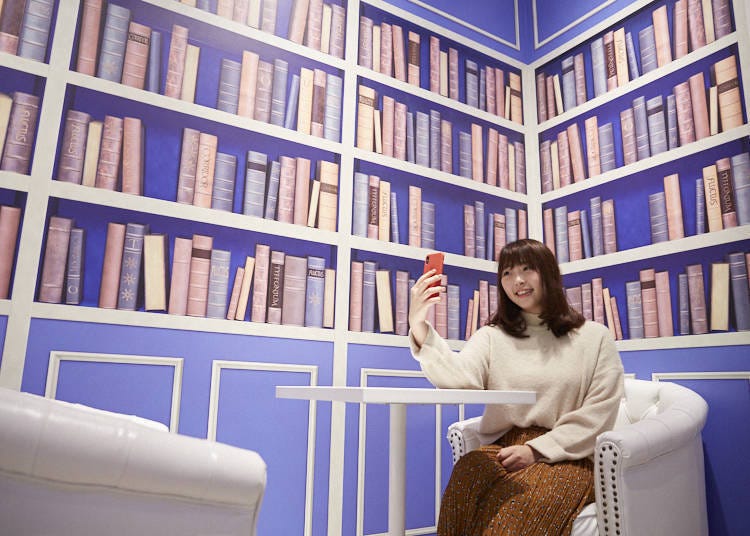 Tyffonium Cafe also serves as a waiting lounge for the attractions. It's built like a room in a fancy castle. Great for selfies and group photos alike!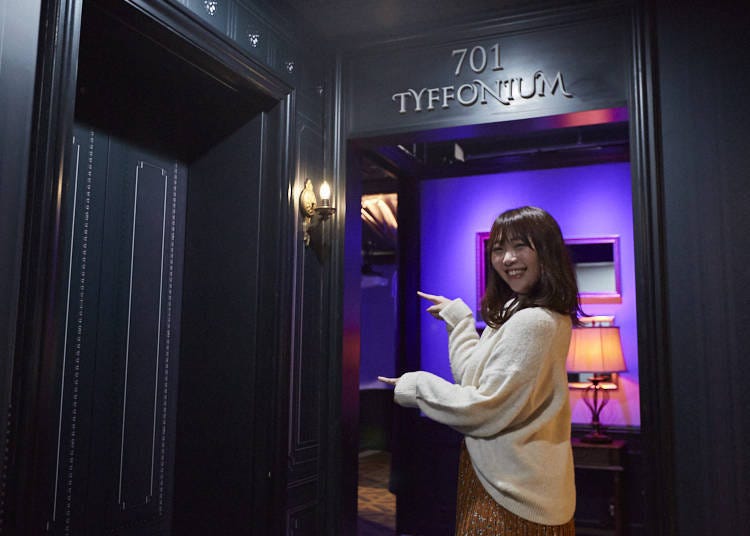 At long last, we're summoned by the staff. Our experience for today will take place on the seventh floor, so we descend the stairway into the room prepared for us.
Fear factors are at max even before the actual show has started!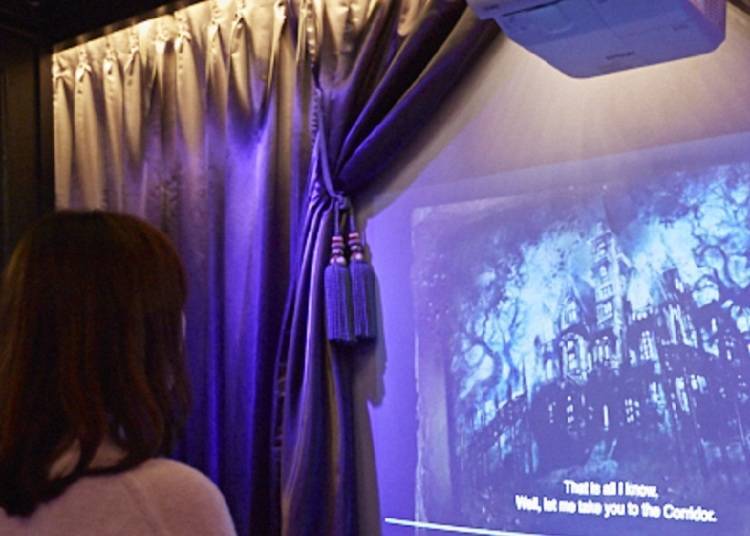 We're invited to watch an introductory video at a manor hallway with a single chandelier. The video gives out cautionary notes about the attraction and explains its content with English subtitles, making it easy-to-understand for international guests as well. Slowly, but surely, this unknown space we're about to experience is already starting to pull us in.
Sō shares her growing hesitation with us after watching the video. "I'm already scared!"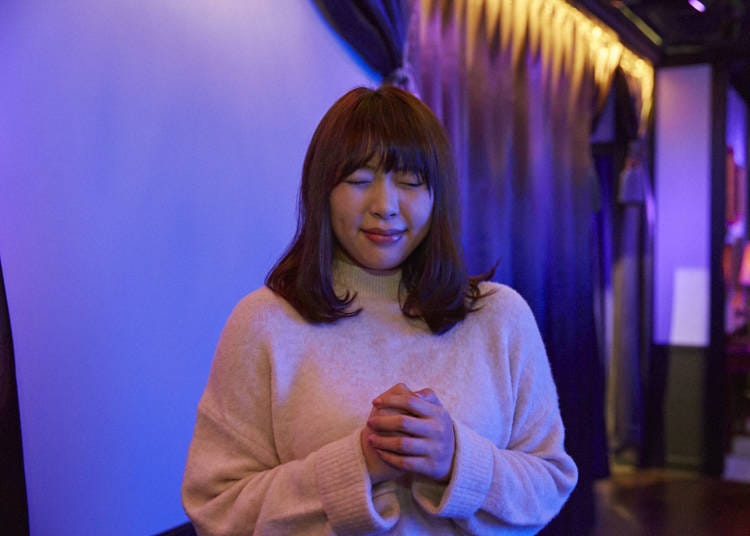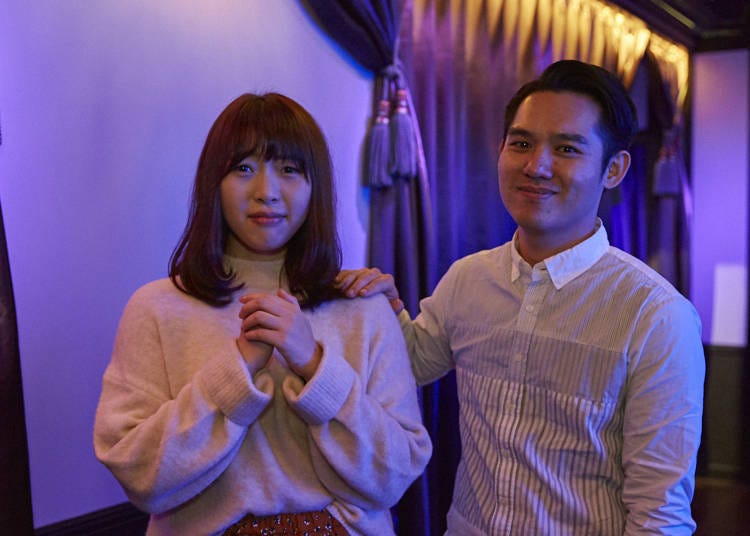 She enlists the help of her friend Kan, claiming she might not make it to the end otherwise. Kan is happy to be the support she needs. "I got your back!" is his heroic declaration.
It's time to experience Magic-Reality!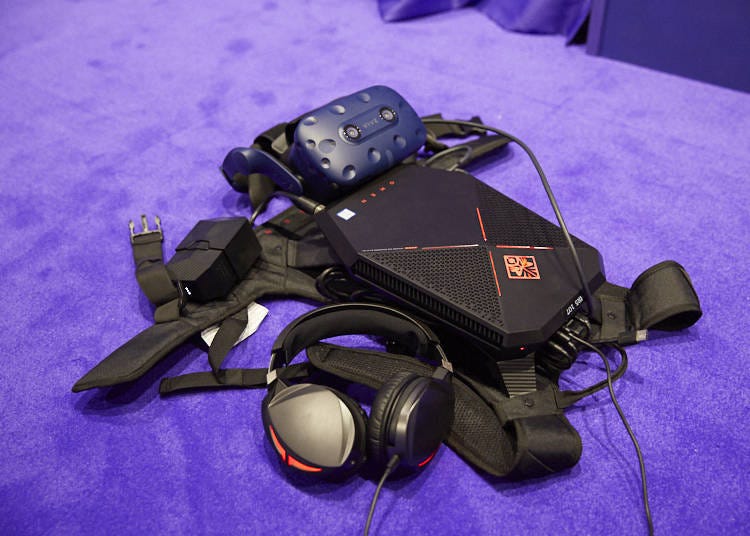 Here's the set of equipment you'll need for your MR experience.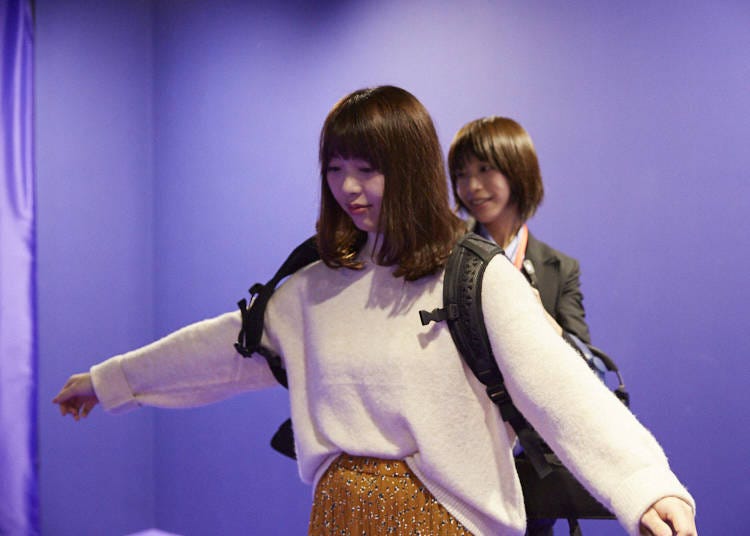 The skillful staff will put everything on in a jiffy for you.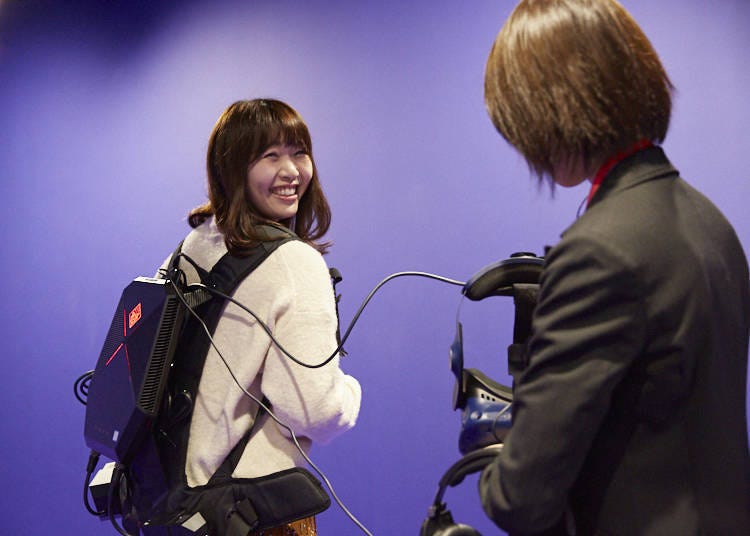 "Wearing this makes it even scarier!"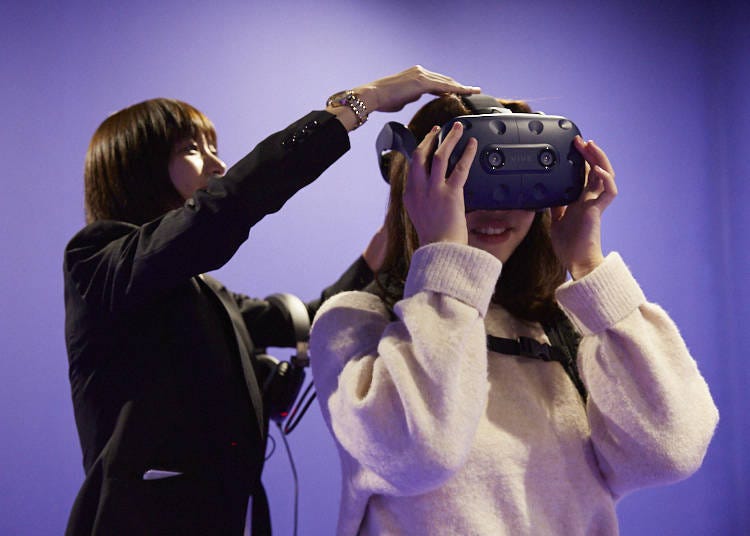 With the head-mounted display and headphones securely fastened, the world as you know it starts to fade out.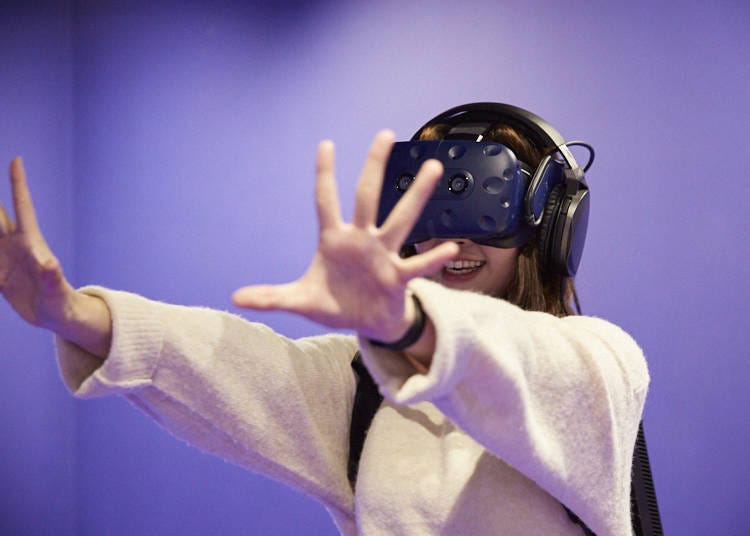 "What? This is scary already! Look! There's an elevator!" Sō animatedly rambles. Since we unfortunately have no way of seeing what she's seeing, we can't tell what exactly is making her so afraid. Sorry about that!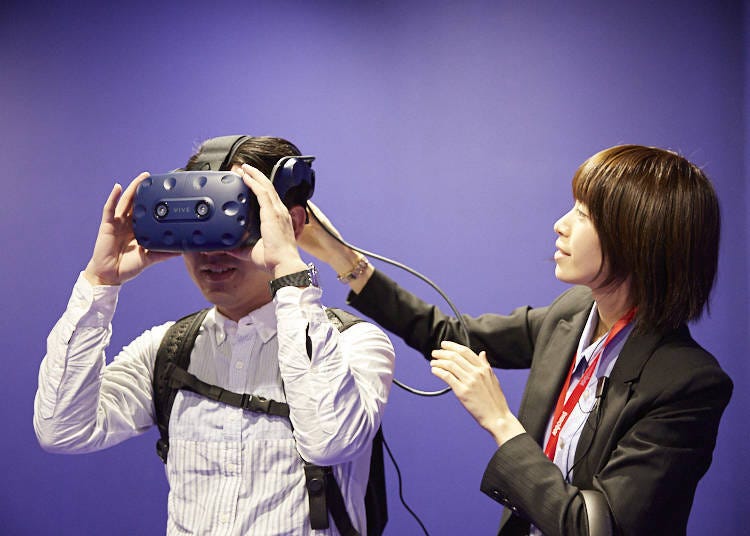 Next, Kan puts on his gear as well.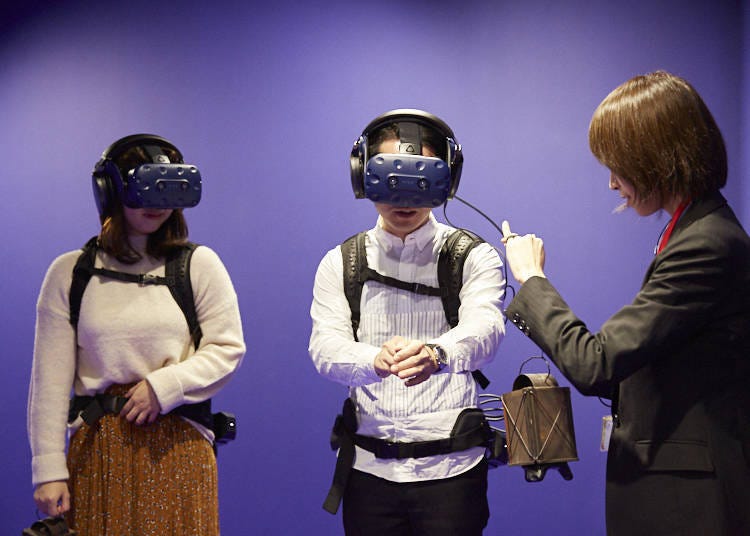 The duo are handed lanterns. They are given a ring to hold together with their other hand. This is done when there are two or more people in the attraction, as it helps them to stay together through the experience.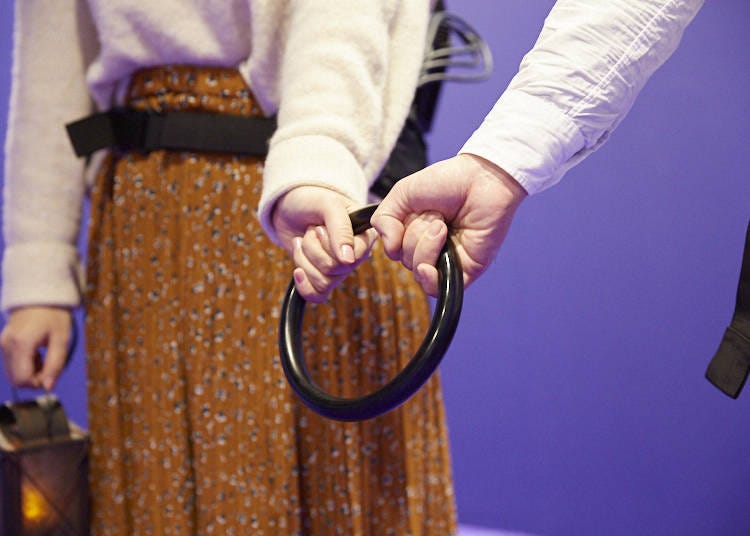 The staff instructs them to move ahead while holding on to the ring. If they follow the lighted rings on the path ahead, they shouldn't get lost. But, what if they do get separated despite their best efforts? They won't be able to come back together again. What happens then? It's terrifying to even think of.
All set!
The realistic journey of fear and non-stop screaming begins!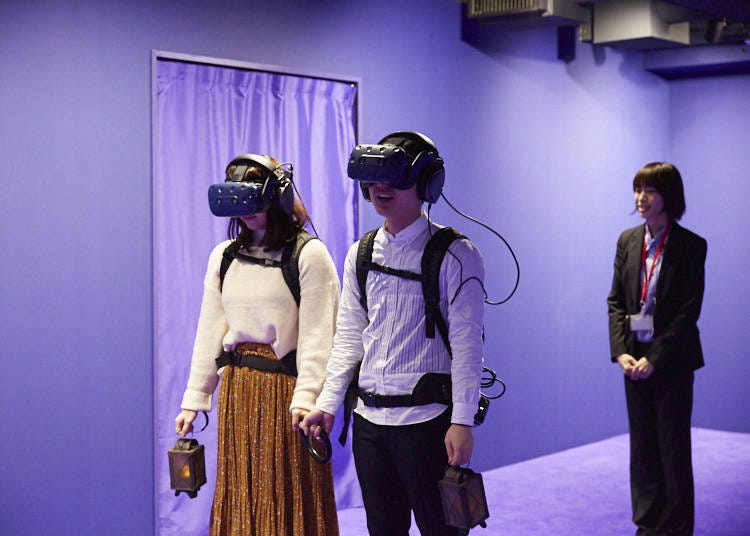 The pair's virtual journey of fear begins in earnest.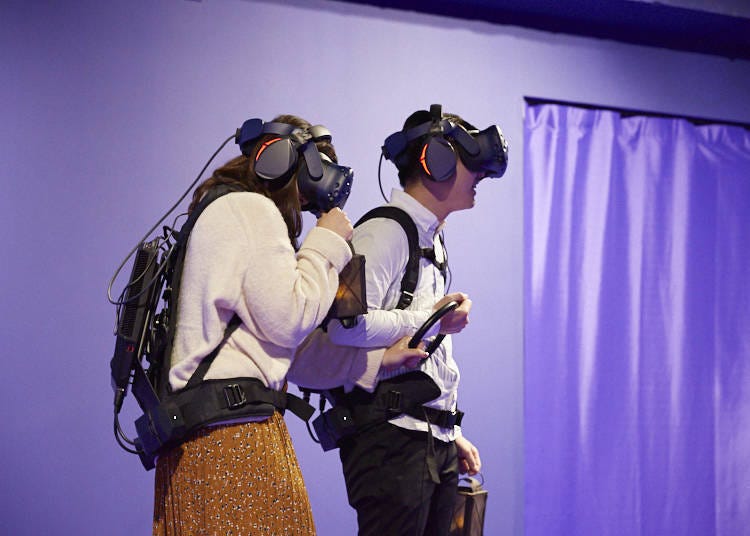 Right off the bat, Sō's fearful cries echo throughout the room.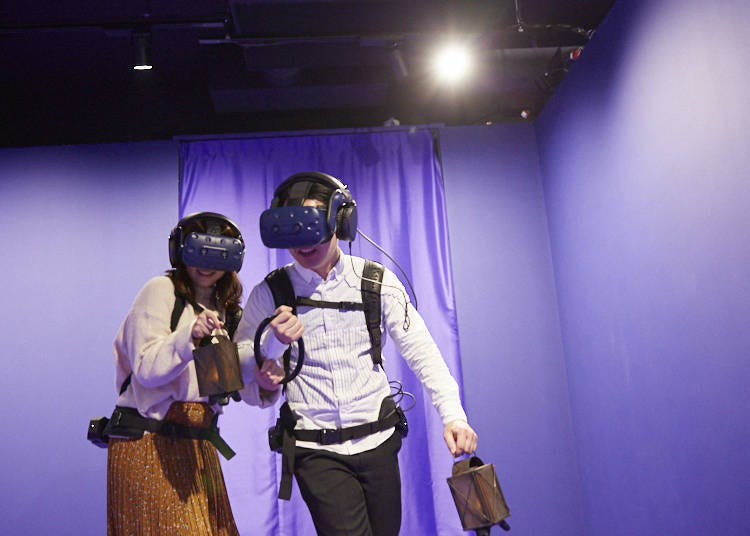 "I can't do this!" Sō keeps shrieking at visuals that look completely safe and peaceful from the outside. It goes to show just how thrilling it must be to be actually walking through this special space.

The pair continue to move through the attraction amidst Sō's fearful cries and occasional attempts to give up. Just to be clear, you're definitely allowed to quit halfway through if things get too much for you to handle. However, that ends the experience for the entire group as well, so most people choose to cling on until the very end. Still, around one in 100 people have chosen to quit the attraction halfway through.
The journey is finally over. The staff assist the pair in removing their gear.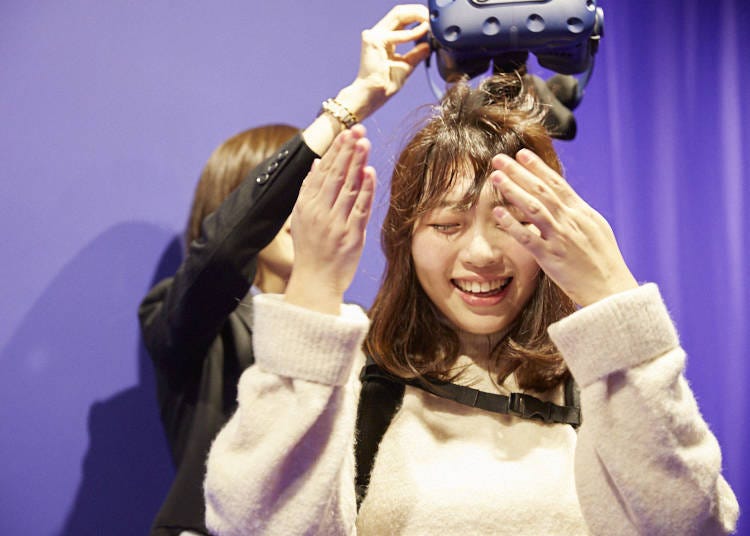 Sō after the experience.
"That was terrifying!"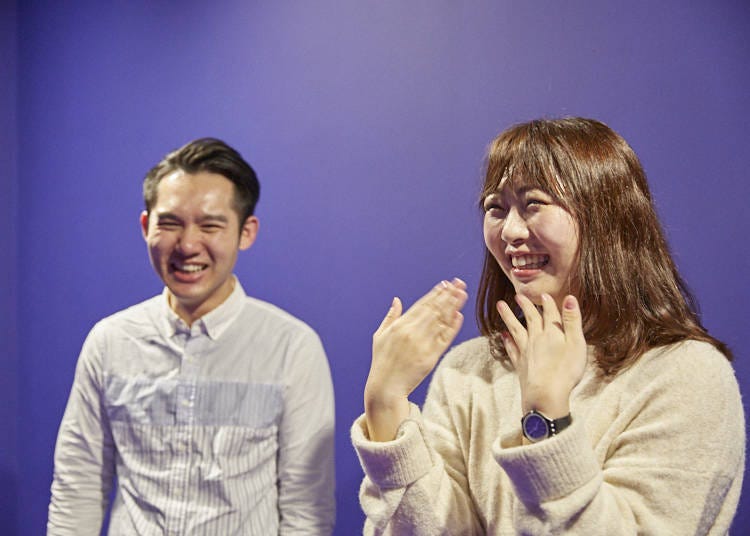 Kan, on the other hand, gushes about how exciting and surprisingly long the entire journey felt like, even though it was just 15 minutes in real life! The sensory overload must have made it seem like time had stood still!
Thoughts about the experience?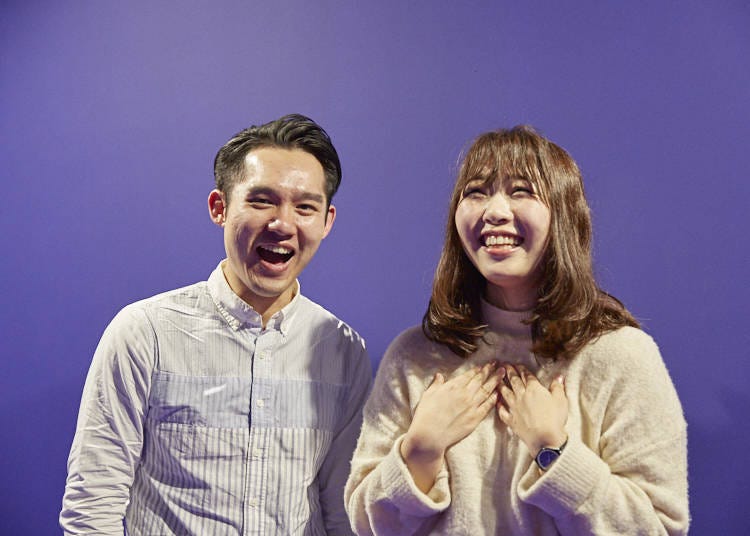 We ask the pair what they think about the experience.
Sō: "I was scared stiff! The sound and everything was just so real!"
Kan: "I had great fun! It was like I was in an actual movie, moving through the scenes myself! It was amazing! I'd love to try it again! In fact, I want to try the other experience, 'Fluctus' too!"
Despite the different reactions, it seems safe to assume that both thought the "realism" in the experience was off the charts.
Come and enjoy an entirely new type of entertainment at Tyffonium Shibuya!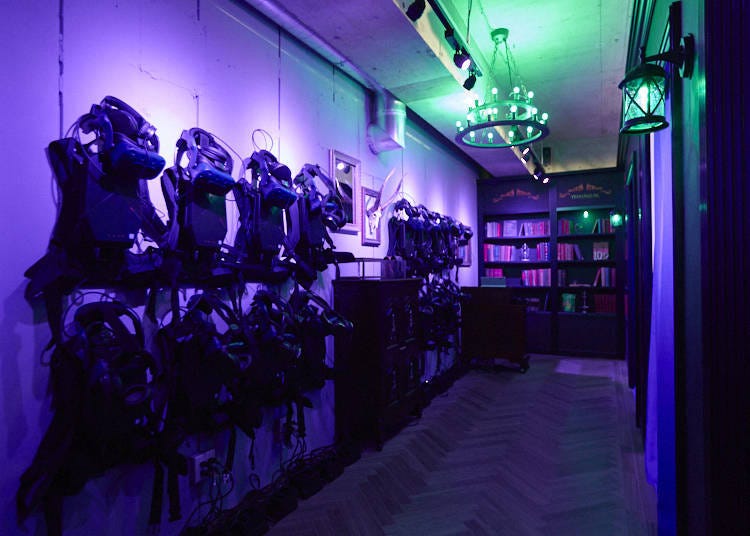 Looking at the pair, you can't help but feel like trying out the attraction yourself too. What sort of sensations will you feel, and how real will the experience be? Well, if a picture is worth a thousand words, then an experience is surely worth millions. Trying is believing! And you can definitely try out this latest brand of entertainment in trendy Shibuya right now!
Free popcorn for Live Japan readers!
If you visit "Corridor" or "Fluctus" as a group with two or more participants, you'll get to enjoy ONE "caramel & cheese" or "chocolate" popcorn completely free! Don't miss out on this great offer!

* Only one free popcorn per group
* Does not apply to the new attraction starting in February
* Cannot be used in conjunction with other promotions

How to redeem:
Show the "Tyffonium Shibuya" article featured on Live Japan to the reception staff.

Valid until:
End of March 2019
VR Theme Park and Cafe TYFFONIUM SHIBUYA

VRテーマパーク×カフェ TYFFONIUM SHIBUYA

Address

Kiyama Building 6-8F, 27-4 Udagawa-cho, Shibuya-ku, Tokyo, 150-0042


Nearest Station

Shibuya Station (JR Shonan Shinjuku Line / JR Yamanote Line / JR Saikyo Line / Tokyo Metro Ginza Line / Tokyo Metro Hanzomon Line / Tokyo Metro Fukutoshin Line / Tokyu Toyoko Line / Tokyu Den-en-toshi Line / Keio Inokashira Line)
3 minutes on foot


Phone Number

03-6416-4701
*This information is from the time of this article's publication.
*Prices and options mentioned are subject to change.
*Unless stated otherwise, all prices include tax.