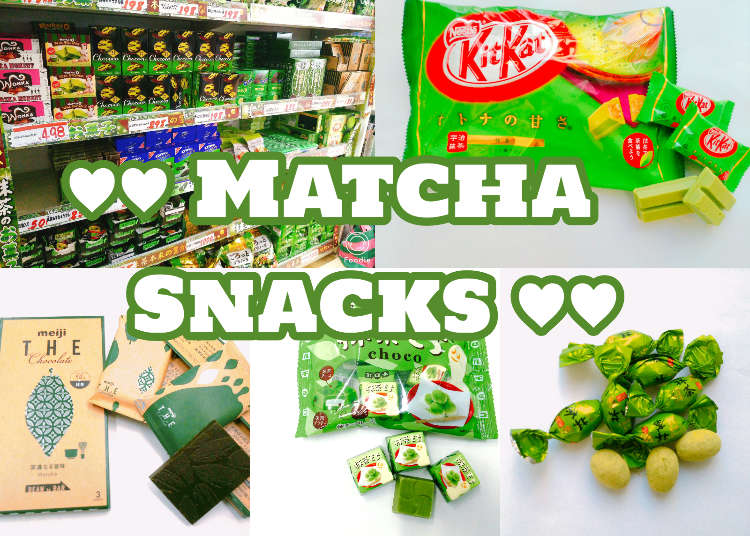 Matcha is a flavor you can find in many snacks and drinks here in Japan. However, with all these tasty looking treats, which is best to choose?! We looked to the beloved Mega Don Quijote's Shibuya location to find the answer! We tried their wide variety of matcha goodies and selected our top ten!
1. Tirol Choco Matcha Mochi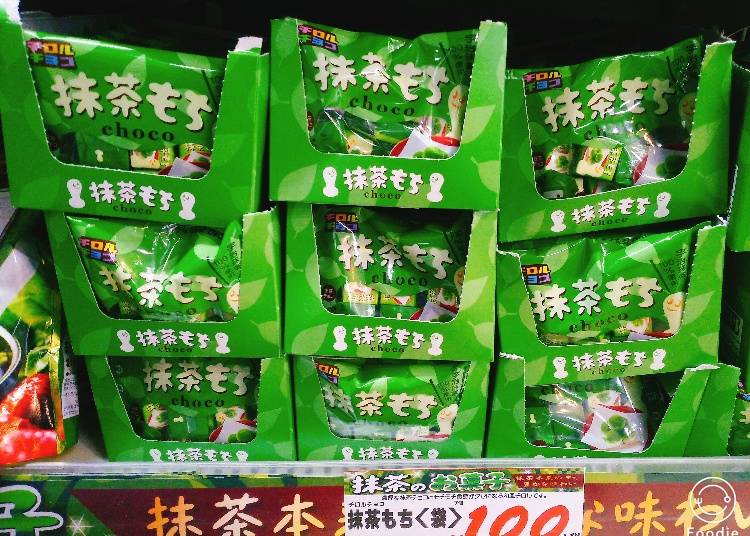 Using matcha chocolate, matcha powder, and mochi gummy, this treat is just about as Japanese as you can get. Some of you may be familiar with this popular brand of chocolates as they are an inexpensive snack sold in Japanese convenience stores for just 10 yen each!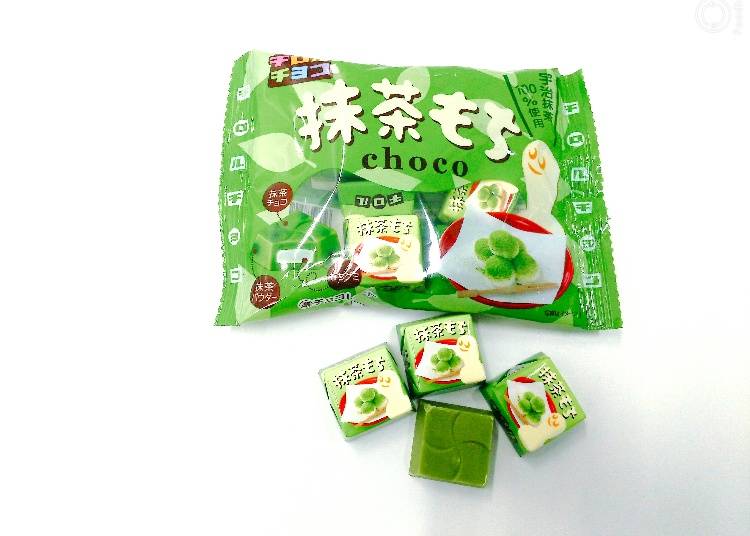 ▲Tirol Choco Matcha Mochi /チロルチョコ 抹茶もち 100 yen
These matcha chocolates are the perfect balance of the sweetness of chocolate with a hint of bitterness given from the matcha. The mochi adds a chewiness to it, giving an interesting texture to this tasty treat! These cheap bite sized snacks are well worth your yen!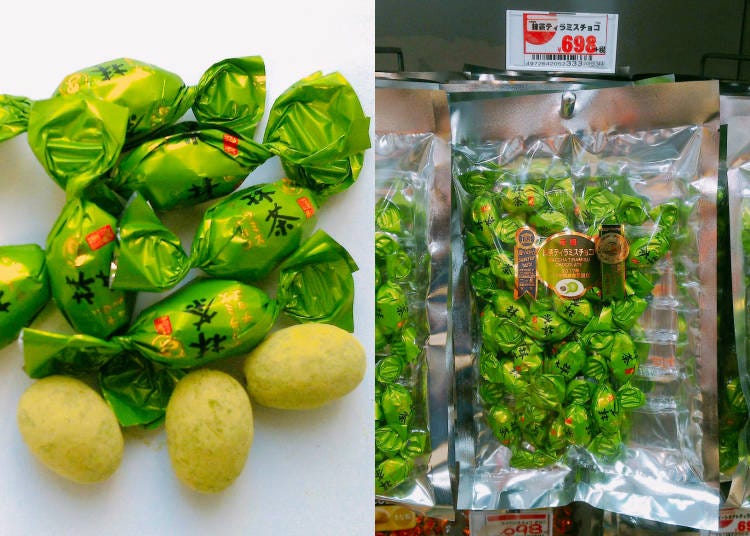 ▲Matcha Tiramisu Choco /抹茶ティラミスチョコ698 yen
These bite-sized chocolates are especially popular among tourists here and are sure to get you hooked! Matcha Tiramisu chocolates are roasted almonds coated in caramel, mascarpone, cream cheese, and matcha powder and are just irresistible. The matcha flavor is there but isn't too strong, so even those not too keen on matcha snacks are sure to like this!

The best part about these tiramisu chocolates is that they come in a huge bag so you will be set for a long while!
3. Meiji The Chocolate: Matcha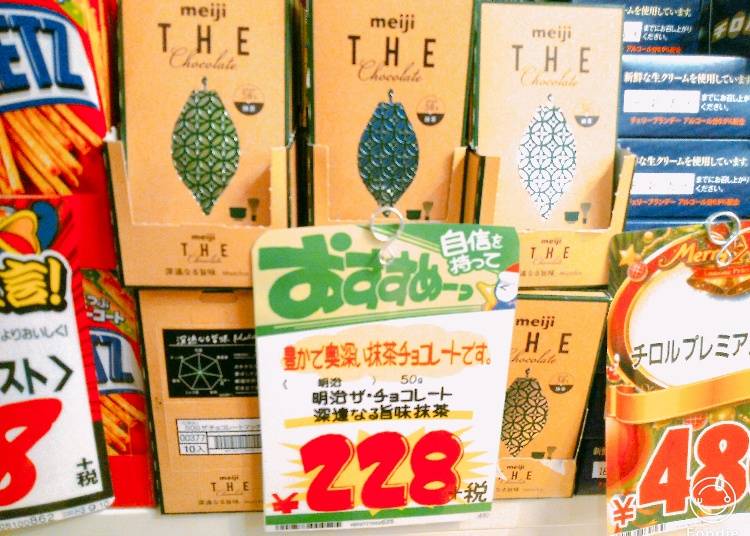 Meiji's line of award-winning "The Chocolate" chocolate bars uses high quality beans to produce the perfect sweet, and is perfect for any chocolate lover! While Meiji is a company known for making chocolate, these bars have made a big impression in Japan during 2017. Their great taste, exceptional value, and trendy packaging made it an instant hit. They also have flavors other than matcha for you to sample while you are here!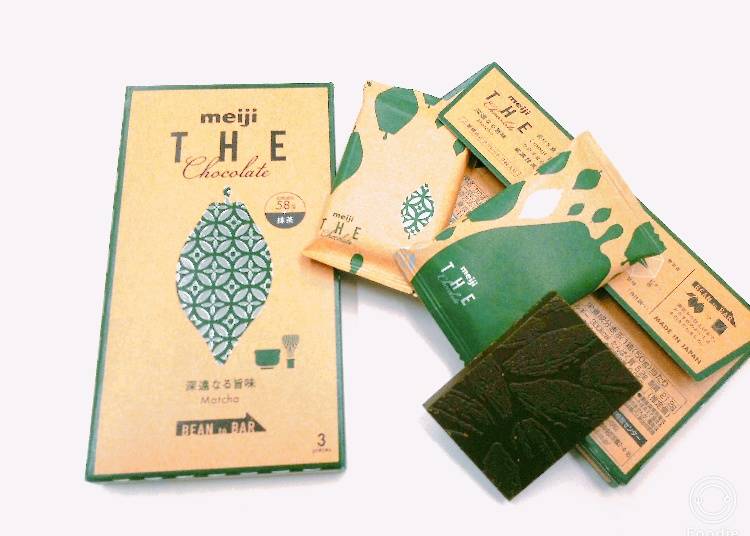 ▲Meiji The Chocolate: Matcha /明治 ザ・チョコレート 深遠なる旨味 抹茶 228 yen
This chocolate is bound to be something new to anyone that tries it. Using dark chocolate and matcha together, you can experience something completely original! At first glance this looks just like dark chocolate, but once you bite into it you notice there is a deep green color to it—the matcha! The matcha also adds a unique flavor that you won't find in any other chocolates. While dark chocolate is known for being rather bitter, the matcha makes it a different kind of bitter that you just have to experience to understand!

While this treat does not give off a huge matcha flavor, it's a great modern twist for chocolate lovers and matcha lovers alike!
4. Morinaga Matcha Caramel Bag
Morinaga, a famous confectionery company in Japan, has been around for over 100 years, and it's easy to see why after tasting these matcha caramels!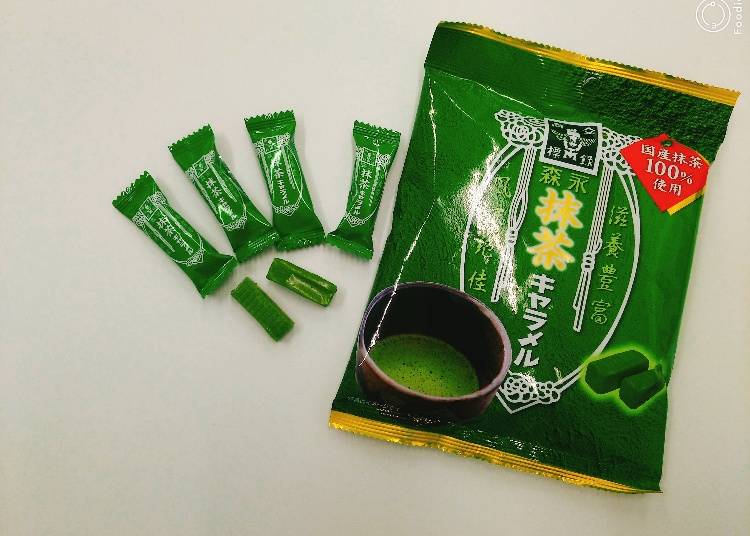 ▲Morinaga Matcha Caramel Bag/森永 抹茶キャラメル袋 198 yen
For beginners of matcha or those who aren't yet a fan, this is a great snack to start with! Morinaga's caramels have been around for years because they are flavorful and affordable. While matcha is known for being a bit bitter for some, these gooey caramels are definitely more on the sweet side! These are sure to please anyone's sweet tooth as they keep the matcha flavor while getting rid of its known bitterness. Yum!
5. Meiji Meltykiss First Flush Green Tea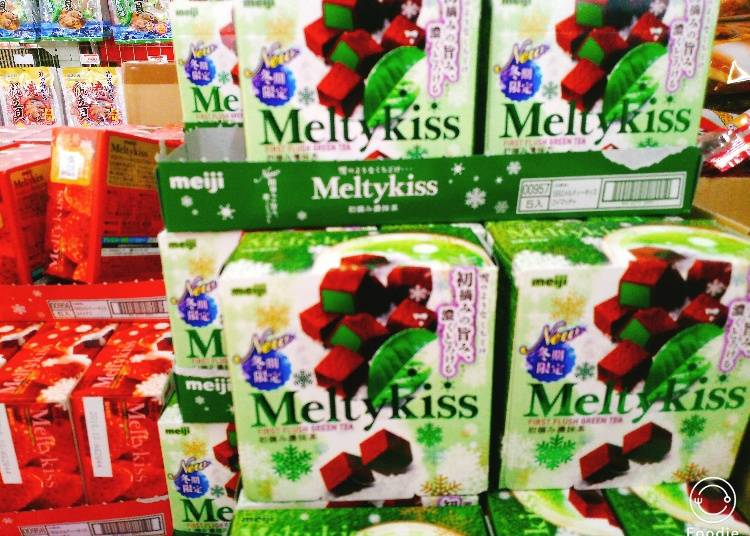 While it may be the interesting name of "Meltykiss" that piques your interest, these delicious chocolate cubes really do melt in your mouth! The sweet chocolate with cocoa powder on the outside go well with the creamy yet thick matcha filling.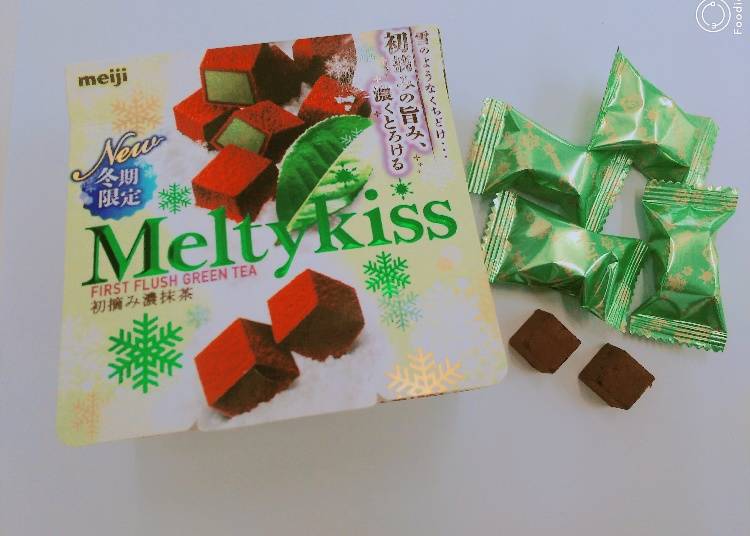 ▲Meiji Meltykiss First Flush Green Tea/メルティーキッス 初摘み濃抹茶 238yen
You won't even need to chew these chocolates, as Meiji brags that this really "melts in your mouth as if it was snow."
6. Meiji Galbo Matcha Milk Pocket Pack
Also made by the well-known Meiji company, these little bags of chocolates are absolutely delightful! The Galbo series of sweets really never fails to please. The overall unique texture and stronger flavor of the matcha-chocolate coating goes well with the milky flavor of the crunchy cookie inside, making a really flavor balanced, tasty tidbit! Other than matcha, these come in flavors like strawberry, caramel, chocolate, and more.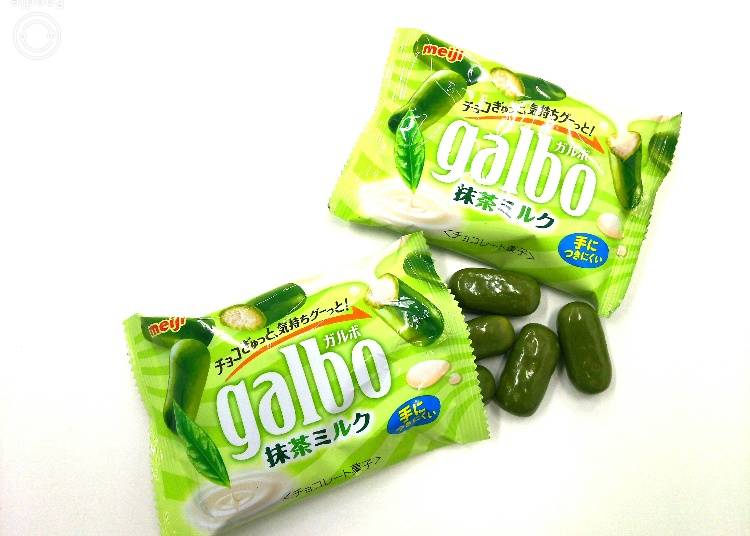 ▲Meiji Galbo Matcha Milk Pocket Pack/ガルボ 抹茶ミルクポケットパック 78 yen
These are a very unique Japanese snack that we really recommend!

These Galbo Pocket Packs would be perfect for a souvenir, or even as a snack when you're on the go and just need something sweet!
7. Meito Uji Matcha Chocolates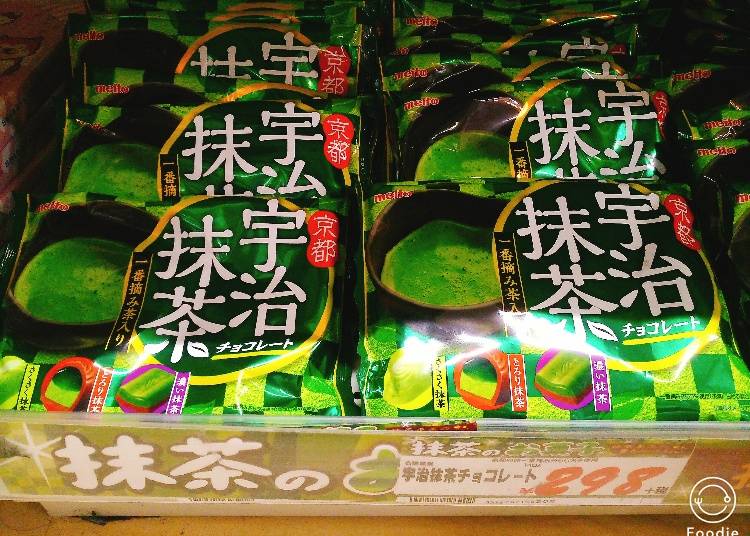 This bag is bursting with matcha goodies! With three different kinds of matcha chocolates to choose from, you are sure to find something you love. They have crunchy matcha, creamy matcha, and strong matcha flavored chocolates in this bag.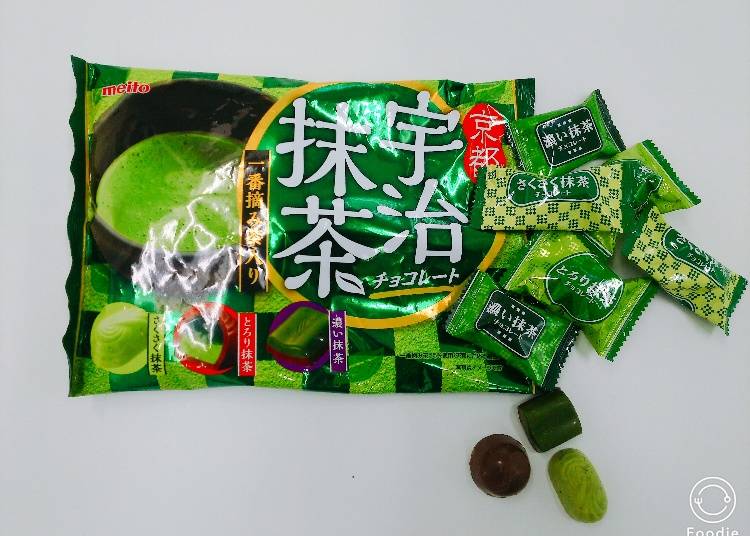 ▲Meito Uji Matcha Chocolates/メイトウ 宇治抹茶チョコレート 298 yen
The crunchy matcha is a pale green and has a lighter matcha flavor. The creamy matcha snack is like a tiny truffle with some amazing gooey matcha inside, with just a faint bitterness! The strong matcha is a deep green with chocolate on the bottom and while has a definite matcha flavor, is not overpowering thanks to the chocolate at the bottom!
8. Meiji Rich Matcha Biscuits
If you haven't been able to tell, matcha and chocolate go really, really well together—and Meiji Rich Matcha Biscuits are no exception! In these sweet morsels, matcha cream is sandwiched between crunchy chocolate cookies. You will be sure to appreciate the blend of crisp cookie and amazing flavors! The deep and semi-bitter flavors of the chocolate and matcha pair well with each other, making it a treat you just won't want to stop eating!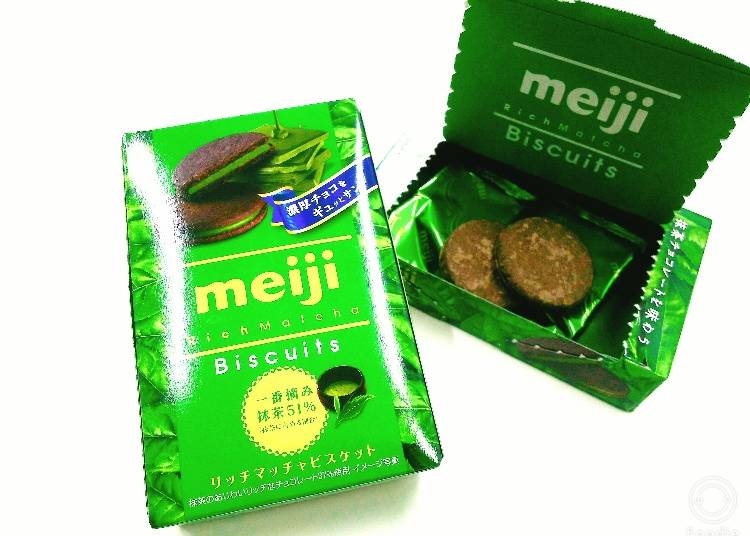 ▲Meiji Rich Matcha Biscuits/明治 リッチ抹茶ビスケット 238 yen
The box of Meiji Rich Matcha Biscuits even has a 3 step guide to enjoying these tiny cookies: With the first bite, appreciate the fragrance and taste of the matcha. With the second bite, pay attention to the deep flavor of the chocolate. Lastly, with your third bite you should appreciate how well they go together.
9. Chocopie "Wa" Cheesecake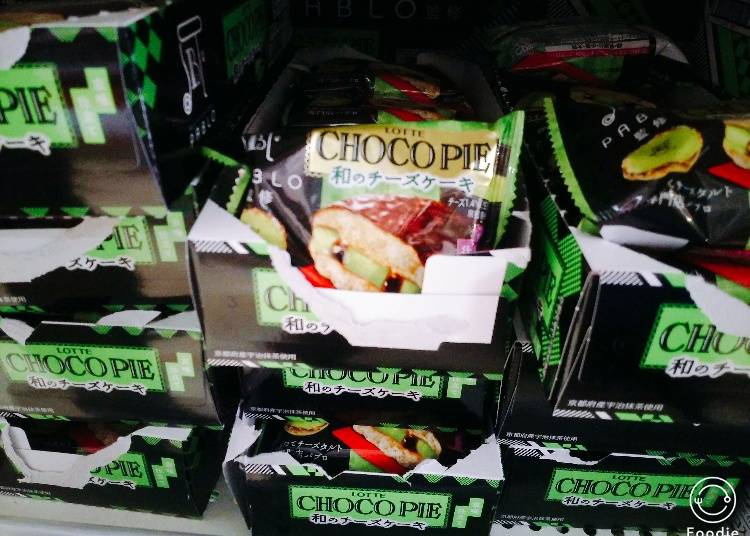 Being around since the 1940s, Lotte is a household name in Japan. Everyone knows Lotte and has enjoyed their snacks at one point in their life here!

Chocopies are a well-loved dessert throughout Japan, and have now collaborated with the most popular cheesecake chain in Japan: Pablo!
▲Lotte Chocopie "Wa" Cheesecakeチョコパイ/PABLO監修 和のチーズケーキ 京味仕立て> 88 yen
Teaming up they have made a Japanese-style cheesecake chocopie with matcha inside! The matcha cheesecake filling is squished between two layers of cake and covered in chocolate.

While these only come with one Chocopie inside, it's well worth it and is a great dessert or snack between meals!
10. Lotte Chococo Kaoru Matcha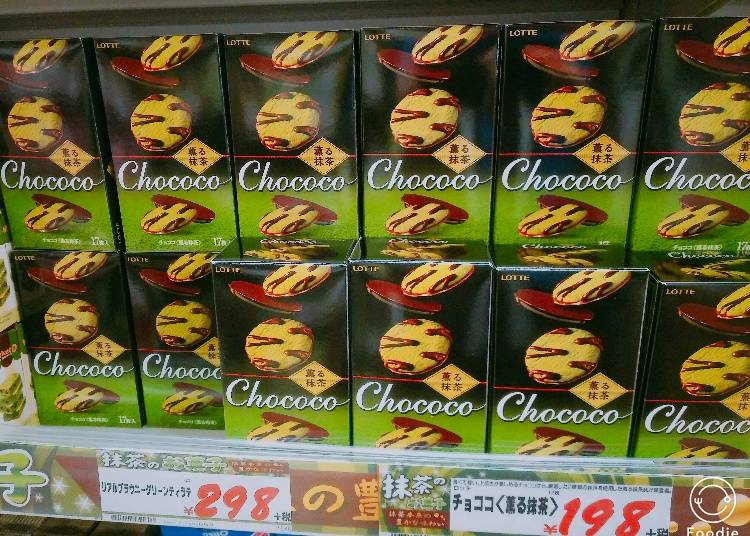 Another yummy favorite is the Matcha flavored Chococo made by Lotte! With 17 in one box, this is a great buy for any matcha, cookie, or chocolate lover! These cookies have a perfect blend of flavors that don't overpower one another, making it easy to savor each bite!
These thin cookies are just the right amount of sweet to make you want to just keep eating them, which is why they are at the top of this list! They're a great light snack for you to try out while enjoying your trip in Japan!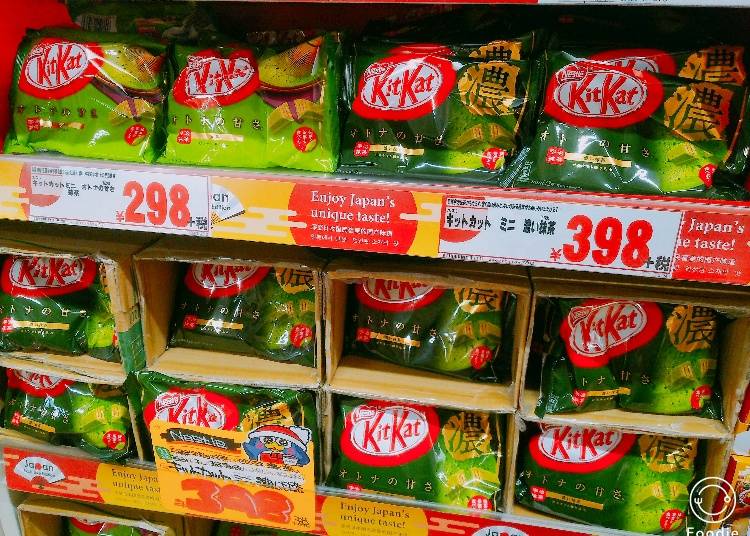 When one says matcha snacks, it's sure one of the first things in your mind will be KitKat! In another article we will be introducing some more famed snacks from Japan: various flavors of matcha KitKat!

There, we will review some of the best and most unique KitKat flavors: tea leaf, double berry and almond and more! Be sure to keep an eye out for an upcoming article featuring these fan favorites!

・All prices exclude tax.
・Prices displayed may vary from actual retail prices depending on location.
Don Quijote, often referred to as "Donki", is a famous discount store in Japan. In almost every prefecture, Donki is known for selling a large array of items for reasonable prices. While the size of the store depends on the location, most Donkis will sell things like cosmetics, electronics, toys, clothing, snacks, and more!

In the Mega Don Quijote in Shibuya, they have a matcha corner full of any sort of matcha snack you can imagine!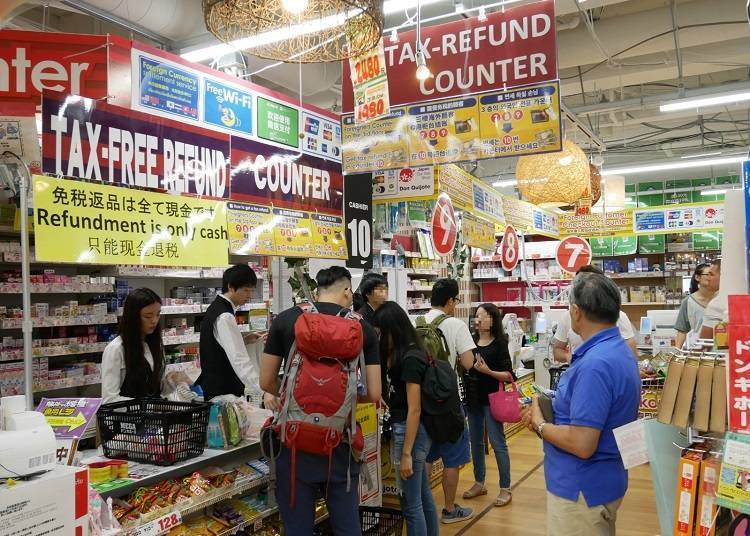 Don Quijote and Japan are full of great matcha sweets for you to try out! Don Quijote is located in many areas of Tokyo, so don't forget to try some of these delicious goodies on when you stop in! The shop in Shibuya has a corner dedicated to a wide selection of every matcha snack you can think of on its first floor.

In addition to matcha snacks, Shibuya's Don Quijote holds just about anything you can imagine. Its bottom floor is a supermarket with meat, vegetables, fruits, and frozen items, and its first floor holds merchandise like souvenirs, perfumes, and more. The second floor includes additional food selections, alcohol, drinks, and snacks. You can find cosmetics, items for pets, and more on the third floor, Don Quijote's fifth floor houses cleaning supplies, toys, bikes, party items, and laundry supplies. The sixth and final floor is home to many electronics and some interior items. It's truly a store for all your shopping needs!

* Prices listed are those is at the time of publishing.
* Please note that items may sell out.
Save even more at Don Quijote!
Now when shopping at Don Quijote, you can get up to 15% off your purchase! Just tap the coupon below and show it to the cashier when checking out. (Conditions apply. See coupon page for details.)

Mega Don Quijote (Shibuya)

MEGAドン・キホーテ渋谷本店

Address

28-6 Udagawacho, Shibuya, Tokyo 1500042, Japan

Hours: 24 hours
Open: Year-round
Written by Lindsey Schultz

*This information is from the time of this article's publication.
*Prices and options mentioned are subject to change.
*Unless stated otherwise, all prices include tax.
Limited time offer: 10% discount coupons available now!