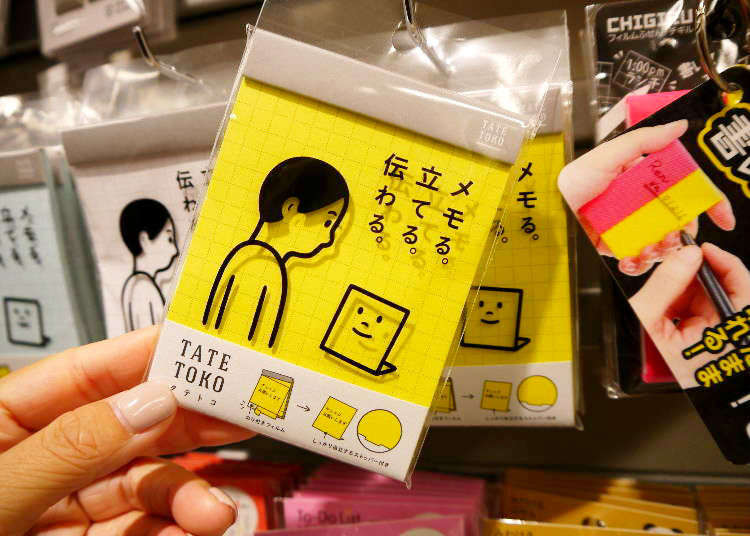 Loft is an absolute must-visit for every stationery fan coming to Japan! Much more than a simple variety store, the large chain offers an amazing selection of creative, whimsical, and modern goods, ranging from all sorts of stationery to gifts and accessories. It's easy to lose one's head amidst the colorful aisles, which is why we asked Loft's PR staff for a personal recommendation on their absolute favorites among this year's summer selection!
Mechanical Pencil ORENZ 0.5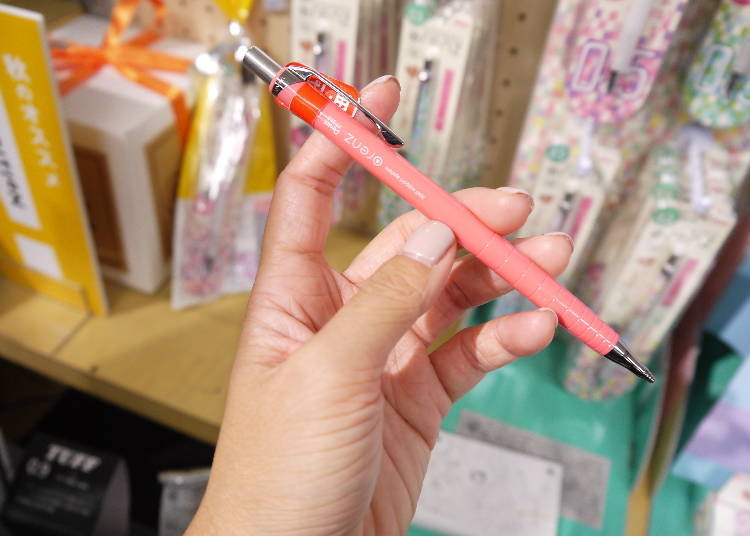 While drawing and writing with a mechanical pencil is nice and precise, its lead breaks frustratingly easy whenever you apply just a bit too much pressure. A Japanese company called Pentel has found an ingenious solution to this problem. The lead never extends beyond the tip, but then pen just keeps on writing without you actually seeing the lead. Instead, the metal sleeve will slide back as you use up the lead, protecting it throughout. This is the Orenz mechanical pencil.
With one single click, the pen lets you write three times as long as what you're used to from other mechanical pencils. Just as Orenz comes in different lead sizes, it also comes in a variety of fun and playful colors, from plain to intricate and whimsical patterns.

Price: 450 yen (at Shibuya LOFT, tax excluded)
Juice Up 0.4 Pastel & Metallic Markers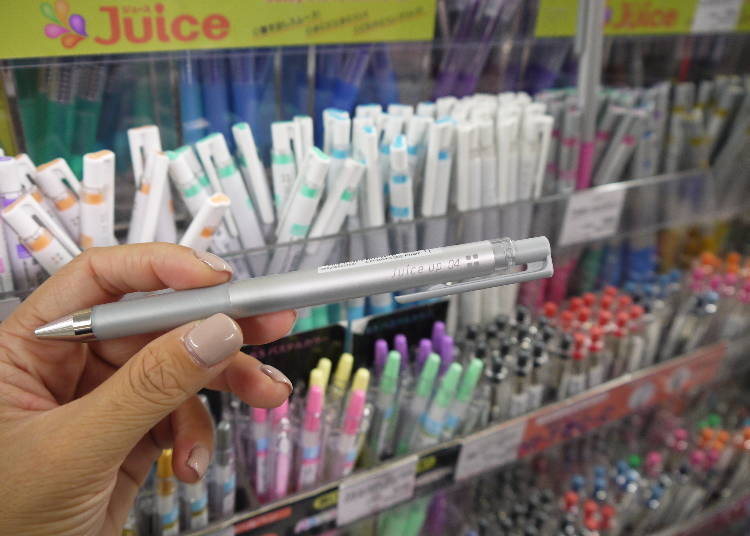 The best feature of any gel ink ballpoint pen is, of course, the ink. The pigments make the color you write in incredibly vivid and fun to look at. No matter what paper you're using, this vividness never changes, making gel ink ballpoint pens one of the best choices for decorative writing. While these ballpoint pens are abundantly available from all kinds of brands, our absolute favorite is PILOT's Juice Up series, especially the pastel and metallic choices!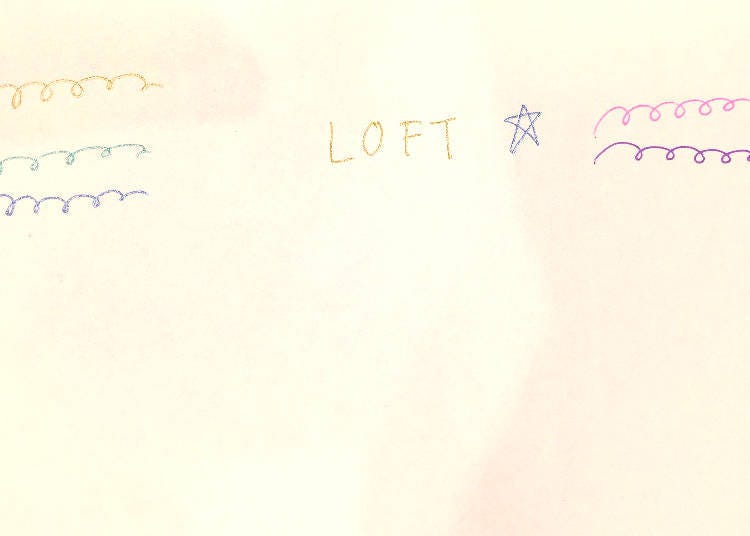 The Juice Up ballpoint pens come in 0.3 and 0.4 tip size and are generally of a thin design. At first, the tip might resemble that of a standard ballpoint pen but as soon as you start writing, you'll find that it is almost as precise as a mechanical pencil. With the Juice Up gel ink pens, your letters and drawings won't just shine vividly, they'll also be neat and clear!

Price: 200 yen (tax excluded)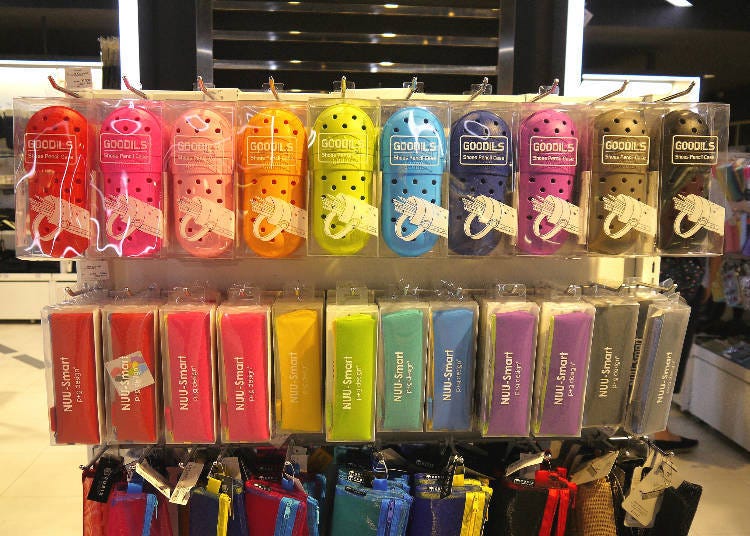 The Goodils Pencil Case doesn't just look incredibly adorable, it's also really convenient. It opens vertically instead of horizontally, giving an immediate and quick overview of the pens inside, without having to dig around for the right one.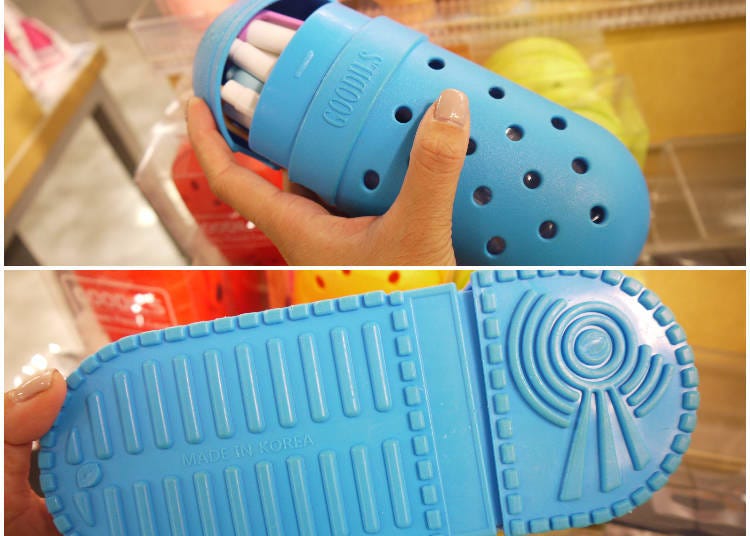 As you might have realized, its design resembles a comfortable foam clog – it even has a similar profile on its bottom! Of course, the Goodils Pencil Case is available in lots of different, vivid colors, so we're sure you'll find the one that fits your style the most.

Price: 1,300 yen (tax excluded)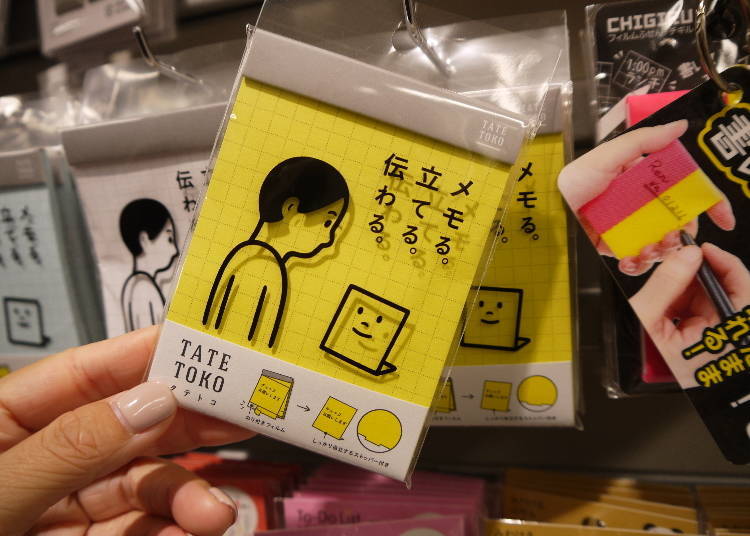 The Tatetoko To-Do Notes aren't just your regular sticky notes. The sticky film at the bottom is designed to easily fold back, allowing you to stick an upright note on your desk. With the little paper standing out like that – no pun intended – there's no chance that you will forget whatever important thing you wrote on it!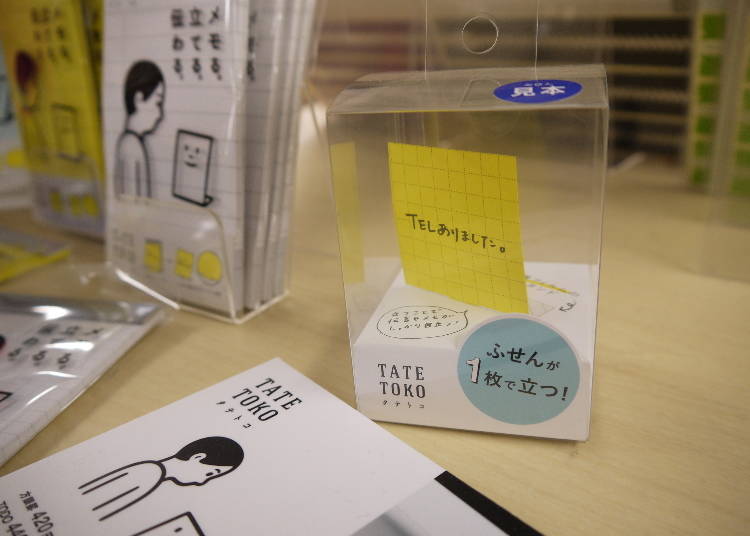 They also come in two designs. One with a grid, the other one with a checklist. Choose between, yellow, white, and blue notes to make your working, drawing, and writing space both stylish and convenient!

Price: To-Do for 440 yen, Grid for 420 yen (at Shibuya LOFT, tax excluded)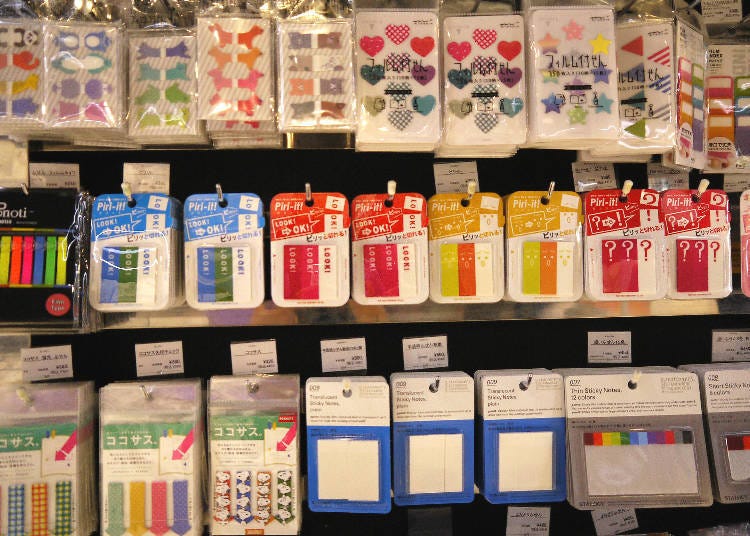 The Japanese word "piri!" describes the sound of quickly ripping cloth or paper. As the name of this fun sticky note suggests, it's all about the pleasure of ripping off the note after you've finished a task!
This simple but ingenuous sticky note design comes with various fun messages printed on it. We especially like the one that says "LOOK!" and turns into "OK!" after you've ripped off the top part. This is especially handy for both work and studying to mark a document or page.

Price: 380 yen (tax excluded)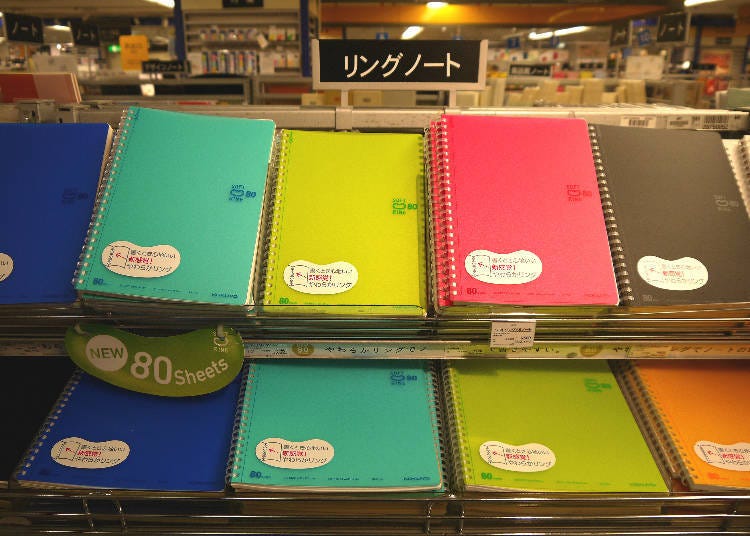 Ring notebooks are convenient, but especially after writing on them for a longer period of time, the ring binger can start to get uncomfortable or even hurt your hand. For this very reason, Soft Ring Notebook uses a binder that is particularly soft and bends easily, while still holding everything together.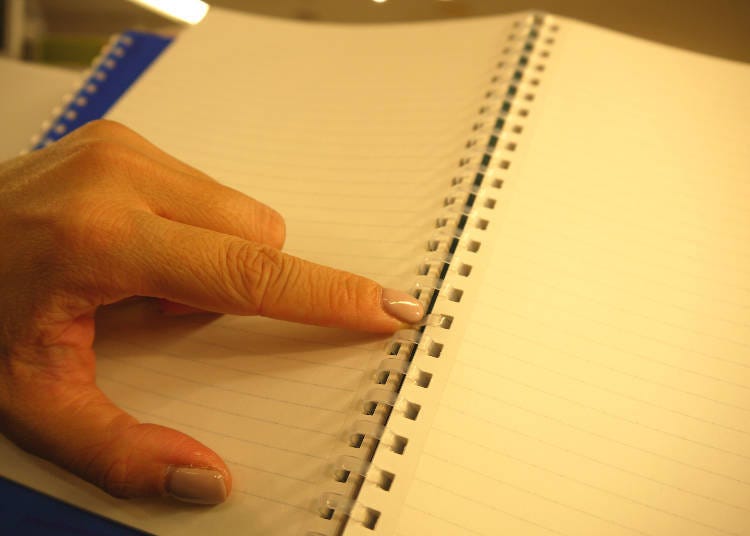 The best feature of a ring notebook – being able to easily rip out a page without hassle – is still maintained, despite the hand-friendly softness of the binder. This convenient notebook comes in various sizes and colors, from classic black and white to vivid and whimsical.

Price: A5 for 280 yen, B5 for 300 yen (tax excluded)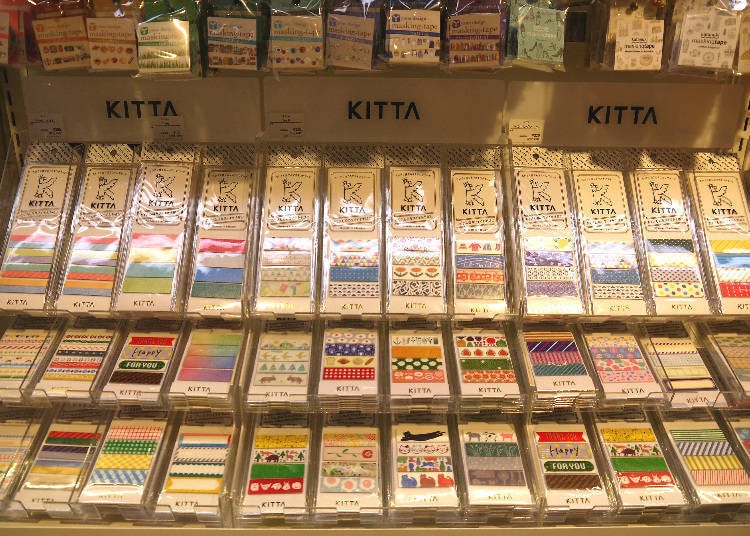 Japan's masking tape has become rather famous recently, dazzling stationery enthusiasts with its beautiful, fun designs and sturdiness. It's an easy way to fancy up pretty much anything, from notebooks to phones, bikes, and even walls – basically everything that you can think of.
KITTA masking tape doesn't only come in numerous fun designs, it also is pre-cut. This makes decorating extra-convenient, as you don't have to fiddle around with scissors unless you want a very particular shape or size.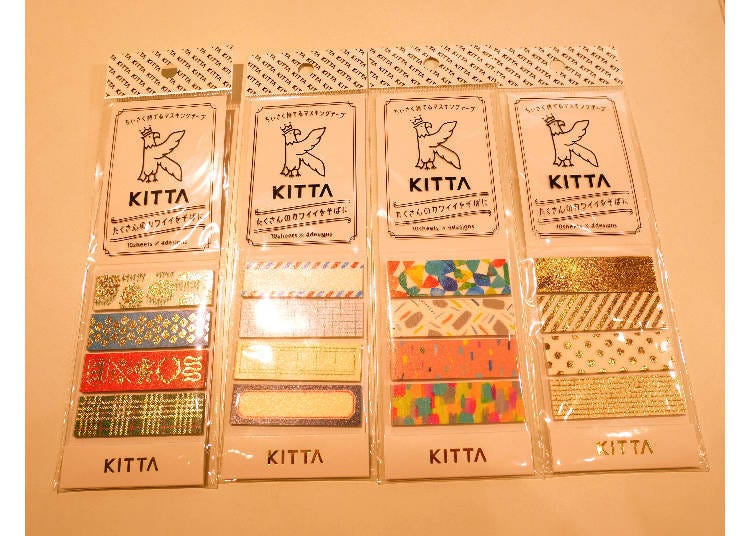 The best part about KITTA masking tape is that it is sold in themed packages, uniting four related but different designs in one purchase. There's almost an unlimited choice of such themes, so no matter what you want your day to day necessities to look, feel free to go absolutely wild!

Price: 320 yen (tax excluded)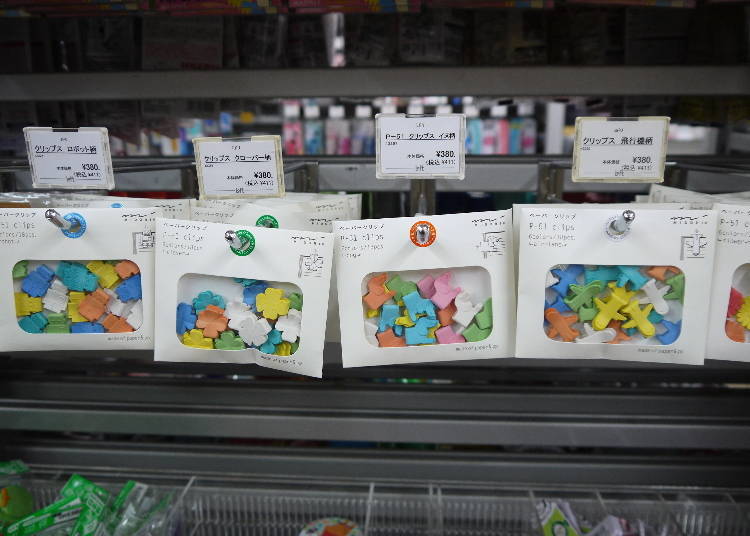 You probably wouldn't believe it by just looking at one of these adorable clips, but 51% of it is made from paper. It can be recycled in its entirety, so feel free to toss the little thing in with the waste paper and do something good for the environment. If you take recycling seriously, you won't have to bother separating the clip from the rest, making these clips both adorable and incredibly convenient.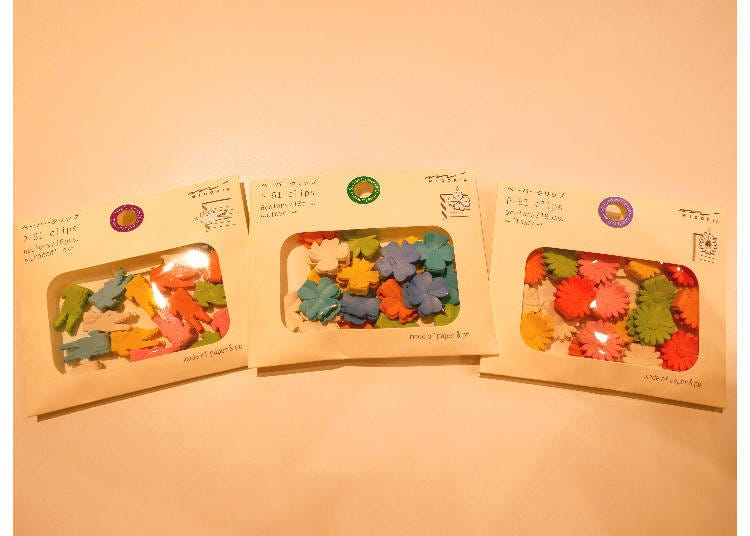 Of course, the paper clips come in various shapes and vivid colors, offering both serious and playful options to choose from. They're roughly as thick as ten layers of paper. Fancy up your meetings or study sessions!

Price: 380 yen (tax excluded)
Kokuyo Dotliner Petit Plus – Heart Design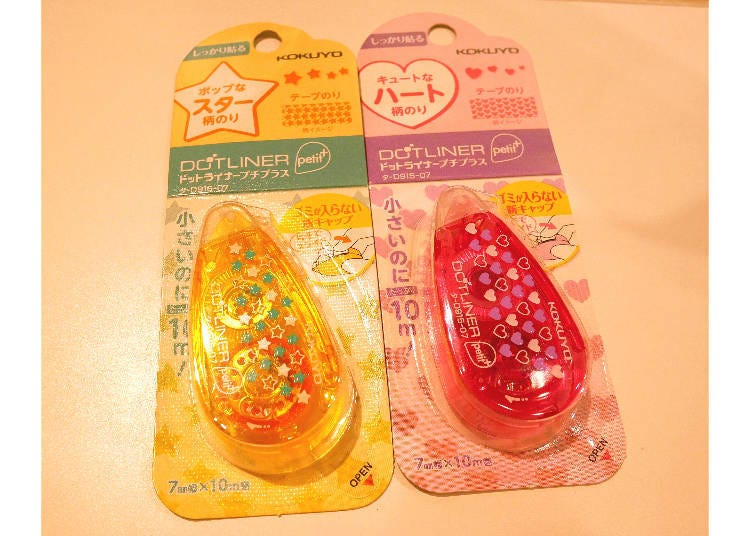 Glue tape rollers are convenient in any case, but this one right here is small enough to fit in any bag, making a wonderful addition to your standard stationery! Equipped with a little cap, you also won't have to worry about the insides of a pocket or case getting all sticky. A feature of the Dotliner design is that the adhesive is cut, making for a clean and easy application.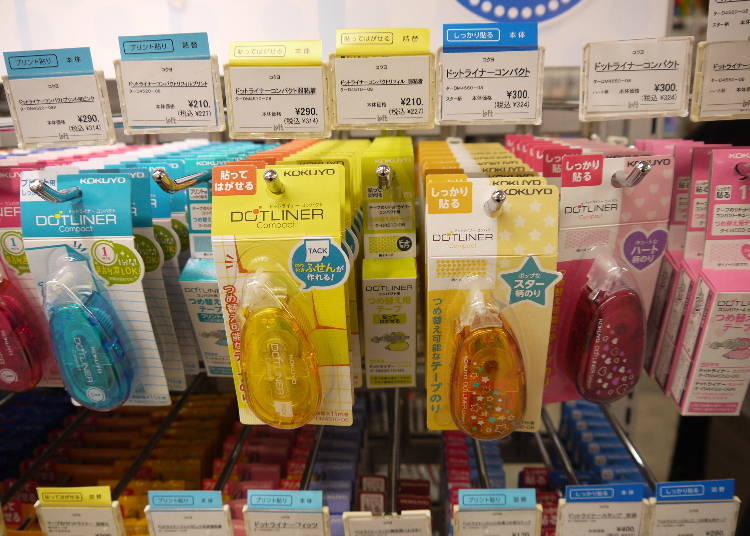 As mentioned in the headline, the Dotliner comes in all kinds of adorable patterns, including dots, hearts, and more. This is especially nice if you want to go all-out on gift decoration! Pick your favorite color and get to gluing!

Price: 220 yen (tax excluded)
The desk pocket is a real must-have for everyone struggling with a small workspace – or for those who love to be surrounded by things while having them readily at hand at the same time. The desk pocket comes with magnets, making it possible to stick it to metal drawers or file cabinets.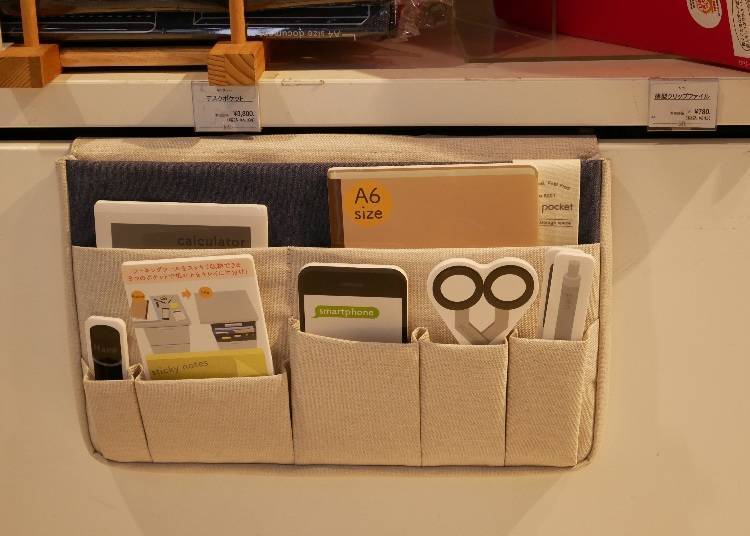 It offers 8 differently sized pockets in total, allowing you to store all sorts of things readily available while not cluttering your workspace.

Price: 3,800 yen (tax excluded)
渋谷LOFT

Address

21-1 Udagawacho, Shibuya-ku, Tokyo, 150-0042
Hours: 10:00 a.m. – 9:00 p.m.
※Shibuya City Lounge on 2F is open from 11:00 a.m. – 11:00 p.m. (last order at 10:00 p.m.)

Closed: always open
*This information is from the time of this article's publication.
*Prices and options mentioned are subject to change.
*Unless stated otherwise, all prices include tax.