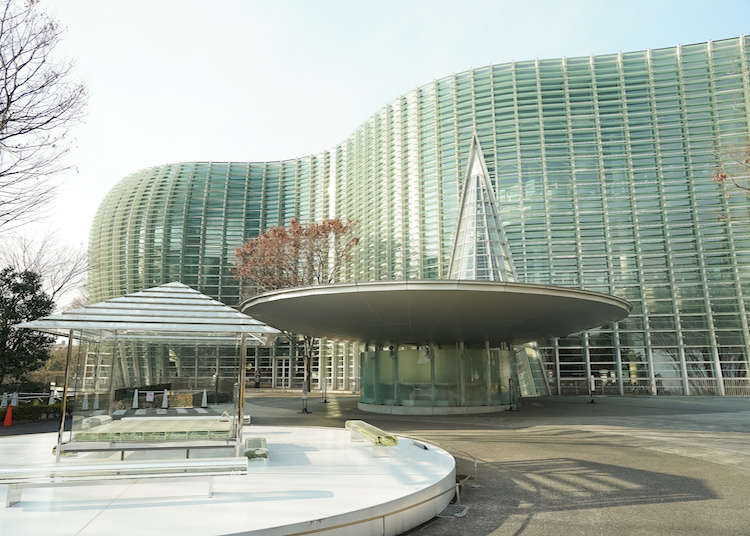 The National Art Center, Tokyo (NACT) is anything but average, lacking as it does a permanent collection. Rather than slowing the NACT down, however, this keeps the center buzzing, as it uses its massive exhibition space to host diverse art exhibitions. These focus not only on modern and contemporary artists and movements, but also extend to themed exhibitions such as fashion, manga and anime.
Presenting a diverse array of art, however, is just one of the NACT's aims. The center also works to collect and disseminate information and art materials on exhibitions past and present, as well as various items related to modern and contemporary art. Plus it provides educational programs for the public, including lectures and symposiums.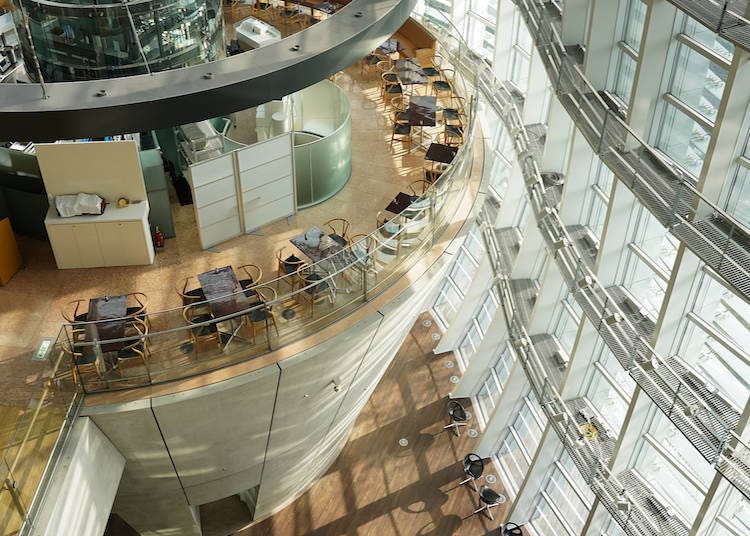 Salon de Thé ROND, perched atop one of the inverted cones
An Array of Incredible Art to Admire
Located in the bustling Roppongi area of Tokyo, the NACT plays host to a variety of exhibitions each year. Depending on the timing of your visit, museumgoers might find art masterpieces from the past or exhibitions about contemporary artists, fashion, and manga and anime artists in a medley of artistic styles, media and movements. Indeed, past exhibitions include "Yayoi Kusama: My Eternal Soul," "Miyake Issey Exhibition: The Work of Miyake Issey," and the "Hirohiko Araki JoJo Exhibition: Ripples of Adventure." So popular is the NACT that about two million museumgoers visit each year.

Though the creations that come through the National Art Center Tokyo are a joy to behold, the NACT is so much more than just art. All in all, it is a must-visit destination for curious people of all stripes, whether culture-vulture, architecture enthusiast, gourmand—or visitor simply on the lookout for unique souvenirs.

Read on to discover more about this unique and dynamic art space!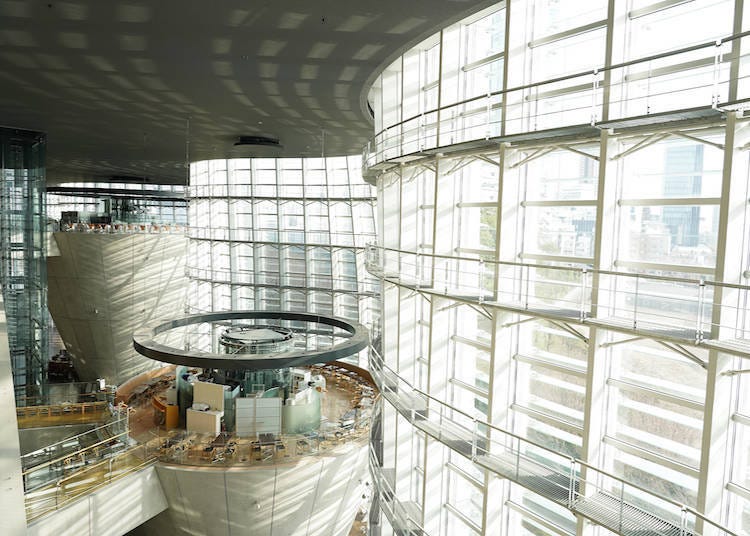 The wavelike glass wall and enormous inverted cones of Kurokawa Kisho's design.
Admire the NACT's Award-winning Architecture
Beyond the art on display, the NACT building itself is a sight to see. Designed by architect Kurokawa Kisho, it boasts notable design features, incredible views, three cafés, a restaurant and a museum shop.

The splendor begins before even crossing the threshold. With its conical front entrance, stunning wave-like glass façade and enormous inverted cones, the NACT attracts attention even amidst the impressive buildings of Roppongi.

Inside the modern building, the wall facing the atrium lights up, and with its alternating wood and soft light hints at the andon lanterns of Edo-period Japan (1603-1868). Meanwhile, the outer glass panels of the building's façade, with their subtle polka-dot-pattern, are designed to help filter light and heat.

Size-wise, it also stands out: Its expansive exhibition rooms, spread across three floors (1 to 3F) for a total of 14000 square meters, make it one of Japan's largest exhibition venues.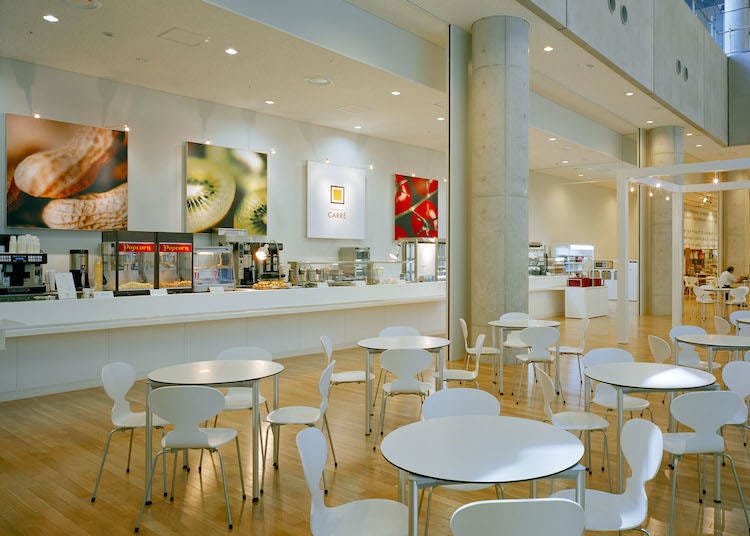 Cafétéria CARRÉ
Take Ten at One of Three Museum Cafés
It follows that a museum as magnificent on the outside as the National Art Center Tokyo would have stylish facilities on the inside—and the NACT's three cafés don't disappoint. On B1, visitors will find peace and quiet at the sleek Cafétéria CARRÉ.
Café COQUILLE
In the atrium of 1F, the casual Café COQUILLE stretches out beside the glass façade for a bright and cheerful eating and meeting space.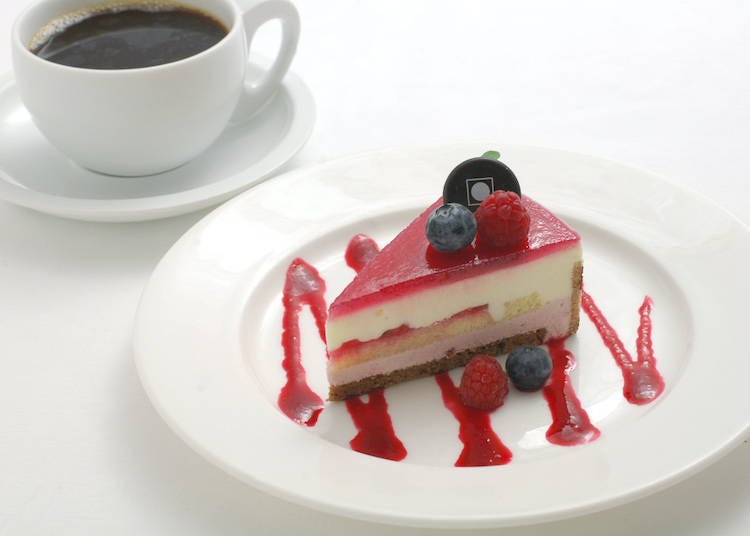 Salon de Thé ROND
The most impressive, location-wise, of the cafés is 2F's Salon de Thé ROND, which sits on top of one of two enormous inverted cones rising from the lobby floor. In addition to delicious eats, visitors can enjoy relaxing views of greenery from out the glass wall.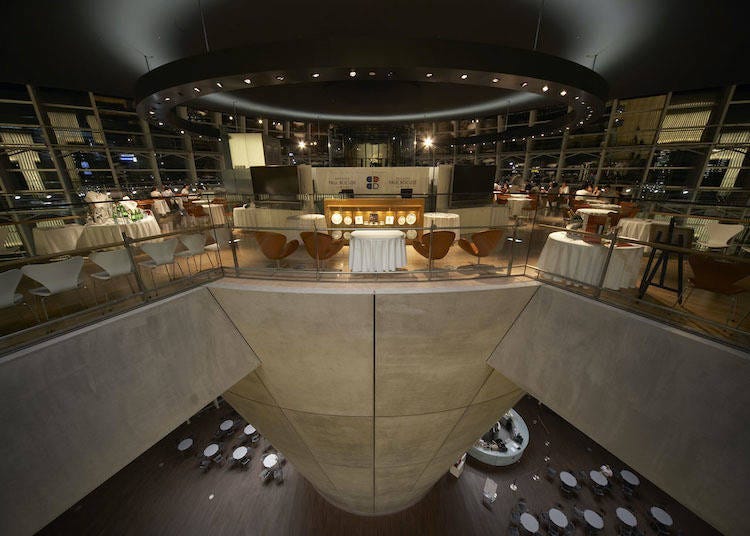 Brasserie PAUL BOCUSE Le Musée
A Taste of France at Brasserie PAUL BOCUSE Le Musée
Visitors seeking more substantial fare will want to head up to 3F, where the brasserie inspired by Bocuse's Michelin three-star French cuisine sits high atop the larger of the two inverted cones. The natural light that enters through the glass wall by day provides a cheerful atmosphere, while the night view of Roppongi in the evening hours is a stunning dining companion.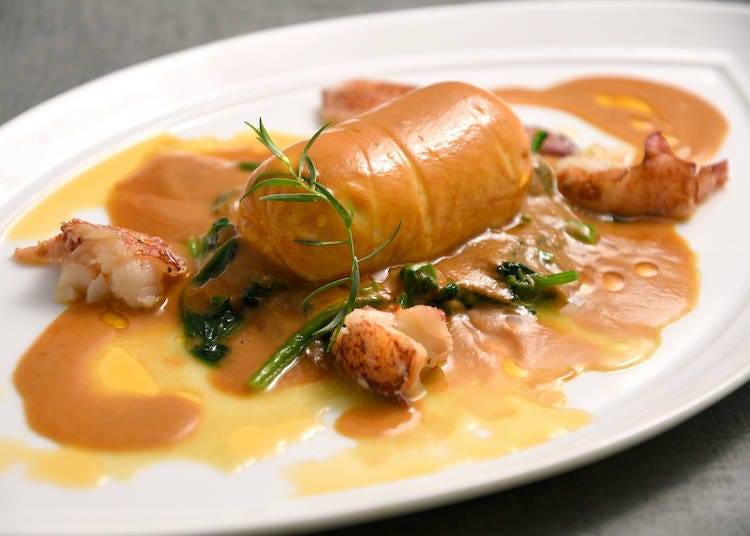 Quenelle of sea bass mousseline and scallops à 2a Lyonnaise with Américaine sauce
In addition to set menus and à-la-carte options, the brasserie, like the cafés, serves special items inspired by the exhibitions. What delicacies will be inspired by which artwork is a treat to look forward to!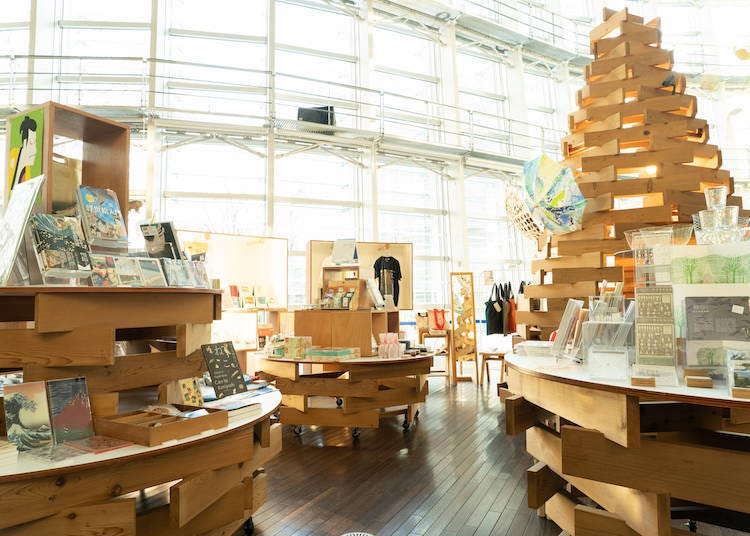 Museum shop "SOUVENIR FROM TOKYO" on 1F
Find a Treasure Trove of Artwork and Souvenirs to Take Home
SOUVENIR FROM TOKYO, the museum shop located on 1F and B1 of the NACT, is worth a visit regardless of whether you plan to browse an exhibition or not. Some of the city's best souvenirs, including some not available elsewhere, can be found amidst the extensive collection of art books, artworks, handicrafts and creations by young designers.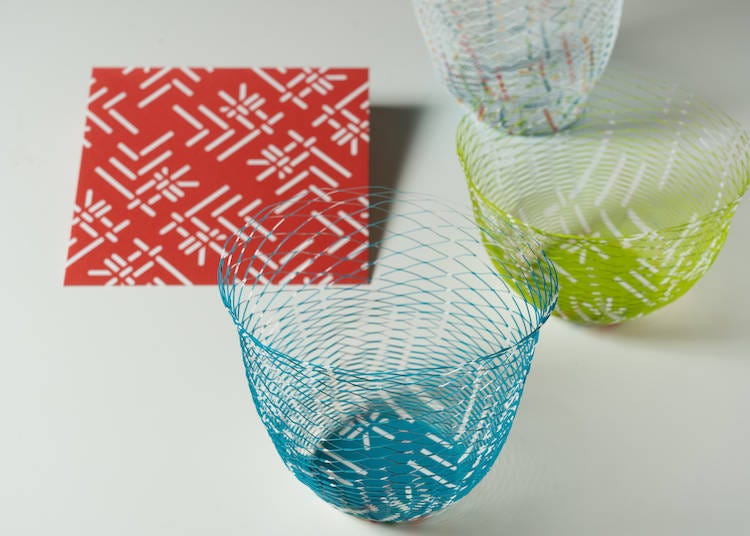 Air Vase by Torafu Architects and Kami no Kousakujo
For paper crafts taken to the extreme, be sure to check out Air Vase, a greeting card-cum-pop-up paper vase by Torafu Architects and Kami no Kousakujo, which starts as an unassuming piece of paper but then stretches into a moldable vase-like bowl. The special-edition version, made in collaboration with the NACT, comes in three colors, upon which you can write your message before stretching it out until the vase is molded into the shape you want.
Design collective MAGMA's bright, creative keychains
The unique world view of the artists behind MAGMA is on display in their brilliantly colored keychains.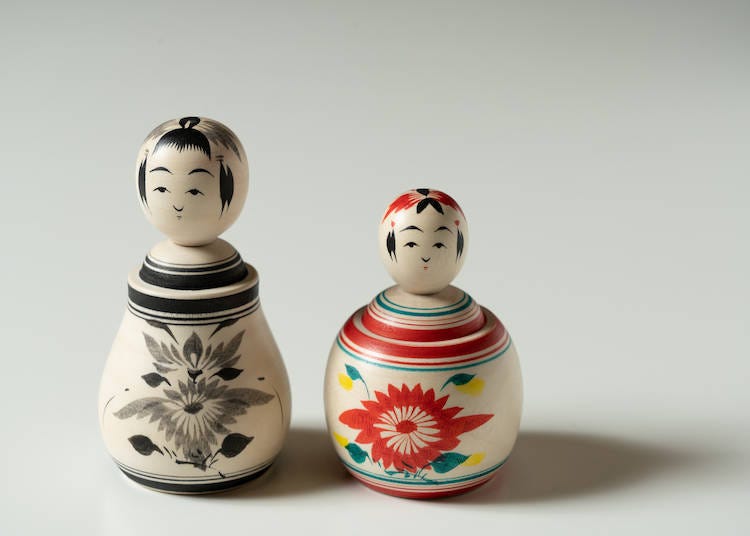 Contemporary kokeshi dolls from Sakurai Kokeshi
Tradition meets today with contemporary kokeshi dolls from Sakurai Kokeshi, a family-run company in the kokeshi doll business for five generations.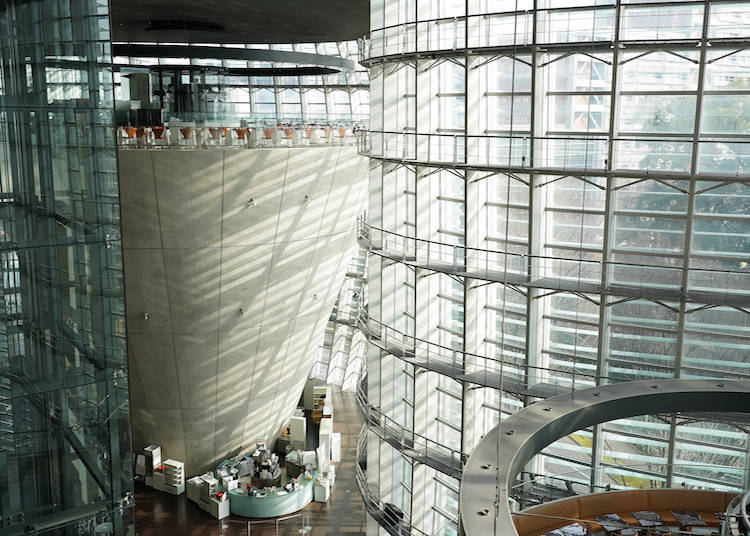 Dining on the inverted cones.
Located as it is in Roppongi, the NACT makes a perfect base for sightseeing in the area. Even better, along with the Suntory Museum of Art and the Mori Art Museum, it makes up the Roppongi Art Triangle. Furthermore, its ATRo Saving discount ticket system allows visitors to one of the Art Triangle's museums discounted admission to the other two simply by presenting ticket stubs.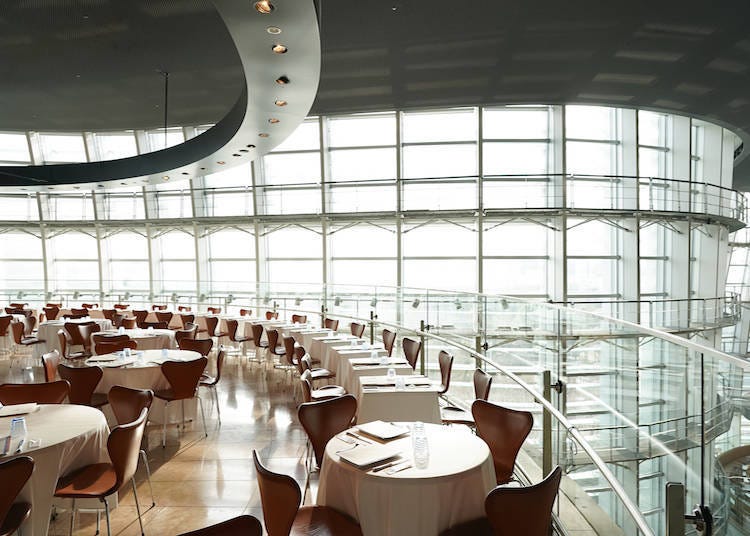 The food and architecture are also works of art.
Once a year, the neighborhood hosts Roppongi Art Night, which sees contemporary art, design, film, music and performances take over the area's museums, shopping district and various other facilities and public spaces for an art experience not to be missed.

Whether for a full day or just a few hours, the National Art Center, Tokyo is a more than worthy addition to any itinerary. Awe-inspiring art, fine food and so much more await you on your visit!
Be sure to check out the exciting exhibitions coming to the National Art Center, Tokyo in the next few months!

Timeless Conversations 2020: Voices from Japanese Art of the Past and Present
(closing on June 1, opening date to be confirmed later): Works of art, photography, design and architecture from leading contemporary artists are paired with masterpieces from Japan's earlier artists, including Enku, Kenzan, Jakuchu, Shohaku, Sengai and Hokusai, as well as Buddhist statuary and swords.

Fashion in Japan 1945-2020
(June 3 to August 24): The first large-scale exhibition to examine the path of fashion from the post-WWII period to today, looking at the influence designers and trends of the day have on fashion consumers and vice versa.

MANGA⇔TOKYO
(July 8 to September 22): Tokyo's unique features and the changes it experiences are mirrored in Japanese manga, anime, games and tokusatsu (SFX films). This exhibition explores this connection through diverse media, including key frames, models and film.

Kashiwa Sato
(September 16 to December 14): The trajectory of the creative director's 30-plus years of artistic endeavors are displayed in what is the largest solo exhibition yet staged for Sato Kashiwa (b. 1965), Japan's representative creative director.
Museum hours and exhibition periods are subject to change.
Please check the latest information directly with the museum's official website.
・Read more about Japan's National Galleries on Live Japan
*This information is from the time of this article's publication.
*Prices and options mentioned are subject to change.
*Unless stated otherwise, all prices include tax.
Search for International flights