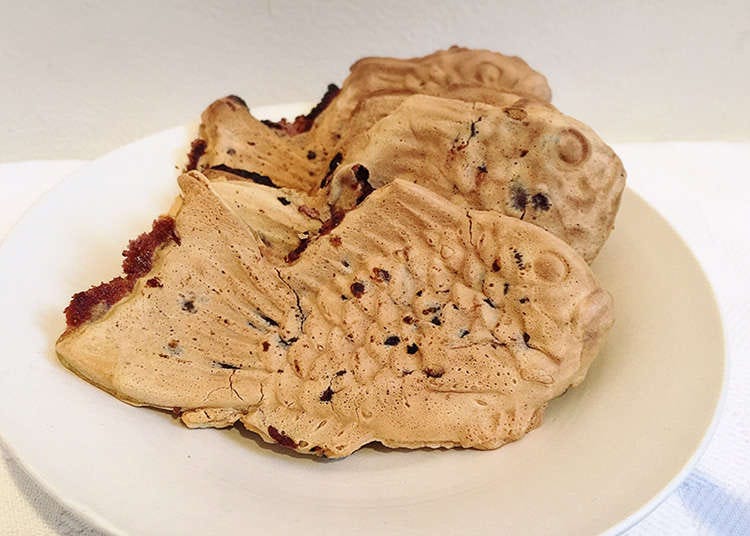 Azabu-Juban shopping district has more than 300 years of history. It was once popular as a town for adults with an array of established stores and famous stores, but now, stylish and casual stores are increasing here. Let me introduce you to downtown snacks which you can eat as you walk around in Azabu-Juban, and are also perfect for souvenirs.
Bean confectionery store established in Edo period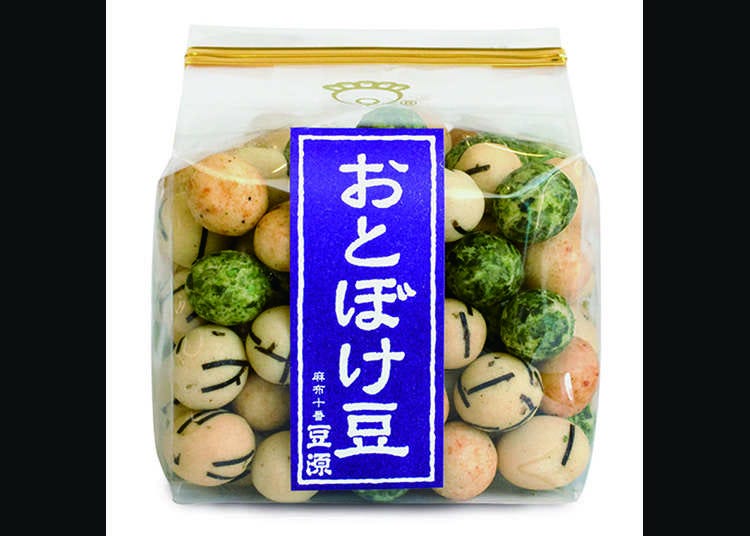 An established bean confectionery store which opened its door in 1865. Their manufacturing method to maximize the natural taste of beans has been handed down since the store was established. The most popular bean confectionery is called Otoboke Mame. Beans with 3 flavors, green laver, chopped nori and shrimps, are packed together. Also, do try snack beans such as yogurt nuts, cheese nuts and caramel macadamia. Not only bean confectioneries but also more than 100 types of products including rice crackers, mamekan (beans with agar gelatin) and kuzukiri (noodle-like arrowroot-starch jelly with syrup) are available at the store. These products are delight to the eyes of customers.
豆源 麻布十番本店

Address

1-8-12, Azabujuban, Minato-ku, Tokyo, 106-0045, Japan
Customers are greatly satisfied as the azuki bean filling is filled all the way to the tail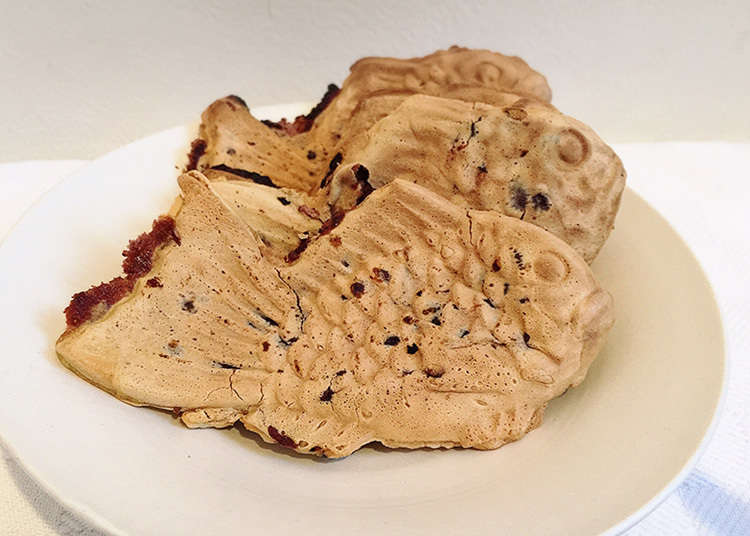 Naniwaya Sohonten has been making taiyaki (sea bream-shaped cakes with red bean fillings) since 1909. It is called Naniwaya, which means Osaka, because the founder came from Osaka. Taiyaki's thinly baked skin is crispy and gives out a great flavor. Red beans, which was cooked for 8 hours, fills inside the taiyaki, all the way to the tail. You can also enjoy fried noodles, sweet red bean soup, and shaved ice with syrup here. It is said that the 1975's mega hit song called Oyoge! Taiyaki-kun was written with this shop being the model.
浪花家総本店

Address

1-8-14, Azabujuban, Minato-ku, Tokyo, 106-0045, Japan
Crunchy and crispy, one-of-a-kind agemochi (fried sticky rice).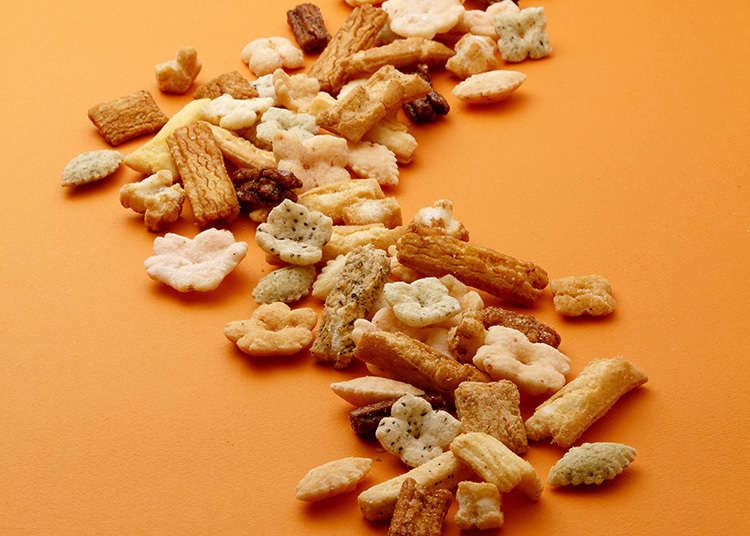 A fancy store filled with colorful packages. Inside the packages are agemochi (fried sticky rice) with various flavors. If you do not know which one of 40 and more types of agemochi you want to buy, try some samples. In addition to the signature flavors like Azabu agemochi shoyu (soy sauce) and Azabu agemochi shio (salt), unique flavors such as kinpira gobo (braised burdock root) agemochi, and truffle shio agemochi are also strongly recommended.
麻布十番 あげもち屋

Address

B, 1-7-9, Azabujuban, Minato-ku, Tokyo, 106-0045, Japan
Fluffy waffles filled with happiness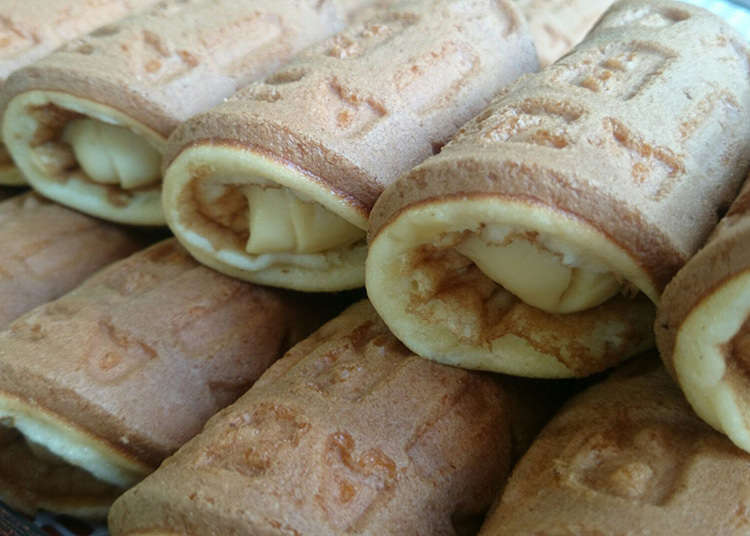 Kibundo is a Japanese confectionery store which has been operating since 1890. Ningyo-yaki (small doll-shaped cakes) in a shape of seven gods of good luck, waffles, and kibun rice crackers are popular products here. Their signature snack is fluffy waffles filled with rich custard cream. Not only people buy them as souvenirs, but people buy just one waffle to eat as they walk around. Kibundo's motto is to use organic ingredients and to hand-bake. They have been making snacks using the same classic method since its establishment.
紀文堂

Address

2-4-9, Azabujuban, Minato-ku, Tokyo, 106-0045, Japan
Try the real flavor of croquettes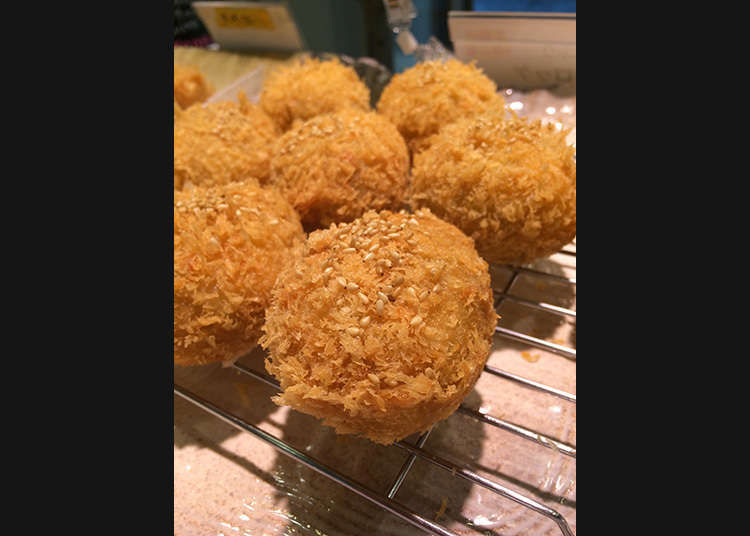 At Rakuman Croquette Store, you can enjoy the high quality croquettes made with high-quality ingredients and cooking method, and has a distinctive flavors.Kita Akari brand potatoes from Niseko, Hokkaido are used, and no chemical seasonings, food additives or preservatives are used, The store always offers freshly fried croquettes to customers. Using a high quality oil and changing it all the time makes the crust on the outside of croquettes crispy and inside of croquettes soft and steamy hot. The most popular croquettes are Wagyu Tappuri Tokujo Croquette (special croquettes with a lot of ground wagyu beef). Putting salt with dried kelp from Rausu, Hokkaido, over croquettes instead of Worcester sauce is how you eat croquettes in Rakuman-style.
楽万コロッケ店

Address

1-5-26, Azabujuban, Minato-ku, Tokyo, 106-0045, Japan
*This information is from the time of this article's publication.
*Prices and options mentioned are subject to change.
*Unless stated otherwise, all prices include tax.