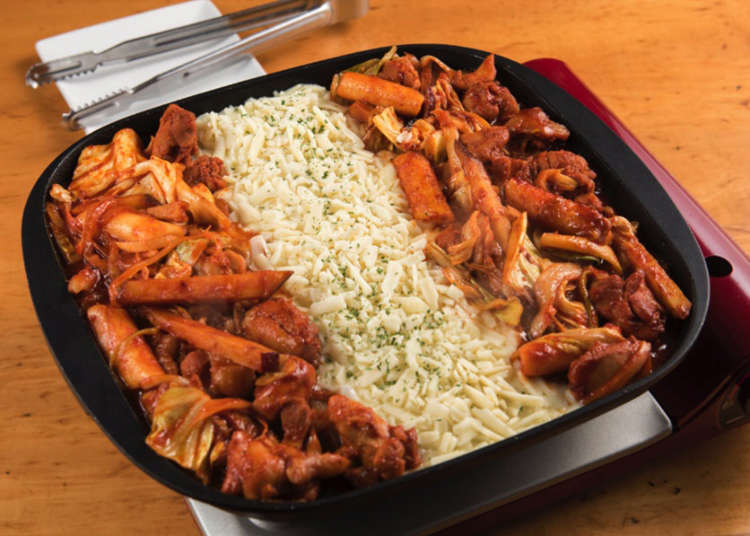 Recently, Tokyo's social media is talking about only one thing: cheese dak galbi! While enthusiasts of Korean cuisine immediately know what we're talking about, here's an explanation for those who still have to see the light, so to speak: dakgalbi is a Korean dish of stir-fried spicy chicken, seasoned with all sorts of herbs and spices.

As the name suggests, cheese dak galbi is served with a whole lot of yummy cheese, generally heated and served separately to make for a gourmet delight of dipping and snacking!
1. Shijan Dakgalbi: Drown That Tasty Chicken in Cheese!!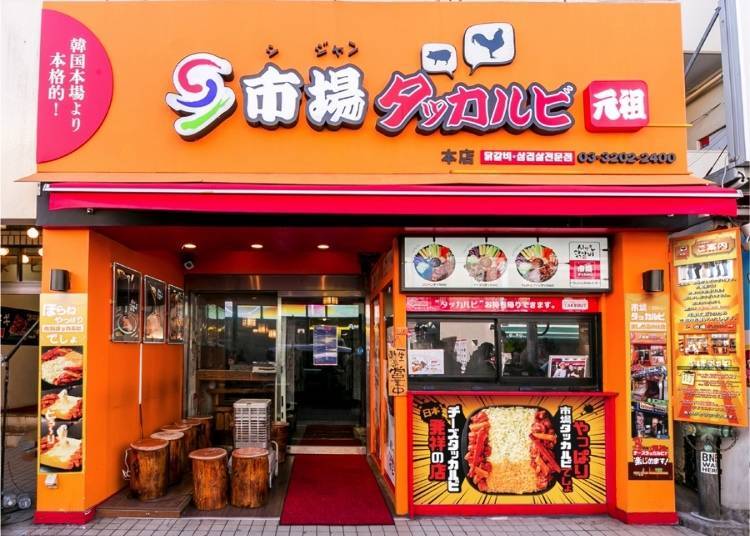 Shijan Dakgalbi, found on Okubo-dori Street, is located a 3-minute walk away from Shin-Okubo Station. It's a ridiculously popular restaurant that usually has long lines of people waiting in front of it, but the wait is well worth it.

The fresh ingredients are ordered from a Korean food specialty shop, being both authentic and irresistibly delicious. The best part: Shijan Dakgalbi's prices are extremely reasonable, too.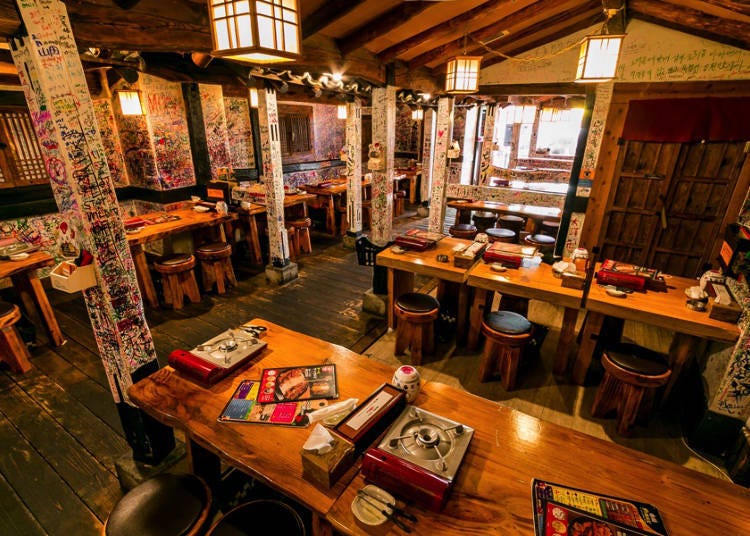 The inside of the store evokes the charming image of an old Korean house. Scribbles on the walls and pillars give the nostalgic charm a very modern and lively touch – you'll feel right at home.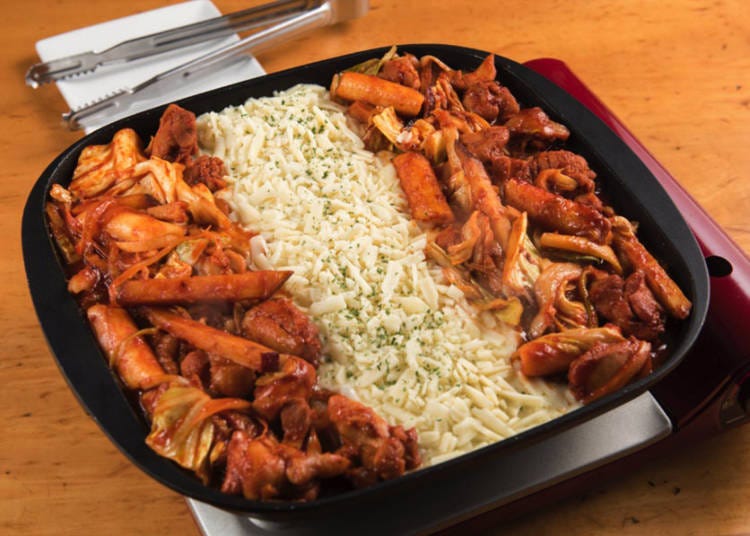 You'll have to order the "Shijang Cheese Dak Galbi" (for two people, 1,980 yen during lunch and 2,480 yen during dinner, tax excluded). The ingredients are marinated in the store's original sauce for two days – look forward to extremely flavorful chicken, sweet potato, and cabbage!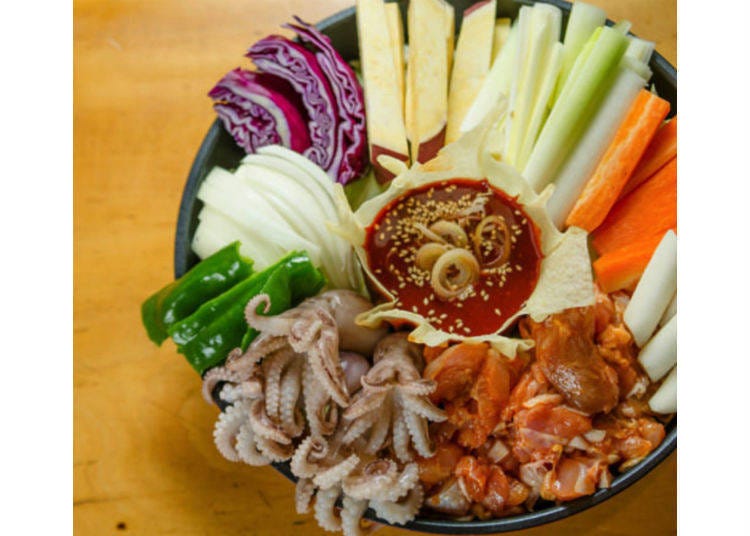 Of course, Shijang Dakgalbi has a variety of different stir-fry delicacies to offer. We're also very much in love with the seafood-tastic "Tsukumi Dakgalbi" (for two people, 2,780 yen) or the "Samgyeopsal Dakgalbi" (for two people, 2,980 yen) for pork lovers. If you bring a lot of friends, make sure to order different kinds of dak galbi. Happy tasting!
市場タッカルビ

Address

1F, 1-16-16, Okubo, Shinjuku-ku, Tokyo, 169-0072

Hours
Lunch: 10:30 a.m. – 3:00 p.m.
Dinner: 3:00 p.m. – 11:30 p.m.
Closed: always open
2. Chuncheon Cheese Dakgalbi: Savor Over 10 Kinds of Authentic Korean Stir-Fry!
The Korean city of Chuncheon is the home of the now so popular dakgalbi, and the restaurant Chuncheon Cheese Dakgalbi promises authentic and delicious tastes! Over 10 different kinds of the yummy sir-fry are on the menu here and with K-Pop decorations, the shop's interior evokes an image of modern-day Korea.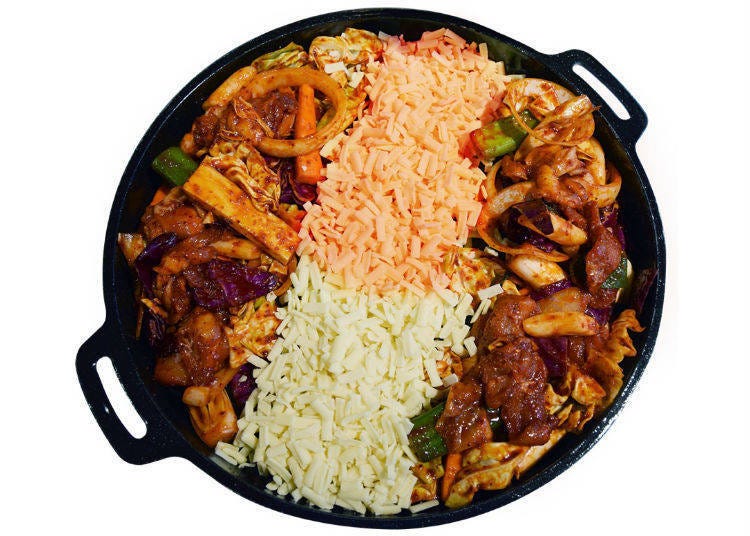 Of course, our recommendation is the "Chuncheon Cheese Dakgalbi" (medium size for 2,680 yen, tax excluded). It comes in a pan of 40cm diameters, chock-full of cheese, meat, and other ingredients! You better bring a friend because finishing this by yourself is near impossible. Besides – dakgalbi tastes better when enjoyed in a lively, fun atmosphere!
Once you're done eating away all the good stuff and only sauce and cheese remain, choose between Korean noodles and udon as a so-called "shime." Scoop up everything that remains in the pan as a yummy finisher!
Another highlight of this restaurant is the "Cheese Fondue Dakgalbi" (medium size for 2,680 yen). In this variety, only the meat is marinated, but not the other ingredients, and the cheese surrounds your meal like a moat of deliciousness. No need to hold back – DIP EVERYTHING IN CHEESE!
Chuncheon Cheese Dakgalbi

春川チーズタッカルビ

Address

1F, 1-17-5, Okubo, Shinjuku-ku, Tokyo, 169-0072

Hours: 11:00 a.m. – 5:00 a.m.
Closed: always open
3. Oh! Kitchen N: Do You Want Some Cheese with Your Cheese?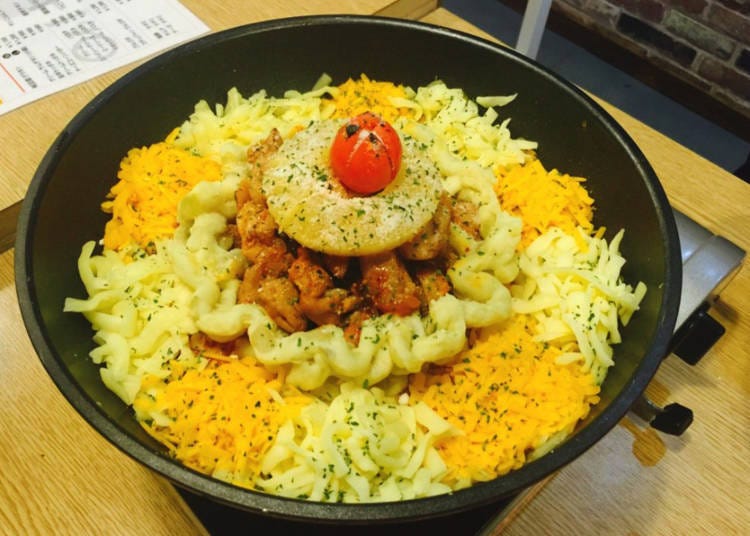 Our next spot really takes the crown when it comes to the question: how much cheese can you put in a dak galbi? Welcome to Oh! Kitchen N, a mere minute of walking away from Shin-Okubo Station.

Before you look at anything else on the menu, order the "Dakgalbi Dackchigo" (for two people, 2,380 yen). It's seriously a sea of cheese that awaits, with deliciously marinated meat swimming right in the middle of it. This is a dish for hardcore cheese fans.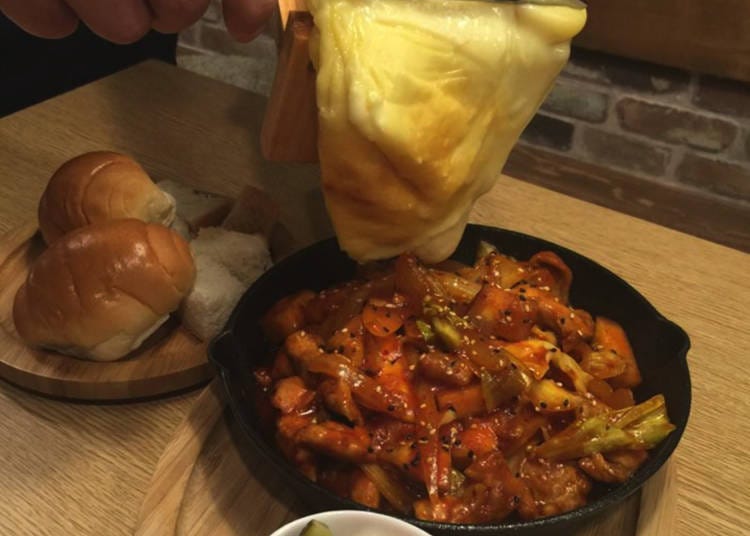 Oh! Kitchen N is famous for its amazing servings of raclette cheese on almost every dish, so even if you don't order the Cheese Dakgalbi, you'll still be able to satisfy your cheese cravings!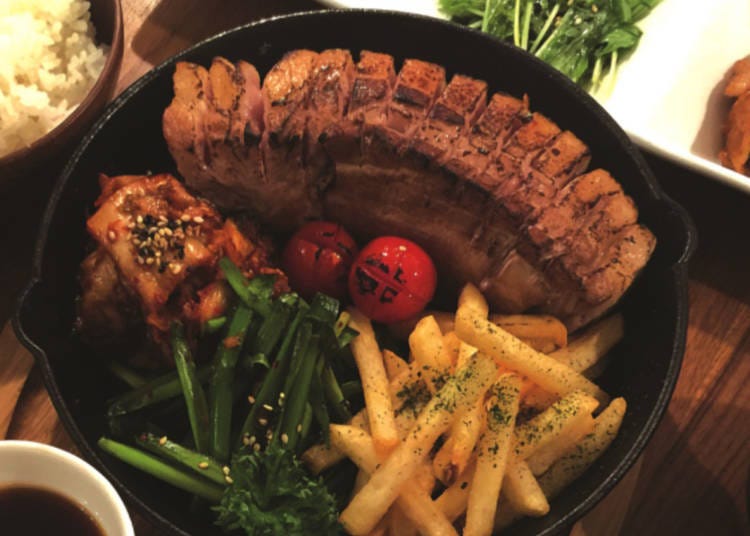 Another Korean delicacy served at this restaurant is samgyeopsal, or barbecued pork belly. Try the "Raclette Samgyeopsal" (for two people, 2,180 yen), softly cooked at low temperatures for a whole day!
Oh!キッチンN

Address

1F, 2-3-20, Hyakunincho, Shinjuku-ku, Tokyo, 169-0073

Hours
Monday to Thursday: 11:00 a.m. – midnight
Fridays and Saturdays: 11:00 a.m. – 5:00 a.m.
Closed: always open
4. Herang: the Best Marriage of Meat and Cheese that You've Ever Tasted!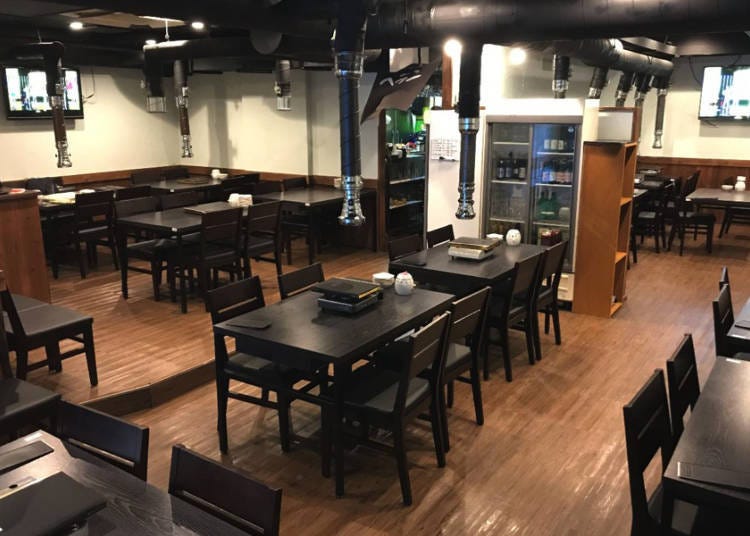 If you're looking for a quiet place where you can feast in peace, look no further than Korean Food Herang, a 5-minute walk away from Shin-Okubo Station. The interior of the restaurant is dominated by chic colors and a warm, sophisticated atmosphere.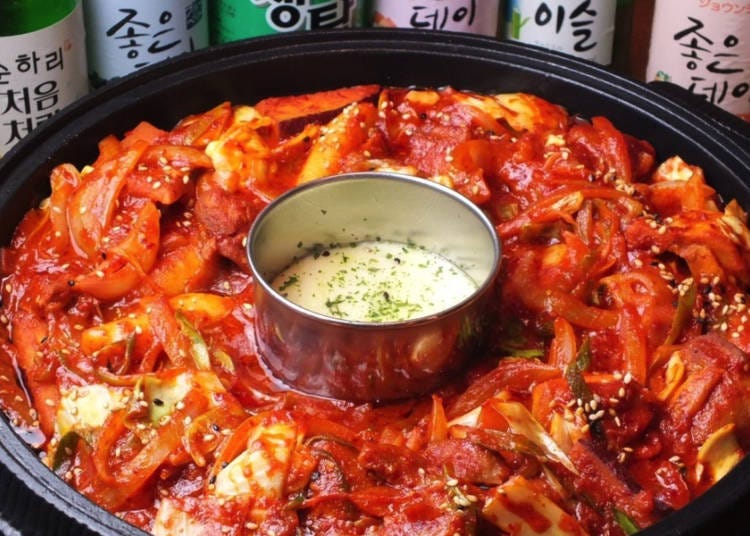 Herang's Cheese Dakgalbi (for two people, 2,580 yen) will tickle your taste buds with a wonderful contrast between creamy cheese and spicy sauce. If you like your food as hot as possible, just dip a corner of the meat in cheese – and on the other hand, if you want to fight off some of the spiciness, drown that chunk in as much cheese as possible. In any case, it's very delicious.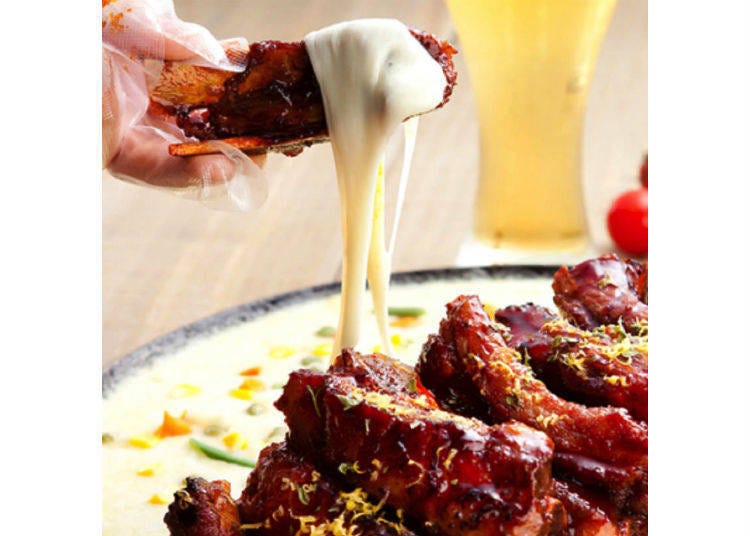 We also highly recommend the "Cheese Galbi" (1,580 yen per serving for one), barbecued spareribs with plenty of melted cheese. If you have a hard time deciding what to eat, why not go for the "Half & Half" option that gets you a serving of both spareribs and dak galbi! We definitely recommend this option if you want to fully indulge in the pleasures of Korean meat cuisine!
KOREAN FOOD ヘラン

Address

1F, 1-15-18, Okubo, Shinjuku-ku, Tokyo, 169-0072

Hours: 11:30 a.m. – midnight (last order at 11:30 p.m.)
Closed: always open
Written by: Yojiro Kurosawa
*This information is from the time of this article's publication.
*Prices and options mentioned are subject to change.
*Unless stated otherwise, all prices include tax.
Limited time offer: 10% discount coupons available now!