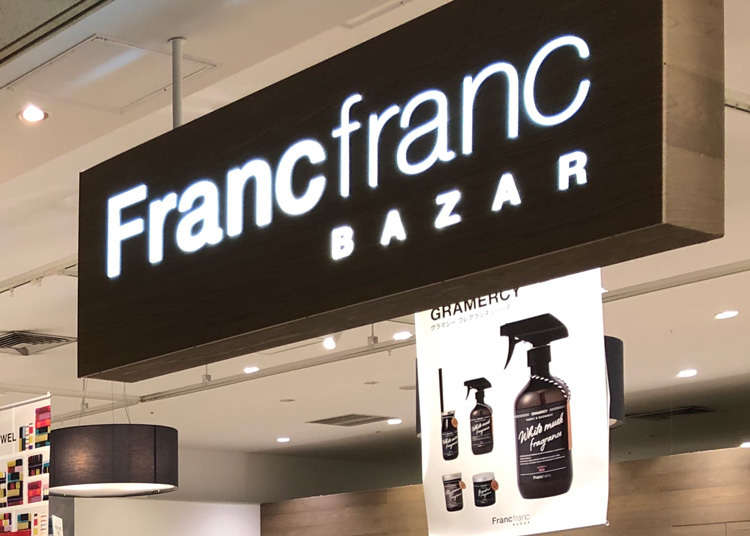 Francfranc is a brand that sells interior and miscellaneous goods, as well as matching items. This summer, the brand will feature items that will cool off your summer! Popular articles that were sold in 2019 but soon became unavailable, will also return to shelves.

We asked Mr. Saito, the manager of Francfranc BAZAR Odaiba VenusFort, about summer items that are attracting a lot of attention among its numerous popular products.

(*Due to the novel coronavirus pandemic (COVID-19), the company may change business hours or temporarily close.)
Introducing the best-selling products at Francfranc BAZAR!
Francfranc BAZAR is a Francfranc outlet store where people can buy off-season products at 20 to 80% off. They also sell Francfranc BAZAR products.

With the cooperation of Francfranc BAZAR, this article will feature four carefully selected, top-selling products that can be bought at Francfranc and Francfranc BAZAR.
1. Sold out in a flash! FRAIS 2WAY Handy Fan
Francfranc's blockbuster item FRAIS 2WAY Handy Fan will be released again in 2020! More than 100,000 units of this item were sold within 1 and a half months after the start of sales.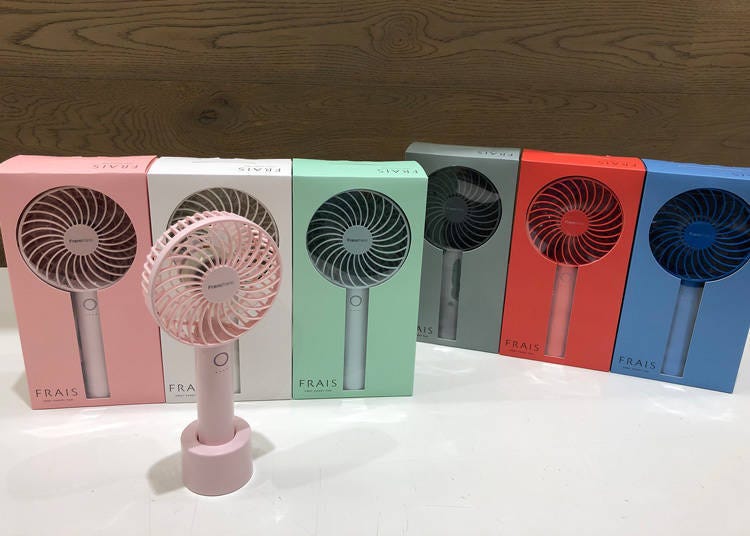 FRAIS 2WAY Handy Fan (1580 yen)
The fan comes in 6 colors: pink, white, light blue, gray, red, and blue. The fan speed can be adjusted in 5 levels and is rechargeable, which makes it a perfect handheld companion when going out. It also comes with a strap, so you can carry it around.

It was sold for 1980 yen in 2019, but you can buy it at a reasonable price of 1580 yen at Francfranc BAZAR. Stocks may soon run out, so if you want to buy it, be sure to check it out immediately.
2. Clip Fan: A super portable small fan
This item is perfect for those who are worried that there is no space to put an electric fan. This is a clip-type fan that can rotate at a 360-degree angle.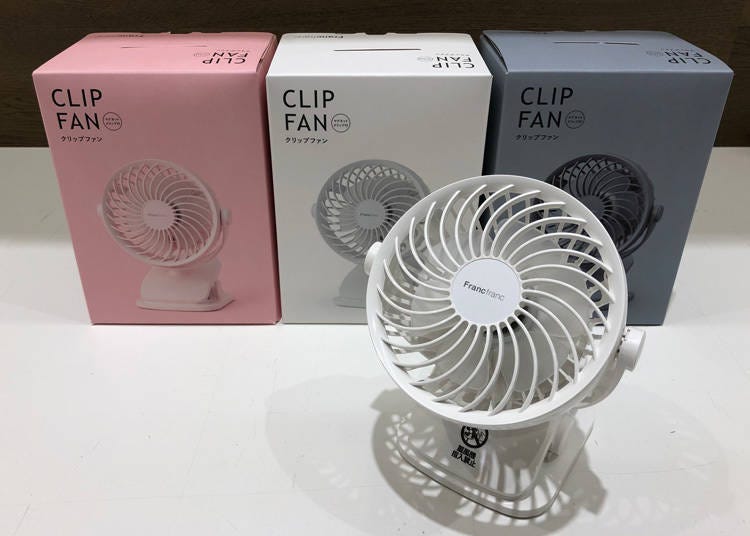 Clip Fan (2480 yen)
The Clip fan can be fixed in any position with its clip, so you can use it in a variety of ways. You can attach it to a stroller or a desk or even use it in the kitchen by attaching it to the refrigerator with the magnet on its bottom.

It is available in 3 colors: pink, white, and gray. This item is sure to be popular in the summer!
3. Eliminate sleepless nights with Fuwaro Comforter and Pillowcase
A cool futon is recommended on humid and hot summer nights. Fuwaro's spring or summer comforter and pillowcase are popular items that are cool, soft, smooth, and comfortable.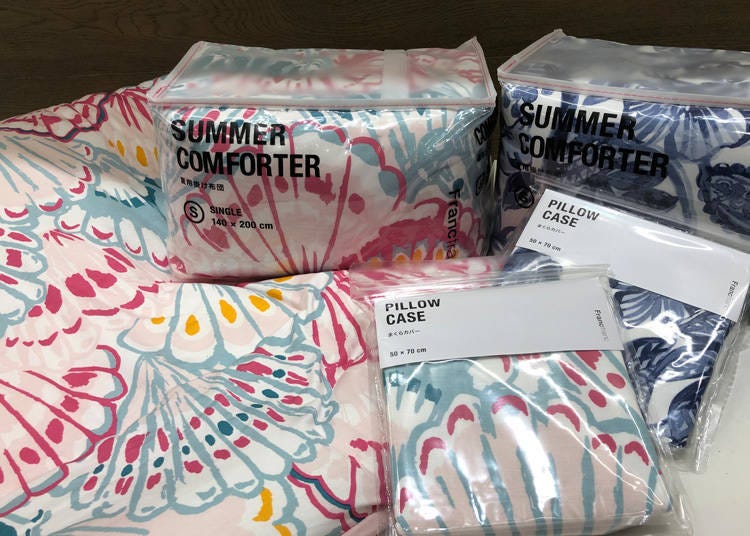 Cool-sensing Fuwaro Comforter (6300 yen) and Fuwaro Pillowcase (1600 yen)
These are available in 2 colors: shell (pink), and botanical (blue). Because it uses rayon material (cool sensation), the comforter and pillowcase feel cool every time you turn them over. If you are suffering from lack of sleep in the summer, why not try a Fuwaro Comforter or Pillowcase.
4. Popular among children: Cool-sensing Nemu Nemu Cool Hugging Pillow
This hugging pillow uses materials that cool the abdomen, which makes it a popular item during summers. Pillow designs include a hippopotamus and ray. The pillow's cool sensation and cuteness will surely boost its effect on your body.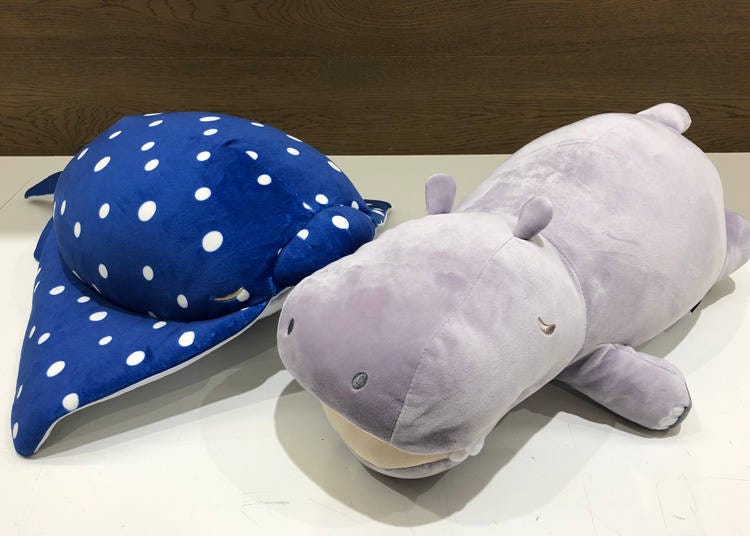 Cool-sensing Nemu Nemu Hugging Pillows (2600 yen)
Nemu Nemu Hugging Pillows are popular because of its soft and smooth feel. Many reviews have said that the pillow is so soft and smooth that you won't get enough of hugging it. It can also be used for children's naps and when going out. It will be also sold at Franfranc Bazar at a bargain price!
Franfranc Bazar for bargain prices!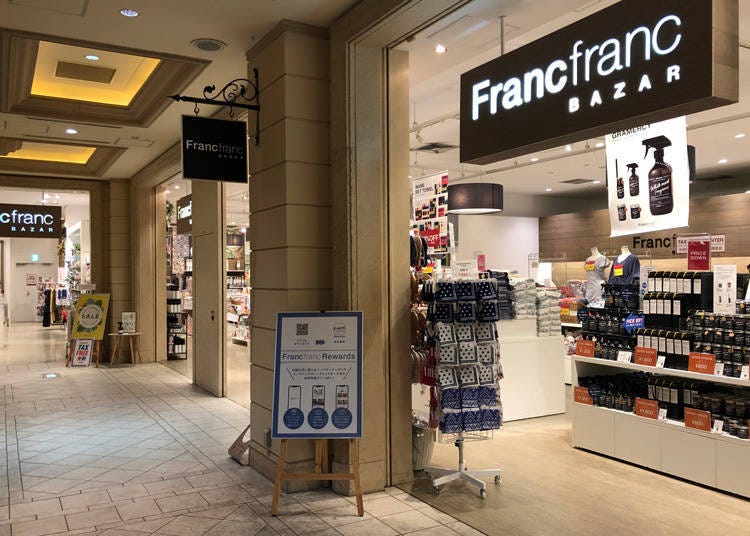 That concludes our list of the most popular items in Francfranc and Francfranc BAZAR.

Francfranc BAZAR Daiba VenusFort store, which cooperated with us in this article, is a popular store in VenusFort, a shopping mall in Odaiba frequented by many foreign tourists. It is located right in front of Tokyo Teleport Station Rinkai Line. You can ride a free direct bus from Hamamatsucho Station or Haneda Airport to the mall, so it is very easy to access.

These popular items may sell out quickly, so if you want to buy any of them, we recommend checking early. In addition, all the products featured in this article can only be purchased at the specified in Francfranc BAZAR. The prices in the outlet store is more affordable than the mail order and Francfranc store prices. If you want to buy these items at a cheap price, please visit Francfranc BAZAR.

*All prices include tax
*As part of Francfranc BAZAR's commitment against the spread of infections, the store has placed barriers at cash registers, installed sanitizer sprays and alcohol dispensers, and regularly disinfects shopping carts.

Written by China Nanakusa
Francfranc BAZAR Odaba VenusFort

Francfranc BAZAR 台場ヴィーナスフォート店

Address

1-3-15 Aomi, Koto-ku, Tokyo 3F

Nearest Station

A 3-minute walk from Tokyo Teleport Station on the Rinkai Line, directly connected to Aomi Station on the Yurikamome Line


Phone Number

03-3599-5511

Hours: 11am to 9pm
*This information is from the time of this article's publication.
*Prices and options mentioned are subject to change.
*Unless stated otherwise, all prices include tax.