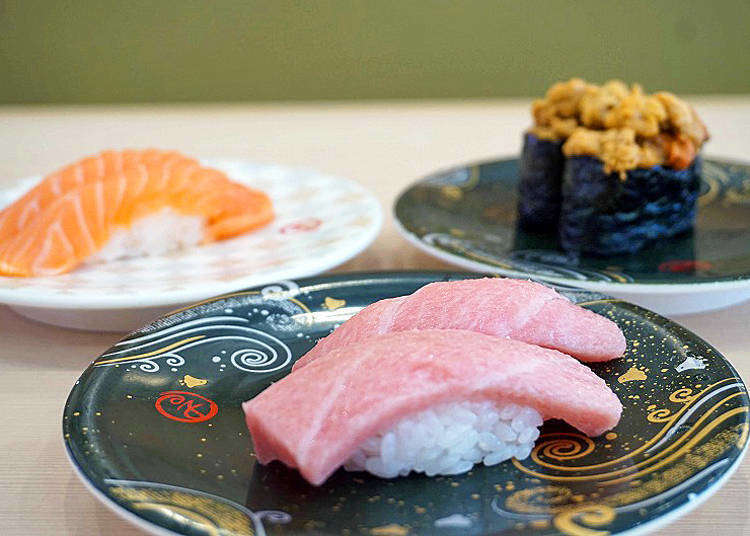 The area of Odaiba is well known for shopping and the beautiful sights. This is also where Fuji TV headquarters are located, where you can enjoy a stroll in Odaiba Kaihin Park and admire its artificial beaches, where you can have fun and relax at Tokyo Odaiba Oedo Onsen Monogatari, a large hot-spring and entertainment complex with TV studios and art galleries. Odaiba is also rich of restaurants and cafes, especially if you are out on a date!

Today we will talk about the beauty of Odaiba and our recommended lunch spots.
Great indoor entertainment and shopping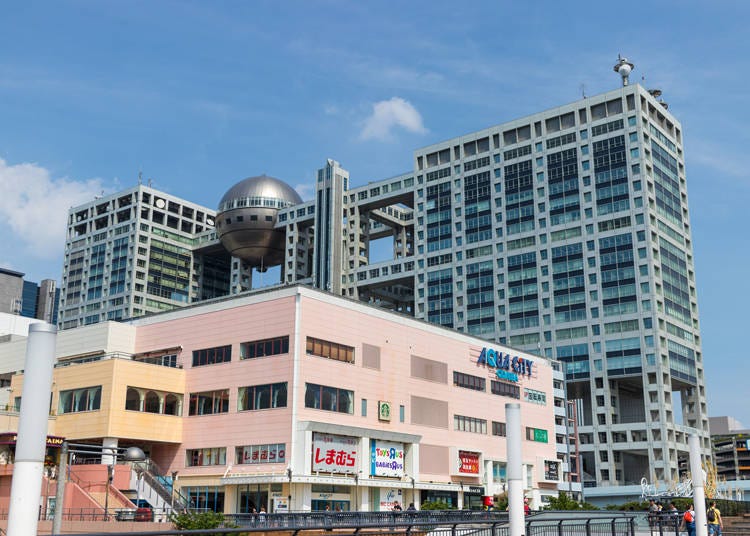 MasterPrince / Shutterstock.com
There are many indoor entertainment facilities in Odaiba, making it perfect to enjoy your time there, even on rainy days. At Tokyo Joypolis, one of the largest indoor theme parks in Japan, there are many different attractions, including VR using the latest technology.

Odaiba is also great for families. "Kidzania Tokyo" lets children experience 100 different professions while using real tools and equipment, and "Tokyo Trick Art Labyrinth Hall" is where you can take interesting and weird pictures. At Tokyo Leisureland, instead, you can play video games in the large game center, or pretend to be a UFO catcher.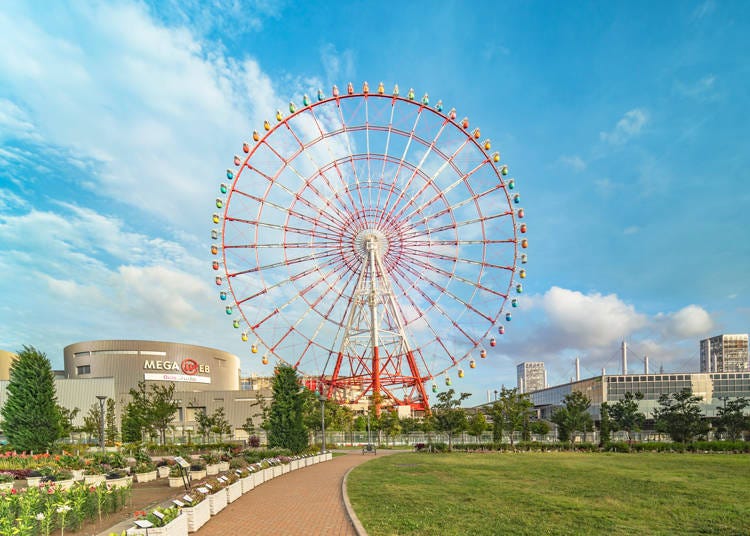 kuremo / Shutterstock.com
If you are more into shopping there are four large complex facilities that are very convenient. "Diver City Tokyo Plaza" has more than 150 stores. "Venus Fort" replicates the cityscape of European cities of the 17th and 18th centuries. "Dex Tokyo Beach,"which reminds of a large boat floating on the sea on an open terrace with a wooden deck. "Acqua City Odaiba" overlooks a reproduction of the Statue of Liberty and Tokyo Bay. Each one of these places has its unique appeal.
Quick lunch-spot access guide
In Odaiba, with all its convenient commercial facilities, you will not need to worry about where to eat. Here are our three recommendations that can be enjoyed at "Aqua City Odaiba" just one minute walking from Yurikamome Daiba Station.
Yoshimaru Suisan (Sushi): You can get fresh seafood directly from the port
Yoshimaru Suisan in Aqua City Odaiba, is a restaurant where you can enjoy carefully selected seafood purchased from Toyosu Market. You can get dishes for prices as low as 100 yen (tax not included), and you can choose different types of sushi and have them delivered to you on a conveyor belt. You can easily order from a touch panel.

*The menu is available also in English and Chinese and the staff can speak English.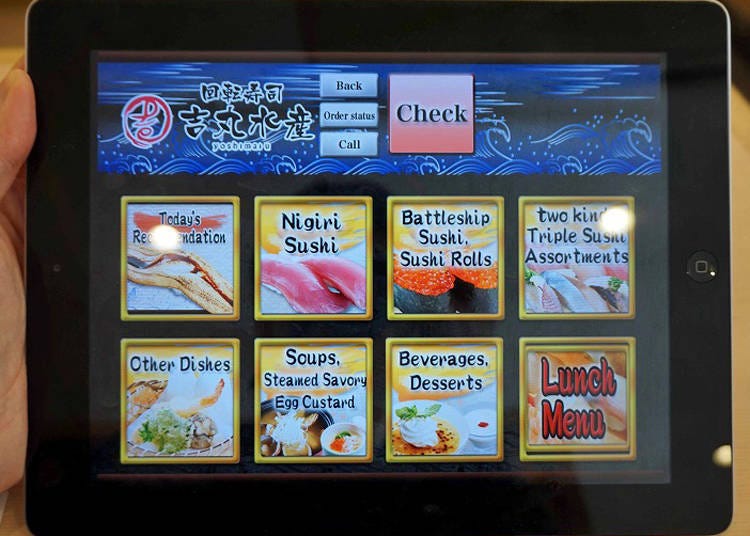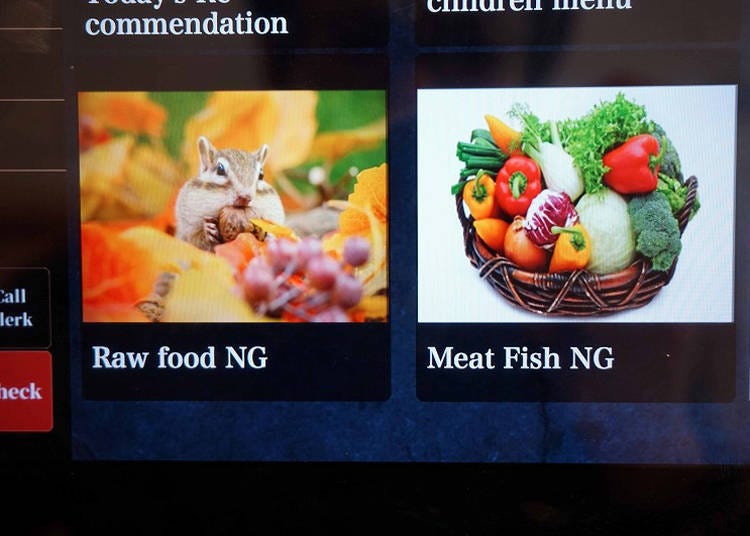 You can browse from the touch panel dishes ranging from meat to fish, as well as vegetarian ones.
Many of the sushi dishes are great and well-balanced with the flavor of the shari. The color of the plate itself is different depending on the price of the dish, so it will be easy for you to keep track of how much you are spending.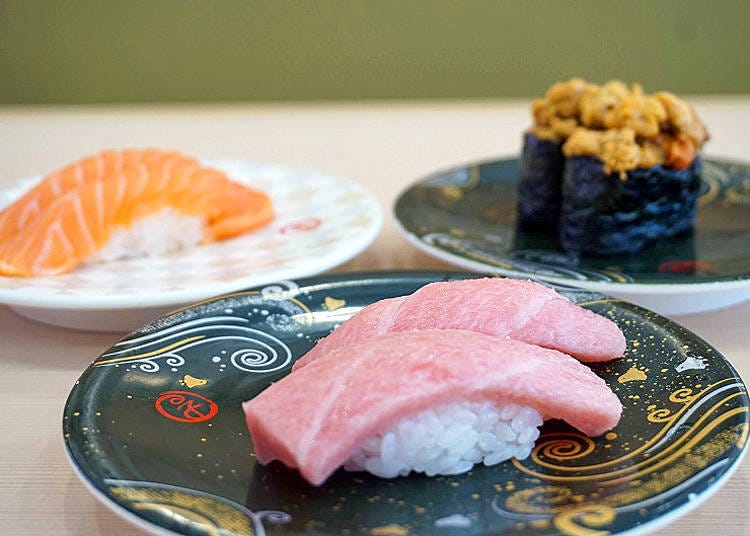 In addition to sushi dishes such as salmon and tuna, you will also find rolled sushi, like harasaki, and side dished like tempura and fried chicken.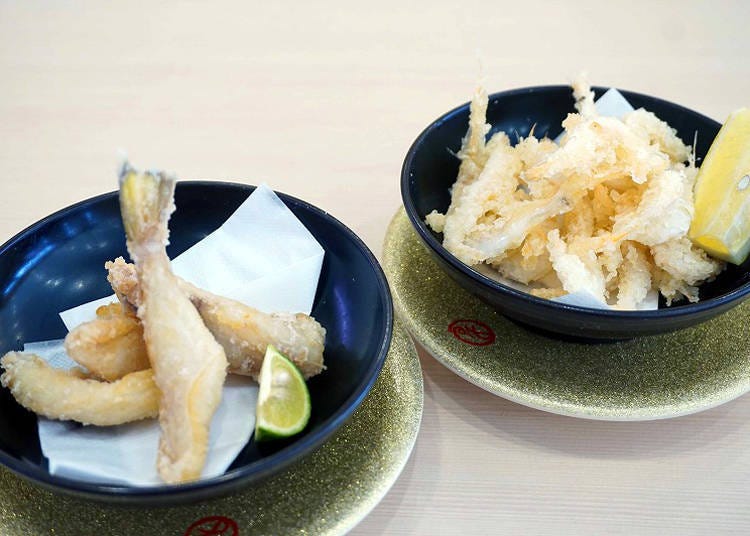 Left: fugu, deep fried, 500 yen (tax not included). Right: Fried white shrimp 500 yen (tax not included)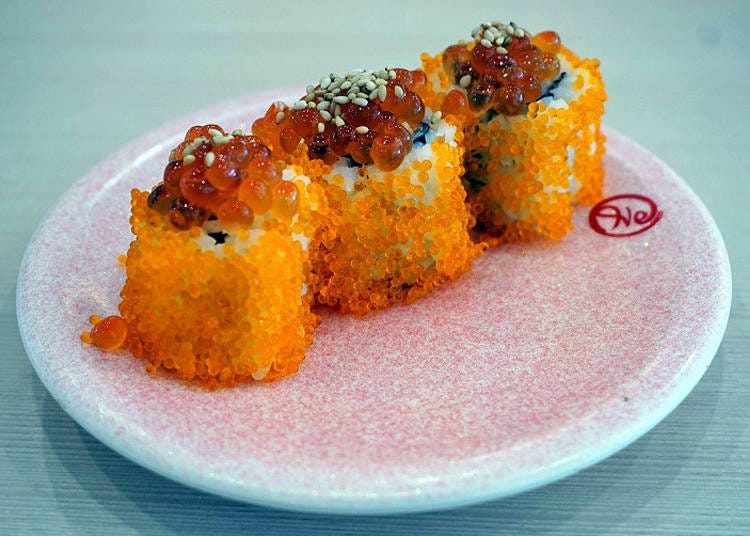 Harasu roll, 390 yen (tax not included)
Yoshimaru Suisan is the perfect place for those who want to enjoy a large variety of flavors at lunch. Depending on the season, fish like tuna and yellow tail may not be available.
Yoshimaru Suisan (Aqua City Odaiba)

吉丸水産 アクアシティお台場店

Address

6F, AQUA CITY, 1-7-1, Daiba, Minato-ku, Tokyo

Nearest Station

Access: 1 minute walking from Daiba Station on the Tokyo Rinkai New Transit Rinkai Line. 6-minute walk from Tokyo Rinkai Line, Tokyo Teleport Station。


Phone Number

03-5530-4401

Open: 11am-11pm (Last order 10pm)
Closed: always open
Zest Cantina Odaiba (Fast food): Specialty hamburgers!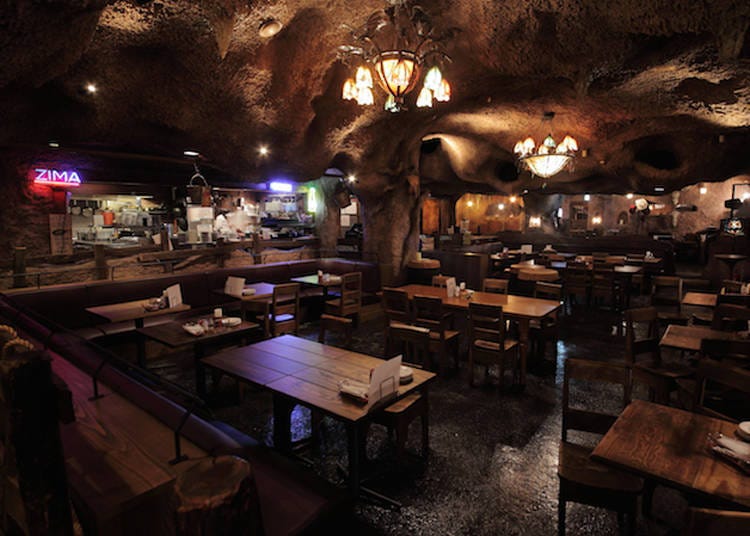 The cave-like Zest Cantina Odaiba, is a modern Mexican restaurant that serves meat dishes like burgers, tacos, and steaks. The staff are friendly and speak English Perfectly. It's open until midnight, and it can be used also as just a bar.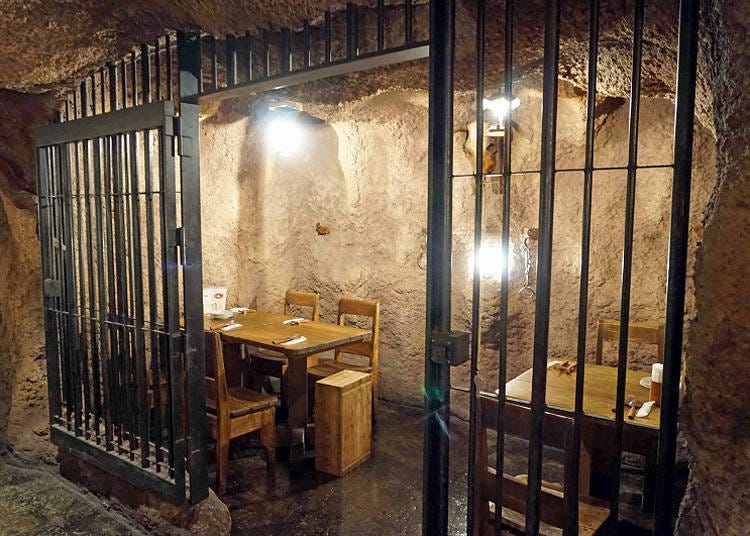 There is also a semi-private room with a prison design.
The specialty item on the menu of this restaurant is the "Zest Burger," which uses 100% US prime beef, for 1000 yen (tax included). It sports lots of toppings and flavorful patties. The savory homemade chili sauce enhances the taste. This burger alone is big enough, but it comes also with a salad on weekdays at lunchtime, and it comes also with an all-you-can-eat-potatoes, and an all-you-can-drink option.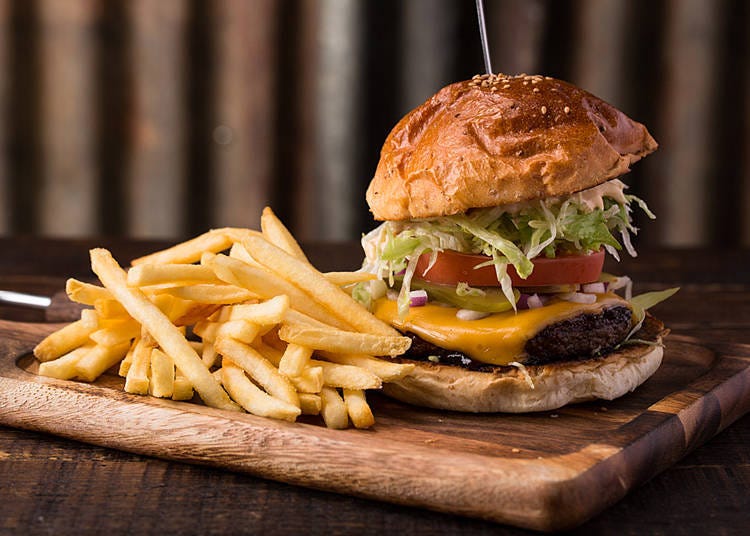 You will find a selection of whiskey and liquors, including Mexican specialties like tequila that you can enjoy with your food.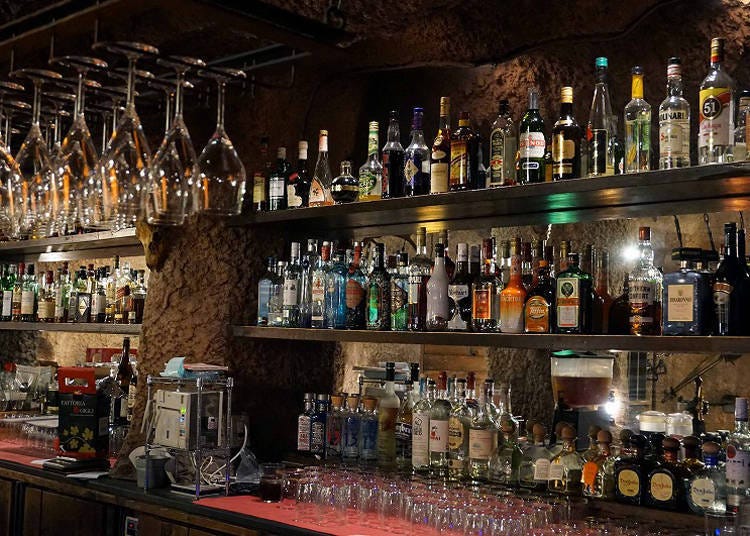 ゼスト キャンティーナ お台場

Address

4F, AQUA CITY Odaiba, 1-7-1, Daiba, Minato-ku, Tokyo

Nearest Station

Access: 1-minute walk from Daiba Station on the Tokyo Rinkai New Transit Rinkai Line. 6-minute walk from Tokyo Rinkai Line Tokyo teleport Station.


Phone Number

03-3599-4803

Open: 11:30am-12am (lunchtime 11:30am-3pm) (Last order: Food 11pm, Drinks 11:30pm)
Closed: Always open
Gonpachi Odaiba (Tempura): Enjoy crisp shrimp and hand-made soba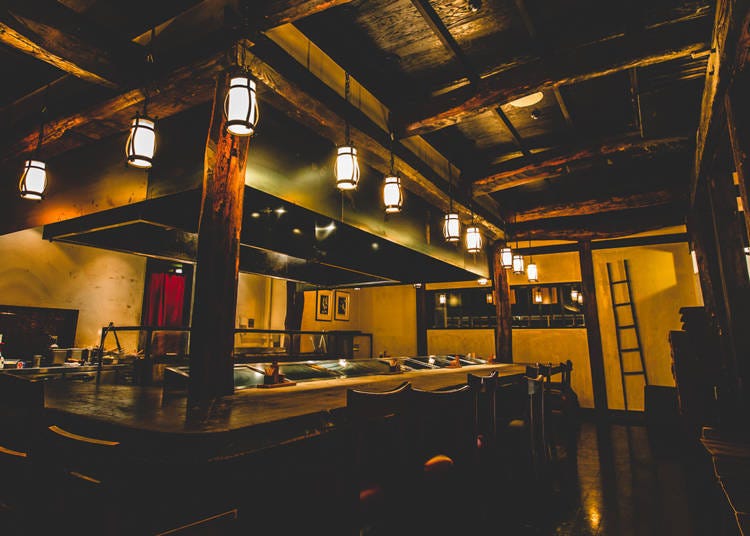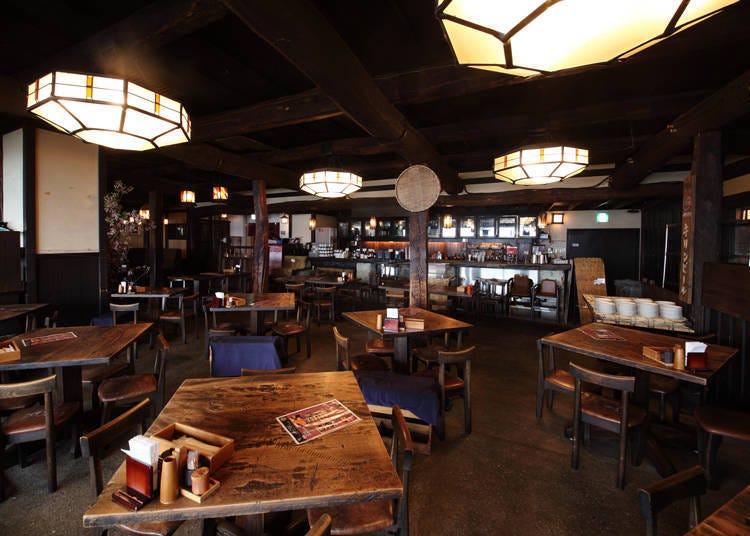 Gonpachi Odaiba, where you can enjoy soba, skewers, and tempura, is a popular Japanese restaurant celebrating its 20th anniversary in 2020. You can enjoy your meal in a space that looks like an old-style Japanese house. The skewers are carefully prepared with slow-burning charcoal, and the noodles for soba are hand-made every day with the restaurant's unique recipe.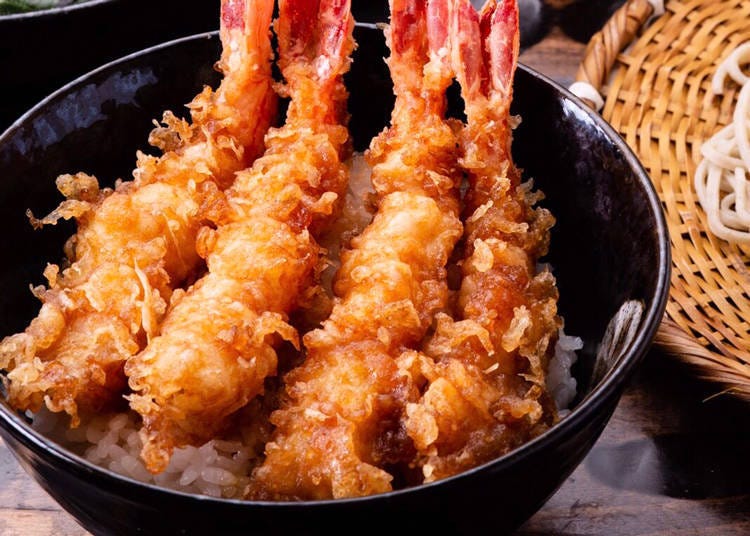 Gonapachi Odaiba's popular lunch choice is Edo-mae Ebi Shitendon, a dish with 4 large prawns for 1000 yen (including tax). This is a perfect combination of crispy shrimp goodness, and the restaurant's secret sauce! This is a very satisfying weekday only lunch item that comes with pork soup, handmade soba and drinks, in addition to the tempura bowl.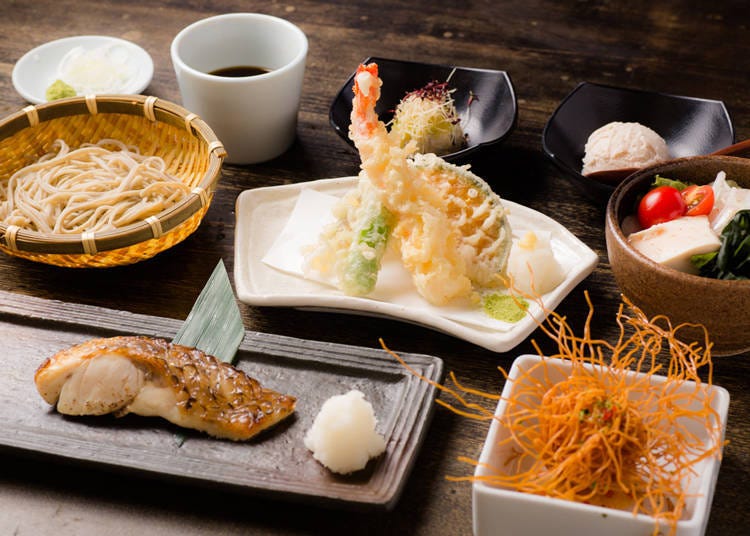 Another popular order: assorted appetizers, tempura lunch course with grilled fish (2,500 yen including tax)
The soba is hand-made in the store, and you can see the kneading and cutting process from up close. Enjoy the craftsman's work!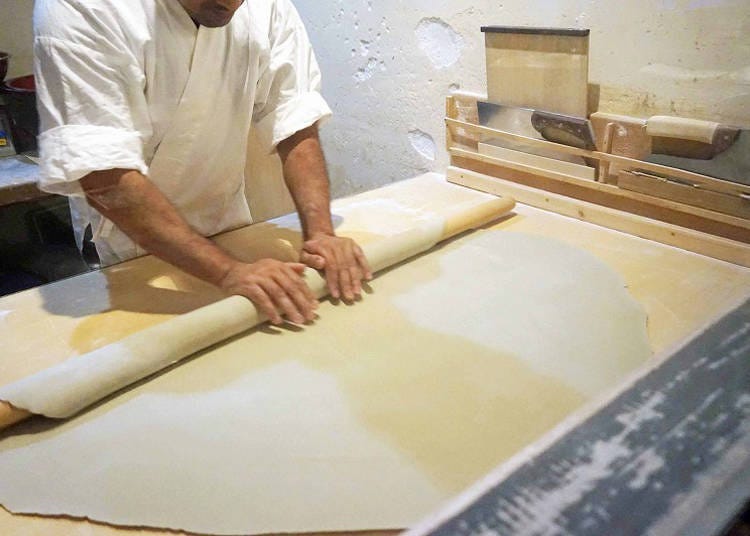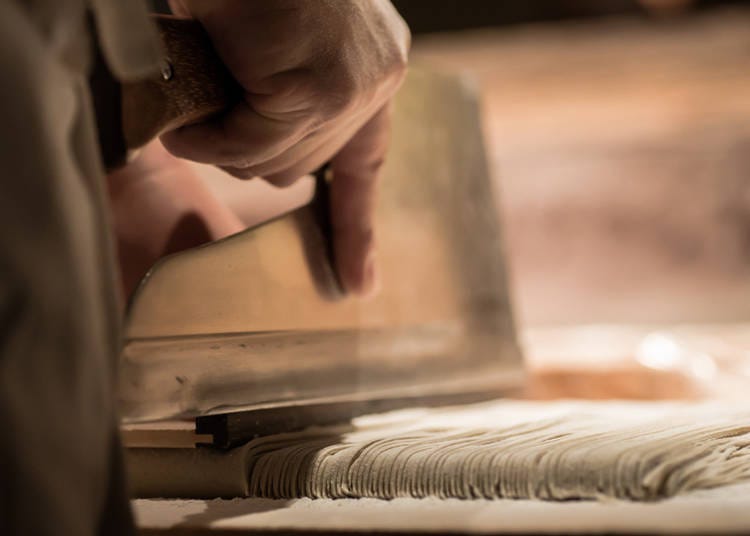 The restaurant is open until 3:30am, so you can enjoy Japanese food and sake to your heart's content while watching the lights of Tokyo Bay and the city of Odaiba from the seats by the windows. There are many foreign staff members and the menu is available in English as well.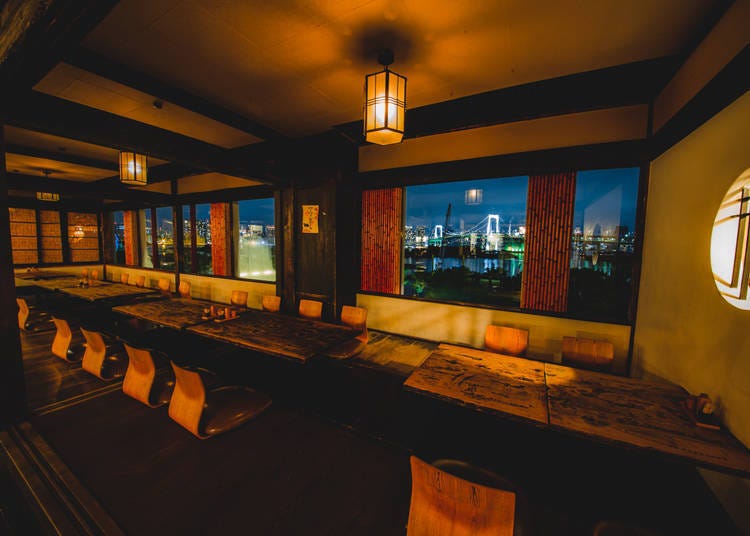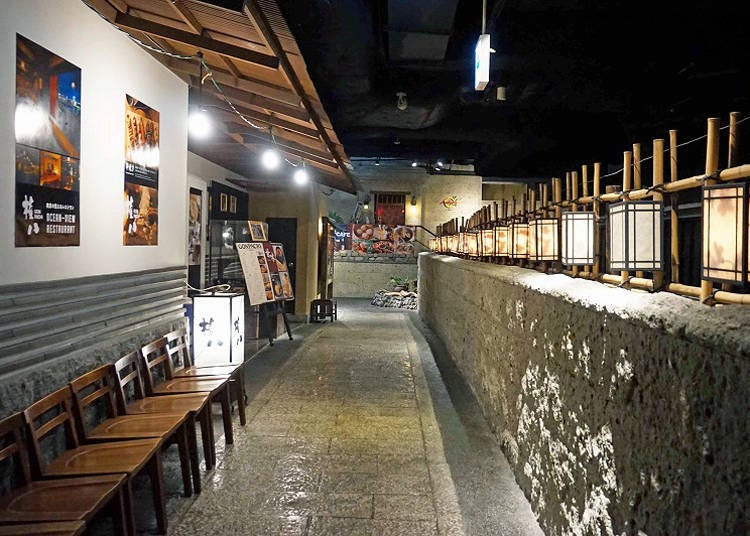 The aisle in front of the store also has a Japanese atmosphere
権八 お台場

Address

4F, AQUA CITY Odaiba, 1-7-1, Daiba, Minato-ku, Tokyo

Nearest Station

Access: 1-minute walk from Daiba station on the Tokyo Rinkai New Transit Rinkai Line. 6-minute walk from Tokyo Rinkai Line Tokyo Teleport Station.


Phone Number

03-3599-4807

Open: 11:30am-3:30am (lunchtime 11:30am-3pm) (last order 3am)
Closed: always open
Odaiba is like a huge theme park where you can enjoy leisure and dining while catching a great view over the sea. Take your time to walk around and enjoy the many places to have fun for adults and children, and the many food choices.

Written by Medium KK
*This information is from the time of this article's publication.
*Prices and options mentioned are subject to change.
*Unless stated otherwise, all prices include tax.