Among the many retail stores in Japan, Francfranc in particular stands out for the sophisticated designs of the many functional items it offers for sale. We enlisted the cooperation of the clerks at the Francfranc BAZAR outlet shop to select the five most popular products sold there!
Checking out Francfranc BAZAR in Odaiba!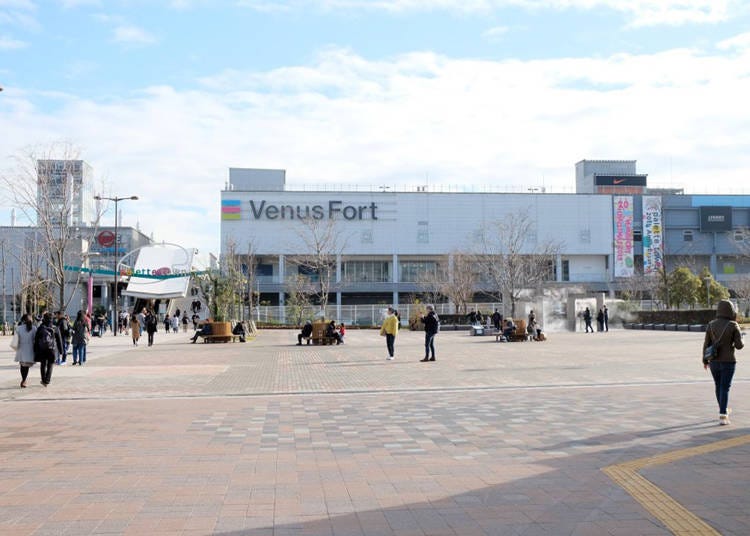 Francfranc BAZAR, located in the Odaiba VenusFort shopping mall, is visited by many foreign tourists and for this article, we were told what products are particularly. Located right in front of the Tokyo Teleport Station on the Rinkai Line, this place is popular with tourists at all times of the week because of its easy access provided by free shuttle buses running directly between it and Hamamatsucho Station and Haneda Airport.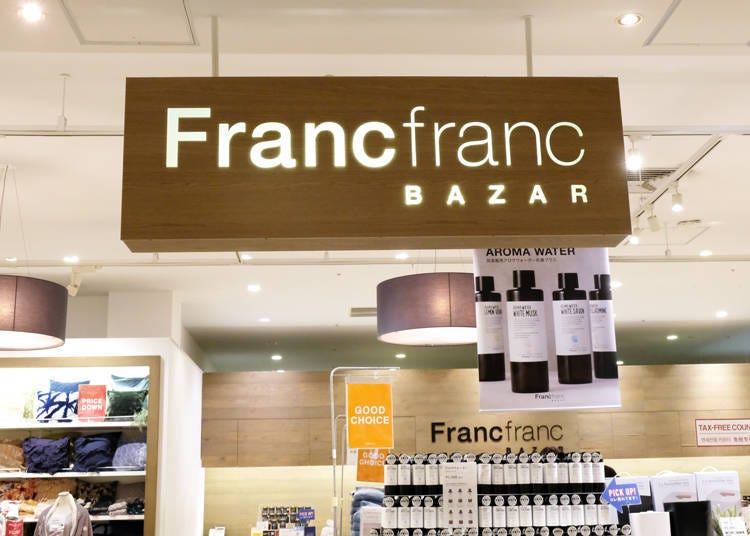 There is such a wide selection of interior goods and sundries in Francfranc BAZAR, located on the third floor of VenusFort, that it is easy to forget the time while shopping there.

Here are products that its clerks told us are especially popular!
1. Rilaboo, the ultimate foot care item!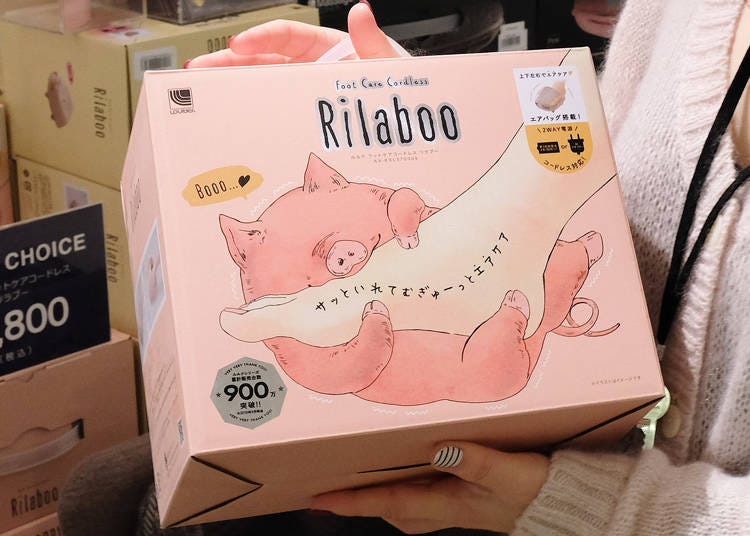 The Lourdes Foot Care Cordless Rilaboo, which comes in a box with the picture of a cute little pig caressing a foot, is a foot massager that sells for 8,800 yen (tax included). This foot care item uses built-in air bags that squeeze and contract to skillfully massage the toes, sole, and instep of the foot.

The massage is firm enough to be pleasantly soothing and is effective in relieving accumulated fatigue. The clerks tell us that this is an item they themselves cannot do without because after a long day of standing at work it really eases the pain in their feet. There is also a product in this series especially designed for hand massages, but the one for foot care can also be used for hands. This is especially recommended for those who do work with their hands.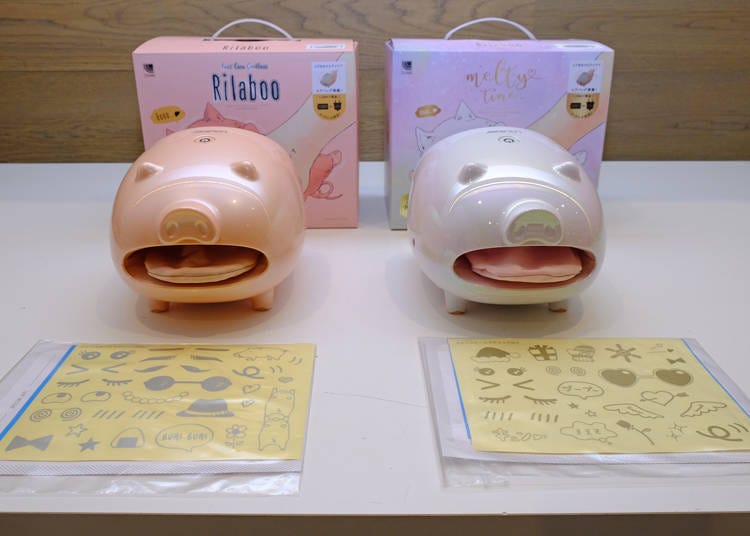 Lourdes Foot Care Cordless Rilaboo
Inside the box is the massage device in the shape of a cute pig. It comes in either pink or aurora (2019 autumn / winter limited model). The design is simple yet charming enough to make a pleasant interior decor item when not in use. It comes with seals for adding eyes and a ribbon which can be applied to the device to give it more personality.

It is small enough to fit into a bag so should not be a problem to pack even if you purchase it during your trip. A relaxing foot massage by Rilaboo is the perfect way to end a day of sightseeing and shopping. 

* The aurora color is only available at Francfranc, so there are times when it is not available for sale.
2. Erun Eco Bag: Recommended souvenir!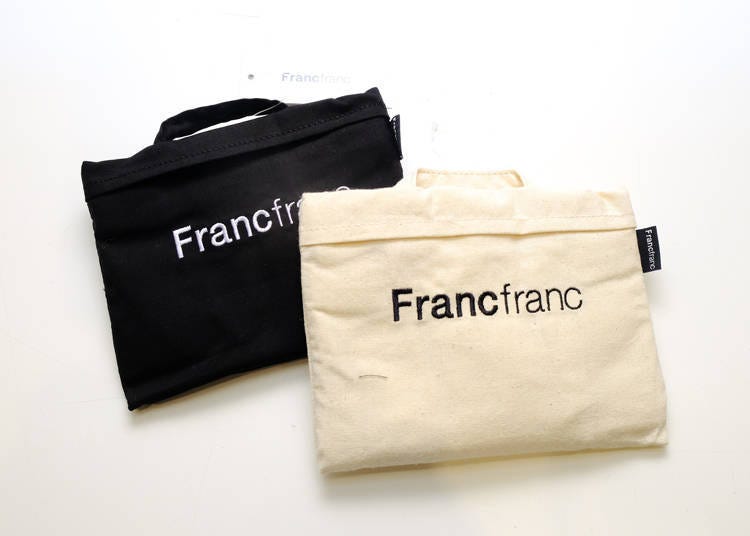 Erun Eco Bag 600 yen (tax included)
This eco bag is made of cotton and can be folded up into a smaller size. It comes in either white or black.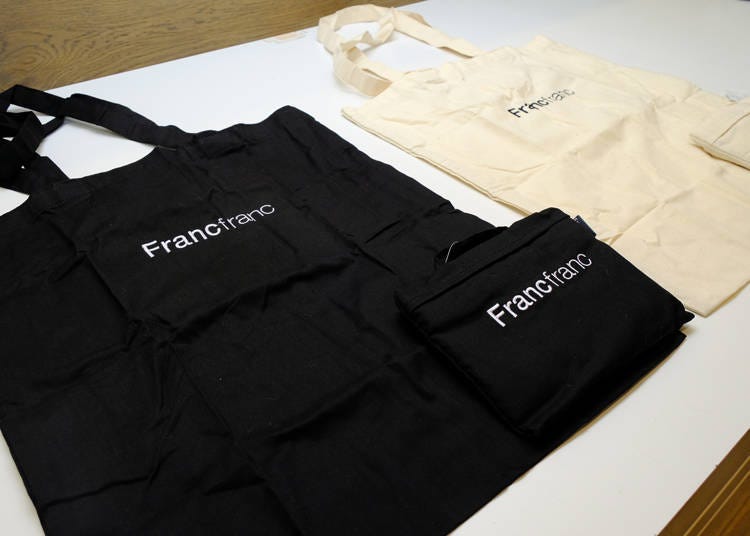 When unfolded, it becomes a surprisingly large bag. It is quite capable of holding a large number of objects! This is perfect to take on trips for those times when you buy more than you had room to pack as this bag will hold the extra items.

It goes well with any clothes because of its simple and attractive design and is popular for its ease of use. The straps are long enough that you can sling them over a shoulder.
3. Highly popular with Korean tourists! Rabbit Rice Spoon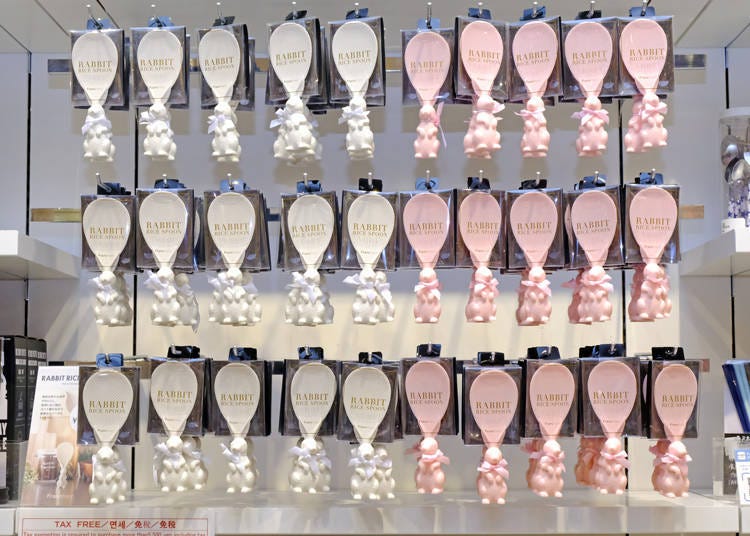 Rabbit Rice Spoon 900 yen (tax included)
The handle of this cute rice scoop is in the shape of a rabbit and "because it became popular on SNS for being so cute, it quickly caught the eye of Korean tourists," we were told. The large number of these hanging on display draws much attention even in the store.

It comes in either pink or white. Although white is the more popular color, it seems that when buying one as a gift for a woman then pink is more often selected.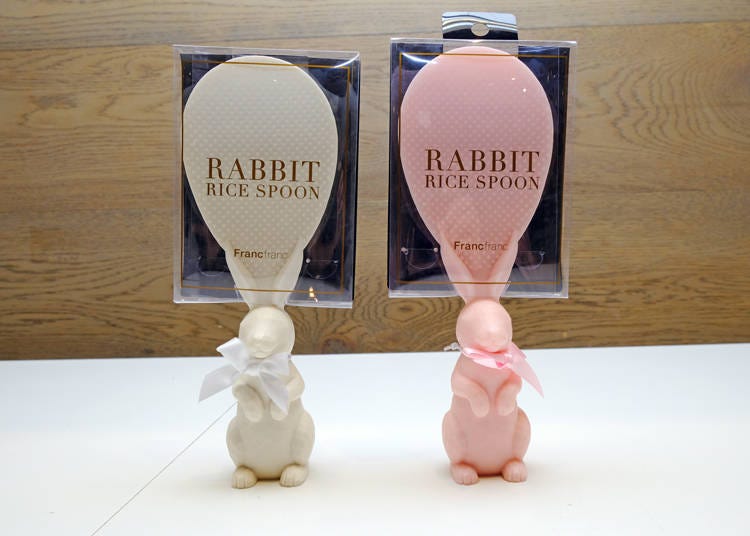 The base of the handle is constructed so that when not in use it can stand alone. It is made from a material to which rice does not stick which makes it easy to clean and is another reason for its popularity. If you are looking for a cute souvenir, then this unique Rabbit Rice Spoon might be just the ticket!
4. POKETLE: a small water bottle that will fit in a pocket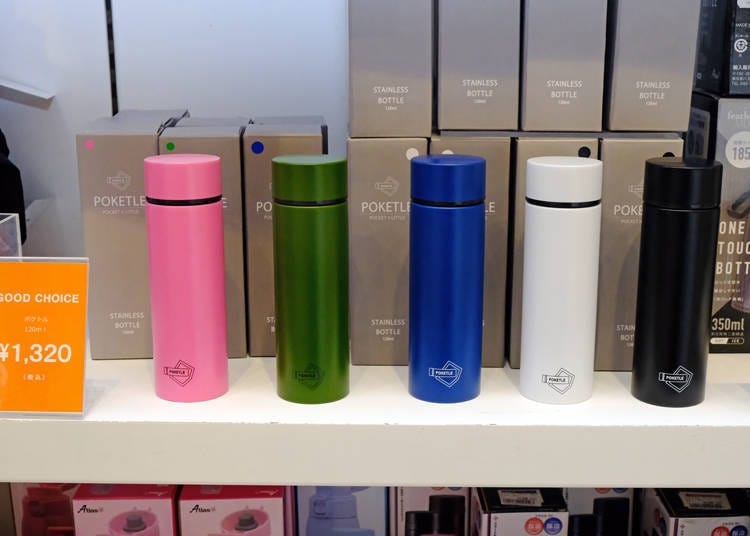 POKETLE 120 ml 1,320 yen (tax included)
The mini-sized mug bottle POKETLE was selected as a hit item for that year by Nikkei Trendy and Nikkei Cross Trend in their "30 Hit Nikkei Trending Products in 2019".

It is 131 mm tall and 45 mm wide with a capacity of 120 ml. It holds the equivalent of about one glass. Light-weight and small, it is perfect for taking on walks and runs! It can be used in any situation.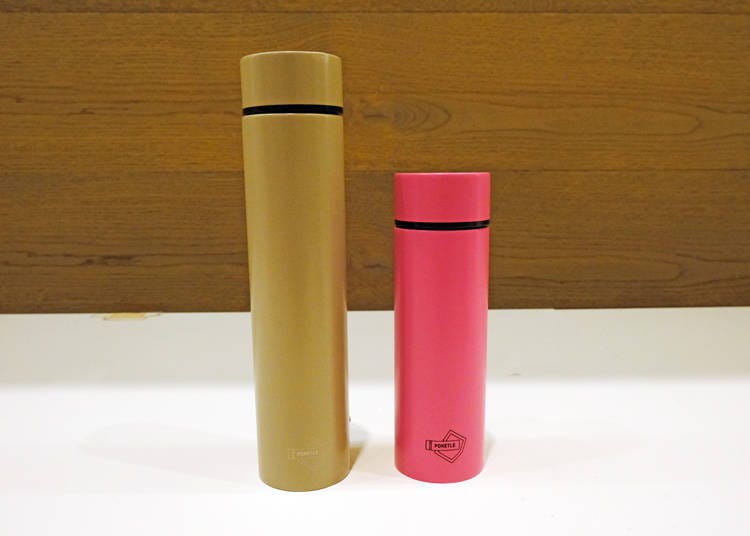 POKETLE 180ml 1,650 yen (tax included)
For those who want something a bit bigger, there is a larger model that can hold 180 ml. It is 196 mm tall and 45 mm wide. It is just a bit taller than the smaller type.

The POKETLE keeps cold drinks cold and hot drinks hot over a long period of time making it a perfect replacement for your coffee cup in the office. Those looking for an item that is a good topic of conversation and a water bottle that can be used normally will definitely want to check out this item!
5. Fluffy Bath Towel: Highly Absorbent!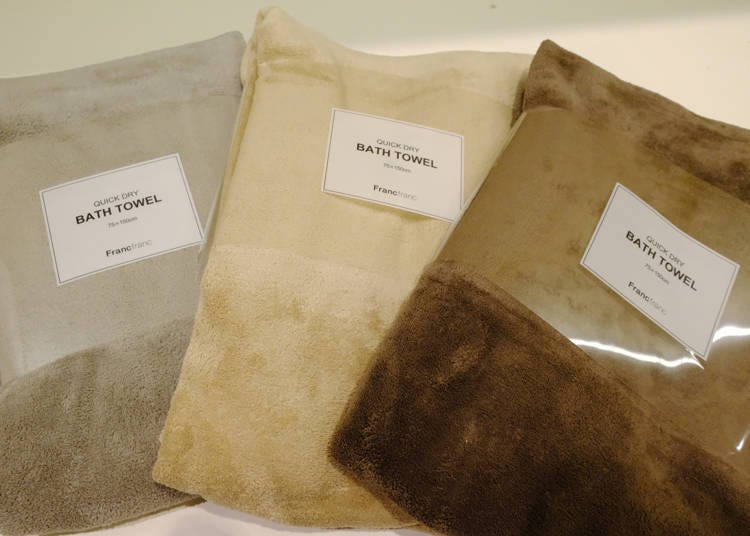 Quick Dry Bath Towel 1,300 yen (tax included)
This is a bath towel with a quick-drying function that gives it excellent water absorption and quick drying properties. A clerk who actually used it highly praised the fact that it immediately dried her hair! 

Made from a fluffy material that feels soft to the touch, it performs marvelously. It makes bath time a bit more luxurious.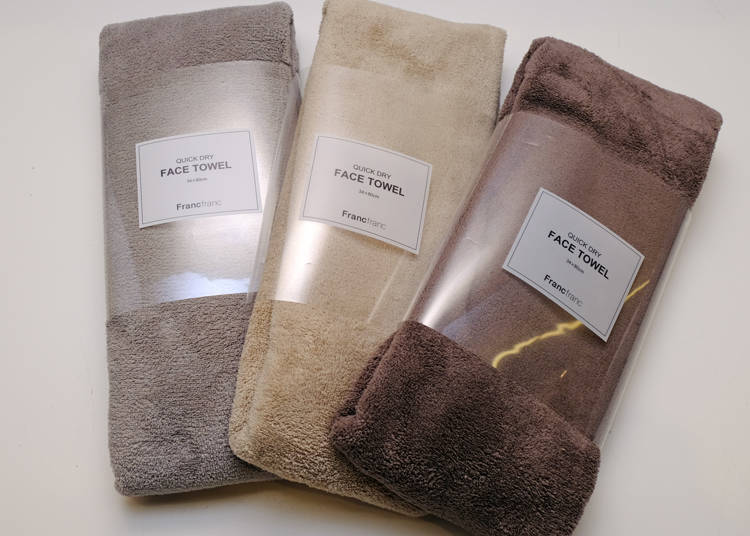 Quick Dry Bath Towel 480 yen (tax included)
Face towels made with the same material are also available. The simple and clean design makes it good for all occasions and popular with both men and women. It makes an excellent gift.

When you visit Francfranc BAZAR be sure to stop by and see for yourself how soft this towel is.
Francfranc BAZAR is the place to go for quality gifts and souvenirs!
The above are just some of the products popular with foreign tourists the clerks at Francfranc BAZAR told us about. The store is located in Odaiba near Haneda Airport, so if you have some time before you need to catch your flight out of Japan, this is a convenient place to stop by for some last minute shopping.

When you come to Japan be sure to visit Francfranc BAZAR!
Francfranc BAZAR(フランフランバザー)

Address

3F 1-3-15 Aomi, Koto-ku, Tokyo 135-0064

Nearest Station

Access: 3-minute walk from the Tokyo Teleport Station on the Rinkai Line.
Directly connected to New Transit Yurikamome Aomi Station.


Phone Number

03-3599-5511

Open: 11:00 a.m. ~ 9:00 p.m.
*This information is from the time of this article's publication.
*Prices and options mentioned are subject to change.
*Unless stated otherwise, all prices include tax.