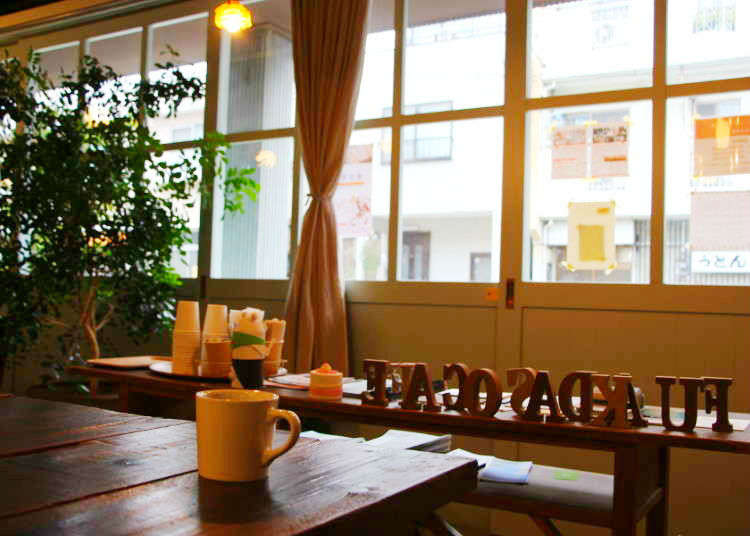 Not too far from the center of Tokyo, Fukagawa is a former merchant district of old Edo, presenting its history through museums, gardens, and its many shrines and temples. Among these spots is Fukadaso, an old apartment that has evolved into something new while keeping its nostalgic look. Fukadaso has gained attention from around the world after being featured in a magazine in Taiwan. Today we visit this place to see what it's all about.
At first glance, Fukadaso is what it looks like – an old, somewhat rundown apartment building which probably would have gotten a new coat of paint had it not become what it is now. It's not a huge building, with two floors, the bottom half with two larger spacious rooms, and the upper floor with a handful of smaller rooms. Curious to find out what's so great about this place, I step inside.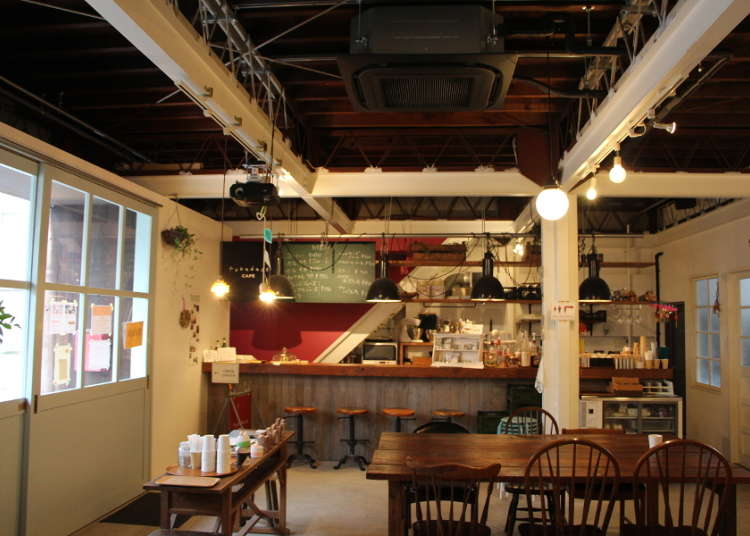 The main portion of this building is Fukadaso Café, a fine, cozy shop with seats and couches and a counter serving a variety of coffee and homemade sweets. With art pieces on the wall and overall relaxed atmosphere, it's a suitable place to wind down and take a break. Towards the back of the shop is a terrace space to enjoy a cup of coffee on days with nice weather surrounded by pretty green plants. Pets are also allowed there, allowing you to swing by during your walk with your dog. They are open in the evenings on Fridays. Their menu consists of coffee for 450 yen, scones for 300 yen and others.

Hours: Mon, Thur, Sat, Sun: 1:00 p.m. - 6:00 p.m.
Fridays: 1:00 p.m. - 9:30 p.m. Last Order 9:00 p.m.
Closed: Tuesdays and Wednesdays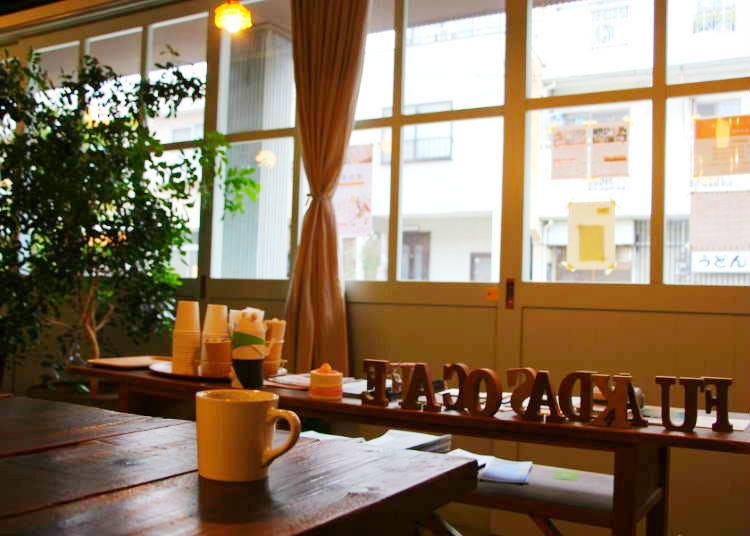 フカダソウカフェ

Address

fukadaso101,1-9-7 Hirano, Koto-ku, Tokyo, 135-0023
A Building of Wonders. rikashitsu
So what makes this place so special? As mentioned Fukadaso once was a humble little apartment building, and in 2012 it was remade into an ever evolving artistic space by the owner who also runs the café. Apart from the café, all rooms which used to be apartment rooms with minimal utilities, are now rented out to creative people for them to use how they want, from a studio to a shop, to spas and galleries.

The room next to Fukadaso Café was Rikashitsu, a shop that looks like a surreal yet beautiful science lab. Walking in I was greeted with countless beakers of all shapes and sizes lined up across the tables. Their concept is to let people use these unique tools often only used for experiments in day to day life. The beakers are all professional grade and made with glass specifically for use with science by glass craftsman, but they have custom beakers made for all sorts of uses, from planting and making terrariums, cooking and making coffee, and even some with handles on them to use as cups! I could have easily spent all my time at this wonderful shop. They even offer different workshops in the room right above the shop for making things like your own terrariums to hand made soap. 

The beakers with handles (300 ml) are priced from 1112 yen, test tubes with measurements (20 ml) are priced from 138 yen.

Hours: Weekdays:1:30 p.m. - 6:00 p.m.
Weekends and Holidays:1:00 p.m. - 6:00 p.m.
Closed: Irregular.
Please check home page for additional information.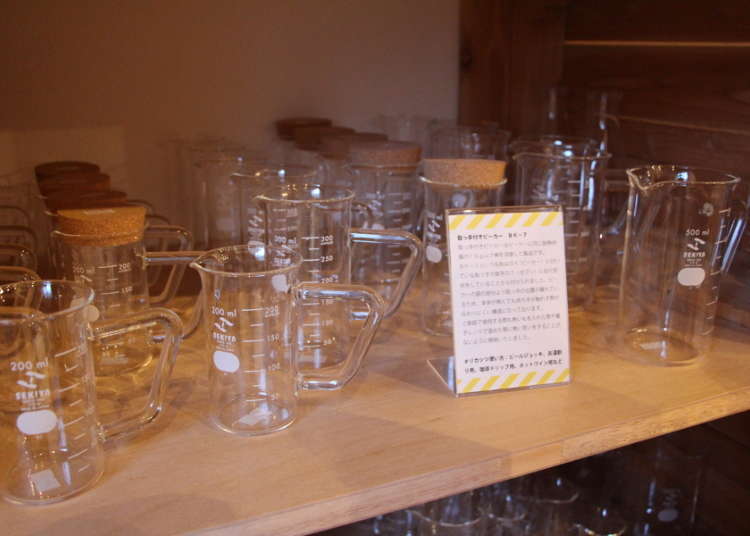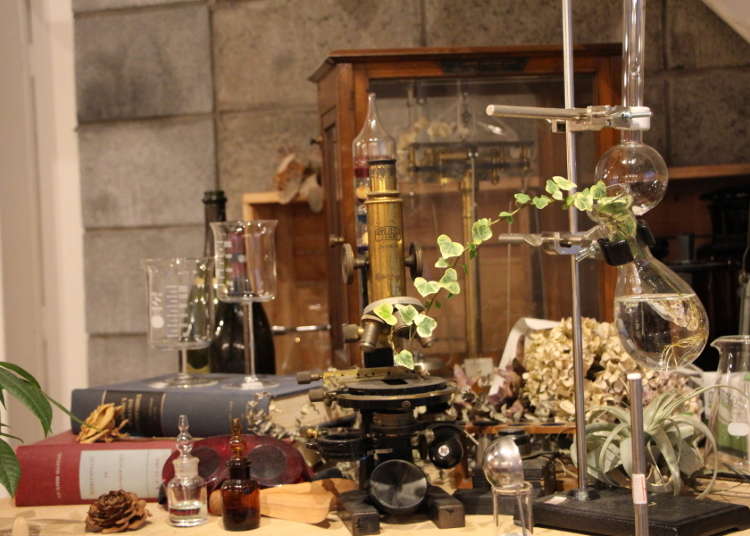 Address

Fukadaso102, 1-9-7, Hirano, Koutou-ku, Tokyo, 135-0023
View Map

Nearest Station

Kiyosumi-Shirakawa Station (Tokyo Metro Hanzomon Line / Toei Oedo Line)

Old Apartment, New Possibilities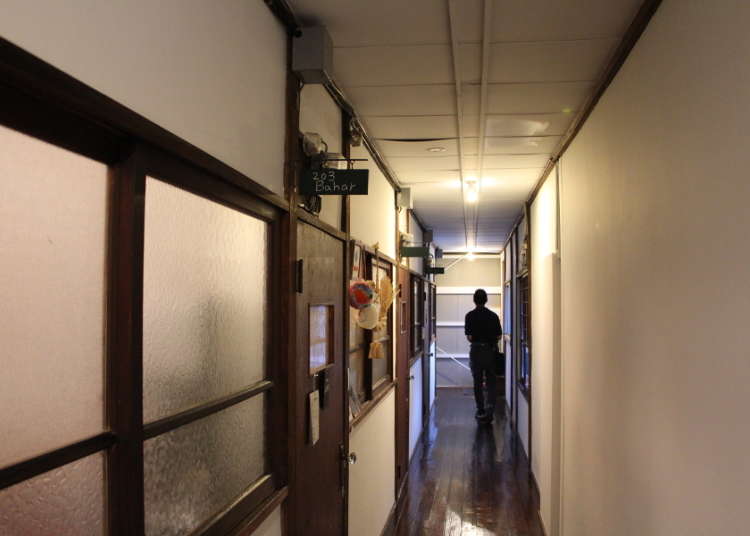 The rooms on the second floor are accessed by the stairs on the left side of the building. Going inside from this entrance gave an interesting feel, as the hallway retains the feel of old Japanese apartments from decades back. Each room retains its old architecture, with old windows made with special patterns which aren't produced anymore. There are four rooms on the upper floor and when I visited two were being set up and two we're being used and running. One of the rooms was being used as a spa, Spa Brico, providing acupuncture and body care. The other one, Bahar, was a little shop selling handmade crafts.
Walking into room 203 where Bahar was set up, I was immediately greeted with a cozy little shop with a warm atmosphere, the walls and tables with handmade clothes and other cloth crafts. Little decorations and hand knit animals gave an additional charm to the shop. Bahar is the atelier of Kazue Kasuga, a crafter of handmade goods, who travels to various locations around the world to obtain different sundries for her craft. When we visited, "The Handmade Works of Laos - Handwoven Cloths- Exhibit" was on display, with cloths both woven and dyed by hand exhibited and sold. Apart from selling her crafts, she sells crafting materials and holds classes for learning handcraft. Her theme is "enjoying cute crafting hands on." Browsing the shop I spotted various pieces of clothes, towels, handkerchiefs, jewelry and more.

Hours:1:00 p.m. - 6:00 p.m. (~7:00 p.m. between April and September)
Open:irregular schedule

Please check home page for additional information.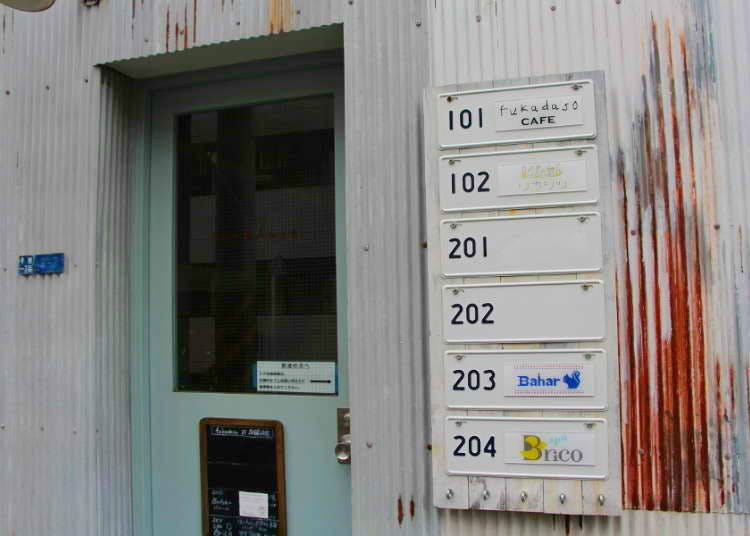 Fukadaso is a living piece of the past, retaining the look and feel of buildings from generations past, while having a growing and ever-changing interior. With the rented out rooms on the upper floors, I can expect this place to be different when I visit it again. Today I experienced a comfortable café, a modern home science shop, and a cute artistic gallery of crafts. It's exciting to wonder what new things will join this ingenious spot in this fascinating building in the future.
Address

Fukadaso203, 1-9-7, Hirano, Koutou-ku, Tokyo, 135-0023
View Map

Nearest Station

Kiyosumi-Shirakawa Station (Tokyo Metro Hanzomon Line / Toei Oedo Line)

Written by: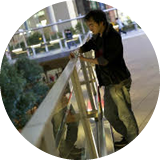 *This information is from the time of this article's publication.
*Prices and options mentioned are subject to change.
*Unless stated otherwise, all prices include tax.
Search for International flights