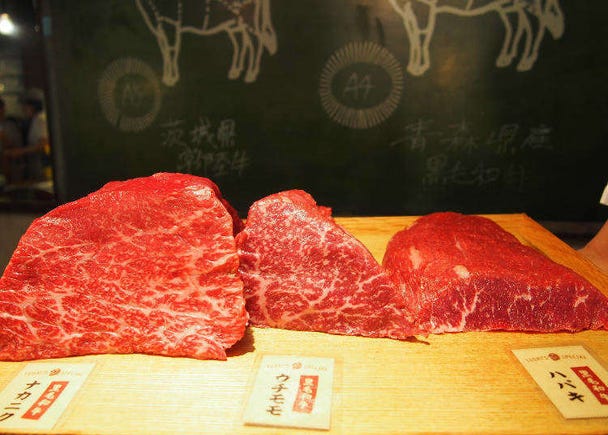 Nihonbashi is one of Tokyo's stylish neighborhoods in the metropolis' center, so it doesn't come as a surprise that it is a treasure trove of amazing gourmet experiences! One of them is a restaurant called Pound-Ya. It focuses entirely on Wagyu, the highly sought-after Japanese beef that everyone wants to try! Here, this beef delicacy can be savored in a casual, relaxed environment for extremely reasonable prices, starting at merely 10 yen per gram! Curious yet? Follow us to Pound-Ya then and get a closer look.
Reasonable Wagyu Delights at Pound-Ya!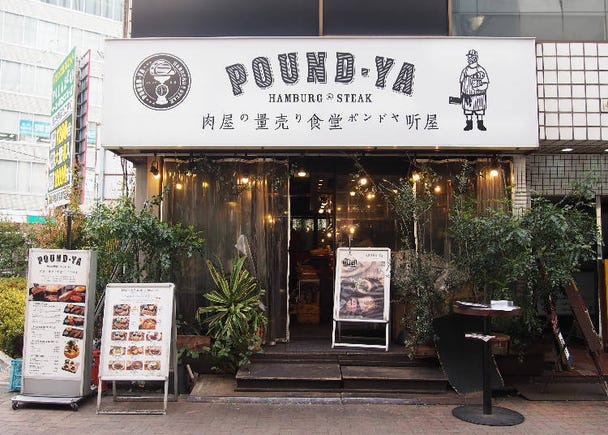 Take Mitsukoshimae Station's Exit 1 to get to the laid-back restaurant. "Pound" refers, of course, to the weight of meat, while "ya," the second part of Pound-Ya's name, means "shop" or "restaurant" in Japanese. This emphasizes the concept of eating pounds of delectable wagyu beef 'til you drop!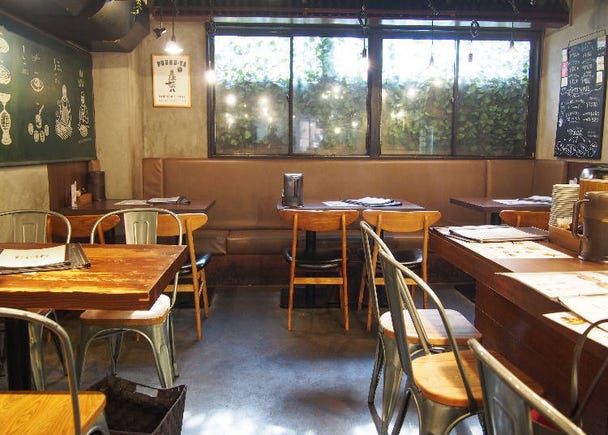 Nihonbashi ranks high on the list of places that Tokyoites love to dine in and keeps on attracting tourists from all over the world. Because of that, you'll find that Pound-Ya's guests are wonderfully diverse – tourists, families, students, it's people of all ages that make this spot so welcoming and laid-back. The restaurant really does an amazing job of showing that wagyu beef is for everyone, even providing a special kids' menu and high chairs. Pound-Ya's atmosphere resembles a fun, lively cafeteria, far from the formal feeling you might expect from a restaurant that serves wagyu beef.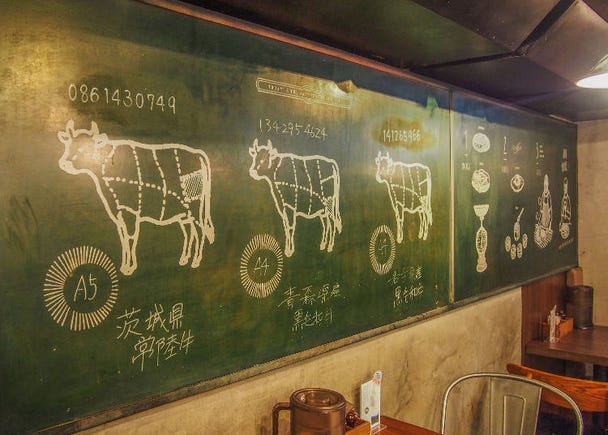 A blackboard inside the shop informs guests about from which prefecture the beef on their plates come from. In this example, it's Hitachi beef from Ibaraki, Kuroge beef from Aomori, and Kuroge beef from Iwate (from left to right).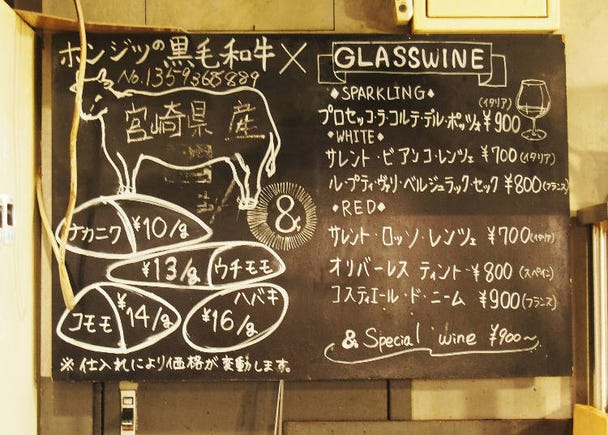 All the wagyu beef that Pound-Ya serves is from domestic production and boasts a quality grade of A4 or higher. It's delivered directly from the contract farms every day, so you won't find any frozen meat on your plate.

Everything's fresh and that is evident in the taste! Even other ingredients, such as milk and eggs, are from high-quality domestic production.

Pound-Ya also features a large blackboard that shows the wagyu offers of the day, alongside the production area as well as individual identification number of the cow. With this number, guests can check every little detail about the beef on their plate, from the region it was raised at to its breed, history, and so on. It's definitely the real wagyu deal!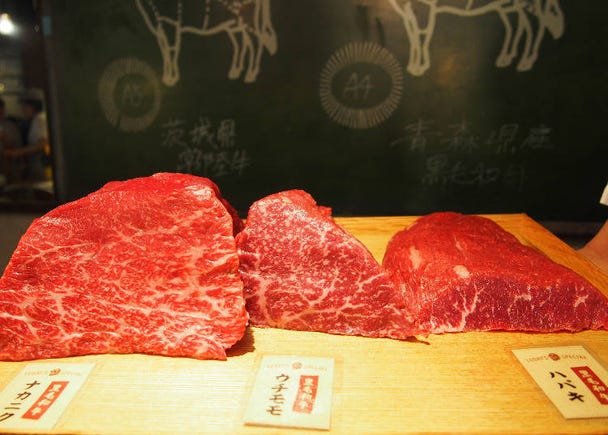 Kuroge wagyu beef, from left to right: outside round (backside of the outer thigh, 10 yen per gram), top round (inner thigh, 13 yen per gram), "habaki" (lower, inner part of the outer thigh, 16 yen per gram)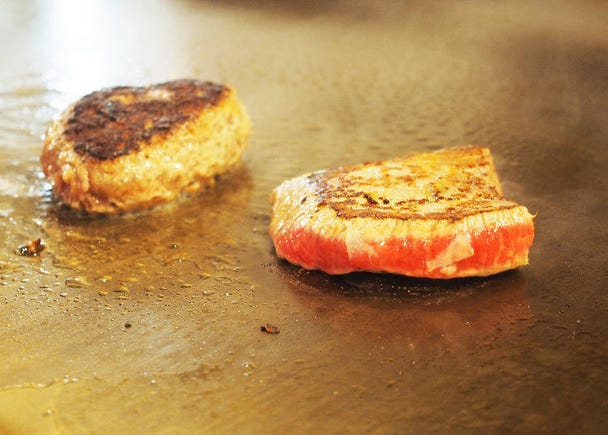 You get to observe the beef being grilled on the hot teppan.
Kuroge wagyu, beef from Japanese Black, can roughly be divided into lean meat (akami) and marbled meat <(shimofuri-niku)|i@>. The prices of lean meat are decided by the cut, such as outside round costing 10 yen per gram or top round for 13 yen per gram.

If you don't know what to order, we recommend starting with said outside round, called nakaniku in Japanese. Its fiber is fine, making for a deep taste rich in umami. When you order a kuroge beef steak, you directly choose a part from which the desired weight is cut. This weight is what you will pay. Your cut is grilled right after your order on a hot teppan, letting you watch throughout the entire process.
The Popular Classic: Kuroge Wagyu Steak, "Akami" 1/2 Pound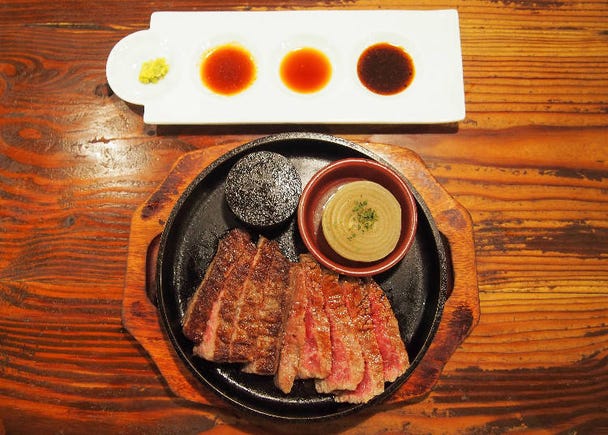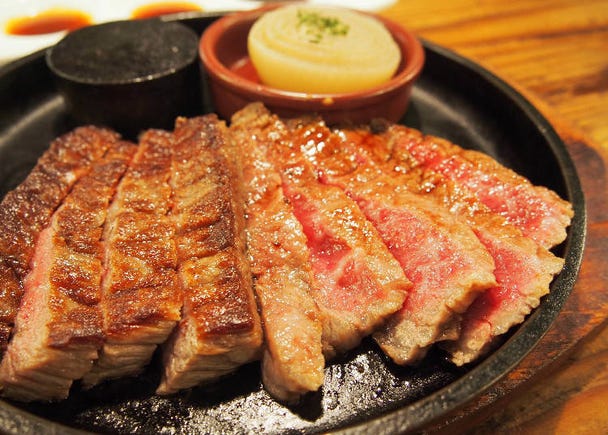 Kuroge wagyu steak, "akami" 1/2 pound (250g) for 2,500 yen
The classic, popular order at Pound-Ya is 1/2 pound of kuroge wagyu steak akami. Made from a lean meat cut, it is tender but still firm to the bite and unbelievably fresh. There are four different sauces dedicated to both steak and hamburger steak. The thick barbecue sauce boasts a subtle sweetness and a nice aroma of black pepper, then there's a Japanese-style sauce with a gentle sourness and a black pepper and onion sauce that makes perfect use of the natural sweetness of onion. The fourth condiment is wasabi and you'll be surprised how amazingly well it goes with beef!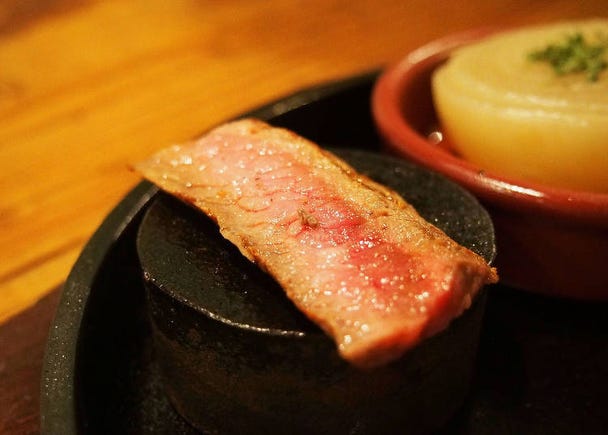 The steak we were served was cooked to about a third to a quarter. If that's too rare for you, simply let it rest a while on the hot stone plate it is served on. It also came with half an onion from Hyogo Prefecture's Awajishima, rich in taste and wonderfully sweet! That onion and the amazing wagyu beef are a match made in heaven. Juicy, aromatic, and simply delicious.
Plenty of Volume: Pound-Ya Plate 1 Pound Grill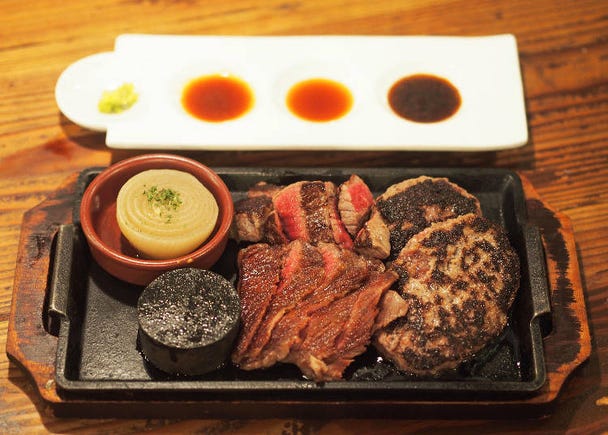 The "Pound-Ya Plate 1 Pound Grill (450g)" for 4,700 yen
The most luxurious dish on Pound-Ya's menu undoubtedly is the "Pound-Ya Plate 1 Pound Grill (450g)" for 4,700 yen. It features 100g of kuroge wagyu lean meat steak and 100g of marbled beef steak, as well as 100g of homemade hamburger steak AND 150g of domestic beef hamburger steak. With four kinds of meat delights in total, you certainly won't have to go hungry and we recommend sharing it with at least two friends!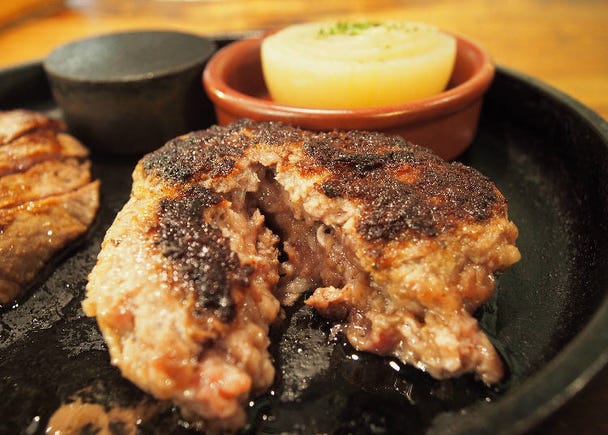 Let's take a closer look at the hamburger steaks. One of them is made from domestic beef (6 yen per gram). It is wonderfully juicy and more on the fatty side. The other one is the homemade Pound-Ya hamburger steak (8 yen per gram) and is much leaner, being crisply fried on the outside while hiding a soft and juicy core. Both of them are delicious, but which one is your favorite?
Luxurious Lunch Set: 180g Hamburger & Steak Combo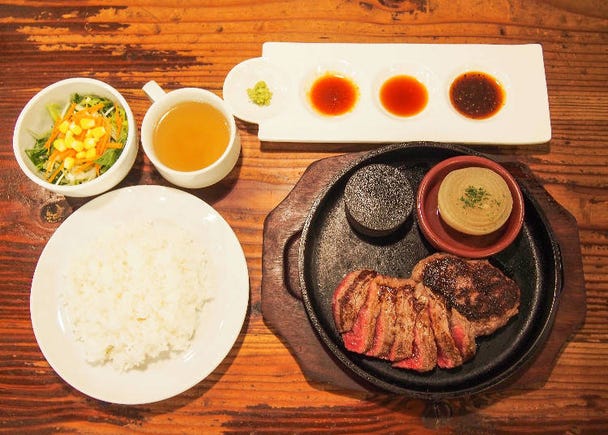 Only during lunch: the "180g Hamburger & Steak Combo" for 1,790 yen
The prices at Pound-Ya are already reasonable, but the lunch sets are yet on another level. Particularly popular is the "180g Hamburger & Steak Combo" for 1,790 yen that features 100g of juicy hamburger steak, 80g of proper steak, as well as rice, salad, and soup.
The Best from the Teppan: Marbled Kuroge Beef Yaki-Shabu Bowl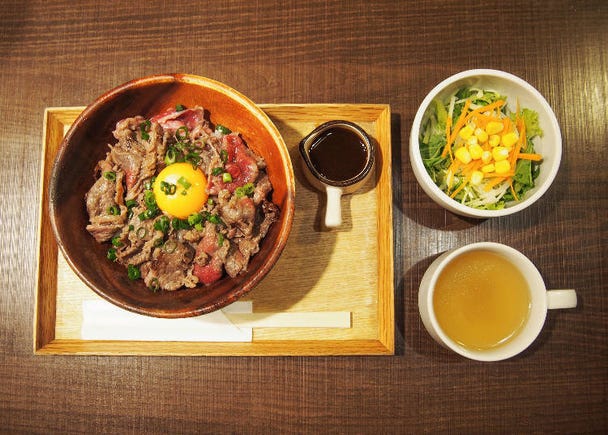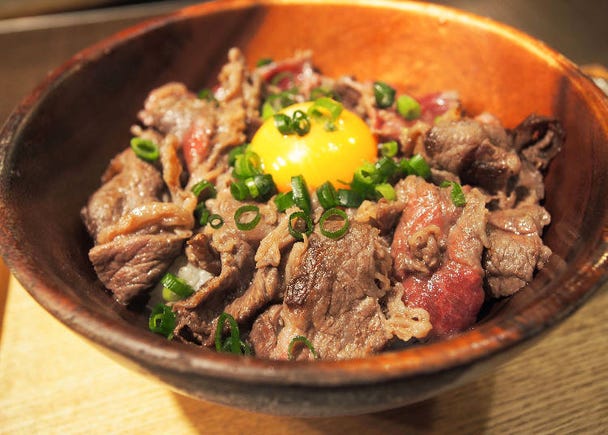 The "Marbled Kuroge Beef Yaki-Shabu Bowl" (lunch set, 100g) for 1,470 yen
Another lunch set that we want to recommend is the "Marbled Kuroge Beef Yaki-Shabu Bowl (100g)" for 1,470 yen. Shabu-shabu is Japanese meat fondue and the meat this usually simmered, but Pound-Ya puts a creative spin on the classic dish! Beautifully marbled kuroge wagyu is grilled on the hot teppan until about a third to half of the meat is cooked, making for a soft texture and a rich flavor. It's seasoned with a black pepper and onion sauce, giving it a fresh kick despite the marbling. This set is available in various sizes, including 120g, 80g, and 40g (with salad but no soup), so pick according to your appetite!

Now, you probably aren't reading this if you're not a fan of beef. Just in case, however, Pound-Ya also has Satsuma chicken from Kagoshima Prefecture on its menu, as well as shio-kōji (salted rice malt) grilled pork from Iwate Prefecture. There's plenty of gourmet delights to explore!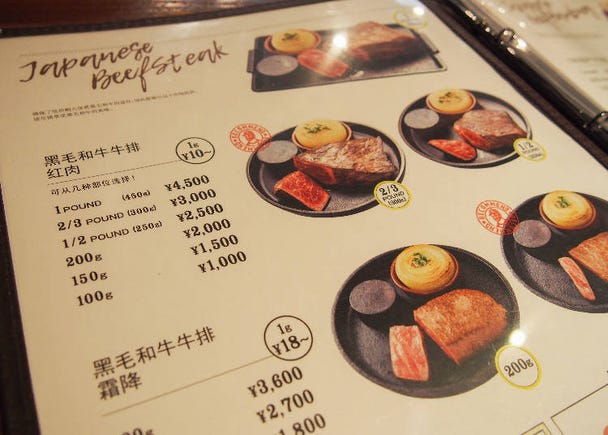 Currently, Pound-Ya stores can be found in Nihonbashi and Roppongi. Outside of Tokyo, you'll find it in Osaka's Namba district. The menu is available in English, so there's really no excuse to miss out on this wonderful wagyu opportunity!

*The lunch set prices include tax. All other prices are without tax.
*The information in the article is from March 2018.
*The prices and dishes may vary by store.
*Images were taken at Pound-Ya in Kichijoji
听屋 日本橋店

Address

3-4-4 1F Muromachi Nihonbashi Chuo-ku Tokyo 103-0022 Japan

Nearest Station

1 minute walk from Sobu Main Line Shin Nihonbashi Station
1 minute walk from Tokyo Metro Tozai Line Mitsukoshimae


Hours
Monday – Friday: 11:30 a.m. – 3:00 p.m. (last order at 2:30 p.m.) / 5:00 p.m. – 11:00 p.m. (last order at 10:30 p.m.)
Saturdays, Sundays, national holidays: 11:30 a.m. – 11:00 p.m. (last order at 10:30 p.m.)

Lunch Set: 11:30 a.m. – 3:00 p.m. (not available on Saturdays, Sundays, and national holidays)

Closed: New Year's (12/30 – 1/3)
*This information is from the time of this article's publication.
*Prices and options mentioned are subject to change.
*Unless stated otherwise, all prices include tax.