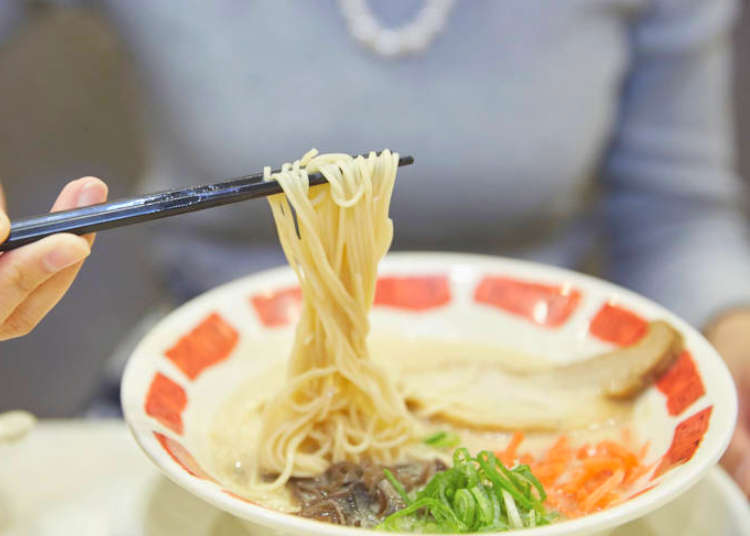 Have you ever been to a so-called family restaurant? In the past, family restaurants were considered to be "cheap", but in recent years they gained in popularity, and even have high-end menus.

Among them, the Chinese restaurant "Bamiyan" is particularly popular, and it offers an all-you-can-eat hot pot menu. This is a family restaurant that is dear to Japanese people, it has affordable prices, and serves popular dishes, not inferior to an authentic Chinese restaurant. However, is its quality good enough for Chinese people who are well accustomed to the real thing?
Bamiyan. Kichijoji Daiyamachi
The store we cooperated with is "Bamiyan Kichijoji Diamachi". It's a popular store not only with families, but also with young people who come to the area.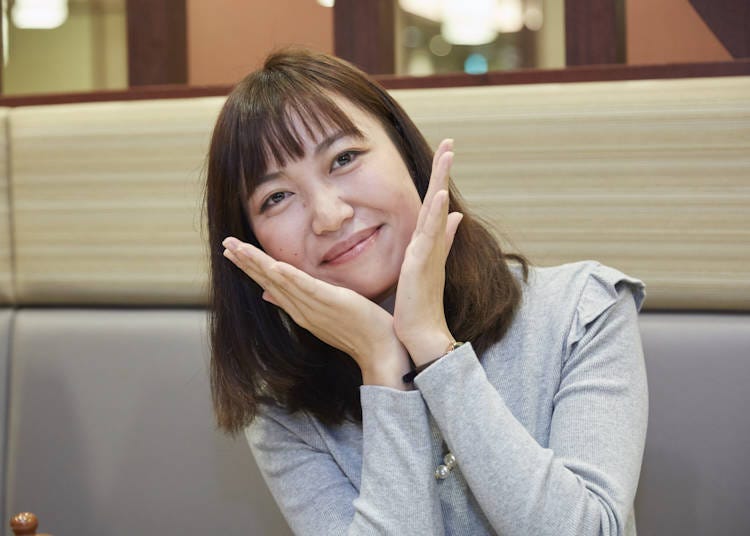 Bamiyan's dishes are going to be carefully examined by Shin Hoei, a Chinese teacher from China who has been in Guangzhou for the past year. She had never been to Bamiyan and looked forward to this project.
Bamiyan Kichijoji Daiyamachi's interiors are a wonderful space with a calm atmosphere, and with a design of Chinese tones. Looking at the restaurant, Shin was very surprised to notice that it looked like a high-class restaurant in China.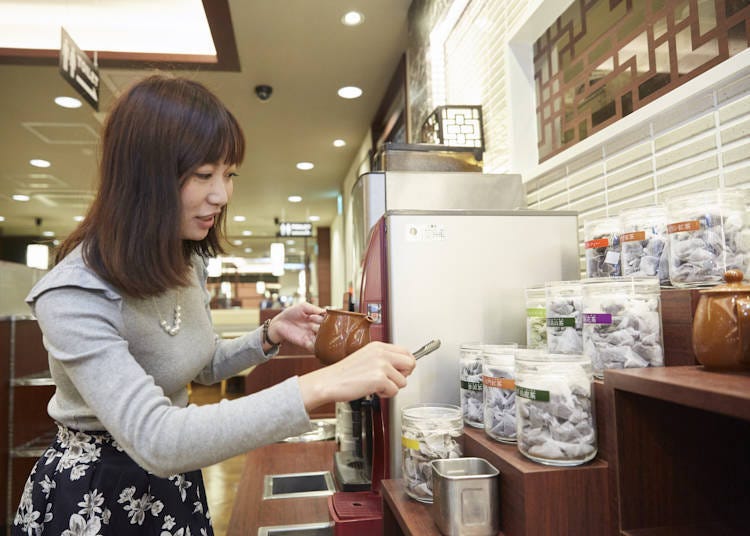 In addition, Shin was amazed by the variety of teas included among the drinks (249 yen each, including tax)!
"It's rare to have so many types of Chinese tea! Pu'er tea is a luxury item in China. It's all-you-can-drink!" She happily served herself a cup.

While looking at the menu, we discovered the all-you-can-eat hot pot (1,699 yen, tax not included) and she "couldn't believe you can eat meat at these prices!" The expectations for Bamiyan became higher. Now it's time to eat.
"It tastes like a genuine luxury!" / Mapo doufu with black bean sauce [spicy]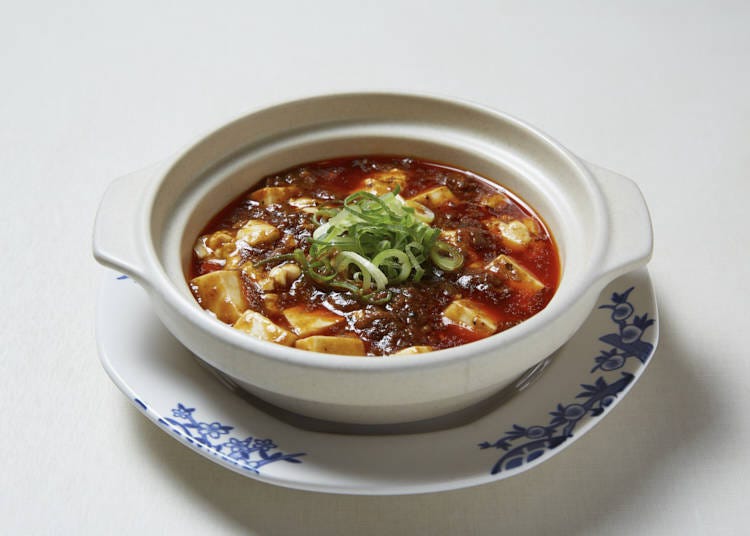 Mapo doufu with black bean sauce (spicy / 499 yen (tax not included)
The first item Shin tried was the Mapo doufu with black beans (499 yen, tax not included). We ordered it spicy for Shin, but there is also a mild version. It seems like the sauce for this plate is made from beans that have been aged for more than 3 years, and the oil is originary of Akayama and Aoyama, and blended with other oils, creating Bamiyan's unique flavor of Mapo doufu.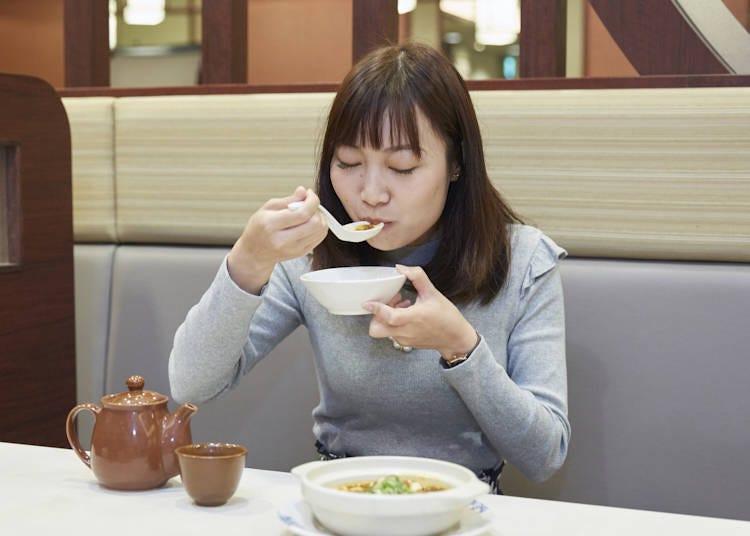 "I love mapo dofu" said Shin as she ate happily. After taking a bite, her eyes sparkled. "It's really good! It tastes like the mapo doufu I have in Sichuan! Ans there is meat in it. In China, sometimes, mapo doufu is without meat."

Apparently, in Shin's hometown of Guangzhou there are many dishes that are not very spicy and have a mild flavor. Bamiyan's mapo doufu is closer in flavor, to high-class Sichuan cuisine.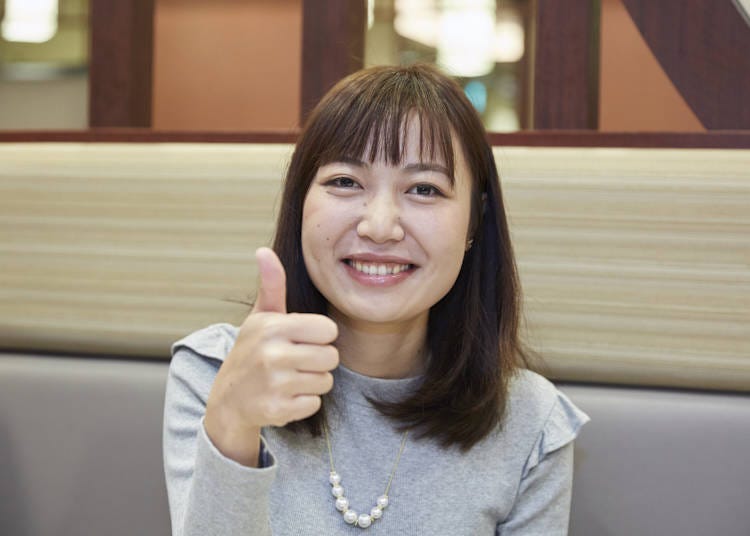 "I liked the yams." She also said that the spiciness was just right. Our opening dish was a success.

Furthermore, "The dishes and the chopsticks used are also very beautiful. Only high-quality restaurants in China use plates like these." We are off for a good start.
"The texture is completely different from the Chinese one" / Fried rice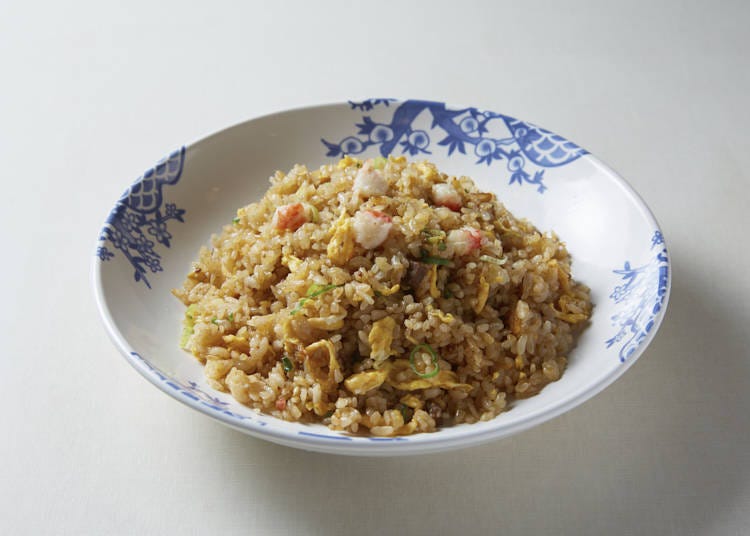 Fried rice / 499 yen (tax not included)
The next dish is "fried rice" (499 yen, tax not included). This is a simple and common fried rice dish, very popular among Japanese people. The eggs are treated so that when fried they mix perfectly with the rice.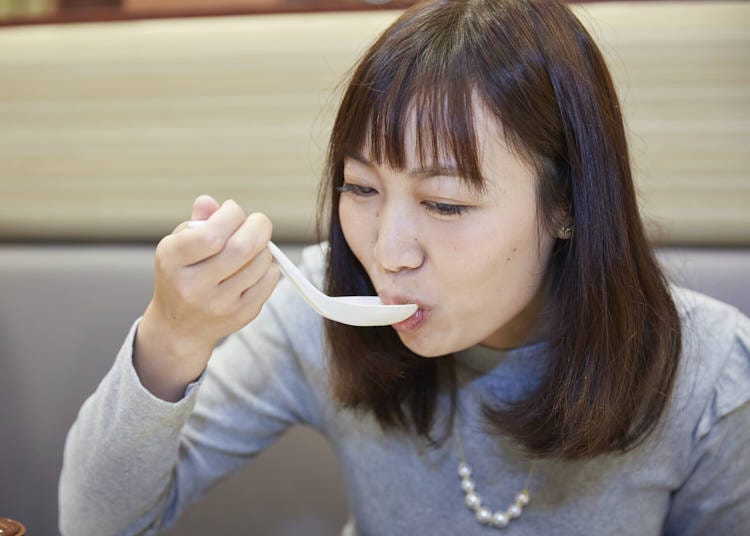 Shin said "Chinese rice looks different and it contains cucumber and corn…" It seems like this rice is different from the authentic one. However, as soon as she ate it she said "It's delicious! I like the Chinese fried rice here! The texture of the rice is also nice but it's not oily. It feels healthy."

Authentic Chinese fried rice, which carries a strong flavor of pepper, and uses long, thin rice, is considered to be bad for your diet, because of the oil in the rice. "Chinese fried rice has a smooth texture, but it's oily and you get bored right away…" she said with a. little regret. It seems the oil lays in the plate after eating.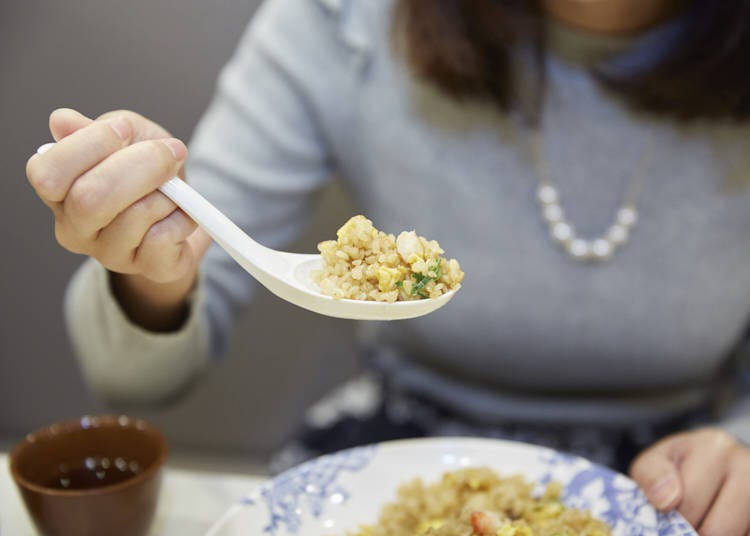 Bamiyan's rice seems to be different from the original, but it left a good impression with its firmness and healthier presentation, compared to the authentic Chinese fried rice. It was a good follow-up to the Mapo doufu.
"Meat sauce pops out like from a small bowl!" / (Original baked dumplings)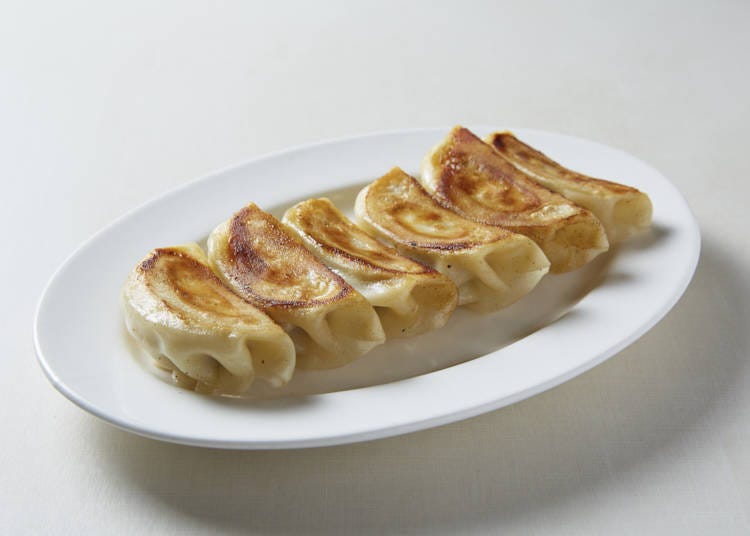 Original baked gyoza / 239 yen (tax not included)
At last, we'll have Bamiyan's signature dish "original dumplings" (239 yen, tax not included).

The ingredients are pork, leek, and cabbage and the dough is also a Bamiyan original. The "original baked dumplings" are delicious with soy sauce or other seasoning, and have been a Bamiyan staple dish for a long time. This is Bamiyan's flagship dish.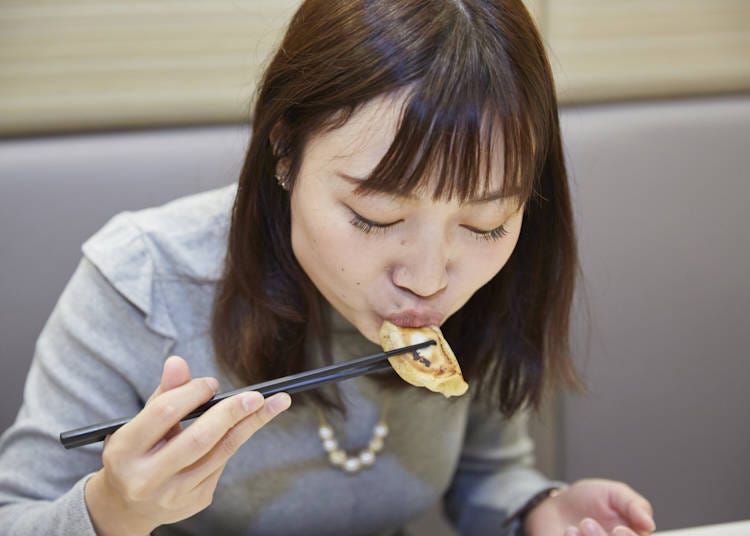 As soon as she had a bite, a large amount of gravy overflowed! Shin's first comment was only a word and quite interesting: "Soup!" (laughs)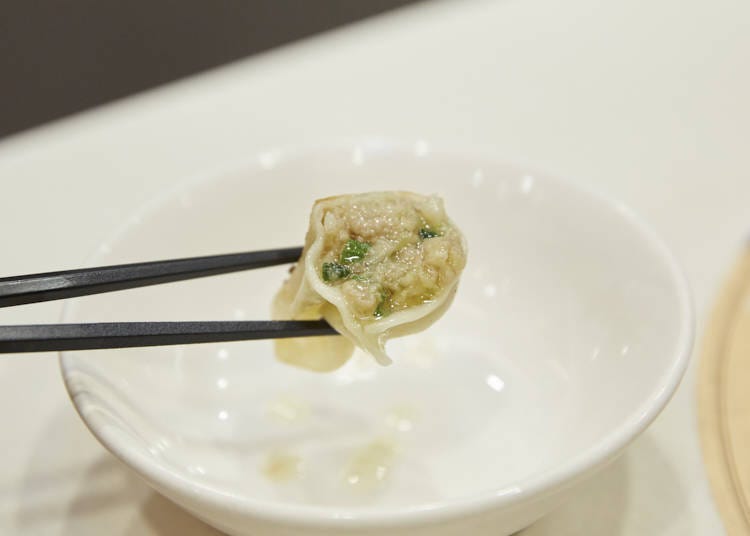 It seems like she couldn't hide the surprise at the texture of the dumpling. As for the taste, "It's so good that you can't add anything to it!" In addition, Shin was trying to understand the secret of its flavor. "How can you put soup in a gyoza?!" According to Fukushima san, in charge of Bamiyan's development, the secret lies in the balance between pork and vegetables, but the details are a trade secret. Sorry.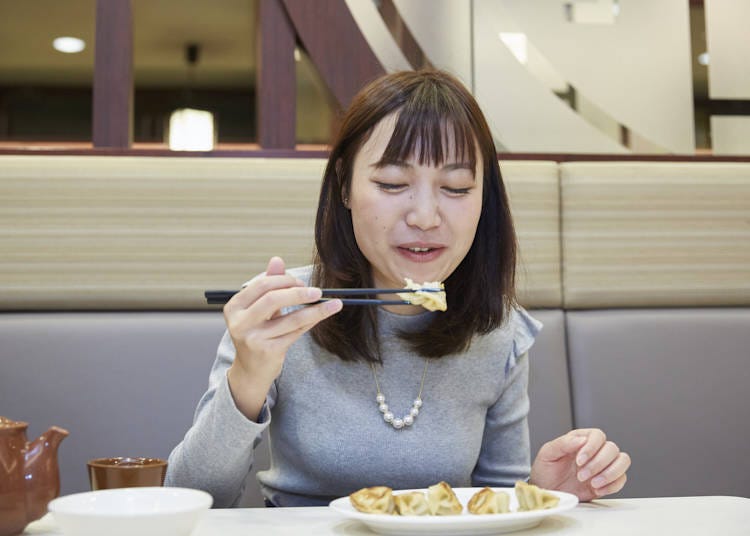 "In China, boiled or steamed dumplings are mainstream, so grilled dumplings are rare. In Guangzhou there are similar dumplings but they are bigger and oilier (laugh)," said Shin. She talked about the differences from Chinese dumplings. She was impressed by the fact that there was soup within the dumpling, which is rare to find in Japan as well.
"The arrangement of the ingredients is very beautiful" / (Original Hakata tonkotsu ramen)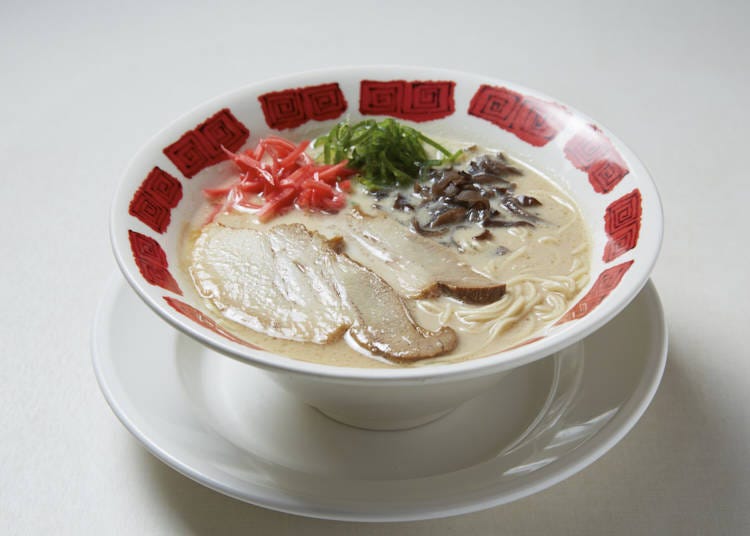 "Original Hakata tonkotsu ramen" / 699 yen (tax not included)
Next up is the "original Hakata tonkotsu ramen" (699 yen plus tax). At Bamiyan, in addition to typical Chinese noodle dishes, there is a large selection of ramen.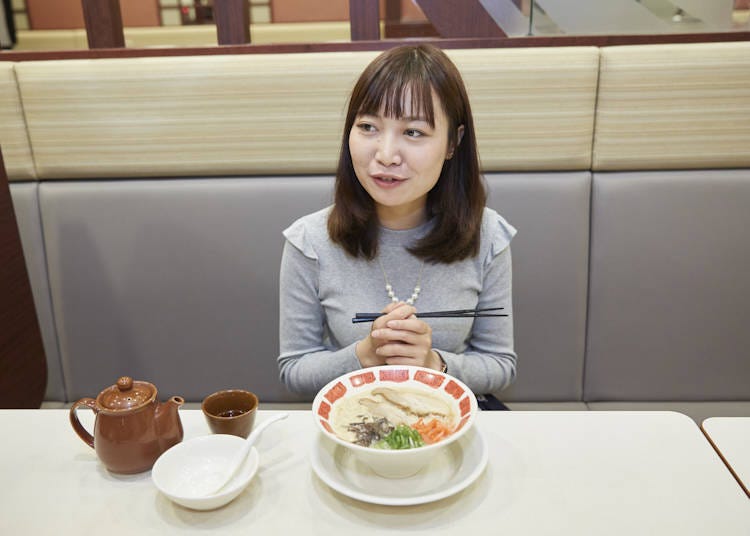 Shin loves tonkotsu ramen and said that "you can eat this kind of ramen in Chinese restaurants." However Japanese ramen is tough, especially tonkotsu ramen, so she waited a little for the noodles to get softer before eating them. Chinese people like soft noodles.

While she was waiting, she looked at the ramen and said: "Japanese ramen is very pretty to look at. In China, when it comes to noodle dishes, the ingredients are all placed in the middle..." She was impressed by the arrangement.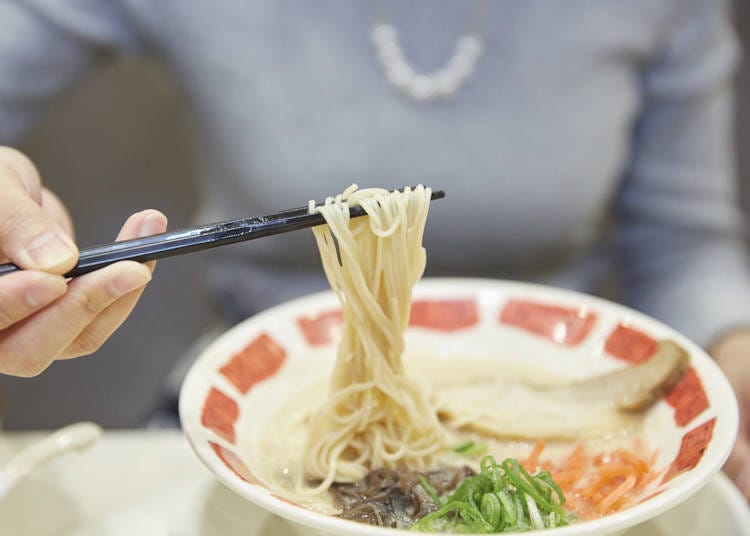 Of course she was also very happy with how the ramen tasted! "It's really good. The red ginger is a little unique (laugh), but the color makes the dish more beautiful." She didn't seem to like only the red ginger, but since it usually comes as a separate item, you can add it to your liking.

Shin shared some surprising information about tonkotsu ramen in China.

"The tonkotsu itself is within the ramen, and you drink the soup through a straw. You then eat the tonkotsu by hand, wearing a glove…" Chinese tonkotsu ramen seems to be a much wilder dish than the Japanese one.
"It's not really a major dish in China" (Annin Doufu)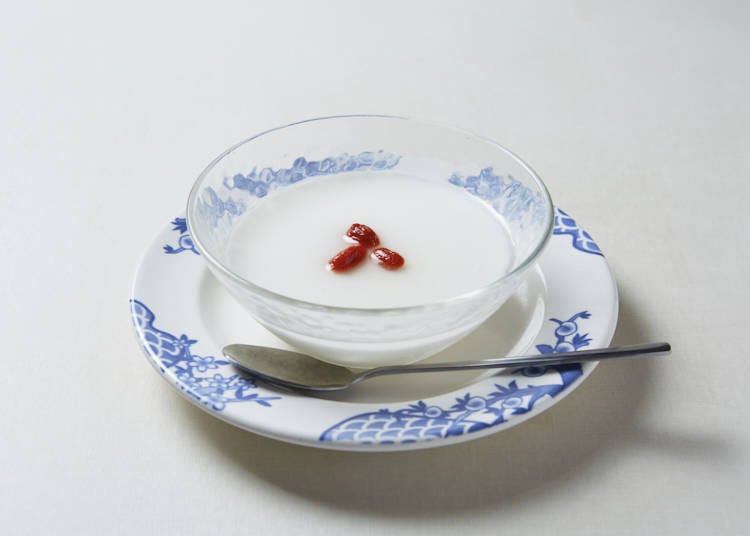 "Annin Doufu" / 199 yen (tax not included)
We finally got to the dessert. "Annin doufu" (199 yen , tax not included).

This almond-based dessert is a representative dessert not only of Bamiyan, but also of family restaurants in general, and has won the 1st prize in a competition among family restaurants.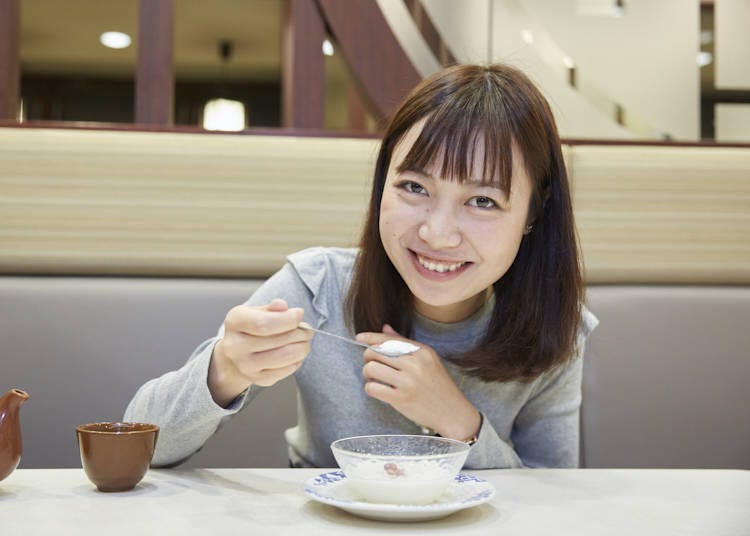 Actually annin doufu is not that big of a dessert in China. Shin said that she had it for the first time in Japan. "I ate it as dessert in a ramen shop, but it was hard and not as good as jelly."

But Bamiyan's annin dofu was different. "It melted in my mouth right away! It was so sweet and delicious!" Chinese people love sweets, to the point that they even sweeten their tea. "I was a little disappointed by the fact that Japanese sweets are not that sweet, but I think Chinese people would enjoy this dessert."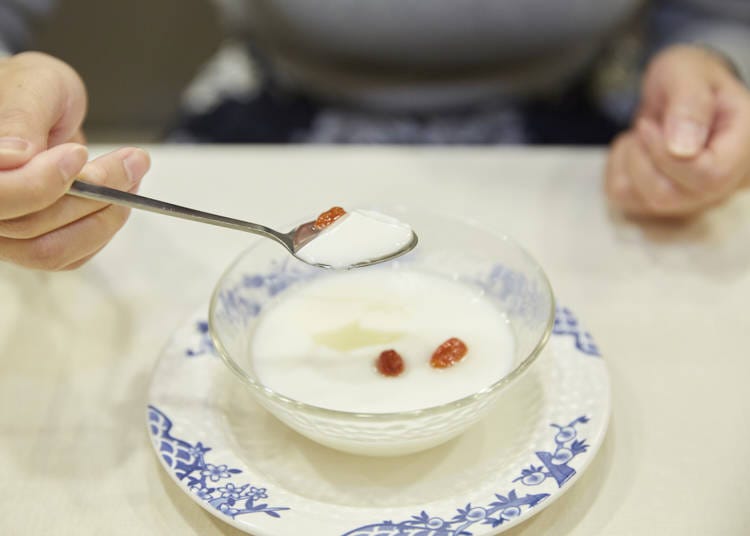 According to Fukushima san, Bamiyan's annin dofu was inspired by the texture and sweetness of the popular "tofu flower" in China. Speaking of which, tofu flowers are eaten at breakfast, as opposed to being desserts, in China.
What Shin thought was the dish closest to the real thing...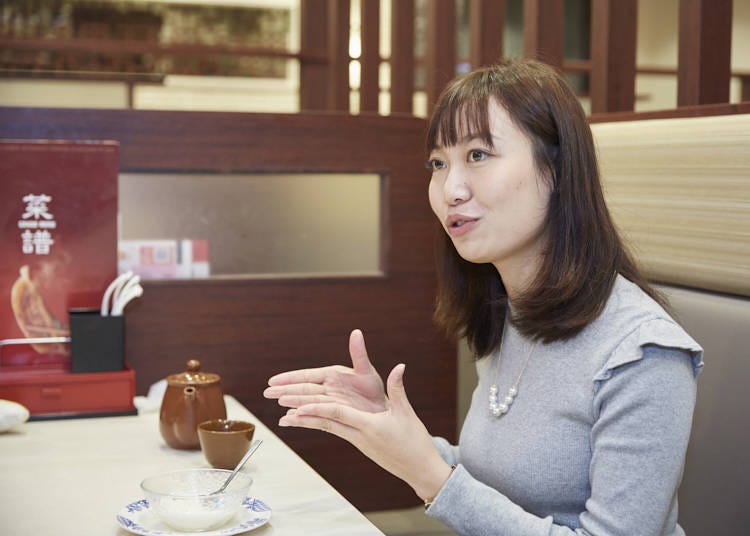 Now. When I asked Shin about the dish she liked best, she said that "everything was so good that she can't just pick one thing!" I was happy that she liked Bamiyan. So I changed the question and asked which dish was the closest to the original.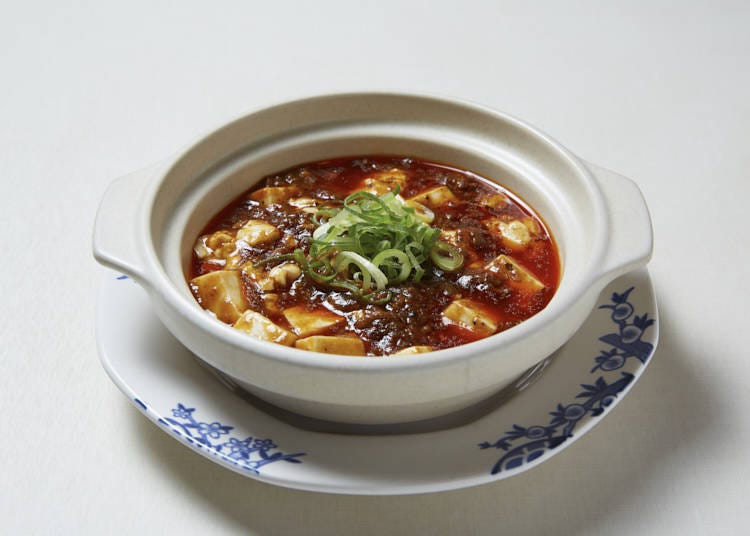 She chose the first dish we ordered, the "black beans Mapo doufu (spicy)." This dish was the closest to the original one, which is usually served in high-class restaurants in China. She seemed to be impressed she was able to have it for a low price.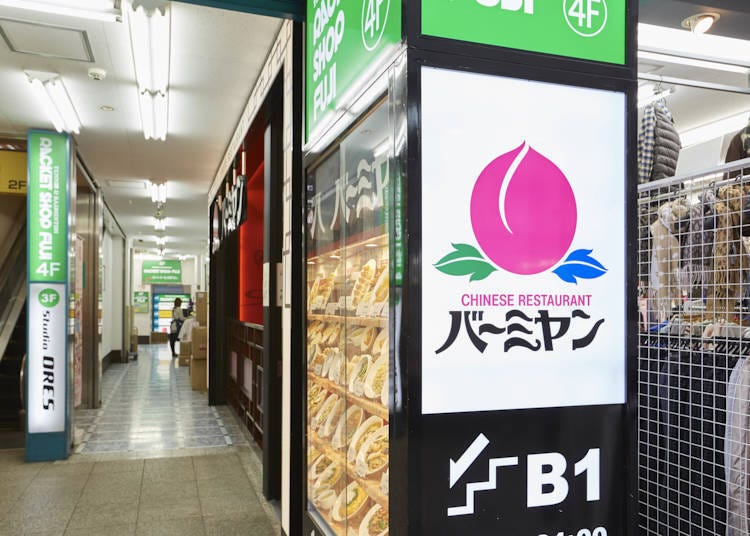 "This may be the most impressive shop I've ever been to since I came to Japan, and I was happy to eat real Chinese food."

If you are visiting Japan on holiday and want to eat delicious Chinese food, why not visit Bamiyan right away?

Written by: Chiyoko Mochizuki
*This information is from the time of this article's publication.
*Prices and options mentioned are subject to change.
*Unless stated otherwise, all prices include tax.