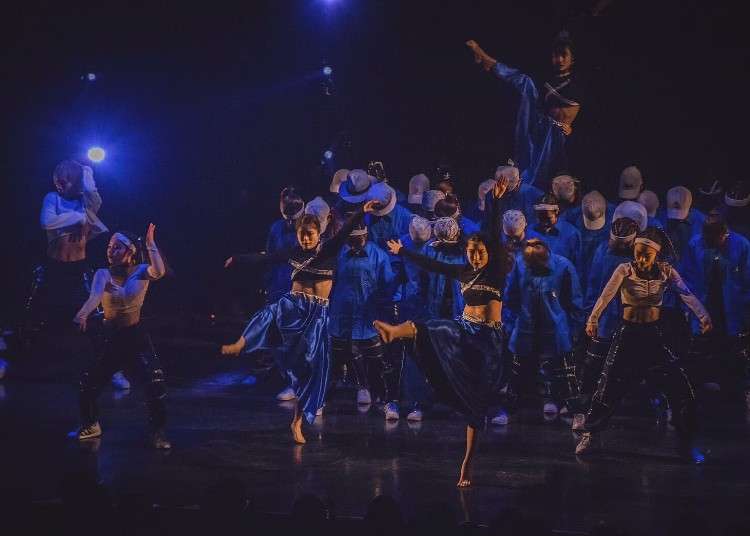 On October 5, 2019, the Enjoy Tokyo Festival: Beyond 2020 is taking over Ikebukuro for a special international day showcasing Japanese culture, cuisine and festivals. Held at numerous venues across the city, including Green Odori at the east exit of Ikebukuro Station, Minami-Ikebukuro Park and Naka-Ikebukuro Park, the unique event aims to bring together Japanese university students and international students. From 10am to 5pm there will be shows, experiences and shopping, all celebrating Japan's hosting of the Olympic and Paralympic Games. Come along to see the action, meet new people, try something new or simply soak up the lively atmosphere!

Excitement is building across Japan ahead of Tokyo 2020. In preparation of welcoming the millions of athletes, fans and crew expected, residents from all walks of life are coming together to highlight the very best of what Japan has to offer. What's more, the Games are more than a way to promote the country; they can boost international relations, stimulate social change and help deliver accessibility and opportunity for all. Through fun, engaging activities, local Japanese and international students will inspire and encourage those taking part in this year's Enjoy Tokyo Festival to look forward to not only next year's Games but also to the long-term future for Japan.
Dive into cultures from around the world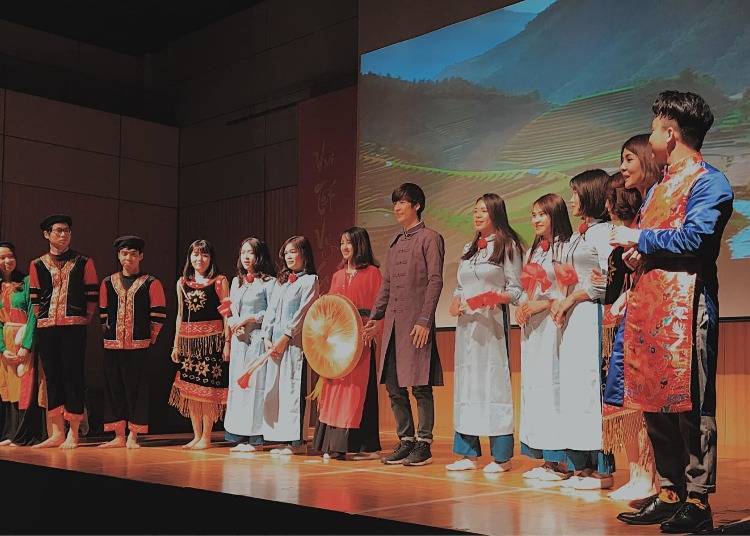 International students showcase their cultures
At a range of booths hosted by Japan-based international students, you can take your senses on a trip round the world via special cultural showcases. Learn greetings in another language, interact and hang out with the students or try on a traditional national outfit. The relaxed and welcoming atmosphere is the perfect place to gain a better understanding of different cultures while learning more about your own.
Performances from around the world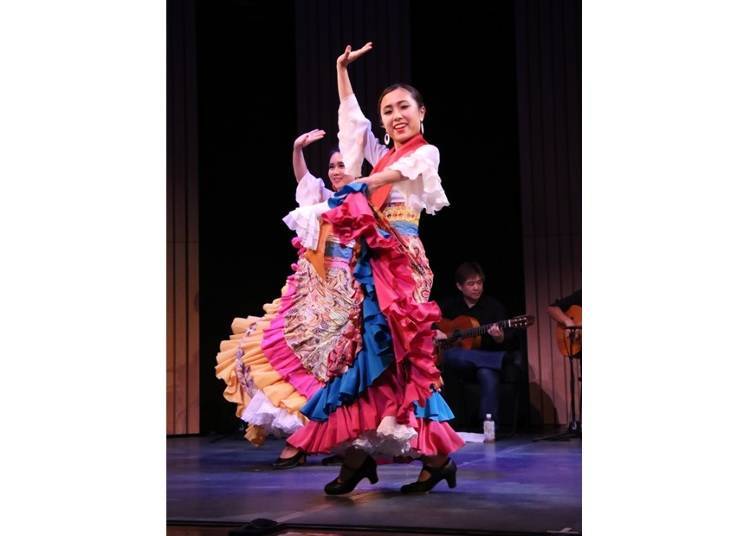 Students put on their dancing shoes to represent their traditional arts.
See displays of music, dance and song from around the world as you have never seen them before, as young people bring their enthusiasm and skill to a unique show at the International Students Stage. With energetic dancing in colorful costumes, this is truly a performance for groups of all ages to enjoy.
Bringing energy to the crowds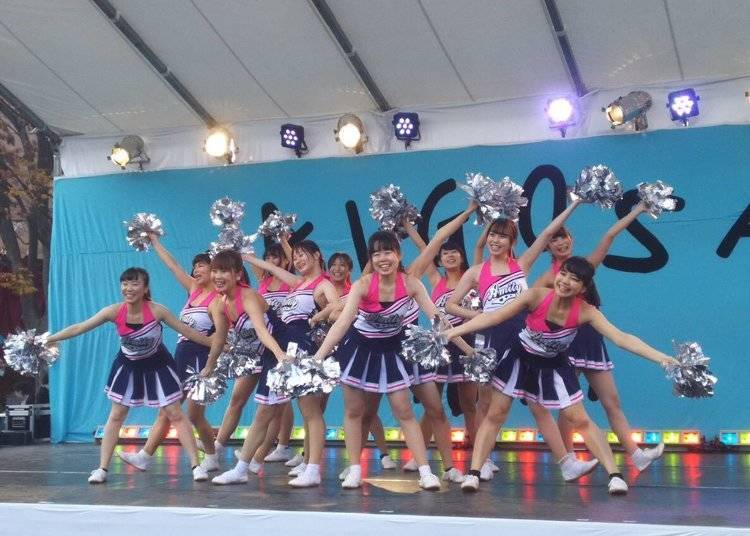 Students perform high-energy shows.
Feel the energy of a live concert at the Student Stage with lively performances from clubs representing universities across Tokyo. Dance squads, cheerleaders and various university mascot characters will join the line-up in this exciting series of mini shows, so come along to catch the action!
Raising awareness of para sports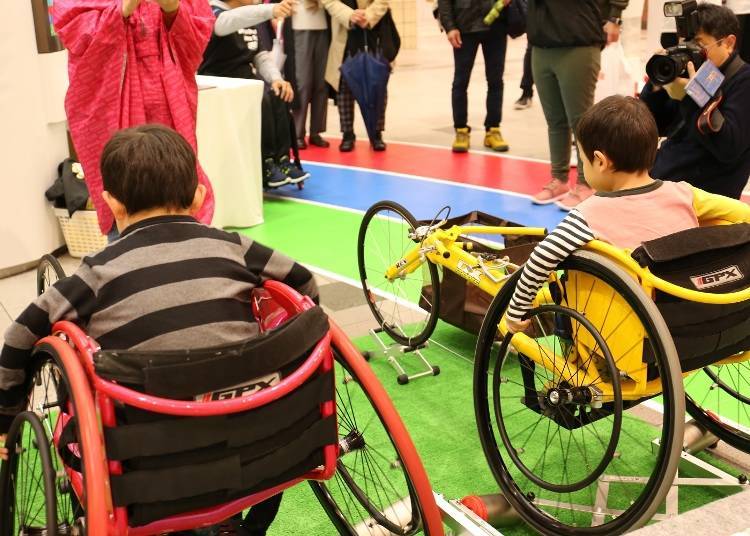 Children try using Paralympic wheelchairs.
What better way to understand more the fun of parasports than to experience the sports using the same apparatus the athletes do? That's the premise behind the Universal Sports Experience Corner, which is open to both adults and children. Come along to get moving on the track, in the gym or in special demonstration areas using wheelchairs or prostheses. By offering these opportunities, Enjoy Tokyo Festival aims to promote inclusion for all while encouraging people from all backgrounds to have fun together.
Peruse fresh, local produce and enjoy a shot of shopping
Take a stroll through the market taking in all the colors and fragrances of the many kinds of produce displayed. Offering an array of Tokyo's local items as well as fresh produce, this market is the ideal place to purchase some fresh vegetables. If you can't decide what to choose, the enthusiastic stall holders are on hand to help you. And if you can't wait to get home to try the tasty little treats, why not savor some of the culinary delights which are being served at several of the stalls. There's certainly something for all the family to enjoy at this lovely market.
Get in a festive mood at the lively parade
Full of festival atmosphere, this parade comes alive with the enthusiasm of the students! The parade is a mix of various genres of music, dancing and preforming artists, that accumulate to help make the parade a vibrant affair. You'll enjoy the spectacular sight of the costumes and the toe tapping sounds as the parade passes along the crowd filled route.
Get lost in stunning art exhibitions
Also planned is an exhibition of hand-made school festival posters and displays. Among the line-up you can expect works that border on artworks deploying the latest digital technology, as well as other forms of digital art. The surroundings may be an unusual location for an art exhibition but they heighten the joy of seeing these beautiful pieces of art in a more relaxed environment.
Come along for exciting activities and international experiences
Join us on October 5 for the Enjoy Tokyo Festival: Beyond 2020, and enjoy a special international day showcasing Japanese culture, traditional cultures from abroad, shopping, and a lively festival atmosphere.

A unique chance to celebrate Japan's hosting of the Olympic and Paralympic Games, the event will allow you to see the action, meet new people, try something new or simply soak up the lively atmosphere!

Enjoy Tokyo Festival: 2020, welcomes everyone, both young and old, Japanese or non-Japanese, resident or tourist. There's something for everyone so let's come together and enjoy the festival and all the great things that Japan has to offer.
*This information is from the time of this article's publication.
*Prices and options mentioned are subject to change.
*Unless stated otherwise, all prices include tax.