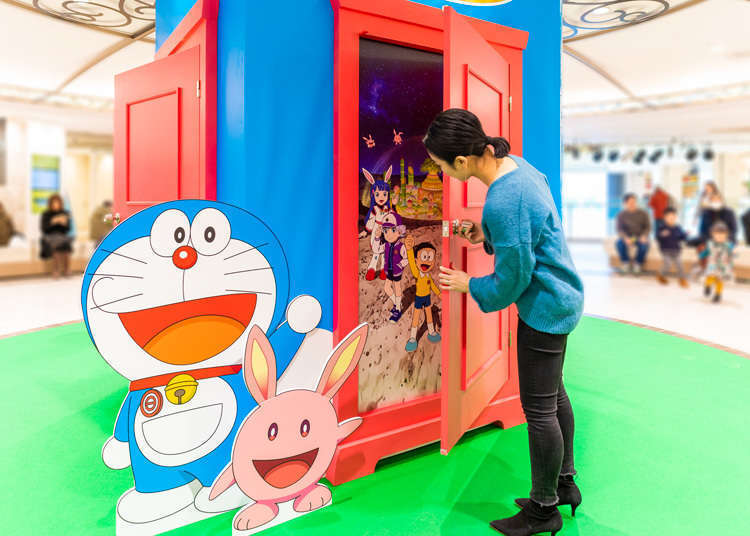 Everyone's favorite cat-type robot has arrived at Ikebukuro landmark Sunshine City! You will find Doraemon and his friends everywhere you look during this special celebration to mark the release of the new film for Spring 2019 Doraemon The Movie 2019 .
Located in Ikebukuro, the stylish fashion and entertainment hub located in northwest Tokyo, Sunshine City is known as a hub of Japanese youth culture. Right now, wherever you go in and around Sunshine City, you are sure to spot Doraemon. Countless appearances of the legendary character make this the perfect opportunity to deep-dive into the world of one of Japan's most beloved cultural icons (until April 7, 2019). Whether you are a fan or just curious about Japanese culture, this is one event you don't want to miss out on.
For those unfamiliar with the adventures of Doraemon, the cute blue cat-type robot with a bell on his red collar has been popular in Japan since the character first made its debut in Fujiko F. Fujio's serial manga back in 1970. A hugely popular TV anime series followed and continues to be broadcast to the present day in its ongoing living legacy.

The funny, heart-warming, and occasionally adventurous tales of Doraemon and friends are now broadcast all around the world.

Whether you are a hardcore fan or just want to learn more, there has never been a better time to meet Doraemon! Join us on a trip that will take us all over Sunshine City, from the Sky Circus Sunshine 60 Observatory to the renowned Sunshine Aquarium.
Find Your Favorite Photo Spot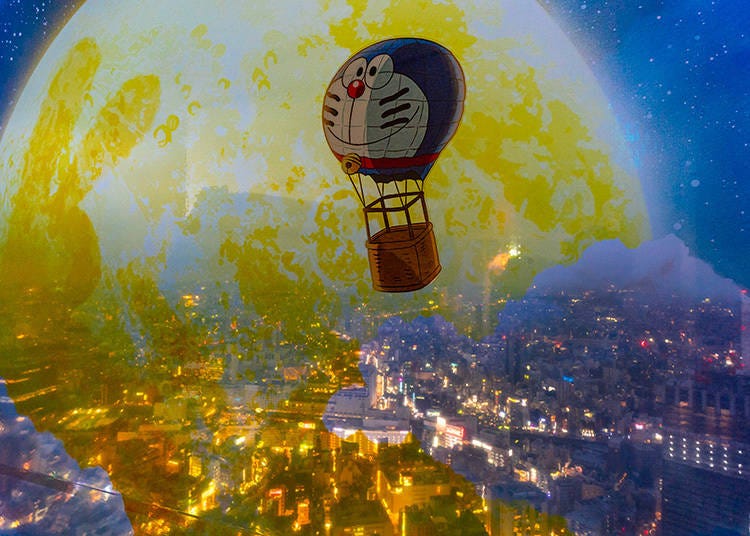 Doraemon has used his range of secret gadgets to pop up all over Sunshine City. His Anywhere Door allows him and his friends to travel anywhere they want to go. Another gadget he keeps on hand is Memory Bread, which can be used to memorize anything that is printed on it once eaten. Sunshine City is dotted with photo spots, so enjoy finding your favorite one!
Let's Go Up to the Sky Circus!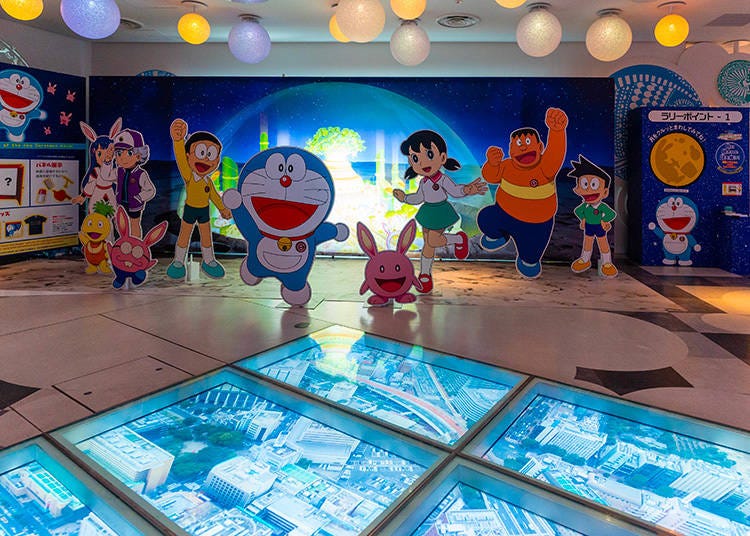 Doraemon and his friends say "Hello!" to you. Please don't forget to check out the view beneath you!
Be sure to visit Sky Circus Sunshine 60 Observatory, 60 stories high above the bustle of Ikebukuro. There you will find everything you need to know about the new Doraemon film, as well as exciting activities including VR games, interactive displays, and more.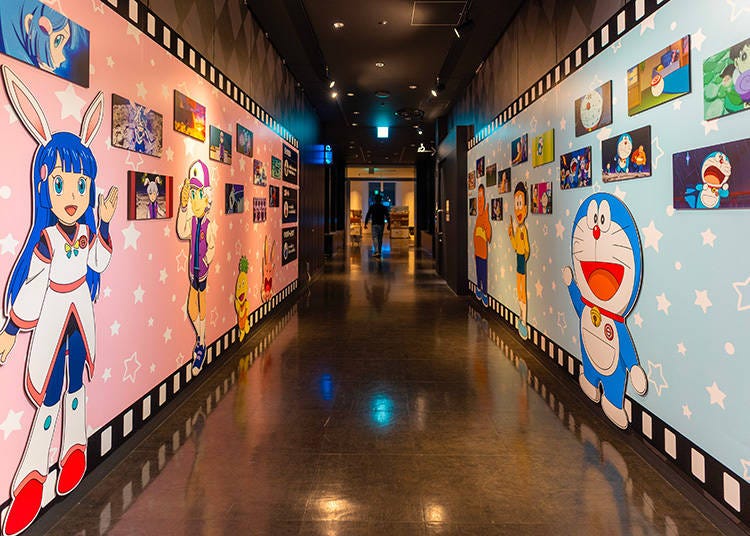 Stepping into the observatory entrance, as you go through a curtain, you can feel as if you are in the world of Doraemon. What brings the world to life are huge photo-spot dioramas, character introductions, and a "Movie Street" summary that is sure to get you excited about the new film.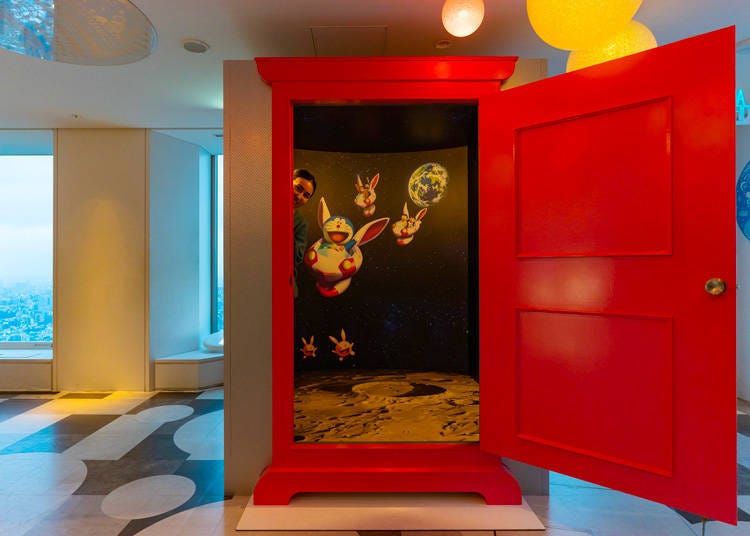 Wherever you go, you are free to snap away. Doraemon's Anywhere Door photo booth allows you to actually step inside. A wide range of other photo spots make this a day to remember. From this towering vantage point, you can also take in stunning views of the city, all the way from Ikebukuro to Tokyo Sky Tree, about 10 kilometers (six miles) across the city in Sumida.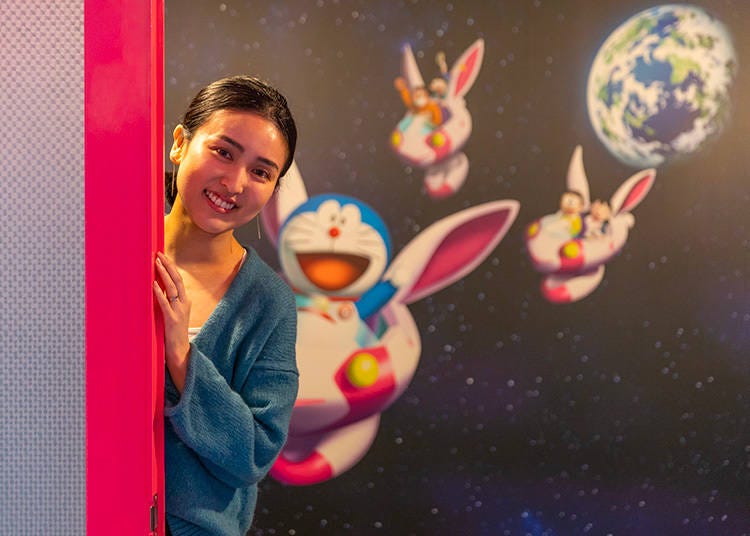 After dark you can enjoy spectacular views of the neon-tinged metropolis, which will make your photos with Doraemon all the better! There are also interesting displays named "Doraemoon" (Doraemon + Moon) featuring the characters' journey to the moon in the film. Enjoy taking photos with Doraemon as the stunning cityscape shines beneath.
Exclusive Doraemon Merch You Can't Find Anywhere Else!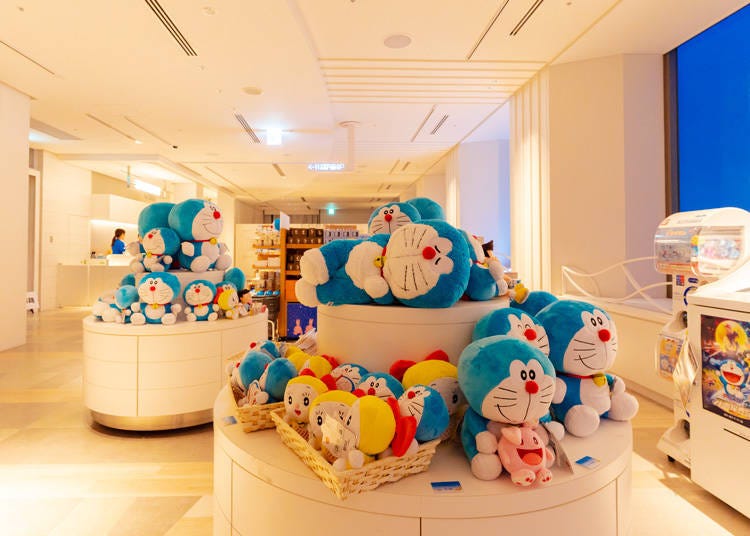 There is also a Doraemon-themed pop-up shop throughout the exhibition! A range of limited-edition items that mark the film's release are also exclusively available at the observatory. From phone cases to exclusive stationary and tote bags, you are guaranteed to find a stylish way to show your love for this charming cat-type robot in your day-to-day life.
Memo Pad (500 yen), Letter Set (600 yen), and iPhone Case (1,000 yen). Tax not included.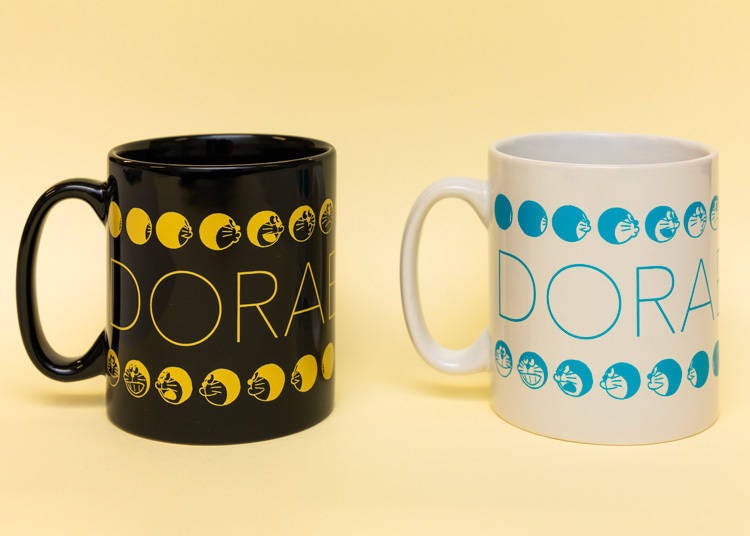 Mug Black (1,200 yen) and Mug White (1,200 yen) Tax not included.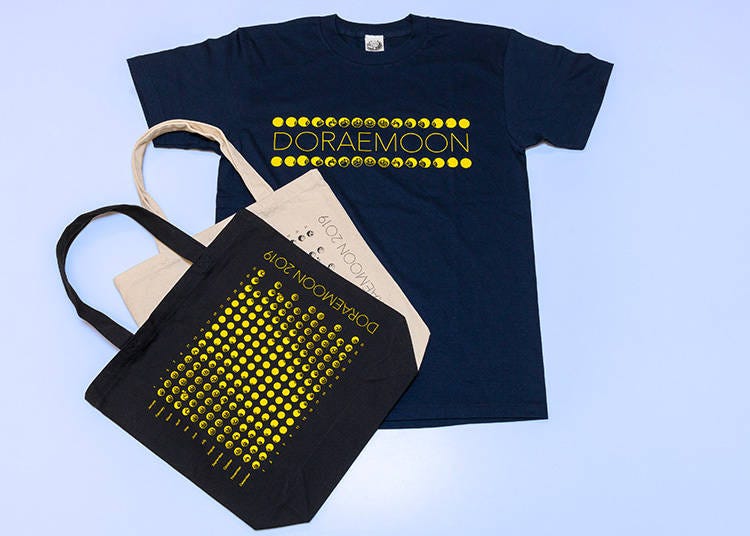 Tote Bag Black (1,500 yen), Tote Bag Natural (1,500 yen), and T-shirt (2,500 yen). Tax not included.
Continue Your Investigation at Sunshine Aquarium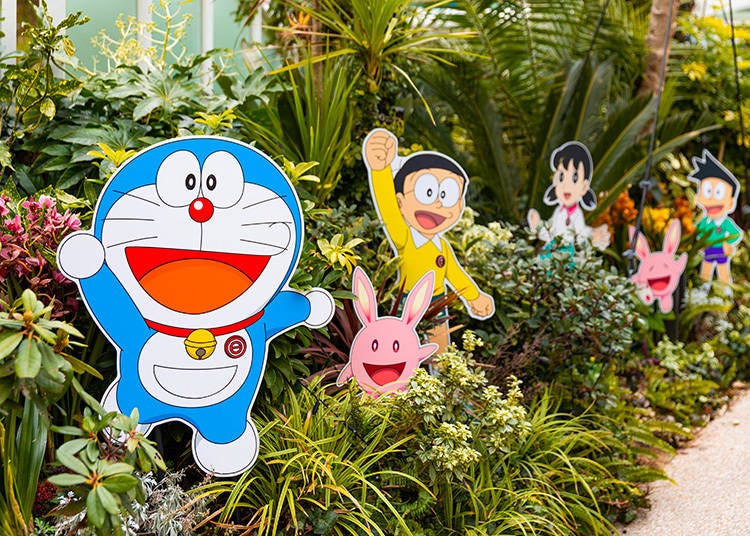 The fantastic adventure with Doraemon continues at Ikebukuro's famous aquarium, located within Sunshine City. The Moobits (moon + rabbits) from the new film have escaped! It's up to you to track them down among the fantastical aquatic life at the aquarium.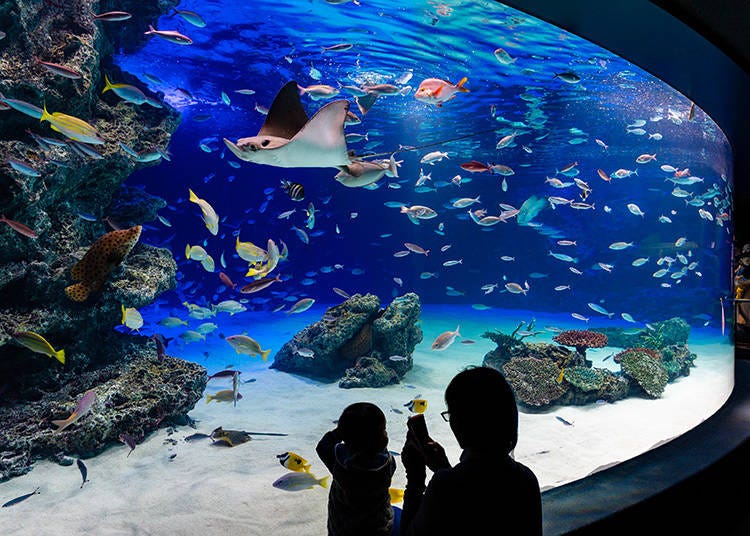 On your journey through the aquarium, you will encounter various spectacular marine life, including penguins and otters, both indoors and in outdoor rooftop settings.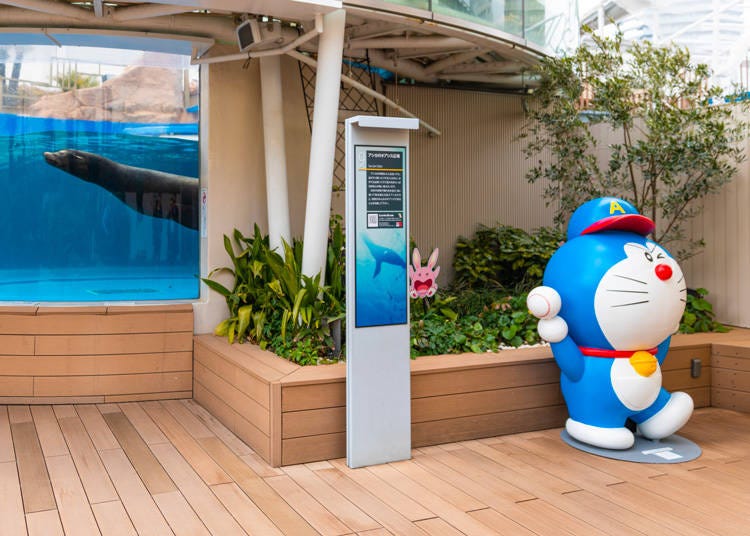 Wherever you are, Doraemon and friends are never far away. Let's pose together with Doraemon and take a memorable photo!
As you leave, don't miss the aquarium gift shop where more exclusive Doraemon merchandise is available.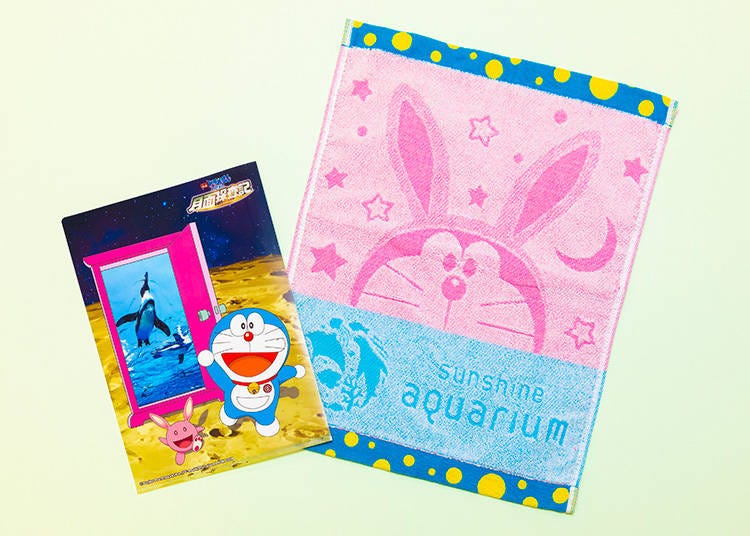 Clear File (500 yen) and Hand towel (600 yen) Tax not included.
Sunshine Aquarium exclusive Doraemon towels and clear files are sure to be treasured by fans and are a great way to remember a fantastic day among the adorable, beautiful, and breathtaking inhabitants of the aquarium.
Enjoy your meal and play with Doraemon!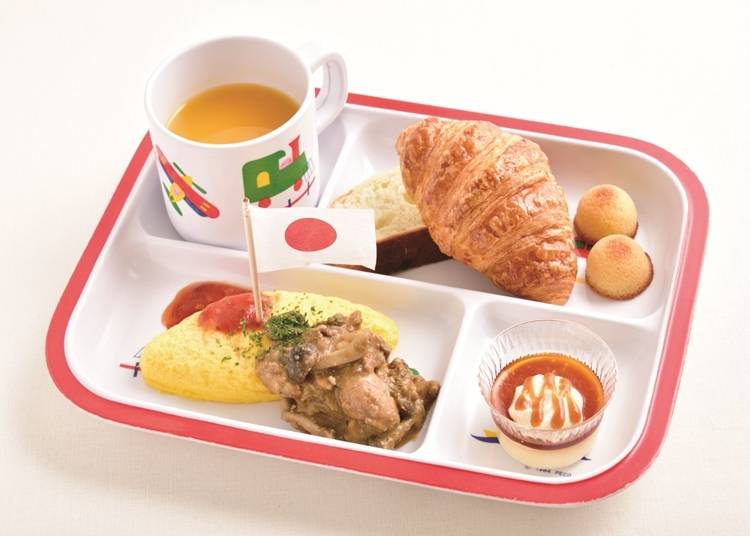 For those with young children, be sure to swing by Alpa and Sky Restaurant in Sunshine City where you will find the Doraemon Kids Restaurant Fair. Every participating restaurant has a special menu for kids, and you can also get an exclusive themed sticker as a souvenir (while stocks last). Whether you are looking for Western or Japanese cuisine, you will surely find something that suits your needs!
Complete your set of original commemorative stickers!
Elsewhere, from March 23 to March 31, the Sunshine City Fountain Place is alive with activity. There are Doraemon statues, a shooting gallery attraction for kids featuring Doraemon's favorite air cannon, and even the chance to meet Doraemon himself on weekends while the event is on!
Watch the New Doraemon Film and Get a Great Discount!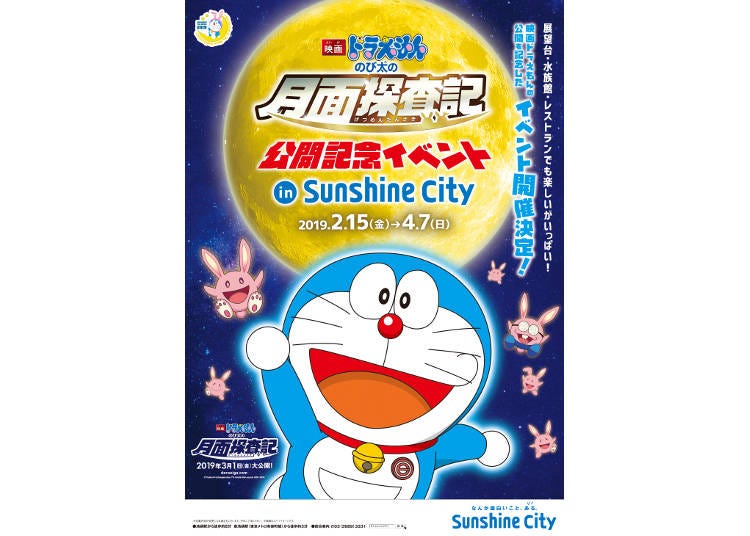 After touring Sunshine City, you'll likely be in the mood to watch the film. Doraemon The Movie 2019 hits theaters March 1 and we have a great offer for you! Ikebukuro HUMAX Cinema is just around the corner from Sunshine City. If you buy a ticket for the new film at this cinema and show it to staff at SKY CIRCUS Sunshine 60 Observatory or Sunshine Aquarium, you can get an entry ticket at half price.
Doraemon The Movie 2019 Movie Release Event in Sunshine City
Until Sunday, April 7, 2019
Sky Circus Sunshine 60 Observatory

SKY CIRCUS サンシャイン60展望台

Address

Sunshine 60 Building 60th floor, Sunshine City, 3 -1 Higashi Ikebukuro, Toshima, Tokyo

Nearest Station

Higashi-Ikebukuro Station(Tokyo Metro Yurakucho Line)3 minutes on foot

Address

World Import Mart Building/Rooftop, 3-1 Higashiikebukuro, Toshima-ku, Tokyo, 170-8630
View Map

Nearest Station

Ikebukuro Station (JR Shonan Shinjuku Line / JR Yamanote Line / JR Saikyo Line / Tokyo Metro Marunouchi Line / Tokyo Metro Yurakucho Line / Tokyo Metro Fukutoshin Line / Seibu Ikebukuro Line / Tobu Tojo Line)
10 minutes on foot


Phone Number

03-3989-3466
*This information is from the time of this article's publication.
*Prices and options mentioned are subject to change.
*Unless stated otherwise, all prices include tax.
Limited time offer: 10% discount coupons available now!