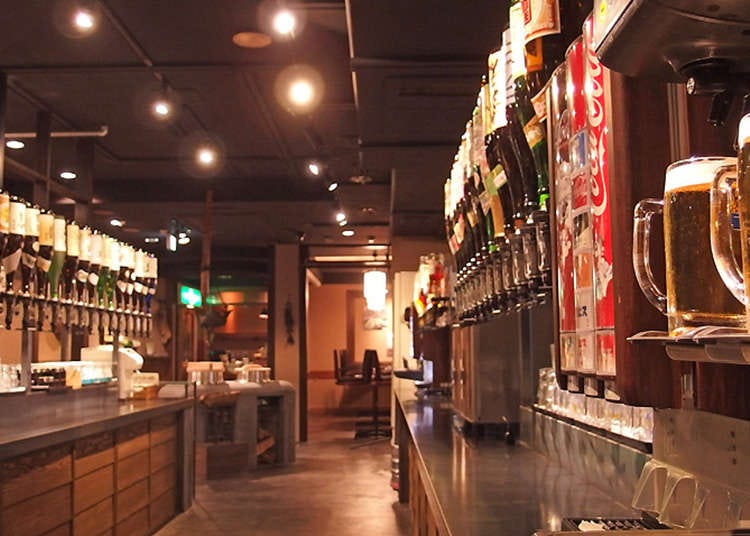 Want to drink as much and whatever you like, for a fixed price and in a fixed amount of time? This unique all-you-can-drink system is called nomihodai in Japanese. On the other hand stands savoring specific drinks such as Japanese sake or one-of-their-kind cocktails, chosen by masters of their profession, one by one. How will your night out in Ikebukuro look like and what kind of memories will you bring back home?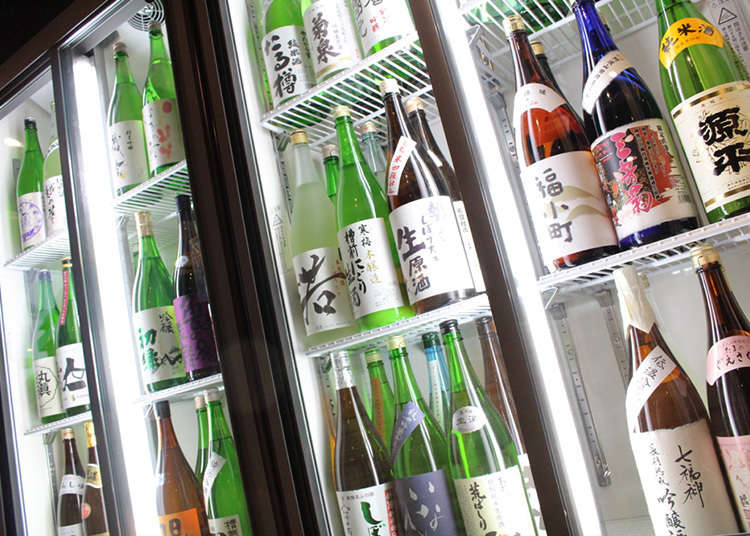 Drink all the Japanese sake you want for 3,240 yen! There's not even a time limit on Kurand Sake Market's all-you-can-drink offer, so you can really savor all kinds of different spirits. This standing bar follows the concept of self service: pick your favorite sake cup, choose the sake you want to try and pour it yourself. Over 100 sake varieties are available at Kurand Sake Market, all carefully created products from small breweries all over Japan. Snacks are sold as well but it is common that people bring in food from outside. Chopsticks and dishes are available and you can even heat up your food in readily available microwaves. Even going out and grabbing something in the middle of drinking is perfectly alright.
KURAND SAKE MARKET

Address

S&k Bldg. 4F, 3-27-3, Nishiikebukuro, Toshima-ku, Tokyo-to, 171-0021
Apart from Heineken and Kirin, Kobayashi Nojo offers sake centered on local products from Nagano Prefecture and offers all-you-can-drink of around 100 different drinks and cocktails. 30 minutes costs 499 yen (tax excluded) and your all-you-can-drink plan is extended automatically once the time has run out - every 30 minutes cost the same and there are no additional costs, not even after 2 hours.

Nothing goes better with beer and sake than local cuisine from Nagano Prefecture such as dishes made with the famous Shinshu herb chicken, Shinshu salmon or Shinshu premium beef. The "Shinshugyu Gorogoro Yaki (calbi)", or grilled rolling Shinshu beef spareribs" for 1,480 (before tax) for two is our special recommendation.
Shinsyunaganoshi Kobayashi Nojo

信州長野市 小林農場 池袋東口店

Address

Nohagi Building B1, 1-25-11, Minamiikebukuro, Toshima-ku, Tokyo-to, 171-0022
This one-of-a-kind bar in Tokyo allows you to watch penguins frolick about while relaxing with a drink - pure balm for the soul. From cocktails and sake to liquors and wine, Penguin bar offers a huge variety of drinks. Next to the standard cocktails and spirits, this bar also caters to people who aren't that fond of strong liquor with its variety of sweet, fruity cocktails. Our recommendation is the lime gin available for 900 yen (tax excluded) which its wonderfully fresh lime taste. Meat and vegetables are plentiful on the menu, and the popular "Teppankushi Pureeto", or Teppan skewer plate, serves deliciously grilled fish on different types of skewers for 1,000 yen (tax excluded). The main stars of the bar, however, are the penguins which can't just be enjoyed from afar but are also happy about a carrot treat by the customers!
ペンギンのいるBAR

Address

COSMY 1F, 2-38-2 Ikebukuro, Toshima-ku, Tokyo-to, 170-0014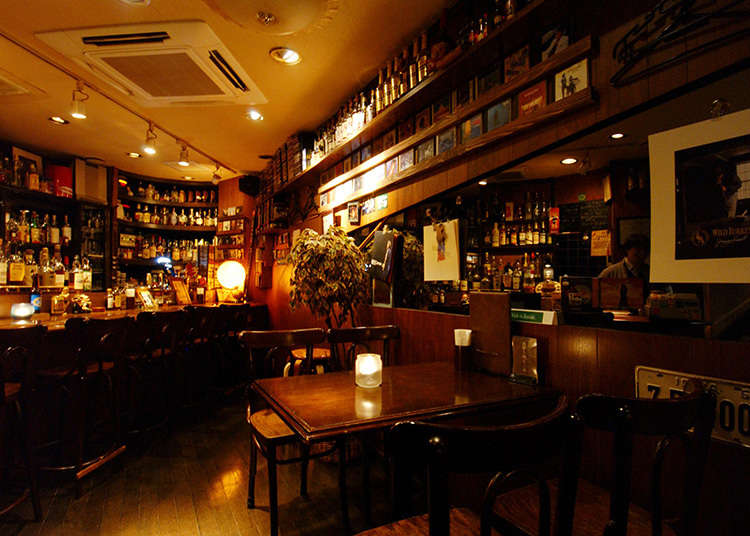 Drink to the tunes of classical American rock and pop from the 70s and 80s! Around 200 types of different whisky is available at Oasis, from Japanese as well as international masters of the malt. Among them is Ichiro's Malt Oasis - yes, the very Oasis Bar we're introducing here. The food menu shouldn't be ignored, however. It'll tickle your tongue with delicacies like Berkshire pork jerky for 650 yen or homemade pizza for 1,000 yen. Vinegared vegetables and homemade pickles for 500 yen also go great with a variety of drinks!
ロック バー・Oasis

Address

B1 1-38-4, Higashiikebukuro , Toshima-ku, Tokyo-to, 170-0013
This relaxed bar makes everyone feel at home right away, even those who want to enjoy a drink by themselves. Bar offers a big variety of drinks, such as cocktails and whisky but also umeshu (Japanese plum wine) and rare sake. One of the more uncommon drinks to be savored here is absinthe, to be enjoyed for 1,000 yen. Absinthe is a herb-based spirit that is made out of several different herbs like wormwood and was believed to have a hallucinogenic effect in the past. In Japan, it's often called the "spirit of imagination", as the drink was especially loved by famous artists such as Van Gogh and Picasso. To satisfy your appetite, why not try the Western-style grilled udon or "mecha-uma curry", both for 880 yen? The food menu is almost as abundant as the drink selection.
池袋 BAR α

Address

Daisan Kizuna Bldg. 9F, Ikebukuro, Toshima-ku, Tokyo-to, 170-0014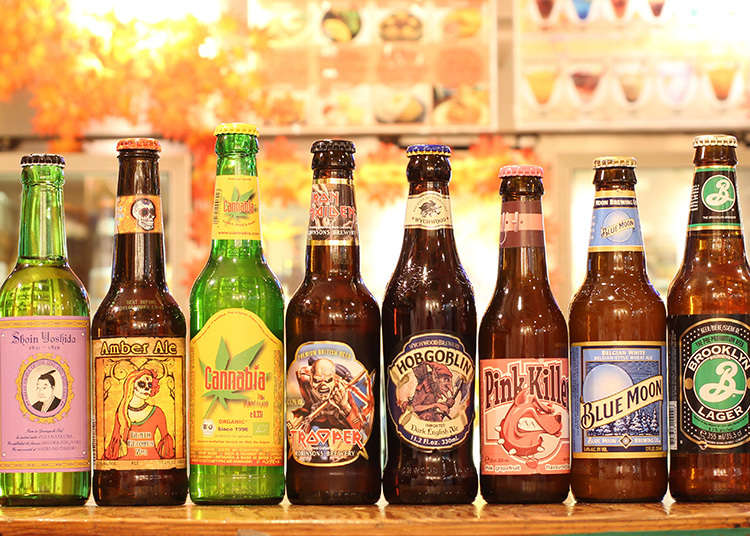 This 24-hour restaurant is located in Ikebukuro's Sakura Hotel. It boasts a wonderful variety of international beer, carefully selected. Over 60 different kinds of beer, be it German, Belgian, rare Japanese brews, or even those from the Czech Republic or Israel - international beer starts from 560 yen. Sake and wine, as well as certain cocktails are also on the menu. What goes better with a beer than snacks such as different appetizers, bean stews or Ahijo (dishes fried in garlic oil)? The most popular item on the menu is, without a doubt, Sakura Café's Francesinha, the Portuguese hamburger gratin, for 1,280 yen.
サクラカフェ池袋

Address

Sakurahotel ikebukuro Bekkan1F, Ikebukuro , Toshima-ku, Tokyo, 170-0014,
*This information is from the time of this article's publication.
*Prices and options mentioned are subject to change.
*Unless stated otherwise, all prices include tax.