History of Omotesando Hills
Dojunkai Aoyama Apartment (Aoyama Apartment), which was constructed by the Dōjunkai Foundation in 1927, was initially a luxury apartment where many officials and university professors lived.
Although Aoyama Apartment has long been popular as the symbol of Omotesando, it was torn down in 2003 due to aging and then, Omotesando Hills was completed on the site in February 2006.
Access from the airport to Omotesando Hills
▼From Narita Airport
(1)Narita Airport → Keisei Ueno (Keisei Skyliner) then Ueno → Omotesando (Tokyo Metro Ginza Line)
(2)Narita Airport → Nippori (Keisei Skyliner) then Nippori → Harajuku (JR Yamanote Line)
▼From Haneda Airport
(1)Haneda Airport → Shimbashi (Keikyu Airport Line) then Shimbashi → Omotesando (Tokyo Metro Ginza Line)
(2)Haneda Airport → Shinagawa (Keikyu Airport Line) Shinagawa → Harajuku (JR Yamanote Line)
About Omotesando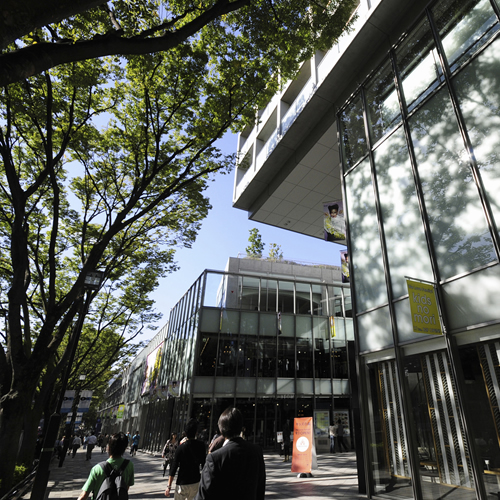 Omotesando is the name of the street that was laid out as an approach to the Meiji Jingu Shrine in 1920. There is no clear borderline between Omotesando and Harajuku, but Omotesando generally refers to the street that runs from Aoyama-dori Street to the Jingu-bashi intersection (Meiji Jingu Shrine)at Meiji Jingu Shrine (in front of Harajuku Station).
Omotesando is known as a shopping street where many flagship stores of high-end brands are located.
The famous landmarks are the former Dojunkai Aoyama Apartment and Omotesando Hills, but once you step into the back streets away from the busyness, you will find yourself in a quiet residential area.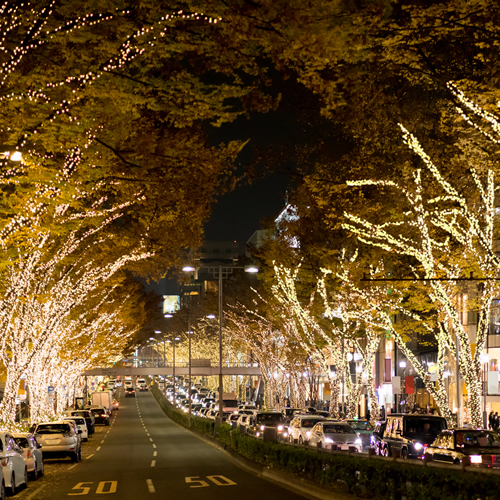 The illuminations of Omotesando that adorn the beautiful Zelkova tree-lined street is one of the events that represents the winter of Tokyo.
Christmas illuminations are put up every year inside Omotesando Hills as well, and in this season, the whole area of Omotesando is filled with the Christmas spirit. If you are visiting Tokyo in the winter, please enjoy the difference of Omotesando between day and night.
Nearby Attractions Experience
* The following contents were edited by LIVE JAPAN by researching information disclosed on websites. Please use them for your reference.
Omotesando Hills has been open to the public since February 2006. It was constructed as a project to remodel the Dojunkai Aoyama Apartment complex, which was developed as a part of the reconstruction project after the Great Kanto earthquake. It was designed by the architect, Tadao Ando and its facade extends a quarter of the length of the Omotesando area, which spans from the Omotesando subway station to Meiji Shrine. The complex, with six stories aboveground and six underground, features a commercial section boasting approximately 100 shops, a residential section and a parking garage with capacity for 196 vehicles. In September 2009, an area for children, Kids-no-mori was established on the B2 floor of the main building. The area has private breastfeeding rooms and nappy change areas and provides such services as baby stroller rental services. The family friendly environment attracts many young people and families with small children, especially during weekends and holidays. It is a 2-minute walk from the A2 Exit of Omotesando Station on the Tokyo Metro Ginza, Chiyoda and Hanzomon Lines.
Address

4-12-10, Jinguumae, Shibuya-ku, Tokyo, 150-0001

Nearest Station

Omotesando Station
・ Tokyo Metro Ginza Line
・ Tokyo Metro Chiyoda Line
・ Tokyo Metro Hanzomon Line
Exit A2
2 minutes on foot

Phone Number

03-3497-0310

Available languages

only in Japanese

Hours

11:00am - 9:00pm
Shopping services available until 9:00 p.m. Monday through Saturday and 8:00 p.m. Sunday; restaurants open until 11:30 p.m. (last order 10:30 p.m.) Monday through Saturday and 10:30 p.m. (last order 9:30 p.m.) Sundays; cafes open until 10:30 p.m. (last order 9:30 p.m.) Monday through Saturday and 9:30 p.m. (last order 8:30 p.m.) Sundays
Further Facilities & Services
Recommended Spots in Area
Visiting

Eating

Shopping

Lodgings
※ The above information was correct at the time of updating, but there may be changes to actual prices. Please confirm the current prices when visiting.