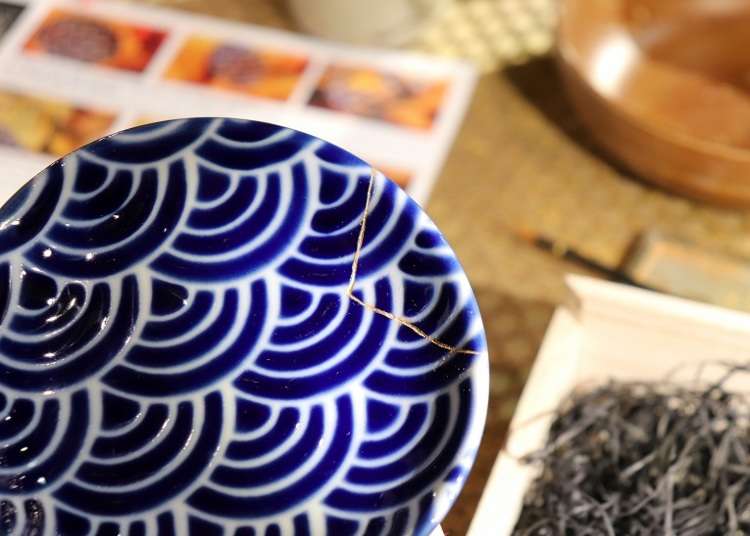 Japan is full of ancient traditional arts. One of those is kintsugi, the art of bringing new life to cracked ceramics by mending them with gold. This kintsugi experience is growing in popularity, especially amongst younger women.

Here we share our kintsugi experience report, courtesy of two of LIVE JAPAN's editors. The studio we visited, Taku Nakano CeramicArts☆ (TNCA☆), is located in Tokyo's neighborhood of Omotesando.

What exactly is kintsugi? What is the process? The more you learn about it, the more you'll come to understand Japan's 'mottainai' spirit.
TNCA☆: A Firsthand Kintsugi Experience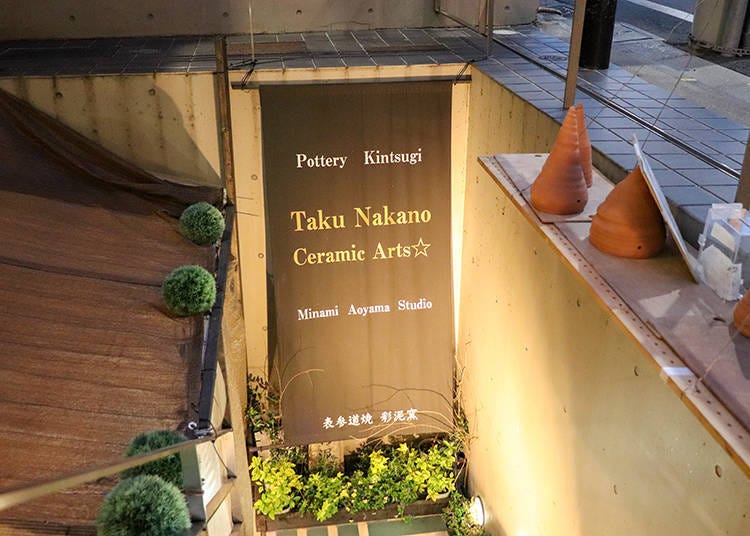 Today we visit Taku Nakano CeramicArts☆ (TNCA☆) to partake in their hands-on kintsugi experience. The studio is only five minutes away on foot from Tokyo Metro's Omotesando Station.

Taku Nakano, the representative of TNCA☆, is one of Japan's leading ceramic artists. The studio is a modern fusion of a museum and a workshop, where you can partake in the enjoyment of 'contemporary ceramic arts.' The location was previously the famous ceramics workshop, Saideigama, which drew in multitudes of visitors from overseas.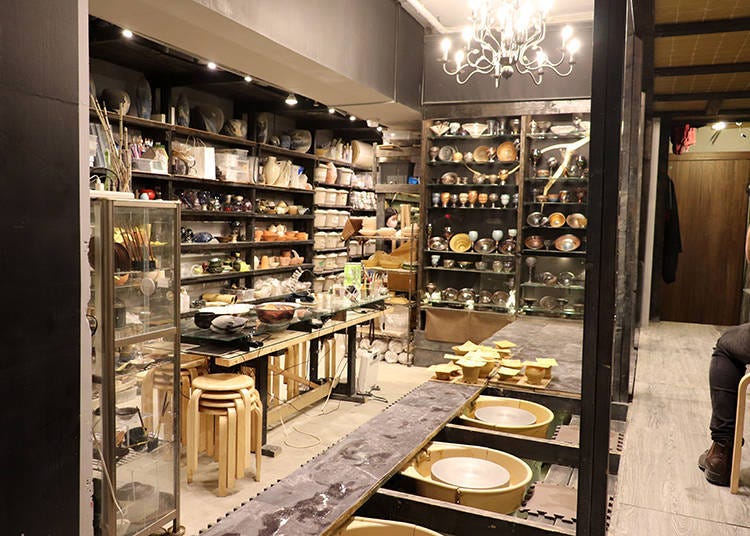 Mr. Nakano is a ceramist specializing in rainbow-colored ceramics called Lusterware. He also works in blown glass and kintsugi. Mr. Nakano holds workshops and experience classes for all levels, beginner to advanced, on a one-day as well as membership basis, where he teaches the craft (and joys) of ceramics and kintsugi.

Also inside the studio is Omotesando-yaki, a modern fusion of rare ceramics, glass, and rare metals, all of which are transformed into beautiful vessels using the skill of kintsugi.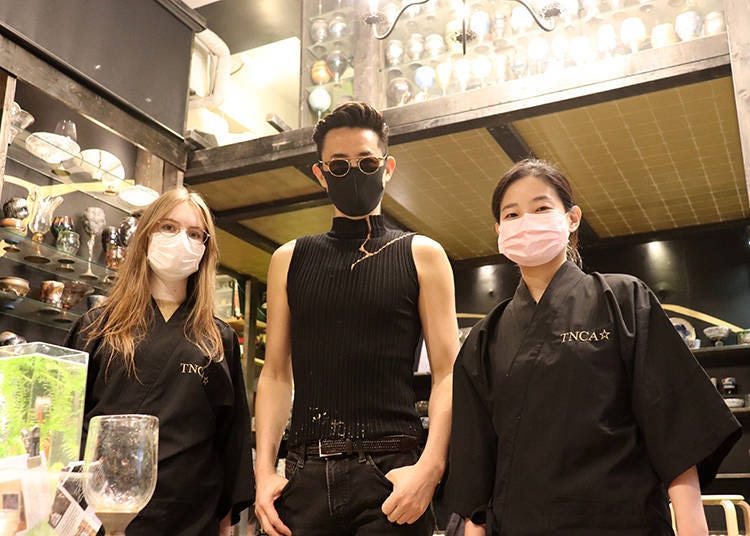 LIVE JAPAN editors, Ms. B and Ms. C, visit the studio to participate in a kintsugi class, courtesy of the ceramics master himself, Mr. Nakano.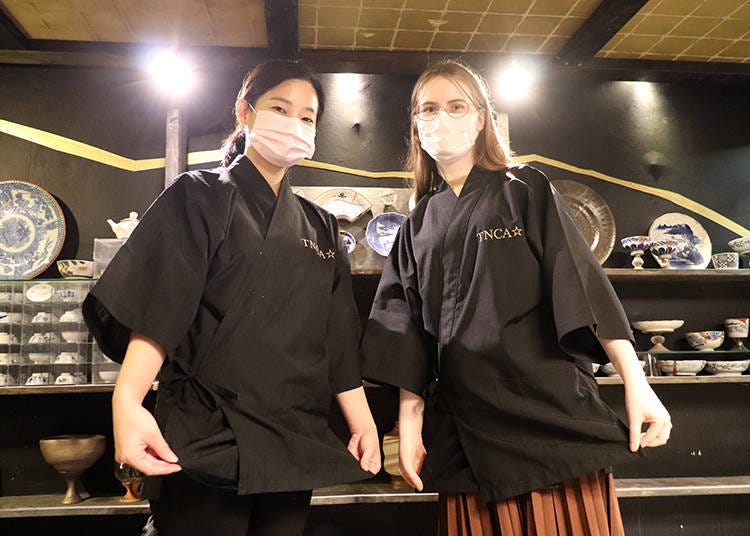 Straight away, our participants don their work clothing (called 'samue') and begin the lesson, starting with an explanation of what kintsugi is.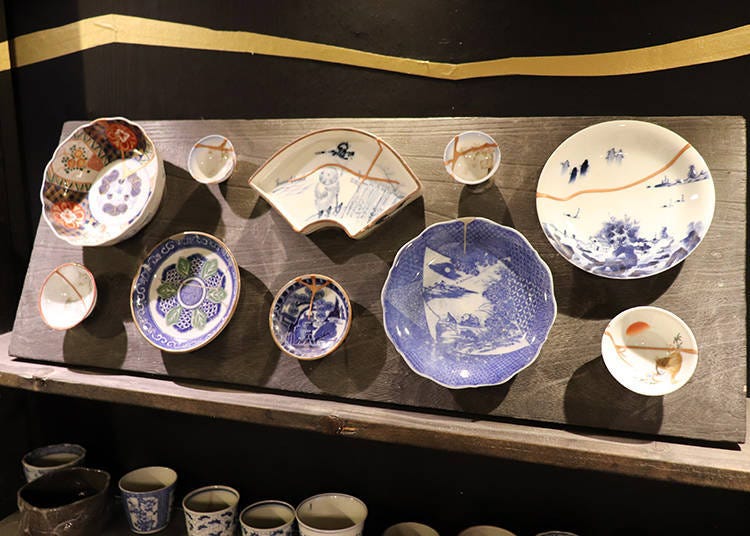 Kintsugi is an expression of wabi-sabi, a unique Japanese way of seeing the beauty in things deemed imperfect. 'Wabi' can mean 'incomplete,' while 'sabi' refers to deterioration over time. The concept of 'wabi-sabi' expresses how the passage of time can further increase the beauty in imperfect things. This concept is also reflected in the craft of kintsugi.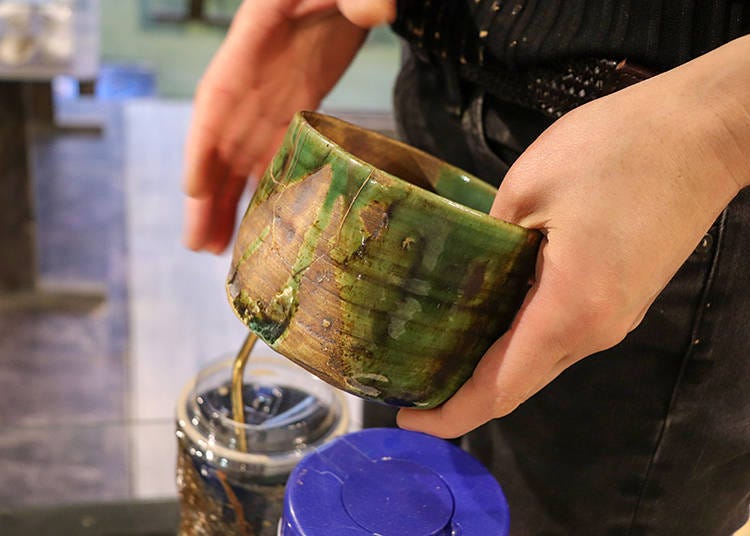 "Tea stains on an old bowl, as well as chips and cracks, show the passage of time, which Japanese people come to appreciate as part of the item. The beauty of that feeling of the passage of time is one of the philosophies of kintsugi. That's why we don't feel the need to repair the cracked parts to perfection," explains Nakano.

Instead of masking the flaws, a Japanese way of seeing things is that by highlighting the cracks, the piece becomes stronger, more beautiful, and easier to use
As he explains this concept in relation to today's kintsugi experience, B and C nod attentively with a look of curiosity.
The Kintsugi Experience Begins!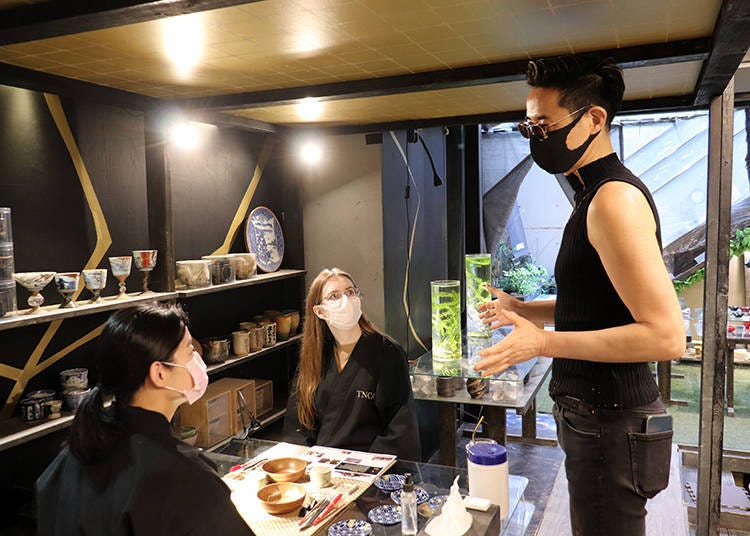 Mr. Nakano uses a mix of Japanese and English as he offers his explanations. "He makes his explanations easy to understand," says Ms. B.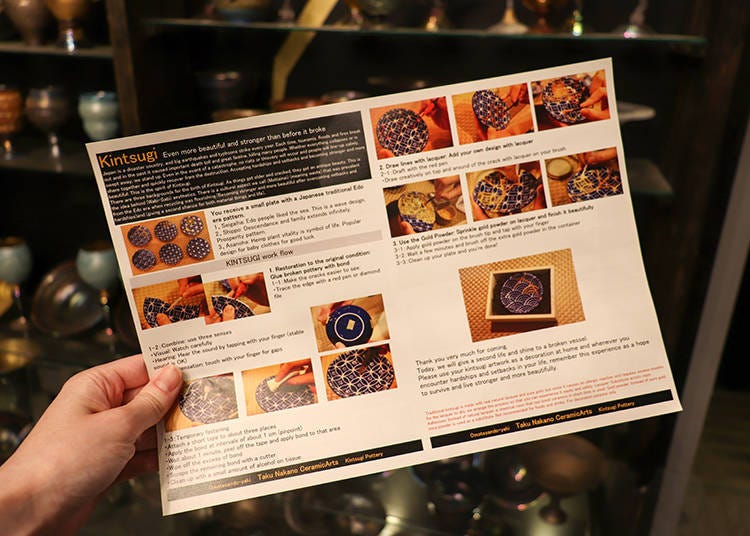 There are also English pamphlets explaining the kintsugi process that you can refer to as you work at your own pace.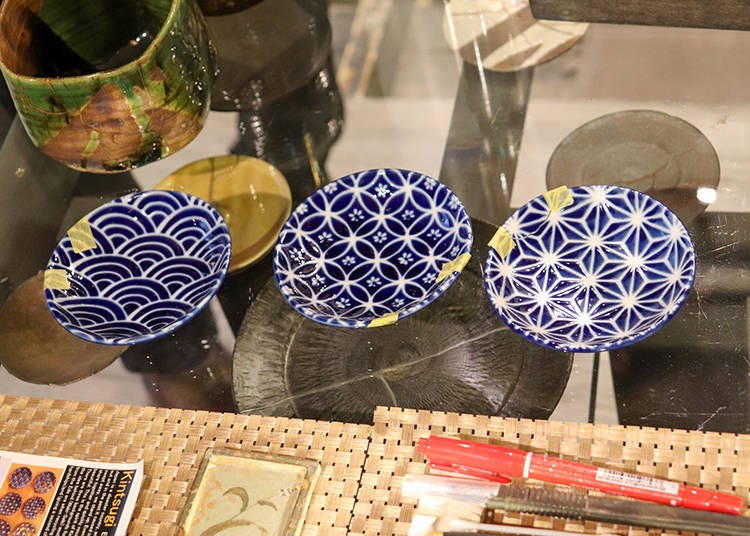 Begin by selecting your favorite patterned ceramic dish. Each dish is already cracked for the purpose of kintsugi.

All dishes are decorated with old patterns from the Edo Period. The left dish in the photo shows the 'seigaiha' pattern, which represents the waves of the sea. The center pattern is the 'shippo' (or 'cloisonné') patten, an auspicious one evoking the prosperity of descendants. The 'asa-no-ha' (hemp leaf) pattern on the right is another lucky pattern representing the quick, healthy growth of children. This design is often seen in baby and children's clothes.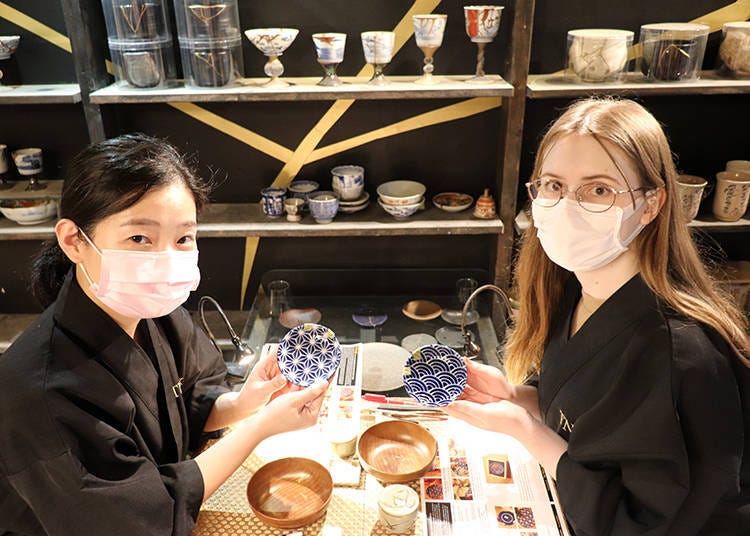 B chooses the 'seigaiha' pattern, and C chooses the 'asa-no-ha' pattern. The first step is to restore the dish to its original state. In this part of the process, we deepen the line of the cracks that will be filled with gold for the pattern.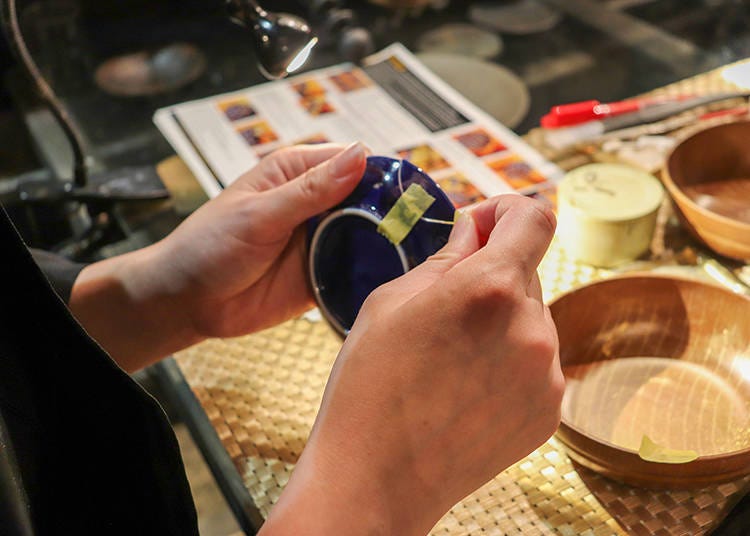 As the dish is already cracked, be careful not to cut your finger!
You will also need to reuse the tape, so don't throw it out when you peel it off! Set it aside for later.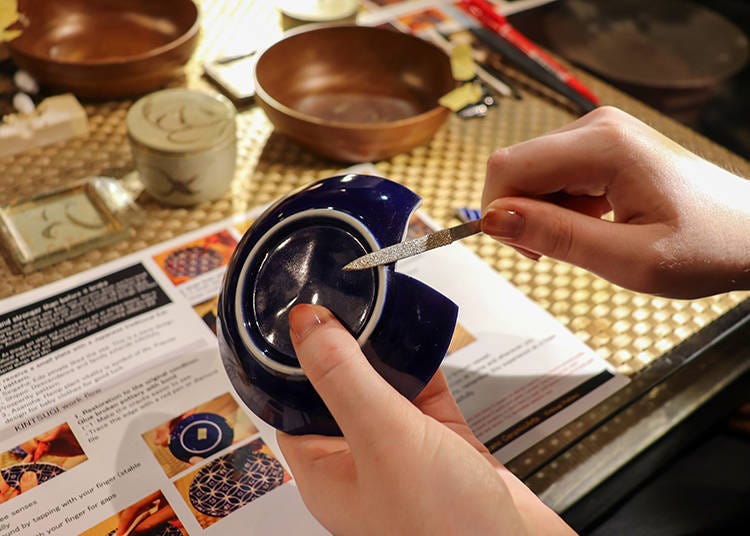 Next, file along the crack to emphasize the line. This is one of the foundations to making beautiful designs with kintsugi.

Using a diamond file, shave down the edges. When filing, move from the direction of the blue side to the white side. Be careful not to shave from white to blue! The lack of support may cause it to chip and fray. According to B, "It's like using a nail file, only this requires a little more strength."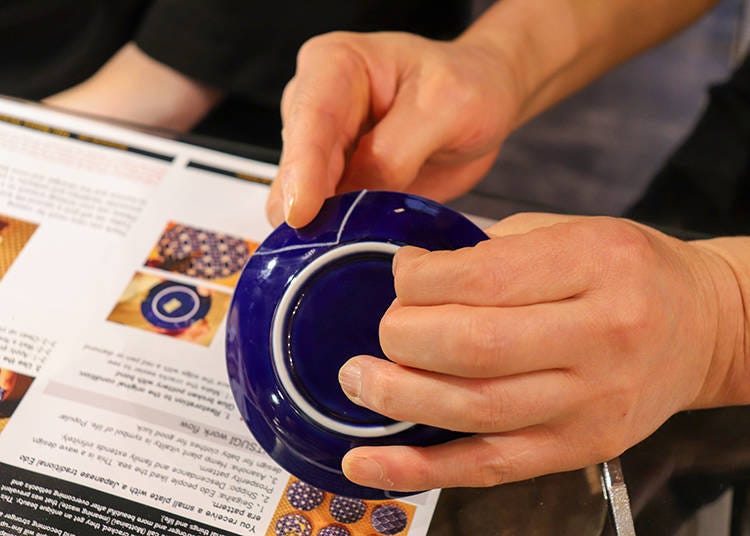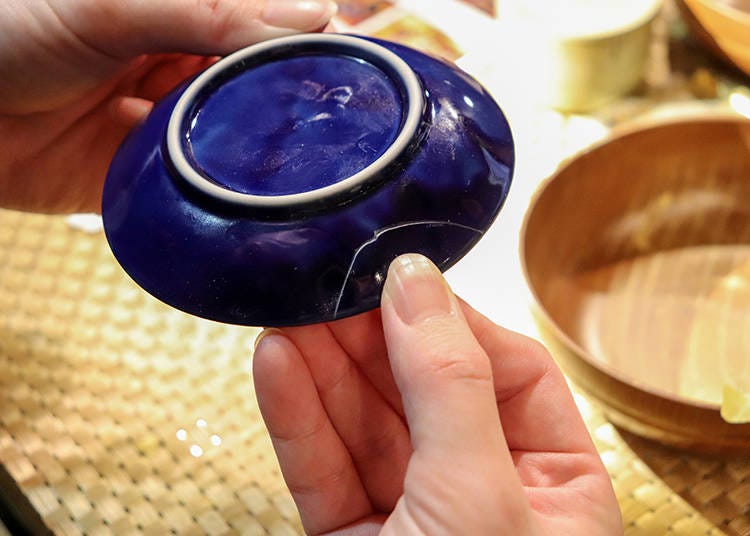 The more you file it down, the more pronounced the line becomes. This is where we will apply the gold adhesive during the kintsugi process. The cutting method used here helps adjust the thickness of the line.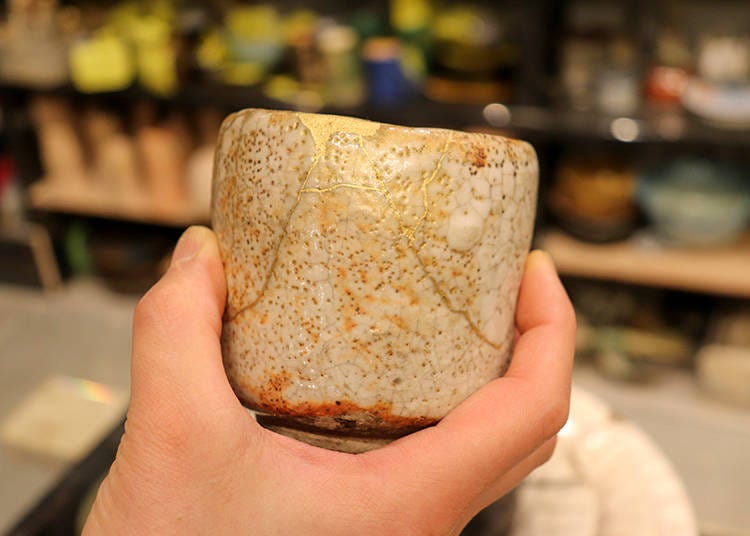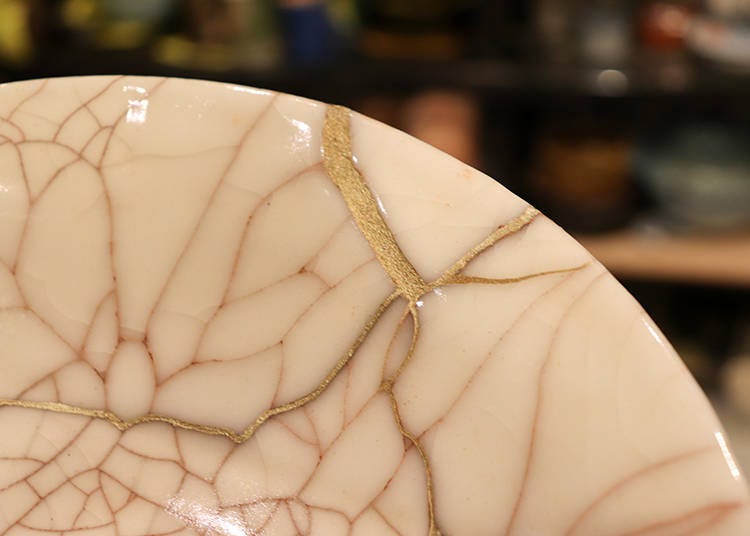 These lines you are scraping are exactly where you'll apply the gold later, so keep your finished design in mind as you adjust the width of the cracks. If you file away more than intended, you can readjust the size using materials like wood chips or sawdust.

There is no set way to make kintsugi. Each person is given the freedom to craft their designs in their own way. It is said everyone from lacquer artisans to carpenters has made repairs with kintsugi. Nobody has made kintsugi a profession on its own. There are many styles of kintsugi depending on the individual's taste and aesthetic, with no fixed rules regarding materials or methods.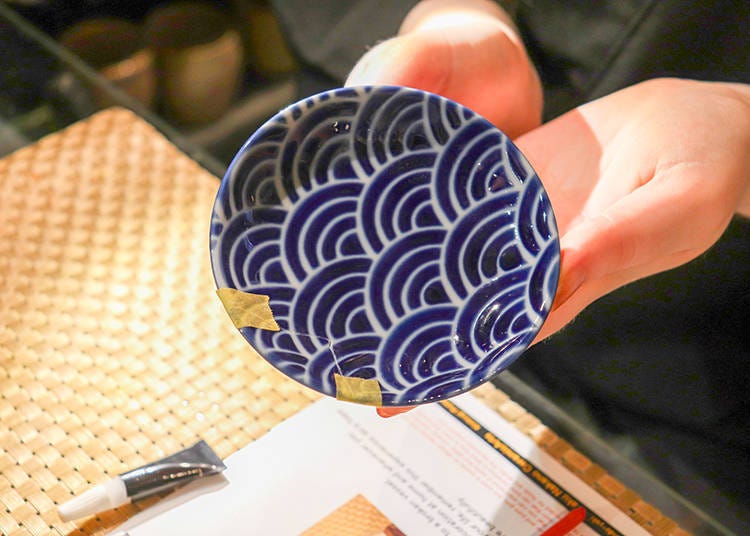 After wiping the shavings off completely, reattach the broken piece using the tape that you set aside earlier.

Now we will use three of our senses to check that it is properly reattached. The first sense is touch. Feel around for any unevenness. Next, using sight, look carefully for light shining through any gaps. Open gaps could mean leaks later!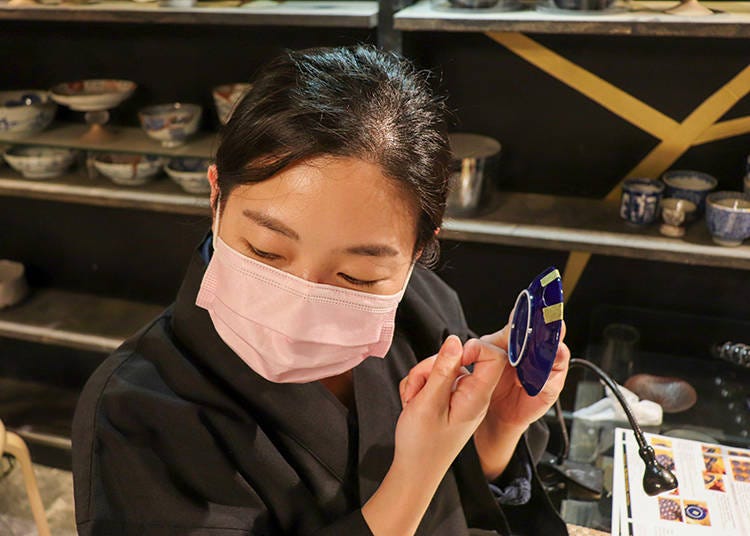 Last is hearing. Tap it and listen carefully for any unevenness in the sound. You'll hear a consistent tone if the piece is firmly attached together. However, if your work is even slightly off, your taps will sound uneven. In this way, we can check our work carefully.
Next is the process of fastening the broken lines together. First, apply the glue from the inside of the vessel.

Originally, people used natural lacquer for this step, but today, we use chemical resin to save time. Natural lacquer can cause a rash or irritate your hands if you touch it directly, so be sure to wear gloves for protection if planning to use it.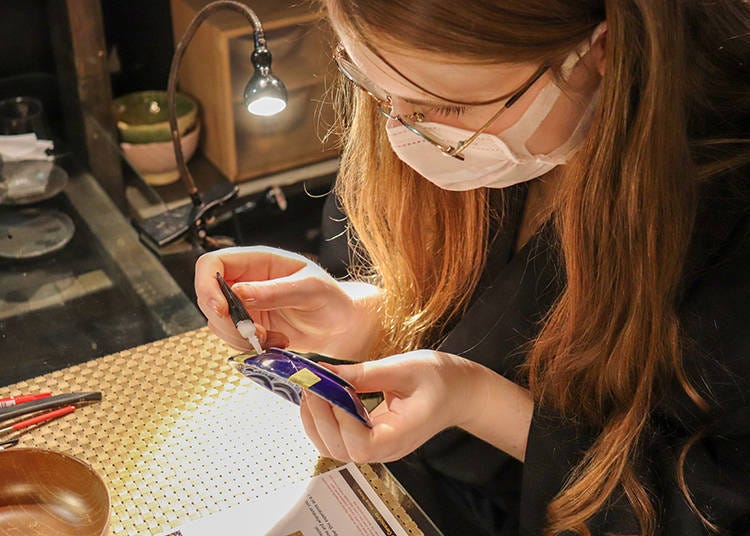 As a guideline, when attaching the pieces together, try to use only one small drop of glue per section. Dot over the line of the crack at 1 cm intervals, and wait 2-3 minutes to dry.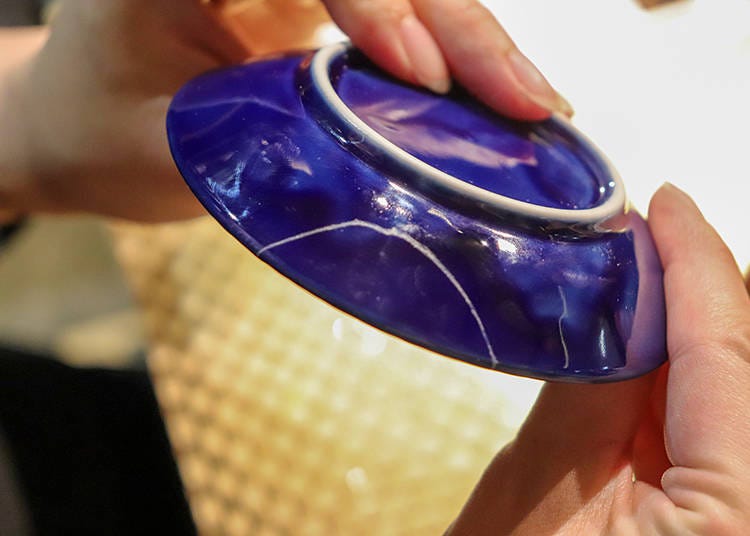 A few minutes should be enough to temporarily hold it together. Slowly remove the tape. This part that the tape was holding will be the most effective at keeping the pieces together, so apply a few drops of glue there, too.

Ms. C panics a bit after applying too much adhesive. "It's leaking quite a bit!" According to Mr. Nakano, "If you apply too much, it won't dry as easily. A tiny amount is all you need."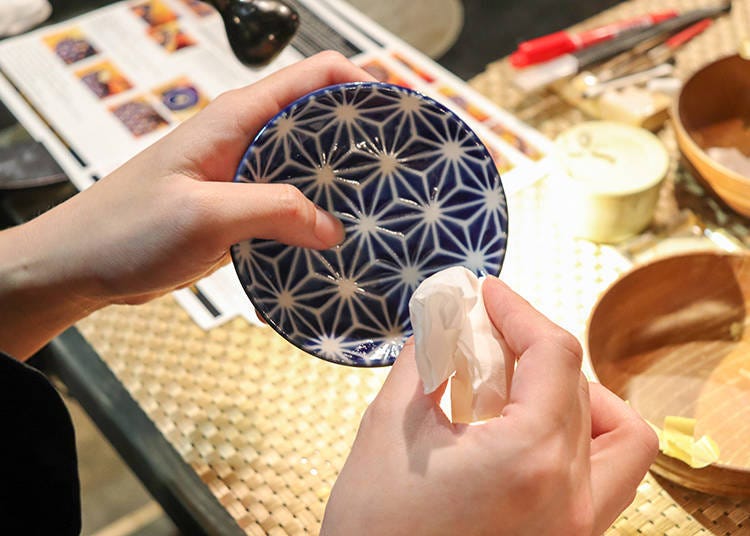 Afterward, wipe away any excess glue seeping from the line with a tissue. Be careful not to get the glue on your hands. First, wipe along the line. Then wipe the entire vessel.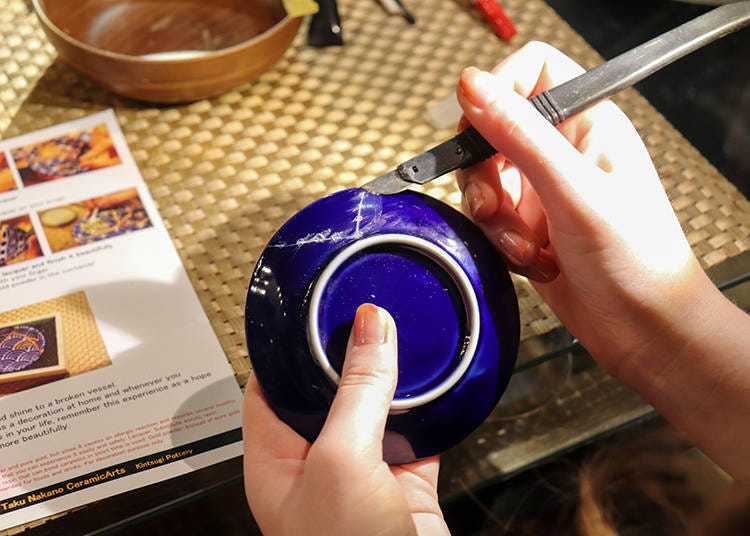 Use a knife to scrape off any tissue paper that may have stuck to the adhesive. The trick here is to move the blade in a circular motion. The kintsugi lines will stand out even more once you remove anything that has accumulated in the grooves.

Ms. B focuses sharply on her work. "You really get into it!" The laser-sharp concentration you feel as you immerse yourself in each step of the process is just another one of the fun parts of the kintsugi experience!

The glaze used for the dish's blue color is harder than metal, so don't worry about scratching it off as you scrape off any excess paper. Once you're done, wipe with an alcohol-dipped tissue for a cleaner look.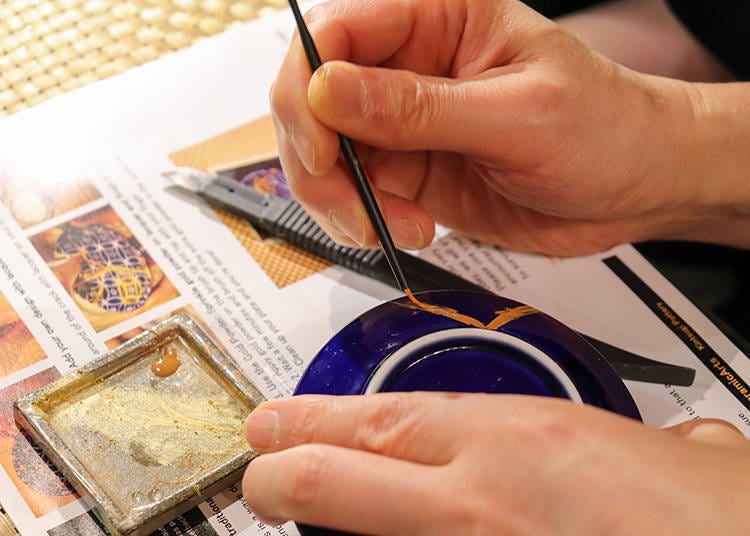 Next, trace the line of the crack with the lacquer alternative (acrylic resin mixed with gold powder).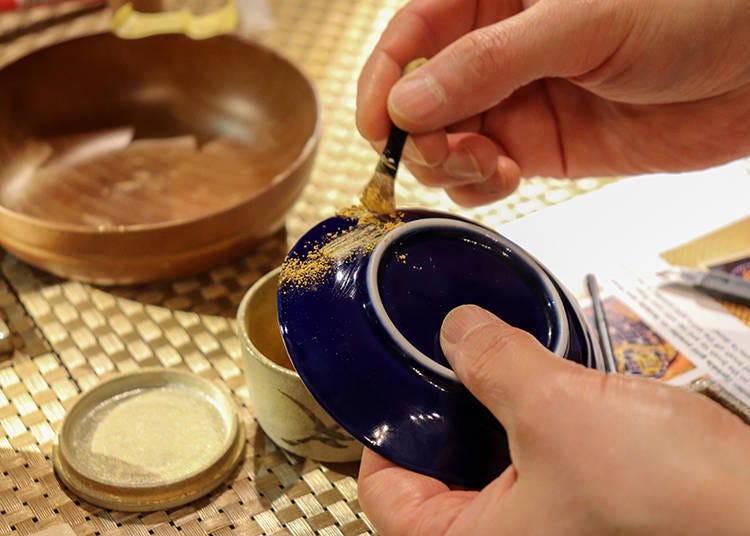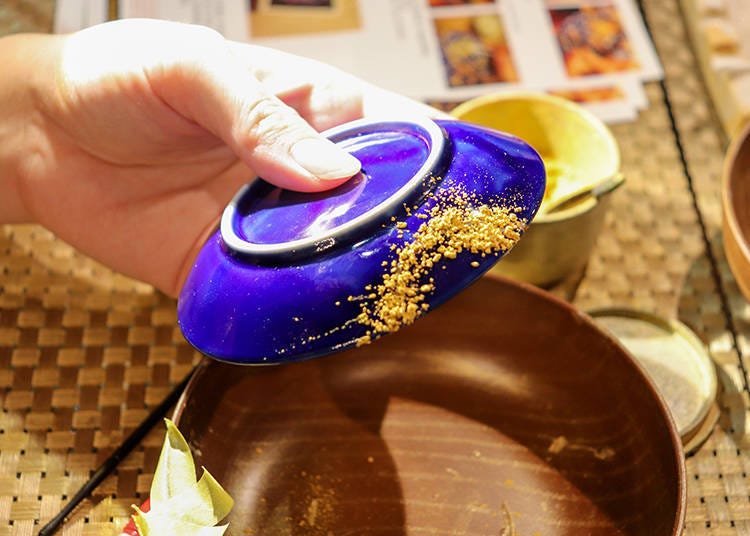 Immediately after drawing the line, sprinkle with gold powder. Use your finger to flick the gold powder from the brush little by little.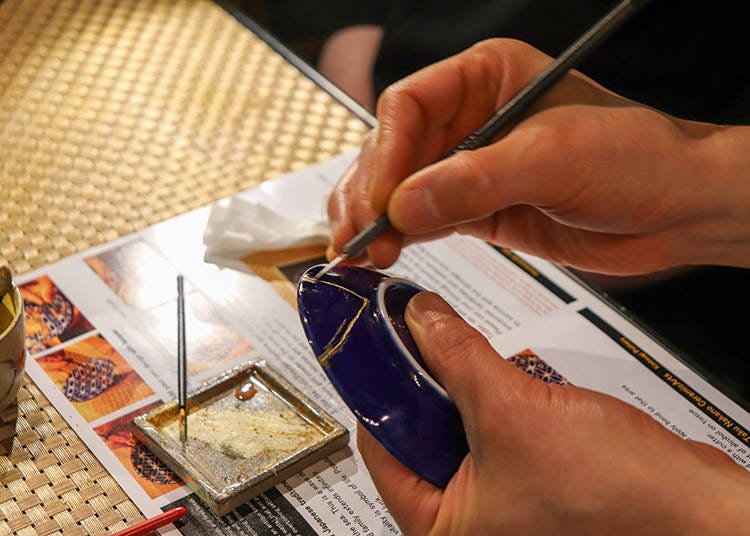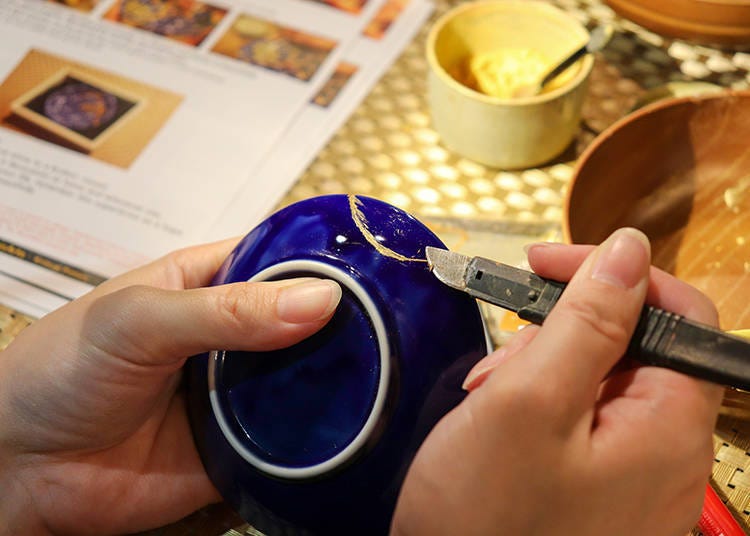 Once you apply the gold powder, the design really begins to stand out. You can scrape off any uneven parts and wipe them off with alcohol if you need to.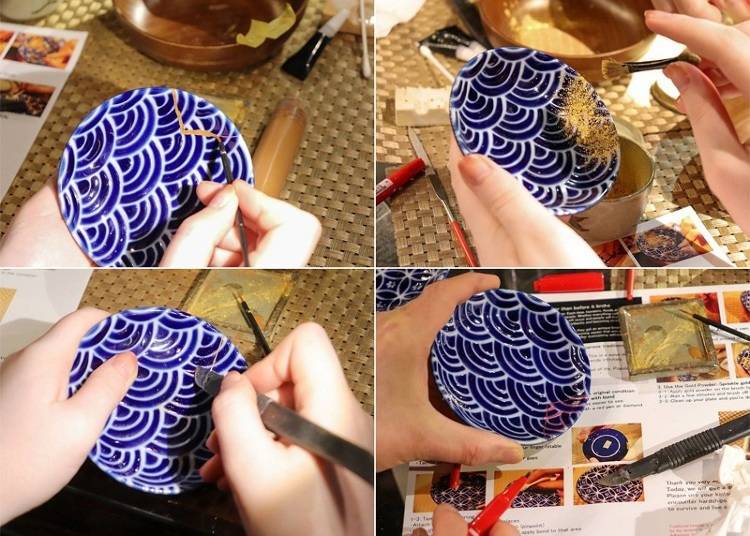 Apply the same process to the front. If you want to make an original pattern, you can do so using a similar procedure. Draw your design with a red pen, trace over it with the lacquer alternative, and sprinkle the gold powder.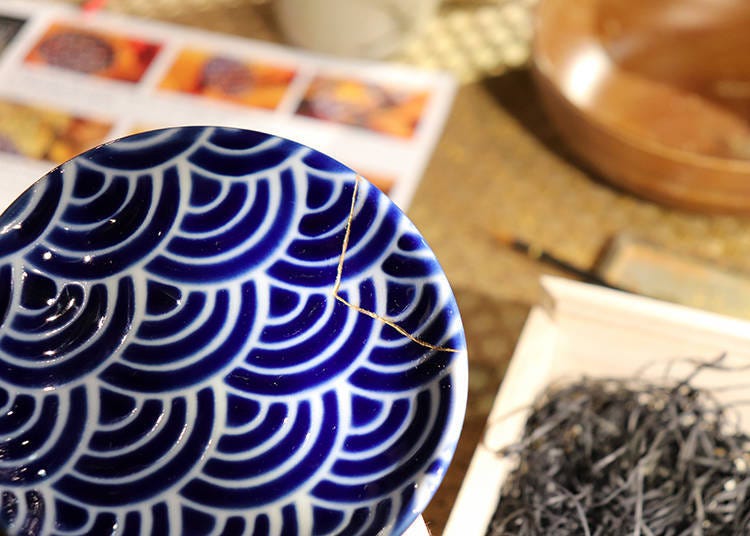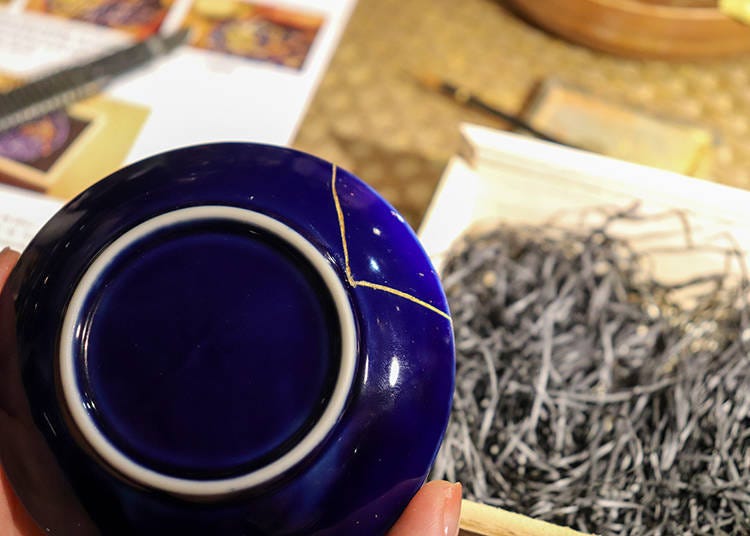 Here is B's finished product, with beautiful kintsugi lines added to both the front and back of the dish!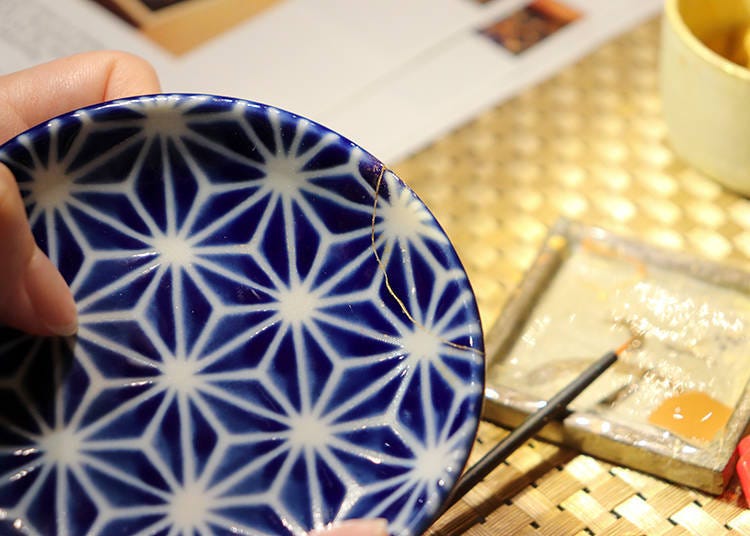 C's kintsugi shows a clearly visible contrast between the blue glaze and the golden line.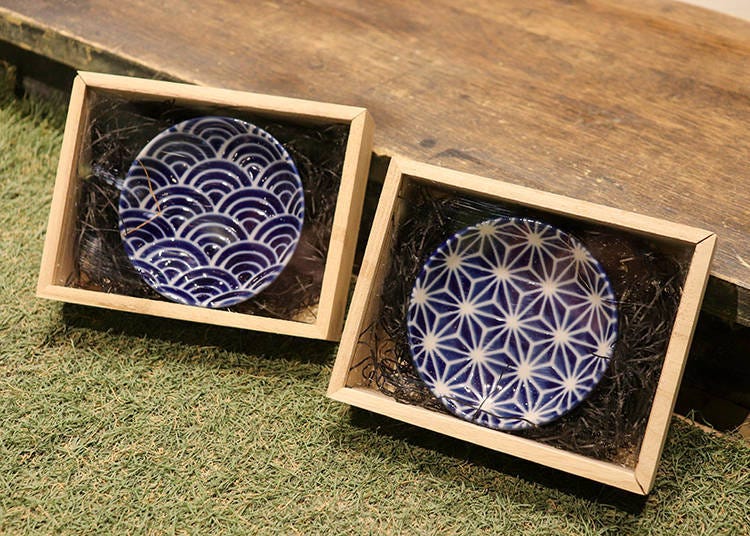 After your kintsugi experience, you can frame your creation in a wooden box and take it home.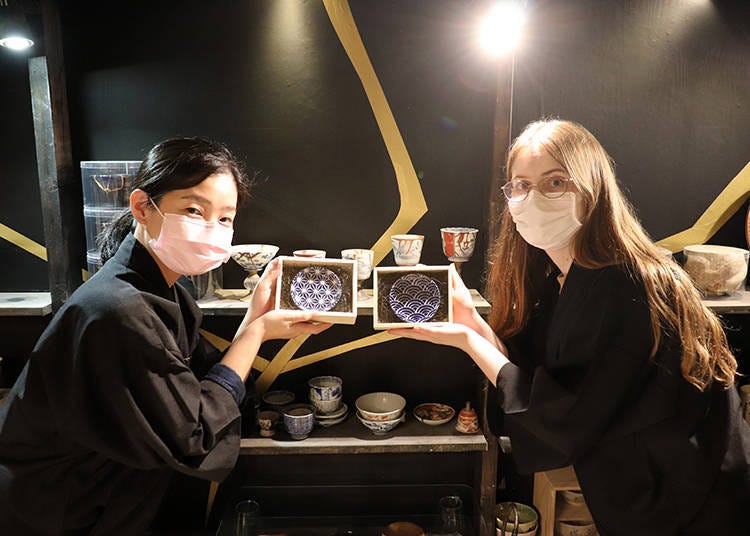 Both participants admire their creations with satisfaction. "I can't wait to get home and put it up as a decoration!" They grin ear to ear, also admiring the work clothes they wore during the experience. "It was exciting; I felt just like a traditional Japanese artisan!"
The post-experience Kintsugi Walk is popular, too!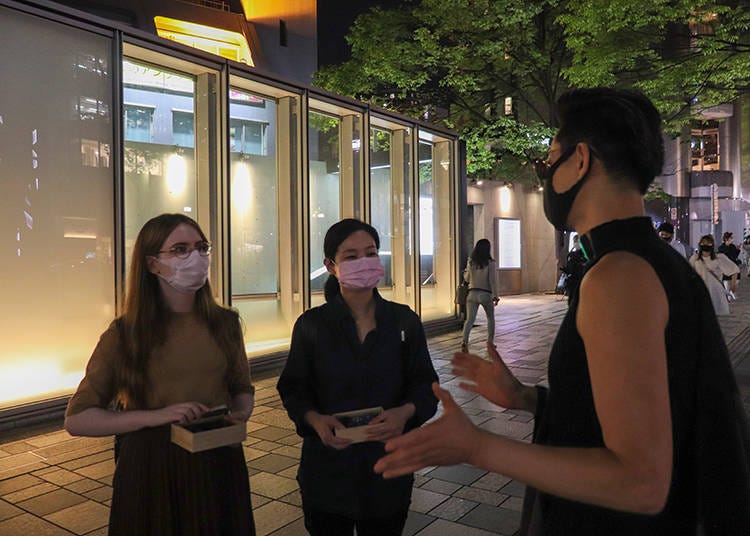 After the kintsugi experience, you can take part in another popular course, the Kintsugi Walk. Stroll around Omotesando Hills, a complex consisting of shops and residences, and Cat Street, a promenade lined with high-end brands and unique shops, and listen to Mr. Nakano as he explains the in-depth history of kintsugi and Omotesando.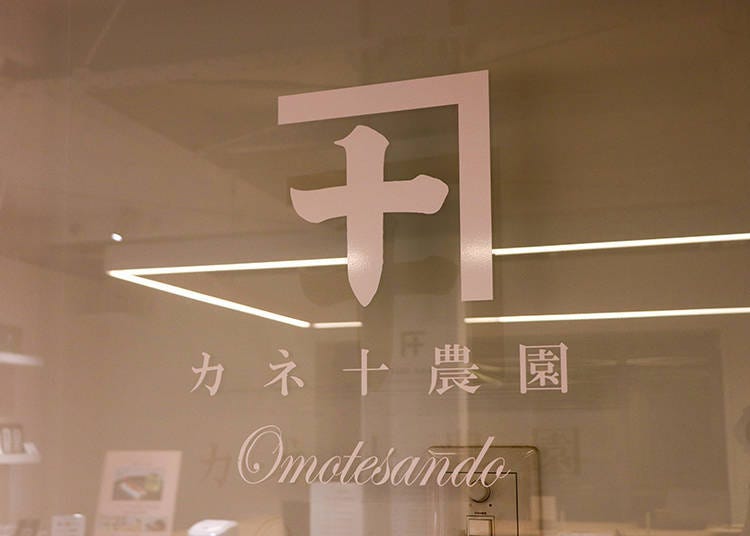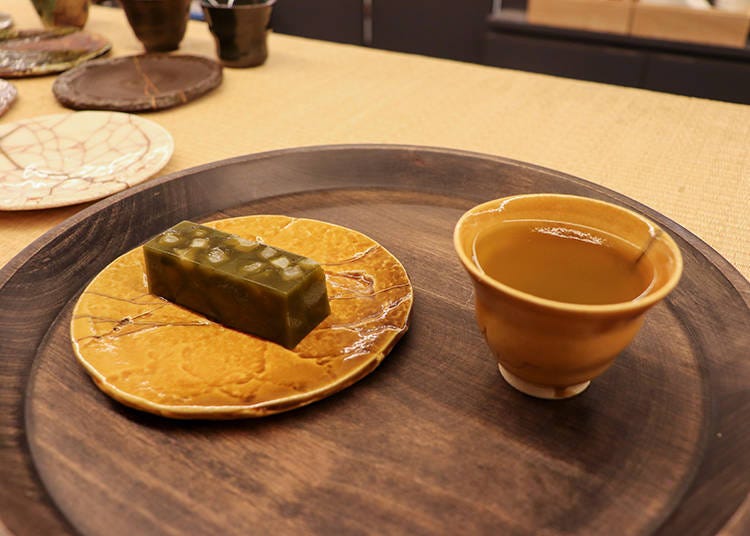 During the walk, you'll also stop by Kaneju-Farm. Here, you'll enjoy snacking on tea and sweets served on kintsugi dishes designed by Mr. Nakano himself.

Learn even more about the history and spirit of kintsugi, and how it relates to the Japanese concept of "mottainai," a philosophy about waste reduction that has expanded since the Edo Period, when the spirit of recycling started to progress.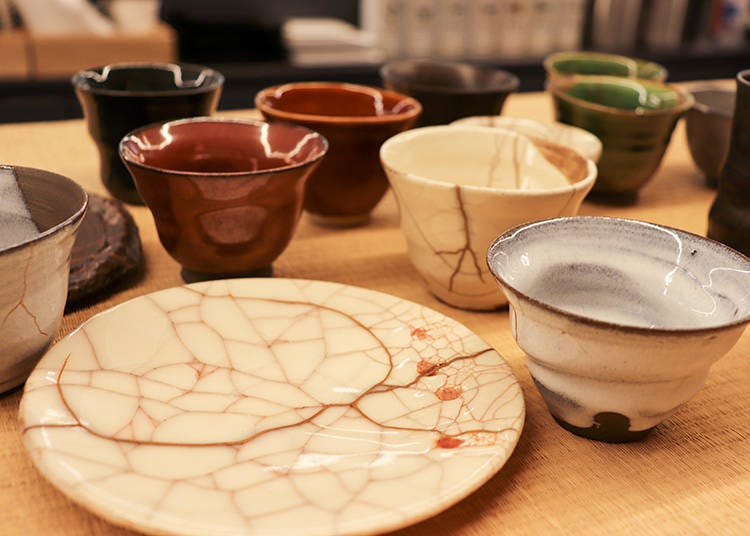 Eating and drinking from kintsugi tableware while learning more about kintsugi right after experiencing kintsugi crafting for yourself is nothing short of a memorable experience!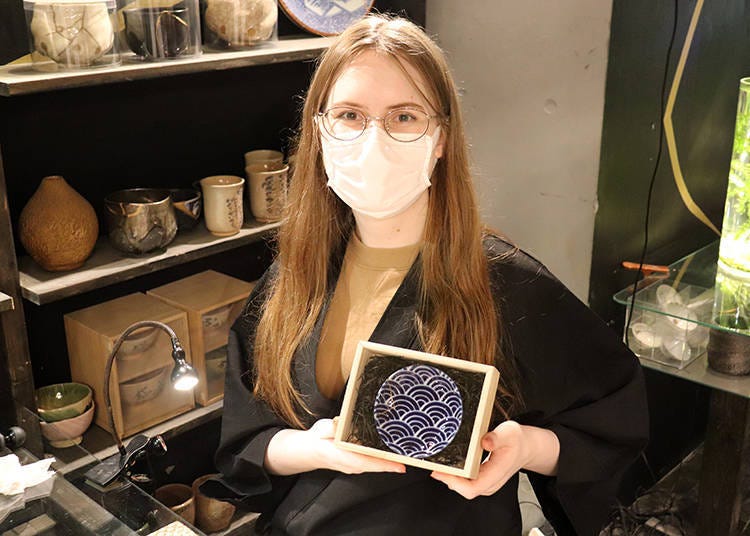 B and C share their thoughts after their experience. "I enjoyed learning about the Japanese concept of wabi-sabi. I think kintsugi's connection to the concept of mottainai will also lead more people to think about SDGs [sustainable development goals]. Being able to continue using something after repairing it with kintsugi makes you even more attached to it. I also like how you have to concentrate on each part of the process."

The philosophy of kintsugi allows us to bring our precious, broken items back to life, and continue to use them in even better condition than before. And at this kintsugi experience, you can get a taste of this unique Japanese aesthetic for yourself.

Translated by: Krys Suzuki
Taku Nakano CeramicArts☆(TNCA☆)

Taku Nakano CeramicArts☆(TNCA☆)

Address

3-8-2 Minami Aoyama, Minato-ku, Tokyo

Inquiries: https://tnca.tokyo/inquiry.html

Hours:
By appointment only

Mon/Tues/Thurs/Fri/Sat/Sun/Holidays:
Open: 11:00 a.m. - 7:00 p.m.
Lessons: 11:00 a.m. / 1:00 p.m. / 3:00 p.m. / 5:00 p.m.

Wed:
Open: 1:00 p.m. - 9:00 p.m.
Lessons: 1:00 p.m. / 3:00 p.m. / 5:00 p.m. / 7:00 p.m.*
*Online lessons available

See official website for the latest updates and class times:
https://tnca.tokyo/opentime.html
Written by: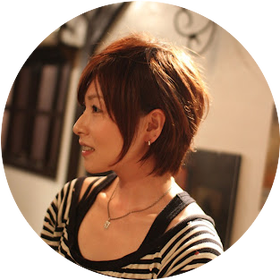 *This information is from the time of this article's publication.
*Prices and options mentioned are subject to change.
*Unless stated otherwise, all prices include tax.
Limited time offer: 10% discount coupons available now!