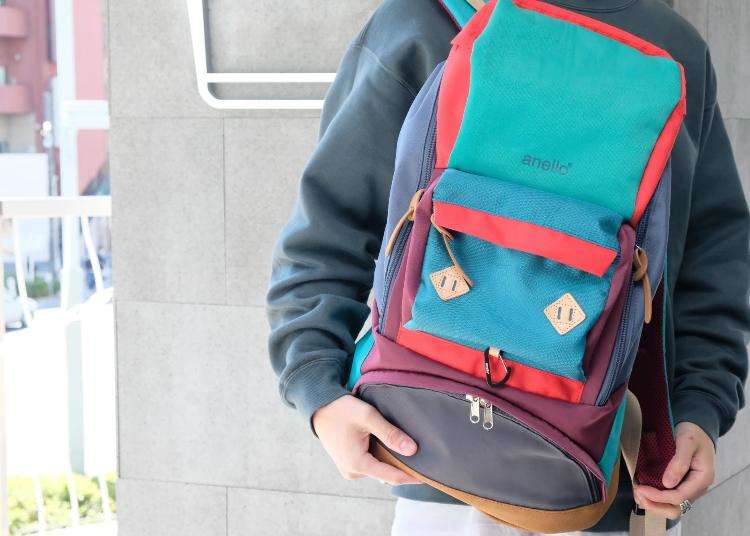 If you are heading to the Anello Tokyo store in Harajuku, here are five picks from among the newest items and Japan-limited goods you should absolutely check out!

A well-loved brand both domestically and overseas, Anello opened its first store in Tokyo! Situated in the popular tourist spot of Harajuku, Anello Tokyo has been open for business since December 2019.

Right here, you will find a wide range of wonderful items that pique your interest, including goods that were previously only available online, seasonal goods and of course, Harajuku-limited goods.

In addition to those goods and the new 2020 spring collection, here are some of our recommendations on what you should definitely check out when you visit Anello Tokyo.
Established in 2005, Anello® is a Japanese brand that focuses on bags. At the core of the brand is its dedication and attention to the manufacturing of these bags, regardless of the target gender, age groups, or market trends.

The Anello TOKYO store that we will be introducing today is the brand's first venture in Tokyo and its first store in the city. Even though there has always been many shops carrying Anello goods, this is the only store in the city directly managed by Anello, which explains the full range of products you can find only in an official store!
The Anello Tokyo Store is Right Next to Meiji-jingumae (Harajuku) Station!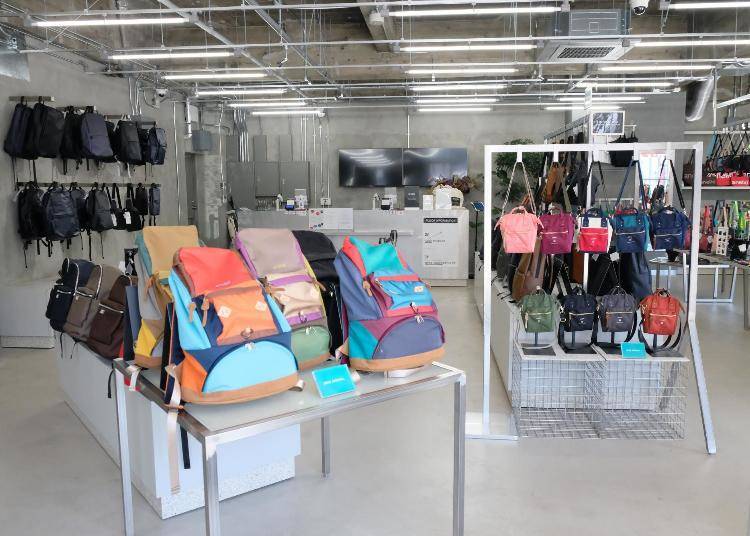 The Anello Tokyo store is located on a corner of the Jingumae intersection, right in front of Exit 5 of Meiji-jingumae (Harajuku) Station. It is exceptionally accessible since it is located adjacent to Laforet Harajuku, so you can easily stop by as you go about sightseeing.

Designed with sustainability in mind, the shop reuses scrap materials, which keeps the interior simple yet stylish. The first floor is lined with Anello's cutting-edge products, including the latest collection and Japan-limited goods. Meanwhile, Anello's classic line up can be found on the second floor.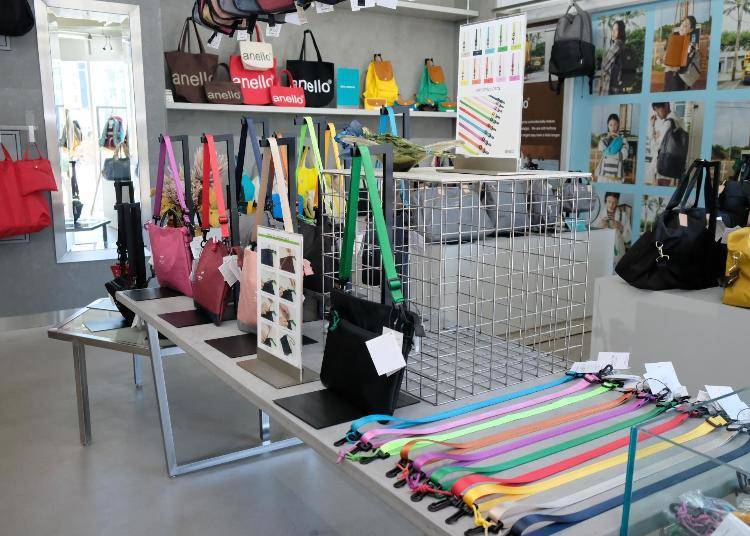 Most people know of Anello's clasp backpacks, but here at the official store, the products are diverse, with sling bags, pass cases, coin pouches and tote bags on offer.

Recently, Anello announced the release of a new bag with customizable shoulder straps. This means that you can now mix-and-match your favorite colors to create your own unique combination!

A trip to Anello Tokyo might surprise you and change your impression of the brand! And you need not worry about the language barrier: there are staff members who can speak other languages, including English, French, and Thai, so feel free to approach any of them for assistance.
Recommended Anello Items for 2020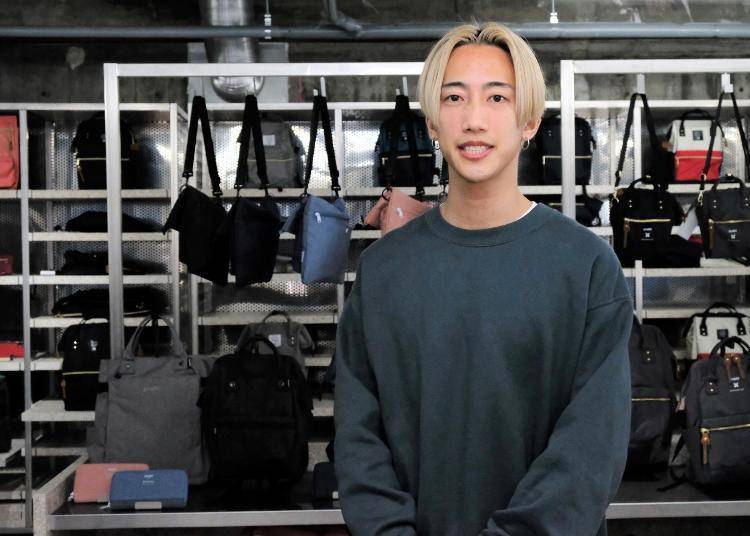 This time we have with us Mr. Ogasa, who has been working for Anello for a long time and was selected for the managerial position for Anello TOKYO. He will be sharing with us his five picks from among the latest and popular items.
1. Turned into a Mini Shoulder Bag! The "RE:MODEL Clasp Micro-Shoulder (Japan Limited)"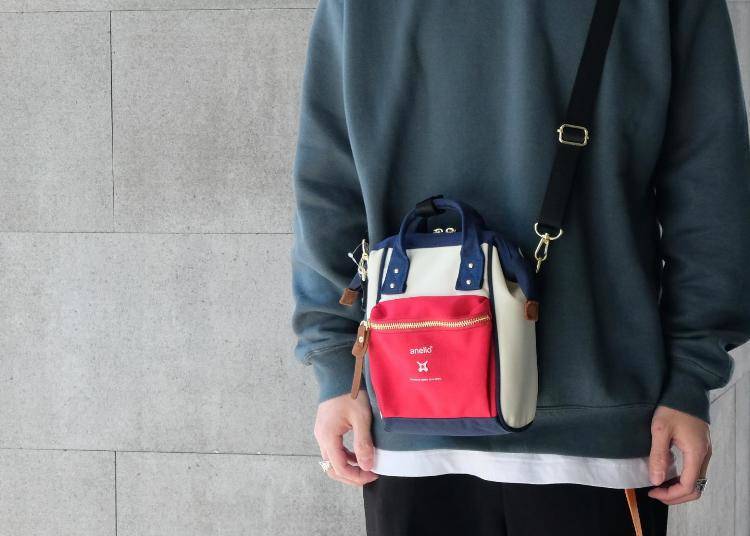 The "RE:MODEL Clasp Micro-Shoulder" is a Japan-limited item from the 2020 spring collection, that turns the popular classic clasp backpack into a mini shoulder bag. As the bestselling item in-store, this bag is Mr. Ogasa's top recommendation.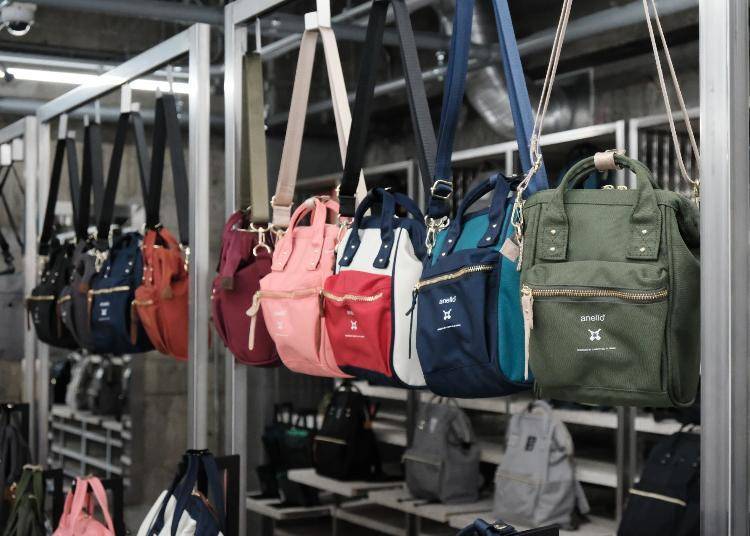 The most popular option is the tricolor, which combines red, white, and navy blue. There are lots of other colors offered, too, including khaki, pink and wine. The mini shoulder bag is made of polyester canvas fabric and is a perfect match with casual everyday outfits. With its size, the bag can hold long wallets and smartphones and is also suitable for casual outings.

The bag is waterproof, so it can be used during outdoor activities as well. It is available for 3,500 yen.
2. Check Out the Tokyo-Limited Color for the "EXPAND2 Clasp Backpack R (Official Limited)!"
The latest item from Anello's 2020 spring collection is a stylish clasp backpack, limited to only official stores in Japan and abroad. The main body of the bag is made of nylon-like polyester, whereas mottled polyester is used for the sides.

The bag comes in mint, black, navy as well as white, which is limited to Harajuku. There are apparently many people who make a long trip just to get their hands on this limited color.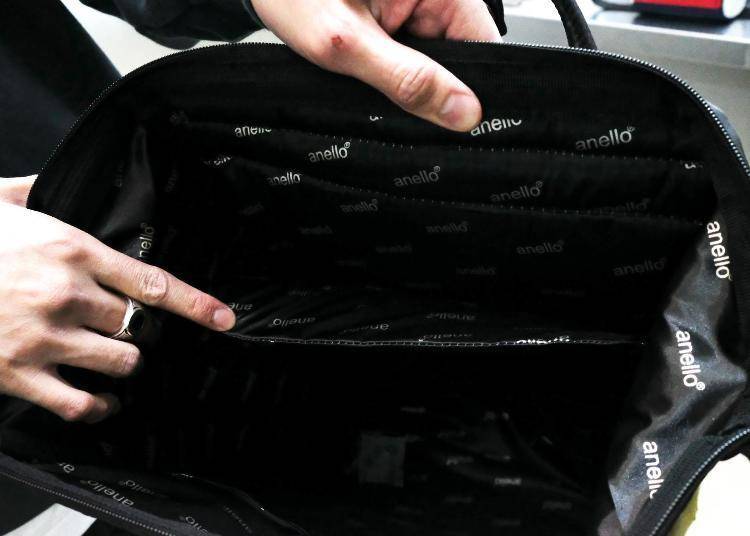 Developed based on customer feedback, the bags are designed to be easy to use anywhere. The lining of the bag is printed with the text "Anello" and has a separate compartment to hold small items and a laptop. Thanks to its waterproof feature, you won't have to worry about the elements when you carry this bag outside!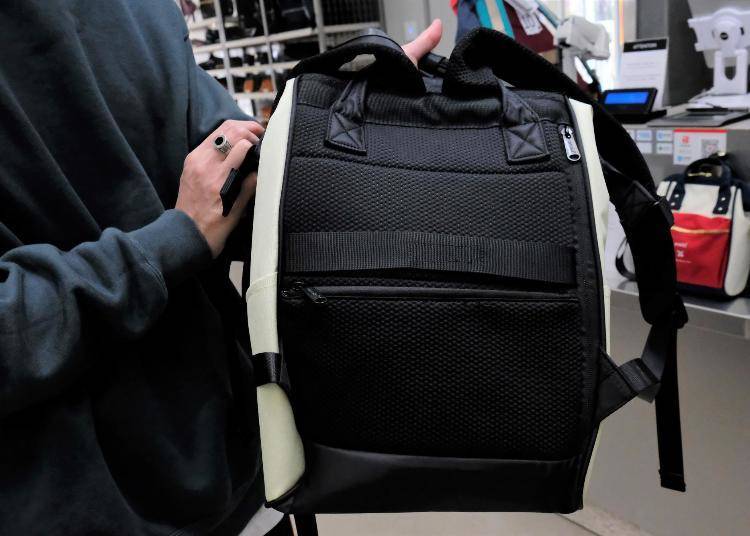 If you find it a hassle to reach for your belongings while carrying a backpack, fret not as this particular design includes a zipper on the side that provides you with easy access to the main compartment. Plus, the back of the backpack comes with a strap so you can attach extra pouches or carrying cases. For all its features, the bag is priced at 6,500 yen. If you've been considering getting a clasp backpack, you should check out this particular model!
3. Show Off Your Style with "RE:MODEL Synthetic Leather Clasp Boston medium (Japan Limited)"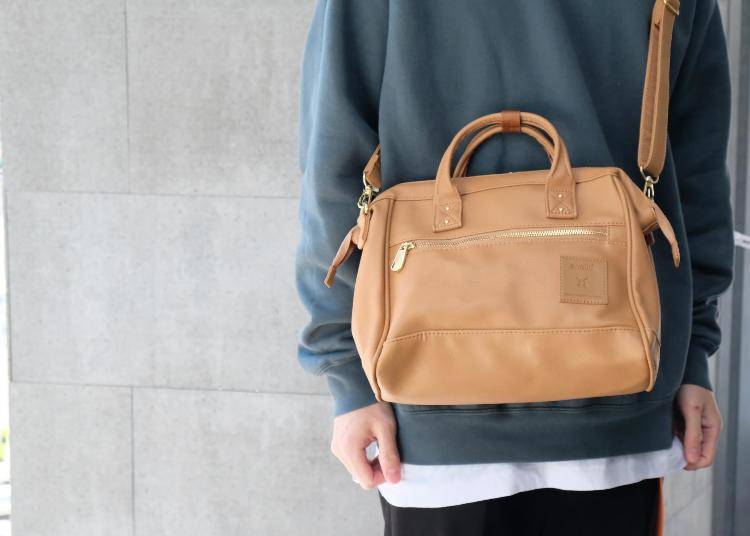 This mid-sized clasp Boston bag made of synthetic leather seamlessly combines design and functionality, giving you the best of both worlds. Unlike the casual bags we have introduced so far, this bag is more stylish and sophisticated. It is unisex and suitable for all kinds of occasions.
On the back, you can attach additional carrying cases of your own. The clasp opening is another one of the bag's attractive features since it makes putting in and taking out your belongings so much easier. This is priced at 4,200 yen.

Why don't you get a synthetic leather clasp Boston bag of your own too?
4. Large Capacity Yet Light! The "TOY TOTE 2WAY TOTEBAG"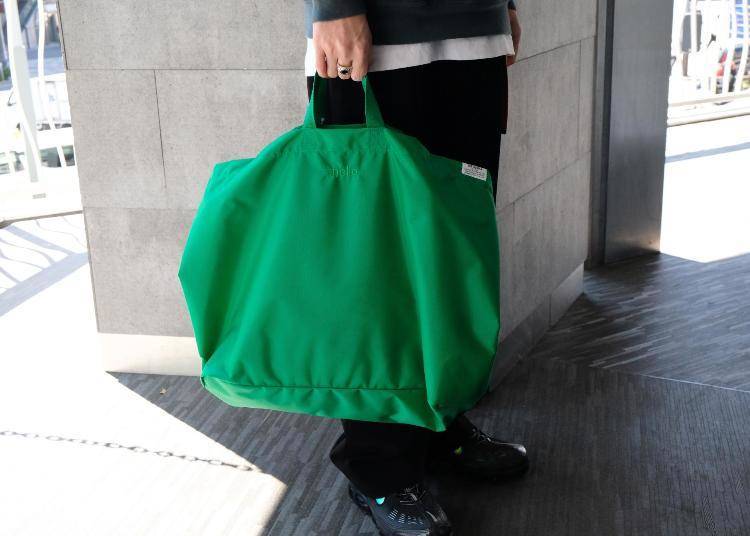 Although Anello is known for its backpacks, their thin and light tote bags are also worthy of mention.

This is a tote bag with a large capacity of 33L, suitable as a hand-carry or a shoulder bag. Made of nylon, this bag is lightweight, clocking in at around 220g. It is not uncommon for customers at Anello to purchase this tote bag as a carrying bag for the other items they have purchased.

Besides the green color featured in the photo above, the tote bag comes in olive, red, navy blue, mustard, black and more.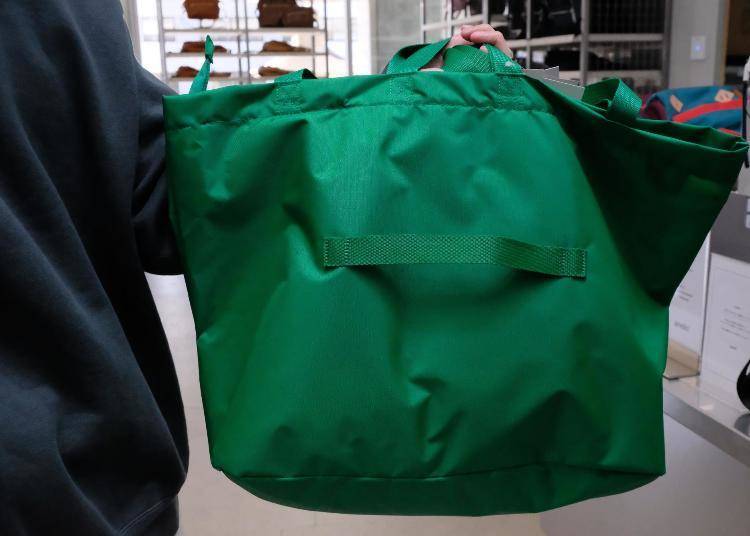 This tote bag is waterproof and comes with an extra strap for you to attach additional carrying cases. Not only is it suitable for vacations, but the bag is also ideal for a quick stroll around town and for events too. It is available for 2,900 yen.
5. The Colorful and Fashionable "NOSTALGIC Multi-Purpose Backpack"
The last bag featured here is a colorful, high-capacity backpack. With ten pockets attached, the backpack can easily hold small items and is also furnished with a laptop compartment. It is suitable for everyday use and also ideal when travelling.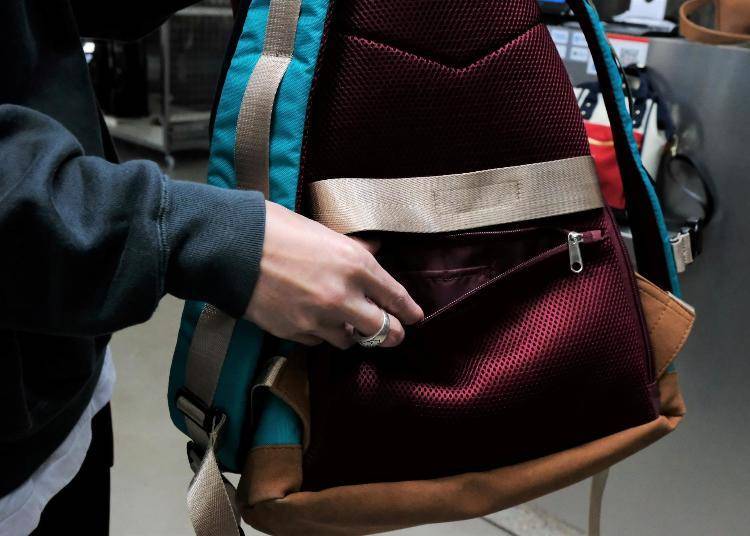 The back is meshed and has a pocket for easy access even while carrying the backpack. Like other backpacks featured here so far, this one also comes with a strap for attaching carrying cases. It is priced at 6,500 yen.
Discover The Perfect Bag For Yourself At Anello TOKYO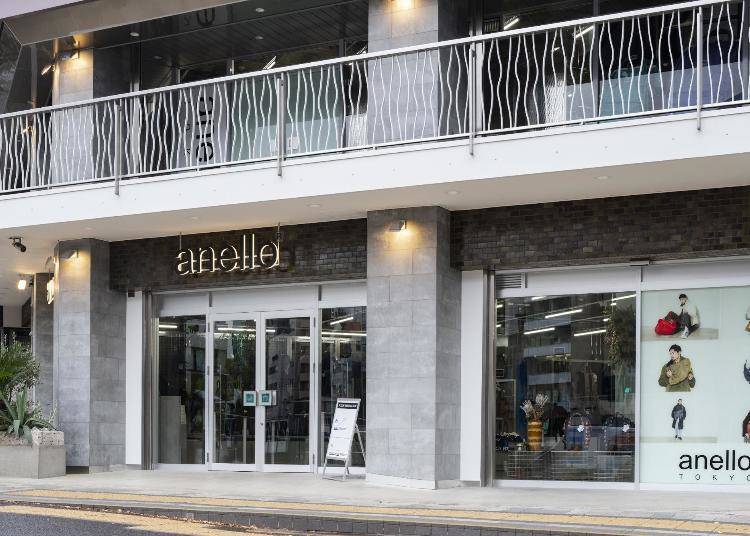 Anello Tokyo is located right at Exit 5 of "Meiji-jingumae (Harajuku)" Station. Alternatively, it is a 4-minute walk away from JR Harajuku Station. Given its close proximity to Takeshita Street, the shop is fairly accessible and convenient to stop by on your sightseeing trip.

At the shop, you will find the various items we have introduced today, as well as Japan-limited goods, official limited goods and Anello's classic line up. New seasonal collections will be sold as well, so do check out the store when you visit Harajuku!

* All prices listed in this article are tax-exclusive.
* Product line-up and prices are accurate as of March 2020.
anello® TOKYO(アネロ トウキョウ)

Address

Green Fantasia Building, 1F & 2F, Meiji-jingumae, Shibuya-ku, Tōkyō-to

Nearest Station

"Meiji-jingumae (Harajuku)" station Exit 5; 4-minute walk from JR "Harajuku" station


Phone Number

03-6804-6112

Opening Hours: 11:00 a.m. – 8:00 p.m.
Written by Nanakusa China
*This information is from the time of this article's publication.
*Prices and options mentioned are subject to change.
*Unless stated otherwise, all prices include tax.