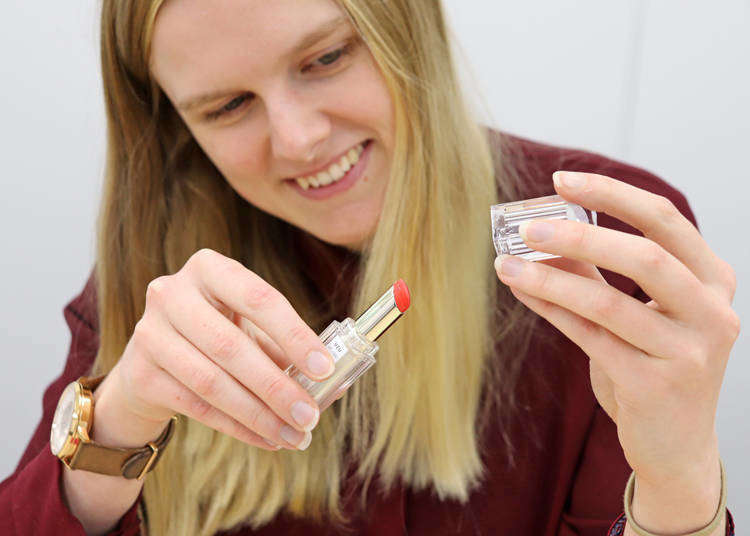 Cosme Loft, located in trendy Harajuku that's so popular with tourists, is drawing much attention these days. This store specializing in health and beauty products is the perfect place to find "Japanese cosmetics items" that are also highly popular among foreign tourists.

In this article, conducted by one of our English editors, we will introduce two popular items recommended by the Cosme Loft shop manager.
■ UZU Lipstick: Create ideal complexion color temperature of 38℃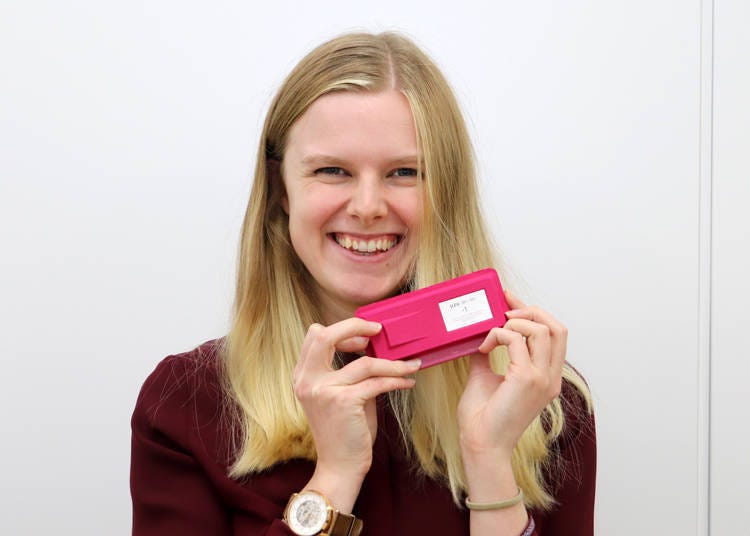 Cassie with the Live Japan editorial team actually tried out these products. Originally from England, she has been living in Japan for the past three years. Having not used many cosmetics recently, she thought this would be an excellent opportunity to look into these color items. She likewise is very interested in the cosmetics currently all the rage among Japanese women today.

The first item she tried was the 38℃ / 99℉ Lipstick ("Tokyo Edition"). This is a more functional and powerful brand new item from Flow Fushi which has developed the popular lip series that achieves the ideal color temperature of 38°C.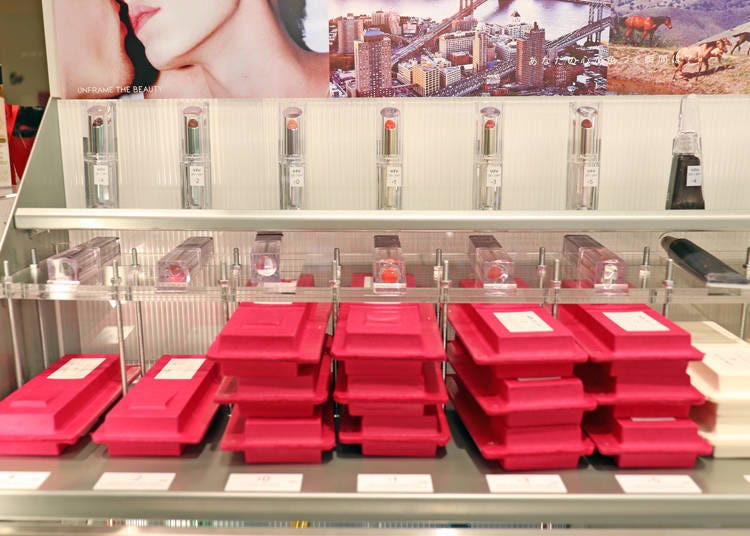 It comes in six different colors including plum, brown, and light orange (2,200 yen each excluding tax). Each has a different concentration and texture, such as -4℃ and +5℃ which provides a wider selection to meet the mood of the moment.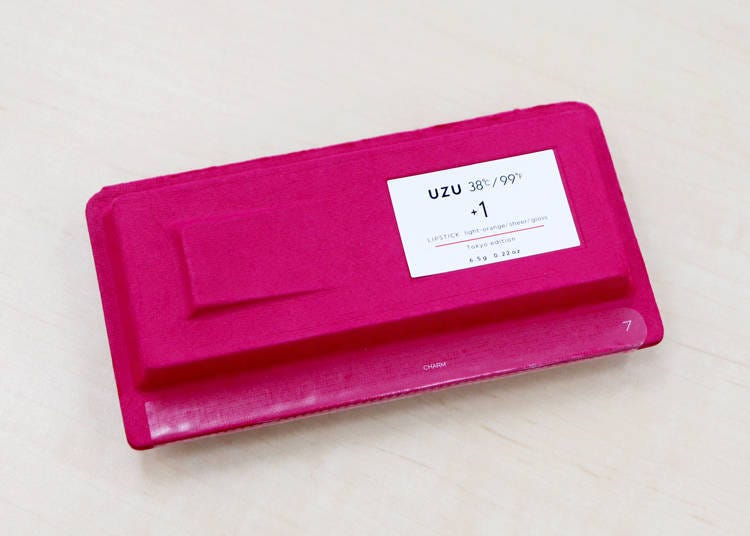 For this report Cassie tried out the most popular item of the six which is the +1 Light Orange Sheer Gloss! Upon opening the box...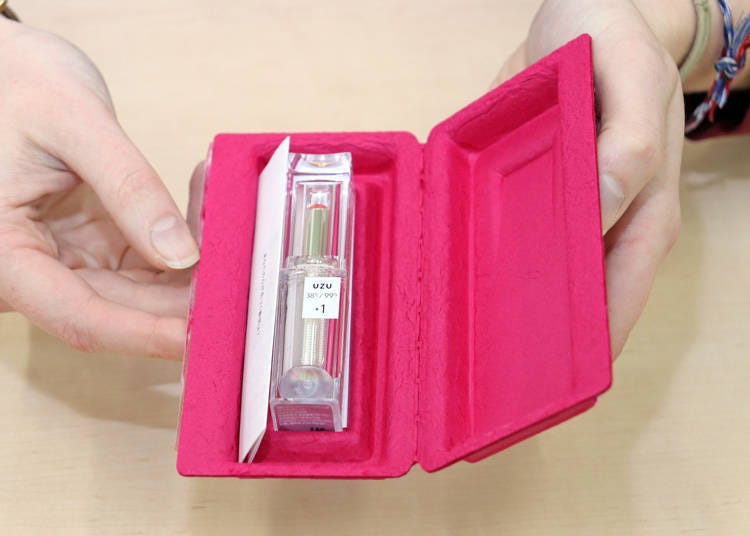 "Wow! It's so lovely. So cute! Fantastic!" Cassie happily exclaimed. Just having something like this is enough to put a smile on a girl's face.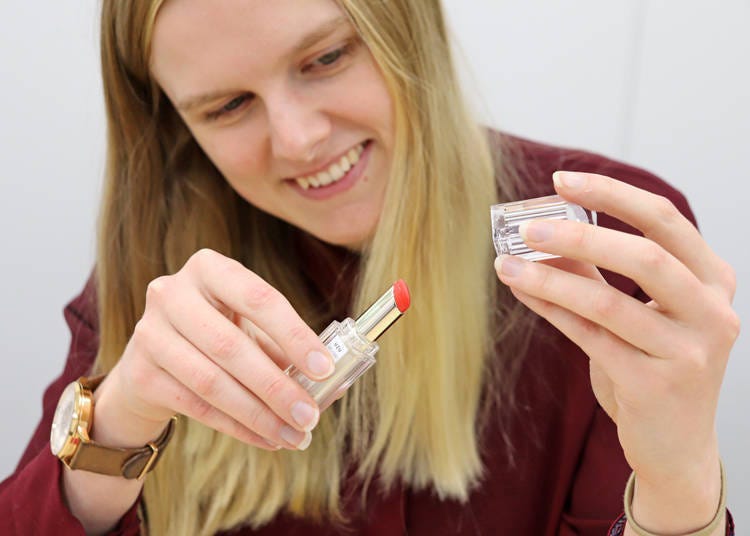 "Extend only about 3 mm at first. If you extend too much it can break." Following those instructions, this was the first impression. Apropos to the name Light Orange, it appeared to have a bright crimson color.

Cassie normally would not select this color because she was worried that due to her light complexion, this color would make her skin color seem very white. It's a rather bold color that tends to stand out strongly.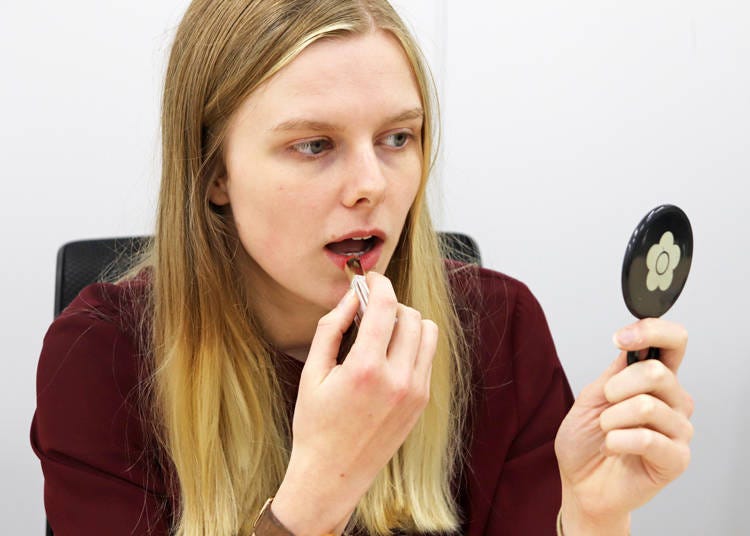 However, upon actually applying the color it was surprisingly light and thin. Cathy was surprised at the natural coloration, saying, "I thought it would be brighter, but it is actually more subdued." The "+1" in the name means that it only slightly adds to the natural lip color.

This item is attractive because it feels as though it melts when applied to the lips. A key point to its popularity is the perfect balance of powder, wax, and oil ingredients that make it easy to apply to even dry lips.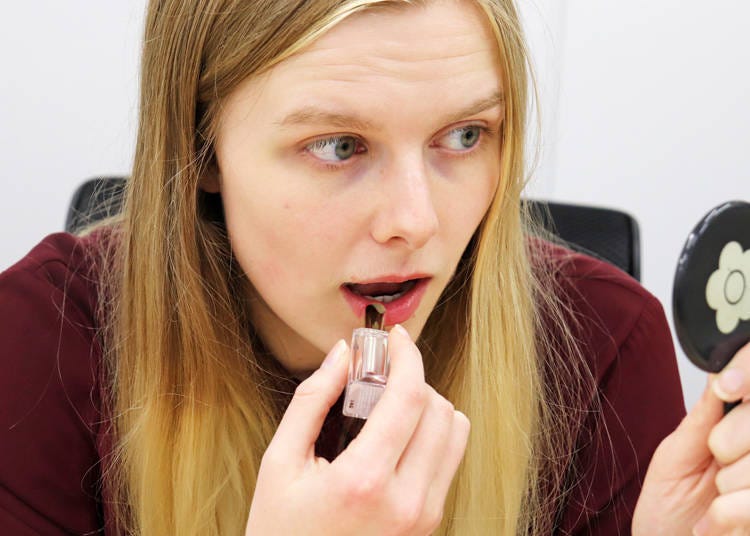 "It goes on really smoothly. Especially in winter, I hesitate to apply lipstick because my lips become chapped, but this is like an ordinary lip balm, and something I could use with confidence instead of a lip balm!" Cassie remarked.

By overlaying, you can make the color a little darker, so it is an item that you can enjoy while adjusting the "+1℃" pure coloring to your liking.
■ Fujiko Eye Shadow: Make an impression with just one application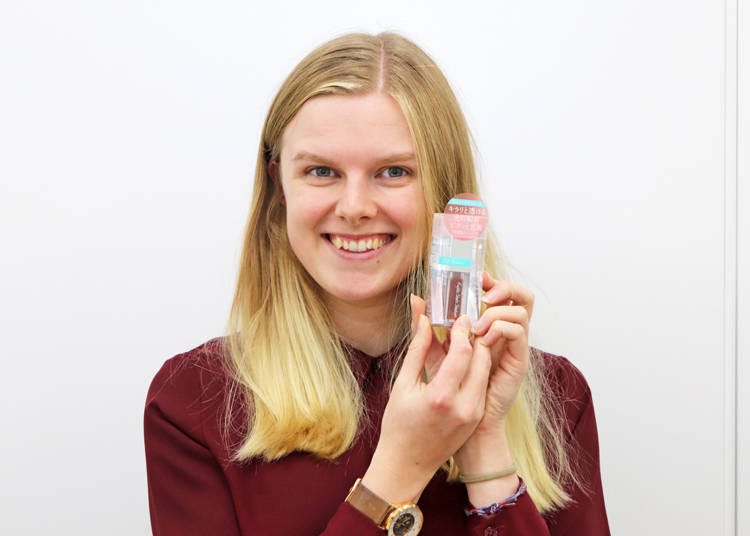 The next item Cassie tried was the Fujiko Shake Shadow 06 (The Brown), 1,408 yen (including tax). An eye shadow developed by Fujiko, a brand that creates unique cosmetics from an original perspective.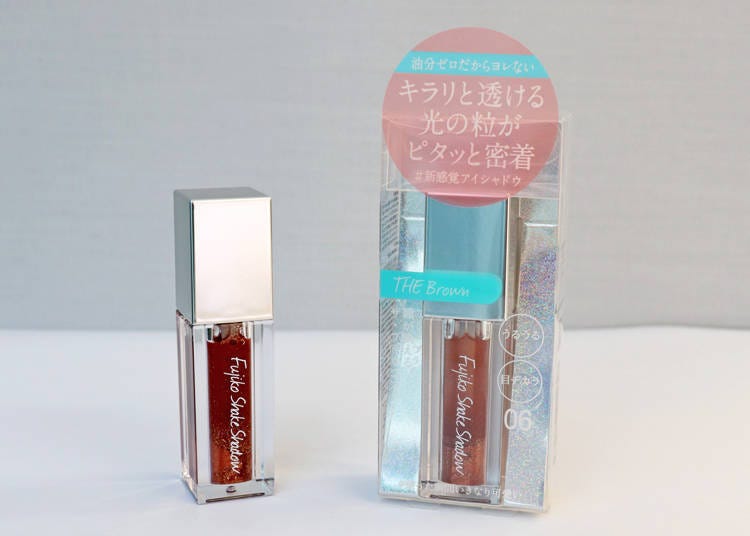 Water and light particles (lamé component) are mixed together, and one application easily creates a sophisticated impression. "It looked like a lip gloss at first!" Cassie remarked.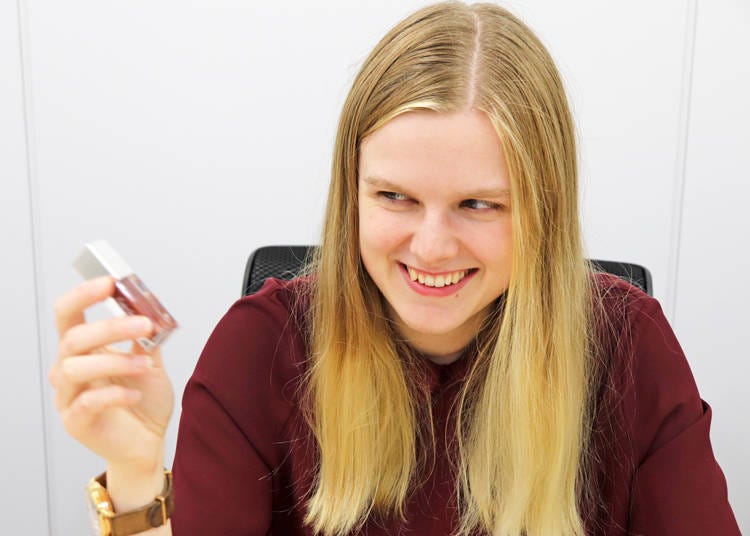 Before you open it, you need to firmly shake it to ensure that the components are fully mixed. There are small balls inside the container in order to assist in the mixing that make a clattering sound when the bottle is shook.
Once the contents are fully mixed remove the lid. Use the tip attached to the lid to apply some to your eyelid and then use a finger to spread it evenly. Gradations are easy to achieve making it possible for anyone to apply it in an attractive manner, so perfect coloring can be achieved with just one application.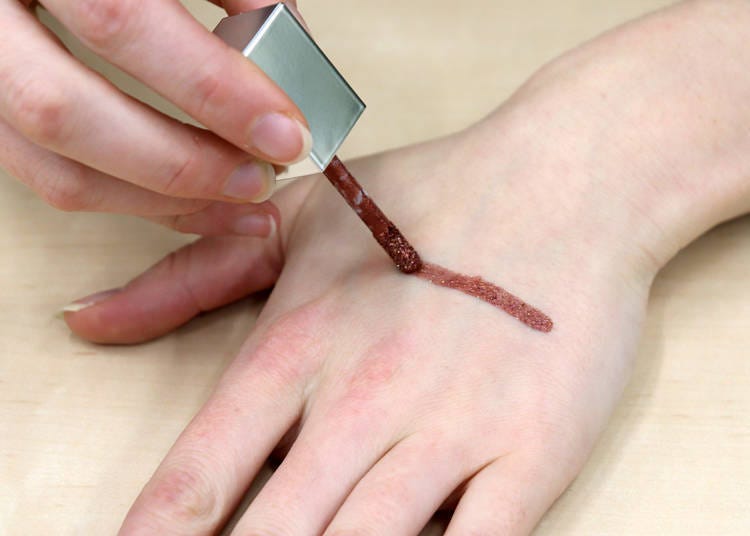 You can try this by applying it to the back of your hand. "It feels like it is being applied with a pen and is easy to spread! Cassie remarked. With only one application the sparkling lame stands out.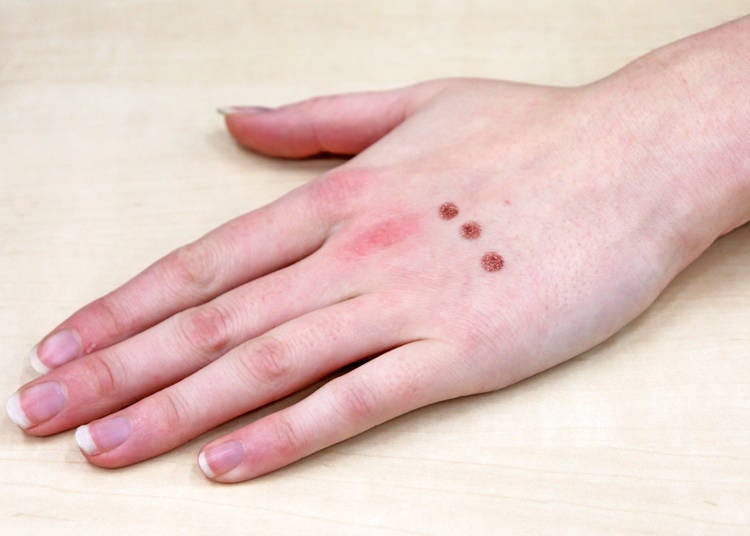 According to the product literature, the best way to apply it is to dab a bit in spots and then lightly massage them with a finger. If you wish to color the entire eyelid, then apply 5 spots, but if you only want to do double eyelids, then 3 spots should do.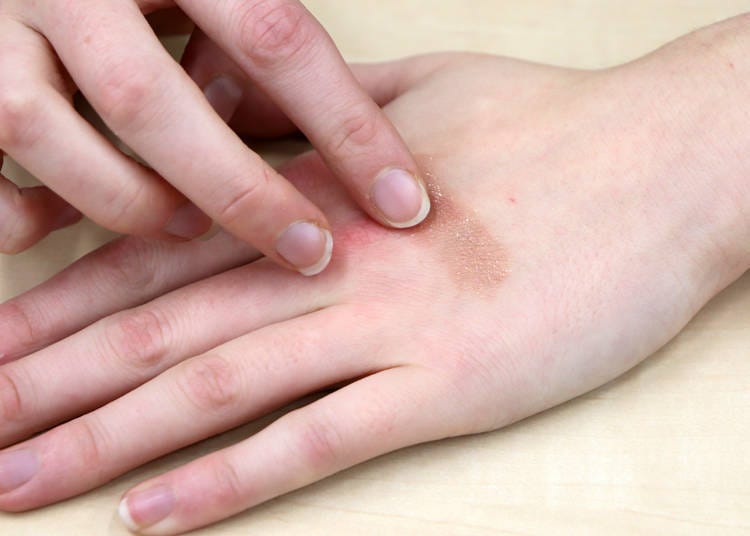 This is how it looks when spread with a finger. "The secret lies in the blurring of the spots. It dries very quickly and once it has dried, it doesn't come off easily so will hold up well over time! (lol)" Cassie remarked.

One of the main reasons for this item's popularity is that it does not smudge, does not build up in the creases of double eyelids, and holds its beautiful color well into the evening.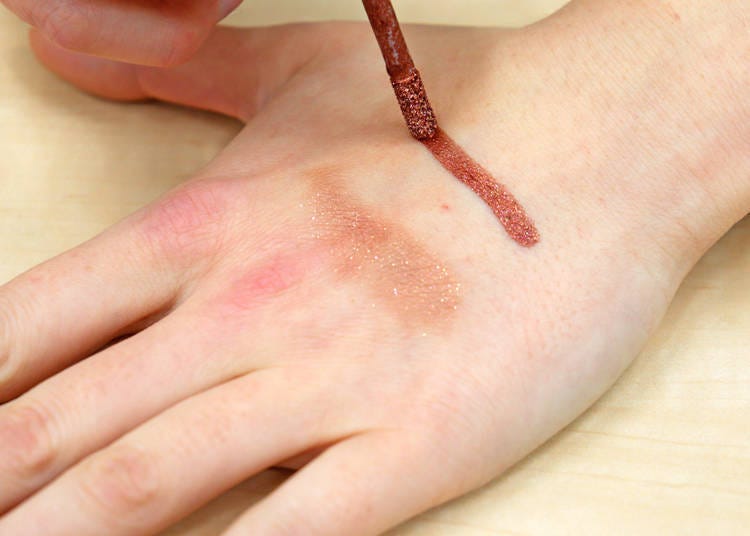 You can adjust the color intensity by adjusting the degree of blurring with your fingertips. "I like it because the lame still sparkles brightly even when the color is blurred almost out. It blurs easily so you can make the color as intense or light as you like," Cassie appreciatively said.

Even if you compare the color created by a single application and the color produced by blurring the three dots, it is obvious that the gradation is wide. Various nuances can be achieved depending on how much and how it is applied.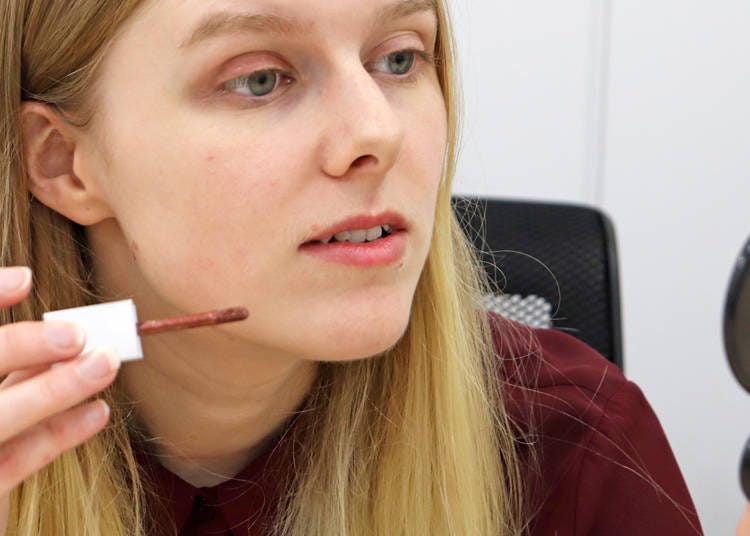 After experimenting on the back of your hand, next try actually applying it to your eyelids! The photo shows how three dots applied and then blurred to the right eyelid appear. If you wish to make the color bolder, then just apply more with the brush tip.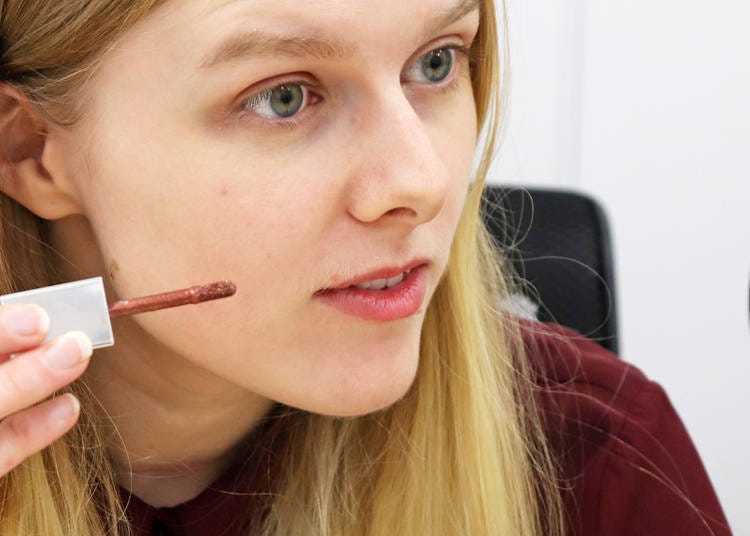 "3 dots gets the job properly done, doesn't it? It adheres well because it dries quickly, so once applied, it does not come off that easily. This makes it really good for putting on makeup before going to work or when pressed for time!"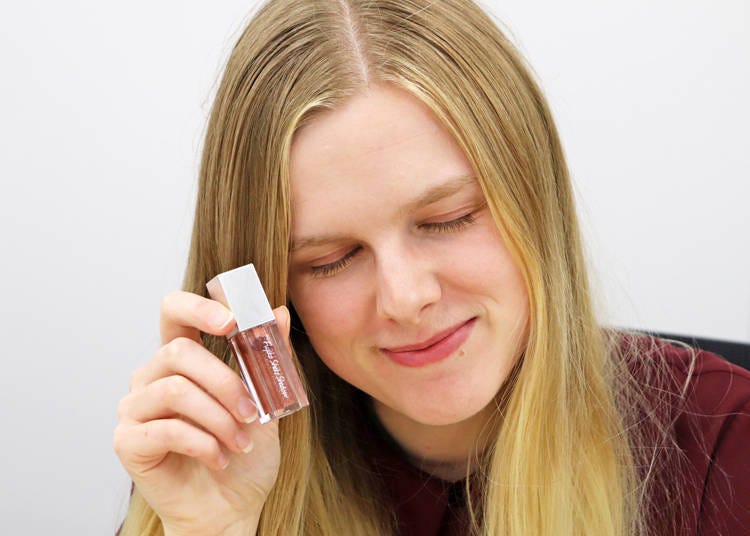 This is how it looks when it has been applied to both eyelids. As the item description says, "This makes for a translucent and natural look that is very feminine," thus making the eyes more distinct and leaving a more powerful impression.

"When I usually use eyeshadow, I use a cream base for the eyeshadow to keep it from coming off. But with this item that is not necessary because this eyeshadow being a liquid lasts longer. It is that ease of use and lasting quality that makes it a winner in my book!" Cassie remarked.

Moreover, it provides a feeling of being ultra-thin, ultra-light, and super adhesive because it is made without oils and only water.

"I didn't give it much thought when I was applying it, but it comes off very easily with just soap and water. So for that reason, that fact that it adheres so well when being applied makes it really easy to use!" Cassie remarked approvingly.

Cosme Loft has a wide selection of other beauty and health goods in addition to the two we tested. Please be sure to check out the 10 items recommended by the store manager and then visit the store to look for your favorite cosmetics!
03-5413-6210
営業時間:11:00~21:00
定休日:施設に準じる
Cosme Loft Tokyu Plaza Omotesando Harajuku Shop

コスメロフト東急プラザ表参道原宿店

Address

Tokyu Plaza Omotesando Harajuku 5F, 4-30-3 Jingumae, Shibuya-ku, Tokyo

Phone Number

03-5413-6210

Hours: 11:00 a.m. ~ 9:00 p.m.
Closed: Same as for the facility
*This information is from the time of this article's publication.
*Prices and options mentioned are subject to change.
*Unless stated otherwise, all prices include tax.