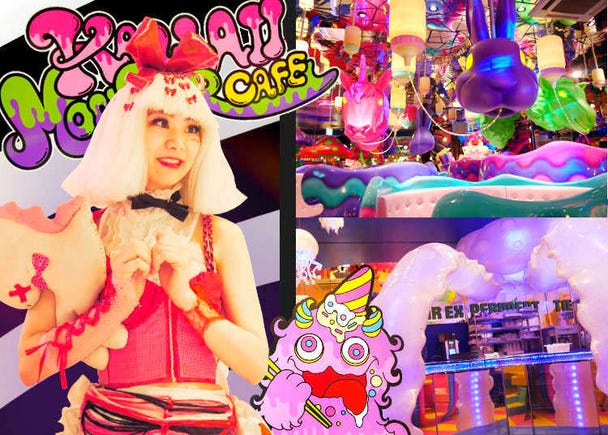 In 2015, The Kawaii Monster Cafe opened its funky, rainbow-colored doors in none other than Tokyo's fashion capital of cuteness, Harajuku. The adorably monstrous theme restaurant was produced by Japanese artist Sebastian Masuda, who is considered one of the pioneers at the forefront of Harajuku Kawaii (cute) culture. For fans of all things kimo-kawaii (grotesque but cute), Kawaii Monster Cafe is a must-visit! From the "Monster Girl" wait staff to an out-of-this-world menu, its creative weirdness will captivate anyone who dares to enter.
Entering the Bizarre but Pretty Cafe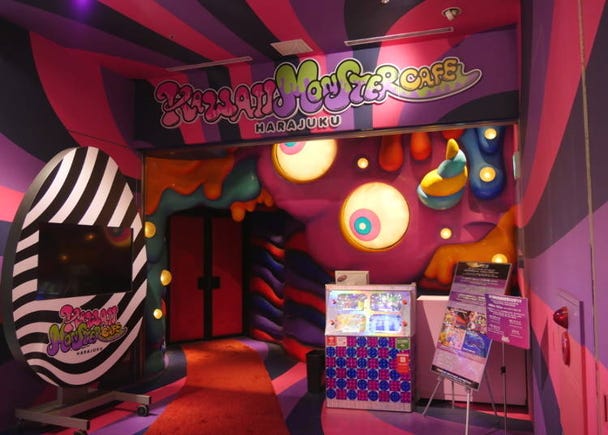 The weirdness starts even before you enter the cafe, with an entrance that is both strange and cute. The long red carpet on the floor is supposed to be the tongue of the Kawaii Monster Cafe's purple monster mascot, Mr. Ten Thousand Chopsticks, or as he is more often called, Choppy. Guided by this tongue, you will enter the belly of the beast. What a start–you may come here to eat, but you will be the ones getting eaten!
Kawaii Monster Icons: Monster Girls and a Sweets Go Round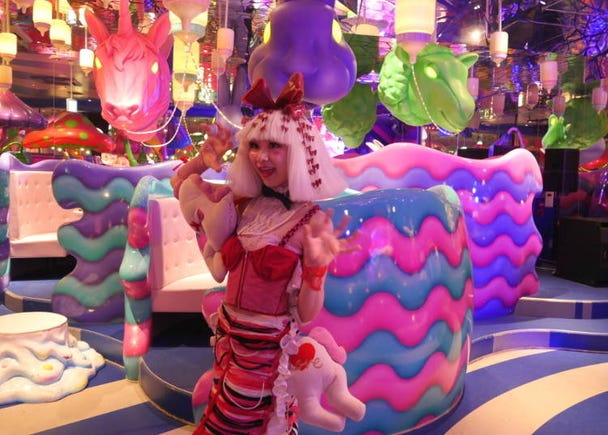 The Sweets Go Round, the cake-shaped merry-go-round in the center of the restaurant, is the symbol of Kawaii Monster Cafe and makes for the perfect kawaii photo spot. The cheeky pair of red lips at the top of the cake can also be spotted in quite a few places in the cafe, in desserts and other decor. How many can you find?
The staff is made up of the Monster Girls (and sometimes Monster Boys!) who go by the names of Baby, Dolly, Candy, Nasty, and Crazy. They are the visual icons of the restaurant. Each Monster Girl has her own character and distinct personality, whether sweet, sexy, wild, or something else altogether!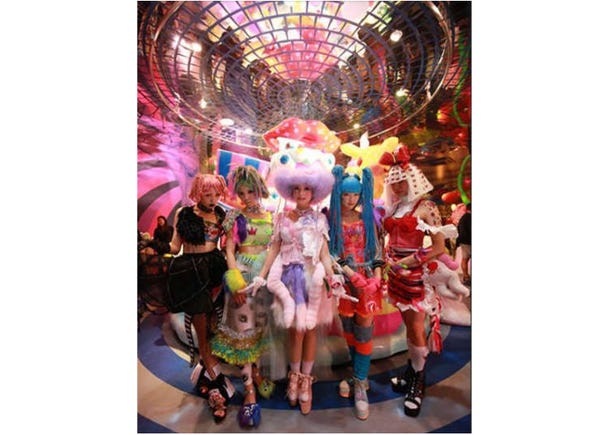 The cafe consists of four distinct zones: Muchroom Disco, Milk Stand, Bar Experiment, and Mel-Tea Room. You can choose your preferred zone at the entrance, although they are all so interesting you may find yourself coming back to experience other areas!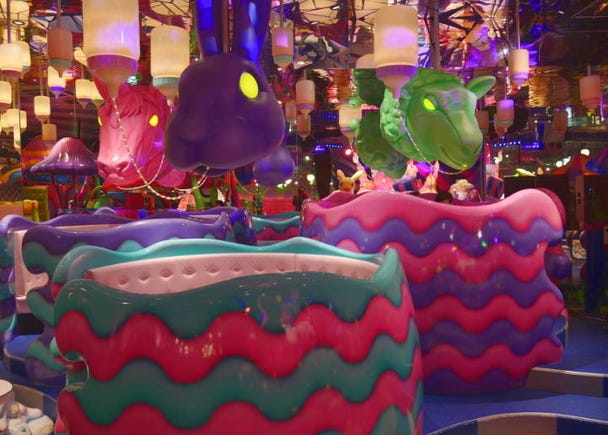 The Milk Stand zone is easily recognizable by the baby milk bottles hanging from the ceiling, which appear to be feeding colorful animal heads. Are they cute or menacing? It's tough to say for sure! It can be said that these cozy booths provide a great view of the Sweets-Go-Round.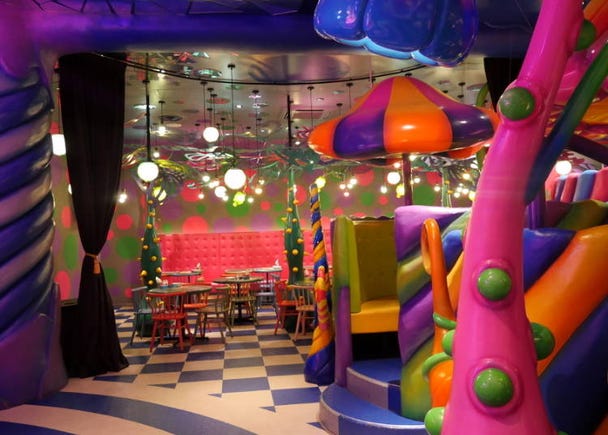 Mushroom Disco is a funky forest that is filled with poisonous mushrooms and plants from outer space! They may not be living plants, but the atmosphere will make you feel like you've stepped onto another planet. If you venture further into this zone you'll find the secret corner that was specially made for gossiping–though before you say too much, be warned: these walls have lips!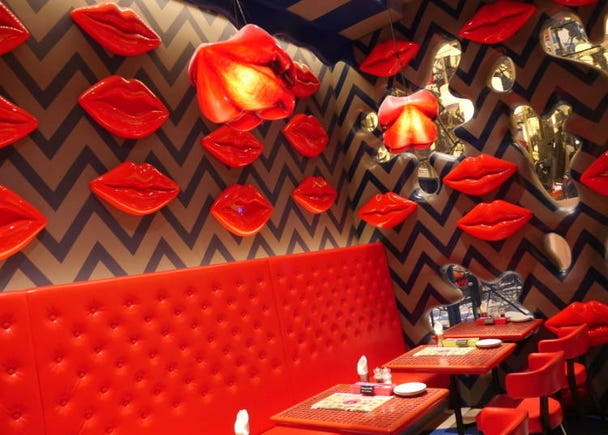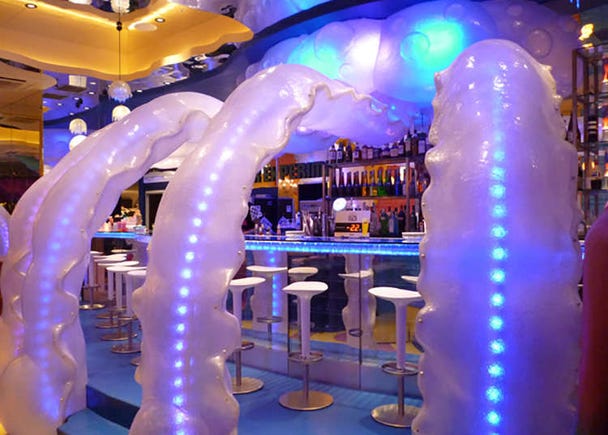 Would you expect anything less strange than a giant, illuminated jellyfish bursting out of the cafe's bar area? Despite the sea monster in the room, the eerie atmosphere is strangely intriguing, and Bar Experiment makes for a relaxing place for a drink, whether alone or with company. You may want to stay in this area well into the evening!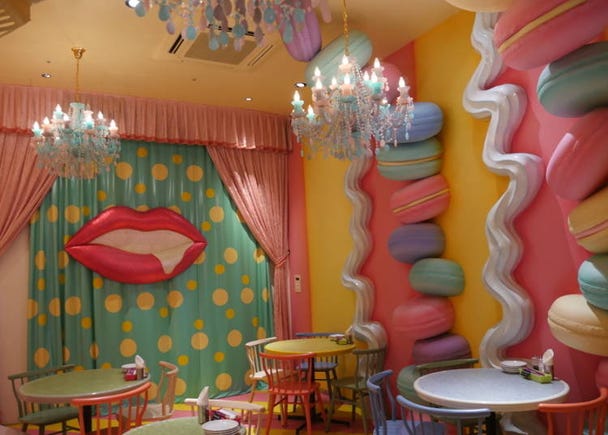 Mel-Tea Room is the area is where you will find a pastel paradise of larger-than-life sweets with melty ice cream cones, chocolate bars, and macarons. It's the perfect sugary spot to gather with friends for an afternoon tea party. This may be Kawaii Monster Cafe's prettiest zone, just as long as you don't mind a few jumbo-sized ants following the ice cream trail!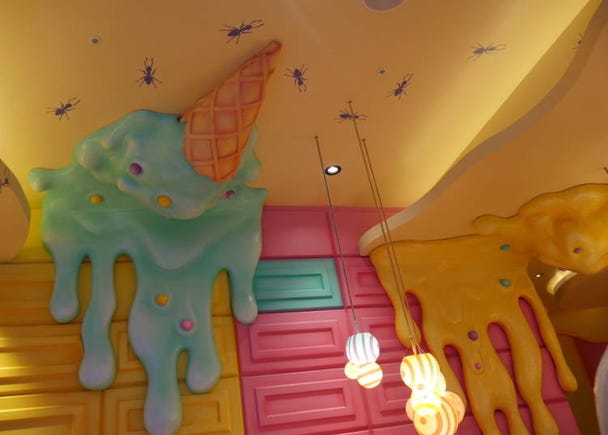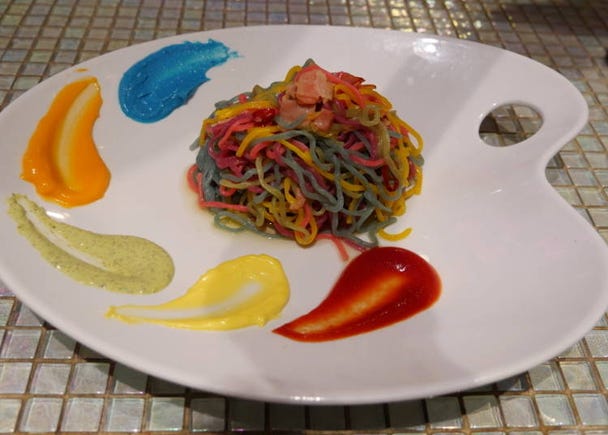 Kawaii Monster Cafe's menu items are as unique as the decor, with a variety of colorful, cute, and delicious meals, sweets, and cocktails. Customers looking for a full meal may want to order the "Colorful Rainbow Pasta (Painter)" for 1,300 yen. While this peperoncino style pasta has such vibrant colors that it looks poisonous, only natural food coloring is used. The dish is shaped like a paint palette, with five colorful sauces to the side that look like fresh paint. Red is chili tomato, yellow is garlic mayo, green is pesto cream, orange is cheddar cheese cream, and blue is butter.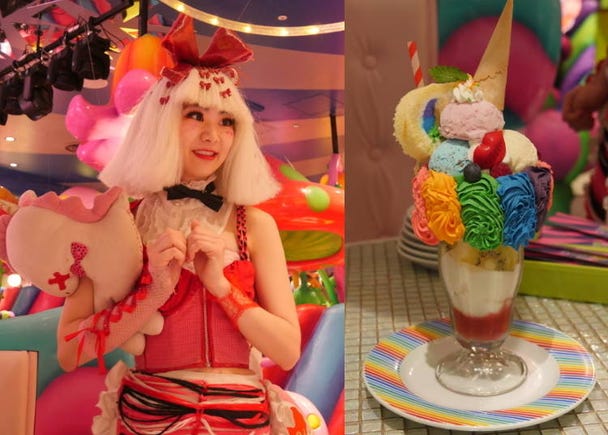 The "Colorful Poison Parfait (Extream)" lives up to its name. It's got several layers of ice cream scoops (strawberry, vanilla, mint chocolate, and orange sorbet flavors), combined with kiwi fruit, a blood-red strawberry sauce, corn flakes, a milky mousse, and a slice of roll cake sticking out of it. A rainbow wall of colorful whipped cream covers the outside of the parfait glass and the center is decorated with a chocolatey pair of red lips in the center. This decadent, monster-sized dessert for 2,300 yen is a fantastic choice for sharing with friends.
Kawaii Monster Tips and Secrets!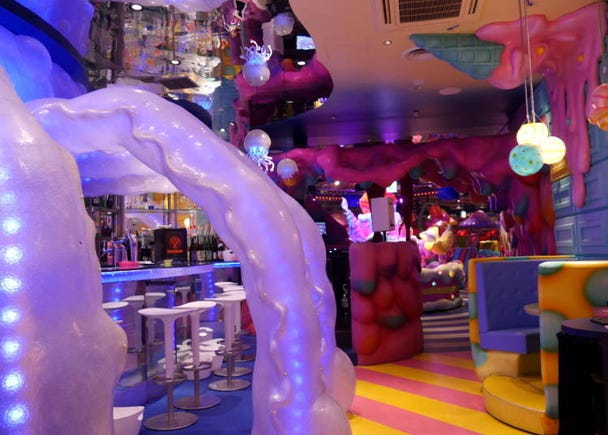 Please note that Kawaii Monster Cafe has a 500 yen entrance fee for all customers. However, if you plan to be in Tokyo for a while, why not take advantage of Kawaii Monster Cafe's point card system? If you have a point card, lunchtime entrance will be free of charge. Each time you enter a zone, you can get a stamp on your point card. When you collect stamps from every zone, you will receive a special gift and your point card will be upgraded!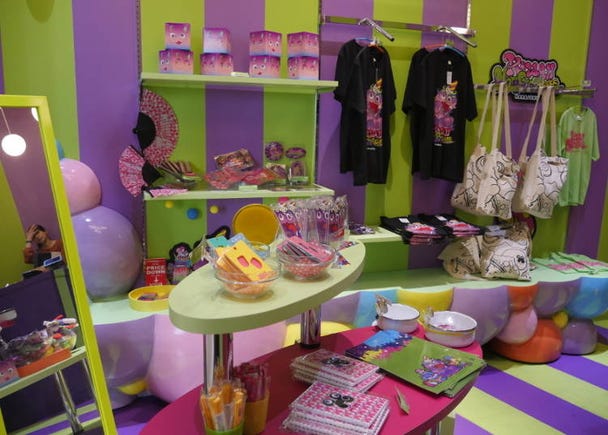 The regular hours of the cafe are 11:30 a.m. to 4:30 p.m. from Monday through Saturday, and 11:00 am to 8:00 p.m. on Sundays and holidays. However, the fun doesn't end when the sun sets; dinner time hours are from 6:00 p.m. to 10:30 p.m. from Monday through Saturday. (Last order is always half an hour before closing time.) In contrast to the playful mood of the daytime, the evening offers a luxury cabaret type of atmosphere that, while still fun, is also a bit sexy, so adults only! Night time is also when you can catch one of the cafe's events or original stage shows, including a weekly burlesque night. Check the event calendar on the website for further details.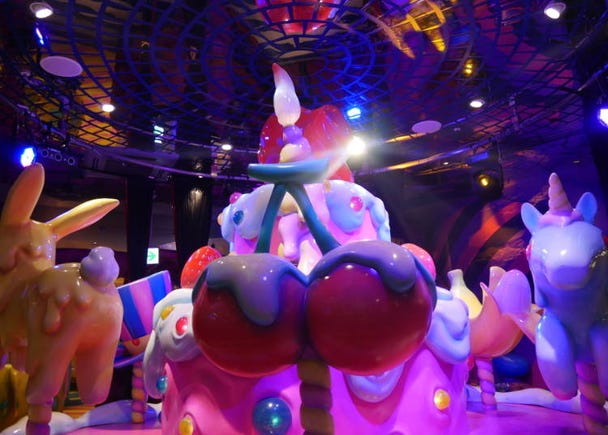 For group outings events, there is a "Birthday Plan" as well as a "Girls Night Out ~Ladies Party Plan~". And If you want to make a particularly special night, you may want to reserve the legendary Pink Cat Room, a somewhat "secret" room, complete with a karaoke and DJ booth, and a terrace that overlooks Tokyo. This is typically used by celebrities, but anyone can reserve it for 9,000 yen per 30 minutes (parties of four or more).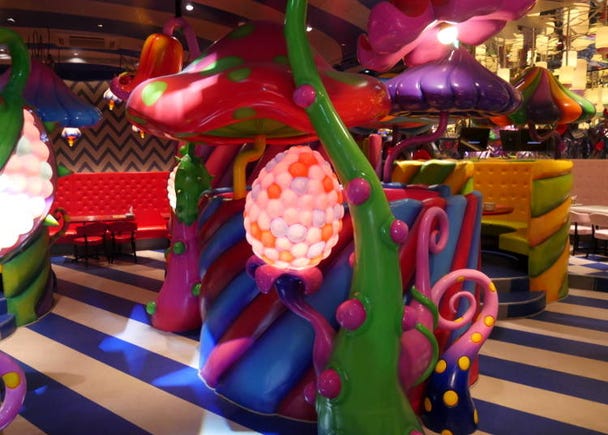 Whether you are a die-hard devotee to kawaii culture, or just happen to be in the Harajuku area, the Kawaii Monster Cafe is one of the most unusual theme restaurants you may ever have a chance to visit. Whether it's night or day, do stop by this bizarrely adorable monster of a cafe for an experience you won't forget!
Address

YM square building 4F,4-31-10, Jinguumae, Shibuya-ku, Tokyo, 150-0001
View Map

Nearest Station

Meiji-Jingumae (Harajuku) Station (Tokyo Metro Chiyoda Line / Tokyo Metro Fukutoshin Line)


Phone Number

03-6854-8729
*This information is from the time of this article's publication.
*Prices and options mentioned are subject to change.
*Unless stated otherwise, all prices include tax.