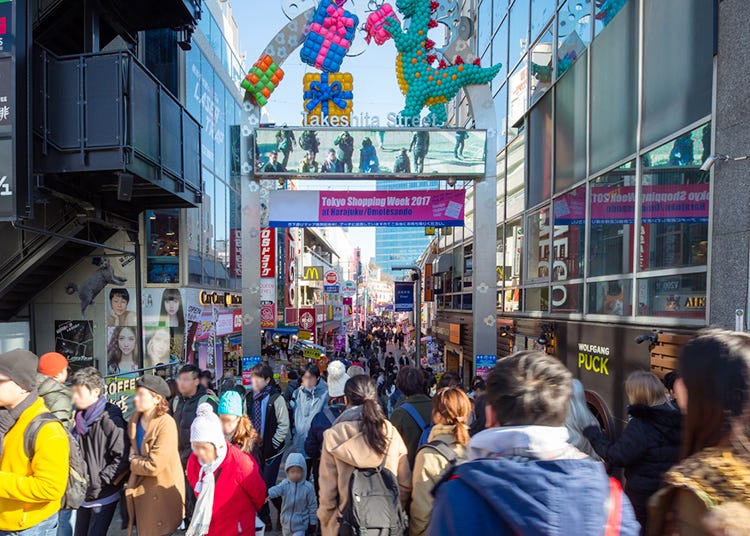 Harajuku
Harajuku:Overview & History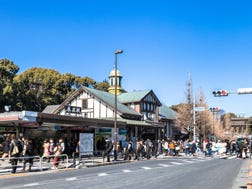 For decades, Harajuku has been the center of affordable, casual, and subculture fashion and a favorite spot for young people. The heart of Harajuku is undoubtedly Takeshita Street, a colorful 350 meter-long street line with all sorts of fashion stores... and the reputation is well-deserved: the area is a melting pot for Japanese subculture and style. When it comes to looks, everything is allowed in Harajuku. Whether Gothic Lolita, J-Rocker or Rapper, Harajuku welcomes everybody with open arms.
A few minutes away by walk, the Cat Street can be found, where there are more select shops. Lined with stylish shops that can satisfy adults, it gives off an atmosphere less suitable for young people. From street style fashion to the basics, you can find a large range of items here.
For a more high-class oriented shopping, the Omotesando avenue is bustling with worldwide renowned brands, so don't hesitate to shed off your school or work uniform, and dip into the colorful pool of Harajuku area!
Harajuku:Area Introduction
Takeshita Dori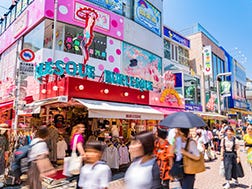 Takeshita Street is a narrow pedestrian-only street that features all kinds of fashion boutiques, crepe stalls, and knick-knack shops alike, and is located directly across JR's Harajuku Station. A huge, colorful sign greets everyone who enters, making it perfectly clear that fun and crazy reigns Takeshita Street - no place for the serious side of life. It's hard to imagine that Harajuku started as a very small village on the outskirts of Tokyo once, and even served as a stronghold for the Iga clan to fend off attacks directed at Tokyo. While you're there, don't hesitate to heads up to Calbee Plus, Harajuku antenna shop of the Japanese famous snack food maker. Fashionistas should also make a stop at the Harajuku Alta, a popular building among teenagers that is full of exciting items that can be instantly enjoyed. And if you're feeling a little hungry, a stop by Marion Crepes, a long-established shop, is definitely a must!
Cat Street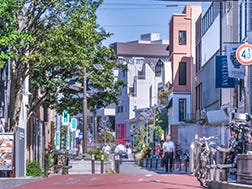 For those who are up for some window shopping and looking at local fashionistas, another must-go is Cat Street. The narrow alleys area is home to a number of outdoor equipment flagships as well as second-hand stores and not-so-expensive retailers, Cat Street is quieter than the other side of Harajuku. People walk their dogs and bring their kids to play here, car traffic is almost non-existent; cafés are stylish and with comfortable armchairs in which you can lounge for hours. Don't miss the Kiddy Land store, a six floors toy paradise with goods that are constantly changing.
Omotesando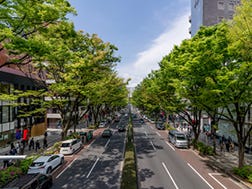 Long avenue lined with large trees, Omotesando is the high-class and more sophisticated side of Harajuku. While strolling in the area it is hard to miss the Omotesando Hills. Open to the public since February 2006, the complex was designed by Tadao Ando, one of the most famous Japanese architect. It features more than 100 shops and restaurants. To buy some souvenirs, be sure to stop by Awesome Store, with its goods that are all stylish, functional and inexpensive! Another commercial facility that might answer all your needs is the Tokyu Plaza. Conveniently located at the Jingumae intersection, it consists of 27 shops.
Meiji Shrine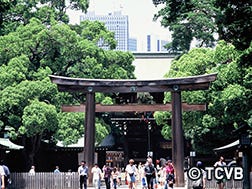 This is the shrine where the Emperor Meiji and the Empress Shoken are enshrined. On the vast site of 700,000 square meters, there is a rich green forest of about 100,000 trees offered from all over Japan, where you can enjoy the nature of the four seasons. Over 3 million people visit the shrine on January 1 to 3 every year, which is the largest number in Japan.
Late April to early May: Meiji Shrine Spring Grand Festival
A large-scale festival with a plethora of traditional events and performances.
Late August: Harajuku Omotesando Super Yosakoi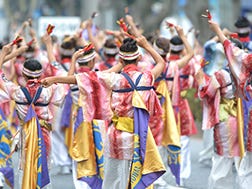 Yosakoi is a flashy, energetic dance from Kochi Prefecture and Harajuku's Super Yosakoi began in 2001 as a dedication to Meiji Shrine. Wooden clappers called naruko accompany the dancers in spectacular costumes as they show off their riveting performances.
Access from Narita Airport to Harajuku
From Narita Airport Station (Terminal 1), take the JR Narita Line Narita Express 20 bound for Ofuna. After 1 hour and 2 minutes, get off at Shinagawa Station and transfer to JR Yamanote Line bound for Shibuya and Shinjuku. After about 15 minutes, get off at Harajuku Station.
Access from Haneda Airport to Harajuku
From Haneda Airport International Terminal Station (Keikyu), take the Keikyu Airport Line (Limited Express "Kaitoku") bound for Aoto. After about 13 minutes, get off at Shinagawa Station and transfer to JR Yamanote Line bound for Shibuya and Shinjuku. After about 15 minutes, get off at Harajuku Station.