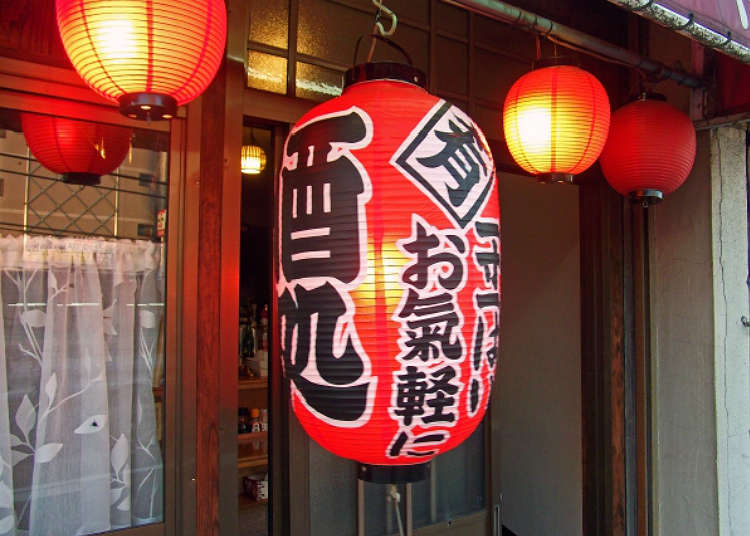 Numerous inexpensive and delicious restaurants and bars are found around Kamata. We introduce treasured spots serving delicious spirits such as local favorite bars and restaurants frequented by gourmet writers.
Sashimiya Gotsubo, a heart-warming standing bar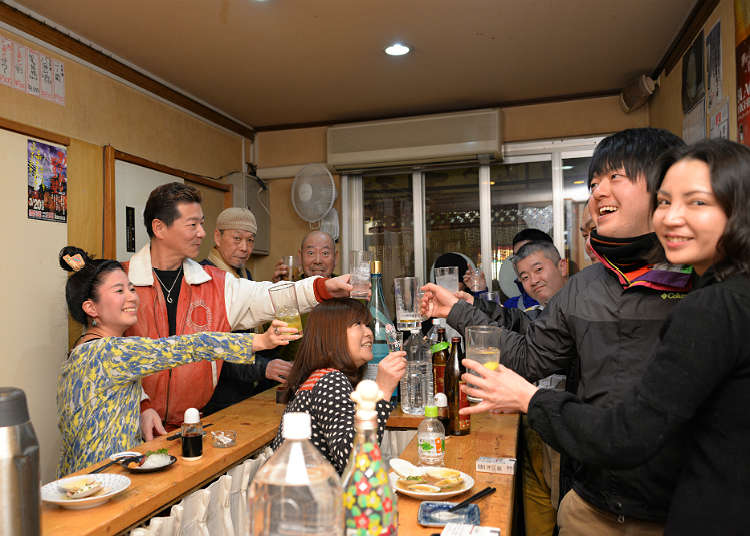 A standing bar enjoyable communicating with friendly local people. A heart-warming Oyassan (master) and Okamisan (his wife) who is supporting him gently are attractive and they have many regular customers, who will be friendly with any other new customer. Master's previous job was a seafood wholesaler and everything he serves including sashimi and nimono (simmered vegetables dish) is fresh and tasty. He provides expensive food without much profit sometimes, thinking "I want to see customers smiling while enjoying a delicious meal." This spirit shows the magnificent side of the downtown.
さしみや五坪

Address

5-23-5 Kamata, Ota-ku, Tokyo 144-0052, Japan
Cheers with hanetsuki-gyoza (grilled dumpling with feathers)! At Ni-hao Keishinkaku
Many inexpensive and delicious Chinese restaurants are located in Kamata. One of them is Ni-hao Keishinkaku, whose most recommended dish is ganso-hanetsuki-gyoza (original grilled dumpling with feathers). Crispy five gyoza stick to each other, and they have a rich gravy inside. Take a bite of this gyoza, fill it with your mouth and drink beer, then it will make everybody smile. Other popular menu include ebi-stick harumaki (prawn spring rolls), jagaimo-no reisai (potato coleslaw) and beniabura-sui-gyoza (boiled gyoza with chili oil). Reasonable banshaku (evening drink) set is available.
你好 恵馨閣

Address

7-45-1 Nishikamata, Ota-ku, Tokyo 144-0051, Japan
Yakiton, their special meal, is best! At Butabancho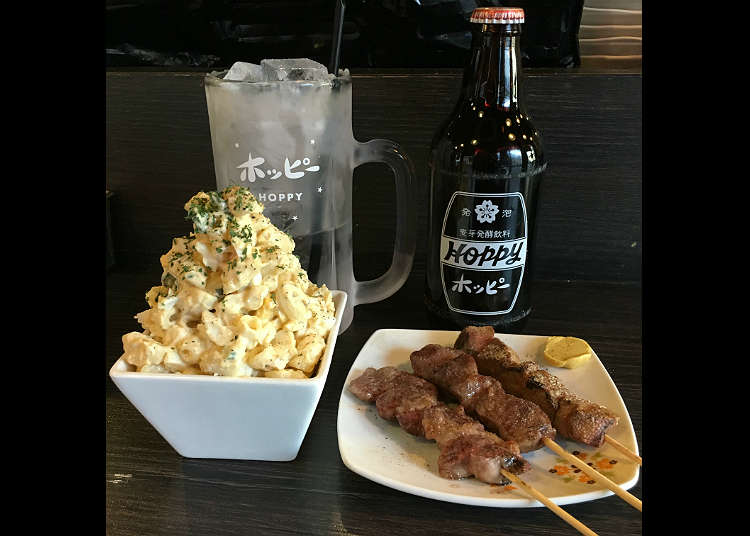 Yakitori loved by men and women of all ages is grilled skewered chicken, and yakiton, grilled skewered pork, is also popular. Butabancho offers delicious yakiton at a reasonable price. They have only the counter table without seats suitable for twelve people. The meal on the right-hand side is the famous yakiton and the meal on the left-hand side is a very popular macaroni salad. Regular customers usually order these two dishes. Crowding inside the small bar while talking to each other, enjoy beer and hoppy (non-alcoholic beverage).
やきとん 豚番長 蒲田店

Address

7-63-6 Nishikamata, Ota-ku, Tokyo 144-0051, Japan
At My BAR SO, you can find any local alcohol from all over Japan
If you want to drink tasty Japanese sake, then go to My BAR SO, a Japanese sake specialty bar, located at the back alley of Kamata. They have a wide selection of tasty local sake from all over Japan. Among seasonal local sake, they have a special selection of more than 40 bottles in stock every week and many seem to have become well informed about Japanese sake at this bar. If you want to try various kinds of sake, then choose "drink as much as you want."
米酒場 そう my BAR SO

Address

5-42-6 Kamata, Ota-ku, Tokyo 144-0052, Japan
*This information is from the time of this article's publication.
*Prices and options mentioned are subject to change.
*Unless stated otherwise, all prices include tax.