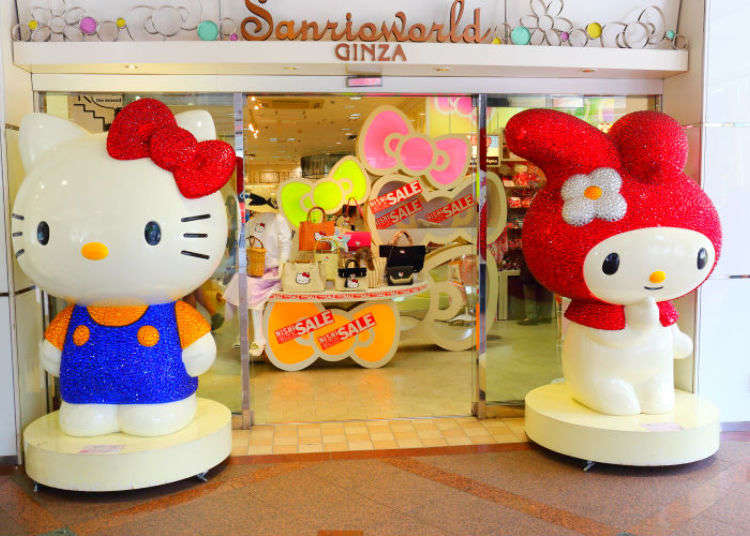 Sanrio World Ginza is a 5-minute walk away from JR Yurakucho Station and boasts the best selection of Hello Kitty and her friends as the world's largest Sanrio flagship store! This extensive lineup sprawls over two spacious floors, with 1F being all about Hello Kitty herself. Especially fun and fascinating are the many goodies made in collaboration with various brands and companies. With the help of the Sanrio shop staff, we've combed the entire floor for the 10 most amazing must-have Hello Kitty items!
Hello Kitty × Koshu Inden: A Luxurious Wallet Uniting Style and Tradition! (23,000 Yen)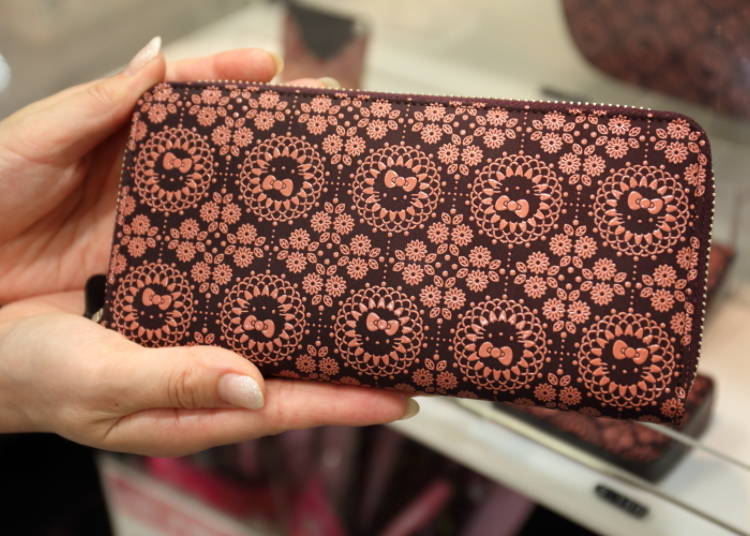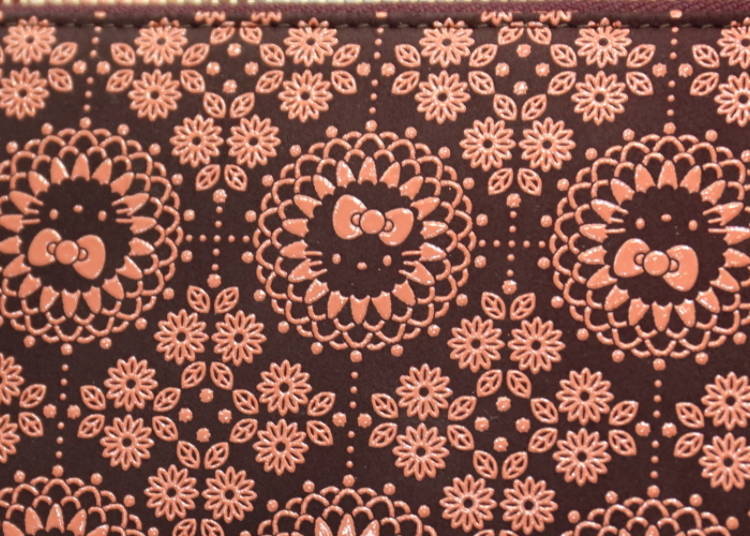 The elegant design features a beautifully subtle Hello Kitty.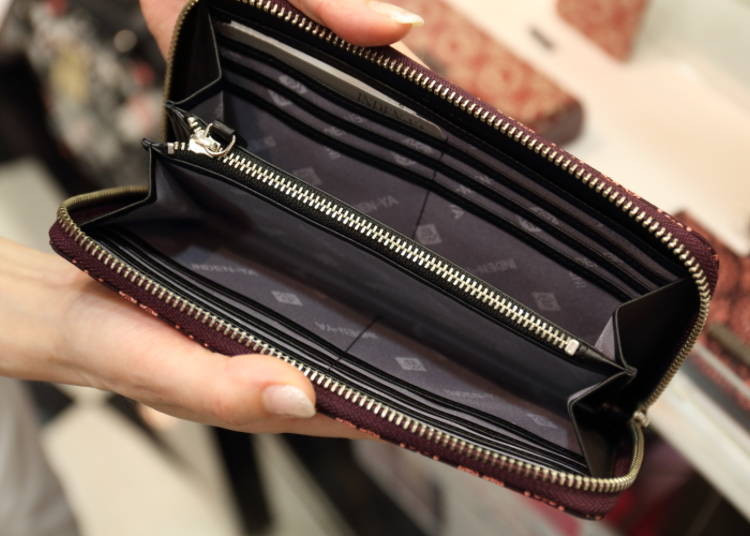 The wallet comes with a card holder and coin case, making it particularly handy.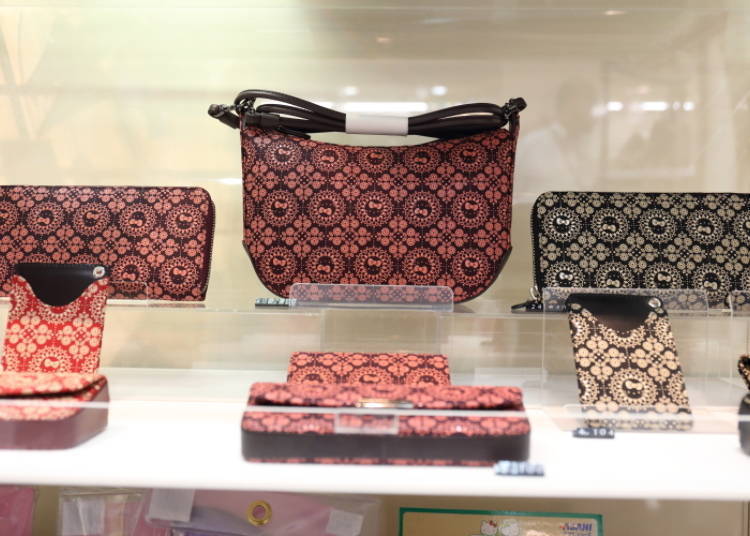 Other items from the collection, such as handbags and business card holders, are also of a fun but business-fit design.
This long wallet was born from a collaboration of Hello Kitty and Koshu Inden, a century-old technique of imbuing patterns on deerskin with lacquer that is designated as an "official craft." Carefully made by hand, this beautiful wallet features a unique texture and an elegant yet playful design, making it a perfect fit for both casual and business use. The round zipper tab is made of cow leather, adding a hint of extra luxury. But this wallet doesn't only look stunning, it is also designed for convenience, offering plenty of space for all your cards. It's also an excellent gift for a very special someone, as it comes in a beautiful box.
Hello Kitty Tote Bag with Sagara Embroidery: Chic but Casual! (7,000 Yen)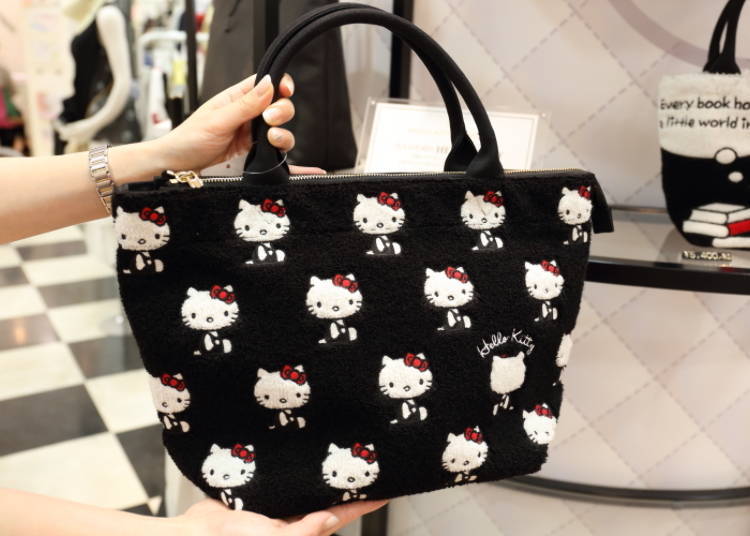 The embroidery makes the bag lightly fluffy, while the white-on-black Hello Kitty design is both chic and playful.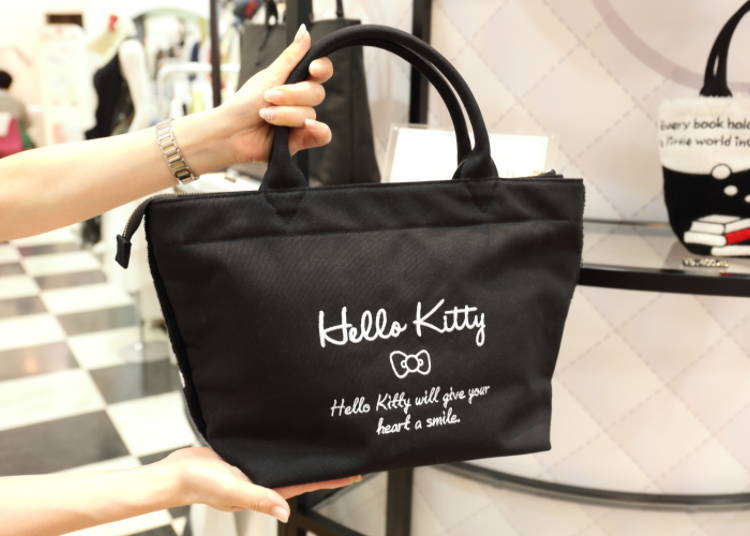 A simple design on the back.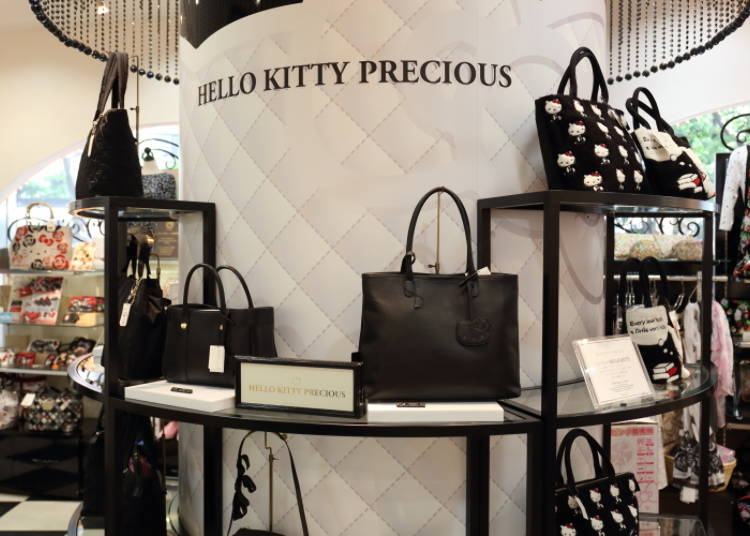 The "Hello Kitty Series" corner. There are plenty of items for more formal settings, not just bags but also wallets, card cases, and accessories.
Next up is a tote bag from the Hello Kitty Precious series, boasting a simple, chic design. Hello Kitty is embroidered on a classic black background with a Japanese technique called Sagara that is similar to French knots. It gives the bag a somewhat puffy, fluffy surface that is pleasant to touch and looks elegant.
The tote bag measures about 42cm wide and 16cm deep. Since the handle is also rather long at 37cm, it can comfortably be worn on the shoulder. Closed and opened with a zipper, you won't have to worry about things falling out either! Open pockets on the inside provide extra storage for everything you need to grab quickly and without having to rummage.
Hello Kitty Foldable Boston Bag: Your Best Friend While Traveling! (3,000 Yen)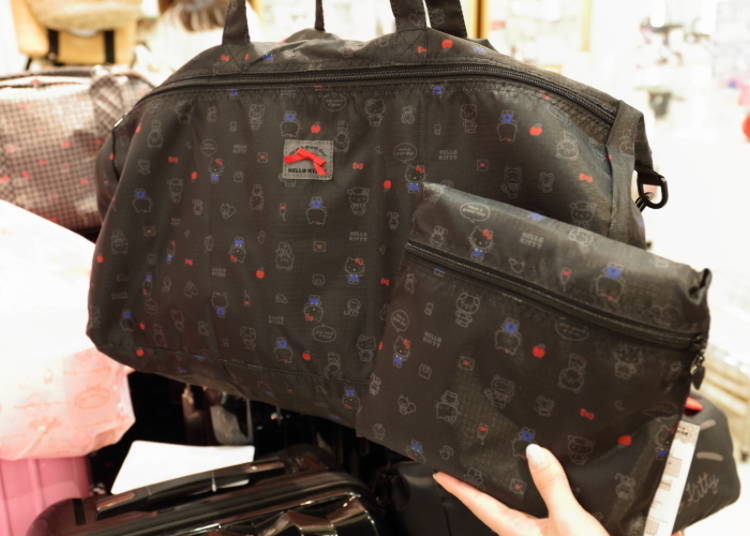 A Boston bag with an elegant design. You can fold it into a small, compact size.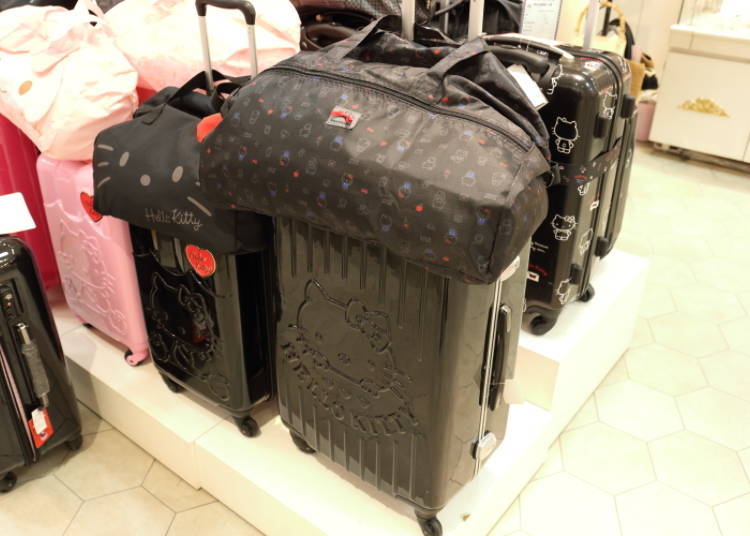 It has a matching carry-on suitcase!
This foldable Boston bag can be easily and comfortably stored when not in use. In that small shape, it is about 20cm x 23cm big but extends to a width of 55cm. That is particularly handy when traveling, as any souvenir purchases you might make while sightseeing will find a place in that bag – just keep it folded in your suitcase while not in use! Extra pockets can be found on both the outside and the inside, the latter ones being secured with zippers. This Boston bag also comes with an extra belt that can be wrapped around the handle of your carry-on suitcase for extra travel comfort.
BABY-G × Hello Kitty Collaboration: a Cute, Sturdy Watch for Every Adventure! (18,500 Yen)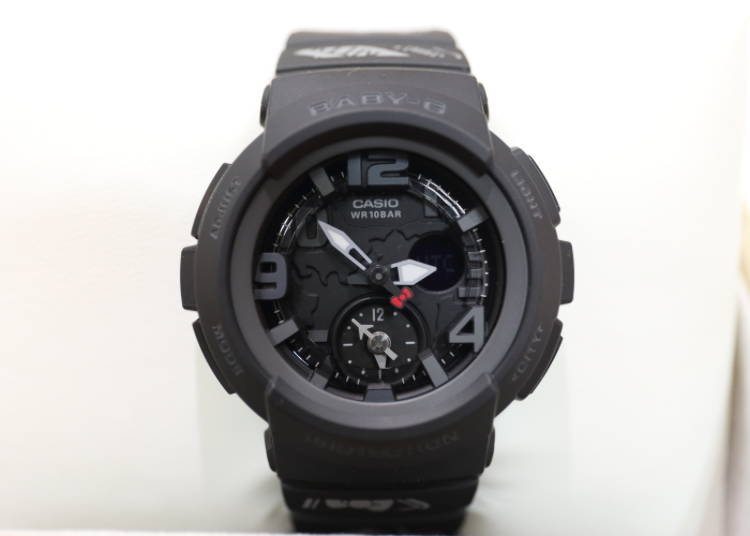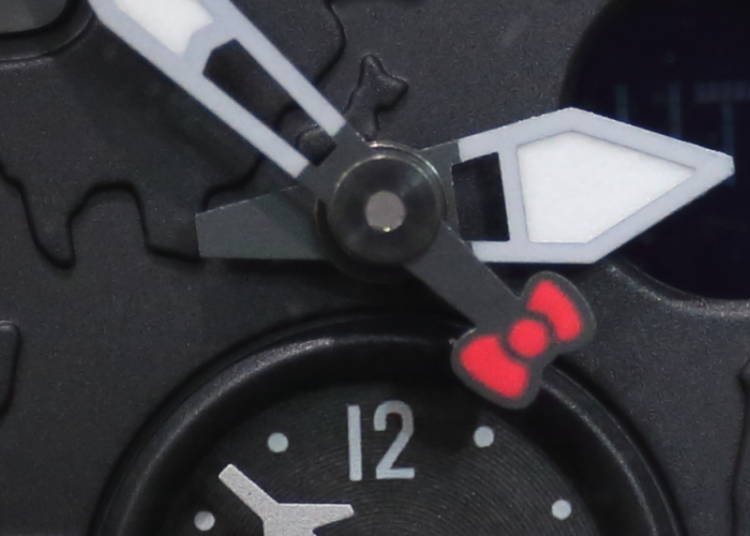 Hello Kitty's red ribbon is subtly attached to the minute hand.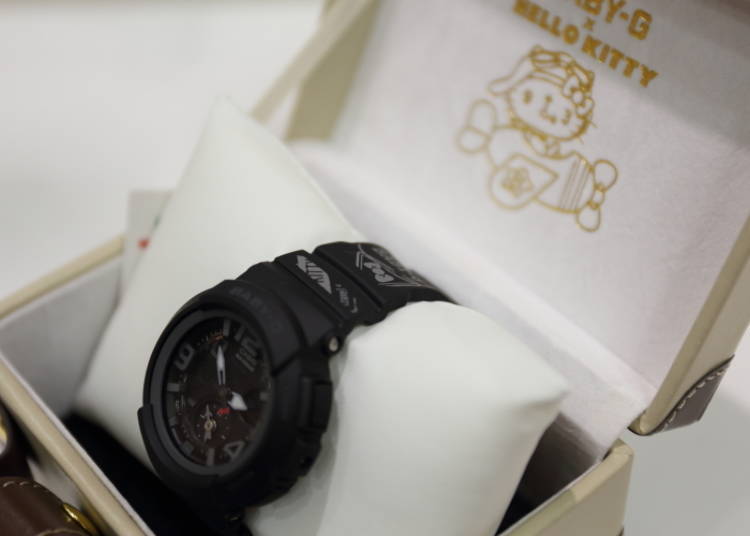 An original passport stamp pattern adorns the band.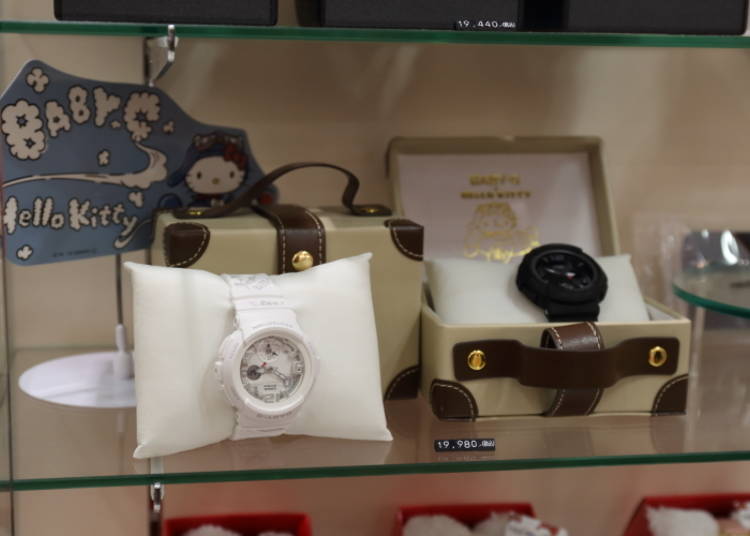 It comes in a cute little box that looks like a retro suitcase.
Baby-G and its 10atm waterproof performance and shock resistance is a favorite choice of many active women. Now, it comes as a particularly cute and cool Hello Kitty model! The design is all about "Hello Kitty on the go," highlighting the adventurous spirit of the famous icon and featuring an original passport stamp pattern on the band. Next to being waterproof and shock resistant, this Baby-G also comes with Dual Dial World Time, able to tell you the current time of two different time zones. It's a unique piece that is especially handy for people on the go!
Hello Kitty Carry-On Suitcase (Apple): Let's Travel With Kitty! (15,800 Yen)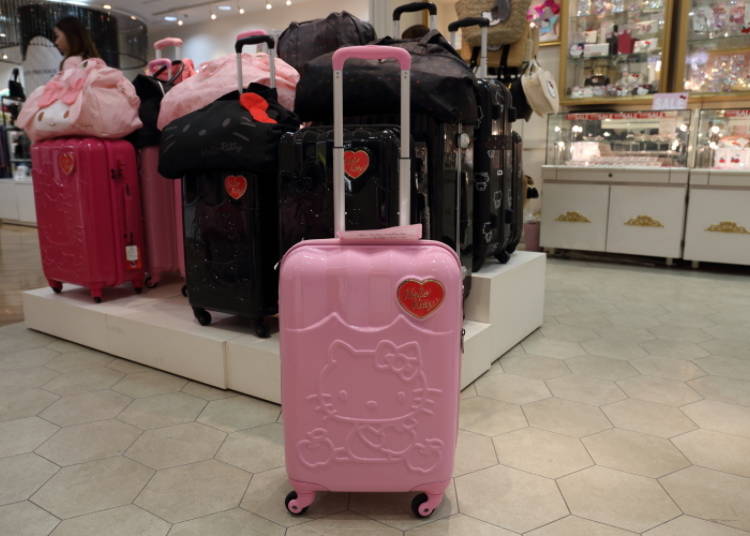 A red heart sits on the pink suitcase.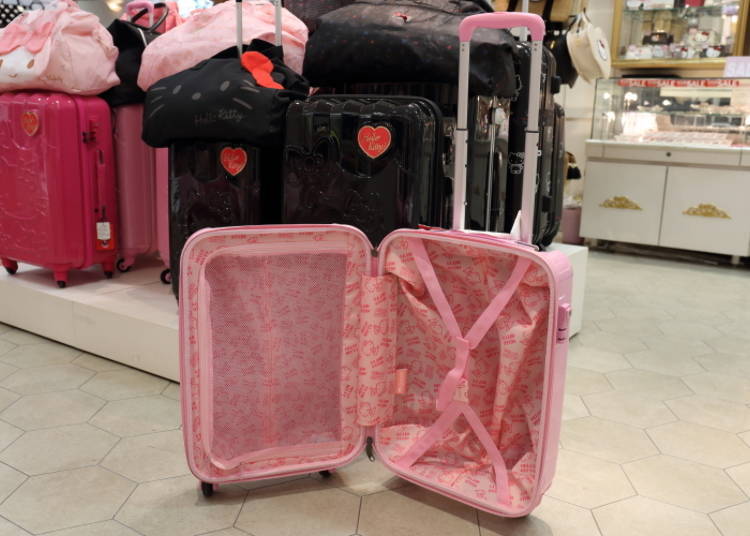 A fun, eye-catching mesh adorns the inside of the suitcase and even features a handy partition.
About 54cm high, this suitcase is the perfect size for a trip of about 4 to 5 days! The cute 3D design features classic Hello Kitty holding an apple, covering the entire surface and bringing extra joy to your journey! The suitcase has four wheels and thus is easy to move and rolls wonderfully smoothly in four directions. It also comes with a TSA lock that is indispensable when traveling in and out of the United States and extra pockets on the inside allow to sort your luggage neatly. Of course, the pink inside also features an adorable Hello Kitty design.
Hello Kitty Kemari Music Box: Hello Kitty Dances to Japanese Music! (12,000 Yen)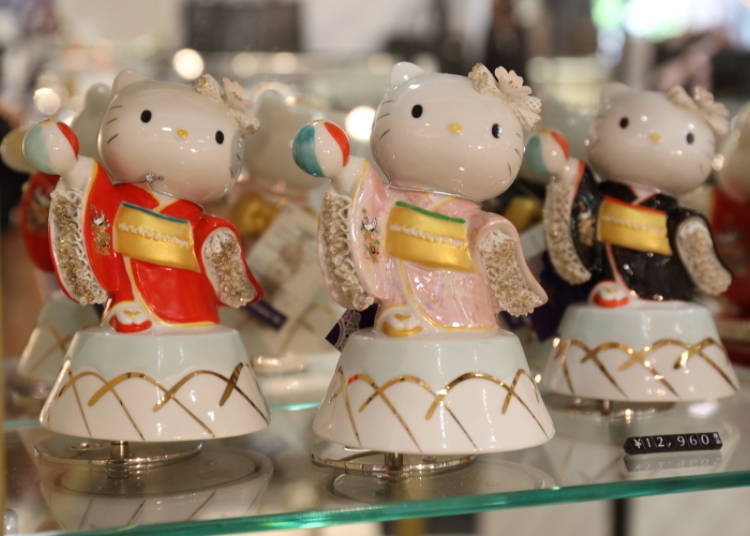 The luxurious music box with a Hello Kitty pottery doll is representative of Japanese aesthetics.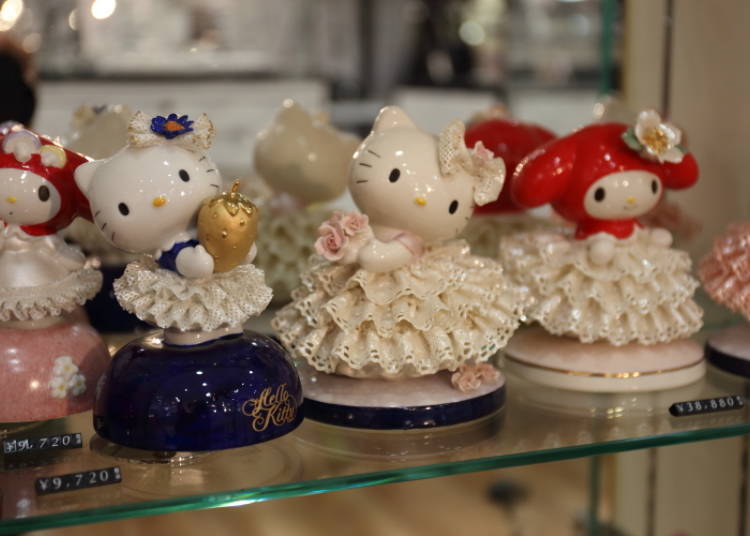 Other than the Kemari player design, there are all sorts of different designs!
This Hello Kitty pottery doll music box was created by Japan's leading pottery doll maker "TK Nagoya Ningyo Seito." This Hello Kitty is a Kemari player, a sport similar to football that was played by Japan's court nobles. That's why she is wearing a beautiful kimono!
The stand itself is the music box playing the traditional Japanese folk song Sakura Sakura, to which Kemari Hello Kitty spins elegantly. Her kimono comes in pink, black, and red, and with a total height of 15cm, it makes for a beautiful and unique souvenir.
Hello Kitty Cherry Blossom Plushie: Representing Japan's Famous Flowers! (10,000 Yen)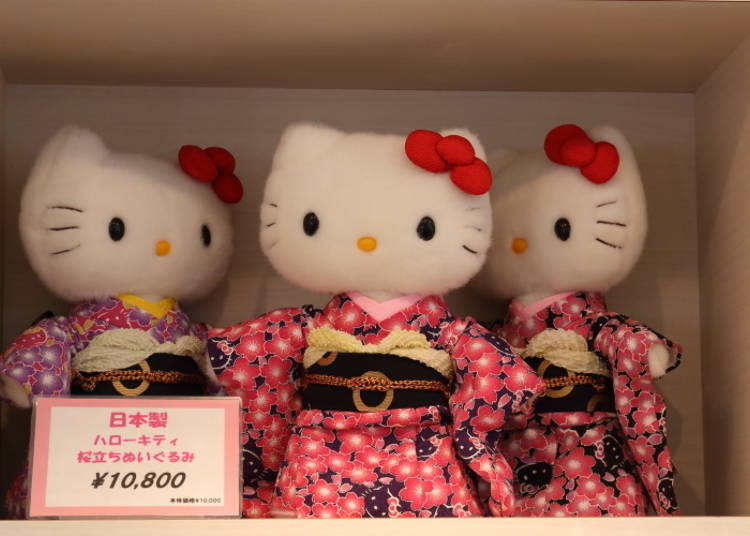 Hello Kitty wearing a fabulous kimono with a cherry blossom pattern.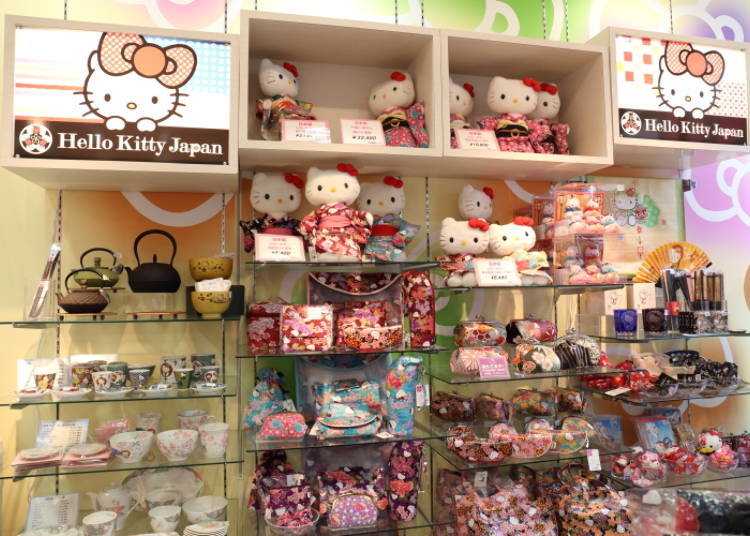 The Hello Kitty Miscellaneous Goods corner. You'll find many limited designs here.
Among the many Hello Kitty plushies, one stands out in particular – the Hello Kitty that is wearing a kimono! It comes in all kinds of sizes and with all sorts of different kimono designs, but the one with the cherry blossom pattern is especially stunning and thus popular. Just looking at it makes you feel like its spring, and even the fabric of the clothing is as silky as the real deal. It's certainly a more elegant version of Hello Kitty than what you might be used to, but represents Japan's most iconic garment and flower to perfection!
Hello Kitty Nanbutetsu Kettle: Traditional Craft Meets Modern Icon (5,800 Yen)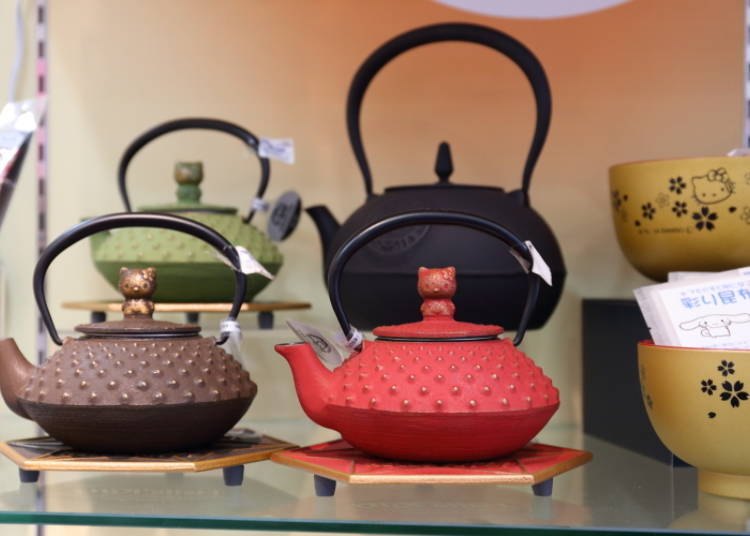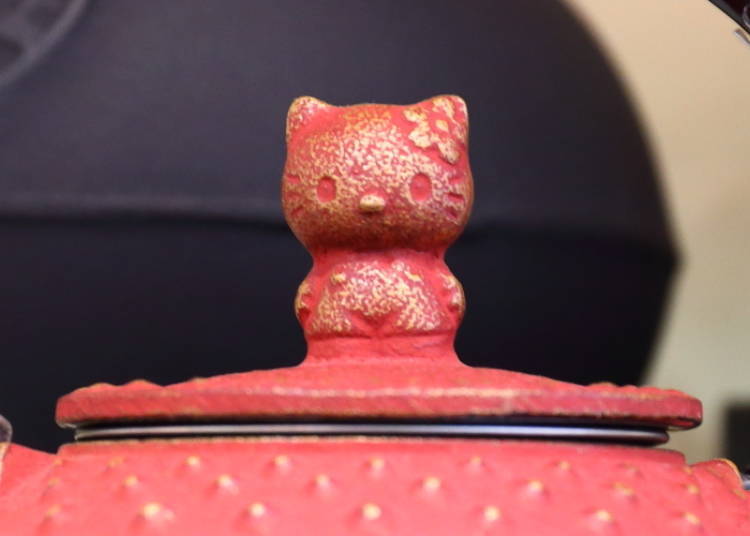 An adorable little Hello Kitty adorns the handle of the kettle. It is available in three colors: wine red, olive brown, and bright green.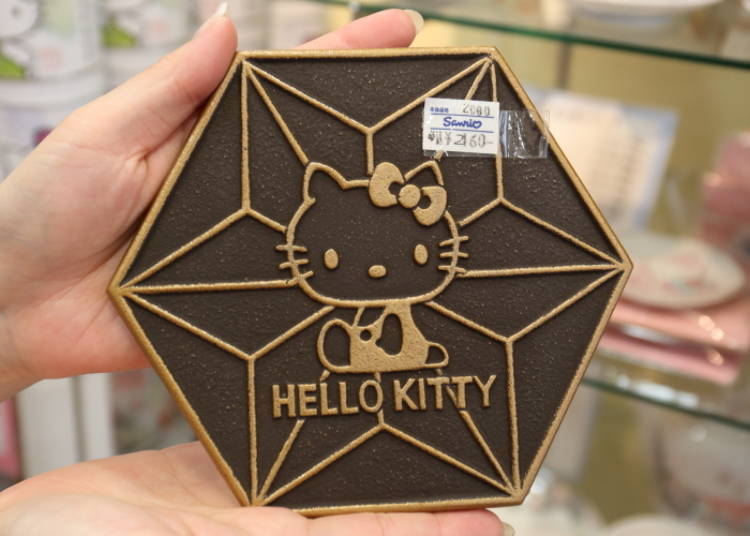 Matching pot stands are sold separately for 2,000 yen.
Nanbutetsu is steel made in southern Japan's Iwate Prefecture and designated as a traditional craft. Despite being centuries old, this steel has recently experienced a bit of a boom due to its ease of use as well as its design. Especially kettles made of nanbutetsu have gained popularity abroad, such as in China, because they're non-toxic.
This kettle features a subtle Hello Kitty design with her as the lid for the handle. It is about 12cm × 14cm in size and with 900g, it is relatively light for a cast iron kettle. Whenever you have a cup of tea made from hot water boiled in this kettle, you're sure to remember your trip to Japan fondly!
Capacity: 0.35l
Hello Kitty Shiny Initial Charm: Sparkle in Style! (980 Yen)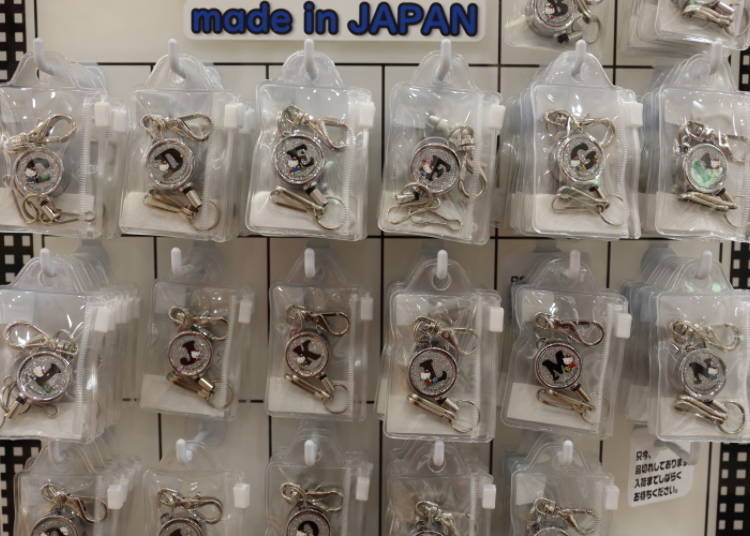 All 26 letters of the alphabet are available!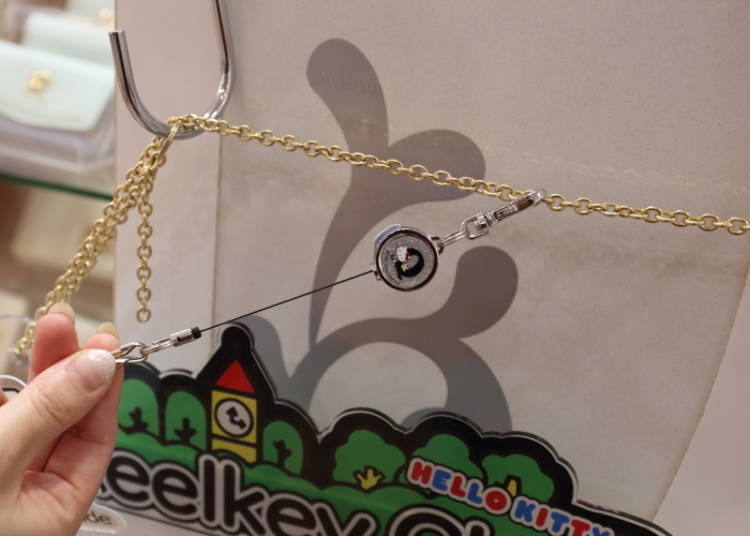 The charm has a reel function that adds an extra layer of functionality!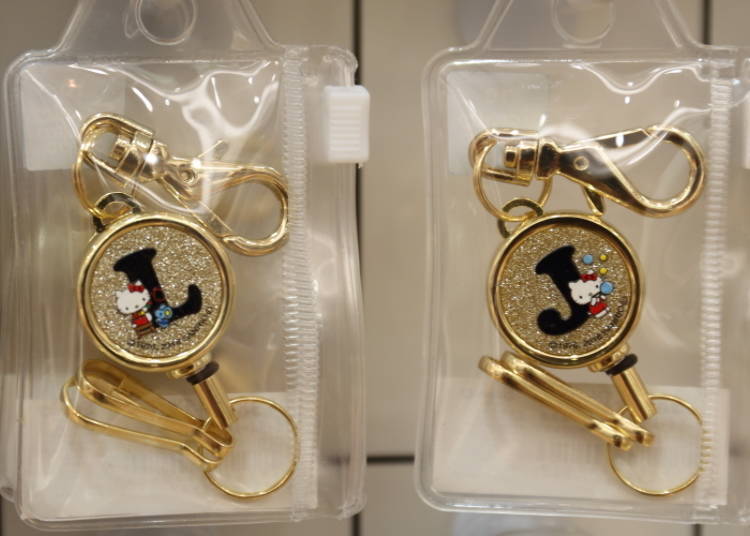 Every letter features a different Hello Kitty design.
This shiny charm with convenient reel function comes in all letters of the alphabet, from A to Z. It has two key hooks and extends to about 20 cm. The little Hello Kitties drawn next to characters all have different poses. Because the charm comes in both silver and gold, you can easily match it to your outfit of the day!
Hello Kitty Japan Limited Almond Cookie: Too Cute to Eat? (650 Yen)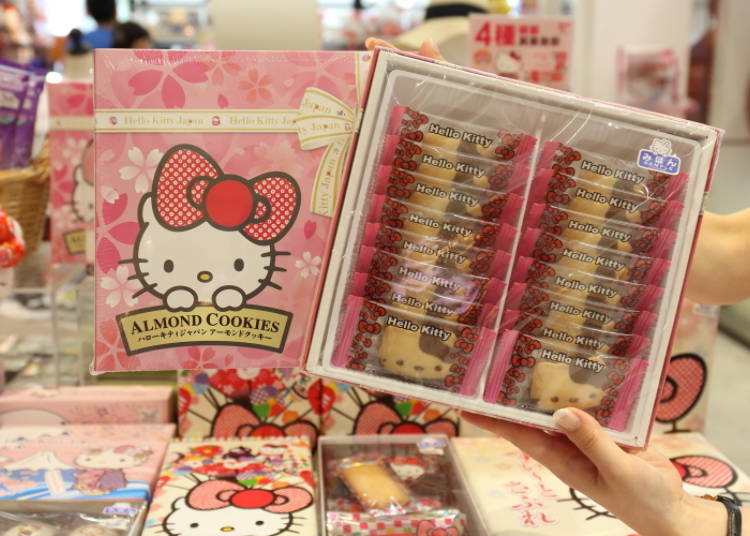 The most popular among the different sweets. The packaging is cute, too.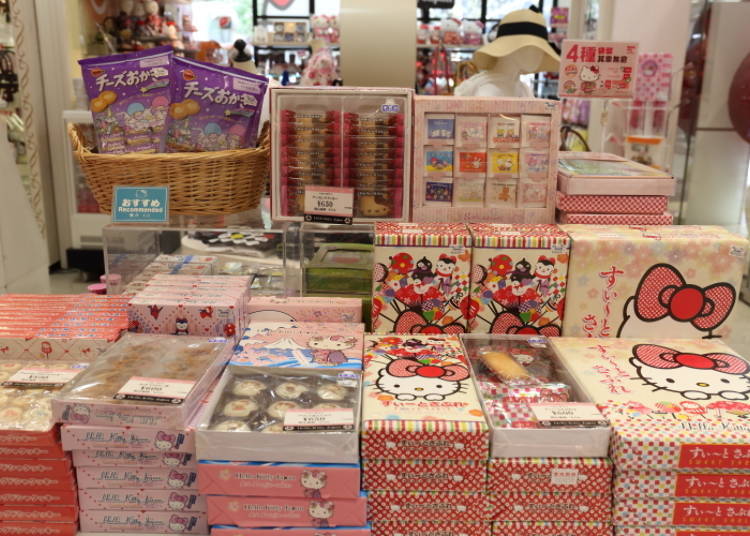 All sorts of delicious goodies line up in the sweets corner.
Sweets with a cute character design are also popular souvenirs, but the Hello Kitty Almond Cookies are by far the most sought after. They're incredibly crispy, shaped like Hello Kitty's face, and are only sold at Sanrio retail stores called "Hello Kitty Japan" that follow an authentically Japanese theme. The cookies are almost too cute to eat, however! They're individually packaged and thus easy to share with friends or family.


Sanrio World Ginza boasts the world's largest selection of Sanrio goods, including a plethora of original items, limited editions, and collaborations. From sweets to suitcases, there's pretty much nothing you won't be able to find! The shop is hard to miss – there are large statues of Hello Kitty and My Melody right at the entrance.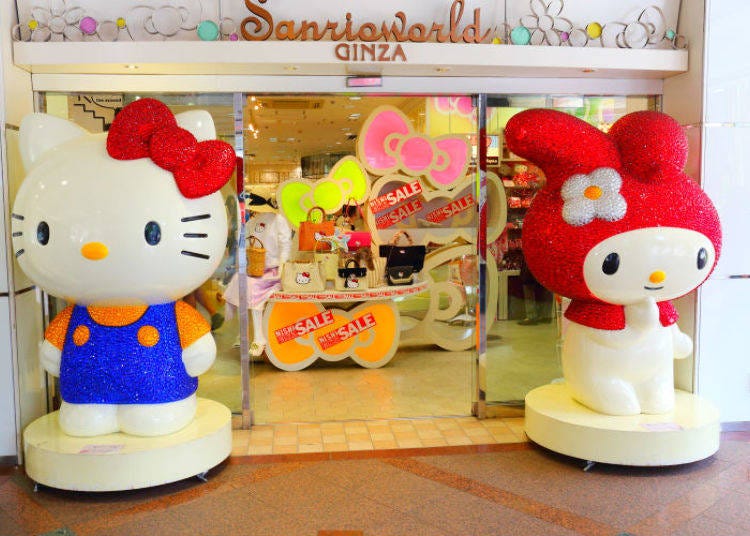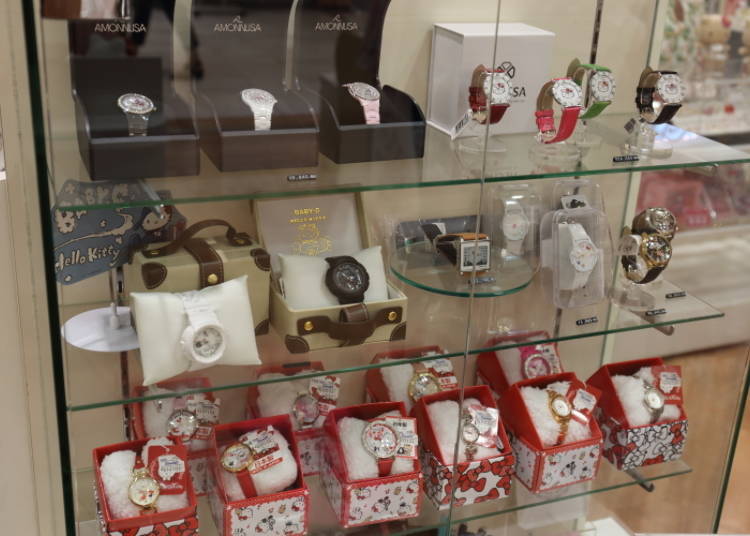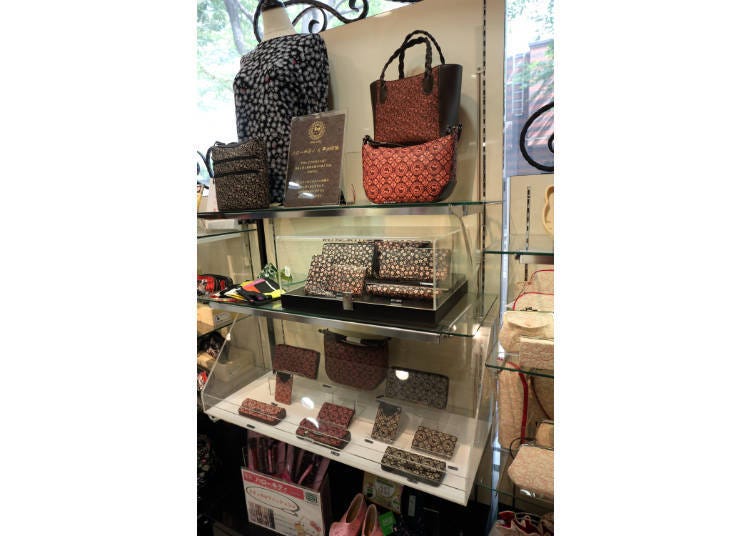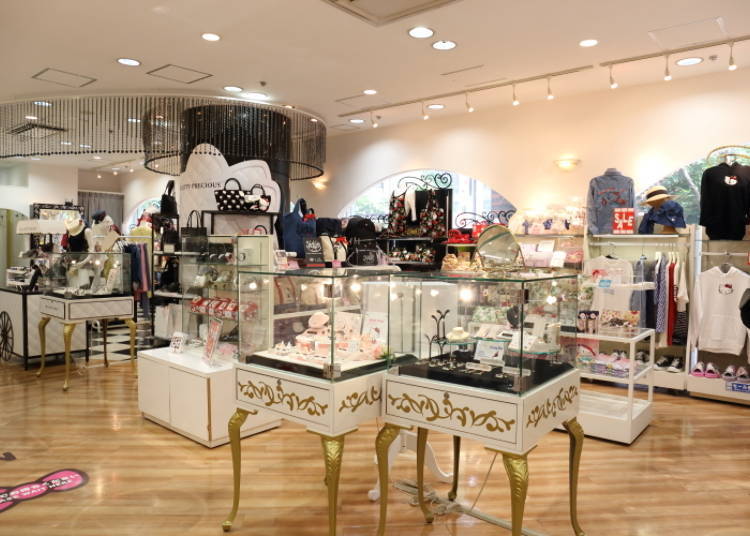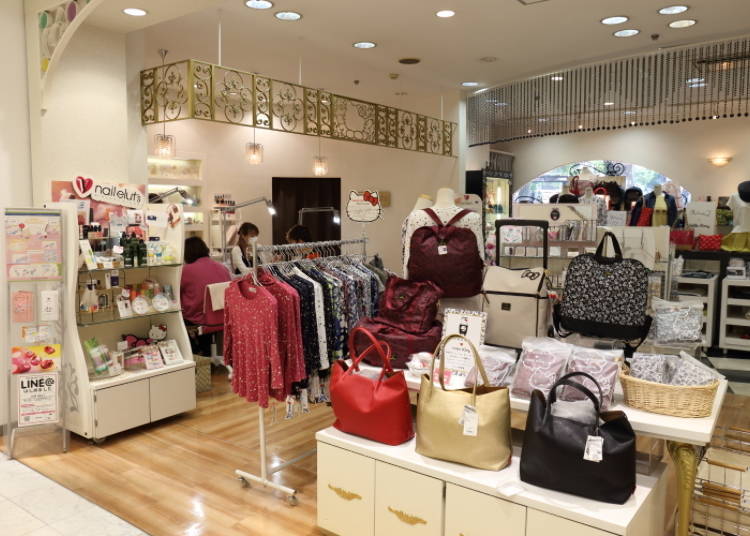 Sanrioworld GINZA 1階

Address

〒104-0061 東京都中央区銀座4-1先 西銀座1F / 4-1saki Nisiginza1F, Ginza, Chuo-ku, Tokyo, 104-0061, Japan

Nearest Station

Jr Yurakucho Station, 5 minutes by foot / Tokyo Metro Ginza Station, right in front of Exit C5. The shop is inside Nishi Ginza Department Store under the elevated expressway.


Phone Number

03-3566-4060

Hours: 11:00 a.m. – 9:00 p.m. (open until 8:00 p.m. on Sundays and national holidays)
Closed: irregularly (same as the building)
*This information is from the time of this article's publication.
*Prices and options mentioned are subject to change.
*Unless stated otherwise, all prices include tax.