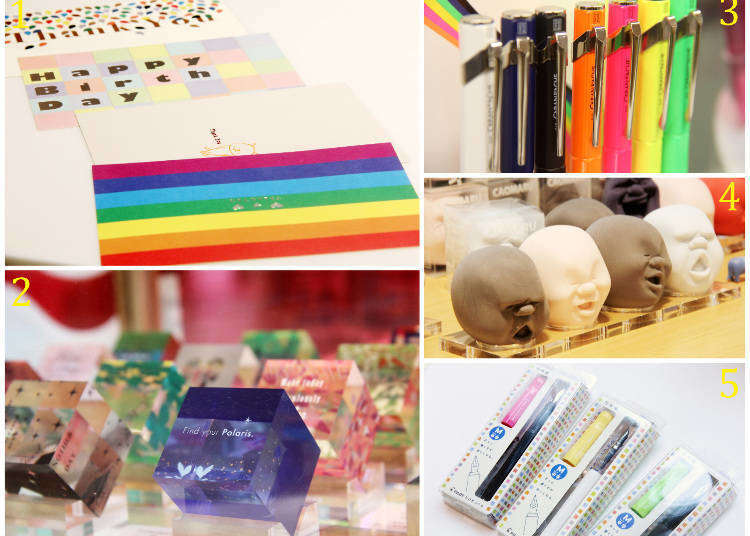 Ginza is one of Tokyo's prime areas for glitzy shopping and dining, uniting some of the world's most well-known brands. The area is close to both the famous Tsukiji Market and Tokyo Station, thus a favorite spot for tourists to stop by and look for fancy souvenirs, additions to their wardrobe, or gourmet delights. April 2017 also marked the opening of GINZA SIX, one of the largest commercial facilities in the area.

In Ginza's main street, you will find Japan's most famous stationery specialty store: Itoya. The shop offers a vast, wonderful selection of Japanese and international brands, with dozens of original stationery items that are both stylish and functional. Whether you're a die-hard stationery fan and seek to enrich your arsenal of pens and paper or you're simply looking for a fun souvenir, Itoya is a must-visit in any case. We will guide you through each of the 12 themed floors and showcase highlights and must-haves!
What Kind of Shop is Itoya?
Before we start our tour through the twelve individual floors, however, let's take a look at what kind of shop Itoya is.

The long-established shop has a history that reaches back until 1904 when it opened in Ginza as a stationery specialty store in today's so fancy and famous Ginza. It started as a fairly tiny shop at the corner of the street with a signboard that proudly announced "Japanese & International Stationery" in both Japanese and English.

Today, Itoya boasts eight different locations in major cities such as Tokyo, Osaka, and Kyoto, along with 6 special stores called "Itoya Topdrawer" in Tokyo, Kansai, and the United States of America. The wide range of stylish and functional products has conquered the hearts of stationery enthusiasts all around the world.

Ginza is still Itoya's main shop, however, and has been thoroughly renewed in 2015. Each of the twelve floors of the building has its very own theme, making the tall shop seem like some kind of stationery theme park. Nonetheless, Itoya's atmosphere is classically relaxing, including changing background music for each floor. You'll quickly find yourself forgetting time while leisurely browsing the beautiful products.
1F "GROUND" – Greeting Cards for Every Occasion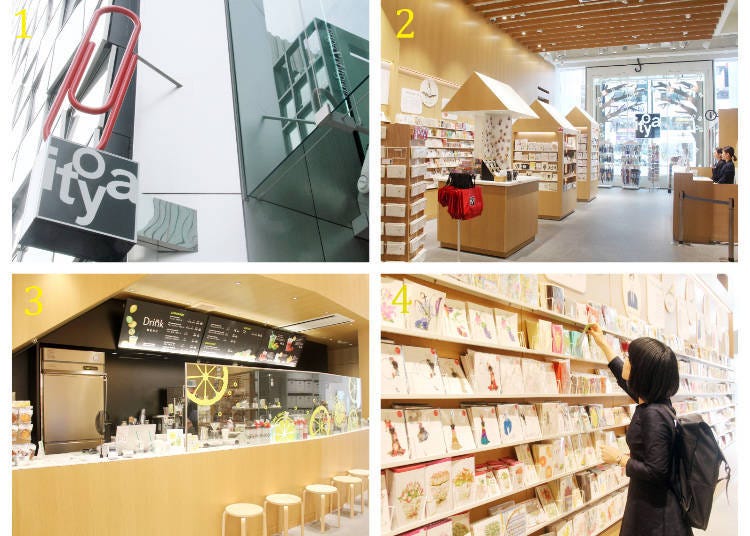 1) The characteristic red paper clip 2) the information counter 3) the shop's drink bar 4) popular greeting cards by "7 days cards"
The front of Itoya is adorned with the shop's characteristic red paper clip sitting right above the entrance. Stepping through the glass doors, you'll find yourself on the first floor called "GROUND." It is all about greeting cards and postcards, neatly arranged in stylish shelves on the right side of the shop. Also, take note of the beautiful woodpecker clock. It is fashioned after the famous "Baffling Belly" by American artist Charley Harper.

Just past it is the information counter where you can ask for guidance and help, should you not find what you are looking for or have any other questions. We also recommend stopping by Itoya's own lemonade bar. Especially the freshly made lemonade (from 350 yen) is delicious, but also try the lemonade-yogurt smoothie (from 450 yen)!
2F "LETTER" – Write a Letter Right at the Shop and Send it to a Special Someone!
1) and 2) The second floor is dedicated to letters, postcards, and envelopes 3) and 4) write a letter or a card using fancy fountain pens and decorate them with original stamps
Itoya's second floor is thoroughly dedicated to the theme "LETTER." Naturally, you'll find everything that you need to write a nice letter, including paper, postcards, and envelopes, but also stationery and stamps. We especially recommend the beautiful Japanese cards that feature "mizuhiki," a decorative cord made from paper.

The "Write & Post" corner features mailboxes served by the Ginza Post Office, meaning that you can write a card or letter right at the shop and post it right there. Feel free to use Itoya's original stamps for a special touch!
3F "DESK" – Try Out Fancy Fountain Pens!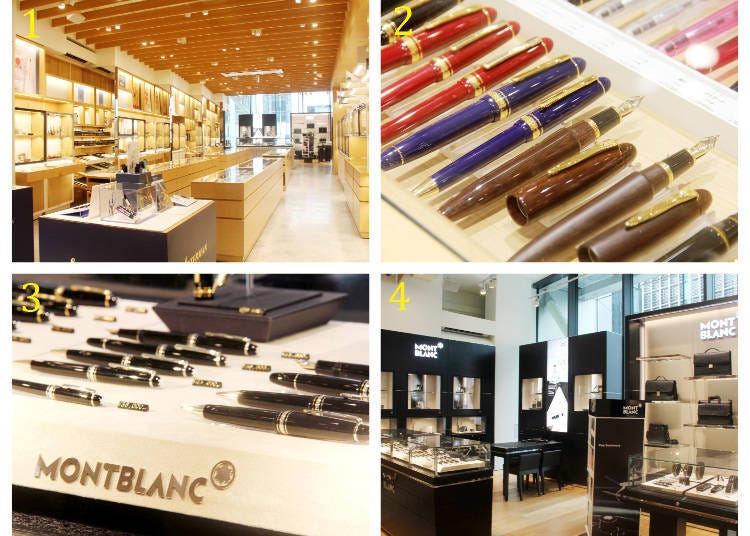 1) The third floor offers a large selection of pens and fountain pens 2) fountain pens by Platinum 3) and 4) the Montblanc corner
"DESK" is the theme of the third floor and it unites about 2,000 kinds of pens, with a special focus on fountain pens. From casual and whimsical to fancy and stylish, the range of fountain pens offered at Itoya is astonishing. And there's no need to hold back – you can try every single pen before making your choice! Do make use of this offer especially over at the Montblanc corner, where various high-class pens of German pen maker Montblanc are showcased. Happy writing!
4F "SCHEDULE" – Never Miss a Thing with Notebooks, Diaries, and Schedule Books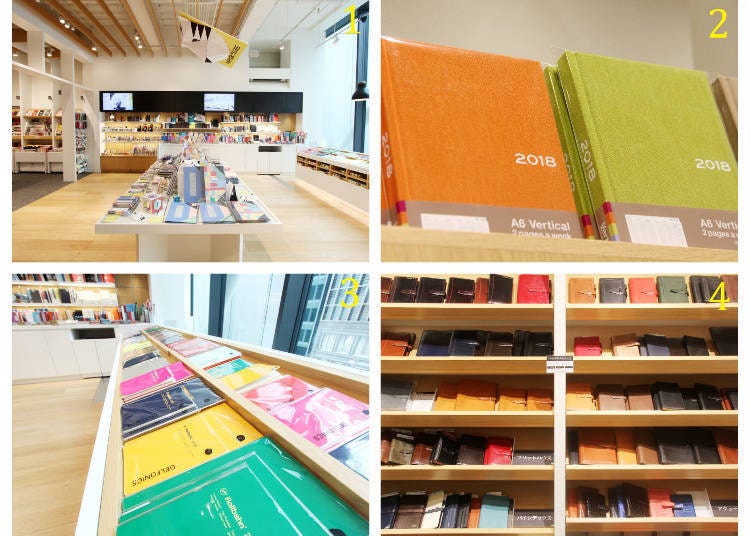 1) A wide variety of schedule books, notebooks, and accessories 2) the original Itoya Diary in A6 for 1,600 yen 3) a corner dedicated to Rollbahn notebooks, a popular brand in Japan 4) an abundant choice of notebooks with a leather cover
It's notebook galore on the fourth floor titled "SCHEDULE." Whether you're looking for a diary, a schedule book, or a notebook, this floor is sure to not leave you disappointed. On top of that, everything you need to fancy up and manage your daily life is available as well, including sticky notes, notebook covers, and various pens.
5F "TRAVEL" – Everything You Need to Get from One Place to Another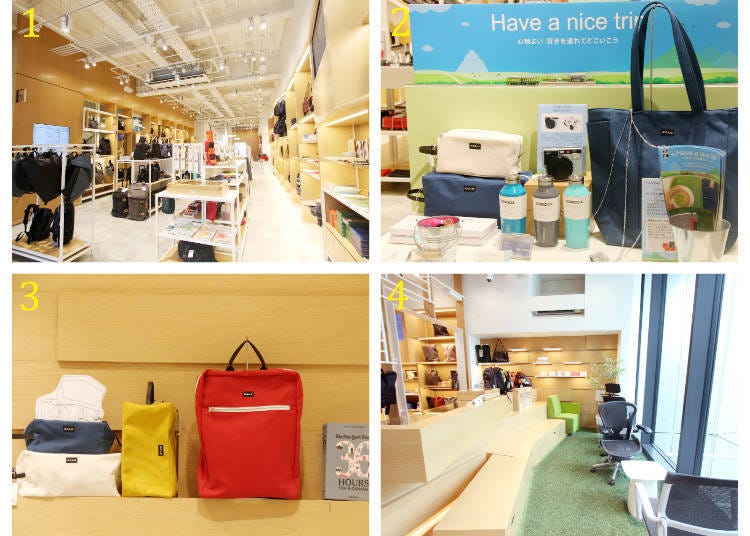 1) the floor is all about travel goods 2) and 3) watter bottles, pouches, cameras, and more 4) "Nomad's Nook" at the window
The fifth floor, called "TRAVEL" offers everything you need while traveling – especially for working while traveling. From handkerchiefs to leather accessories, water bottles, laptop bags and covers, and backpacks, this floor has you covered when it comes to getting from one place to another, conveniently and in style. If you need a bit of a break, head over to the respite area called "Nomad's Nook." It's right next to the large window, overlooking glitzy Ginza and offering a comfortable chair to rest your tired legs.
6F "HOME" – Stylish Interior Goods for Everyone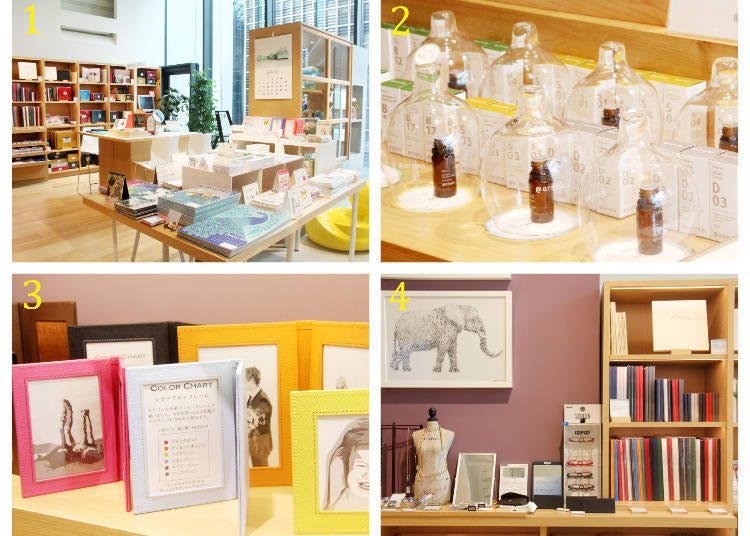 1) Calendars and picture frames 2) essential oils and their aroma glass bottles 3) Itoya's original laser picture frames 4) reading glasses with fancy designs
All about interior design is the sixth floor and its theme called "HOME." The various goods are arranged in five sub-themes: kitchen, dining room, living room, laundry room, and terrace. Especially the selection of picture frames and photo albums is rich and diverse, so photo enthusiasts should definitely stop by.
7F "FINE PAPER" – Every Color for Every Purpose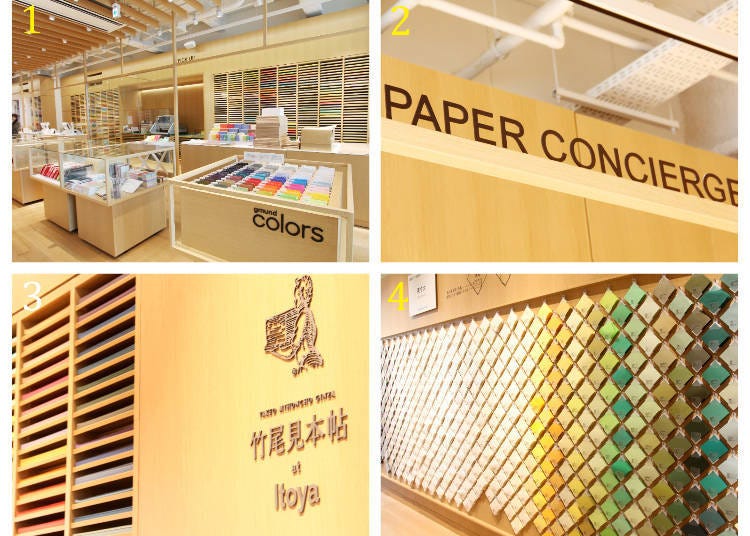 1) and 2) Looking for something? Ask the Paper Concierge! 3) Takeo Mihoncho at Itoya 4) a beautiful gradient of colored paper
Itoya's seventh floor is the "FINE PAPER" paradise. It was created in collaboration with the Japanese paper trading company Takeo. Choose from over 1,000 different kinds of paper of basically every color of the rainbow, serving every purpose imaginable. If you have questions or aren't sure what you should look for, consult the shop's own Paper Concierge!
8F "CRAFT" – Find the Perfect Souvenir!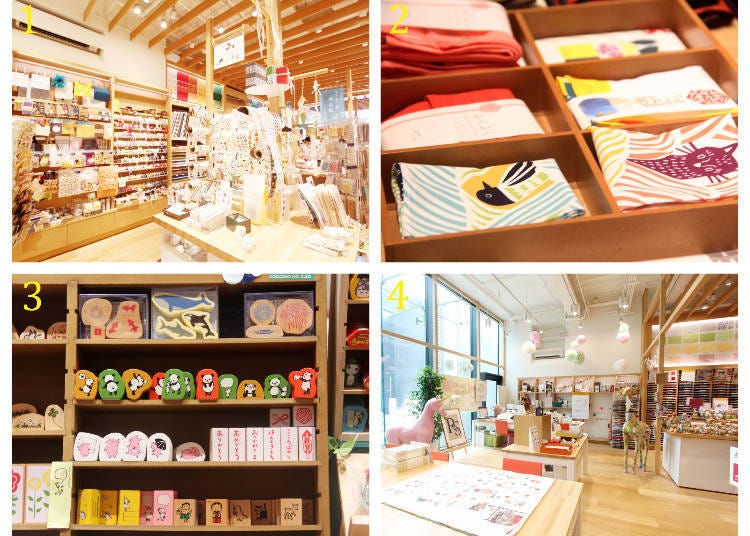 1) Wrapping paper, Japanese paper, and more! 2) all kinds of authentically Japanese accessories 3) various stamps 4) exhibits from the "papercraft classroom"
"CRAFT" on the eighth floor unites everything you need for your original craft project. Japanese paper, gift-wrapping paper, and origami are as abundantly available as Japanese wrapping cloths, hand towels with beautiful, traditional designs, and a plethora of fun and whimsical accessories. This floor even hosts a "papercraft classroom" that can be booked via the internet. Why not try your hand at something new?
10F "BUSINESS LOUNGE," 11F "FARM," 12F "CAFÉ Stylo"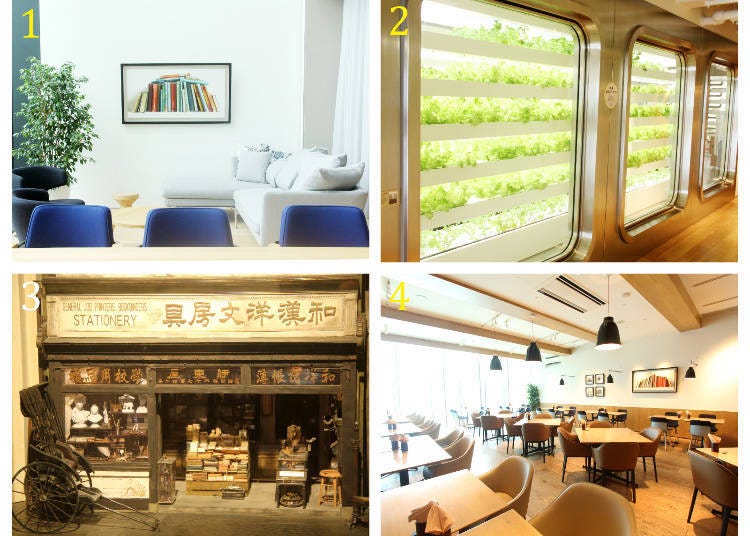 1) The business lounge 2) hydroponic farming at the 11th floor 3) a detailed model that shows the original Itoya shop, also on the 11th floor 4) CAFÉ Stylo
The "BUSINESS LOUNGE" on the 10th floor is a space that can be rented for meetings and events. The modern space is equipped with furniture by the Swiss company Vitra and with proper application, the room can even be visited when not in use.

"FARM" on floor 11 is exactly what it sounds like. You get to take a look at hydroponic cultivation here, watching the plants grow amidst stainless steel and glass – it's a fascinating scenery. Additionally, a detailed model of the old, original Itoya shop is exhibited on this floor, giving an impression of what the now so famous shop looked like at the time of its opening.

The 12th floor is home to "CAFÉ Stylo," an atmospheric resting space that serves American-style dishes, including fresh veggie salads, Eggs Benedict, and pancakes.
※The 9th floor is an office floor and not open to the public.
What to Get? Itoya's Top 10 Must-Have Stationery Items!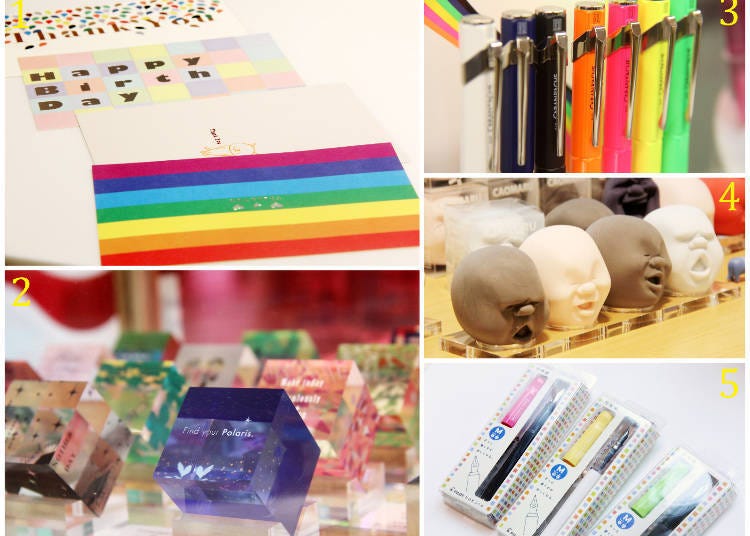 1) Postcards by Fujiwara Yayoi, from the "7 days cards" series – from 150 yen
2) "Word Cubes" with all sorts of little messages engraved – from 4,600 yen
3) the "849 Fountain Pen" by Caran d'Ache, Switzerland's largest writing instrument brand – 6,500 yen
4) Fun and weird erasers called KAOMARU – 2,500 yen each
5) A casual fountain pen by Pilot called "kakuno" – 1,000 yen each
1) Limited B6 notebooks by Takeo, a fine paper trading company. The notebook was made with hand towels of the famous towel maker Kamawanu – 2,300 yen
2) Hippos by SinoTop: book holder size for 7,800 yen, door stopper size for 13,800 yen, and the giant hippo for 120,000 yen.
3) Original hand towel made for Itoya, in collaboration with Kamawanu – 900 yen
4) Itoya original pen case, roll type. It offers room for 4 pens, a ruler, an eraser, and more, and comes in 6 colors – 6,000 yen
Hours: 10:00 a.m. – 8:00 p.m. (open until 7:00 p.m. on Sundays and national holidays)
The café on the 12th floor is open until 10:00 p.m. (last order at 9:00 p.m.)
Closed: Tuesdays
Access: Ginza Station (Tokyo Metro), 2 minutes on foot from Exit A13
Address

2-7-15, Ginza, Chuo-ku, Tokyo, 104-0061
View Map

Nearest Station

Ginza Station (Tokyo Metro Ginza Line / Tokyo Metro Marunouchi Line / Tokyo Metro Hibiya Line)
2 minutes on foot


Phone Number

03-3561-8311
Itoya – Stationery Paradise!
For stationery fans, Itoya is an absolute must-visit shop in the Ginza area. Stock up on original notebooks, cute pens, and crafting material, such as origami paper and stamps – as a lot of the goods are original Itoya goods, you likely won't find them anywhere else! But the shop also is for people who aren't jumping in joy at the sight of pens and notebooks, why not stop by and write a card or two for friends and loved ones at home? We're sure you'll find an authentically Japanese souvenir that is both cute and convenient! Happy shopping!
*This information is from the time of this article's publication.
*Prices and options mentioned are subject to change.
*Unless stated otherwise, all prices include tax.