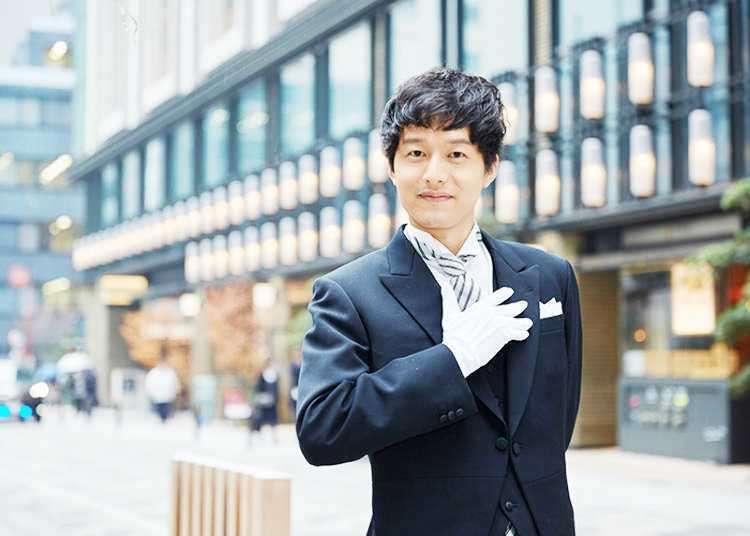 "A pleasure to meet you. I am just a humble butler. This might be a bit brusque and I apologize for that, but tell me, what do you know of the many charms that Tokyo has to offer?"
"The Olympic Games will be held in the metropolis in 2020. Thus, the eyes of the entire world are on this city, where new trends and places are born and disappear with every passing day, while culture and customs of old can be discovered with every single step you take. Tokyo, with its modern pulse and rich, palpable history, doubtlessly is a strange city, but also one with numerous charms waiting to be laid bare by the curious and the adventurous."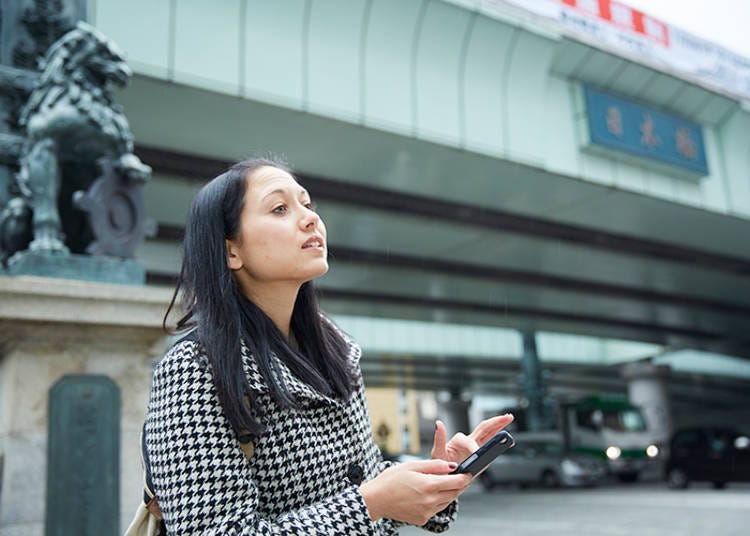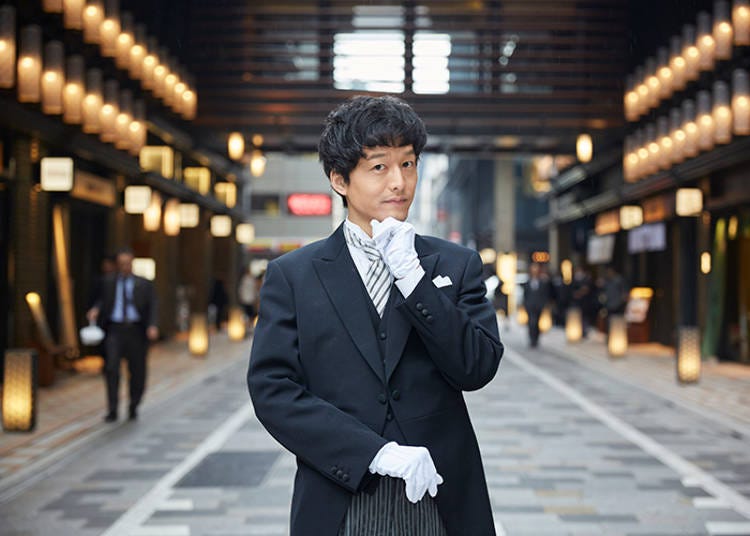 "Mh, what is that? A lady that has lost her way? She appears to be alone, and a tourist from a different country on top of that."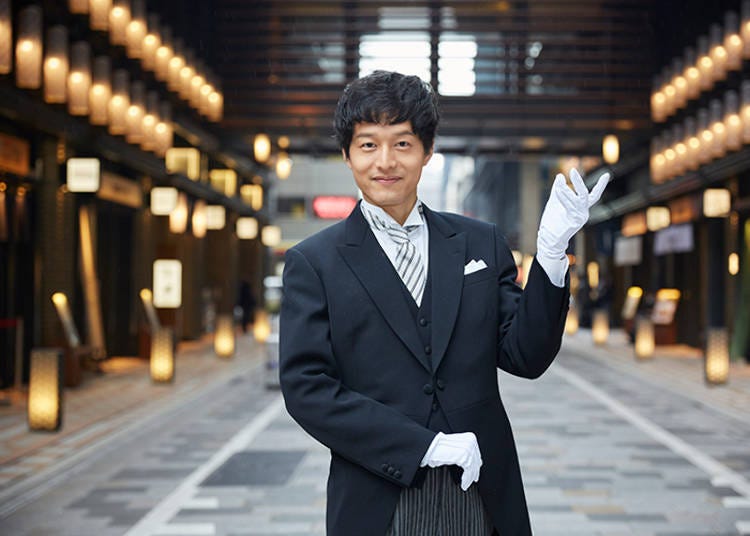 "Well, I suppose it is time for me to make my appearance."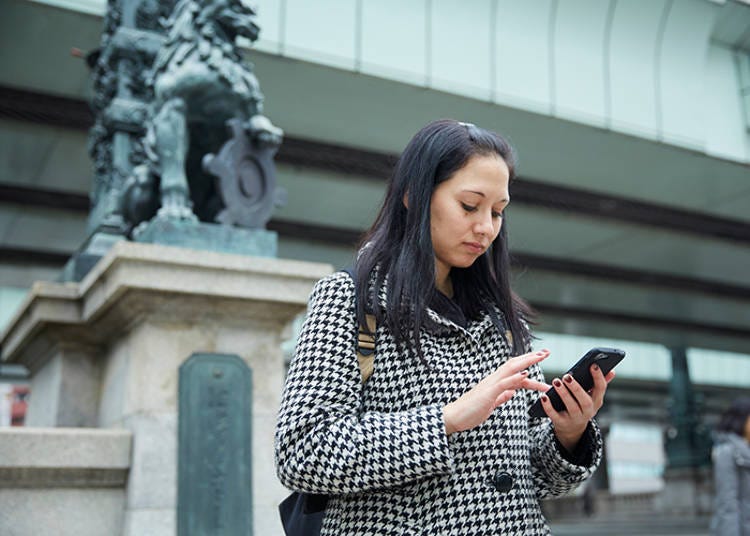 Tourist: "What should I do? I have no idea where I am... ah, let's ask that person over there!"

Tourist: "Excuse me. Would you show me where we are now on this map?"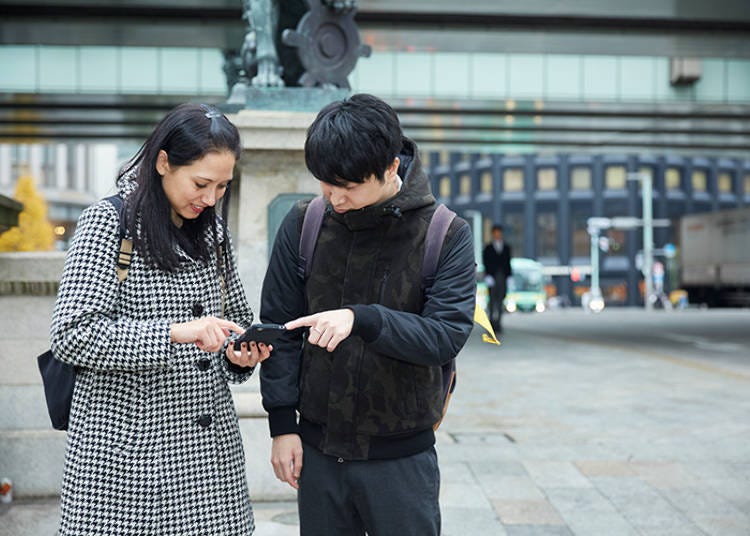 Tourist: "This is my first time in Japan and I don't know the way..."
Japanese man: "Er... I don't really know my way around here either, to be honest."
Tourist: "Oh, okay... Ah, what should I do..."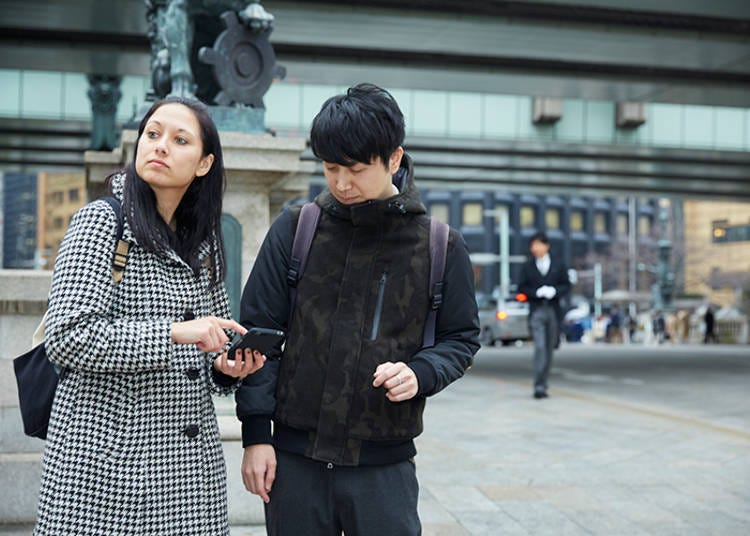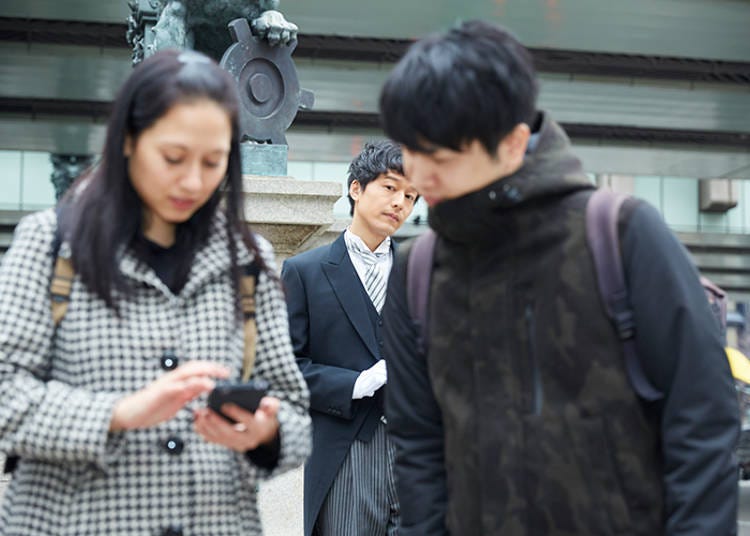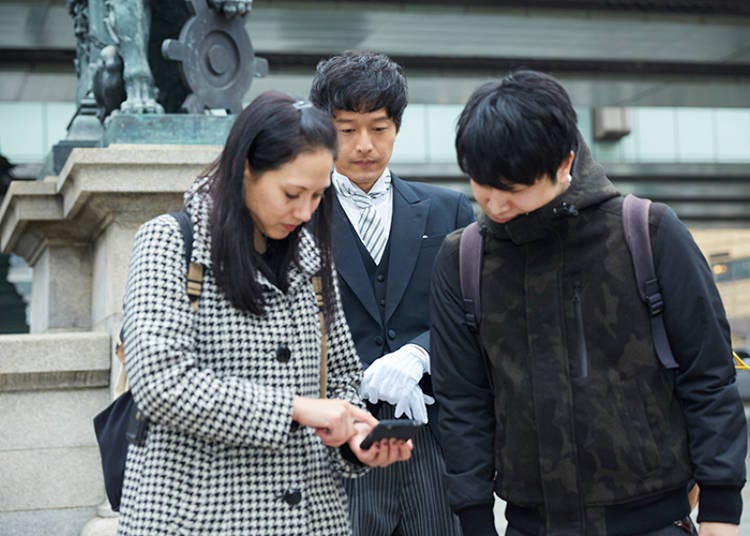 Butler: "May I be of some assistance?"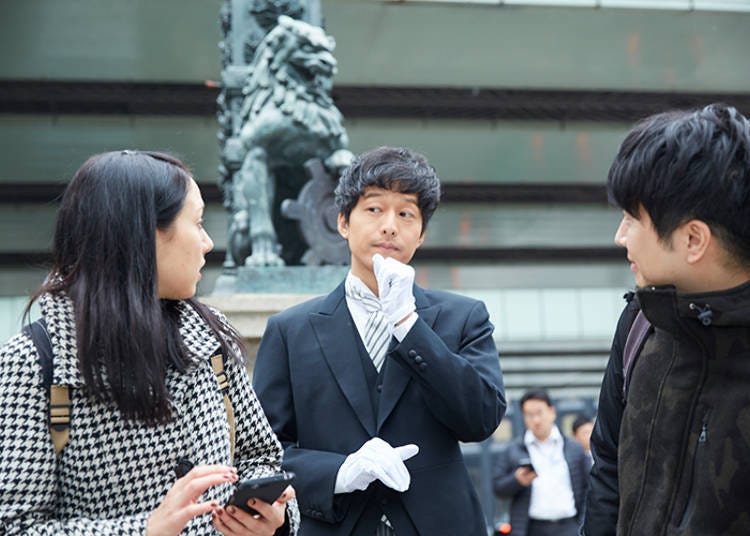 Both of them: "WHOA!"

Butler: "It seems that you have lost your way?"

Butler: "Would you kindly allow me to show you around Nihonbashi, perhaps?"
Tourist: "Er... hm."
Japanese man: (Whoa... this guy seems... weird. But then again, if this woman really gets in trouble here or anything, she'll think that Japan is no good...)
Tourist: "…………"
Butler: "…………"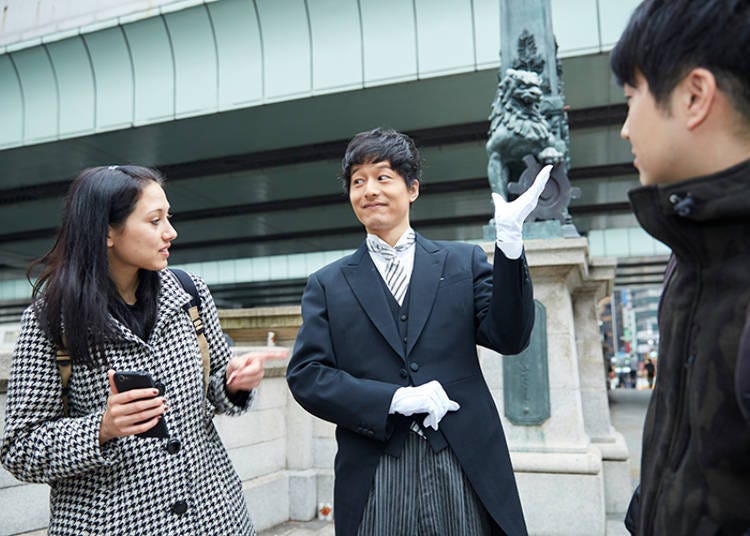 Tourist: "... oh well, since I am totally lost, sure, go ahead!"

Butler: [grins happily]

Japanese man: (What?! She wants to go with this weirdo? And he and his grin really seem eager to take her along! But she herself said she wanted to be shown around by that guy... Ah man, I am worried, I should come along as well...)

Japanese man: "Er... can I join as well?"
Butler: "Yes, by all means."

Tourist: "Wow, Japanese people are really friendly! I'm from America and my name is Holly. I appreciate your help!"
Japanese man: (Is it smart to reveal personal information in front of this weirdo?) "Uh... my name is Igarashi. Hey, uhm, you. Who exactly are you?"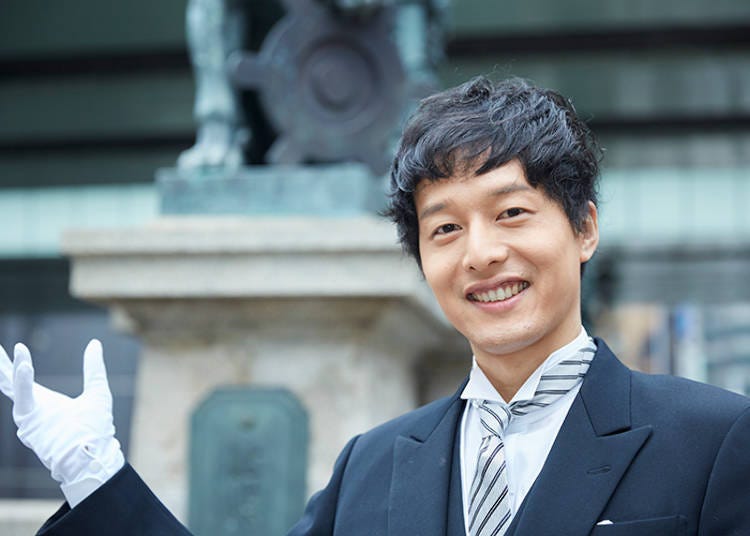 Butler: "Oh, I am just a nameless butler... When I see someone in trouble, I cannot help but, well, help. Please, leave everything to me today!" [beams]
Igarashi: "………… (so weird...)"

Butler: "Please, by all means, let me show you my personal recommendations that are particularly interesting for visitors from overseas."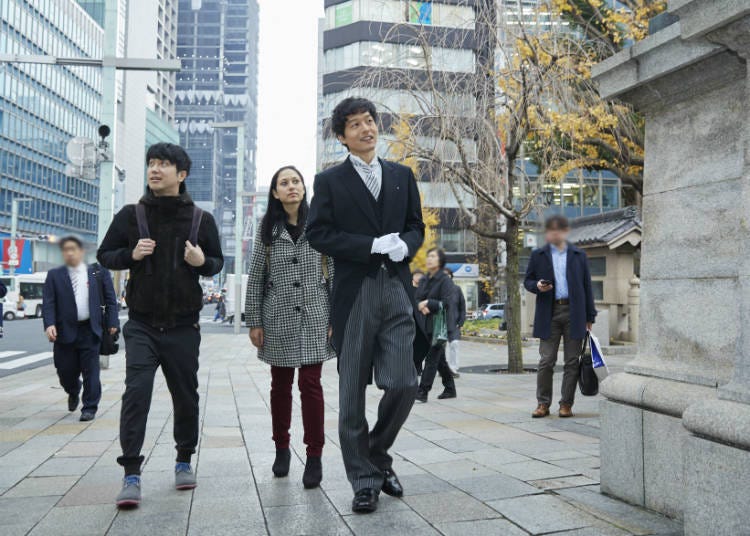 Butler: "Is this the first time in Nihonbashi, for the both of you?"
Holly: "Yeah, I read about this place in a guidebook and wanted to see it for myself."
Igarashi: "I'm kind of ashamed to admit it, but yes..."
Butler: "I see. Nihonbashi is an interesting place. It played a central role in old Edo's economy and thus prospered greatly. During that time, there was a fish market at Nihonbashi, and it is said that an incredibly large amount of money changed hands in one single day there. Incidentally, it is the very fish market that was later relocated to what is Tsukiji Market today."

Igarashi: "Oh wow, really?"
Butler: "Interesting, isn't it? Besides, Nihonbashi is particularly famous for its many historic buildings. The Bank of Japan Head Office over there, for example, was built in 1897 and is now a designated important cultural property of Japan. With their brick-style, these buildings do seem very elegant, don't they. The Nihonbashi Mitsukoshi Head Store over here was completed in 1914. In modern-day Japan, department stores can be found all around the country but Mitsukoshi in Nihonbashi was the one that started it all."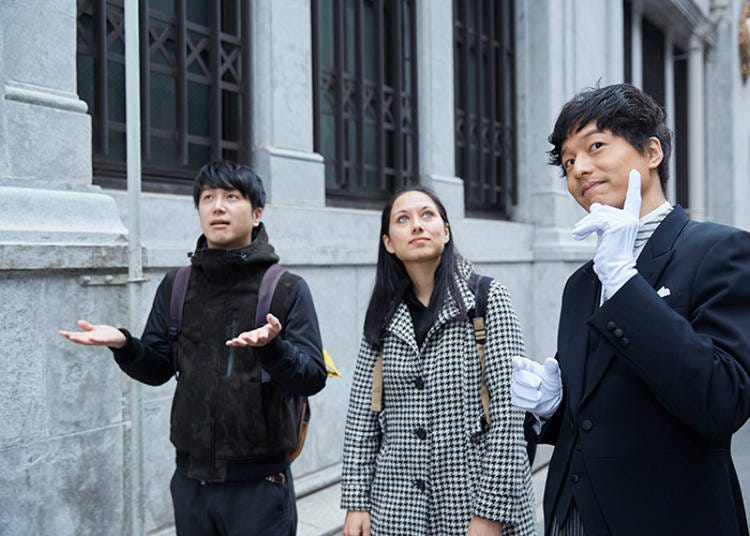 Holly: "Old Japan and its history certainly is palpable in this neighborhood."
Igarashi: "Huh, I had no idea..."

Butler: "Indeed. Not just the buildings themselves carry a long history, however. All around Nihonbashi, there are numerous long-established shops and restaurants to be found. Speaking of, aren't you getting a bit hungry, perhaps?"
Igarashi: "Pretty hungry!"
Holly: "Yes, I'd love to try what Nihonbashi has to offer."

Butler: "Very well. Allow me to introduce you to a tempura restaurant that is not only very popular but also boasts a long and rich history."

Holly: "Oh, tempura! That's something I definitely wanted to eat!"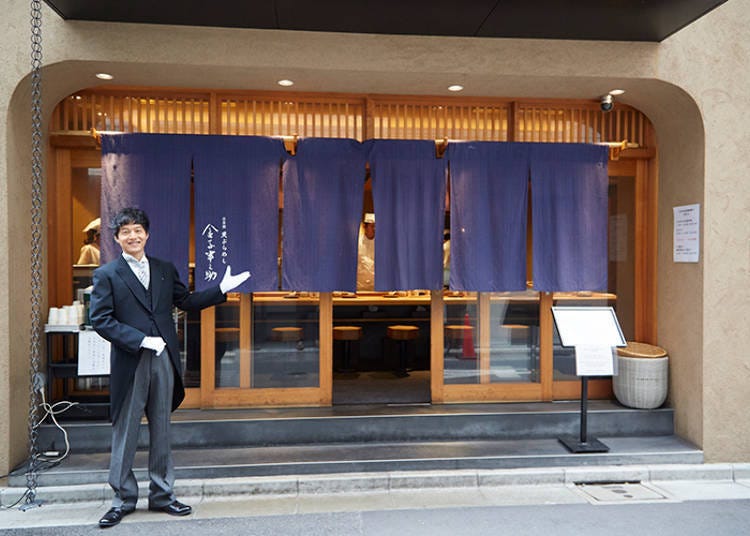 Butler: "Here we are. This is one of Nihonbashi's most famous restaurants, Tempurameshi Kaneko Hannosuke. Before noon, people will line up in front, and you'll often see international tourists dining here. Tempura has been popular as a characteristic dish of Tokyo ever since the Edo period, and this authentic flavor can be savored to the fullest here."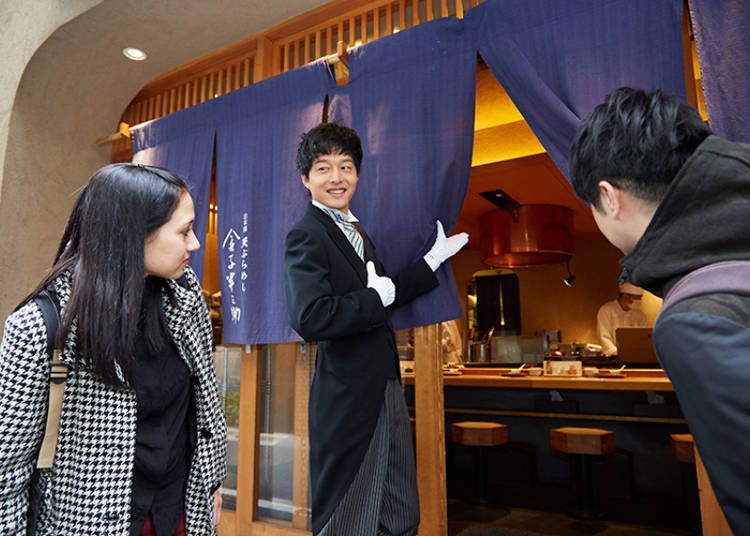 Holly: "I'm excited!"
Igarashi: "Oh wow, it smells delicious!"

Butler: "Well then, shall we go in?"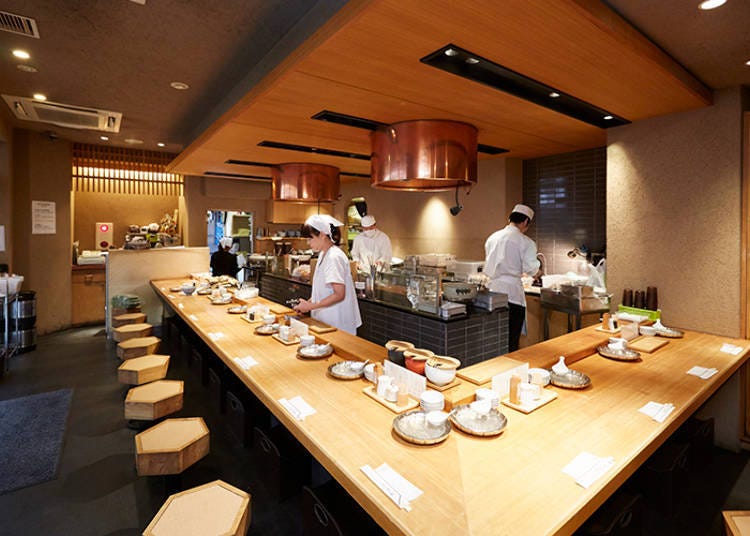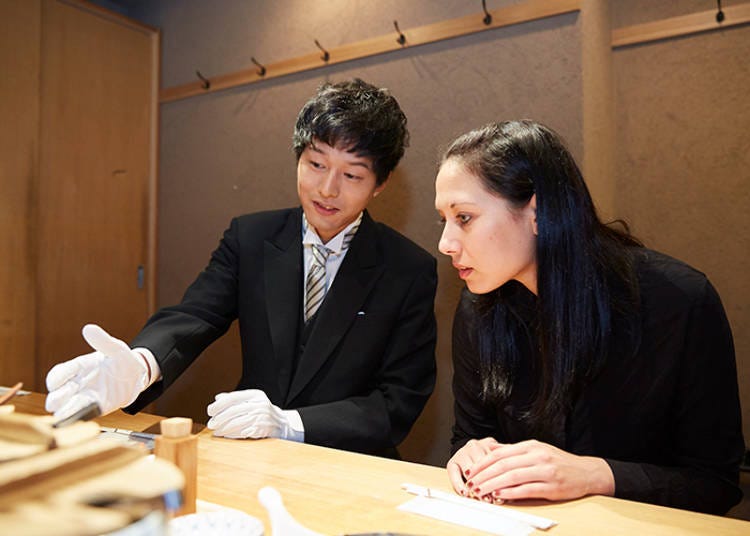 Butler: "While waiting for the tempura to be served, guests can enjoy a variety of daily changing side dishes. Today's menu is smoked takuan, kinpira burdock, and squid on yuzu."
Holly: "Oh, I love yuzu."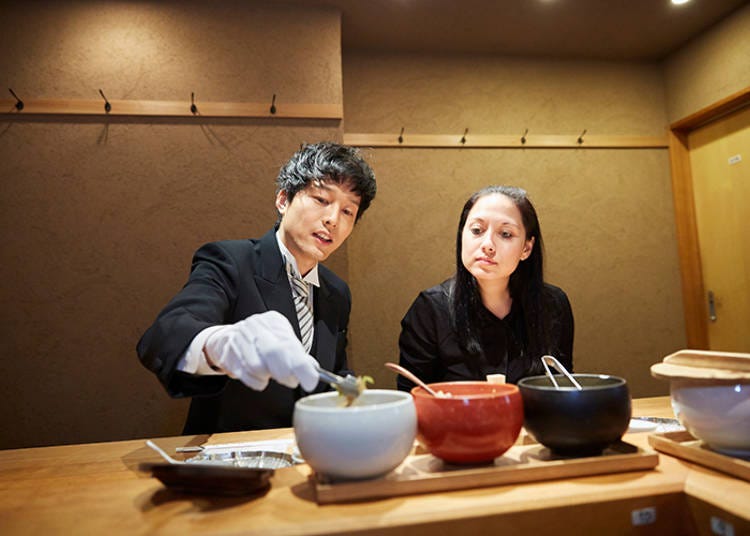 Butler: "Very well, let me serve you some."
Holly: "It looks delicious!"
Igarashi: (...what about me?)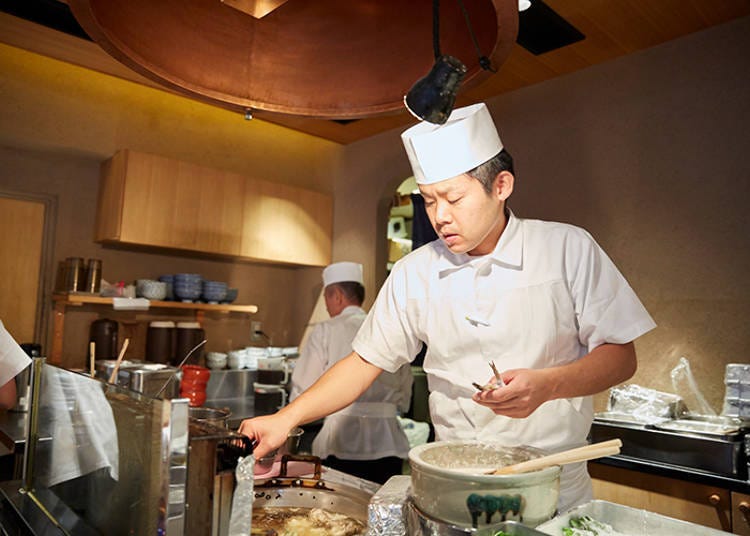 Butler: "The tempura, fried by the skilled chefs themselves, truly is exquisite. From a counter seat, you can watch it being prepared right in front of your eyes."

Holly: "Mmh, it smells amazing!"

Staff: "Sorry to have kept you waiting. First, shrimp, squid, maitake mushroom, sweet pepper, and egg tempura. This will be followed by pumpkin, eggplant, chicken, and sea robin. The tempura set includes miso soup and rice. Please enjoy it with sauce and grated radish."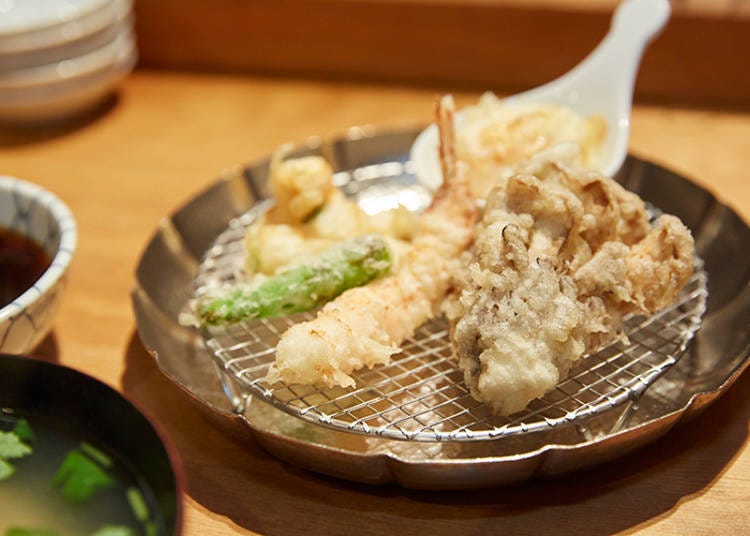 Butler: "The fresher the tempura is, the better it tastes, so by all means, please go ahead and eat!"

Holly & Igarashi: "Itadakimasu!"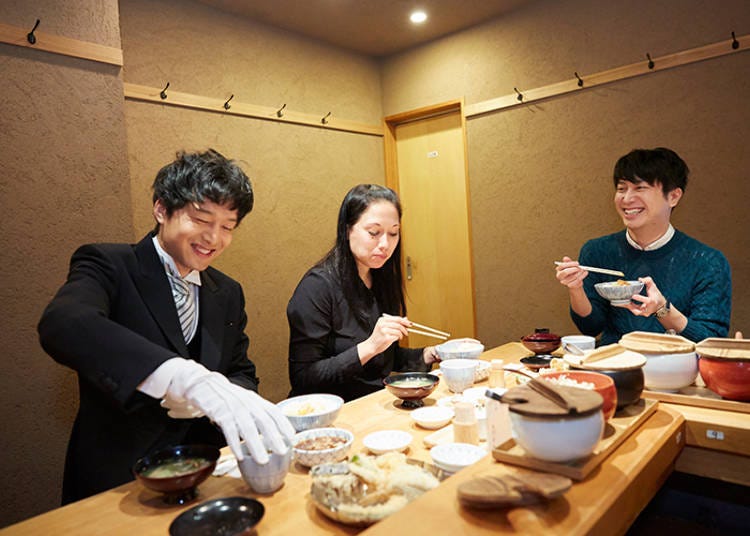 Holly: "It's incredibly crispy and, despite being deep-fried, not greasy at all. The ingredients themselves are also excellent, it's exactly how I imagined tempura to be! My favorite one is the maitake mushroom."

Igarashi: "The shrimp is so juicy, I could eat a whole dozen of those! The aroma of the maitake mushroom and the sweet pepper is amazing, really stimulating my appetite."

Butler: "I am glad that the food is to your liking. Please, would you take a look at this?"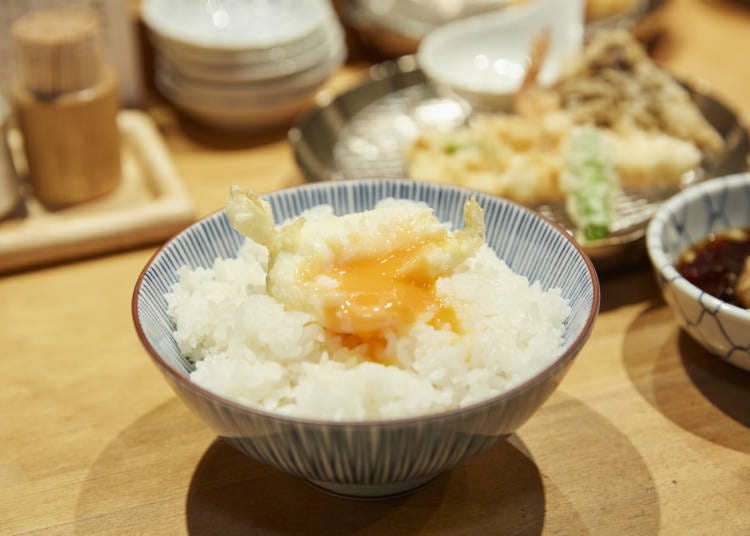 Holly: "Hm? What is that?"
Butler: "The restaurant's signature dish, whole egg tempura."
Igarashi: "Oh, you can make tempura with a whole egg?"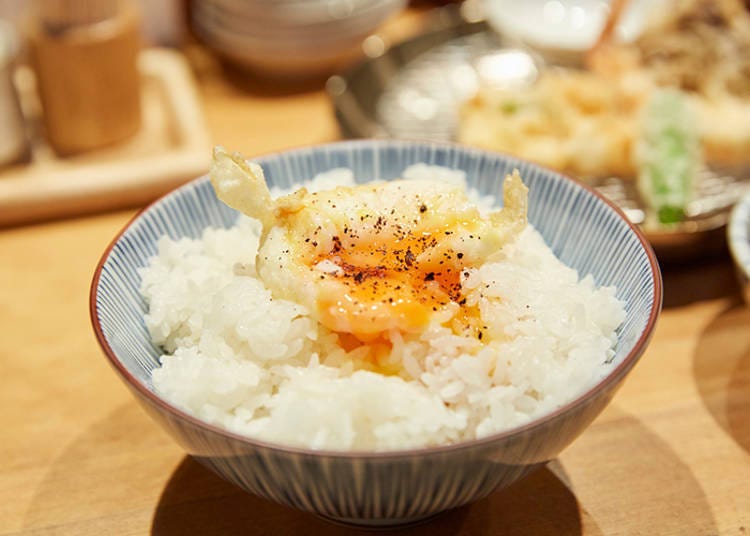 Butler: "When placed on top of rice and enhanced with a dash of Japanese pepper and soy sauce, the delicacy unfolds its superb flavor best. The restaurant itself recommends it that way. Gently push on it with your chopsticks to make the egg crack open, letting the yolk pour onto the rice."
Holly: "Wow, Japanese tempura is amazing!"

Butler: "Lady Holly, how do you like it?"
Holly: "I love the combination of the crispy outside and the soft inside. I don't think I've ever tasted anything like this before!"

Igarashi: "This will become one of my favorite ways to enjoy egg for sure. ...uh, Mr. Butler, aren't you eating anything?"
Butler: "Oh no, my duty is to accompany you as a guide, and eating would be ..."
Igarashi: "...what? Just eat already, or it'll get cold."

Butler: "W-well then, I apologize for being rude and eating with my gloves on."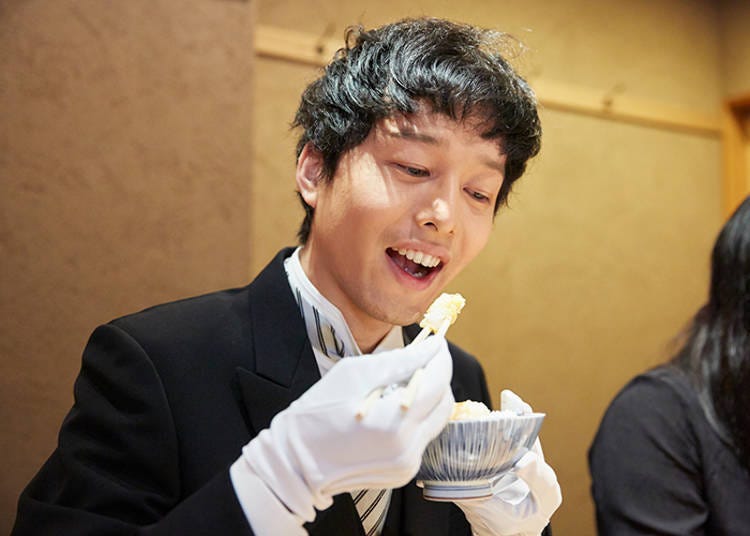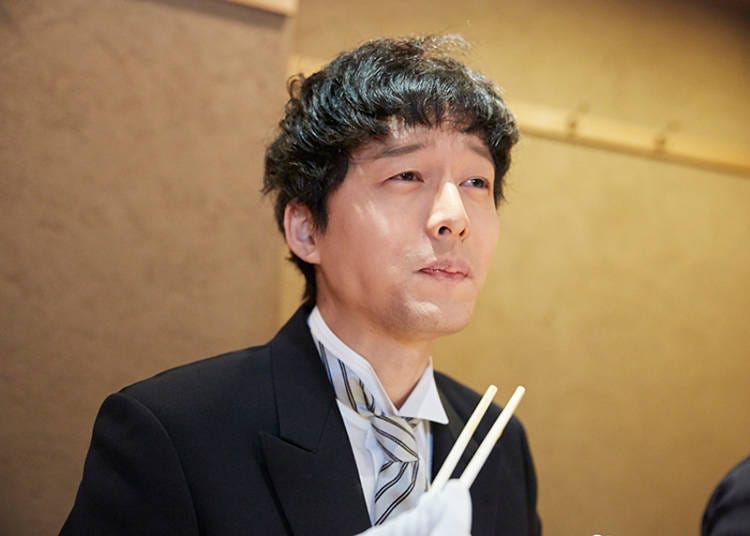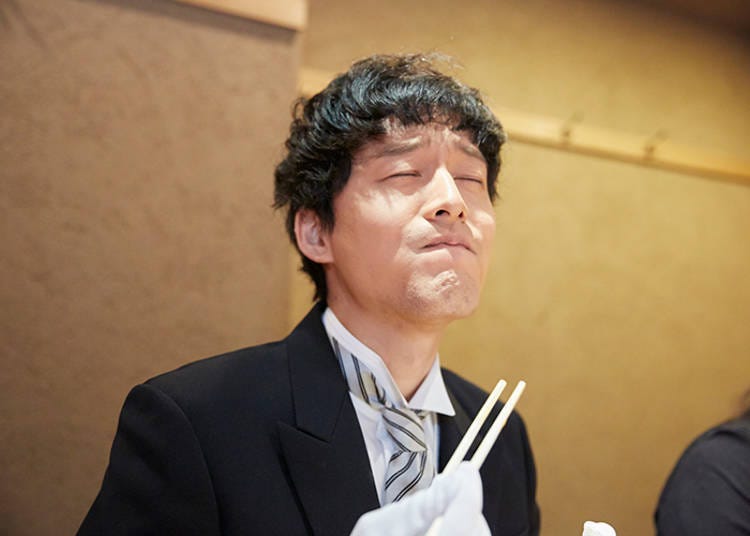 Butler: "Mmh... it's SO good! Ah, I couldn't help but close my eyes and hum in delight. Tempura really is one of Japan's signature dishes that is enjoyed by the entire world, isn't it."
Igarashi: (...says the guy who seems a bit too absorbed in his own little world.)
Butler: "Yum! I apologize. Well then, once your appetite is sated, shall we continue our journey through Nihonbashi?"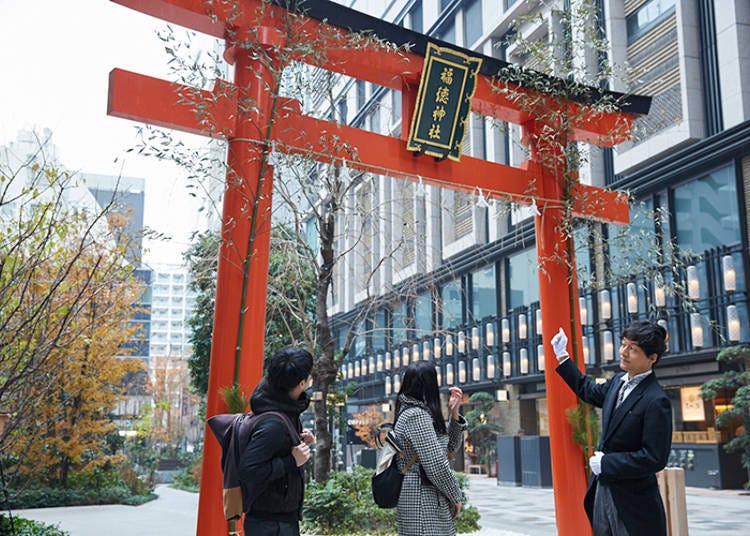 Holly: "What is this place?"

Butler: "This is Fukutoku Shrine. It was built around 1,100 years ago and has been watching over Nihonbashi for all this time. The torii, the big vermillion gate, surprised many people as something very old and traditional suddenly popping up amidst the high, modern buildings. It also serves as a spot of relaxation for locals and shoppers. Tokugawa Ieyasu is also said to have visited this very shrine."

Holly: "That's amazing!"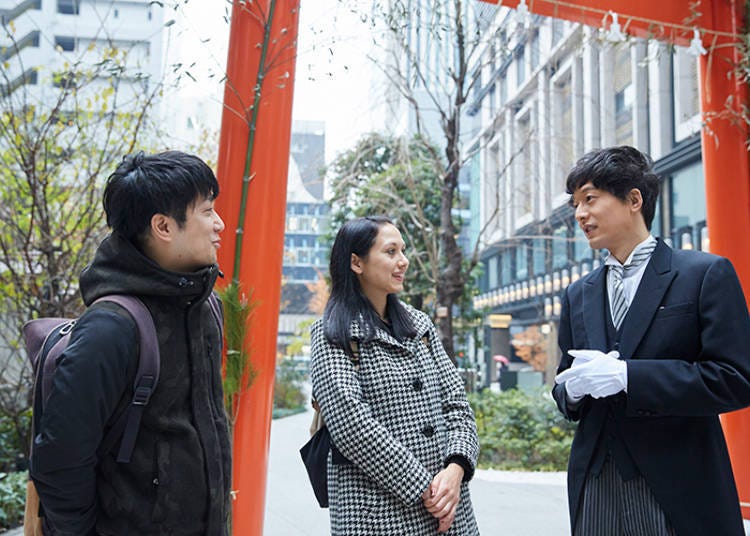 Butler: "Incidentally, this shrine is associated with luck in winning the lottery."

Igarashi: "Oh, wow! I want the money, I gotta go pray!"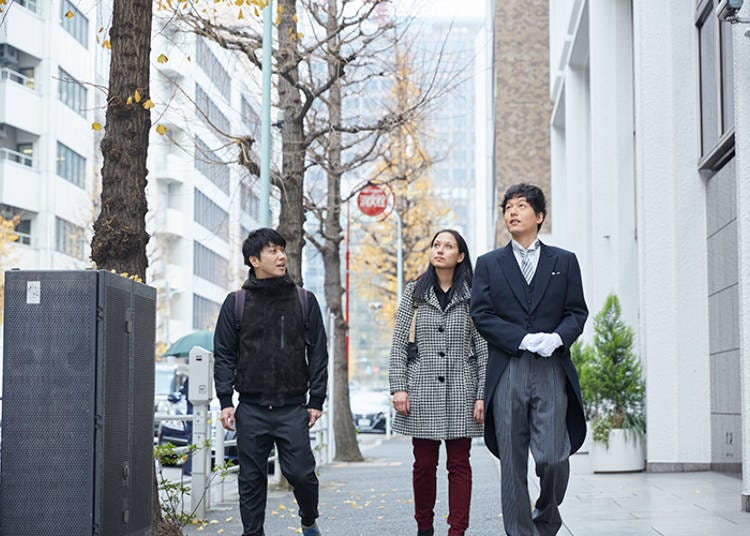 Butler: "...shall we leave this fellow to his greed and move on, Lady Holly?"
Igarashi: "H-hey, wait up!"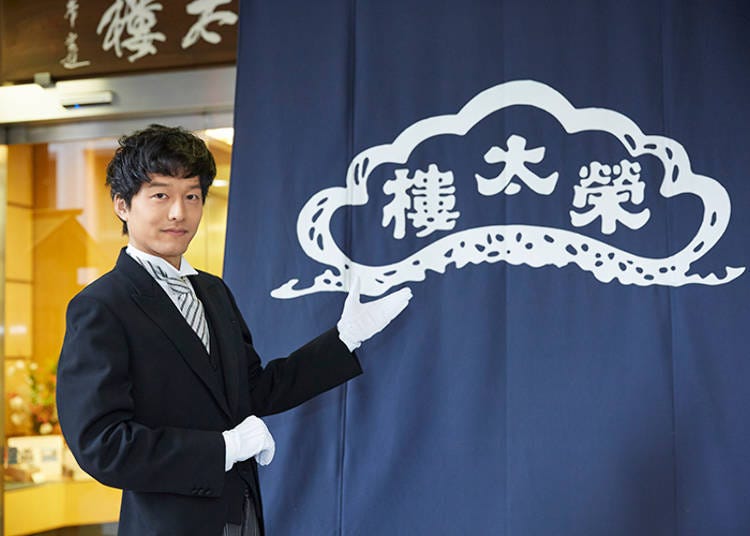 Butler: "Lady Holly, do you know what kind of store this is?"

Holly: "...a grocery store?"

Butler: "This is the Nihonbashi Head Store of Eitaro, a famous Japanese confectionery."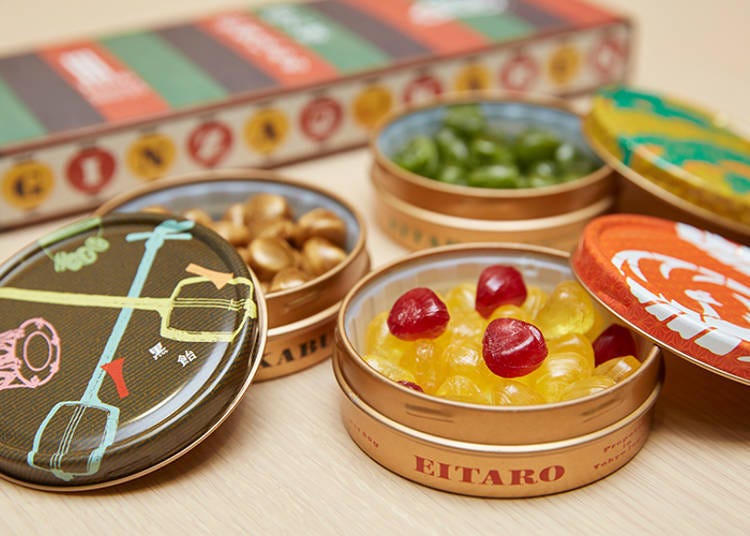 Butler: "This shop has a long history, going back to the year of 1818. To the people of Edo, candy was quite an expensive luxury, and the concept upon Eitaro's founding was to make candy affordable and enjoyable for everyone. With a concept like that you can easily imagine the shop being a huge success, right? Eitaro's candy is particularly famous for being made with the same technique that is was made in during the Edo period, allowing you to get a taste of history with one small bite. The shop also gained many a fan due to the colorful and vivid designs of their candy creations."
Butler: "...speaking of which, this is a little something from me for the both of you."

Holly: "Oh, a surprise! Thank you so much!"
Igarashi: "What, for me too?! Wow, thank you. I feel kind of bad though because I just tagged along..."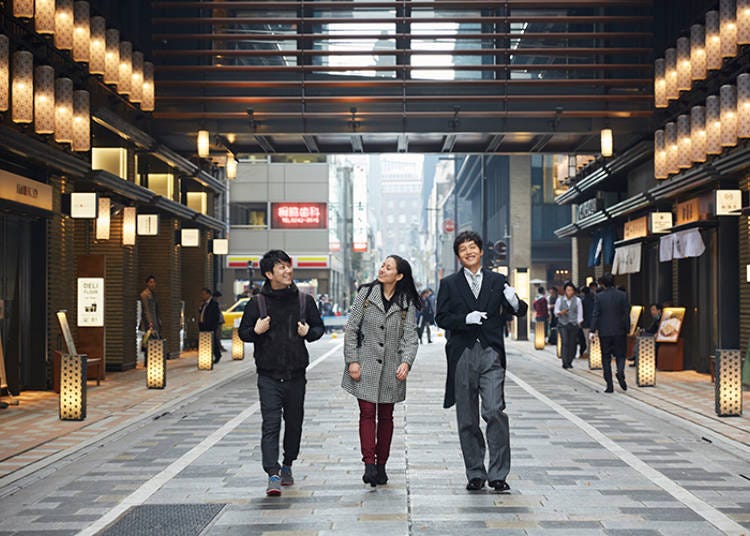 Butler: "So, how did you like Nihonbashi?"

Holly: "It was amazing! Nihonbashi is such a wonderful mix of tradition and modernity."
Igarashi: "As a Japanese, I thought it's a place that you visit once and that's it. Actually, though, Nihonbashi turned out to be a uniquely evolving neighborhood that is enjoyable to each and every one, regardless of how old they are or where they come from."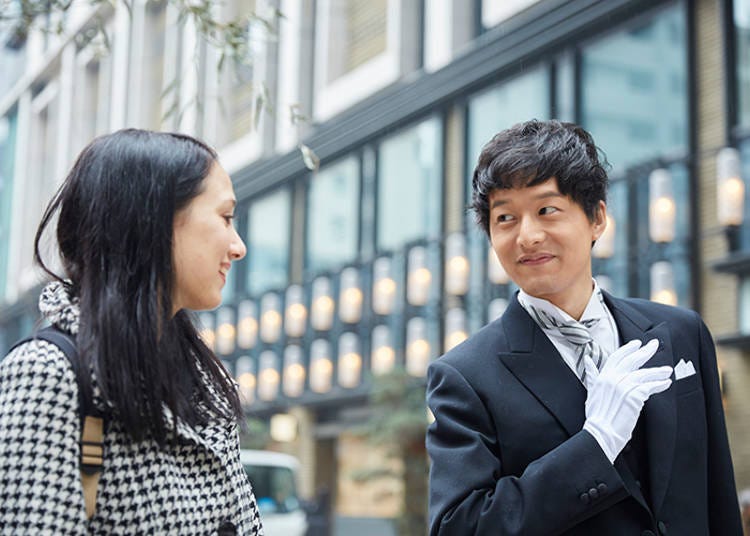 Butler: "Indeed, Nihonbashi keeps on evolving while maintaining its old traditions. In a way, you could say that Nihonbashi unites nostalgia and modernity like no other place could."

Holly: "As someone who wanted to see Japanese history and tradition first-hand, I have to say that Nihonbashi is just the perfect place for that! I loved the delicious tempura and enjoyed the candy shop as well, I really could feel the rich history of the neighborhood there. Thank you, I had such a wonderful time."
Igarashi: "Eating tempura while learning about history was nice, wasn't it."
Holly: "Yeah! And I was really surprised that there's a shrine in the middle of such a busy neighborhood."
Igarashi: "...that seems to help with gambling luck!!"
Holly: "Er... yeah."
Igarashi: "I don't think that there are many Japanese people who'd go to Nihonbashi just like that, but the food here is actually amazing and there are a lot of discoveries to be made all over the neighborhood. People should absolutely visit Nihonbashi more!"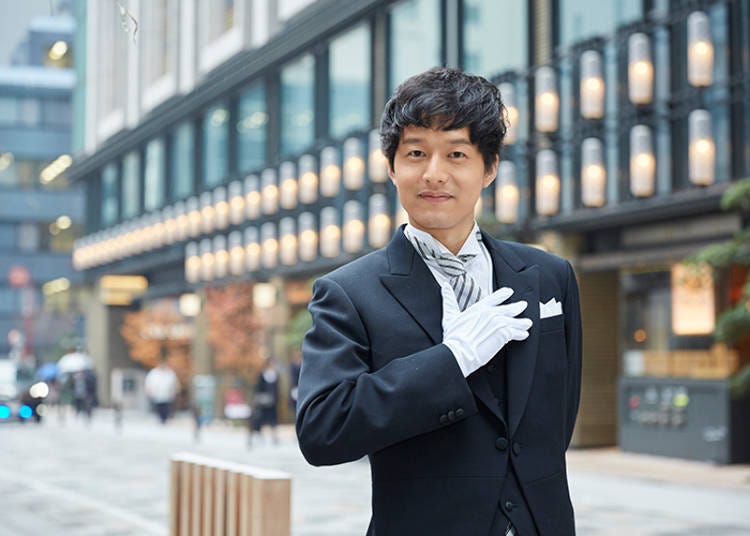 Butler: "I am happy to hear that I was able to convey the many charms of Nihonbashi to the both of you. But by all means, everyone, please don't hesitate to experience Nihonbashi for yourself!"
Today's Half Day Nihonbashi Tour:
天ぷらめし 金子半之助

Address

1-4-3 Nihonbashi-Honcho, Chuoh-ku, Tokyo

Nearest Station

Mitsukoshi-mae Station


Phone Number

03-6262-3734

Mon-Fri; 11:00-22:00 (21:30 Last call) / Sat-Sun,National holidays; 10:00-21:00 (20:30 Last call)
Fukutoku Jinja Shrine (Mebuki Inari)

福徳神社

Address

2-4-14, Nihonbashi-muromachi, Chuoh-ku, Tokyo

Nearest Station

Mitsukoshi-mae Station

Ameya Eitaro Nihonbashi Shop

榮太樓總本鋪 日本橋本店

Address

1-2-5, Nihonbashi, Chuo-ku, Tokyo

Nearest Station

Nihonbashi Station


Phone Number

03-3271-7785

Mon-Sat; 9:30~18:00
Service Shots of the Mysterious Butler, Snapped by Igarashi (What a Weird Guy...)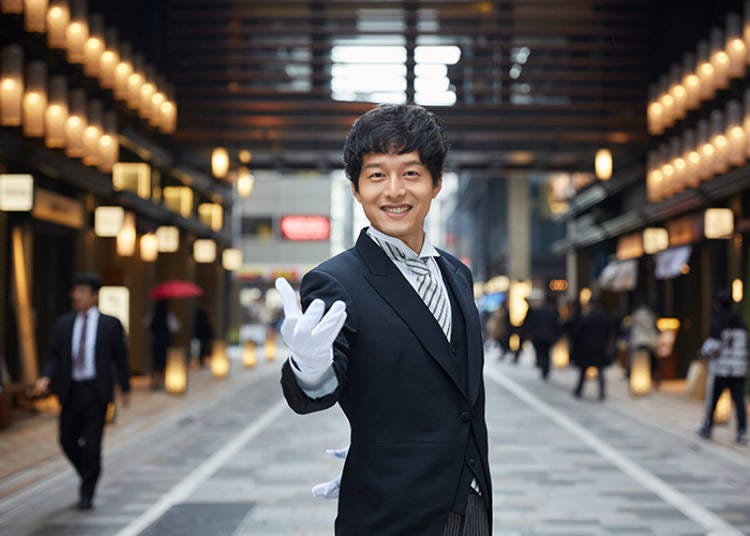 On the plaza called Fukutoku no Mori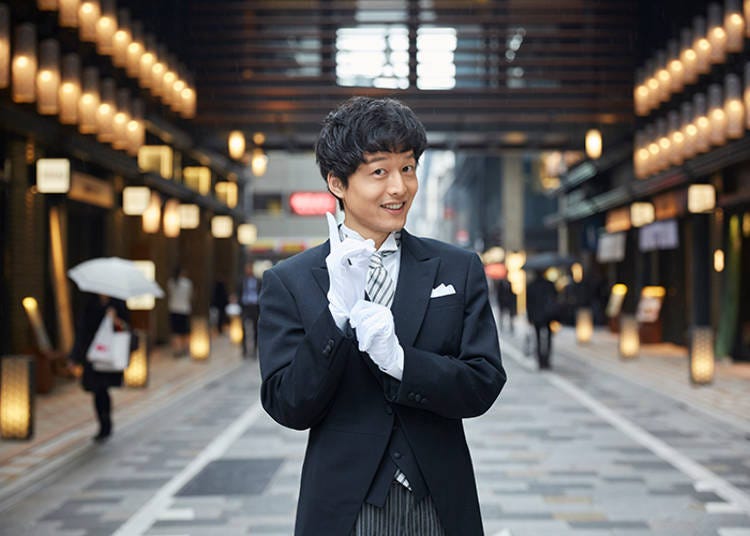 On the plaza called Fukutoku no Mori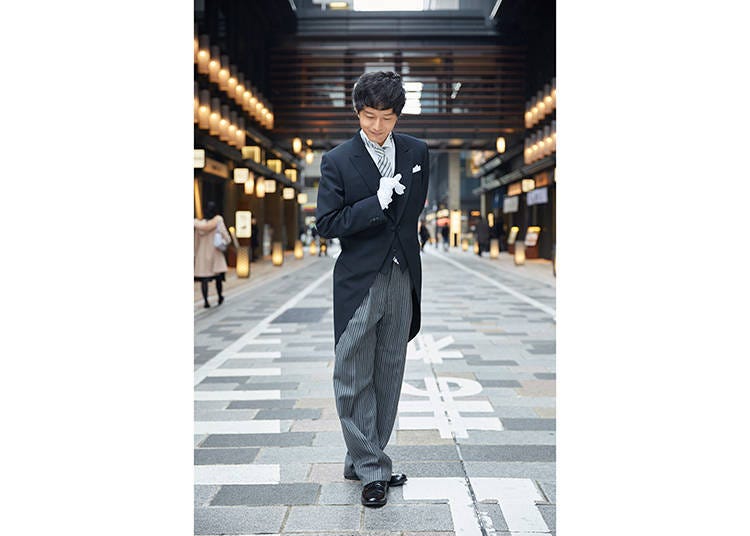 On the plaza called Fukutoku no Mori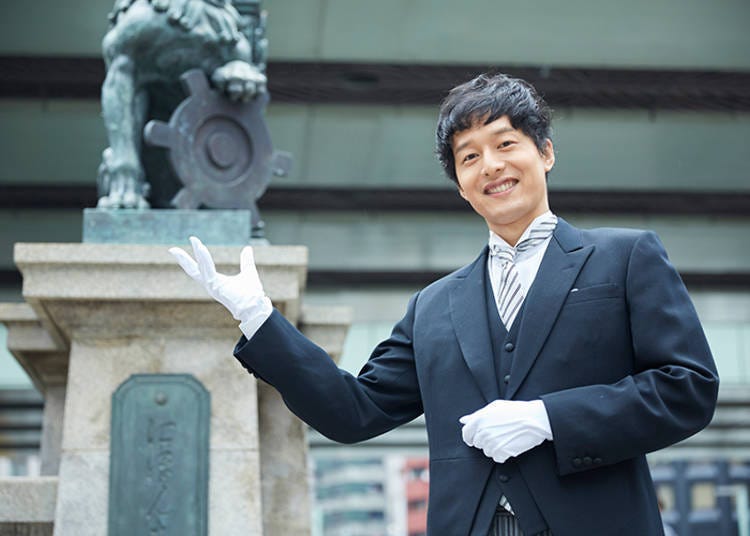 In front of the Kirin statue on the Nihonbashi Bridge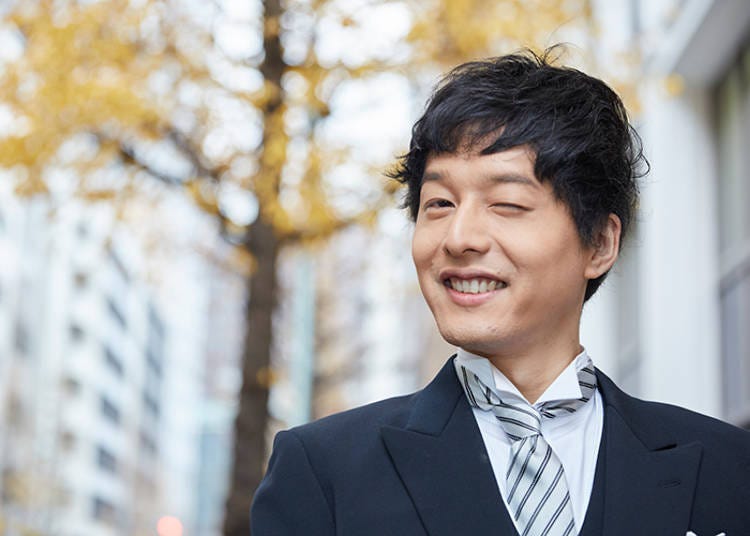 On the tree-lined boulevard in front of Eitaro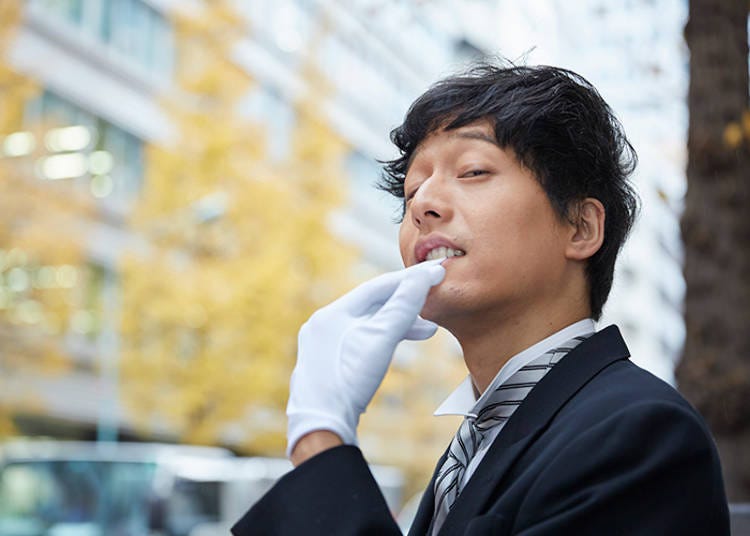 On the tree-lined boulevard in front of Eitaro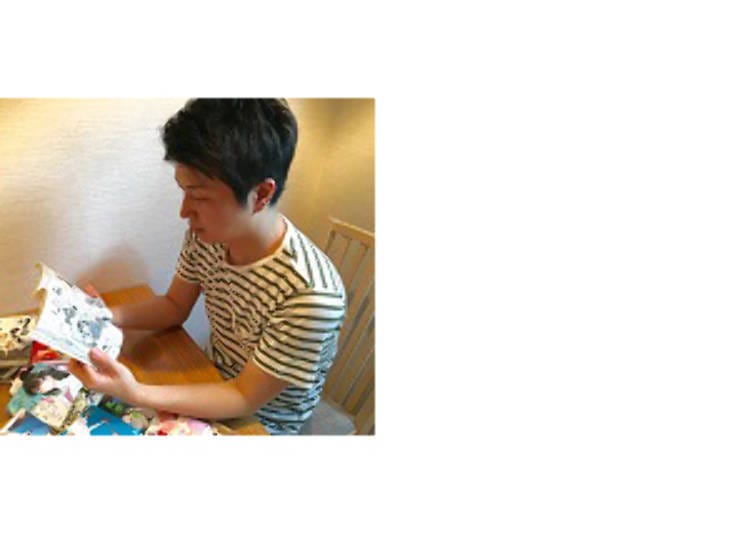 Dai Igarashi
I am a freelance writer and editor born in '83. My hobby is to loaf around while reading manga. From survival and death game to adorable shojo, I enjoy all kinds of genres.
*This information is from the time of this article's publication.
*Prices and options mentioned are subject to change.
*Unless stated otherwise, all prices include tax.