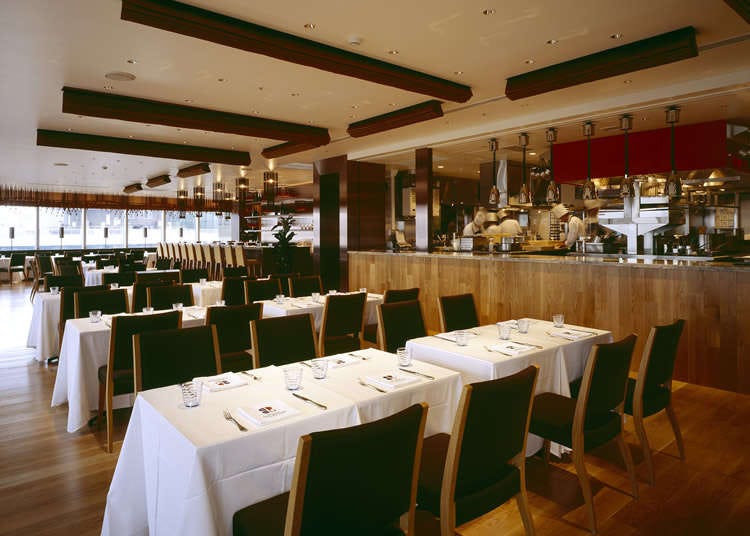 Ginza is famous among tourists and locals as a high-class shopping spot but it is also a heaven for gourmets: well-established restaurants, many awarded with Michelin stars, serve all kinds of delicacies to their guests.

Let us introduce you to the six best French and Italian restaurants that are sure to become your favorites in Ginza.
1. Brasserie Paul Bocuse Ginza: Elegant and Chic - The Very Spirit of Ginza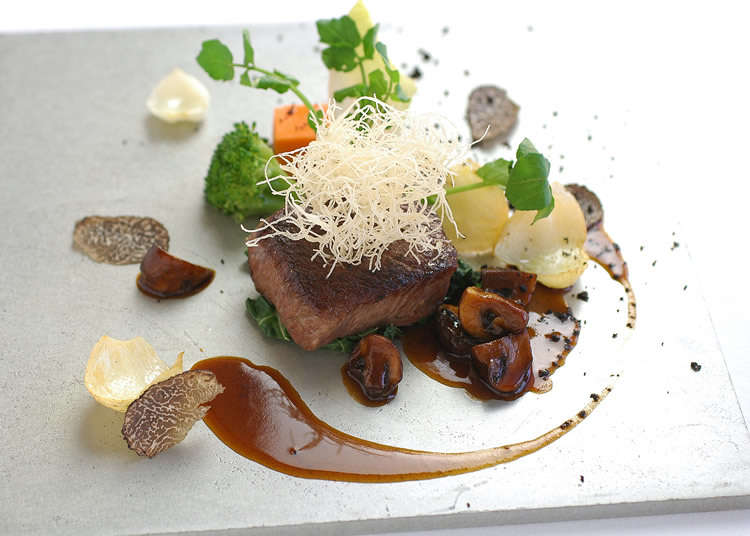 Baccarat chandeliers light the restaurant, all designed in black and silver, making Argent ASO the very manifestation of Ginza's spirit: elegant, modern, and exquisite. The Italian delicacies and the restaurant's unique atmosphere are enjoyed by various Japanese celebrities on a regular base. Appetizers, pasta, a pre dessert, a dessert, and coffee are included in the lunch menu "Giornata" for 3,800 yen (tax and service charge excluded), along with the more extravagant dinner menu,"Stagione" at 12,000 yen. Since there are both private rooms and kids' menus, Argent ASO can be enjoyed by the entire family.
Authentic French Cuisine in a Casual Setting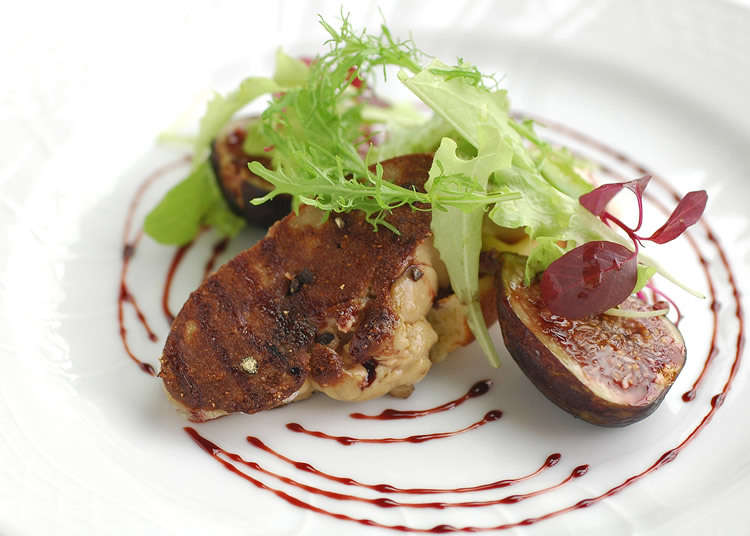 The brasserie founded by Monsieur Paul Bocuse, a luminary of French cuisine, invites guests to stay and enjoy a laid-back, authentic French experience. With the concept of "talking table", the brasserie offers simple but delicious French dishes that you simply won't get enough of. During weekdays, the lunch set is available for 1,800 yen (tax excluded), making this excellent French culinary experience particularly affordable.
BRASSERIE PAUL BOCUSE GINZA

ブラッスリー ポール・ボキューズ 銀座

Address

MARRONNIER GATE 10F,2-2-14 Ginza, Chuo-ku, Tokyo 104-0061
2. GINZA Italy Tei: At Mamma's Table - The Real Taste of Italy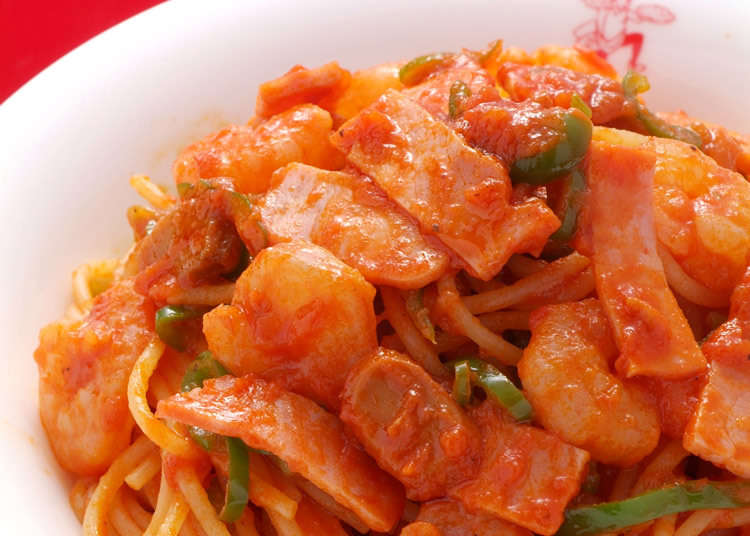 Founded in 1953, Italy Tei stands in one of Ginza Itchome's back alleys that, smelling the delicious aroma of authentic Italian cuisine, is almost reminiscent of Rome itself. The restaurant, which also has a basement floor, gives off a nostalgic retro atmosphere and look, befitting the traditional Italian dishes served. No matter how many times you eat here, you will never tire of the classic tastes. Especially popular is the "shrimp and vegetable Napolitan" pasta as well as the delicious pizza. Apart from single orders, there's also a course available from with a free drink included, for a reasonable price of 5000 to 7000 yen.
銀座イタリー亭

Address

1-6-8 Ginza, Chuo-ku, Tokyo 104-0061
3. LA BETTOLA da Ochiai: The Hardest Place in Japan to Secure a Reservation!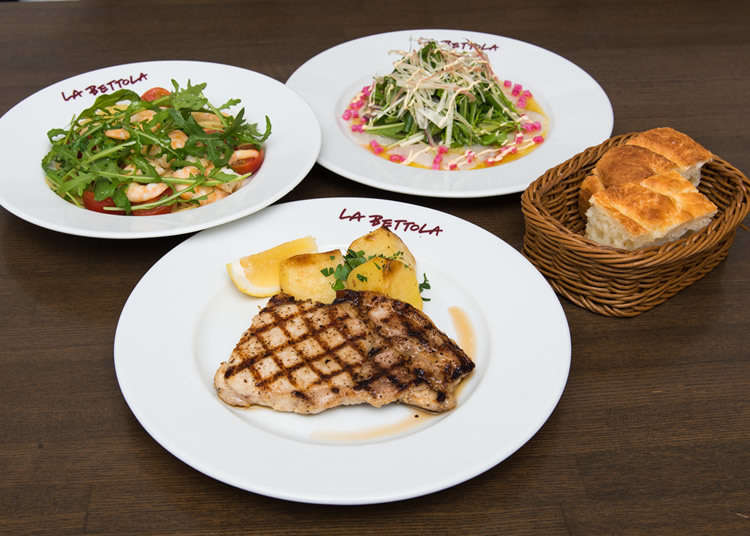 The owner of this immensely popular restaurant is none other than Tsutomu Ochiai, a pioneer of Italian cuisine and the current chairman of the Associazione Cuochi Cucina Italiana, or "Association of Chefs of Italian Cuisine". Known as "the hardest place in Japan to get a reservation for" throughout the media, over 40 creative and delicious dishes are on the menu, such as the spaghetti with fresh sea urchin.

The entire menu is made with the freshest of ingredients, from seafood to fruits of the land. And apart of the extremely delicious cuisine, the prices of La Bettola da Ochiai are amazingly reasonable: Lunch's "A Course" costs 1,296 yen, and the dinner course, which includes an appetizer, pasta, and main dish is 4104 yen. As already mentioned, both lunch and dinner require prior reservations and you'll have to plan at least 2 months in advance. Take note that children younger than preschool age aren't allowed in the restaurant during dinner time.
ラ・ベットラ・ダ・オチアイ

Address

1-21-2 Ginza, Chuo-ku, Tokyo 104-0061
4. GINZA Aux Amis des Vins: Lunch During Weekdays for Only 1,100 Yen!
Aux Amis des Vins is a fusion between a restaurant and a wine bar, located inside a remodeled, detached house. Enjoy savoring exquisite wines or a full-scale course - the choice is entirely yours. Forty different wines can be enjoyed by the glass, and an amazing 500 bottles are up for order. Aux Amis' greatest offer is the weekday lunch, which is available for only 1,100 yen. It includes an appetizer platter, a soup sample, a main dish with either fish or meat, a small dessert, as well as a coffee.

Apart from the courses like the dinner course for 3,980 yen (tax excluded) a variety of dishes are also available à la carte. The authentic cuisine with amazingly delicious dishes such as "bone-in Yoshida pork roast" or "Port wine beef cheek stew" go wonderfully with the different wine varieties!
銀座オザミ・デ・ヴァン本店

Address

PV Building 2-5-6 Ginza, Chuo-ku, Tokyo 104-0061
*This information is from the time of this article's publication.
*Prices and options mentioned are subject to change.
*Unless stated otherwise, all prices include tax.