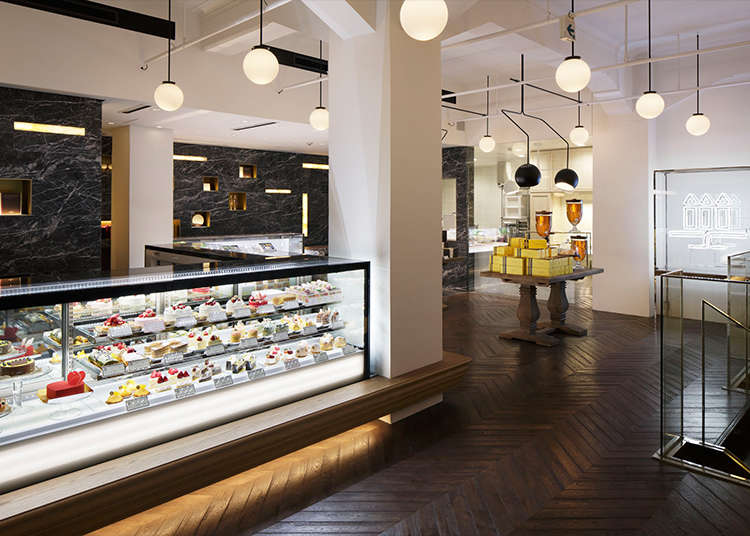 Ginza is an area where popular sweets shops gather. Let me introduce carefully selected sweets that you can takeout and eat while walking around during the free time of a sightseeing tour. You need to pick and aim at several shops because there are always a long queues for these shops.
Henri Charpentier, high-class confectionery shop
Ginza Maison Henri Charpentier is on Ginza Yanagi Dori, and it is famous for baked sweets. It is a popular shop with luxurious atmosphere just like a jewelry brand boutique and is a hot topic of conversation. At Salon de Te on the first basement floor, you can enjoy authentic desserts. At Bar Maison on the first floor, you can enjoy desserts with alcohol, and you can takeout baked sweets such as financier and madeleine, and fresh cakes from Boutique.
Ginza Honey Pie is limited to Ginza Maison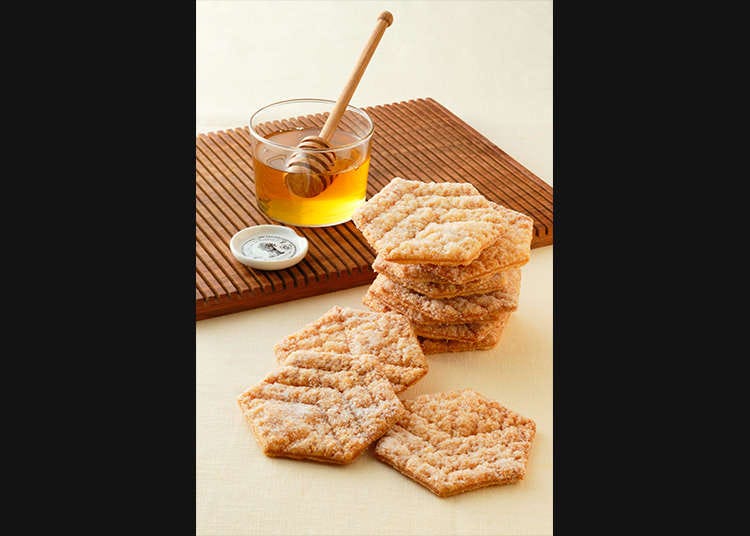 Ginza Honey Pie can only be purchased in Ginza Maison, although Henri Charpentier has 87 shops in Japan. It is made with 100% of rare honey of the bees in Ginza area. With the pies baked carefully at the kitchen in the shop, you can enjoy the exquisite harmony of sweet honey and cultured butter flavor.
Ginza Maison Henri Charpentier

銀座メゾン アンリ・シャルパンティエ

Address

2-8-20, Ginza, Chuo-ku, Tokyo, 104-0061, Japan
Ginza Maneken, authentic Belgian waffles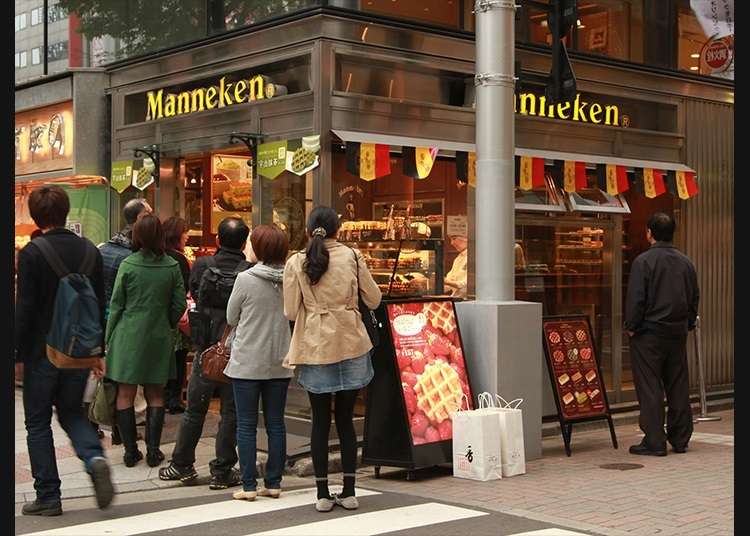 Ginza Maneken is a popular waffle shop near the intersection of Ginza 4-chome. Its sweet smell attracts the people passing by. With the first shop opened in 1986, it is the first and long-established shop to sell Belgian waffle in Japan. Its authentic Belgium waffle with pleasant aroma and distinctive chewiness is so popular that there is always a queue to buy them since they first opened their doors. You can buy from one piece, and the staff will wrap it in a paper for you to eat while walking.
Perfect waffle to eat while walking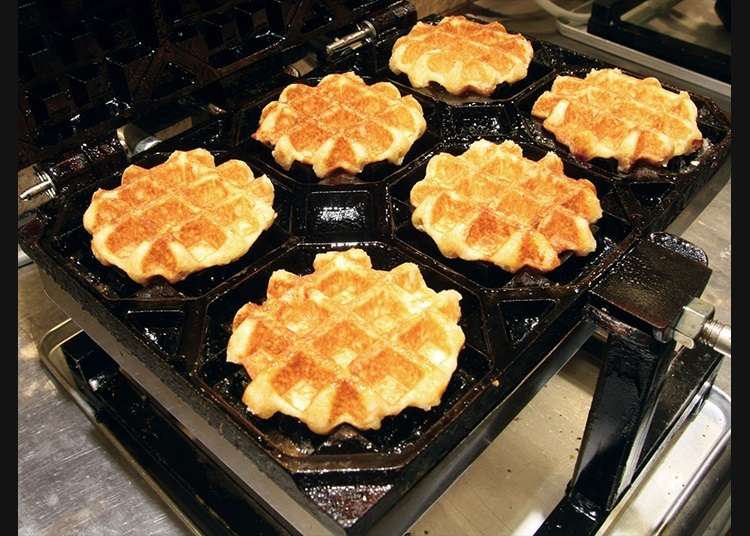 Their waffles are made from carefully selected ingredients. Dough is crispy outside and soft inside with Belgian pearl sugar kneaded into. As you chew, you can enjoy unique crispy texture. First, try a plain waffle. Various flavors are available depending on the season, so please try seasonal waffles when you visit the shop.
銀座マネケン

Address

5-7-19, Ginza, Chuo-ku, Tokyo, 104-0061, Japan
Ginza Kimuraya, long-established shop founded more than 140 years ago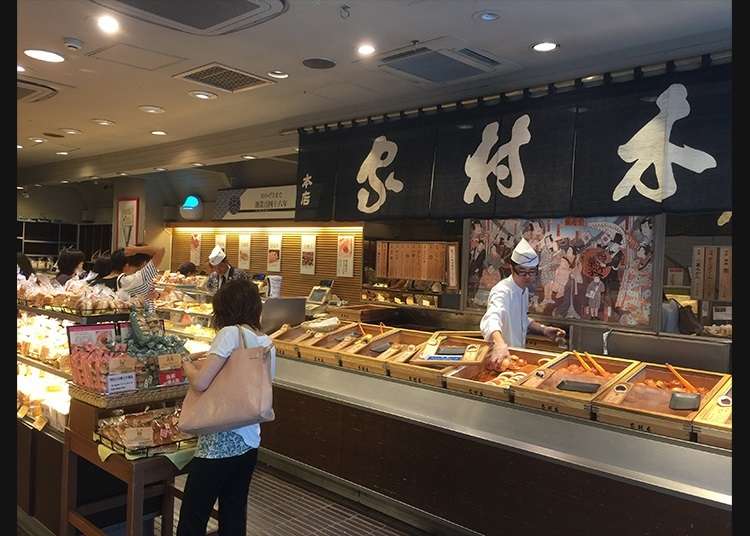 Kimuraya opened at Ginza 4-chome in 1874. At that time, bread was not familiar to Japanese, and in order to familiarize it, they invented anpan using the dough made from not yeast but sake yeast, and sweet azuki bean paste wrapped in the dough. Anpan, the mixture of Western culture and Japanese flavor, was originally made by Kimuraya. They sell other breads such as sweet buns and loaves. A drink set of two anpan, and pies using homemade bean paste are available at the cafe on the second floor.
Traditional anpan invented by the old-established shop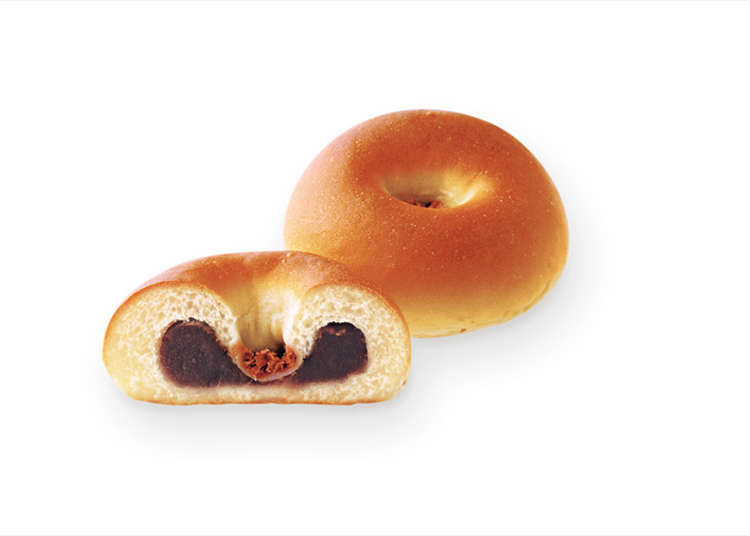 Sake Yeast Anpan has been the primary bread of this shop since its release, for over 140 years. The bean paste made in its unique production method has rich aroma and thick flavor, and it goes outstandingly well with dough. In addition to classic red bean paste, there are white bean paste and sweet green pea paste. An-butter bun, a combination of red bean paste and butter, is also popular.
銀座木村家

Address

4-5-7, Ginza, Chuo-ku, Tokyo, 104-0061, Japan
High-class Cake & Chocolate Shop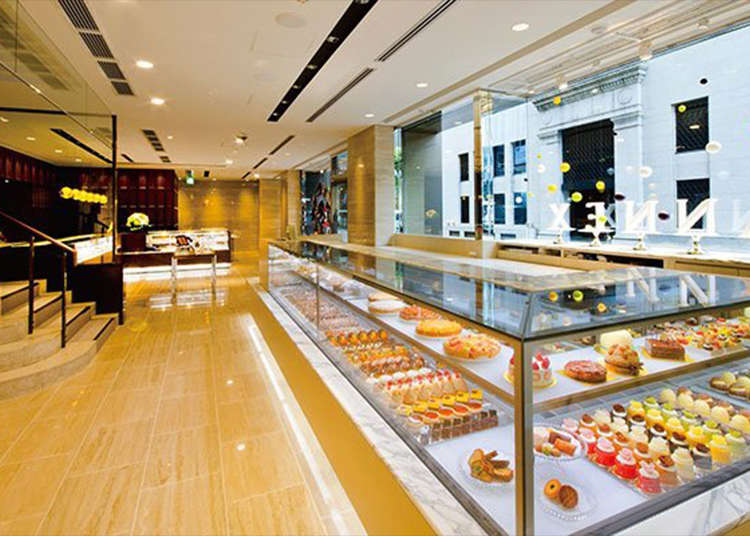 Cake & Chocolate Shop on the first floor of Wako Annex gathers and sells popular cakes and chocolates on one floor. Fresh cakes using a lot of seasonal fruits, sweets of seasonal limited flavor, and about 30 kinds of Chocolat Frais are always available in this elegant shop. The second floor is a tea salon, where you can enjoy seasonal desserts, galettes, and omelette rice as well as the cakes sold on the first floor.
Special chocolate drink with rich aroma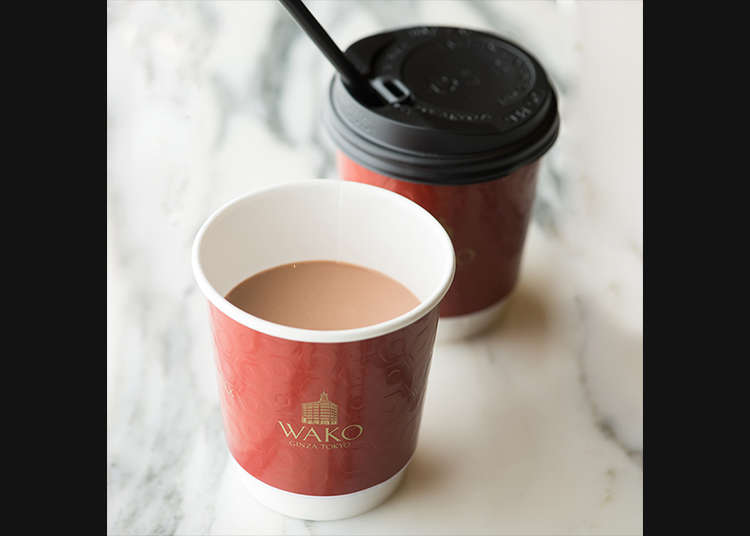 Wako's special chocolate drink. The drink menu of the tea salon on the second floor is popular because they can be purchased for takeout. There are two types, hot and cold, and you can enjoy their sophisticated sweetness. Recommended to those who love chocolate.
Address

4-4-8, Ginza, Chuo-ku, Tokyo, 104-0061
View Map

Nearest Station

Ginza Station (Tokyo Metro Ginza Line / Tokyo Metro Marunouchi Line / Tokyo Metro Hibiya Line)


Phone Number

03-5250-3102
Address

Kotani Building B1,1-6-6, Yuurakucho, Chiyoda-ku, Tokyo, 100-0006
View Map

Nearest Station

Hibiya Station (Tokyo Metro Hibiya Line / Tokyo Metro Chiyoda Line / Toei Mita Line)


Phone Number

03-3580-8989
*This information is from the time of this article's publication.
*Prices and options mentioned are subject to change.
*Unless stated otherwise, all prices include tax.