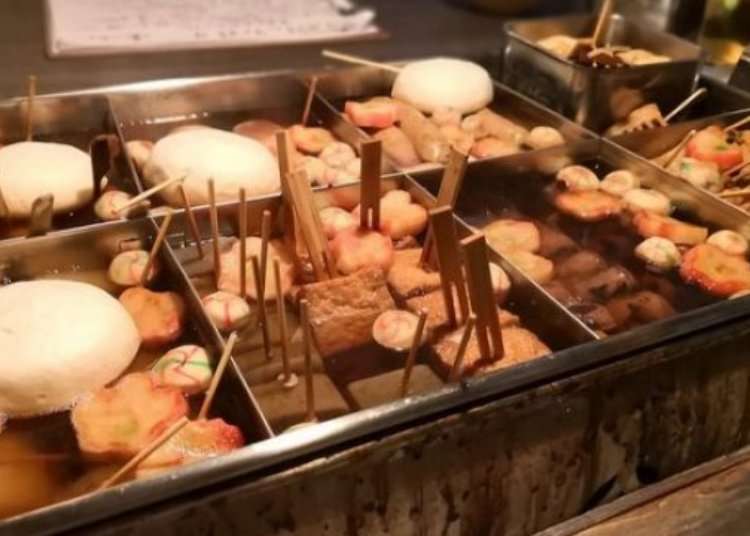 There is an Oden hot pot shop in Ebisu that has become the talk of the town lately! About a 1-minute walk from the West Exit of Ebisu Station, the Tokyo Oden Love Story shop is located behind the large Atre department store. This is a new-generation Oden shop with a unique character.

Here we'll not only give details about the shop, but also recommendations by the reporter who is an expert in Japanese sake.
Food Cart Inside the Shop: The Nostalgic Interior Will Impress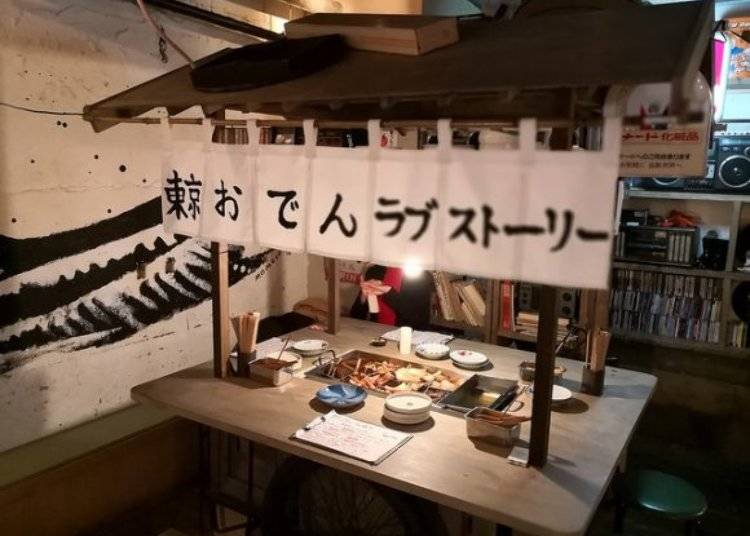 Three authentic yatai (food carts) brought from Gifu are used in place of tables.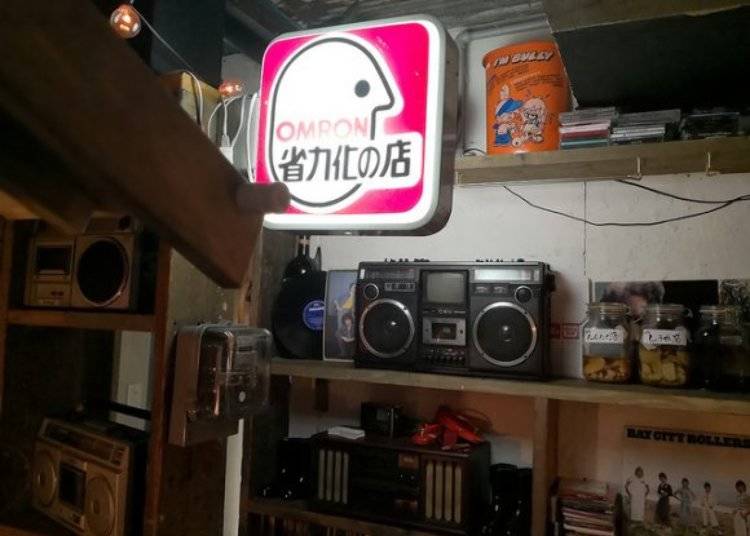 The interior is straight out of the Showa era. For people in their forties or older it evokes nostalgia and in the younger generations in their twenties and thirties a new retro feeling.
Self-service Using the Honor System - You Might Even Win Something!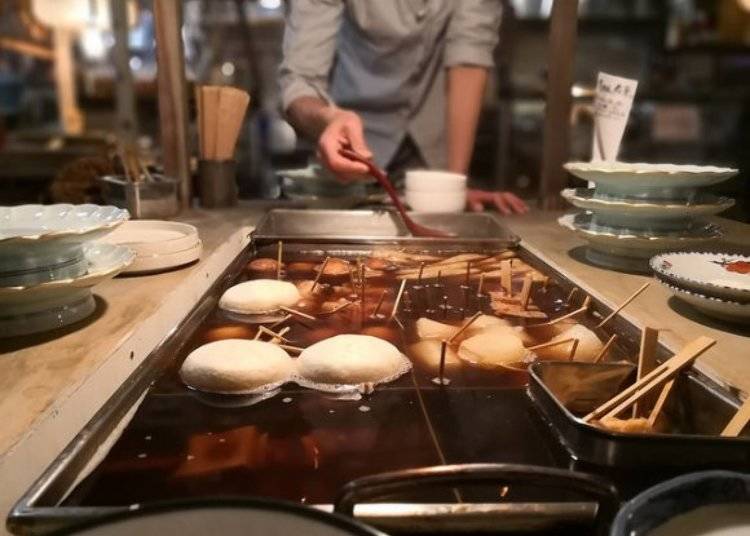 In the center of the cart the various oden ingredients swim in a rich bonito-base broth. Sitting around the cart you can freely take whatever you like as it is self-service. Just indicate on your individual sales slip what you take.
All of the ingredients are on skewers. If a skewer has a branded mark on it you win a prize, which by the rules, you must give to someone else. This is a good way to make new friends with customers sitting at adjacent cart-tables.
The standard ingredients are changed daily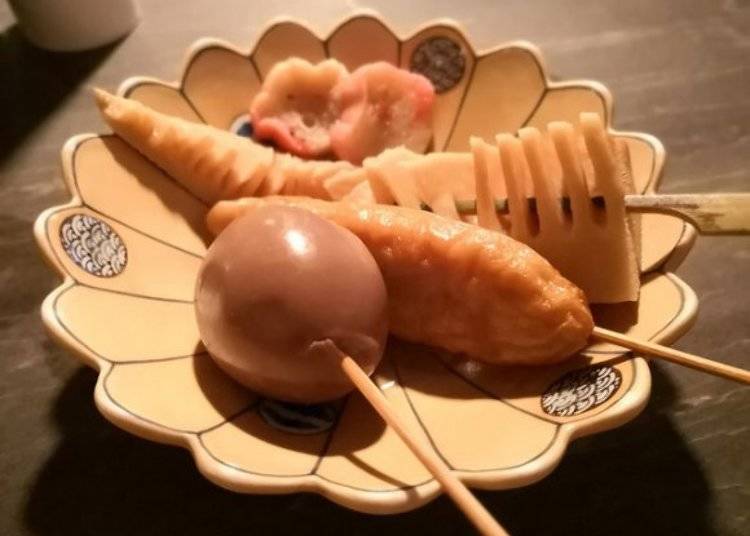 The main oden pot has more than 8 different types of ingredients at all times and depending on the season about two are changed daily for different kinds. One skewer will range in price from 200 to 300 yen which is quite reasonable. On this day the standard skewers included egg, daikon, and bamboo shoots. Tomatoes, which easily fall apart, can be ordered separately.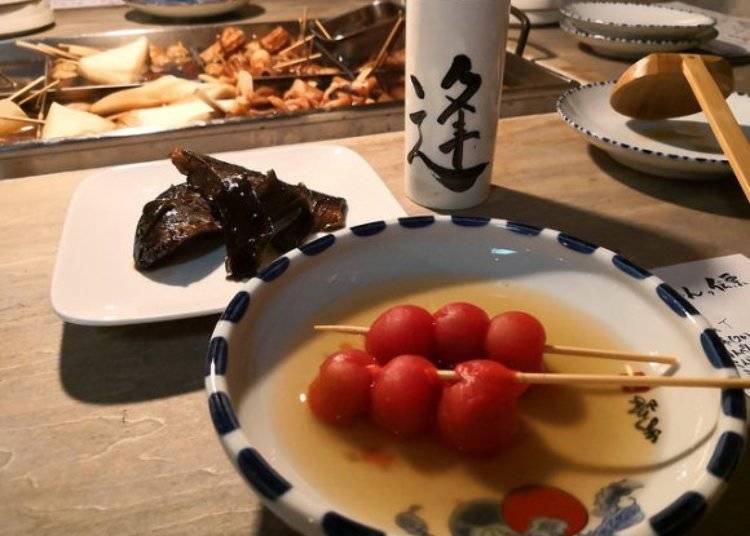 In addition to oden there are a number of side menus, too: mikaki nishin-ni (stewed sliced and dried herring), gyusuji no nikomi (stewed beef tendon), and dashimaki (soup stock rolls), all of which go perfectly with sake.

Normally when we think of oden we think of winter, but here they also serve cold oden in the summer. For a uniquely different and fun experience visit this oden shop and enjoy the delicious food.
And Don't Forget to Order a Splash of Sake to Go with It!
In addition to Japanese sake, other alcoholic beverages offered are beer, highballs, and homemade liquors, but I personally recommend the sake. The one you choose depends on what you feel like that day, and you might even go for a glass of one of the rare ones.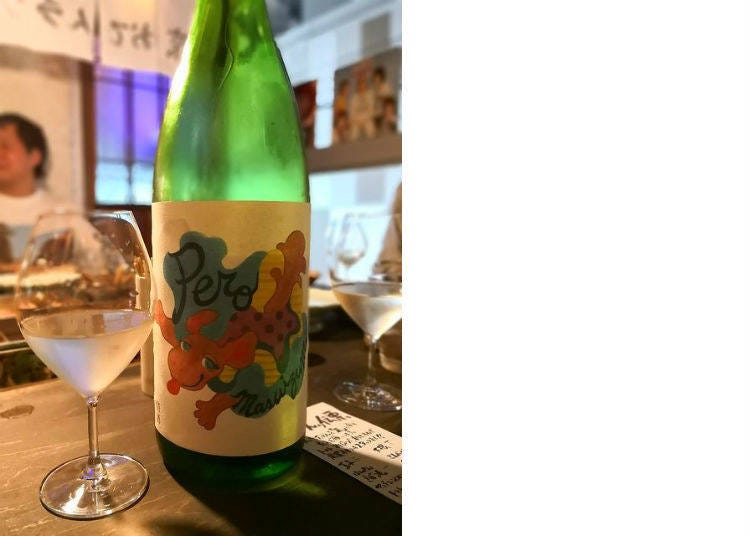 Masuizumi Pero Junmai Ginjo

It has an alcohol content of 12% and is light and sweet on the palate. This is an easy-to-drink sake and good for those who aren't accustomed to sake. The cute label was supposedly designed by the daughter of a famous musician couple.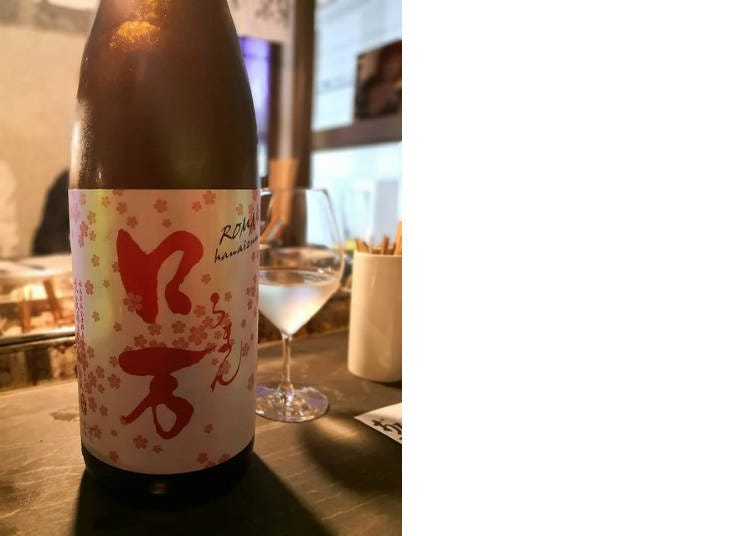 Hanami Roman Junmai Ginjo

This is a sake limited to the flower-viewing season of the very popular Roman series. The faintly sweet clean flavor and low alcohol content make this sake very easy to drink.
Handmade Soba: The Perfect Way to End a Night of Eating and Drinking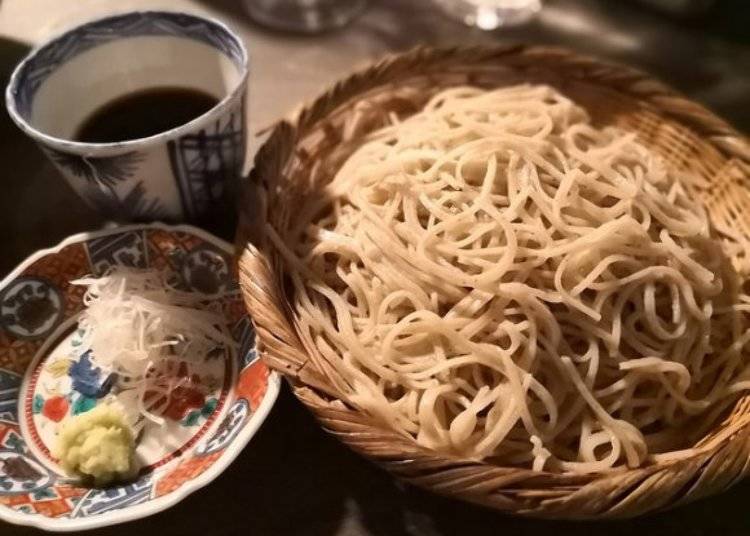 Shime, which literally means "to close", is the expression used to refer to a final dish at the end of a time of eating and drinking. The shime we recommend is the delicate soba made by the soba craftsman Oda-san who personally makes only thirty servings per day.
First taste the soba as it is to savor its inherent flavor which sweetly spreads throughout your mouth with the first bite. Then you can dip it in the tsuyu (sauce for dipping) and add condiments to give it a spicier flavor. The tsuyu enhances the sweet delicate flavor of the soba which is truly an exquisite dish.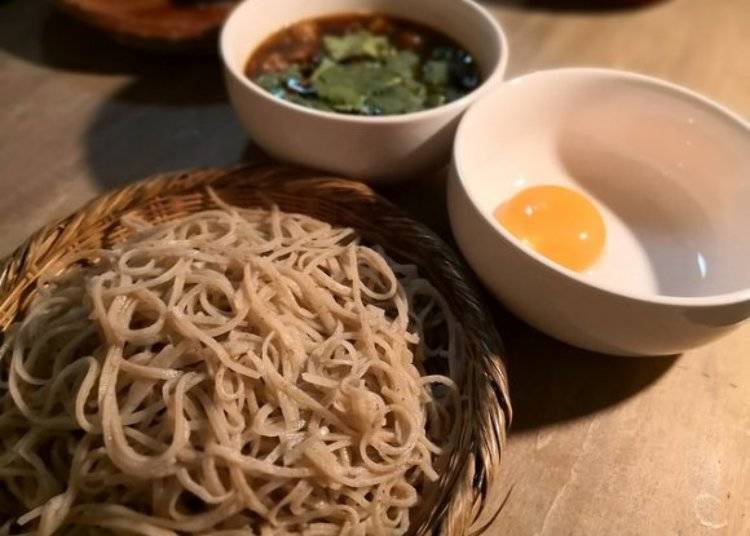 There are seven types of soba offered on the menu including kake (soba noodles in broth) and zarusoba (soba noodles served on a tray with tsuyu served on the side). Deciding which to order can be a daunting task as they all are inviting. If you want something simple, then try the zarusoba. If you are looking for balance, then try the bukkake soba (soba with broth poured over it). And if you want to try something a little different, you might enjoy the nikujirusoba (literally "meat juice soba") that comes with a raw egg and coriander.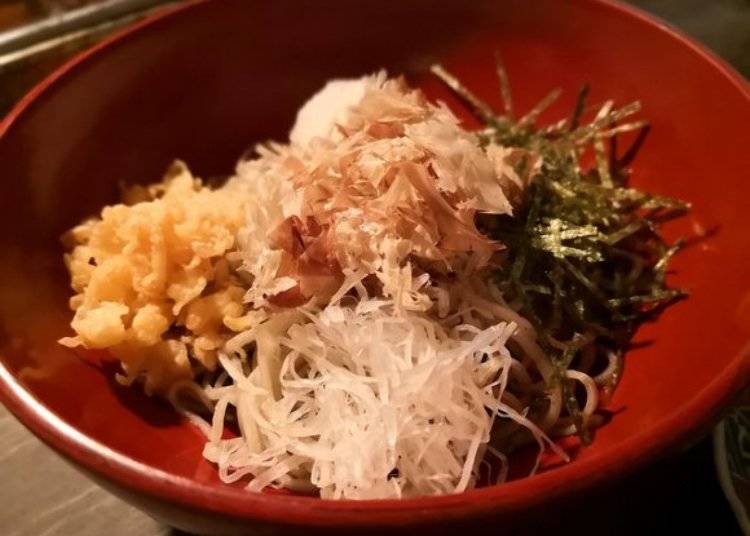 Where Old is New, a Famous Place Where Everyone Gathers in Ebisu
This is a new place where adults can take a break and nostalgically take in the atmosphere of the relaxed days of the Showa era, an oden shop with prize stamped skewers reminiscent of a dagashiya old-fashioned candy shop. Here it is easy to strike up a natural conversation with other customers and before you know it, find yourselves drinking happily together.

Whether you come alone or in a group, you will be able to find the perfect sake to have with the occasion in a traditional Japanese-style setting where you can relax and be yourself. More and more people are hearing of this place in Ebisu and coming daily and nightly to enjoy the food, drink, and atmosphere. The number of foreign visitors is also growing. This is where you can experience the flavor of home cooking typical of yesteryear Japan, which also goes especially well with sake. And it is no exaggeration to say that here, too, you can find the most delicious soba in Ebisu!
東京おでんラブストーリー

Address

〒150-0022 Tokyo, Shibuya City, Ebisuminami, 1 Chome−7−8

Phone Number

03-5708-5237
*This information is from the time of this article's publication.
*Prices and options mentioned are subject to change.
*Unless stated otherwise, all prices include tax.