A 3 minute walk from Meguro station. Meguro Gajoen has a relaxing and splendid atmosphere despite being in the middle of the city. We will introduce you to this treasure trove of modern Japanese-style paintings that is accessible with a great atmosphere!
Meguro Gajoen is rich in history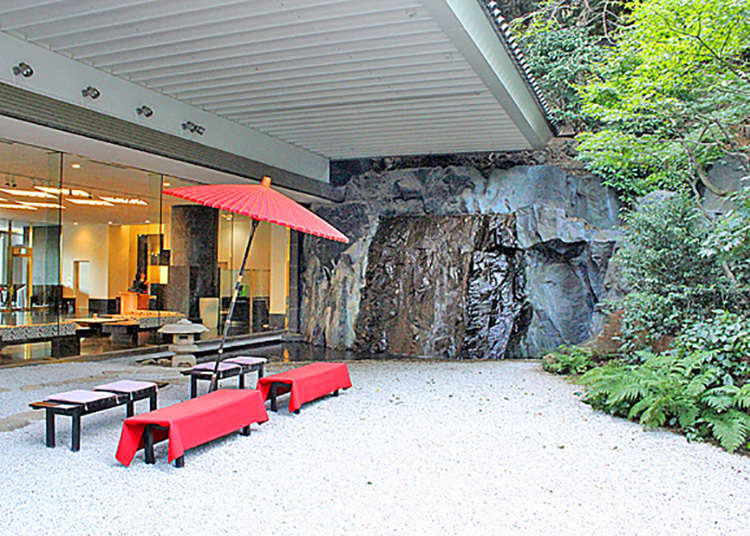 The name Meguro Gajoen comes from a Chinese saying that means "A place where a scholar and a hobbyist will not get bored of even after a whole day". Like its name suggests, it is an attraction with detailed designs to be found all over the structure, and is fun to just walk around.
Colored wooden panels along the corridors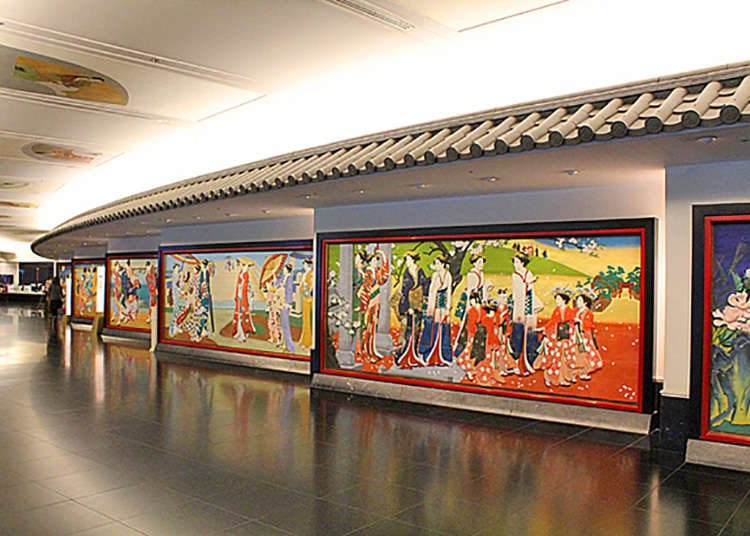 Upon passing the entrance, the corridor, or the first highlight will appear. The walls are decorated with colored wooden panels that were displayed during the opening of Meguro Gajoen in 1931. The colored boards are wood carvings from trees that were painted over, and you can tell that they are 3D upon closer inspection. The corridor, approximately 100 meters long, lined with vibrantly colored wooden panels is a masterpiece. Furthermore, don't forget to look up. Images of gorgeous beauties are drawn on the ceiling.
Maneki-no-Omon (the large gate of invitation)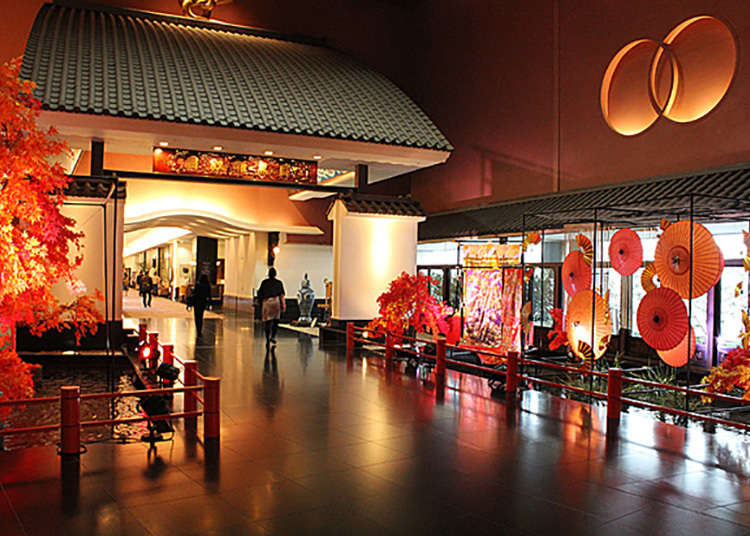 Upon walking through the corridor, Maneki-no-Omon will appear amidst an atmosphere of mystery. This gate was transferred over from the old Meguro Gajoen. There are knotted decorations above the tiled roofs which symbolize success in love. There are also detailed decorations to be found behind the gate and on the ceiling. Do look out for them.
Upon crossing the bridge is...?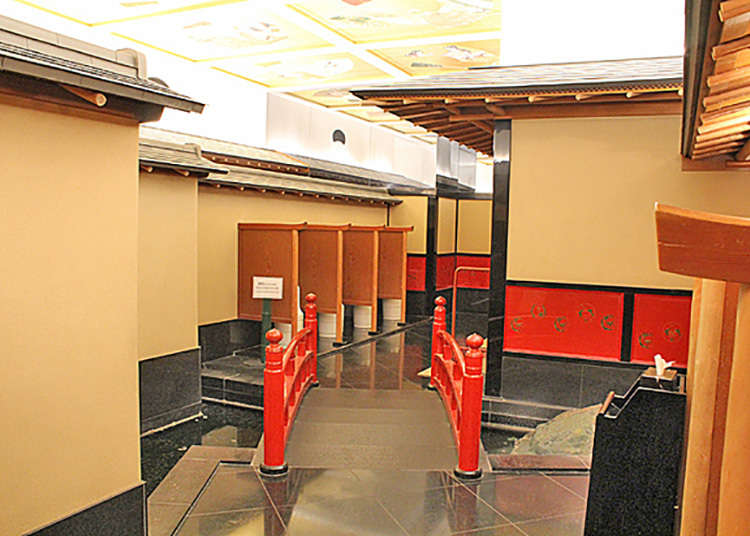 Beyond Maneki-no-Omon is not a rest area, but in fact the men's restroom! It is a reproduction of the famous powder room that was in the old Meguro Gajoen, and the interior is luxurious, with things like a bridge inside it. The stalls are so amazing and relaxing you won't want to leave either.
A waterfall in the heart of the city!? Strolling around the back area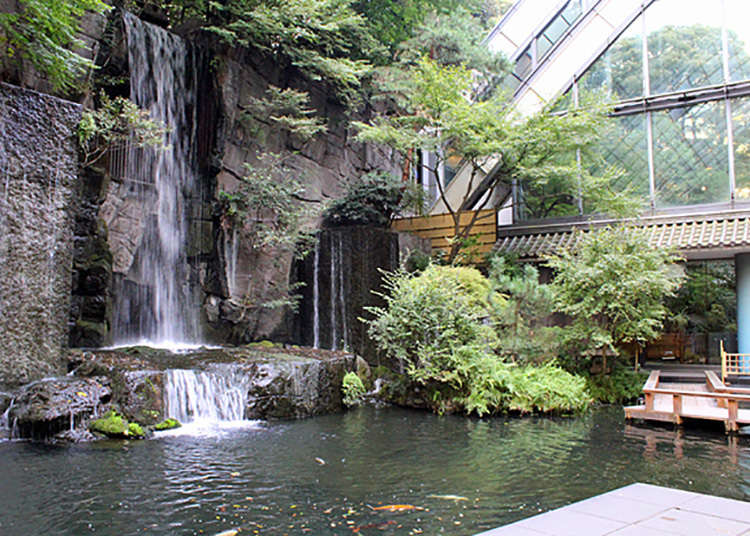 Leaving Maneki-no-Omon, you will here the roaring sounds of a waterfall after passing the entrance of the restaurant to enter the courtyard. There lies a dynamic waterfall that you can barely believe lies in the heart of the city. There is also a mini-strolling course behind the waterfall, so do try that out too.
A fascinating rotary table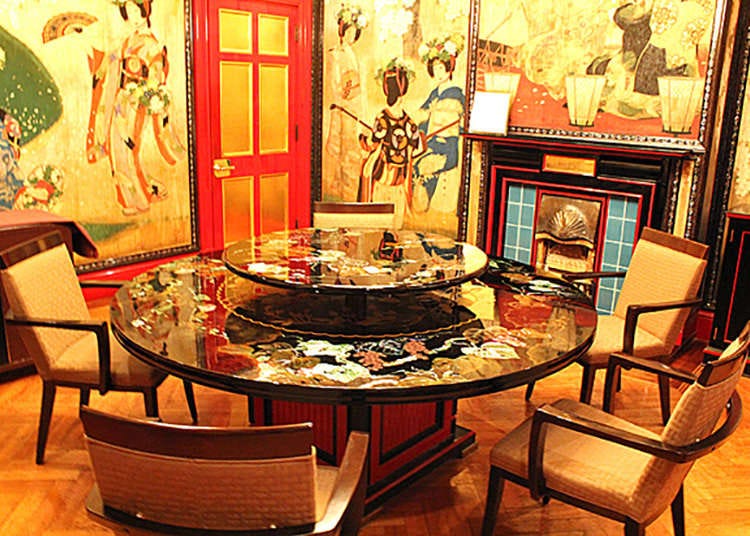 This is a special private room Gyokujo in Shunyuki, a Chinese restaurant located inside Meguro Gajoen. You may be attracted to the fancy drawings of beautiful women that line the walls, but pay attention to the round table! On the table is a rotary table that is often seen with Chinese cuisine. This is the first restored rotary table. The surface of the rotary table is majestically, yet meticulously decorated with shining gold foil and vivid pearls, and looks like an art piece, but is in fact used when dining.
The breathtaking Hyakudan Kaidan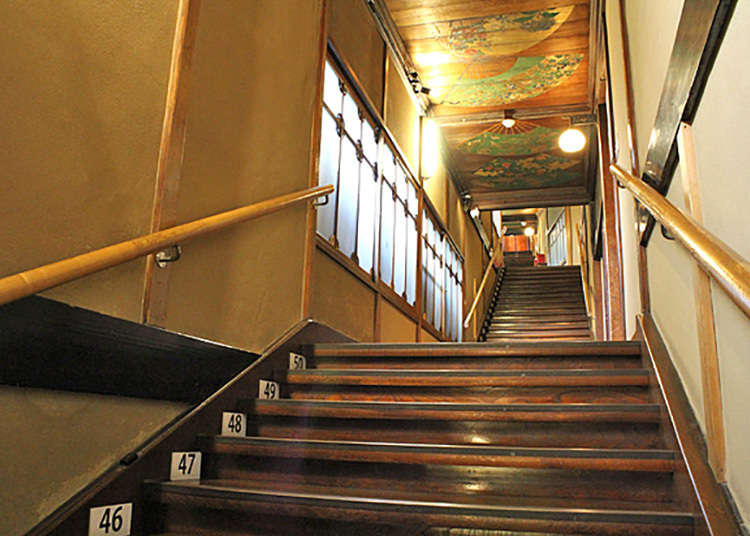 Hyakudan Kaidan is a tangible cultural property of Tokyo that you can visit during exhibition events or study tours. You can tell that the stairs draw a gentle curve as you peer up from the bottom. It is said that it was designed this way to help tipsy guests from banquets held here to be able to go down the stairs without being afraid. The Hyakudan Kaidan is linked to 7 rooms. When it first opened, banquets were held in the rooms, apart from the topmost one. Works of famous artists like Itakura Seiko and Hashimoto Seisui are displayed here.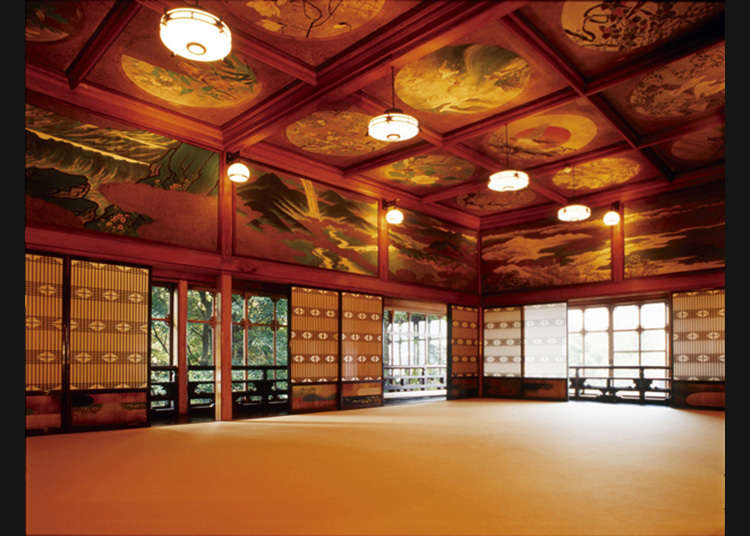 The highlight of Hyakudan Kaidan is the whole stretch, from the top to the bottom! That's how grand it is. We can't introduce everything, but here are some of the things to look out for! Firstly, the handrails and windows of Sokyu-no-Ma.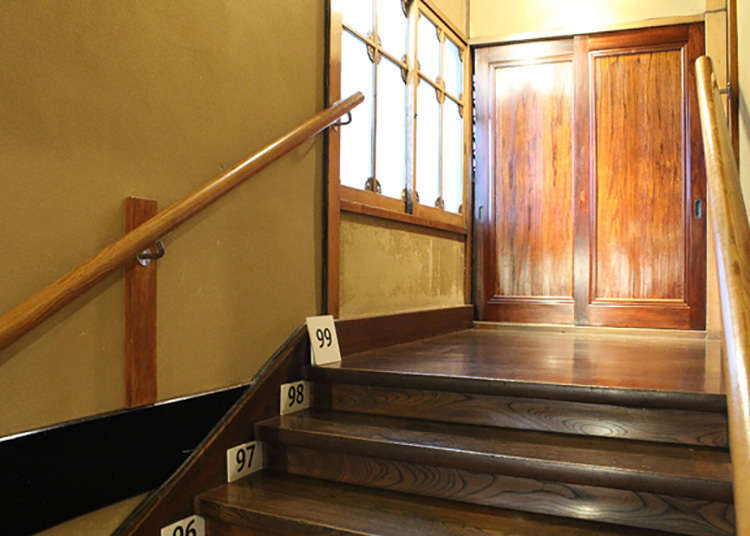 There are actually 99 steps to the top of the Hyakudan Kaidan (Hyakudan Kaidan means "100-step staircase"). There are theories as to why it is missing a step, such as to show that it is a step away from the full moon, or that there is room for improvement.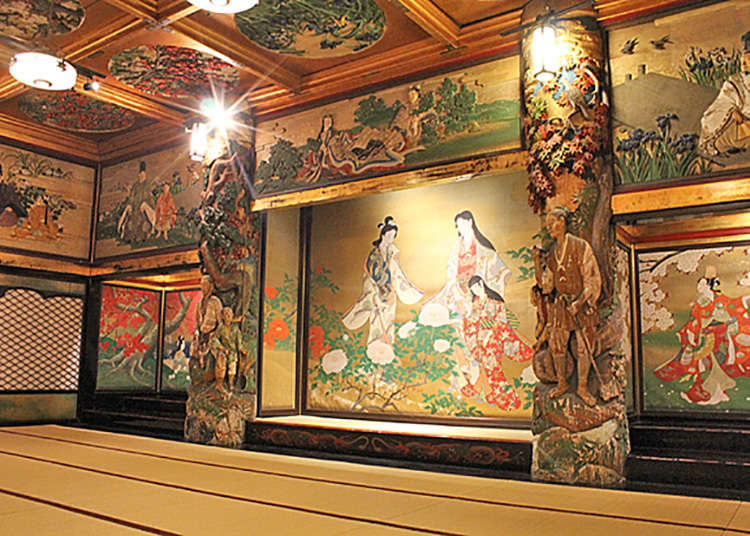 Out of the 7 rooms at Hyakudan Kaidan, Gyosho-no-Ma will have your eyes glued to how grand and elaborate it is. You will be surprised by the high level of technology, such as a pillar decorated with a 3D engraving of a tree.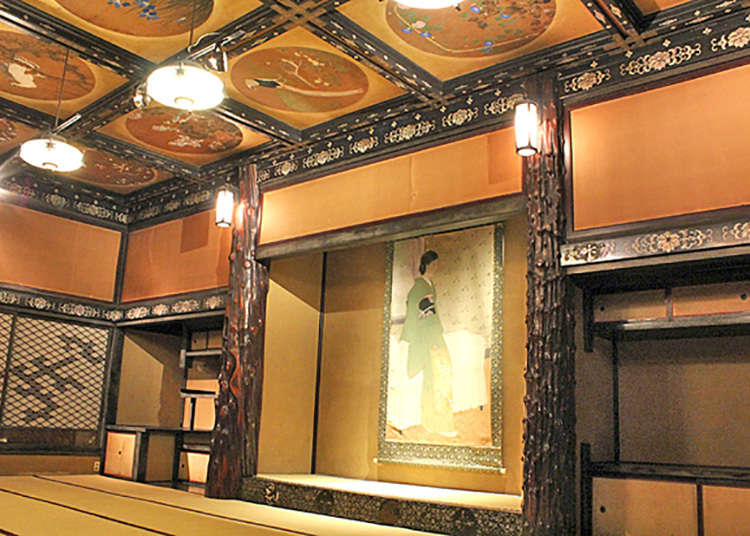 The deeply somber, yet majestic Jippo-no-Ma. This room features paintings of flowers and birds from the four seasons by Araki Jippo, a Japanese artist. In fact, so many that you will never feel like there is enough time to appreciate everything. By the way, apart from the things introduced here, Meguro Gajoen offers affordable lunches and original sweets at their hotel shop, maison G TOKYO, as well as various other attractions. It is a place you will want to visit every time you come to Tokyo.
Address

1-8-1, Shimomeguro, Meguro-ku, Tokyo, 153-0064
View Map

Nearest Station

Meguro Station (JR Yamanote Line / Tokyo Metro Namboku Line / Toei Mita Line / Tokyu Meguro Line)
3 minutes on foot


Phone Number

03-3491-4111
*This information is from the time of this article's publication.
*Prices and options mentioned are subject to change.
*Unless stated otherwise, all prices include tax.