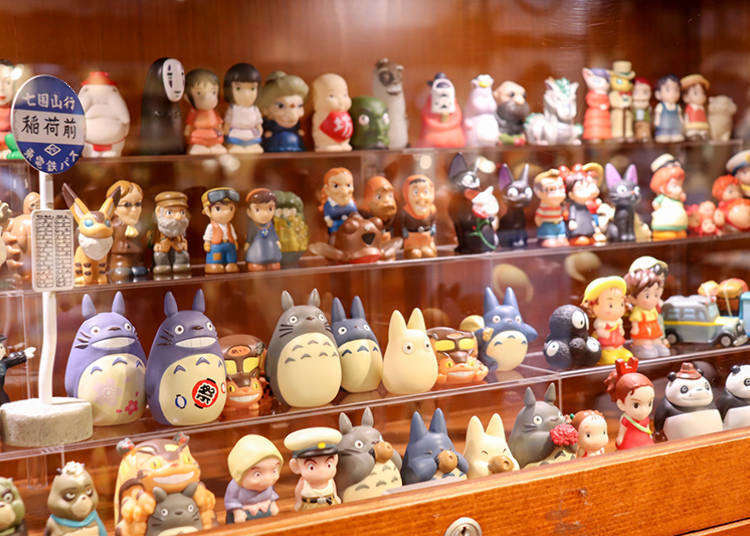 When looking for Studio Ghibli and Hello Kitty merch, Asakusa is the place to go! This area is a popular destination for many foreign tourists coming to Japan. While there are many sightseeing spots such as Sensoji and Tokyo Skytree®, Asakusa is also home to several character merchandise shops here selling all kinds of unique items.

Here, we'll introduce some of the popular character shops in the Asakusa area. We'll be introducing some goods limited to Asakusa that you won't be able to resist buying.

From Totoro, one of Studio Ghibli's creations, to Holland's Miffy the rabbit, and of course the famous Hello Kitty, be sure to add these shops to your Tokyo bucket list!

© Studio Ghibli
Illustrations Dick Bruna © copyright Mercis bv,1953-2020 www.miffy.com
©1976, 2020 SANRIO CO., LTD. TOKYO JAPAN
1. Donguri Republic Solamachi (Ghibli Store): Limited Edition Totoro Goods!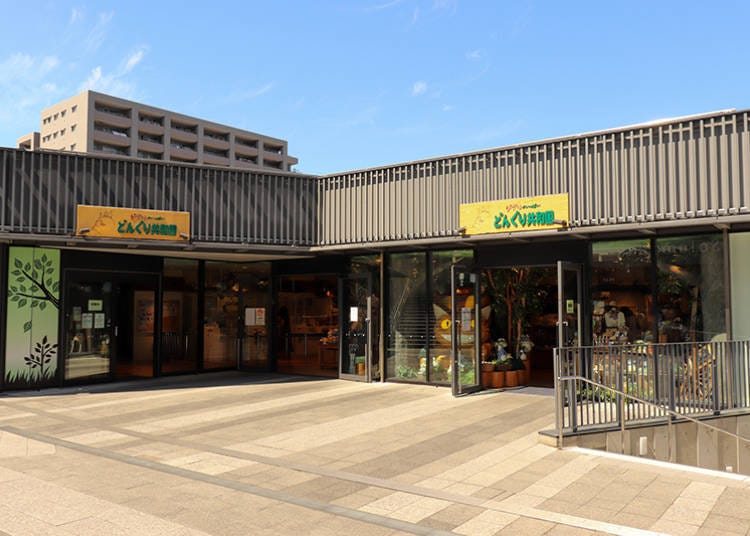 © Studio Ghibli
First up, we'll be introducing Donguri Republic Solamachi shop. It's located in a corner of Tokyo Solamachi, the huge shopping complex at the foot of Tokyo Skytree®.

From My Neighbor Totoro to Kiki's Delivery Service and Spirited Away, Donguri Republic has a wide array of goods featuring characters from the animated works by Studio Ghibli.

Out of all the other outlets, the one in Solamachi is the largest official Ghibli merch shop in the greater Tokyo area.
© Studio Ghibli
You can feel the warmth of wood in the shop's interior, and it's a relaxing space. The moment you enter the shop, you'll be greeted by a huge Totoro, from the film My Neighbor Totoro. You can take photos next to it as well, and it's the dream photo spot for Totoro fans.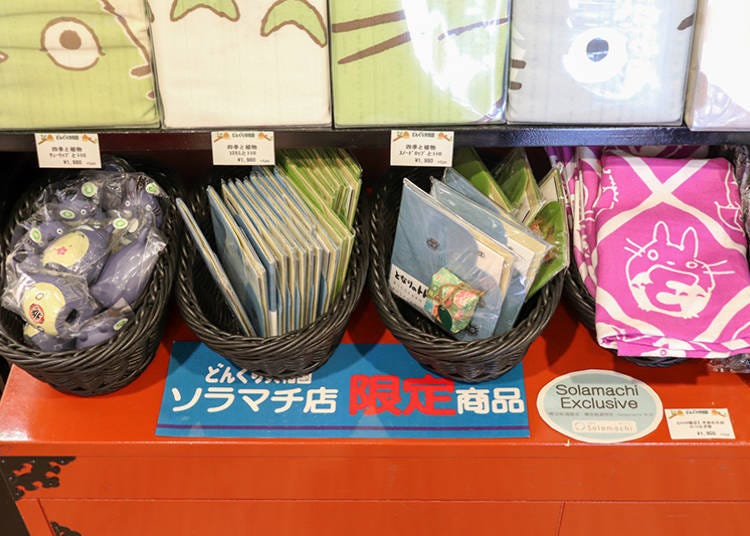 © Studio Ghibli
There are four items that you can get only at the Solamachi shop and nowhere else. We've compiled this list to make it easier to find them in the shop.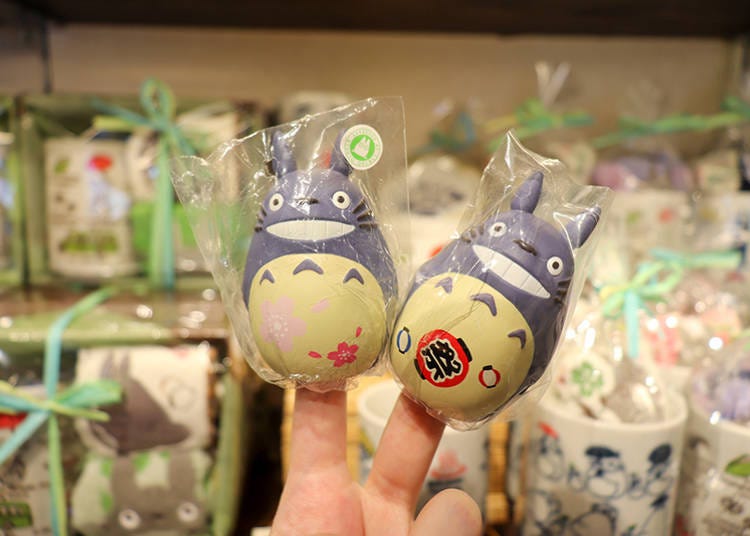 © Studio Ghibli
The first item is the large Totoro finger puppet, with two designs at 500 yen each (without tax). The patterns on its stomach depict cherry blossoms and festivals, or matsuri, on them, both of which are reminiscent of Asakusa. Both designs are exclusive to this shop.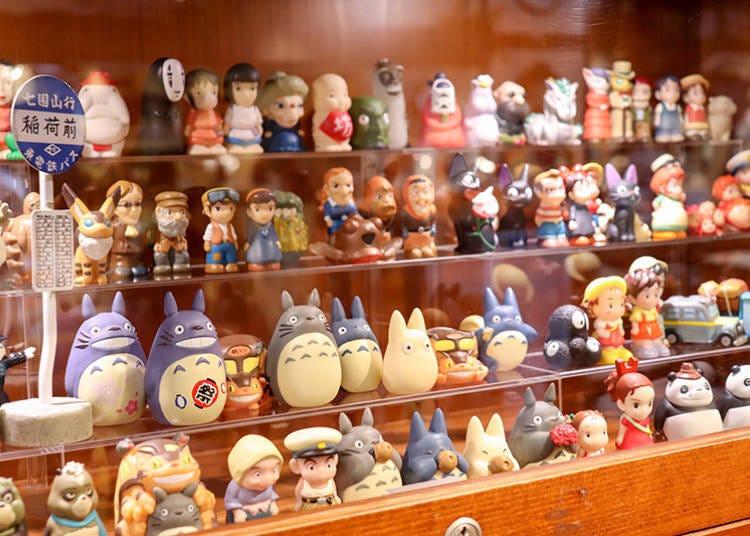 © Studio Ghibli
There's a surprisingly large variety of finger puppets available, including items that can be found at other shops as well. Regular items cost 300 yen each (without tax).

Characters from My Neighbor Totoro, Spirited Away, Kiki's Delivery Service, and <Nausicaa of the Valley of the Wind|i@> are all turned into adorable finger puppets.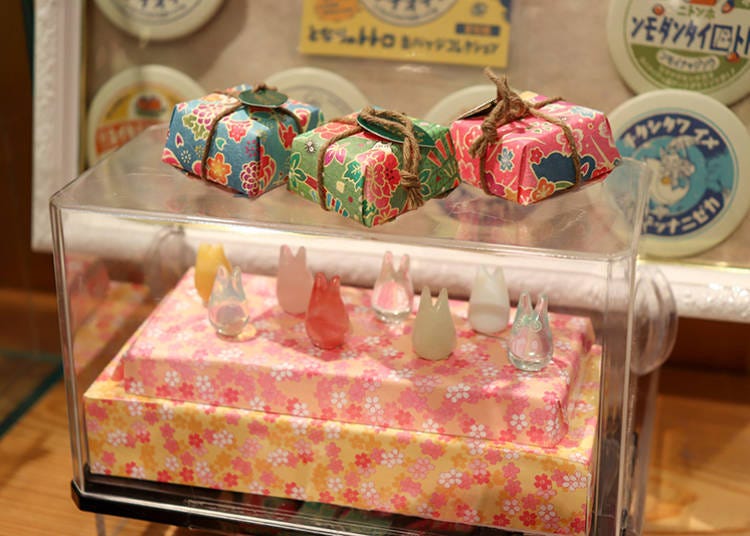 The second limited-edition item is the blotting paper, with two designs available at 900 yen (without tax) each. With either grass green or sky grey packaging, the colors used have a quaint Japanese feel to them. The sheets have drawings of the "Makkuro Kurosuke," or soot sprites from My Neighbor Totoro, on them in black. The unique point of this item is that as you use the sheets on your face, the pictures of the Makkuro Kurosuke will disappear!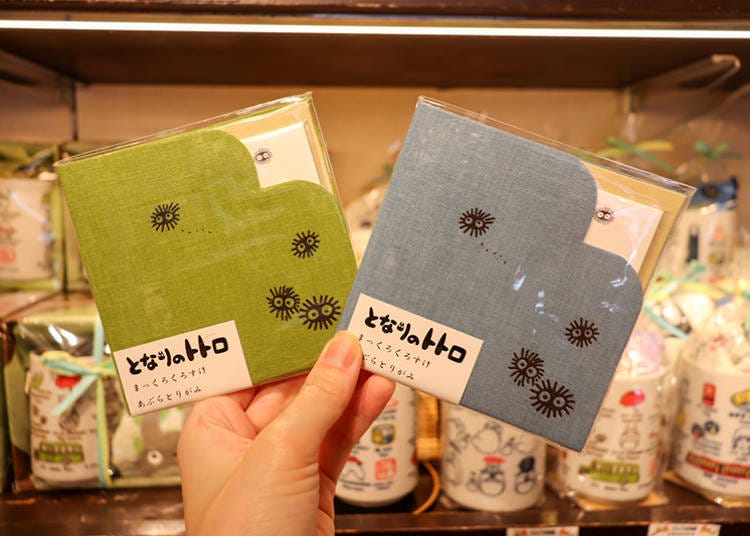 © Studio Ghibli
An item that is popularly sold as a set with the blotting paper is the souvenir stone, so do check it out too! Each stone costs 700 yen (without tax), and is a power stone in the shape of a mini Totoro, wrapped in washi, or Japanese style paper, and is very cute. There is a total of eight types available sold as blind boxes, so try your luck to see which one you get.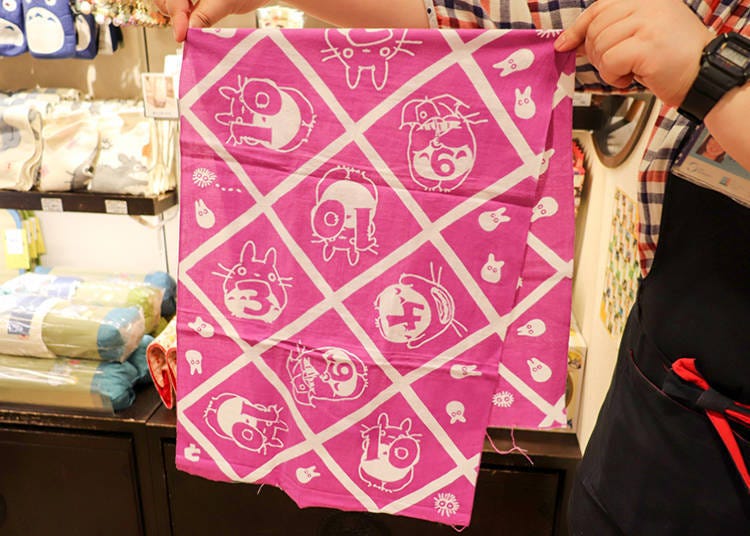 © Studio Ghibli
The third item is a royal purple tenugui, a traditional Japanese towel, dyed with unique designs, which costs 1,800 yen each (without tax). Designed to match the shining blue and purple lights of the Skytree®, one special point of the design is that the numbers 6, 3, and 4, representing the 634-meter tall Skytree®, as well as 10, 10, and 6, which can be read as "Totoro" in Japanese, feature heavily in it.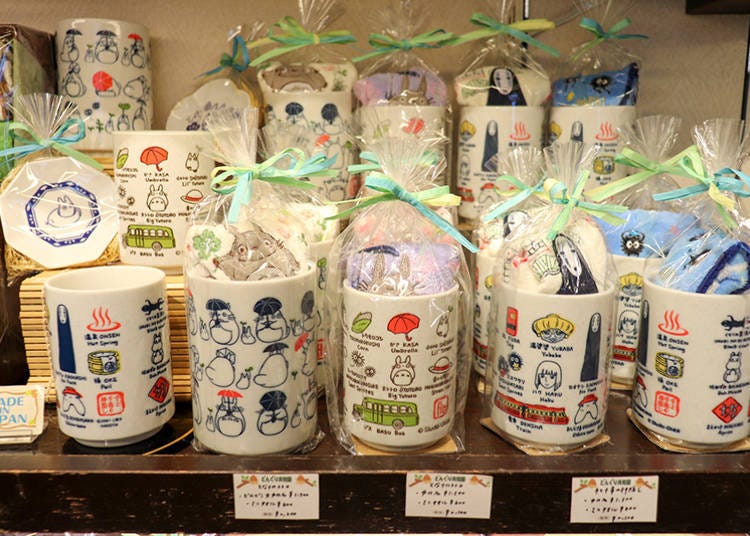 © Studio Ghibli
Besides that, though not limited-edition, the soup spoons, saucers, and other items in the Japanese tableware series designed with "tadpole," "corn," and other words in English are made in Japan, and are popular items among foreign visitors.

The shop also has signs in English plastered throughout. As two foreign staff are available as well, they can provide support in English. For tax-free payment, UnionPay cards, Alipay, and WeChatPay can be used.
Donguri Republic Solamachi

どんぐり共和国 ソラマチ店

Address

2F, Tokyo Skytree Town Solamachi, 1-1-2, Oshiage, Sumida-ku, Tokyo-to

Phone Number

03-5610-5299

Business hours: 10:00 a.m. to 9:00 p.m. (follows opening hours of the mall)
*Operating hours may vary over the New Year holidays
Open year-round
2. Flower Miffy Asakusa: Miffy and you, surrounded by flowers!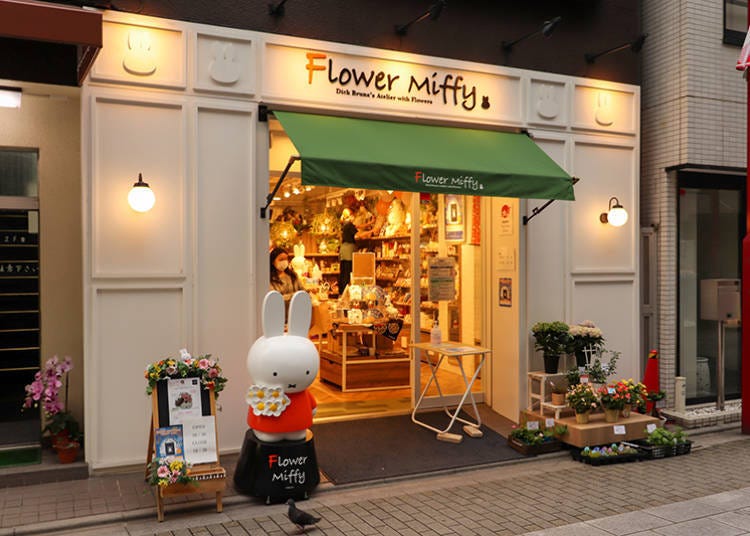 Next, we'll be introducing Flower Miffy Asakusa shop. It's a one-minute walk away from the Tokyo Metro's Asakusa Station and has the concept of "Miffy the Florist."

At the shop entrance is a figure of Miffy, which was made based on an illustration of "Flower Miffy" by the character's creator, Dick Bruna. You can get mini figures and other goods with the same motif at the shop too.
From Exit 2 of the Tokyo Metro's Asakusa Station, follow the arrow of the banner with the illustration of Miffy.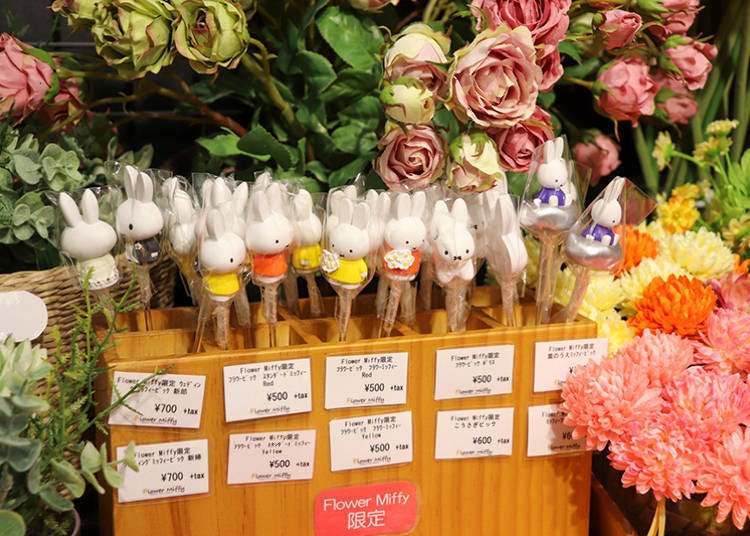 The shop has a large variety of Miffy goods available and has an original bouquet based on"Miffy the Florist" for sale as well. From the base greens to the accent flowers and the Miffy shaped add-ons, you can pick your favorites to create an original bouquet, and it's perfect as a present!
At the shop, you can get cute limited-edition items too. First up, you can try the Miffy Donuts, a collaboration with the donut brand that uses all-natural ingredients, Ikumimama-no-Dōbutsu Donuts. The regular items are the white Miffy donuts and brown Melanie donuts at 390 yen each, while the limited-edition pink Miffy donuts exclusive to Asakusa are 400 yen each (all prices without tax).
The Asakusa-exclusive donuts have the word "Asakusa" written on them in Japanese
These are the pink Miffy donuts, limited only to Asakusa. With cute ears peeking out and a face like Miffy's on these donuts, the word "Asakusa" written on it is a plus point too.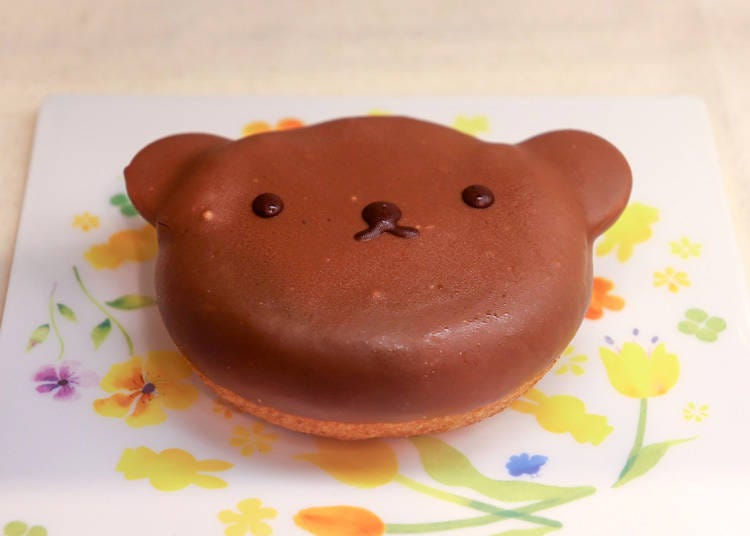 Starting from June, Boris donuts, featuring Miffy's bear friend, went on sale too, at 420 yen each (without tax).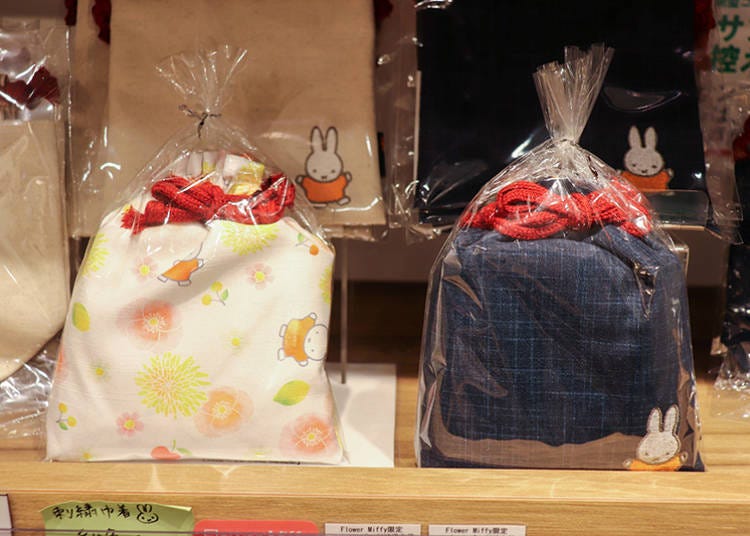 The second limited item is a woven drawstring bag featuring Miffy, at 1,280 yen each. The calming indigo-colored bag on the right is exclusive to the Asakusa shop. As the bag is reversible, you can turn it inside out to reveal a pattern with Miffy and flowers.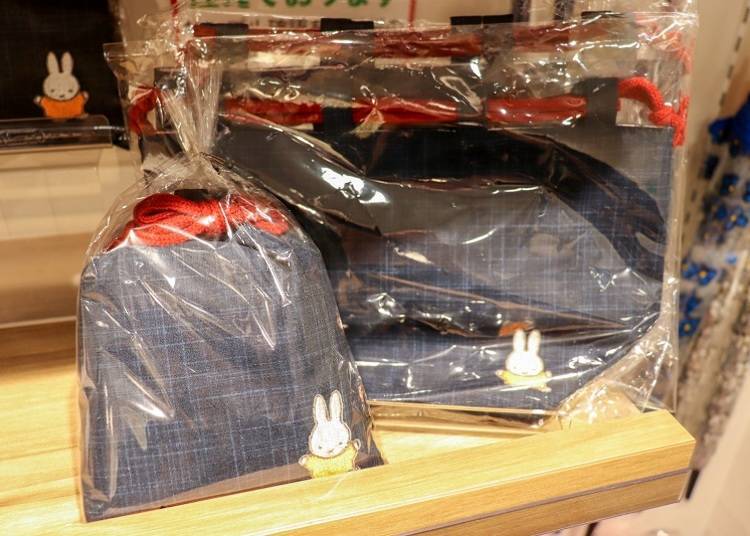 The third item is a "shingen fukuro," a type of traditional Japanese cloth bag, for 1,980 yen (without tax). This bag has a wider opening and is larger than the drawstring bag featured at the front of the picture, and the indigo color is limited to Asakusa too. Like the drawstring bag, it's reversible. It's perfect for carrying your lunchbox.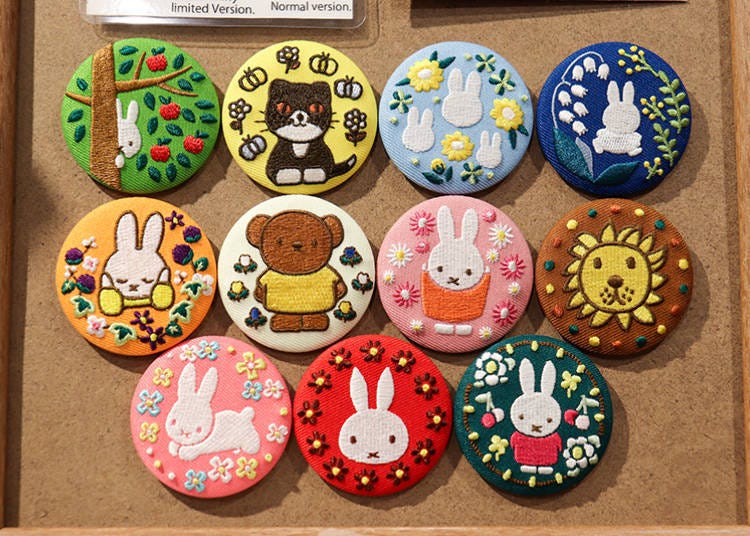 The embroidered brooch collection. There are two collections of 11 different designs available, and the picture features collection 1.
Besides limited items, this shop has a wide variety of other Miffy goods too. Each brooch in the embroidered brooch collection is 700 yen (without tax), and is a very popular item. You can see each fine thread being stitched in these badge-type brooches. As they are sold in a blind pack, with 11 different designs and one secret design (2 collections available), you can buy it and have fun seeing what you were lucky enough to pick out.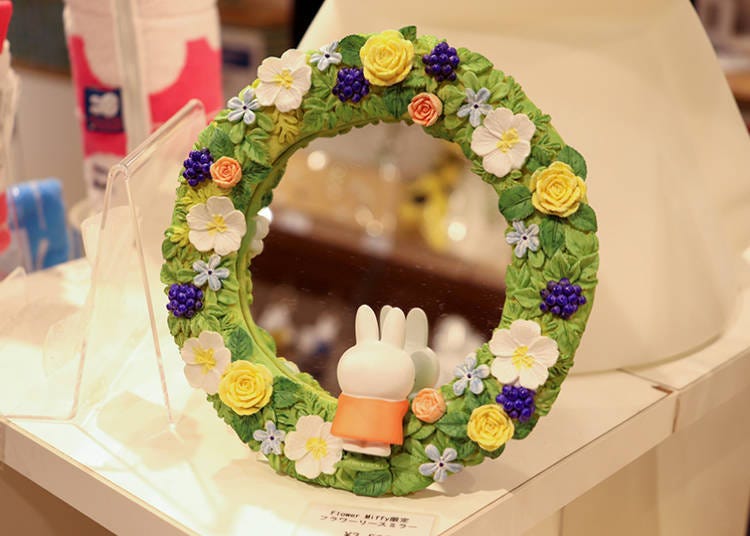 The Flower Miffy Wreath Mirror, at 3,500 yen (without tax), is another popular item as well. It comes with accessories to hang on your wall, and it looks great sitting on a table too.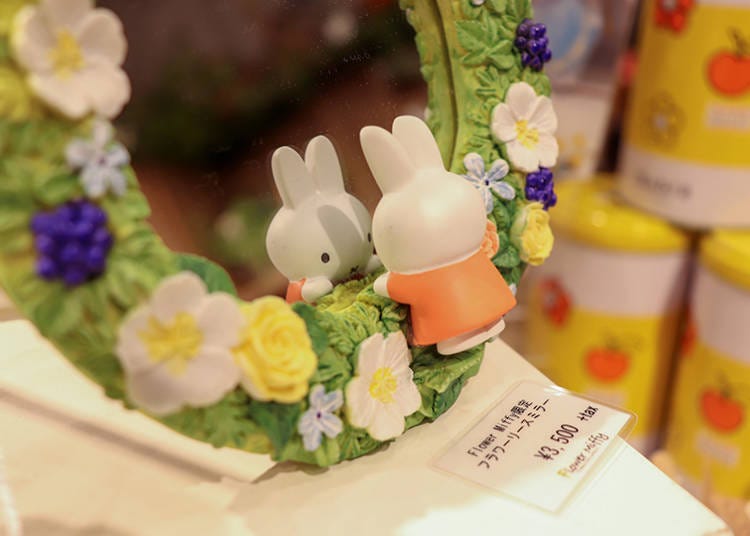 The Miffy peering at herself in the mirror is really cute! Colorful and beautiful flowers are arranged around the mirror's edge. As it's a wreath mirror, it has a strong presence even when simply displayed in a room.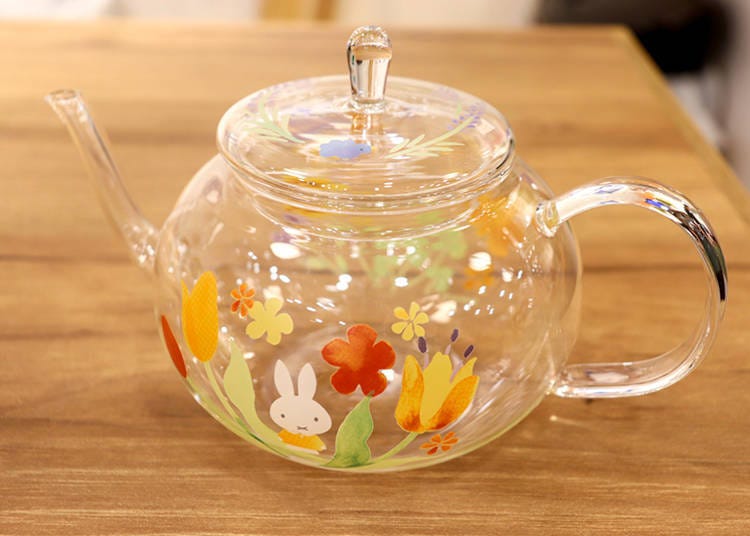 Besides the above, the "Watercolor Series" of crockery is very popular too. Featured here is the Flower Miffy Teapot (Watercolor) at 4,300 yen (without tax).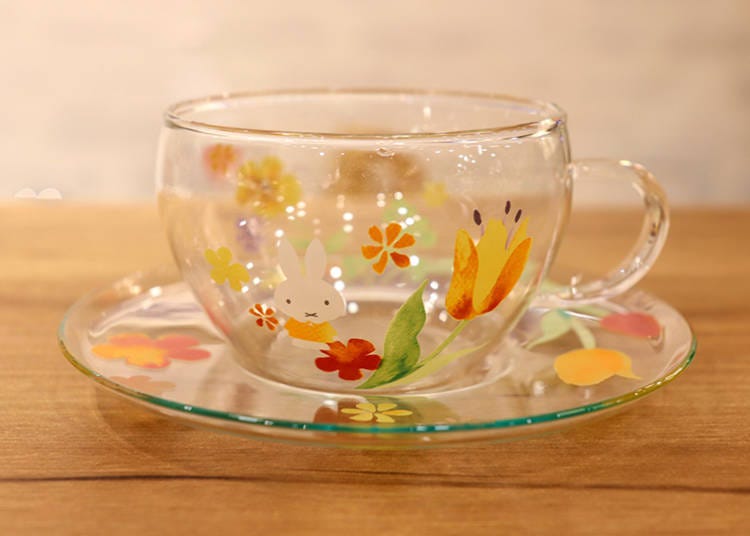 The Flower Miffy Cup and Saucer (Watercolor) costs 2,000 yen (without tax). You can use it as a set together with matching mugs and plates for a beautiful table setting for meals or tea time.

The shop has signage in both English and Chinese explaining the products on display. Besides this, Pocketalk translation devices can be used too. As it's a tax-free shop, you can use various credit cards, and electronic payment methods such as Alipay work too.
Flower Miffy ASAKUSA SHOP

Flower Miffy 浅草店

Address

1F, Aiso Building, 2-19-7, Kaminarimon, Taito-ku, Tokyo-to

Phone Number

03-6231-6465

Business hours: 10:00 a.m. to 6:30 p.m.
Illustrations Dick Bruna © copyright Mercis bv,1953-2020 www.miffy.com
3. Sanrio Gift Gate Asakusa Store: Surround yourself with cuddly Hello Kitty Asakusa merch!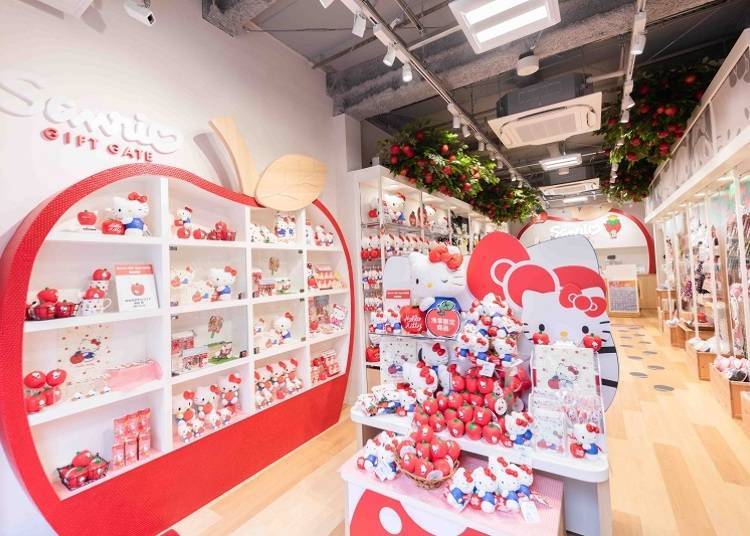 Finally, we'll be introducing Sanrio Gift Gate Asakusa Store. It's a three-minute walk away from the Tokyo Metro's Asakusa Station. It's located near the mid-section of Orange-dōri, which leads from one of Asakusa's landmarks, the Kaminarimon gate, to the Asakusa Public Hall. The two-story building is completely covered in glass tiles, and its huge seven-meter tall, five-meter wide Hello Kitty is the shop's symbol.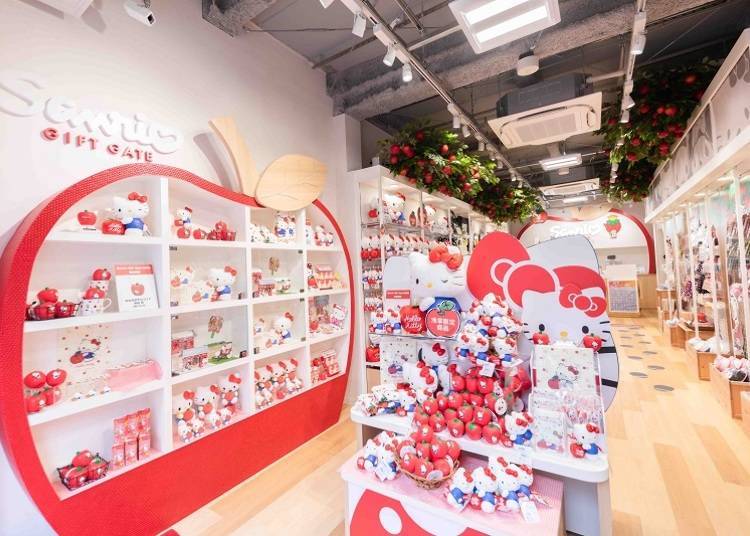 Visitors from all over come to Asakusa for sightseeing, and the shop opened its doors with the aim of being one of the reasons that one should visit Asakusa. And, of course, to spread smiles all around the world! The shop interior is lined with rows of merch featuring Hello Kitty, who is well-loved all over the world.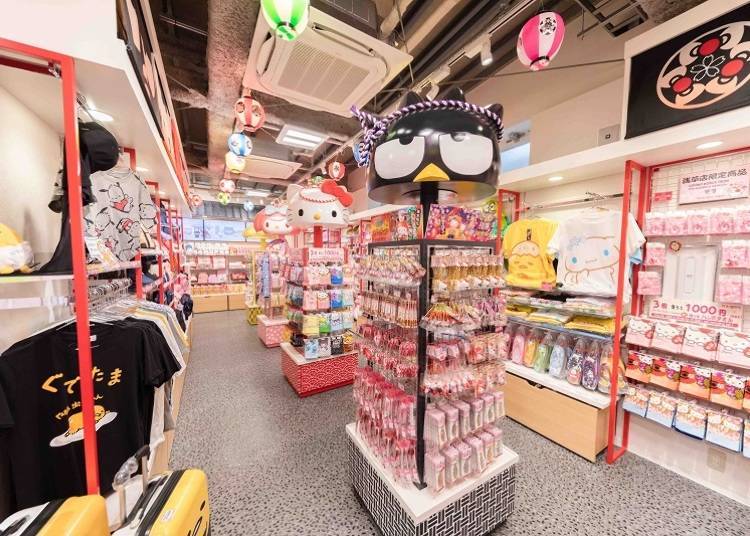 Besides Hello Kitty, the shop has many products featuring other popular Sanrio characters. From Badtz-Maru to Gudetama, Pompompurin to Cinnamoroll, this is a character merch shop with a mountain of goods featuring Hello Kitty and her Sanrio friends.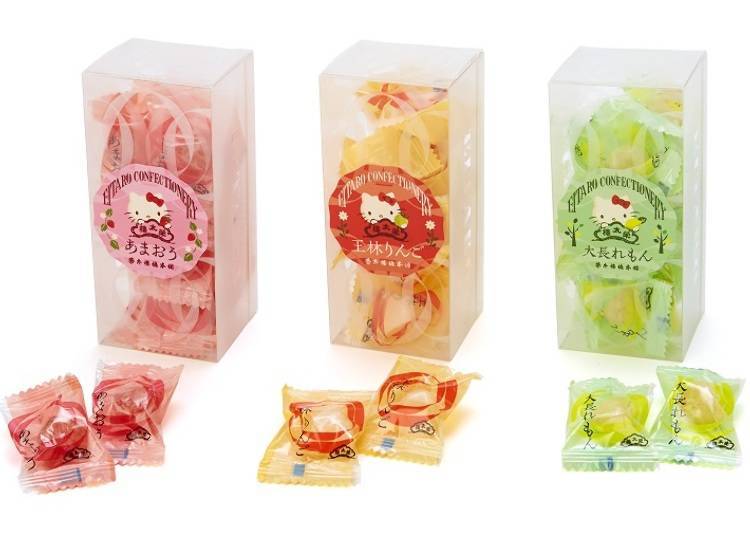 One of the items limited to the Asakusa Gift Gate is the "Eitaro Sohonpo x Hello Kitty fruit candy." This is a souvenir from Tokyo featuring a collaboration between the traditional Japanese sweet shops Eitaro Sohonpo and Hello Kitty. You can taste the fruit in these juice candies, and the sweets are made from the development of special raw ingredients, combined with traditional sweets making techniques passed down since the Edo period.

There are three flavors available, "Amaou" strawberry, "Ōrin Ringo" apple, and "Ōchō Lemon," each 400 yen (without tax). The raw ingredients are completely pureed and processed to make the fruit juice candy, and is a real treasure emanating the sweet taste and fragrance of fruit, all sold in a limited-edition Hello Kitty design packaging.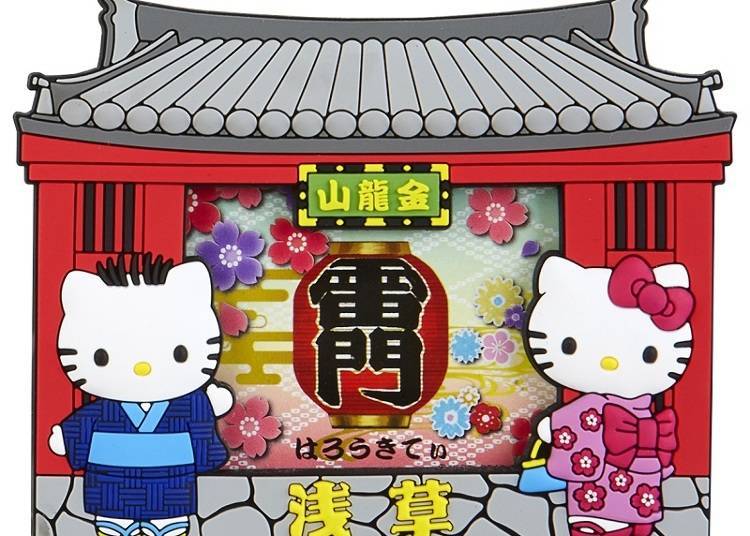 The second limited item is the Magnet Photo Frame, at 1,000 yen each (without tax). At the front of the Kaminarimon gate is a design with Hello Kitty and Dear Daniel, and is a photo frame limited to Asakusa. The back of the frame has a magnet, which allows you to display it on your fridge. With an image of Hello Kitty and her friend wearing yukata, it's a cute item you'll love as a souvenir.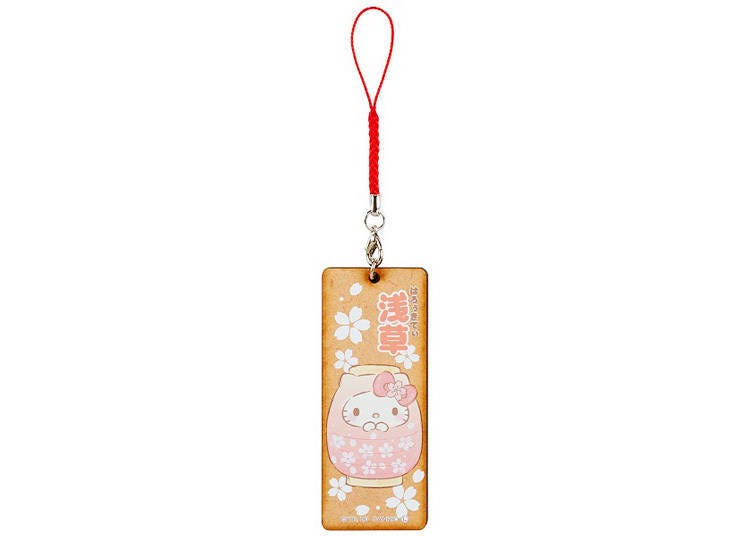 The third item is the "Chōchin Series Senjafuda Netsuke (Hello Kitty)", at 750 yen each (without tax). This is a netsuke, or votive slip, limited to the Asakusa shop, and has Hello Kitty in a lantern. Hello Kitty's ribbon and the background of the netsuke has cherry blossom designs on them. Besides Hello Kitty, there are five designs in total, including My Melody, Cinnamaroll, Pom Pom Purin, and Badtz Maru. *Please be aware that some designs may be sold out.

The shop accepts various credit cards plus PayPay, Merpay, UnionPay, WeChatPay, Alipay, LINE Pay, au Pay, and d-barai as payment
Sanrio Gift Gate Asakusa Store

Sanrio Gift Gate浅草店

Address

1-17-5, Asakusa, Taito-ku, Tokyo-to

Phone Number

03-5830-8163

Business hours: 10:00 a.m. to 7:00 p.m.
*Business hours may vary. Please check the Sanrio home page for more details.
Open year-round

https://stores.sanrio.co.jp/en/7940100 (English)

In line with COVID-19 measures, the shop may be closed or operate with different business hours. Please check the website (https://www.sanrio.co.jp/) for more details.

©1976, 2020 SANRIO CO., LTD. TOKYO JAPAN
Regardless of which shop you go to, hand sanitizer is provided at the entrance and inside the shops, and with the use of masks and regular cleaning, disinfecting and ventilation, ample measures to combat the spread of COVID-19 are in place. When visiting Asakusa, be sure to drop by and get yourself some cute limited-edition character merch!
Written by: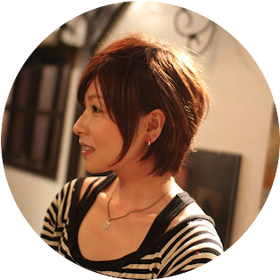 *This information is from the time of this article's publication.
*Prices and options mentioned are subject to change.
*Unless stated otherwise, all prices include tax.