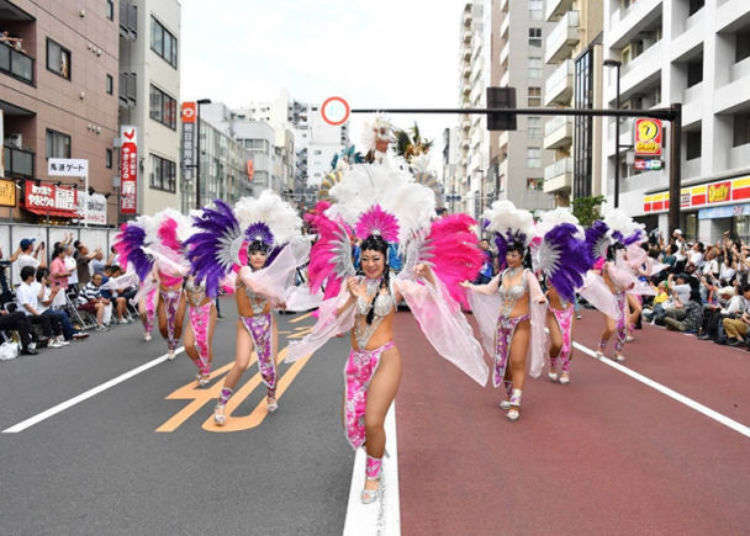 In Japan, summer is marked by a ton of lively festivals, and the Asakusa Samba Carnival is one of Tokyo's most colorful!

Held in Tokyo's Asakusa, on the last Saturday in August, this colorful contest and parade of around 5,000 samba dancers and teams from across Japan attracts over 500,000 spectators each year. If you are visiting Japan in the midsummer, you should definitely add this one-day festival to your plans!

*In 2020, the 39th Asakusa Samba Carnival had initially been postponed to Saturday, September 26, but was later decided to postpone it to 2021 due to the spread of coronavirus infection. The next Asakusa Samba Carnival will be held on Saturday, September 25, 2021, and an alternative event will be held in 2020.

main image photo credit: Asakusa Samba Carnival Executive Committee
What is the Asakusa Samba Carnival?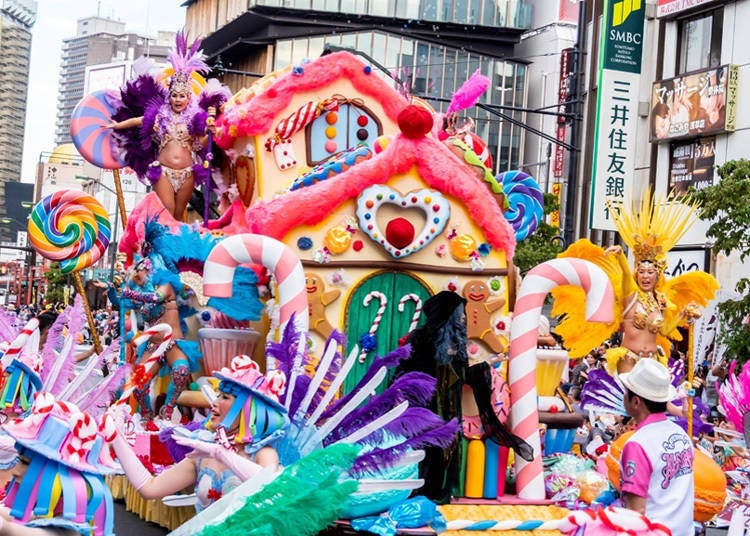 Photo credit: Asakusa Samba Carnival Executive Committee
Asakusa is one of Tokyo's historic downtown areas. There are many sightseeing spots centered around Sensoji Temple, where you can feel the old Edo culture and Japanese culture all in one place, and it is a popular area for foreign visitors. And this is where the Asakusa Samba Carnival, Japan's largest Carnival event, takes place. It gets a lot of attention, particularly on TV, and it will probably pop up in one of your tour books!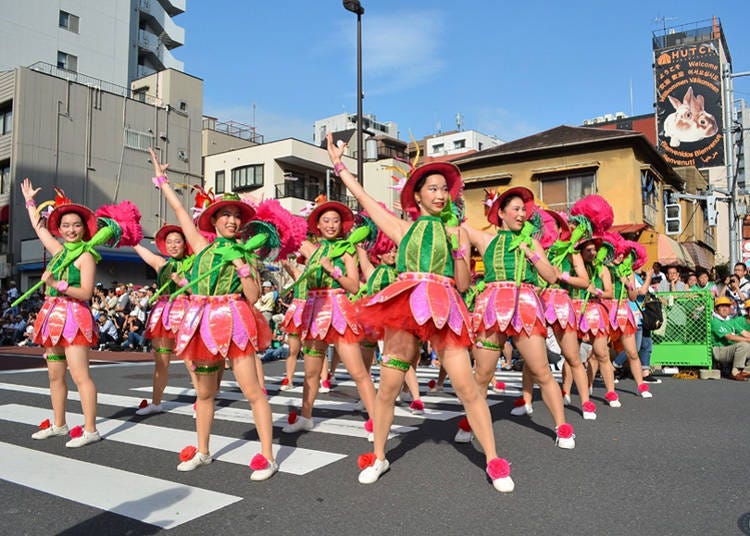 Despite the hot sun, performances are fun and lively (Photo provided by Asakusa Samba Carnival Executive Committee)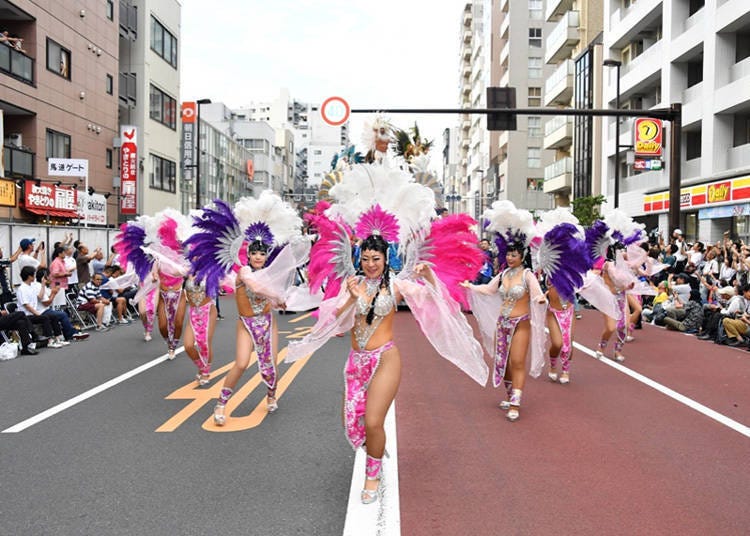 Dancers in gorgeous and elaborate costumes (Photo: Asakusa Samba Carnival Executive Committee)
Asakusa Samba Carnival started in 1981 as an event intending to revitalize the town. Today, it has become one of Japan's leading events, attracting some 500,000 spectators every year. The popular highlight is the contest-style parade with around 5,000 participants! While riding the rhythm of authentic samba, the gorgeous costumes, and performances of each team charm the audience.
Asakusa Samba Carnival Contest: Based on Rio Carnival
The main feature of Asakusa Samba Carnival is that it is actually a contest-style parade that is entirely based on the real Rio Carnival. A little-known fact is that the official name of this event is Asakusa Samba Carnival Parade Contest.

The contest attracts a large number of spectators. Initially, the teams were more in the category of costume competition than the samba parade. However, it has gradually changed into the authentic samba parade that it is now.
Two leagues battle it out to rank first!
In the Asakusa Samba Carnival Parade Contest, samba teams gather from all over the country are divided into two leagues: the S1 League and the S2 League. Teams compete for rank. These two leagues have a replacement system, and the lowest-ranked team in the S1 League will be replaced with the highest-ranked team in the S2 League. In addition, the lower two teams in the S2 League will start from the paperwork screening process just like the new teams who wish to participate in the following year.

The total number of participating teams is capped at 20, so each team will have a serious battle to stay in it. It's said that the participating teams will then be preparing for a year, so you can understand that the competition is likely to get intense.
How are the Asakusa Samba Carnival Parade Contest rankings decided?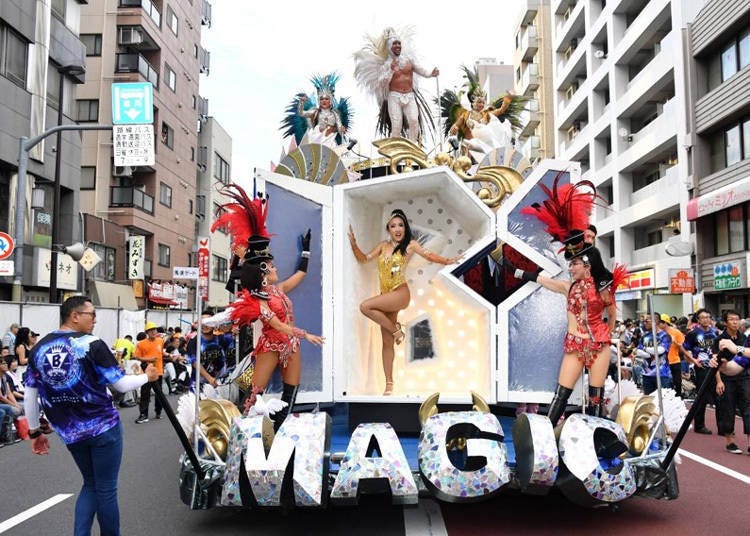 Nakamise Barbaros of the 38th winning team. Amazing! (Photo provided by Asakusa Samba Carnival Executive Committee)
The ranking of the Asakusa Samba Carnival Parade Contest is decided by the votes of 10 judges consisting of people who are connected to Asakusa and Brazil, plus celebrities, as well as mobile and internet voting. Six basic factors are considered: expression of the theme, enthusiasm, costume, performance, dance, and overall evaluation. Furthermore, for the S1 League, three elements (team elements for approaching Rio's carnival) have been designated, and points are deducted for missing elements.

The method of totaling scores is similar to Rio's Carnival. Among the scores given by the judges, the scores for the middle six are totaled. A score of 60 points is a perfect score for each factor being judged. There are six factors for a total maximum of 360 points. For reference, the S1 League winning team in 2019 had a total of 344 points.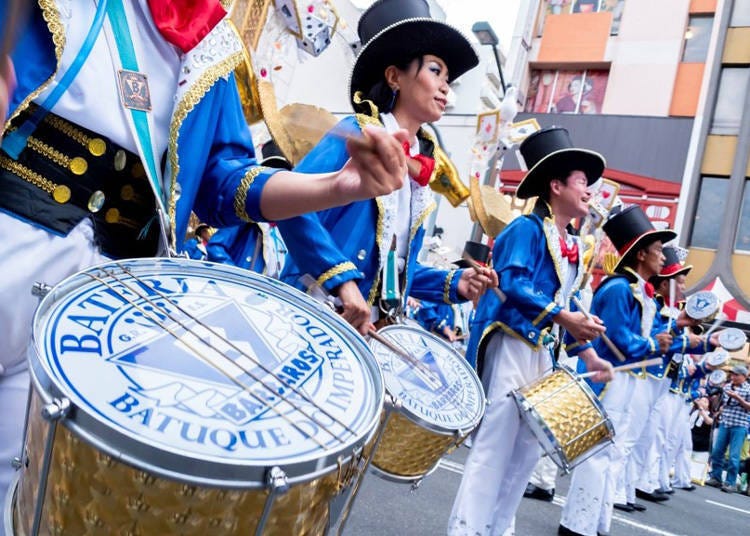 Performances are very powerful! (Photo provided by Asakusa Samba Carnival Executive Committee)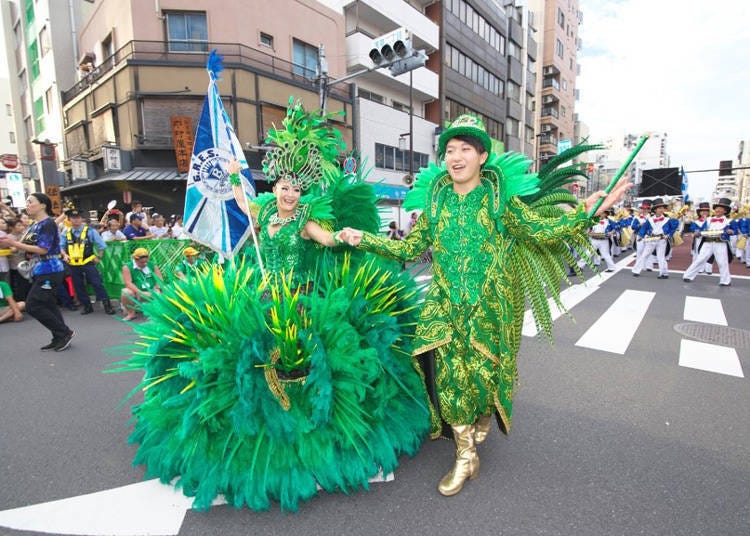 Wearing costumes in line with the theme (Photo courtesy of Asakusa Samba Carnival Executive Committee)
Where is the best spot for watching the Asakusa Samba Carnival?
The best spot to see the Asakusa Samba Carnival is on Kaminarimon-dori Street, the street passing in front of Sensoji Temple's Kaminarimon Gate. It starts in front of Sensoji Temple's Nitenmon Gate on Umamichi-dori Street, passes in front of the Kaminarimon Gate at Sensoji Temple, and continues for about 800 meters to the end of Kaminarimon Street. There is no doubt that it will be exhilarating no matter where you look at it.

The recommended viewpoints are the start point side and the goal point side. On the side of the starting point near the judges' seats, you can see some of the most exciting moments right after the start. As the dancers reach the goal point, you can see them giving the crowd something to remember.
Image courtesy of Asakusa Samba Carnival Executive Committee
On the day of the carnival, expect huge crowds. Be sure to not try to get there too early in the morning. An excellent time to observe the events and see how excited the whole city is is at the Asakusa Samba Carnival's opening.

At the time of holding in 2019, there were ticket sales on the day for chair seats, which came with an original item as a gift, for a sponsorship fee of 6500 yen. If you want to get close up to the action and have a relaxing time at it, be sure to check it out on the official website.
Asakusa Samba Carnival: Date and time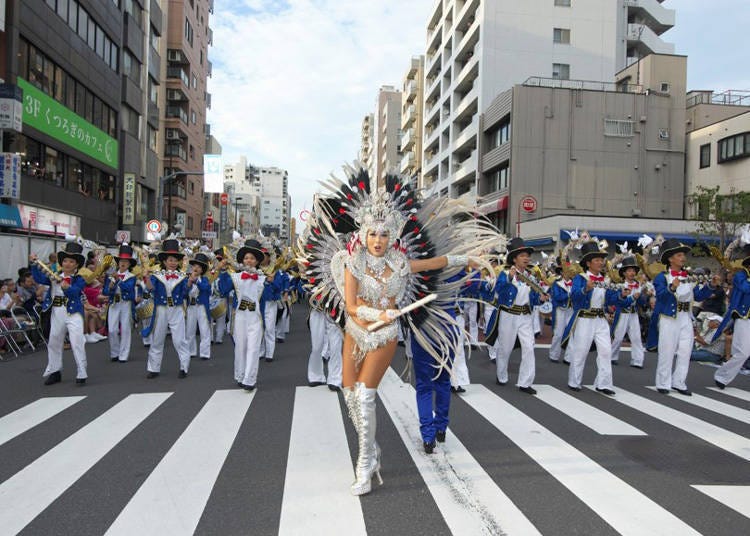 The S1 League can be a team of up to 300 participants! (Photo provided by Asakusa Samba Carnival Executive Committee)
The Asakusa Samba Carnival is held annually (*) on the last Saturday of August. It starts at 1pm and ends at 6pm. During the five-hour carnival, this rough time schedule will determine when and in what league the parade will take place.

・1pm: Communication League (Executive committee and local children participate)
・Theme Samba League (Companies and authentic Brazilian dancers participate)
・1:30pm: S2 League team, S1 League team

It's a long parade that takes 5 hours to complete, so it's a good idea to think about which part of the parade you want to watch and when to take a break.
Trendy "Robot Restaurant" has even participated
In recent years, Robot Restaurant has been a topic of the parade for the theme samba league. Robot Restaurant is a performance restaurant in Shinjuku, which is said to have a total construction cost of 10 billion yen (around 94 million USD). The luxuriousness and "anything-goes" mentality are so appealing to foreign tourists that some visit Tokyo just with this destination in mind.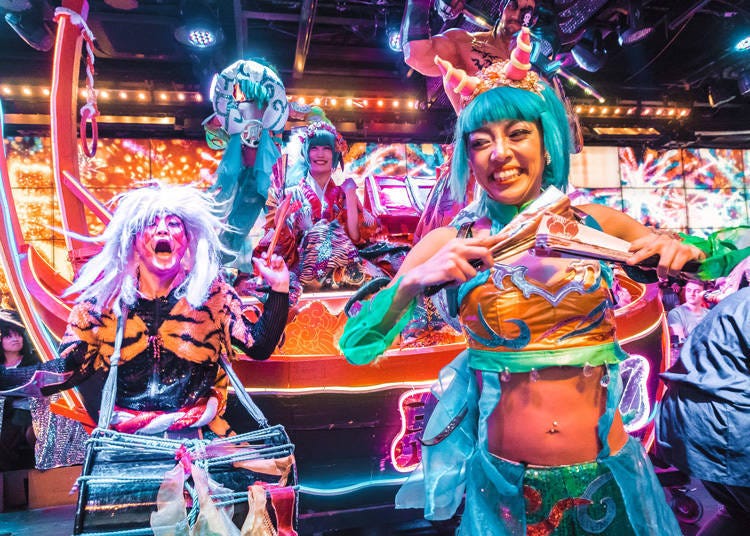 Swedishnomad.com - Alex W / Shutterstock.com
The performers of such popular restaurants will show the gorgeous, extraordinary, and slightly sexy parade at the Asakusa Samba Carnival. They don't necessarily participate every year, but if they do, it's a must! You can enjoy a powerful parade with an anything-goes atmosphere.
Access: Getting to Asakusa Samba Carnival is easy!
There are many ways of getting to Asakusa, so access is straightforward. Depending on where you want to see the parade, you can choose between two stations.

First, at Asakusa Station, which is near the starting point of the parade, there are four subway/train lines with access: Toei Asakusa Line, Tokyo Metro Ginza Line, Tobu Isesaki Line, and the Tsukuba Express. Also, the Tokyo Metro Ginza Line Tawaramachi Station near the goal is also convenient.

The whole Asakusa area is filled with the Carnival atmosphere on the day, so you can quickly walk around, follow the crowds, and find your favorite spot.
Tips for the Asakusa Samba Carnival
There are a few points to remember to enjoy this fun festival event. Summer in Japan is hot and humid, and Asakusa Samba Carnival will be held in the scorching summer heat. Be careful about heatstroke. Be sure to buy water or a sports drink in advance and stay hydrated; sunblock and sunglasses are recommended as well.

Cafes, restaurants and convenience stores near the venue are open on the day of the event, and you can purchase drinks at shops along the road; however, they are very crowded, it's best to bring your own drinks.

Also, public toilets are available around the Nakamise Shopping Street, and in the nearby department store. Since there are not many, it is advisable to check where they are located in advance and to refrain from drinking alcohol, which will make you need it more frequently.
Be careful of the heat and enjoy the Asakusa Samba Carnival!
Asakusa Samba Carnival is becoming a Japanese summer tradition. It's an event where you can easily enjoy the atmosphere. When going out, be sure to take measures against the heat, don't litter, follow the staff's directions, and enjoy together with everyone else to make this a fun event.
Asakusa Samba Carnival Parade Contest

浅草サンバカーニバルパレードコンテスト

Address

Asakusa Umamichi-dori Street ~ Kaminarimon-dori Street in Taito-ku, Tokyo

Nearest Station

Access: Short walk from Asakusa Station on the Toei Asakusa Line, Tokyo Metro Ginza Line, Tobu Isesaki Line, and Metropolitan Intercity Railway Tsukuba Express


Phone number: 03-3847-0038 (Asakusa Samba Carnival Office; open from June to September)
Business hours: (Asakusa Samba Carnival Secretariat) Weekdays 10am-6pm
Regular holiday: Saturdays, Sundays, and holidays
Written by Jiei Kurabayashi, Dali Corporation
*This information is from the time of this article's publication.
*Prices and options mentioned are subject to change.
*Unless stated otherwise, all prices include tax.