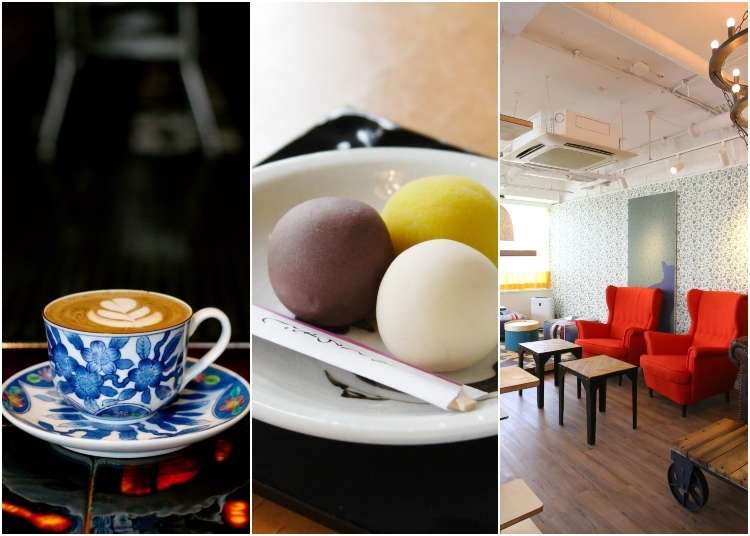 Writing is hard work, and in many cases it isn't a case of just sitting down and writing but of having the right atmosphere for writing. That is why as a writer living near Asakusa I have ended up searching out little café gems which are great for working, or relaxing, or just for inspiration – sometimes us writers need a break too!

Beyond cafes, Asakusa is a great location as you can easily walk around Sensoji Temple, enjoy a stroll along Sumida River and browse the many shops in this area. However, in terms of cafes there are really a lot! So, I am going to introduce three of my favorite places to go for a cup of coffee.
1. Splendor Café (Working)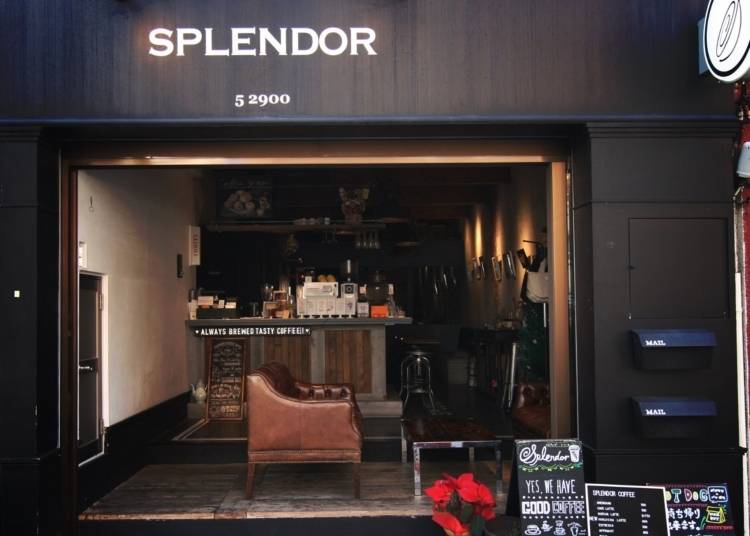 This café is a little bit off the beaten track, though it is very close to Asakusa Station on the Asakusa Line. The first thing that will strike you is the very comfortable-looking sofa by the front window – and yes I can confirm it is extremely comfortable and if you can bag it then you will be the envy of all the other customers who come in after you.

Getting the sofa seat feels a bit like being king.
The seating at the back is perfect for working, it is quiet and often there are other people sitting there busy on their laptops. The back in particular is quite distraction-free, has power outlets and it is very easy to get a refill when needed.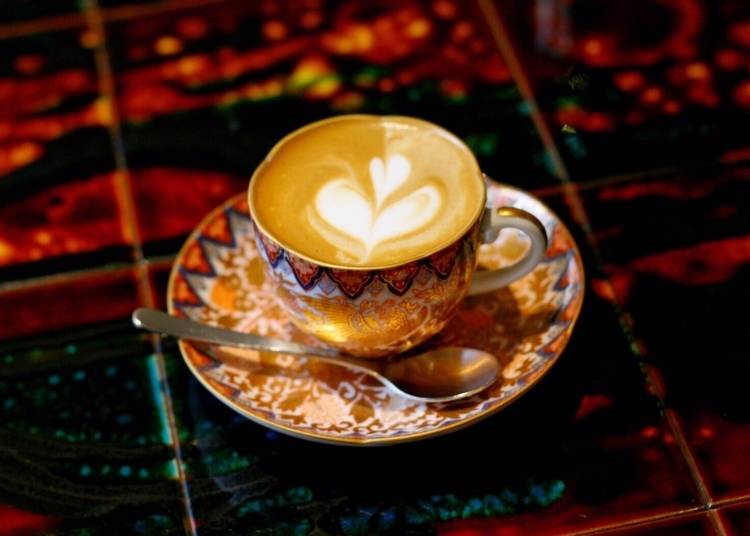 Macchiato. Price: 550 yen
The café itself isn't a typical one, it has bit of a European feel with big wooden beams in the ceiling and partially bare brick walls. All in all it has a relaxed atmosphere that is great for work and pleasure, and the coffee itself is to die for. When you order a coffee the barista makes it fresh - it takes a short while, and for my wife who is bit of a coffee connoisseur, she thinks it is the best latte coffee she has ever drunk in Japan. Several styles are served, including black coffee (550 yen – tax included), macchiato (550 yen), and even a hojicha latte (600 yen).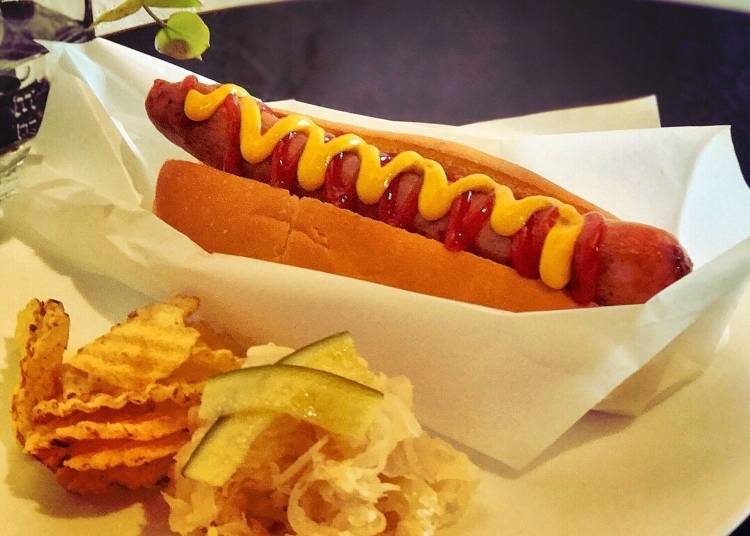 Hot dog (750 yen)
The food is equally amazing, one of their specialties being their hot dog (750 yen). Whenever I am there I always find myself ordering a cheesecake (550 yen). It is very soft, absolutely delicious and the creaminess perfectly complements the mild bitterness of the coffee. All in all this café has the three top things that any writer needs, amazing coffee (and plenty of it), mouth-watering food, and an atmosphere perfect for work.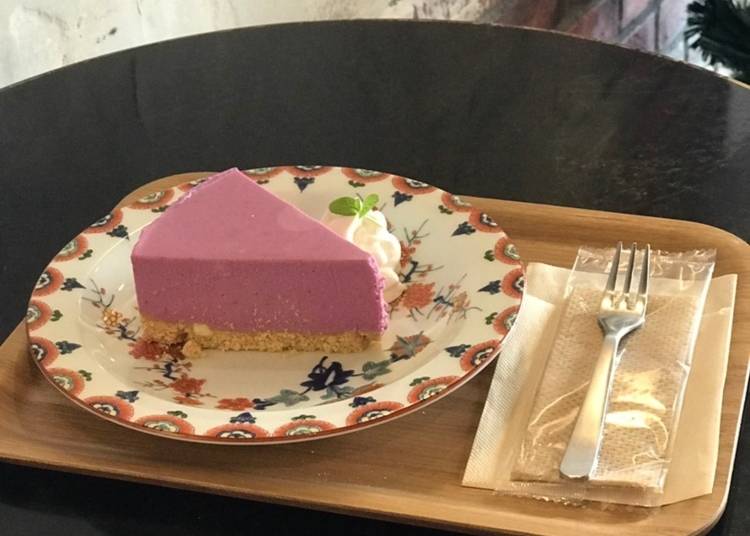 Cheesecake (550 yen)
Getting there: From Asakusa Station (Asakusa Line), take a left out from Exit A1. Ahead will be a big intersection. Without crossing any of the roads just walk to the intersection and then turn left. This will take you along a main road. Walk two blocks (under five minutes) and you will see Splendor Café on the left side.
スプレンダーコーヒー

Address

4-13-10, Kotobuki, Taito-ku, Tokyo 111-0042

Nearest Station

Asakusa Station


Hours: Mon. - Fri. 11:00-19:00, Sat. - Sun. 10:00-19:00
Closed on Wednesdays
2. Kototoi Dango (Relaxing)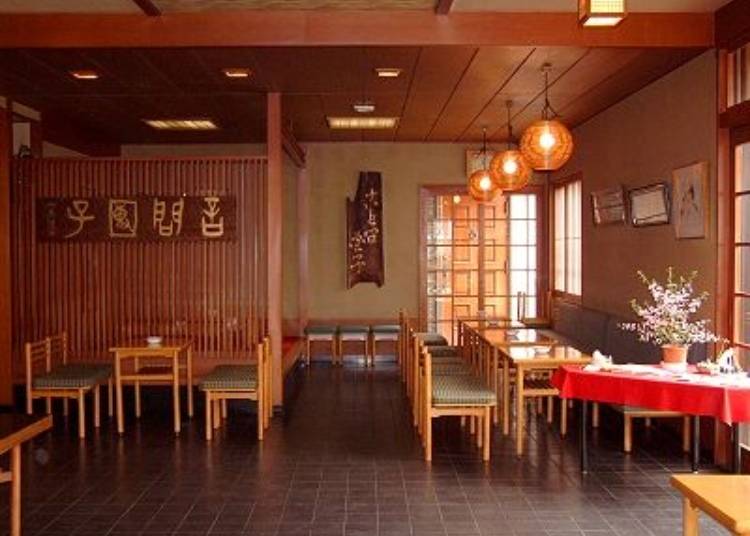 Well, before I say anything about this place I have to admit it isn't technically a café, they don't serve coffee, but they have something even better – traditional Japanese green tea – so I hope that makes up for it! This is an amazing old store that's tucked a fair distance away from the area's main train stations, however it will give you a unique opportunity to get up close with a real traditional store frequented by locals which you can't experience in the main streets of Tokyo. It specializes in dango, a Japanese sweet made from mochiko (rice flour), and I have to say that if you visit in Japan you must absolutely try traditional green tea with dango. At first dango might seem like it has an unusual taste, but trust me you will find that you love it. It is quite chewy, and a little sweet, but perfectly complemented by the hot green tea.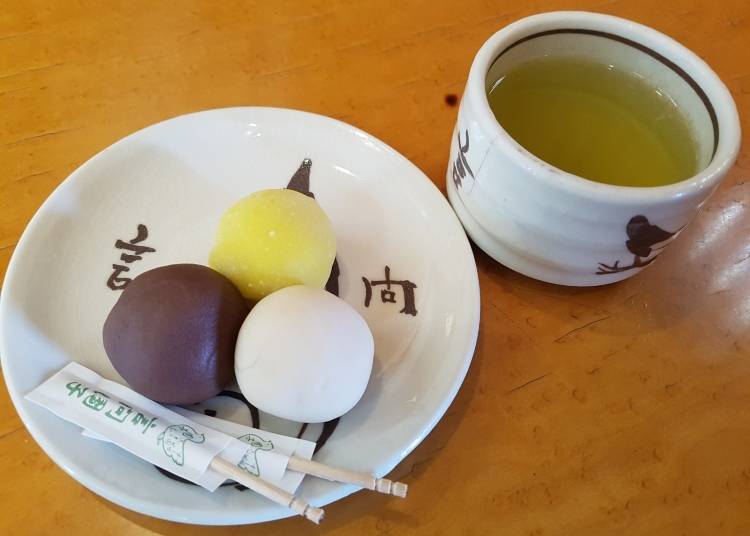 However, why is this particular dango so great? It is because it carries the weight of 160 years of dango making, and from the moment you enter this store you will feel its history – there are no automatic sliding doors, just simple wooden ones with glass panels. There is a mixture of chabudai (low Japanese tables), and simple tables and chairs. By the toilets you can find a little museum dedicated to the history of this dango family business. It truly is a spot to touch Japanese culture and history. As you sit and enjoy the tea you will see a steady stream of locals buying dango to takeaway, or to sit down for a quick snack with tea.

For 690 yen (all prices include tax) you can enjoy three, different, pieces of dango and green tea – with free refills. This store is a specialist dango-maker, so they only sell dango, with souvenir gifts costing 1,380 yen for six pieces to 6,900 yen for thirty pieces. It isn't exactly ideal for work, as there are no power outlets, but as long as your laptop can hold a charge then you can sit here, surrounded by the sights and sounds of real Japan.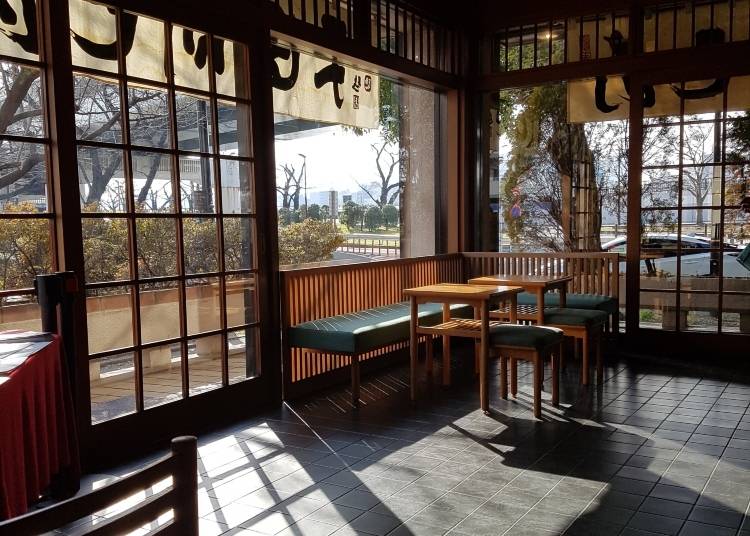 I particularly love the atmosphere here, it feels very traditional and old and while sitting here you will notice how it is beloved by the local people who are popping in all the time and chatting with the staff. It is located in a fairly quiet area, so it has a nice relaxed feel, but really staying too long is dangerous as eating dango is addictive. They serve all kinds of seasonal dango and dango style gifts, and although they don't speak English they will make you feel as welcome as if you are visiting someone's home.
Access: Kototoi Dango is a true hidden gem, and as it is not close to any train station it does take a bit of commitment – and a 20-minute walk – to find it. From Asakusa Station (Asakusa Line), go out exit 4 and cross the bridge over the Sumida River. After crossing this, walk along the Sumida River (keep the river on your left); you'll go past 4 bridges on your left side. The last of these is a pedestrian bridge with two entrances. Continue straight and make a right at the intersection; Kototoi Dango will be on your left.
言問団子

Address

5-5-22 Mukojima, Sumida-ku, Tokyo 131-0033

Nearest Station

Asakusa Station


Hours: No Fixed hours – Open from 9am and closes when sold out
Closed on Tuesdays, and one Wednesday a month
3. Cat Café Monta (Inspiration)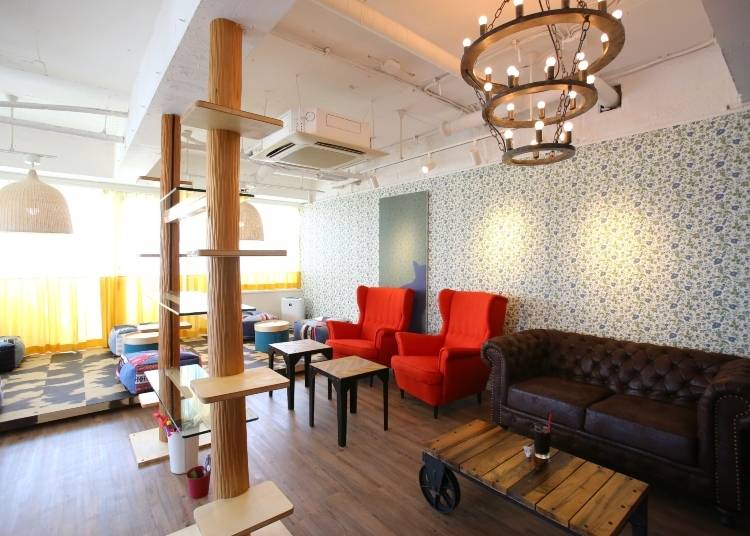 Cat Café Monta is my guilty pleasure, it certainly isn't the place to work—it is just somewhere to be incredibly distracted by cats, and feel inspired by their playful curiosity! It does also serve great coffee and amazing sweets like yuzu cake (400 yen – tax included) or cake of the day (400 yen), so it is a great café, but also the cats are just so cute. There are 10 cats that stroll around and like to be stroked, or play with toys, and after a hard day's work they just make you feel so relaxed.

The inside of the café is well designed with both humans and cats in mind. There is a really comfortable sofa, but also smaller seats which makes playing with cats easier. It is a real ensemble of furniture which is quite quirky, but it works.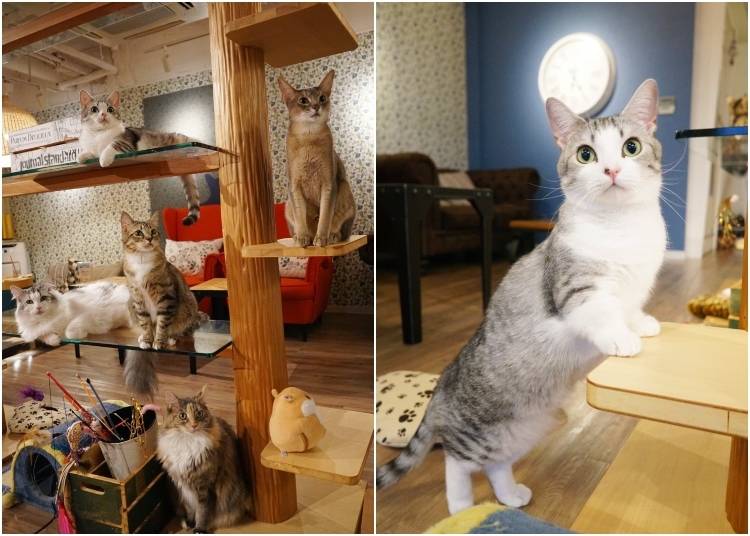 All of the cats have different characters, and you will learn very quickly which ones love to play and which love to sit in your lap.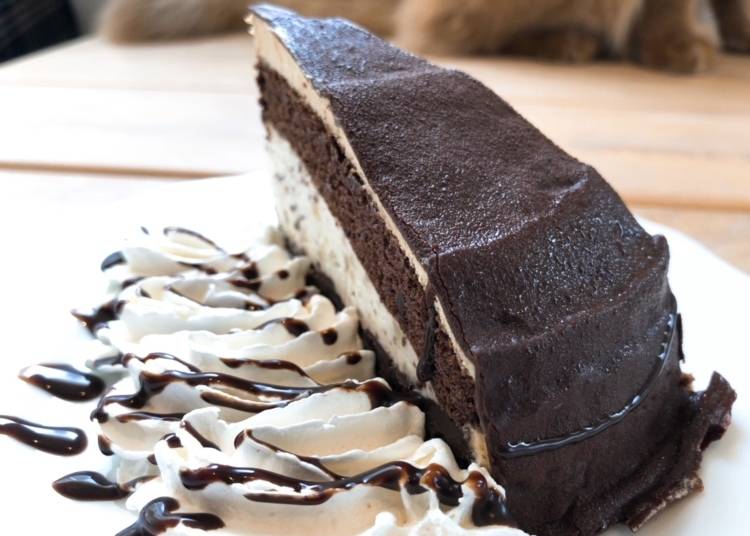 Zuccotto cake (400 yen)
You can charge up with cup of coffee for 380 yen, or cake of the day, for example Zuccotto cake, for 400 yen, but what I would most recommend, rather surprisingly considering it is a café, are their pasta dishes. I am quite addicted to their incredibly tasty and value-priced carbonara pasta (630 yen)! You can also buy snacks for the cats for 300 yen.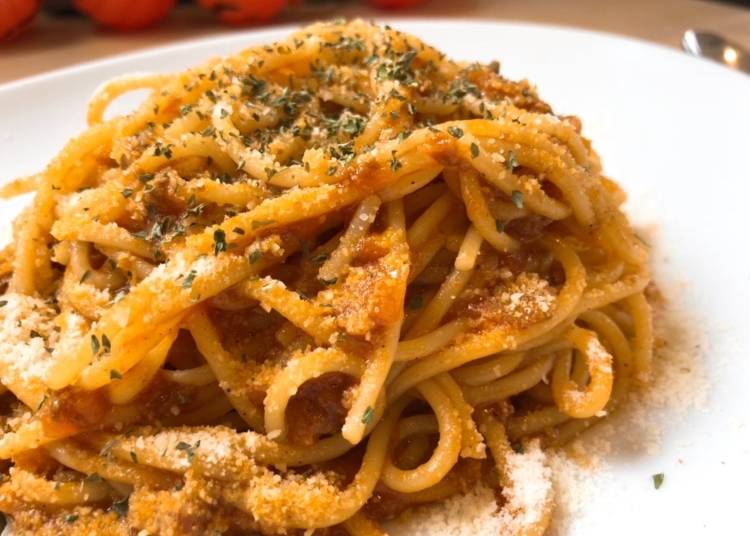 Pasta (630 yen)
This café is more rule-based, because of the cats, so you have to take your shoes off, clean your hands, and it is important for families to know that children under 11 can't come in. Besides the cost of food and drinks there is a separate charge made according to time. A minimum stay is 30 minutes and this costs 600 yen, after which the price increases incrementally in 10-minute blocks. (There are other pricing options such as a 90-minute stay for 1,500 yen and 2,000 yen to stay the whole day.) At the weekend and holidays prices are slightly higher with a 90-minute stay costing 1,700 yen and a whole day stay costing 3,000 yen.

Access: From Exit 6 of Asakusa Station (Ginza Line), go right and cross the street. Walk past the Starbucks. The second building after Starbucks will have a yellow sign with a silhouette of a cat – Cat Café Monta! Now you are ready to enjoy some great coffee with cats.
ネコカフェ Monta

Address

Satellite Fuji Building 8F, 1-5-2 Hanakawado, Taito-ku, Tokyo 111-0032

Nearest Station

Asakusa Station


Hours: Wed-Mon 11:00 am - 20:00 pm
- Closed on Tuesdays
Written by: Mike Sullivan
*This information is from the time of this article's publication.
*Prices and options mentioned are subject to change.
*Unless stated otherwise, all prices include tax.