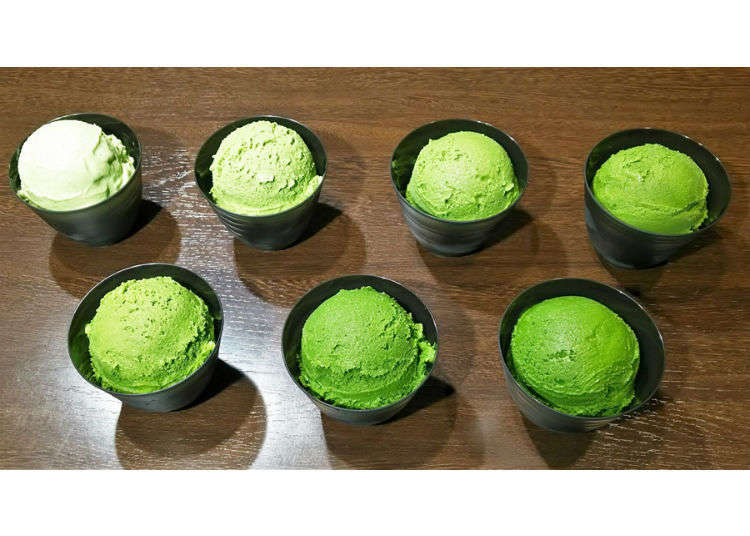 Asakusa is famous as one of Tokyo's main sightseeing areas. After admiring shrines, temples, and the charm of old Japan, you might find yourself craving for a break, though! Worry not, as the atmospheric neighborhood is a real treasure trove of snacks and treats - especially ice cream.

Follow us to Asakusa's best shops selling incredibly delicious ice cream creations, from unique to authentically Japanese!
1. Suzukien: World's Richest Matcha Ice Cream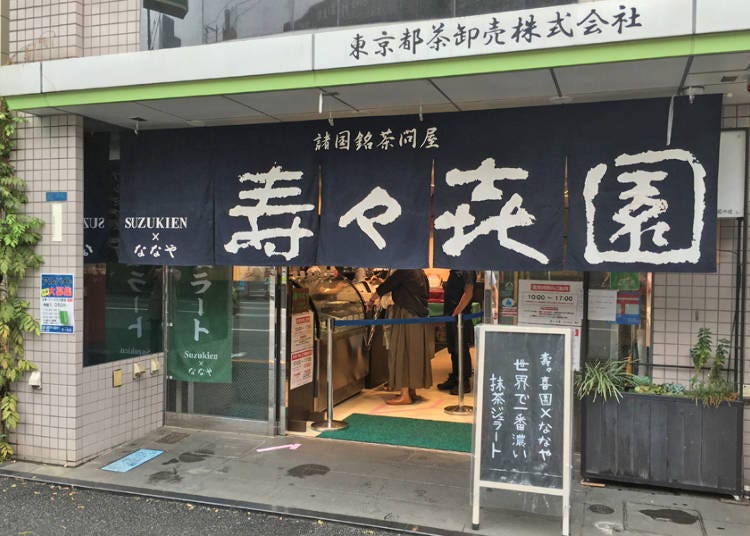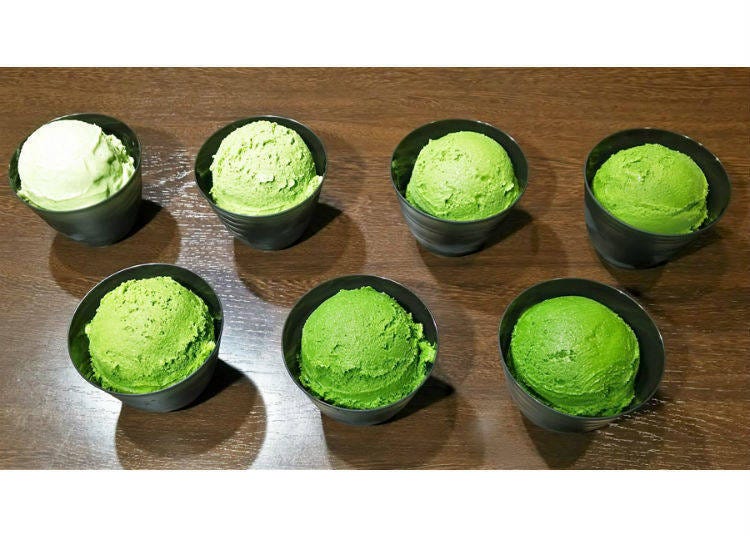 The first spot on our Asakusa ice cream tour is called Suzukien, a shop that is famous for its amazing matcha flavor. When you think about where to get matcha ice cream in Japan, this is your spot.

Suzukien actually offers this matcha flavor in seven different grades, with one single serving available for 370 yen and a double serving for 470 yen. (Except for grade 7 matcha ice cream, which can be enjoyed for 560 yen single and 650 yen double.) If you want a cone, be prepared to pay the little fee of 20 ~ 30 yen.

Grade 1 matcha ice cream resembles the regular ice cream that you'll find almost anywhere, while grade 2 already is so rich in green tea that it might be your first time tasting something like it. The highlight is grade 7, of course - the concentration of Suzukien's grade 7 matcha ice cream is said to be the highest in the world, using only high-grade matcha green tea from a plantation honored by the Minister of Agriculture, Forestry and Fisheries. We urge you to try this Japanese matcha ice cream with the world's richest matcha flavor - it is sure to leave an impression that you won't be able to forget!

If you don't feel up for the grade 7 challenge just yet, start with a lower matcha concentration and work your way up the ice cream ladder.

Apart from green tea, Suzukien has a lot of great and unique tea flavors, such as hojicha ice cream (roasted green tea) and genmaicha ice cream (tea with roasted rice). The shop even has a cozy space to sit down in and relax, so go ahead and stretch your legs over authentic Japanese ice cream after a long day of sightseeing.
Suzukien x Nanaya Collaboration Shop

壽々喜園 ×ななやコラボショップ

Address

3-4-3 Asakusa, Taito-ku, Tokyo-to 111-0032

Hours: 10:00 a.m. - 5:00 p.m.
Closed: every 3rd Wednesday of each month (or the following day if Wednesday is a national holiday)
2. Asakusa Mandango: Try the Heavenly Baked Japanese Sweet Potato Ice Cream!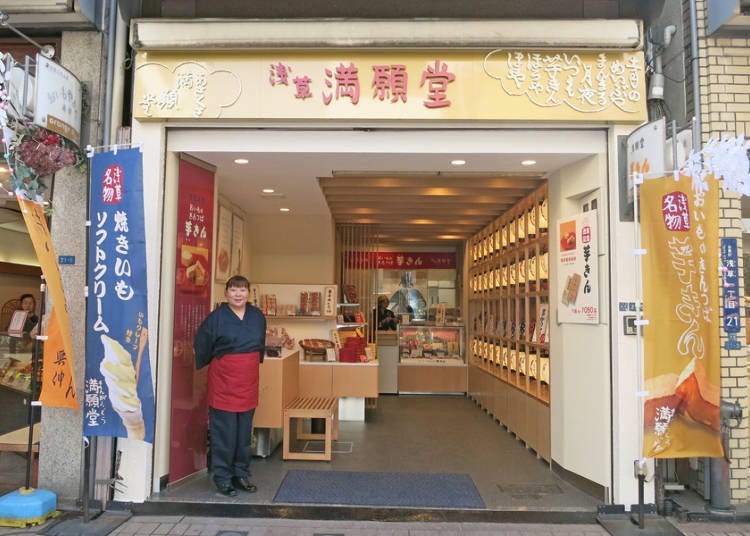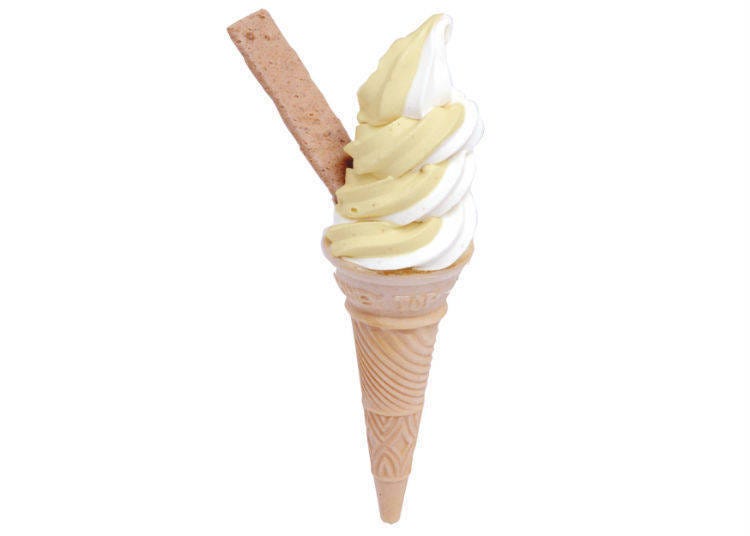 One of Asakusa's most famous snack souvenirs is imokin, a delicious, dense sweet potato treat in a crunchy coating. At Mangando, you can enjoy this authentic Asakusa taste in the form of ice cream! One serve of "baked sweet potato ice cream" is available for 310 and our special recommendation is to get a mix serve of sweet potato and plain vanilla.

Snack on those two flavors separately at first to get an impression of their unique deliciousness. Then, keep mixing them as best as possible as you continue to eat and we promise that you're in for an amazing experience of flavors! Every ice cream serving comes with a crispy sweet potato crepe - make sure to dip that into the ice cream before taking a bite!
浅草満願堂 オレンジ通り本店

Address

1-21-5 Asakusa, Taito-ku, Tokyo-to 111-0032

Hours: 10:00 a.m. - 8:00 p.m.
Saturdays: 9:30 a.m. - 8:00 p.m.
Closed: always open
3. Asakusa Chochin Monaka: Crispy Ice Cream Sandwich, Japanese Style!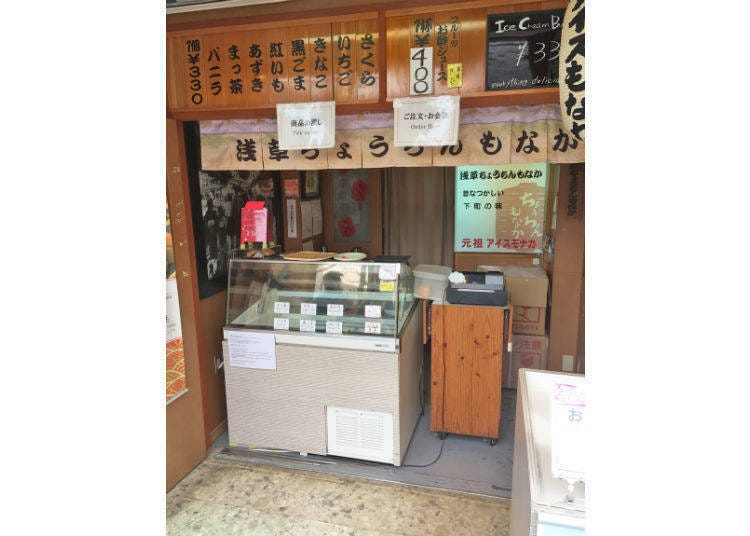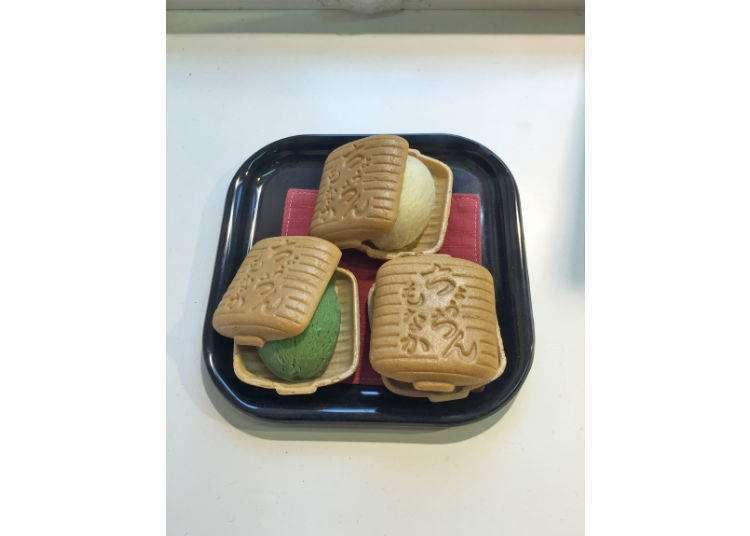 Asakusa Chochin Monaka is Japan's one and only monaka ice cream specialty store. But let's start with the basics - monaka is a sweet of red bean jam between two crispy wafers. An ice cream monaka replaces the bean jam with ice cream - and it's incredibly delicious.

At Asakusa Chochin Monka, one such delicacy can be enjoyed for 330 yen. It's available in six classic flavors, Japanese and non-Japanese, such as vanilla, azuki red bean, matcha, black sesame, kinako, and sweet potato, along with changing seasonal flavors. Pick two different flavors for your monaka and thoroughly enjoy your exquisite ice cream crisp experience!
浅草ちょうちんもなか

Address

2-3-1 Asakusa, Taito-ku, Tokyo-to 111-0032

Hours: 10:00 a.m. - 5:30 p.m.
Closed: always open
4. Oimoyasan Koshin: Discovering the Delights of Japanese Sweet Potato Ice Cream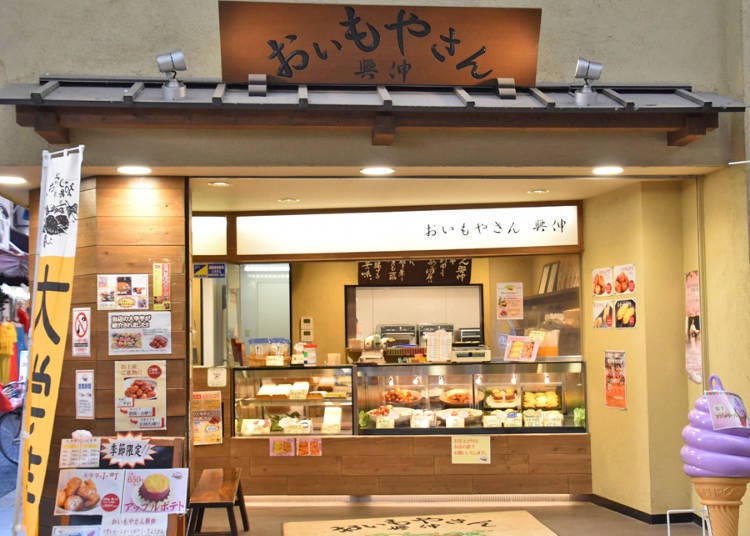 Oimoyasan Koshin is Asakusa's sweet potato sweets specialty store that has fantastic purple-fleshed sweet potato ice cream for 350 yen - a must-eat for every Asakusa visitor!

Following its reputation as a specialty store, Oimoyasan Koshin's sweet potato ice cream has an incredibly rich, authentic taste that'll leave you craving for more. With a soft, purple color, the ice cream is also amazing to look at, but of course, the main highlight is the flavor experience.

There are four individual stores of Oimoyasan Koshin where the tasty sweet potato ice cream can be enjoyed: at Orenji-dori, at Denpo-in Higashi-dori, and at the Denpo-in store. If you happen to pass by any of these locations, be sure to get a taste of the famous Tokyo sweet potato ice cream!
おいもやさん興伸 浅草新仲見世通店

Address

1-32-1 Asakusa, Taito-ku, Tokyo-to 111-0032

Hours: 10:00 a.m. - 7:00 p.m.
Closed: always open
5. Funawa Café: Very Delicious, Very Japanese Ice Cream Parfait Encounter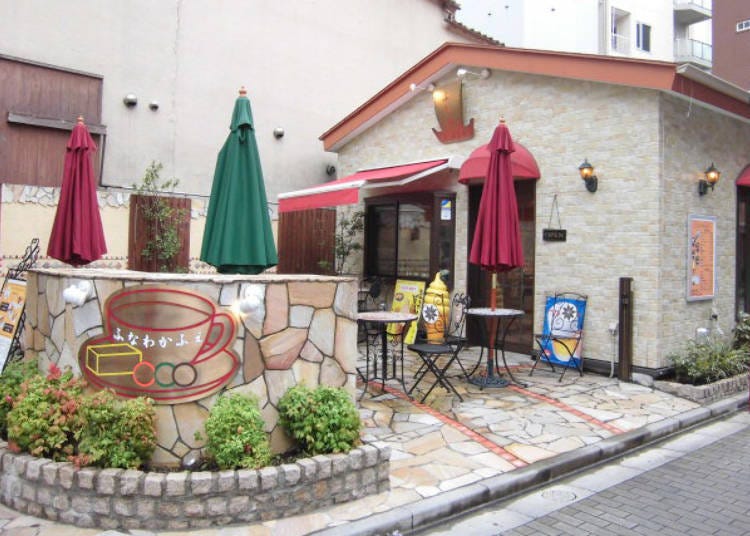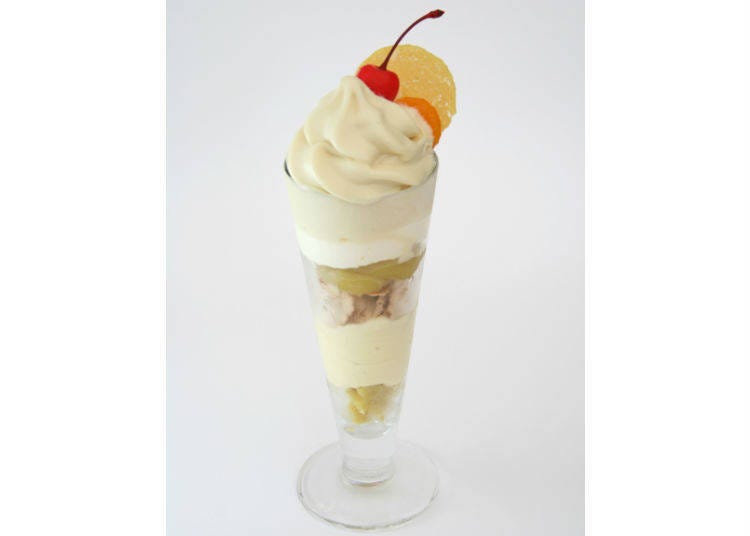 Technically, Funawa Café is most famous for its superb sweet potato yokan (a jelly-like traditional sweet). But you came to this article for ice cream and ice cream shall you get!

The "Funawa Café Sweet Potato Yokan Soft Serve Parfait" for 850 yen will take you right to dessert heaven! Only available in this café, it is made with plenty of sweet potato yokan ice cream, whipped cream, brown rice flakes, cream of a cake called sweet potato Mont Blanc, and sweet potato cream. This combination of delicious flavors is then topped with an original sweet potato yokan, for the extra bit of authentic Japanese parfait experience.

The café itself boasts quite a lot of space and a wonderfully relaxing experience, making it the perfect place to regain your energy after exploring Asakusa.
ふなわかふぇ 浅草店

Address

2-19-10 Kaminarimon, Taito-ku, Tokyo-to 111-0034

Hours: 10:00 a.m. - 7:30 p.m.
Saturdays, Sundays, national holidays: 10:00 a.m. - 8:00 p.m.
Closed: always open
Writer: Morikawa
*This information is from the time of this article's publication.
*Prices and options mentioned are subject to change.
*Unless stated otherwise, all prices include tax.