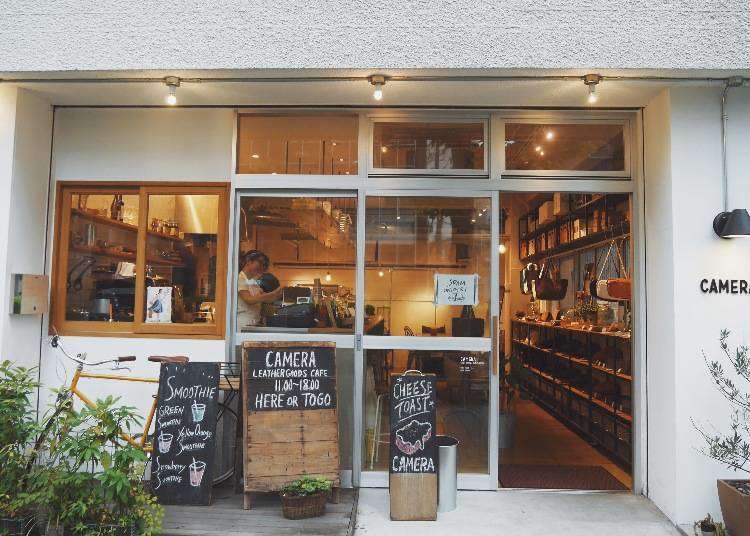 Kuramae, a district tucked away between famous Asakusa and Tokyo Skytree (R) – and thus in walking distance of both – is known as the neighborhood of leatherworking and other handicrafts, with artisans inhabiting the area since the Meiji Period. In recent years, the wonderful retro charm of Kuramae has gained quite a lot of attention as a town of equally retro craftspeople and artisans. So this time around, we'll take a look at some of Kuramae's most interesting shops and inhabitants, those that carry the traditions and ingenuity of old over to this day and age. Let's go visit the artisans in their amazing historical setting!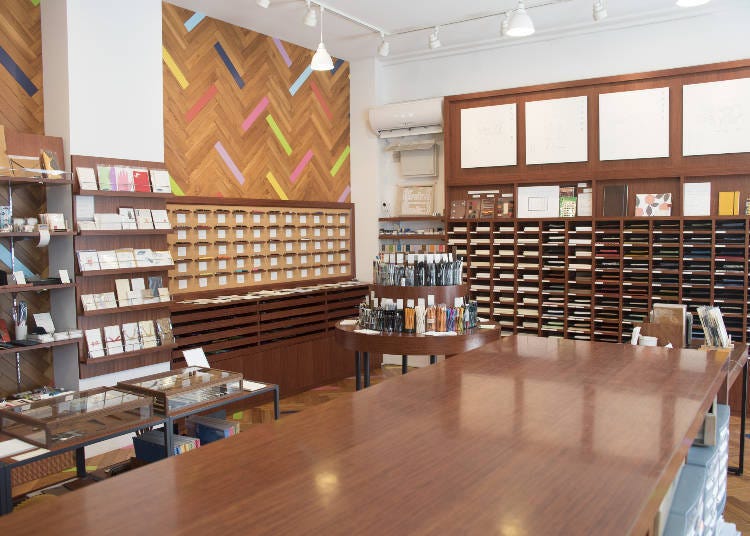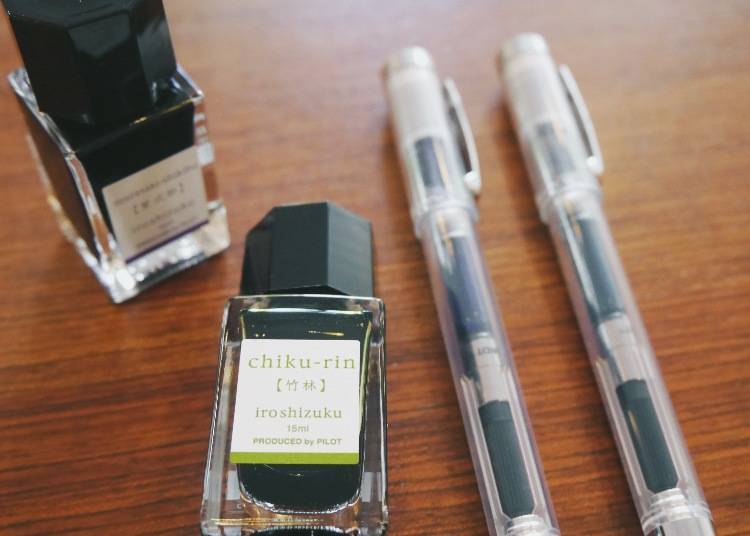 Refillable Ink Ball Pen for 1,728 yen; ink for 864 yen (tax included)
Kakimori is a shop that doesn't only specialize in high-quality fountain pens but all kinds of stationery items, including pen cases, business card holders, and notebooks. Among those items is a great number of genuinely unique goods, with one of the most popular and representative being the refillable ink ball pen. As the name suggests, this ingenuous pen can be filled with ink of various different colors, refillable as many times as you like. This is the perfect gift for friends, family, or just for yourself!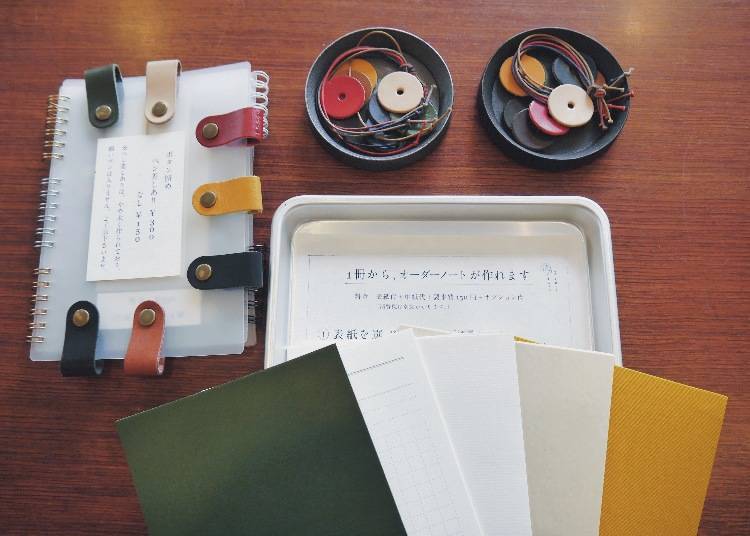 Kakimori's best-selling item, however, is the Handmade Order Notebook, available from 800 yen. This little gem is entirely customizable with numerous different front and back covers, body pages, and even ring binders. After you've made your choice, Kakimori's staff will craft your notebook right in front of your eyes – whatever Order Notebook you choose, it's guaranteed to be the only one of its kind in the entire world!
It takes about 20 minutes to make one Order Notebook.
Address

The first floor of Seika Building, 4-20-12, Kuramae, Taitou-ku, Tokyo, 111-0051
View Map

Nearest Station

Kuramae Station (Toei Asakusa Line / Toei Oedo Line)
3 minutes on foot


Phone Number

03-3864-3898
CAMERA – Shopping in a Calm Environment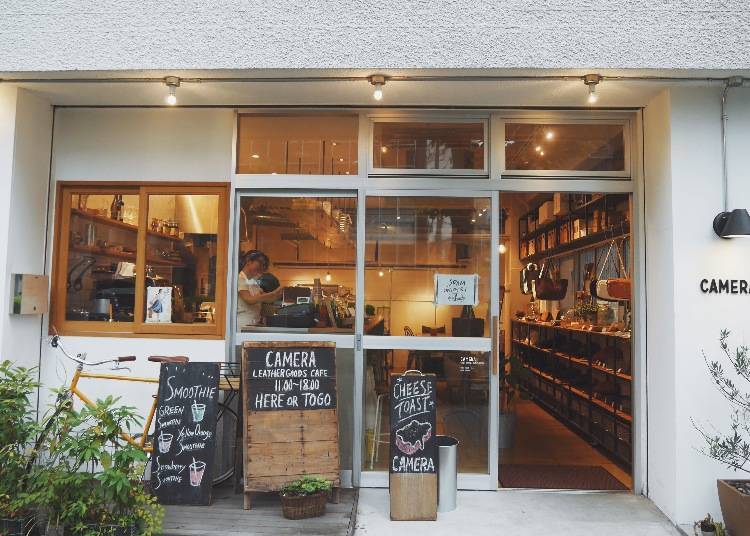 Opened by the married couple Tamura, CAMERA is a wonderful fusion between a café and a shop, specifically focusing on the brands numeri and Miwako Bake. Numeri is all about high-quality, handmade leather goods while Miwako Bake makes amazing baked delicacies. The word "camera" is, in fact, New Latin and means something like "small chamber"which also refers to the concept of the couple's store. They wanted to create a small oasis of quiet in which customers are able to leisurely relax and forget time for a little while.
All the leather goods sold at CAMERA are domestically produced, made by leatherworkers that are masters of their craft. Every month, a workshop is being held at the little shop, allowing interested participants to learn more about leatherworking and try their hand at the craft themselves.
Please confirm the price and the schedule of CAMERA's workshops on the official homepage from which a reservation can be made via email, as well as by phone. The workshop is held in Japanese only.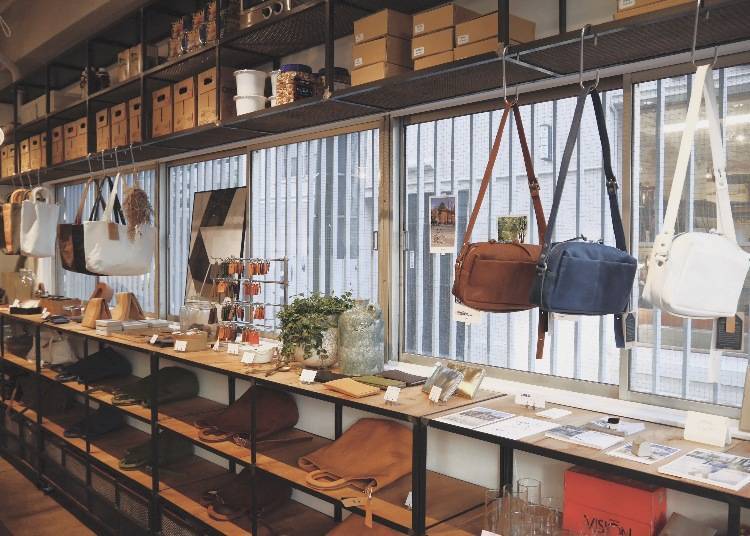 Every single day, Miwako Bake offers between six and seven kinds of baked delicacies, such as different and original cookies and cakes, made by the store manager themselves with seasonal ingredients. All of the creations have a wonderfully nostalgic taste, making you crave for more! CAMERA and its pastries aren't just extremely popular among locals but also draws in people from all over Japan on a regular basis. Why not experience CAMERA's unique atmosphere and delicious pastries for yourself?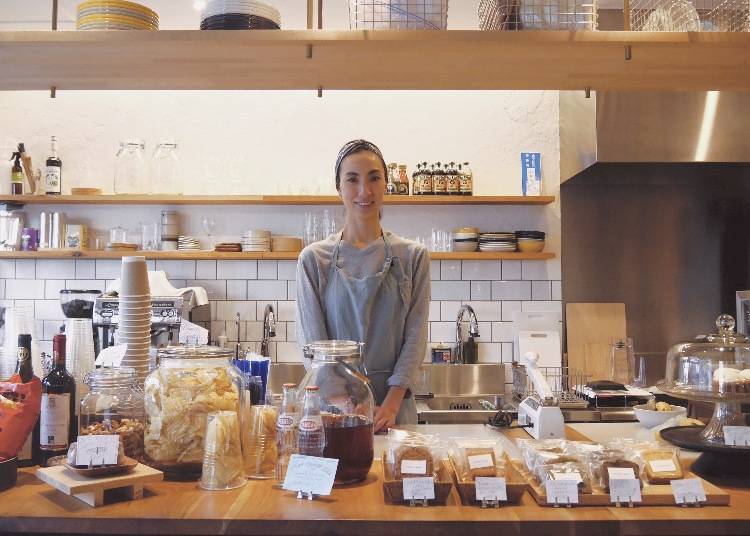 カメラ

Address

4-21-8 Kuramae, Taito-ku, Tokyo 1110051 Japan
Experience the Natural Dyeing Trend of MAITO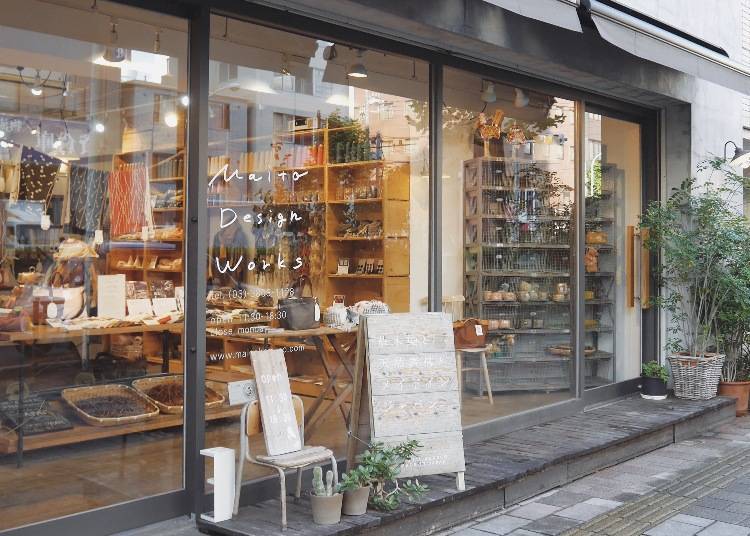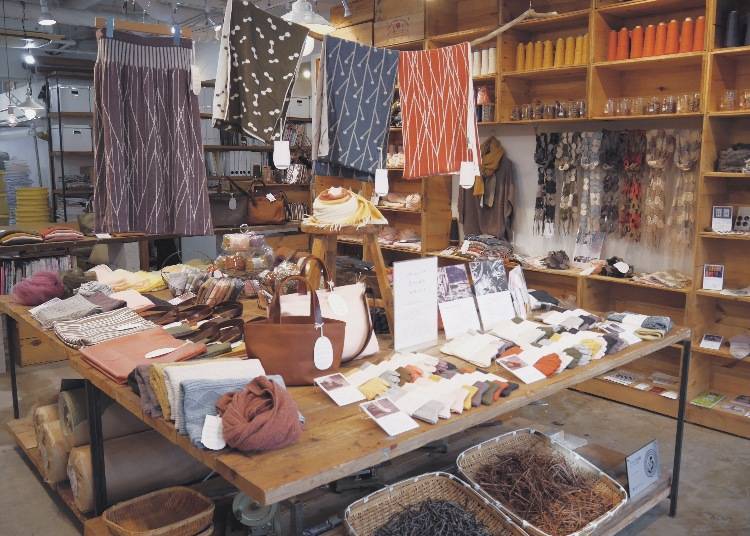 The founder of the next store we'd like to introduce is called Maito Komuro and is from Fukuoka Prefecture. He has been in contact with the art of natural dyeing ever since his childhood, at his parents' workshop. After college, where he further studied natural dyeing, he learned the technique of whole garment knitting and started his own natural dyeing and knitting brand: MAITO. Next to high-quality natural materials used, you can also expect everything to be dyed naturally, making for incredibly warm and calm colors. This is also true for MAITO's accessories, and due to these muted colors, they go well with pretty much any other garment.
Natural dyes have an extremely long history but that doesn't make them old-fashioned. On the contrary, they adapt extremely well to contemporary fashion and new technologies of garment creation. Some of MAITO's most popular products are the loose socks for 1,728 yen and the naturally dyed mini tote bags for 10,152 yen, tax included. From Maito Komuro's earnest look on his face, you can already guess that he takes his natural dyeing methods very seriously, and he also holds monthly workshops in hand-dyeing for everyone who's interested in natural dyeing and everything around it!
Please confirm the price, schedule, and reservation of MAITO's workshops on the official homepage. Japanese and English is spoken in the store, the official website and email replies are available in Japanese and English, and the workshop is held in Japanese.
MAITO Kuramae Work & Shop

MAITO 蔵前本店

Address

4-14-12, Kuramae, Taito-ku, Tokyo 1110051 Japan
Find a Unique Accessory at Carmine!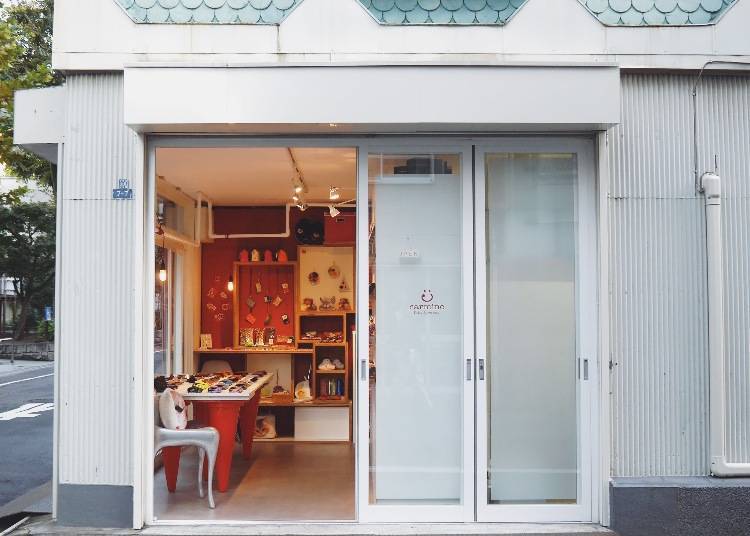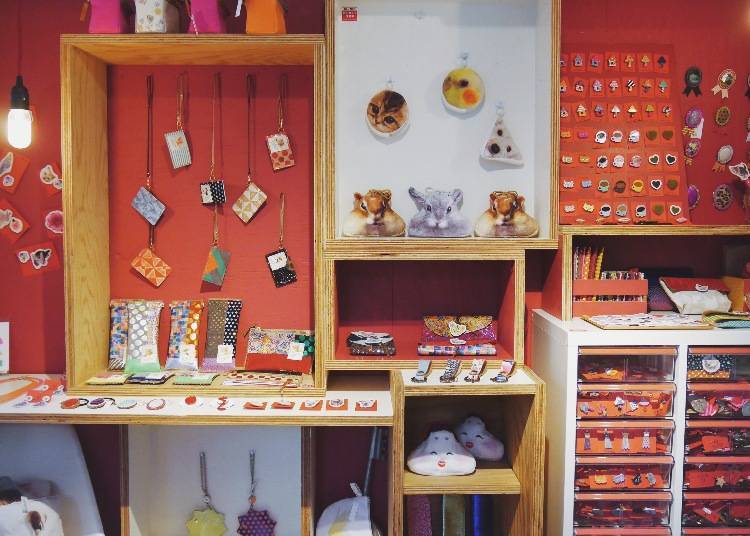 Carmine is located in a quiet alley about a 10 minute walk away from Kuramae Station. Two playful and creative designers operate the store under the concept of "Enjoy Accessory!" handcrafting a variety of leather accessories and miscellaneous goods. Everything you see at Carmine is Made in Tokyo, with characteristic design and a wonderful leather texture. Carmine's goods aren't only popular in Japan but have also gained attention abroad, now being sold in museum shops in New York.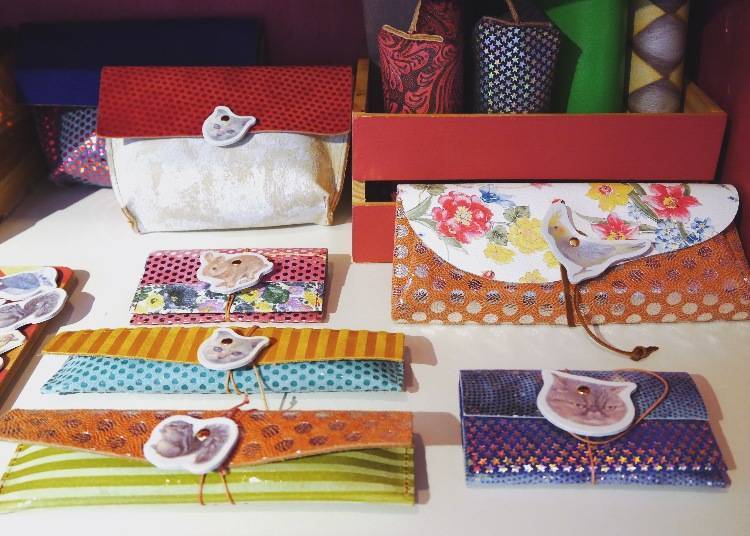 The shop is filled with wonderfully colorful and fun items, many of them featuring animal motifs. You can also choose original patterns and parts to have your very own unique accessory made for you. From card cases and cosmetic pouches to pen cases and wallets, Carmine offers an astounding variety of leather goods that we especially recommend to people who love cute and colorful designs! A leather pouch can be had for 6,264 yen while a leather long wallet costs 21,000 yen, tax included.
カーマインショップ

Address

2-7-7, Kojima, Taito-ku, Tokyo 1110056 Japan
Restaurants in the area around Kuramae
浅草 魚料理 遠州屋

Address

Enshu shop,Kotobuki 2-2-7, Taito-ku, Tokyo, 111-0042


Nearest Station

Tawaramachi Station (Tokyo Metro Ginza Line)


Phone Number

03-3844-2363
寿司居酒屋 日本海 浅草店

Address

Kaminari-mon Gate 1-6-5, Taito-ku, Tokyo, 111-0034


Nearest Station

Tawaramachi Station (Tokyo Metro Ginza Line)


Phone Number

03-3844-2122
Address

2-1-29, Komagata, Taito-ku, Tokyo, 111-0043
View Map

Nearest Station

Asakusa Station (Tokyo Metro Ginza Line / Toei Asakusa Line / Tobu Isesaki Line (Tobu Sky Tree Line) / Tsukuba Express)


Phone Number

03-3841-6314
*This information is from the time of this article's publication.
*Prices and options mentioned are subject to change.
*Unless stated otherwise, all prices include tax.