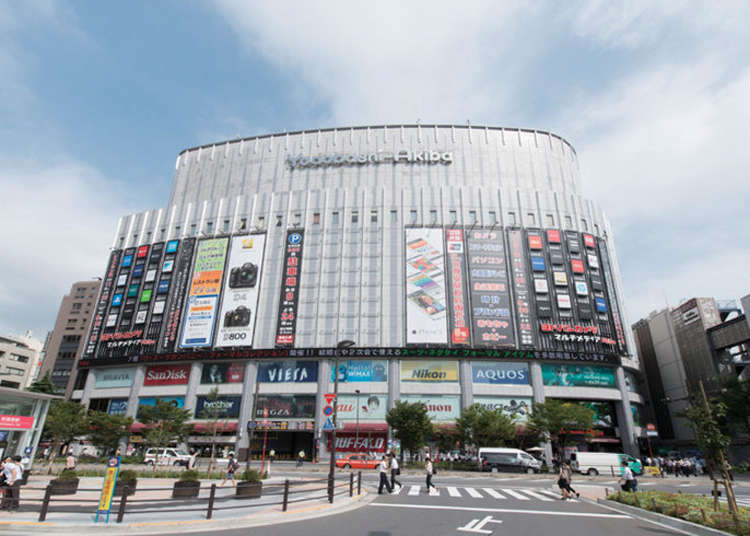 These are the top recommendations for Akihabara, with travel tips and more, according to LIVE JAPAN, a top-class travel website for visitors to Japan. Our ranking is based on the most popular pages viewed by foreign visitors in a given category.

For instance, e-earphone Akihabara Store, FITNESS SHOP SUIDOBASHI, OTACHU.AKIHABARA and other related spots will be listed. Be sure to check them out during your visit to Akihabara!
1.e-earphone Akihabara Store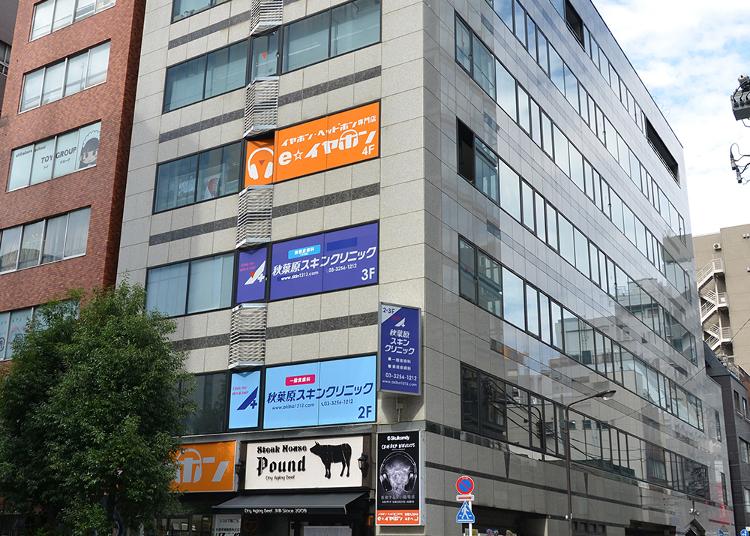 4,000 new products and more than 4,000 used items in stock!
This sort of specialty shop is hard to come by, featuring earphones and headphones from around the world, including Beats, Bose, Sony, and more.

Row after row of earphones, headphones, turntables and amps are available for customers to try as they please.

Not sure what you want? Our highly-knowledgeable staff is there to help with any questions or issues you may have. First-time customers are welcome!

Due to our remarkable lineup and impressive customer service, well-known musicians from around the world will often drop by!

Need earphones or headphones? e-earphone has got you covered!

[Retail Stores]
- Kanto: Akihabara Store, Custom IEM Specialty Shop, Shibuya Tsutaya Shop
- Chubu: Nagoya Osu Store
- Kansai: Osaka Nihonbashi Main Store, Umeda EST Store

We accept credit cards and Ginren cards! Duty-free shopping available!
2.FITNESS SHOP SUIDOBASHI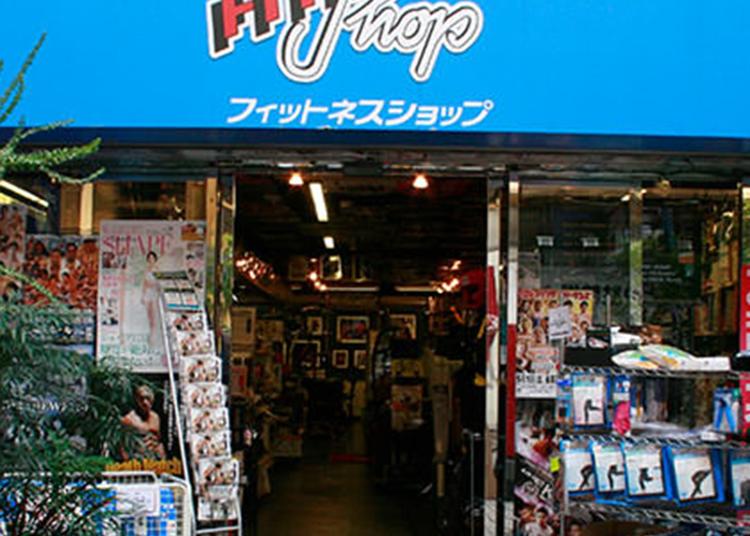 Fitness Shop Suidobashi is a "specialty shop for getting in shape," where you can actually try on gloves and other items before purchase. Current and famous pro athletes often stop by while shopping to pick up what they need from a huge assortment of products.
Fitness Shop was founded in 1986 in the Swiss city of Zurich as a specialty shop to meet various fitness needs. Then more than 30 years ago, due to various circumstances and a chance meeting with a late great kickboxer, Japan's first Fitness Shop opened in 1988 in Kinshicho Tokyo. Using a concept adopted from the original shop in Zurich, we offer a comprehensive list of authentic training and fitness products, from training machines, supplements, and sportswear to small accessories and reading materials.
Fitness Shop Suidobashi features a machine showroom where customers can try out fitness machines for home use before deciding to make a purchase. We also have English-speaking staff members, so please stop by when you can.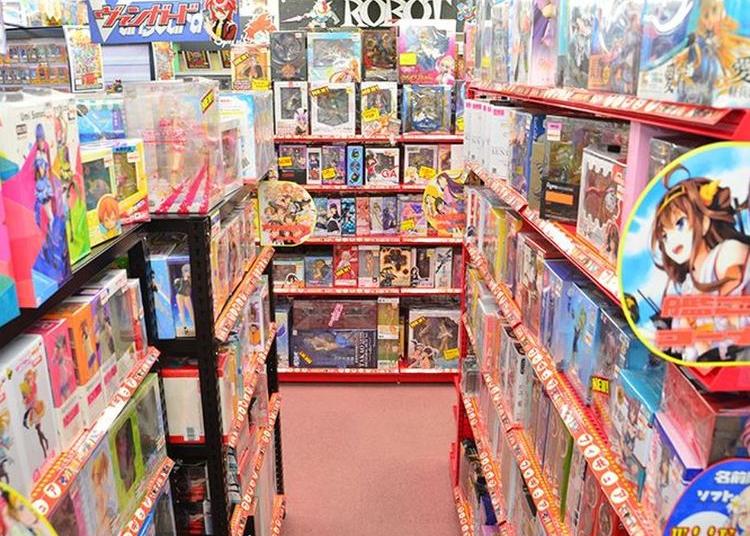 If you're looking for toys,figures, figurines, games, or trading cards in Akihabara, be sure to visit us first! [Product Categories] <Toys> Bishoujo figures, "Love Live!", "Bakemonogatari", "Hatsune Miku", "Fate", "One Piece", "Dragon Ball", "Kamen Rider", "Super Sentai", "Ultraman", "Godzilla", "Gundam", robots, "Robotech", American toys, etc. <Games> Nintendo Switch, PS4, PS Vita, 3DS, etc. <Trading Cards> "Yu-Gi-Oh!", "Duel Masters", "Vanguard", "Dragon Ball Heroes", "KanColle Arcade", and much more.With 10 locations throughout Japan, this well-established used entertainment shop chain has expanded to Akihabara!
4.Super Potato - Akihabara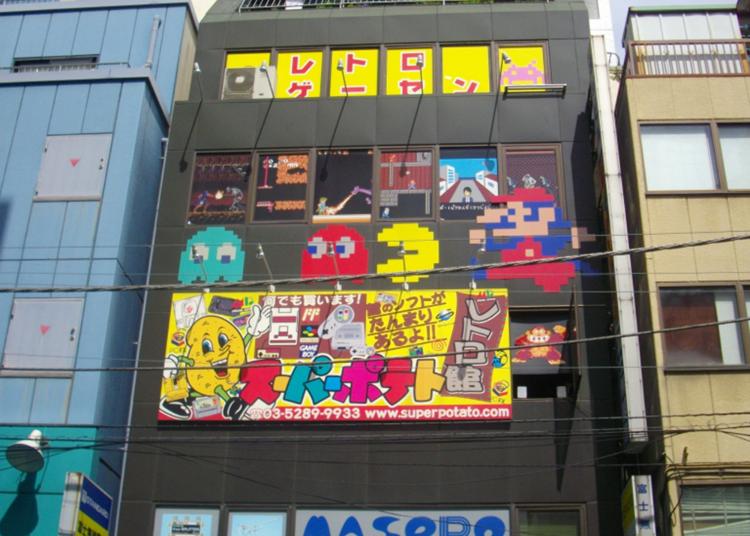 This store in Akihabara specializes in secondhand games. If you feel a pang of nostalgia when you hear the names Super NES, Sega Saturn, or WonderSwan, you need to check this place out. They have a collection of now-valuable consoles and games. The store consists of the 3F–5F, with the sales corner on the 3F and 4F. They deal in a wide range of game masterpieces, from puzzles to RPGs, with most items at reasonable prices. There is also a game-testing corner. An arcade game corner, the "Retro Ge-Sen," has opened on the 5F. You can play retro games from the 80s and 90s on the nostalgic tabletop-style arcade machines lined up there. There is also a small-time candy store, which used to be popular with kids, on the same floor. Play those games you were once addicted to for old time's sake while munching on sweets. Popular Japanese artists and celebrities are known to visit. A four-minute walk from Akihabara Station on all JR train lines.
Address

Kitabayashi Building 3F, 4F, 5F, 1-11-2, Sotokanda, Chiyoda-ku, Tokyo, 101-0021
View Map

Nearest Station

Akihabara Station (JR Keihin-Tohoku Line / JR Yamanote Line / Tokyo Metro Hibiya Line / Tsukuba Express / JR Sobu Line)
4 minutes on foot


Phone Number

03-5289-9933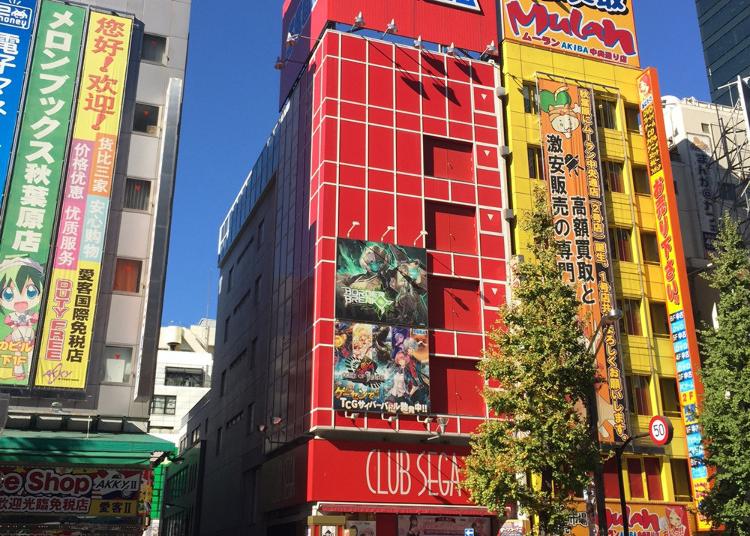 UFO catchers inside the SEGA's arcade have a wide selection of popular character-themed products. If you are not sure of how to use them, please ask a staff. He/She might even give you a tip. Other game machines include maimai, by which you can enjoy music as if you were dancing, and photo sticker machines to take clear and beautiful photos as if they were taken by a professional photographer. There are also video games and driving games. Please come here to find your favorite game machine.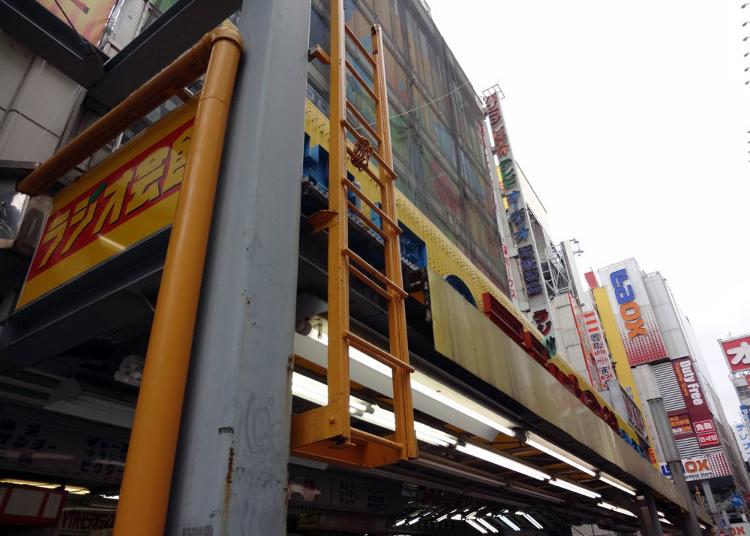 Akihabara Radio Kaikan is a large commercial building with ten stories above the ground and two stories underground. Most of their stores used to sell electrical parts and wireless devices. However, today, it has become a super shopping center for Akiba-cultural items such as action figures, dolls, TV and media idol goods, miniature model trains, and costumes. There are also stores handling audio products, PCs, DVDs, and comic books. Akihabara is famous as "the" electronics shopping district, but there are also many other stores attracting customers with passionate special interests. Many products are available there that people keep coming from all over Japan as well as overseas. It is a nine-minute walk from the Akihabara Station on the JR Yamanote Line.
Address

1-15-16, Sotokanda, Chiyoda-ku, Tokyo, 101-0021
View Map

Nearest Station

Akihabara Station (JR Keihin-Tohoku Line / JR Yamanote Line / Tokyo Metro Hibiya Line / Tsukuba Express / JR Sobu Line)
9 minutes on foot


Phone Number

03-5807-7787
7.S'PORT MIZUNO (MIZUNO Tokyo)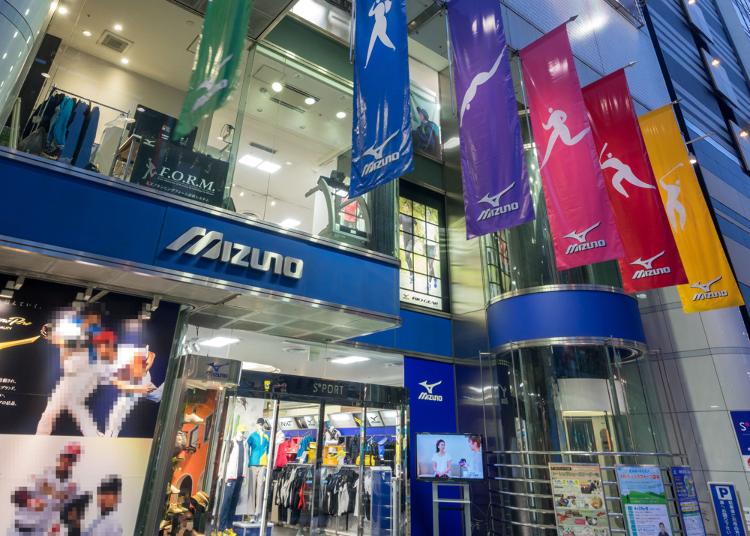 S'PORT MIZUNO is the flagship store of sports clothing and equipment manufacturer Mizuno. Our spacious store offer various items for every kind of sport, and we will support your sporting life through our knowledgeable staff and the expertise we have cultivated through vast experience of sports and sporting events. In addition, We provide products for exercise for in your daily life and also we can support up to competitive sports. We will continue to make an effort to be the most familiar sports brand in your sporting life through various activities to make more people have interest about sports.

*Please understand there may be times when staff members that can speak certain languages (English, Chinese, Korean) are unavailable.
8.Yellow Submarine Akihabara Main Shop ★Mint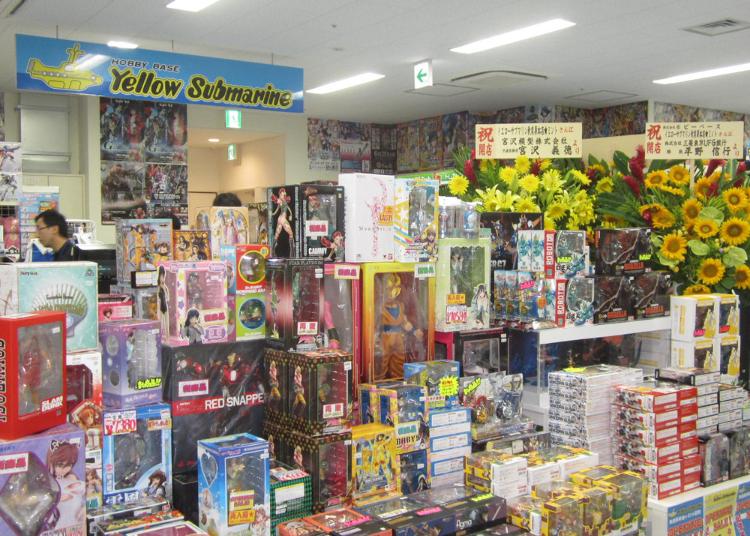 The Akihabara branch of "Yellow Submarine," a toy model and card game shop with locations throughout Japan. Located just outside Akihabara Station on the 6th floor of the Akihabara Radio Kaikan, we have everything from character goods to scale models, trading card games, and more.
Product categories are separated by floor. On the Character & Toy Floor, we have Ultraman, Kamen Rider, and more from the special effects genre known as 'Tokusatsu,' as well as Gundam and other plastic models, and anime character figurines including Dragon Ball, One Piece, Gundam, and more. Also, on the Scale Model Floor we have cars, airplanes, tanks, ships, tools and materials. And on the game floor, customers will find trading cards and photographs of sports athletes, idols, and others, plus various card games.
Also, credit cards are accepted, so international customers can shop worry free. We hope you'll stop by for a souvenir of Japanese culture.
Address

Radio hall 6F, 1-15-16, Sotokanda, Chiyoda-ku, Tokyo, 101-0021
View Map

Nearest Station

Akihabara Station (JR Keihin-Tohoku Line / JR Yamanote Line / Tokyo Metro Hibiya Line / Tsukuba Express / JR Sobu Line)
3 minutes on foot


Phone Number

03-5298-3123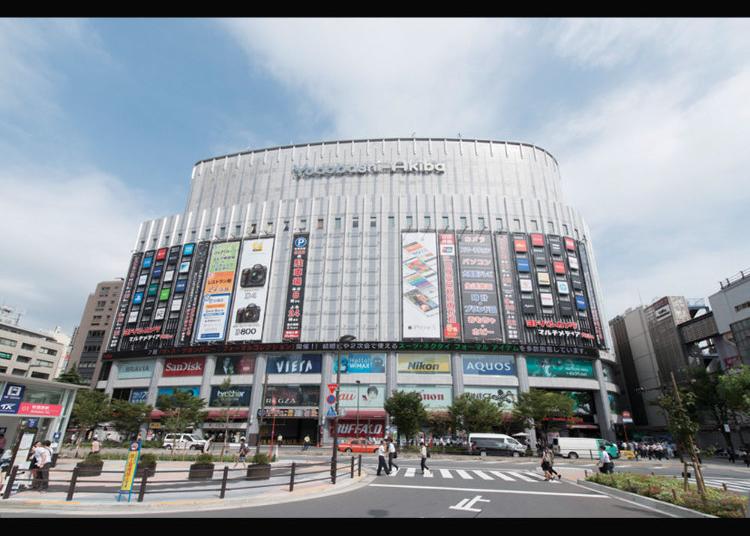 Yodobashi Camera Multimedia Akiba, located at the Akihabara Station in Akihabara, the Electric Town. Out of nine floors, computers, cameras, AV devices, consumer electronics, video games, toys, and bikes are on the first to the sixth floor. On the specialty floor, on the seventh floor, casual fashion, shoes, CDs, DVDs, books, eyeglasses, men's wear, bags, and accessories are sold, and a travel agency and an ophthalmologist office can also be found. The eighth floor is the largest restaurant floor in Akihabara that it houses 30 restaurants where you can enjoy various kinds of dishes. On the ninth floor, a batting center, a golf goods store, and a golf practice range can be found. At the batting center, there are machines that enable you to change the speed of the ball for each game, so you can fully enjoy batting. At the golf practice range, rental clubs and shoes are available free of charge, so it is pleasing to be able to stop by in the middle of shopping. It is directly connected to the Akihabara Station on the JR Yamanote Line, Sobu Line, Keihin Tohoku Line, and the Tokyo Metro Hibiya Line.
Address

1-1, Kandahanaokacho, Chiyoda-ku, Tokyo, 101-0028
View Map

Nearest Station

Akihabara Station (JR Keihin-Tohoku Line / JR Yamanote Line / Tokyo Metro Hibiya Line / Tsukuba Express / JR Sobu Line)
1 minute on foot


Phone Number

03-5209-1010
10.ADORES EXCHANGE Akihabara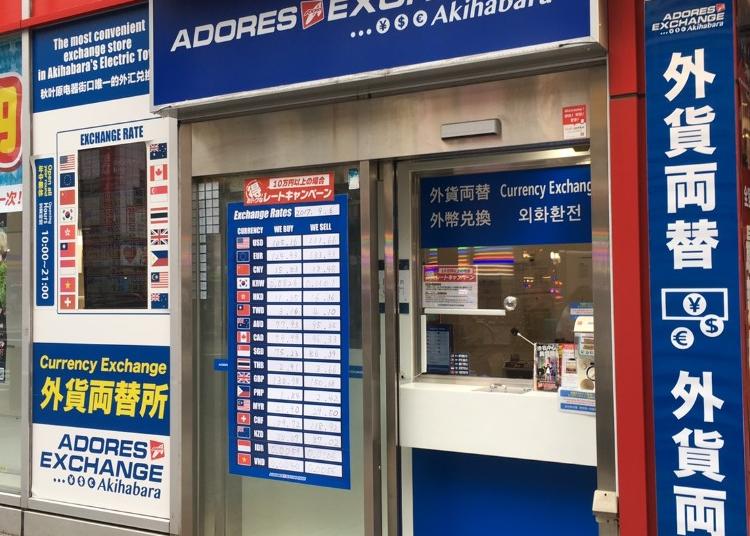 When in Akihabara, visit ADORES EXCHANGE Akihabara for your foreign currency exchange needs!
Close to the station! Great rates! Open until 9 p.m. all year round! English-speaking staff available at all times!


We are in business on the 1st Floor of the ADORES Akihabara building right outside the Electric Town Gate of Akihabara Station. In addition to the currency exchange, there is ADORES Akihabara, a crane game shop featuring various anime and video game character prizes, located on the 1st and 2nd floors. Floors 3 through 10 are Karaoke ADORES Akihabara, the largest karaoke shop in town, equipped with the latest models.
The building next door includes AnimePlaza, a cafe specializing in the collaboration of popular anime and video game characters, and a "rental showcase" floor selling famous character figures and items on a commission basis.
Visitors from abroad can also enjoy shopping at surrounding souvenir shops as well as popular duty-free shops such as Sofmap, Laox, and Yodobashi Camera conveniently located near ADORES EXCHANGE Akihabara.
ADORES EXCHANGE Akihabara

アドアーズ エクスチェンジ 秋葉原

Address

Akihabara ex 1F, 1-13-1 Sotokanda, Chiyoda-ku, Tokyo, 101-0021


Nearest Station

Akihabara Station (JR Keihin-Tohoku Line / JR Yamanote Line / Tokyo Metro Hibiya Line / Tsukuba Express / JR Sobu Line)
1 minute on foot


Phone Number

03-6206-8174
*This information is from the time of this article's publication.
*Prices and options mentioned are subject to change.
*Unless stated otherwise, all prices include tax.